"The air soft as that of Seville in April, and so fragrant that it was delicious to breathe it" – Christopher Columbus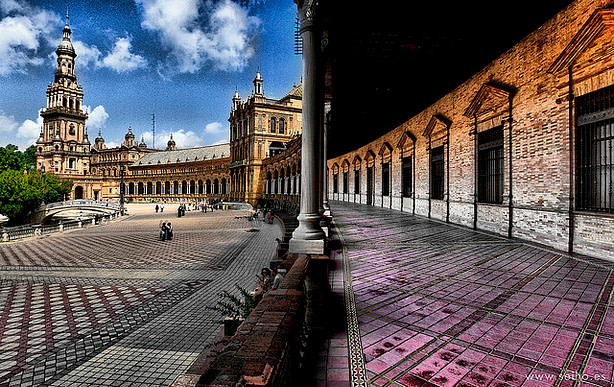 A great collection of breathtaking landscapes dotted with wonderful beaches, a cup of sweet Latin vibe melted in the most sensual language, dramatic pueblos reminding of long gone periods, beautiful cities designed by famous artists – these are the ideal ingredients for romance, and Spain is the consequence of their combination, which gives it the status of one of the most romantic countries alongside France and Italy.
Seville is the capital of Andalucía, the city of Carmen, the birthplace of Don Juan, and the recollect of many artists – Rossini (The Barber of Seville), Verdi (La fotza del destino), Beethoven (Fidelio), Mozart (Don Giovani and The Marriage of Figaro).
If you want to taste the authentic Spanish culture beautifully mixed with Muslim and Jewish art, the outstanding history and the famous tapas, you should definitely visit Spain's fourth largest city – Seville.
Laid in the valley of Guadalquivir River, this charming city with its magical narrow streets and dozens of orange trees blossoming in an eternal spring, seems to be a little piece of heaven.
There are many romantic sights in Seville, some of them famous and some hidden in this Spanish paradise, but the air you breathe here, the delightful design of every single minor construction, the bouncy spirit combined with the streets' serenity and the brightness of each day are maybe the most beautiful things Seville has to offer.
Top Attractions in Seville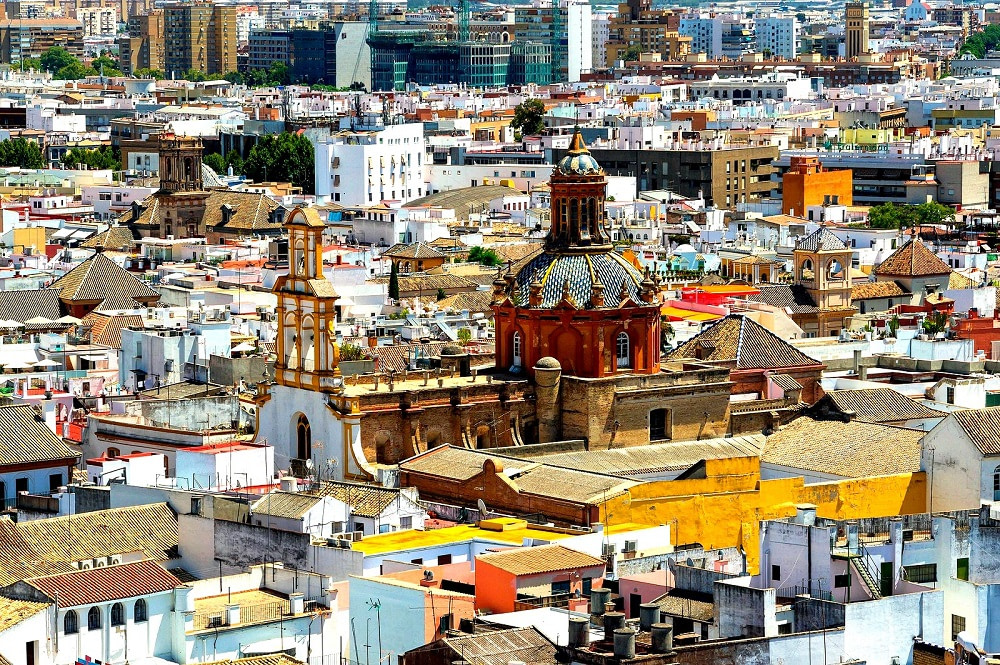 Seville Cathedral
Seville Cathedral or the Cathedral de Santa Maria de la Sede is the largest Gothic cathedral in the world and the tomb of Christopher Columbus (research still continues). No wonder this beautiful imposing structure is the city's landmark and undeniably a must see while visiting Seville. The cathedral will offer you, besides its imposing beauty, a valuable history lesson, a lovely blend of architectural styles, and a piece of Seville's uniqueness. Can you believe that someone involved in planning the construction actually said: "We shall have a church of such a kind that those who see it built will think we were mad!"? And so was born the Seville Cathedral, a masterpiece designed to show the world the city's welfare and the Sevillanos' passion.
The Royal Alcazar
A fusion of fascinating styles – Mundejar, Gothic, Renaissance, and Baroque, the Alcazar is a delightful attraction in Seville, maybe the most romantic one considering its unfamiliar and timeless allure, its presence in history, the wonderful gardens, and its part in the passionate and destructive love story between Pedro I and his mistress, Dona Maria de Padilla.
Plaza de Espana
Plaza de Espana is an amazing 50.000 square meters semi-circular construction inside Maria Luisa Park, boasting a ground level porch and a first-floor consisting in balconies from where visitors can admire the marvelous views. In the center of the square lies a great fountain surrounded by a canal, which is perfect for boating.
There are many things you can do or admire in Plaza de Espana, but the most enchanted one is probably the chance you have to see the entire Spain concentrated in 48 tiled alcoves along this beautiful square.
Being the point of intersection of several histories, religions, and cultures, the city lies somewhere in time between two worlds, keeping the flavor of the oldest one inside, and blowing it out little by little through its cobblestone alleys while the new one still fights for its place.
There's just something magical about this place and you just can't stand against it.

Spain is known for its autonomous communities and this is not just about the battle between Madrid and Barcelona, it's about the passion that you notice in the people's voices when they talk about the region they belong. Seville's locals are maybe the most enthusiastic persons I've ever met when it comes to their town, leading this pride to the extreme. This might seem unusual to some, but the paradox is that once you have lived for a while in Seville and you have learned enough about this beautiful paradise, you will begin to act and think like them.
I've always thought that Seville has to be a flamboyant city, even before taking my first trip to Andalucía, but I have never imagined that it could be so beautiful and charismatic. Maybe I haven't read enough about it or maybe it's indeed an underrated destination, but I was irremediably captivated by the way Seville has perfectly identified with the image that I've always had about Spain as a country, with all its Spanish – ruffled colored dresses, brunette ladies wearing red lipstick and flowers in their hair, sunny days, guitar music, good will, and Latin flame in its purest form.
A city like Seville doesn't fit in an article, no matter how complex the post would be, it might not be entirely revealed in a thousand of articles and photos, but I still enjoy sharing my lovely memories about it and I will probably continue writing about many other interesting things that I've seen and learned during my stay in the beautiful city of Seville.