As the largest city in Washington state as well as the entire Pacific Northwest, Seattle refuses to stay still. Perhaps it's all the coffee, but its forward-thinking spirit and eye for creativity most certainly have a hand in it. Over the years, the talent for business enterprise has made it the home base of tech giants, sports stars, and music legends.
Despite its growth, Seattle has never lost sight of its roots, which is perhaps best seen in its eclectic architectural landscape. It is through this harmonious weaving of past, present, and future that visitors and locals alike remain captivated.
From modern-day construction feats to enduring historical landmarks, these are ten must-see buildings in Seattle for architecture enthusiasts.
Smith Tower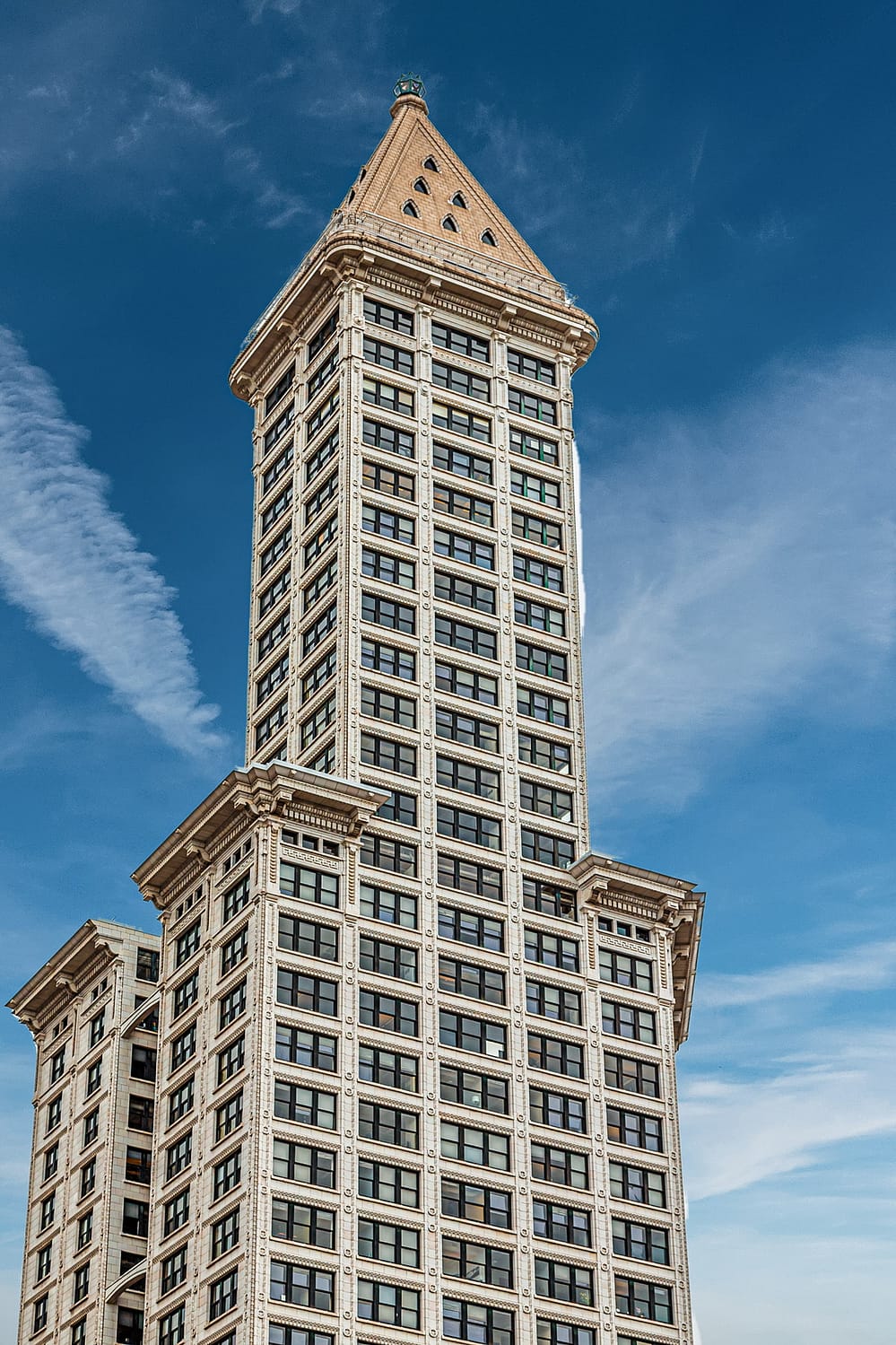 Located in historic Pioneer Square, Smith Tower is the city's original skyscraper. Built in 1914, its 38-stories made it the tallest building in Seattle – a title it proudly held until the arrival of the Space Needle in 1962. In fact, at the time of construction, Smith Tower was considered the tallest building in the United States outside of New York!
Its neoclassical design sets it apart from its more modern skyscraping neighbors, though its most recognizable feature is its top: a three-story pyramid. For the past twenty years, it served as a private residence, though it recently went on the rental market and is set at a whopping $17,000 a month (€​14,082)!
While most can't afford to live at the top of Smith Tower, visitors are welcome on the observatory deck, where, in true Victorian fashion, there is a prohibition-themed bar.
Museum of Pop Culture (MoPop)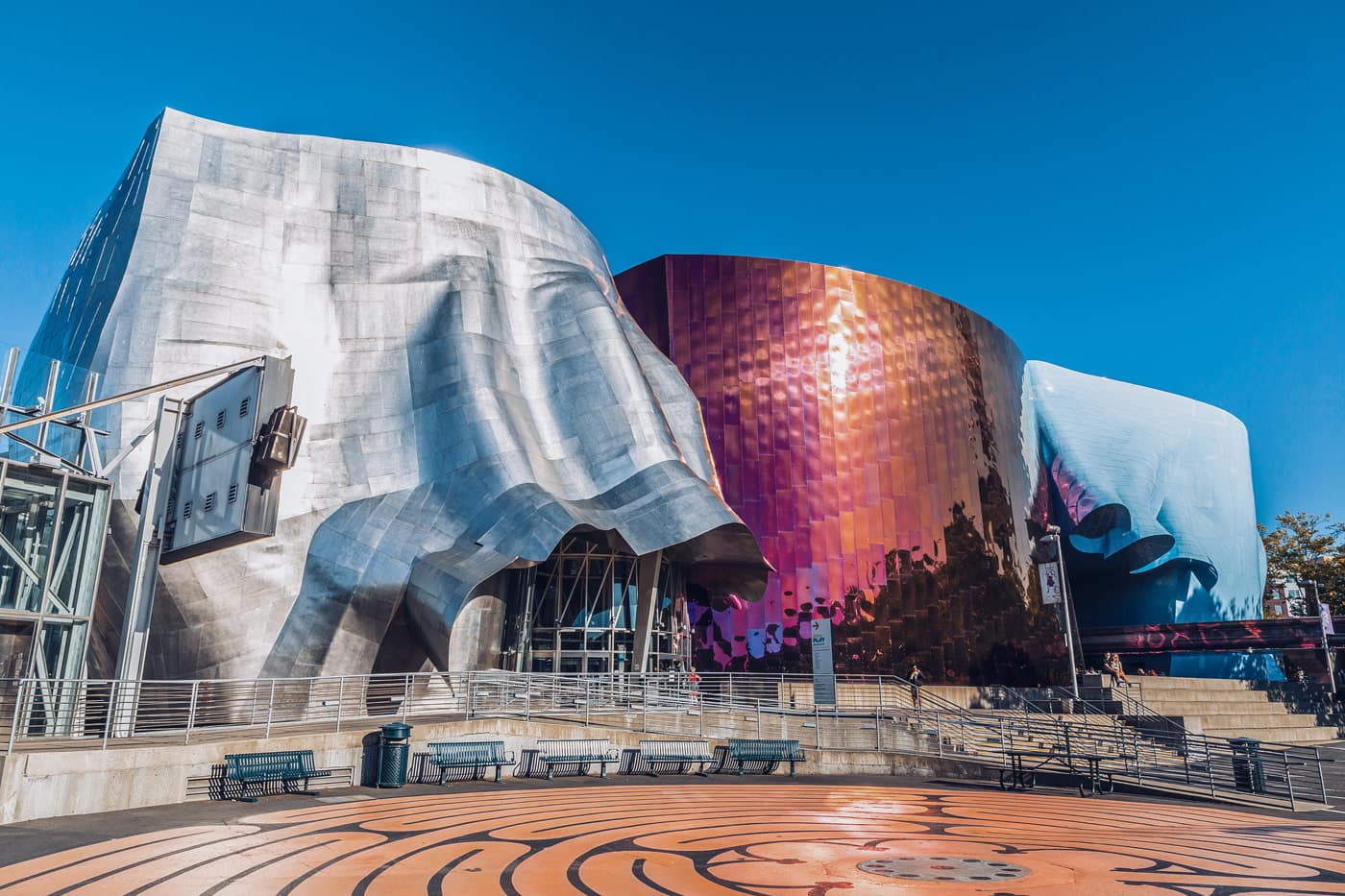 Paul Allen, co-founder of Microsoft, rang in the new millennium with a cutting-edge and interactive music-themed institution. For its exterior, he envisioned a colorful and energetic collection of metal and aluminum – and who better to successfully bring it to life than Frank O. Gehry, architect of the Guggenheim Museum in Bilbao, Spain.
For some, this wavy, reflective metallic exterior is considered an eyesore; for others, it represents a creative blend of color and texture. Either way, it has undeniably become an iconic Seattle landmark celebrating pop culture and music, with special nods to local legends like Jimi Hendrix and Nirvana.
Rainier Tower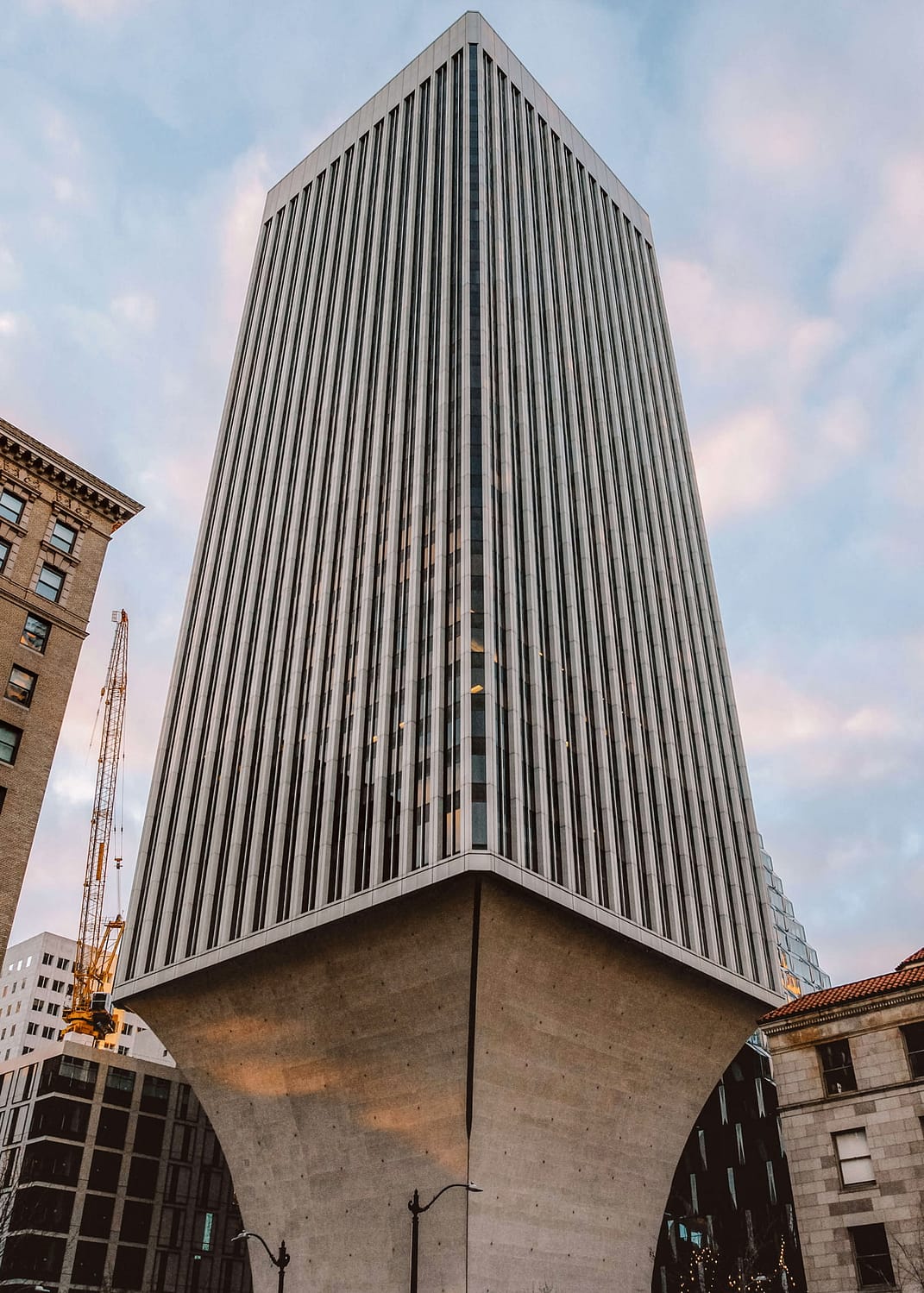 This precarious feat of architecture was built in 1977 by Minoru Yamasaki, the same man who designed New York City's World Trade Center. Rainier Tower's uniqueness, however, is not in how tall it rises into the sky, but rather for the base that holds it together, which resembles a badly strategized game of Jenga.
Its base is an 11-story concrete pedestal that serves as the foundation for the much wider 38 stories above it. This quirky design lends to its nickname, the Beaver Building, as it looks like a beaver is preparing to fell a tree by biting off chunks at its bottom.
Seattle Central Library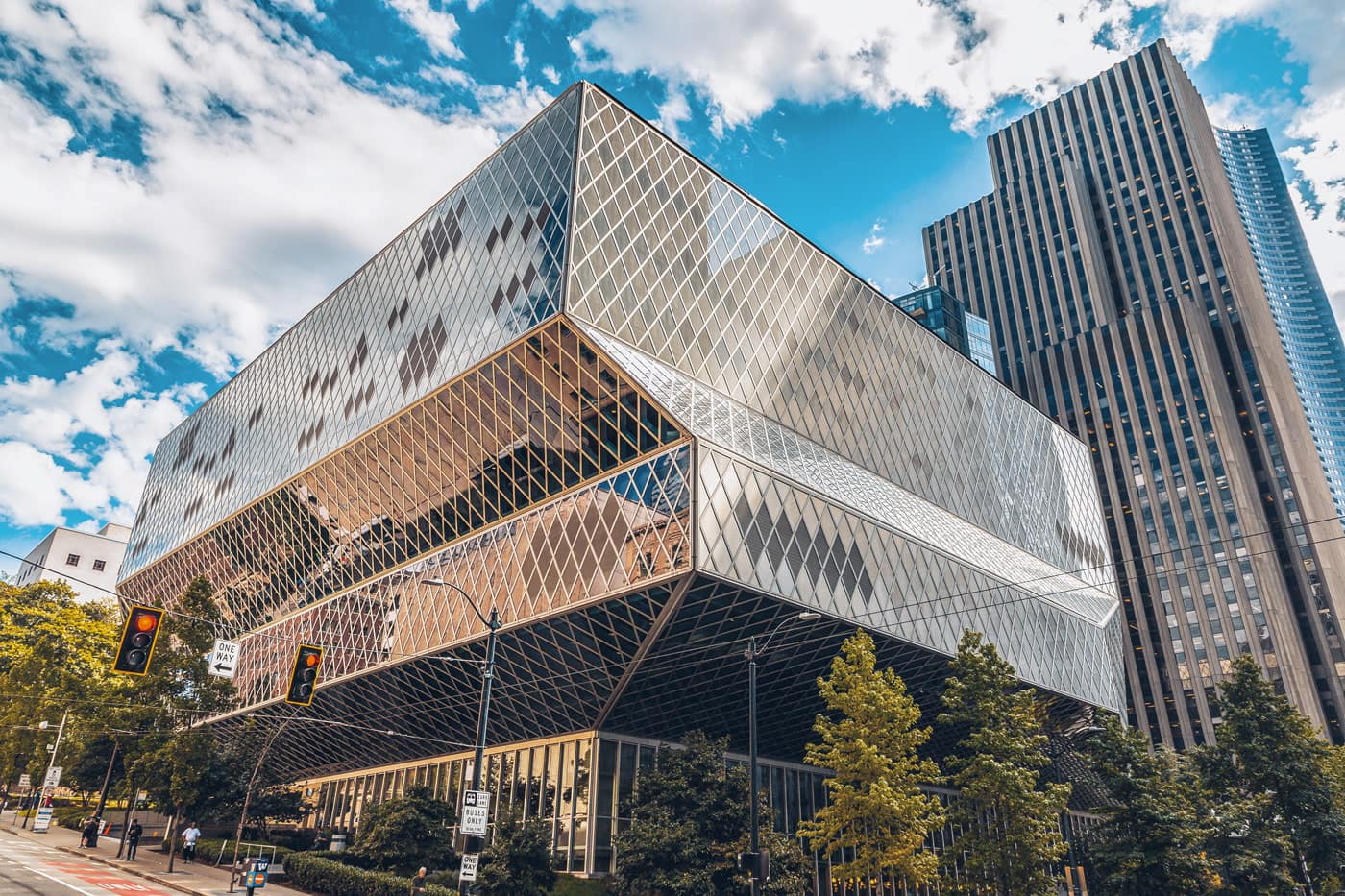 Of the 27 Seattle Public Library branches, the downtown location, built in 2004, is by far the largest and most eye-catching. It was specifically designed to go against the stuffy library stereotype and instead be an inviting space for learning in the digital age.
Its sleek, oddly-shaped exterior may be made of glass and steel, but once inside visitors find it is doused in color. Book-browsers ride between levels on bright green escalators and there is even an entire floor whose every surface is covered in fire engine red.
Altogether, it houses an impressive 1.5 million books within its 11-stories, including a clever 4-story book spiral for readers to continuously browse shelves without ever breaking up the Dewey Decimal system.
Amazon Spheres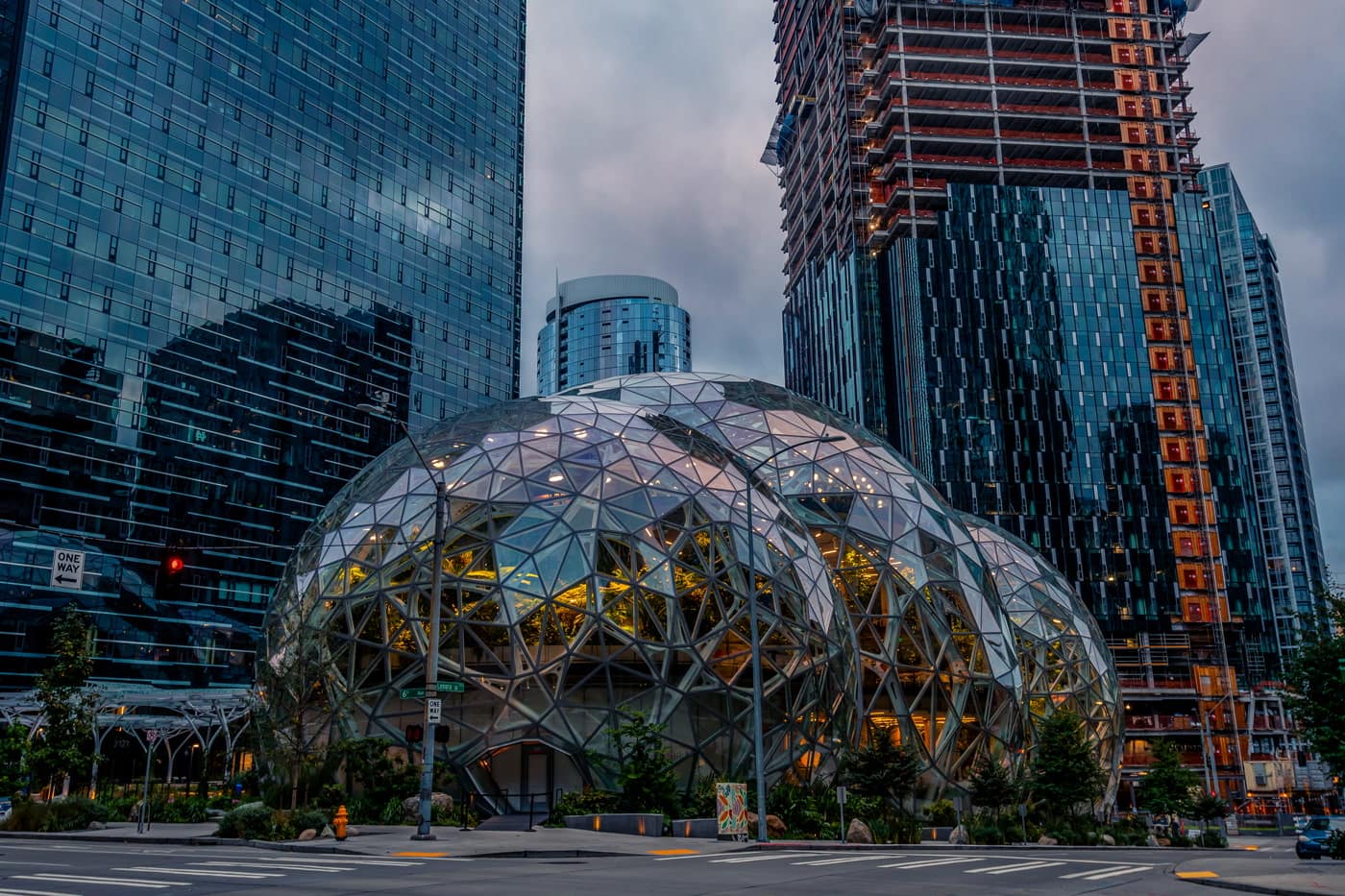 "Alexa, open the Spheres", commanded Jeff Bezos in 2018. And with that, the Spheres, an innovative office space at Amazon headquarters, became the newest addition to Seattle's modern architecture scene.
Founded as a way to build a natural connection within a bustling urban environment, the Spheres serve as an oasis for employees to work and relax. In total, there are three spheres, each reaching 3-4 stories and collectively made of 620 tons of steel and 2,600 glass panes. Inside there over 40,000 plants from 30 countries, including a massive "living wall" that features 25,000 plants alone!
Bullitt Center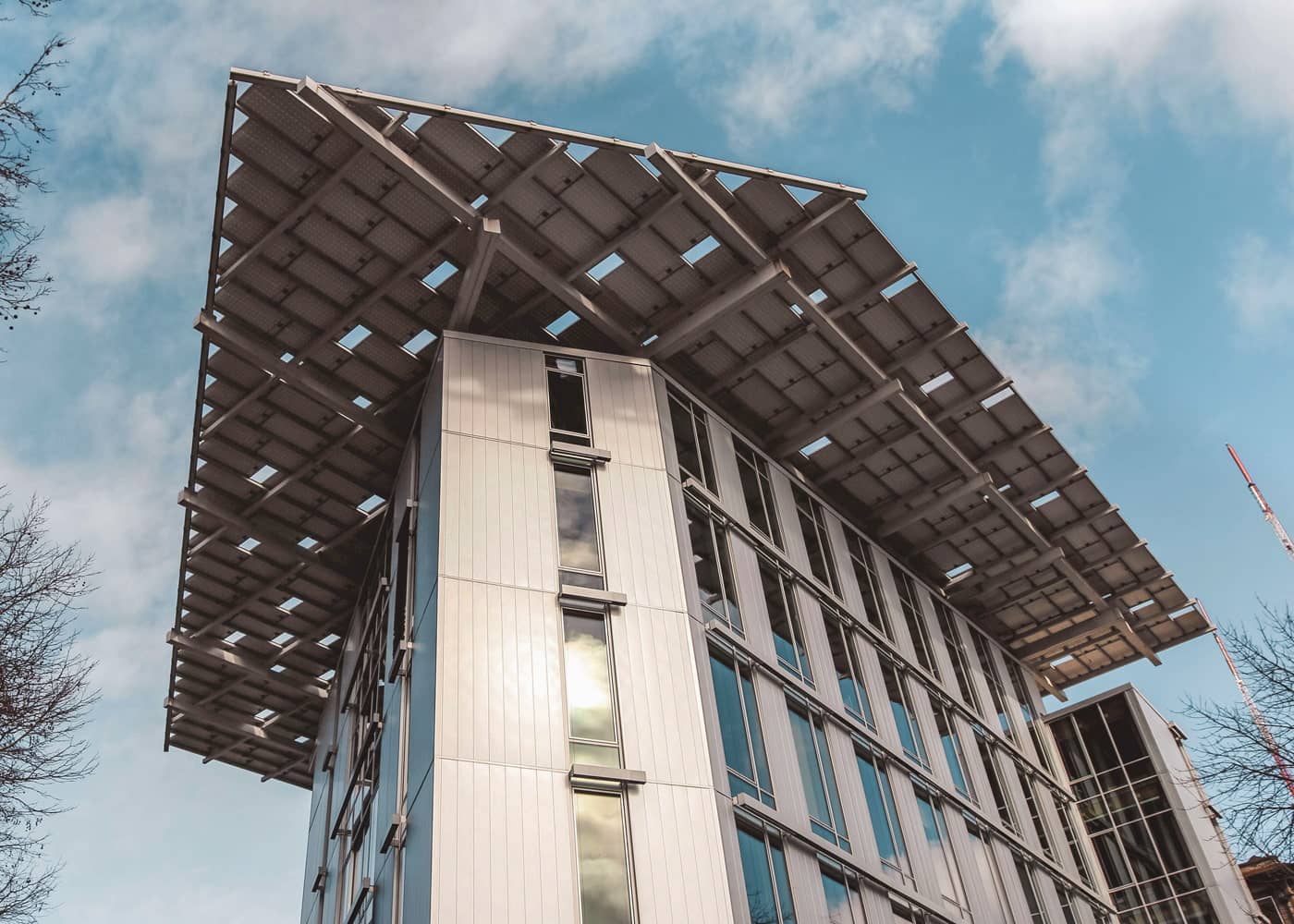 Opened on Earth Day in 2003, the Bullitt Center, located in the vibrant Capitol Hill neighborhood, is first and foremost a marvel of architectural sustainability. In fact, with its 100% renewable energy model, it is considered one of the "greenest" commercial buildings in the entire world – which is just what architect Robert Hull intended.
Unlike most buildings that are constructed to have an average lifespan of 40 years, the Bullitt Center is built to last an impressive 250 years. Chief among its many eco-features are composting toilets, a rainwater harvesting system, 26 geothermal wells that heat the building, and a lack of car parking (bike racks only!). The Bullitt Center is a testament to what the future of urban architecture can, and should, be.
Space Needle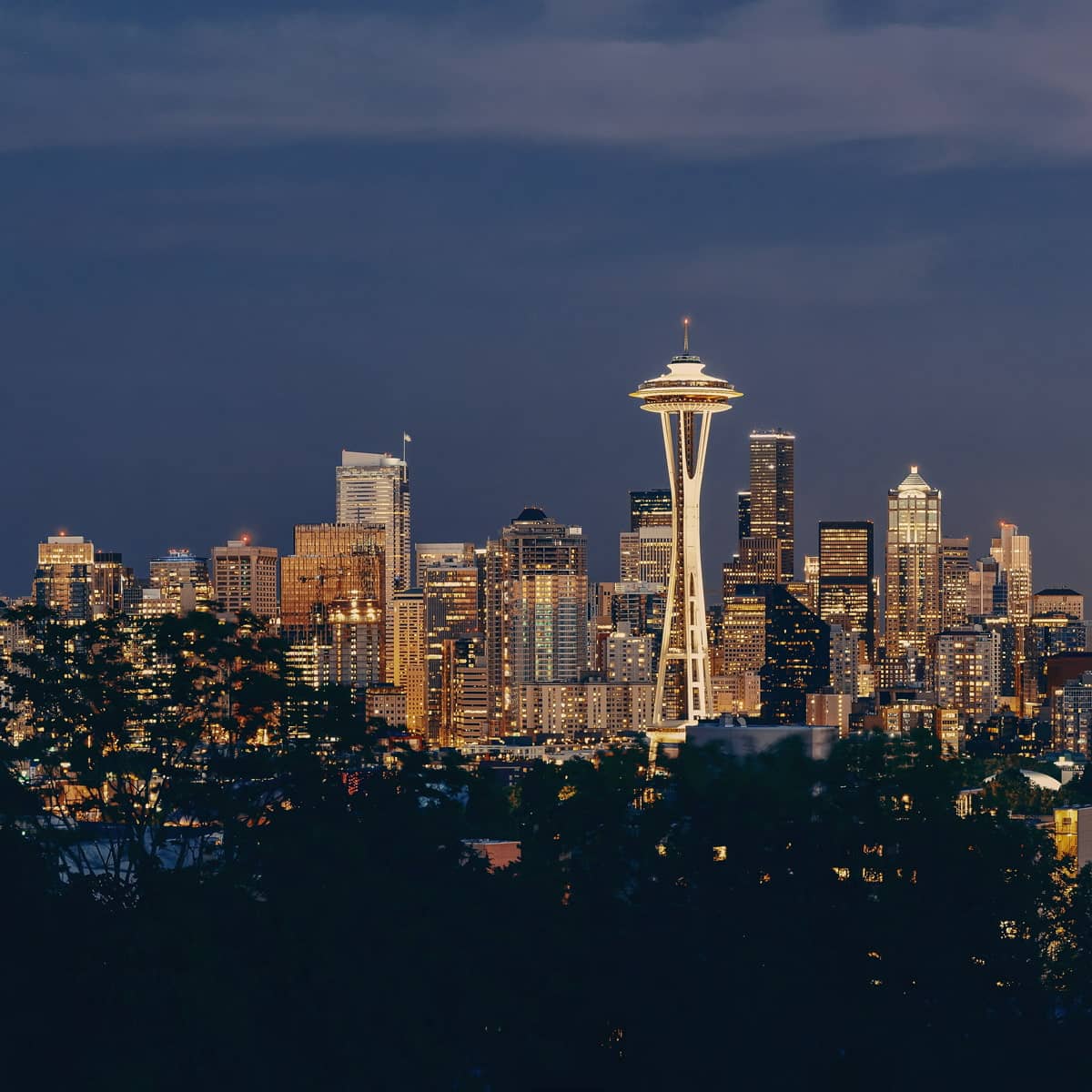 From TV show backdrops to postcards, the Space Needle takes the cake as Seattle's most iconic sight. Constructed in a mere 13 months for the 1962 World's Fair, its design fully encompassed the fair's theme: "The Age of Space".
While its slim "legs" may look like a precarious foundation for a building that rises 605 feet into the sky, the Space Needle can withstand 200 miles per hour winds, up to 9.1 magnitude earthquakes, and even deflect lightning strikes.
For the complete experience, a trip to the Needle's "flying saucer" is not to be missed. An elevator whisks visitors up to an observatory deck where they can marvel at the 360-degree view of Mount Rainier, downtown, and the Puget Sound. For those seeking a more decadent experience, a meal at its revolving restaurant is unmatched. It completes a full rotation in 47 minutes, ensuring that dinner guests enjoy every single view.
Volunteer Park Conservatory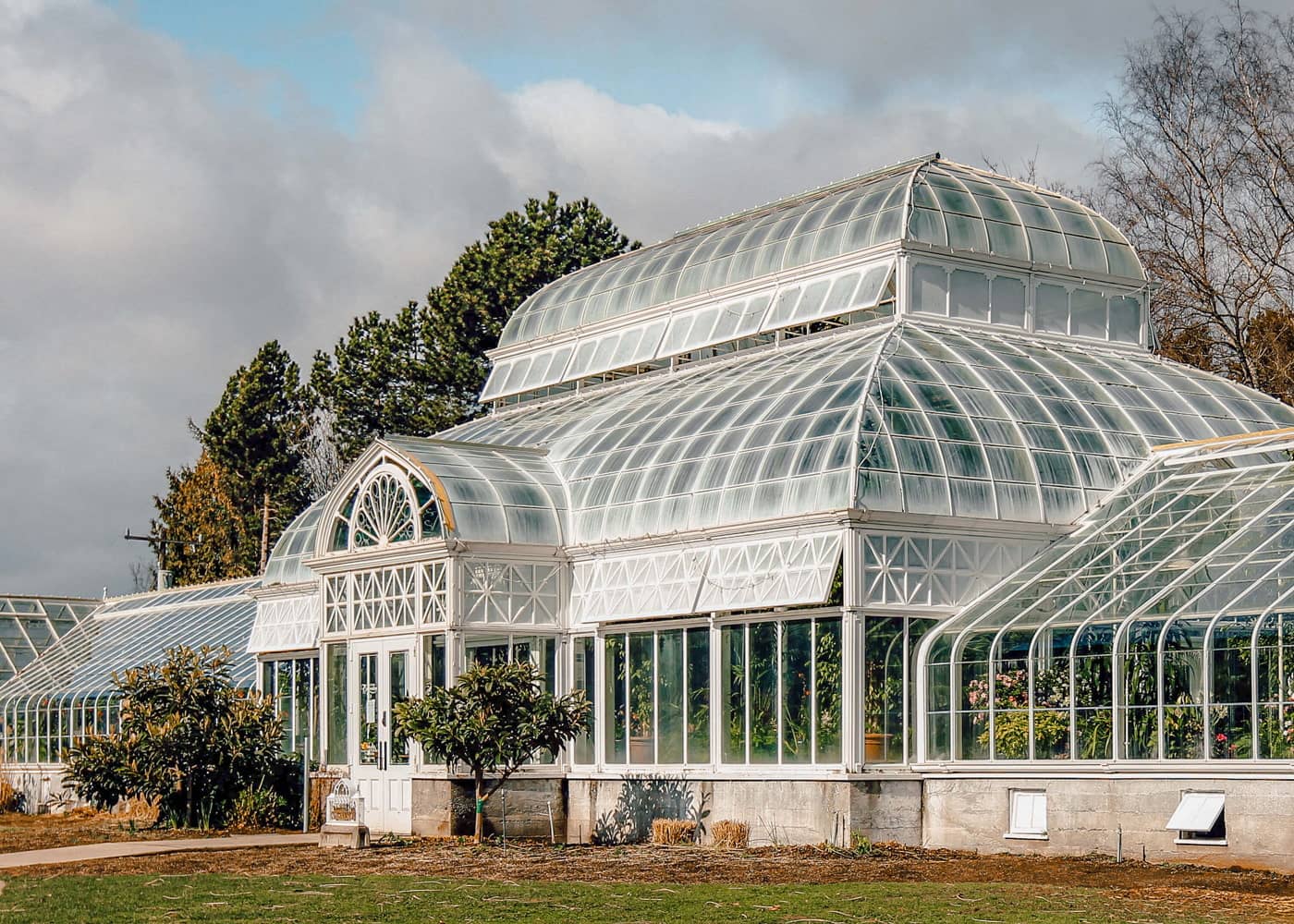 Volunteer Park Conservatory, a Victorian-style greenhouse and botanical garden, is the perfect escape from the hustle and bustle of city life. Built in 1912 using 3,426 glass panes, the conservatory is as delicate as it is distinctive. It may even be a familiar sight to those across the pond as it is modeled after London's elegant Crystal Palace.
From towering tropical palms to succulent desert species, it is a relaxing space filled with a sprawling variety of plants. These species are neatly organized into five distinguished "houses": fern, bromeliad, palm, cactus, and a seasonal collection that is rotated six times per year.
Columbia Tower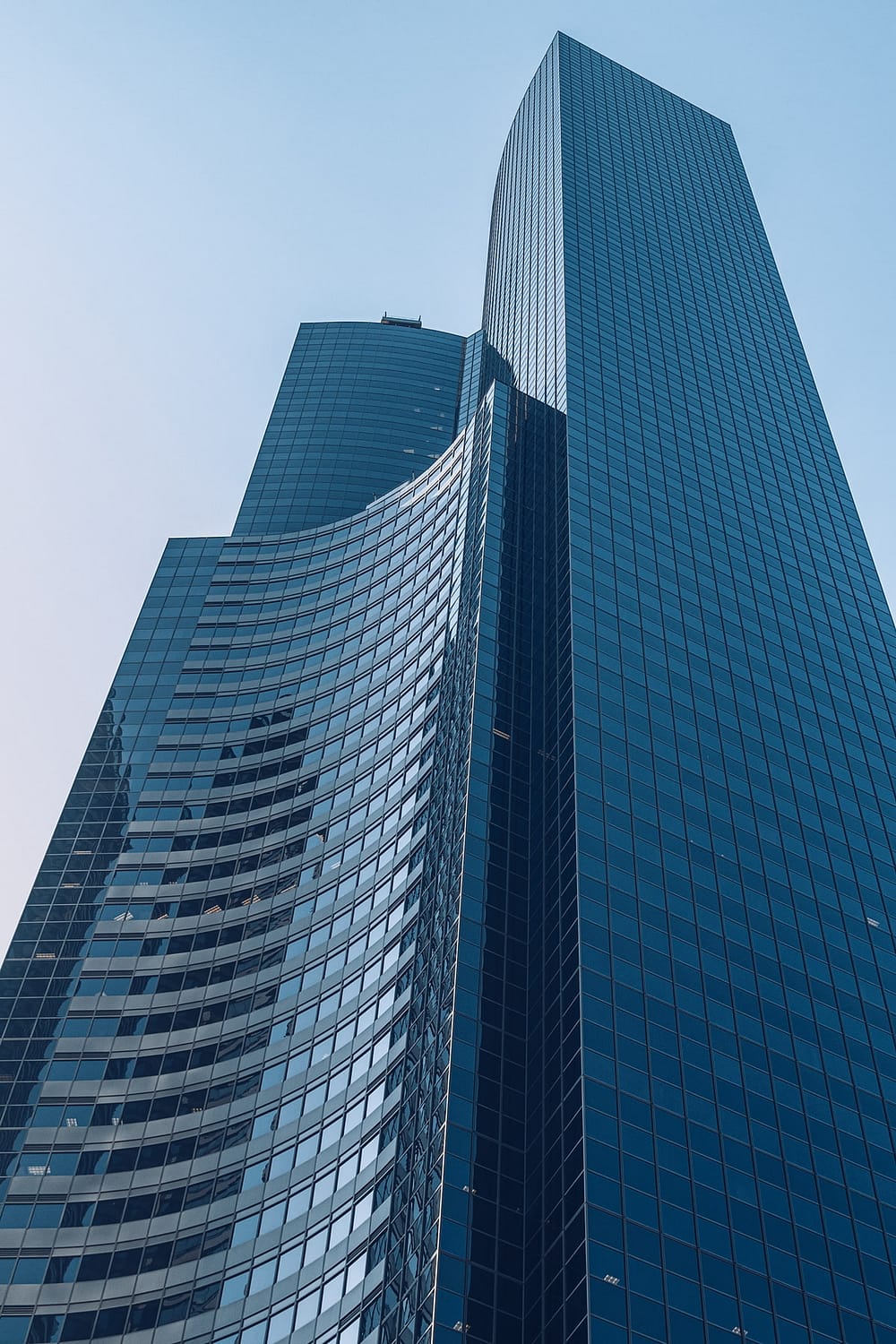 Columbia Tower was built to dwarf all of the city's other skyscrapers – which it did by nearly doubling the height of Seattle's previously tallest building, the then Seattle-First National Bank Building. When it was finished in 1985, the 76-story Columbia Tower officially became Seattle's tallest building, as well as the fourth tallest on the U.S. west coast.
Situated in the center of downtown, it primarily serves as a business complex, though the observatory deck on the 73rd floor is open to visitors. The 75th and 76th floors are home to a private club, complete with an exclusive restaurant, library, and bar.
Each year, 8,000 people, including 2,000 firefighters, head to Columbia Tower to participate in the Stair Climb for Leukemia, a race to climb 69 flights of stairs while raising money and awareness for Leukemia research.
Suzzallo Library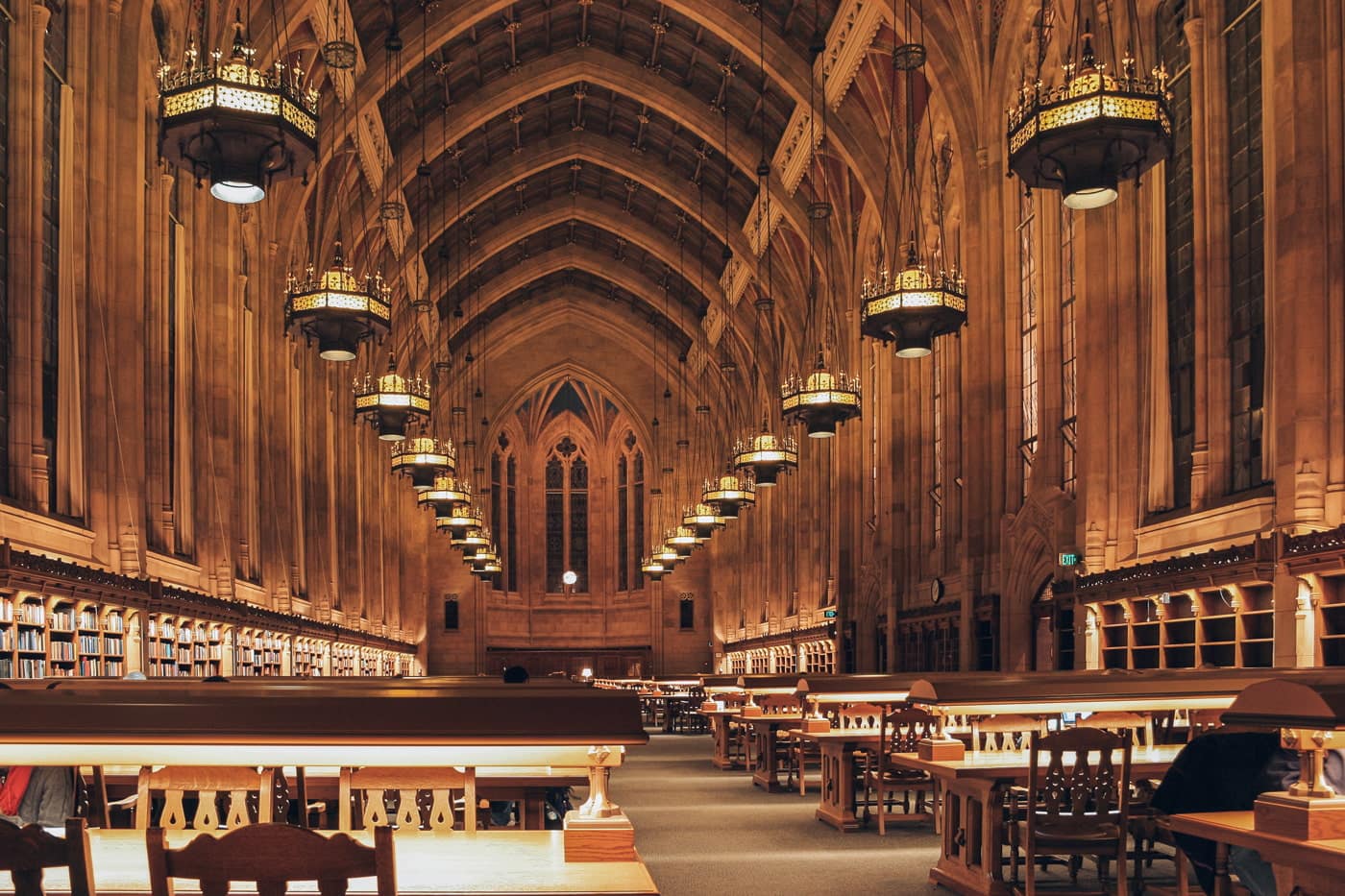 At the heart of the University of Washington's campus is Suzzallo Library, often touted as the Harry Potter reading room. With its large stained-glass windows, high-vaulted cathedral ceilings, grand staircase, and stately oak interiors, it's easy to see why it's so magical.
Built in 1926 and designed by architects Charles Bebb and Carl Gould, it is the perfect example of classic Collegiate Gothic-style architecture. In the spirit of education, its exterior also features 18 terracotta figures that represent a contribution to learning and culture, including Plato, Benjamin Franklin, Leonardo Da Vinci, and Galileo, among others.