Everyone knows that a restaurant is an establishment where food is prepared and served to customers in exchange for money. But beyond this very basic definition, restaurants may be categorized based on a myriad of factors, from services, location, and specific cuisine to cost, atmosphere, formality, and so on.
Certain types of venues, such as teahouses, are inexorably linked to the local culture and have different meanings in different parts of the world, while others – like the Spanish tapas bars – are much more than just places to eat. Cafés vary tremendously in style and menu; Italian osterias are hipper than ever; and British pubs are experiencing a renaissance of sorts.
If you've ever wondered what is a ramen-ya or a churrascaria, or want to know the subtle difference between a bistro and a brasserie, this list of restaurant types from around the world should give you an idea.
1. Bistro – Originating in Paris, bistros are small neighborhood restaurants, usually specializing in (but not limited to) French home-style cooking. They mostly serve simple, reasonably priced meals in a cozy, casual setting.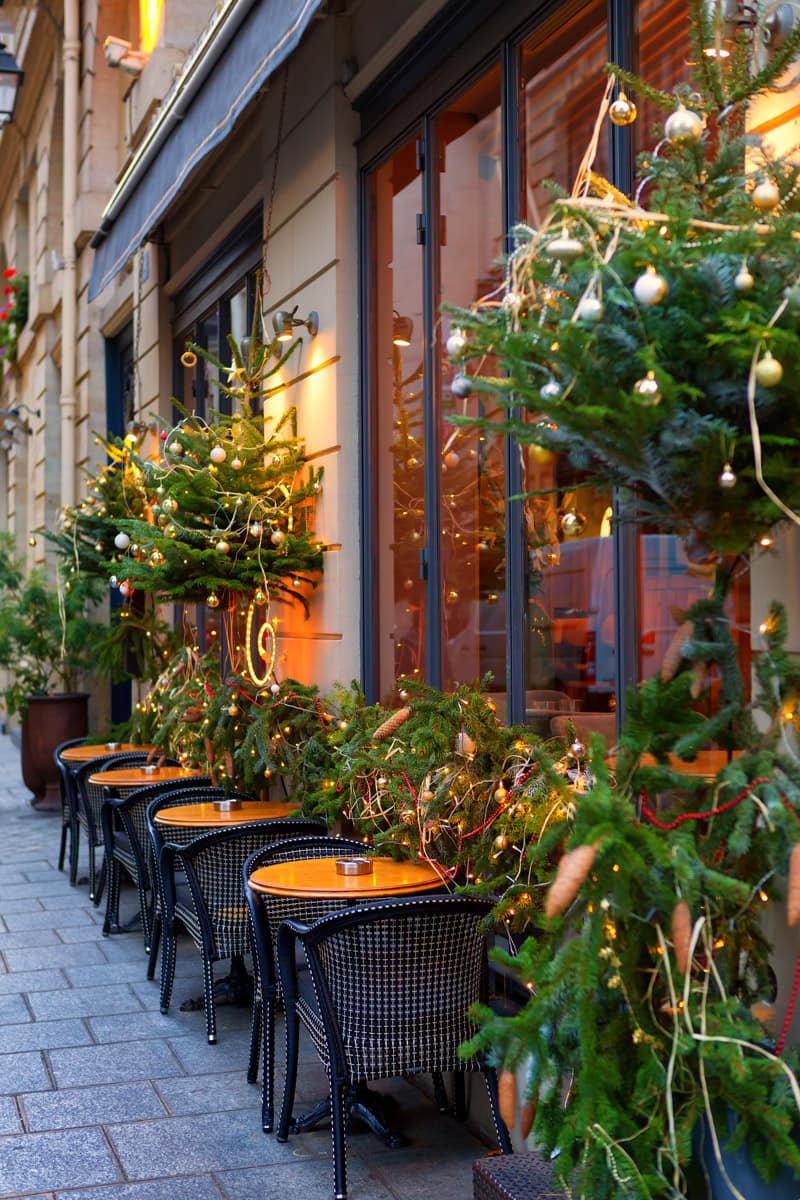 2. Ethnic restaurant – This style of eatery specializes in a cuisine related to a particular nationality, using ingredients and cooking techniques that belong to that specific culture. Among the most widespread are Chinese, Greek, Italian, and Mexican. The majority of ethnic restaurants are independently owned and situated in big cities or areas with vibrant immigrant communities.
3. Fine dining restaurant – The highest rated type of restaurant, often characterized by elaborate menus, attentive service, and sophisticated decor with crisp white tablecloths. These upmarket full-service restaurants cater to a wealthy clientele, sometimes requiring formal dress code and reservation in advance.
4. Trattoria – Less formal than a restaurant, a trattoria is a traditional, often family-run, Italian establishment devoted to rustic local cuisine.
5. Teppanyaki-ya – A Japanese restaurant, where the chef prepares and cooks your meal (usually consisting of steak, seafood, and vegetable) on a hot iron griddle (teppan) right in front of you. Many teppanyaki restaurants combine sensational live cooking shows with premium ingredients (think Kobe beef) into an exclusive, one-of-a-kind dining experience.
6. Osteria – Originally a simple wine bar where patrons would bring their own food, osterie have evolved significantly over the years. Nowadays, the term is mainly used to describe a casual and unpretentious Italian eatery (cheaper and less formal than a trattoria) serving simple home-cooked fare, though it's not uncommon to see it attached to elegant restaurants that want to evoke a sense of warmth, quaintness, and familiarity.
7. Drive-in restaurant – Though not so popular nowadays, drive-in restaurants refer to classic American establishments where customers order and eat their food while sitting in their cars.
8. Drive-thru restaurant – Slightly different than a drive-in, a drive-through or drive-thru restaurant allows clients to place the order at a microphone, and then drive to a window where they pay and receive their food. Major fast food chains like McDonald's and Burger King often offer drive-through service.
9. Pizzeria – As you would have thought, a pizzeria is an establishment where pizza is baked and served. In Italy, where they originate, you'll find two different types of pizzerie – one is a traditional sit-down restaurant, which may also serve wine, salads, and pasta dishes; and the other one, born in Rome, is some sort of bakery or take away joint selling pizza al taglio (pizza by the slice).
Established in 1830, Antica Pizzeria Port'Alba in Naples is widely regarded as the world's first pizzeria.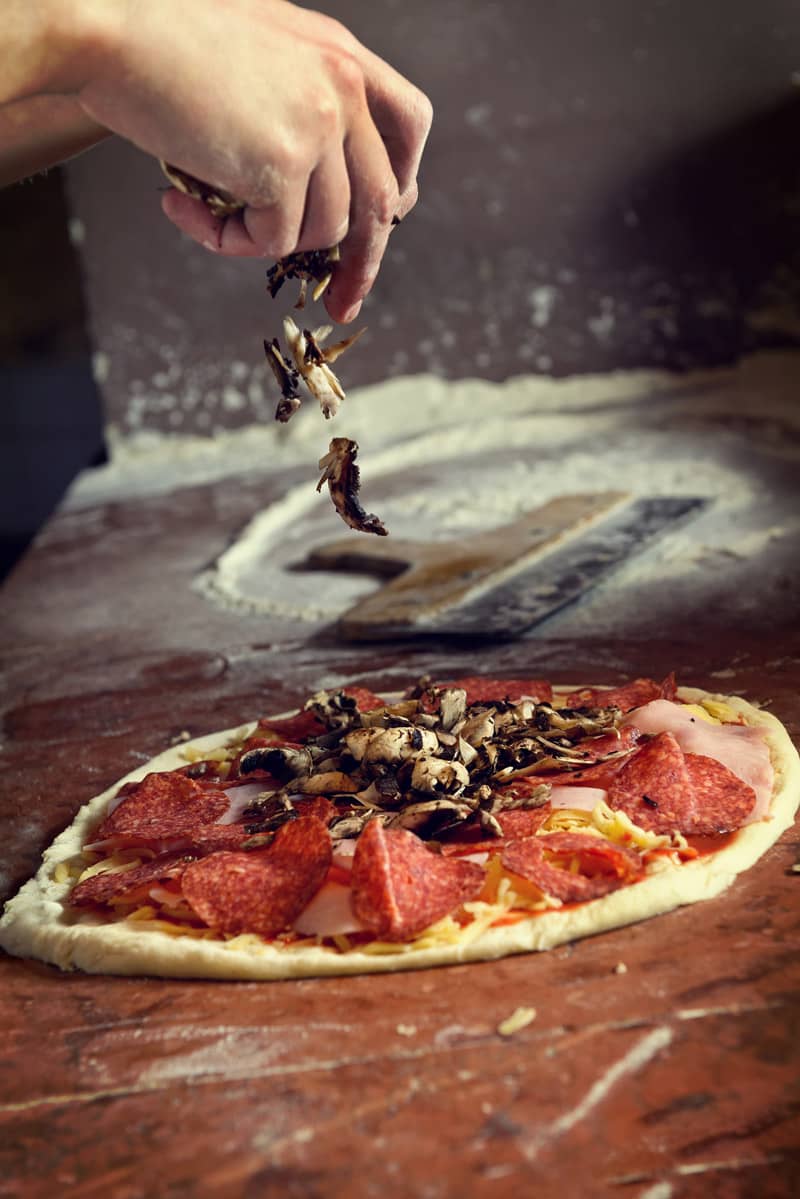 10. Taverna – Not to be confused with tavern, a taverna is a small, traditional Greek restaurant, characterized by rustic decor, authentic atmosphere, and a limited inexpensive menu – usually consisting of simple local dishes such as grilled meats, fish & seafood, and, of course, their ubiquitous dips and spreads. As well as being Greece's most popular and iconic eating establishment, the taverna is also an integral part of the local culture.
11. Fast casual restaurant – A new breed of eating establishments, where the food and service are slightly more upmarket than fast food, yet lower than casual dining. Chains like Chipotle, Panera Bread, or NYC's Shake Shack fall in this category.
12. Pop-up restaurant – A growing trend in the hospitality sector, pop-up restaurants are temporary eateries that operate in unexpected places for a limited time. They're an excellent opportunity for young, talented chefs to showcase their skills or test a new culinary concept before investing in a brick-and-mortar establishment. Needless to say, they provide patrons with a unique dining experience, often involving a theme and innovative, original food.
13. Café – Ranging from casual neighborhood hangouts to trendy establishments, the café is probably the most common eating establishment out there. Also known as coffeehouse or coffee shop, it first appeared in Constantinople (present-day Istanbul) in the 17th century, and has served as a social gathering place ever since. While focusing on coffee and other hot beverages, frequently they also offer pastries, cakes, and other light meals/snacks. The menu varies greatly from country to country.
14. Diner – A casual sit-down American restaurant open for breakfast, lunch, and dinner. Taking inspiration from the old rail dining cars, their typical retro design often includes neon lights, leather clad booths, and long counters running the length of the interior. Diners frequently stay open 24 hours a day (especially those along the highways) and serve classic American fare such as burgers, sandwiches, fries, and pies.
15. Ramen-ya – Also known as ramen shop, this is a popular restaurant type in Japan, which specializes in wheat-flour noodle soup dishes. Each region across the country has its own broth variation, so expect anything from miso to tonkotsu (pork bone broth). Not all ramen-ya restaurants provide sit-down service.
16. Teahouse – While teahouses are primarily places to drink tea, some of them also serve light meals typical to the local tea culture. You'll find tea sandwiches and small cakes in a British tea room; an assortment of pastries in a French salon de thé; and noodles in a cha chaan teng (Hong Kong tea restaurant).
17. Fast food – Synonymous with McDonald's, Burger King, Taco Bell, and Pizza Hut, fast food restaurants distinguish themselves through the speed of service, convenience, and affordability. They are normally part of major international chains or franchises, and feature limited, not-so-healthy menus, usually consisting of hamburgers, French fries, pizza, and soft drinks.
In the last few years, though, some fast food restaurants have begun to focus more on millennials, cutting fat and artificial ingredients, and offering higher-quality options such as gourmet tacos and made-to-order pizzas. Also, a new wave of healthy fast food chains is challenging the standard high-calorie fare with quinoa bowls, fresh salads, and crispy wraps.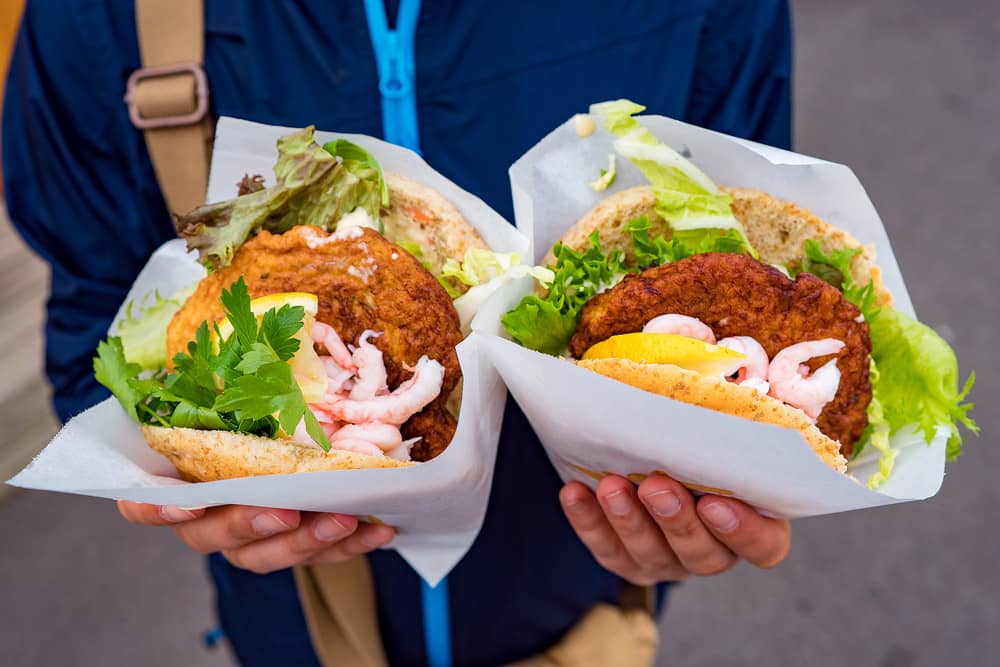 18. Buffet-style restaurant – A self-service facility where various types of food are displayed on counters/tables. Most buffet restaurants are all-you-can-eat affairs where customers are charged a flat rate, but the concept has several variations depending on which country you are in.
In Italy, a tavola calda serves mostly pre-made dishes, while in China's dim sum houses, wheeled carts with different plates of food are pushed around the restaurant. Buffet dining has its origins in Sweden's smörgåsbord tradition.
19. Cafeteria – This can be either a restaurant in its own right or an eating facility within an institution (school, hospital, workplace). In a cafeteria, there is little to no staff, so people have to serve themselves from the selection of ready-cooked food available.
20. Luncheonette – Small restaurant where light meals are cooked and served at lunchtime. Typical characteristics include counter seating and simple, limited menus.
21. Tapas bar/Tasca – A staple of Spanish culture, tapas bars are lively establishments where the drinks come accompanied by small plates of food called tapas. Ranging from humble tascas (traditional Spanish taverns) to gourmet venues, they are less formal than restaurants, yet much more than just simple bars, providing not just drinks and small bites to eat, but also a convivial place for friends to relax, socialize, or watch a football game.
One of the greatest joys of visiting Spain is Ir de tapas, or tapear – going from bar to bar to have a drink and sample delicious tapas.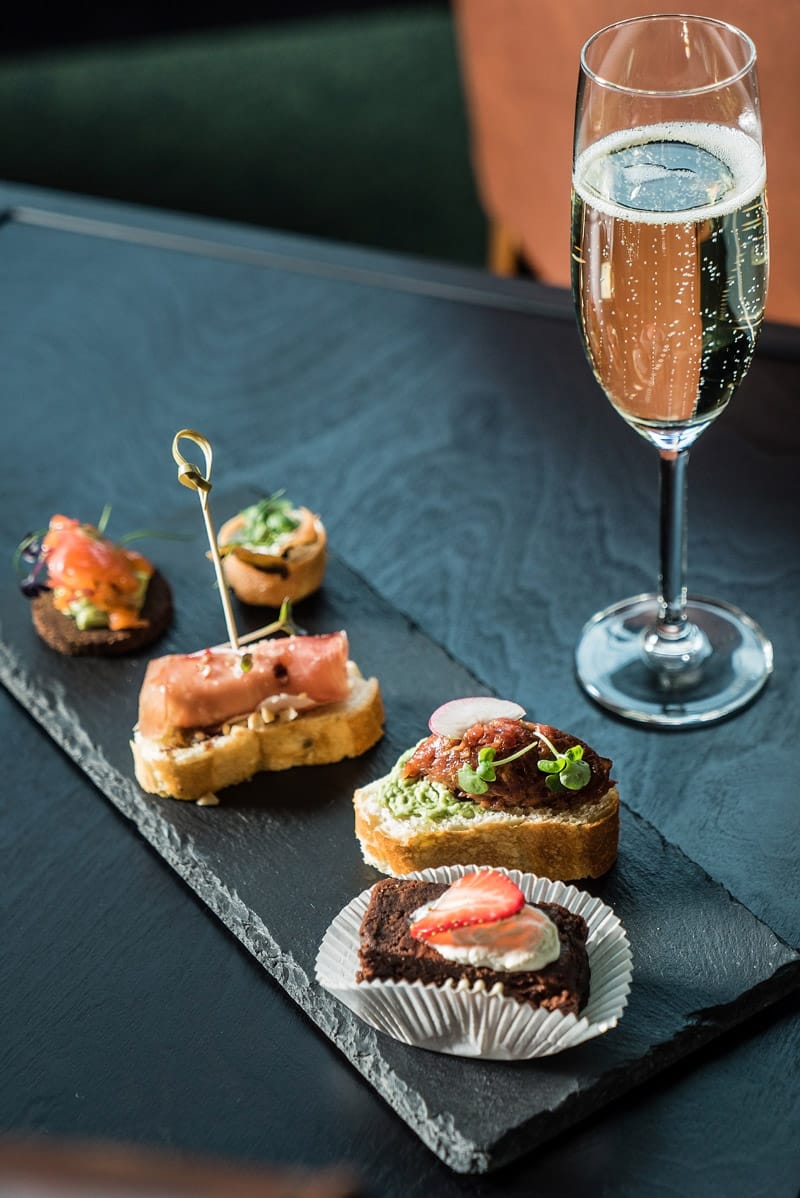 22. Steakhouse – A restaurant specializing in grilled prime cuts of beef (strip, rib eye, tenderloin). Most of the times, the menu will also include veal, pork/lamb chops, and roasted chicken, plus good wines and a variety of side dishes.
23. All you can eat restaurant – Eatery where customers pay a fixed fee and then serve themselves to as much food as they wish to eat. They usually feature multiple food stations, with everything from salads to hot items and desserts.
24. Kosher restaurant – Whether it's a pizzeria, a fast food, or a bakery, a kosher restaurant will always serve food that complies with the regulations of kashrut (Jewish religious dietary laws).
25. Dinner in the Sky – An innovative Belgium-based restaurant concept allowing a fixed number of guests to enjoy their gourmet meal at a table suspended in mid-air. Dinner in the Sky is available in over 45 countries throughout the world.
26. Dark restaurant – This is a relatively new and unusual type of restaurant, where patrons eat in complete darkness, often served by blind waiters. The concept of dining in the dark is meant to awaken the other senses through the elimination of sight.
The first permanent dark restaurant is Blindekuh, opened in 1999 in Zurich, Switzerland, whereas the most popular is Dans Le Noir ? – the only restaurant chain of its kind, with multiple locations throughout the world.
27. À la carte – Any type of restaurant where patrons can order individual dishes from a menu.
28. Gastropub – Coined in 1991, the term gastropub originates in Britain and describes a type of food venue that combines the charm and character of a pub with upscale food and better beer. The first ever gastropub is The Eagle, London.
29. Brasserie – A classic French eating establishment serving traditional food, coffee, and drinks all day long. Though the cooking style is similar, brasseries tend to be bigger and livelier that bistros, and with more extensive menus.
30. Chiringuito – A typical Spanish bar providing shade, refreshing drinks, and tapas by the beach. Though ranging from humble shacks to proper restaurants, chiringuitos are generally seasonal establishments decorated with simple wooden furnishings. Unsurprisingly, the atmosphere is delightfully laid-back and the menu centers around grilled fish and seafood.
31. Food truck – A licensed vehicle equipped with a kitchen to cook and serve food at temporary sites. Unlike the average hot dog carts or taco wagons, these restaurants on wheels travel on their own power and are packed with more sophisticated cooking appliances, providing a superior street food experience.
Focusing on limited, yet inventive dishes at reasonable prices, gourmet food trucks are a growing trend all over the world.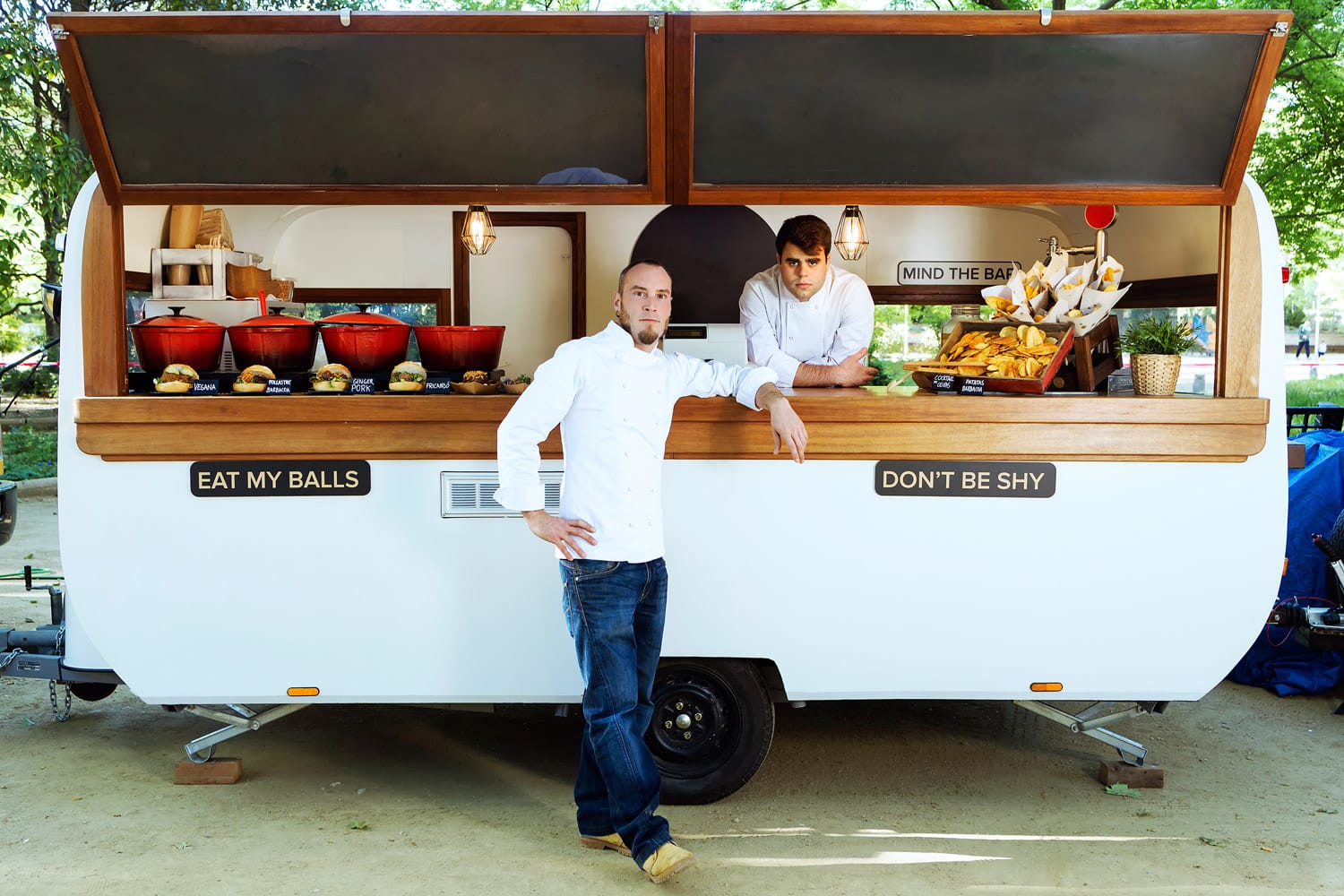 32. Churrascaria – A steakhouse restaurant in Brazil. The name derives from churrasco, the Brazilian style of grilling meat. In rodízio-style churrascarias, an assortment of grilled meats on skewers are brought to the table and the server slices off thin slices onto your plate.
33. Food court – A collection of small restaurants or fast food stalls sharing a common eating/seating area. Also known as food halls, these are usually located in shopping malls and airports.
Do you know any other types of restaurants?