A land of majestic floating temples, serene emerald valleys, and wonderfully chaotic cities, India is a wildly contrasting nation – a place that will creep under your skin, stir your soul, and linger in your mind forever.
Unforgettable travel experiences await at every turn in the world's 7th largest country, but to fully capture its bewildering diversity, make your pilgrimage to these picture-perfect places during your next Indian stay. From the Instagrammable Blue Town of Jodhpur to the soothing, lush greenery of Munnar, these attractions cover the full gamut of interests, whether cultural, recreational, or spiritual.
Jodhpur, Rajasthan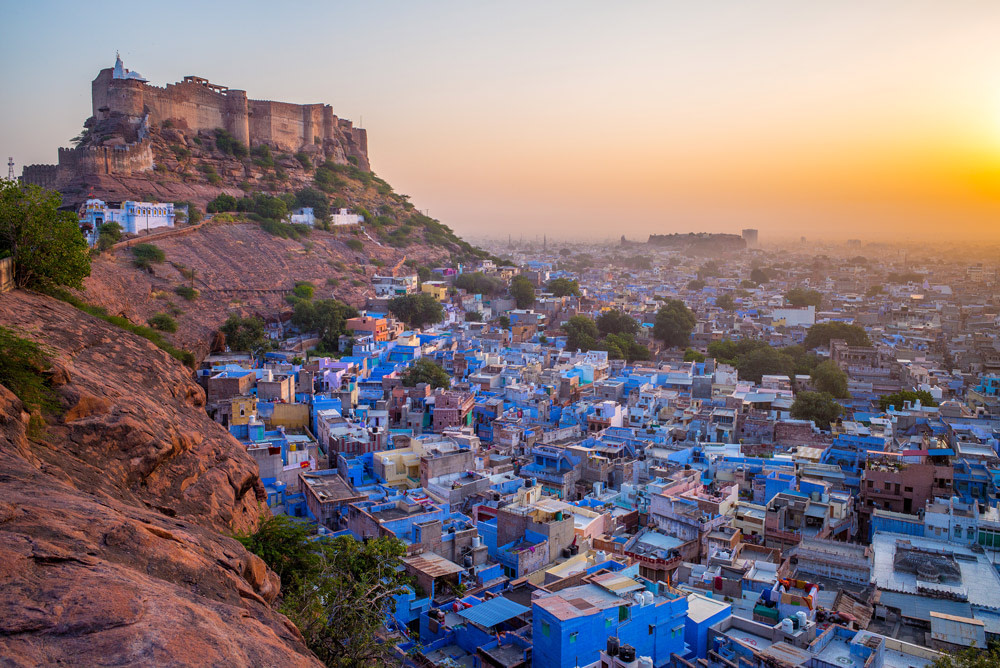 Nestled in the shadow of the majestic Mehrangarh Fort, on the edge of Rajasthan' Thar desert, Jodhpur is a photographer's paradise and a veritable feast for the senses. A dreamlike labyrinth of blue, its walled Old Town is teeming with street life, elegantly crumbling havelis, and colorful stalls selling everything from spices and textiles to wonderful handicrafts.
Towering above Jodhpur's Blue City, Mehrangarh is an architectural treasure trove of red sandstone palaces, lovely courtyards, and panoramic cannon-strewn ramparts offering spectacular views over the flat, indigo painted roofs shimmering in the sunshine.
Taj Mahal, Agra, Uttar Pradesh
One of the most beautiful buildings in the world greets visitors to Agra, a big, bustling city in the northern state of Uttar Pradesh. Built by the Mughal emperor Shah Jahan in memory of his beloved third wife Mumtaz Mahal, the Taj Mahal is a vision in ivory-white marble, adorned with delicate calligraphy and exquisite inlay work of precious and semi-precious stones.
A winner of the New7Wonders of the World initiative, the splendid UNESCO-listed mausoleum lies on the south bank of the holy Yamuna River, surrounded by walled Persian gardens.
Munnar, Kerala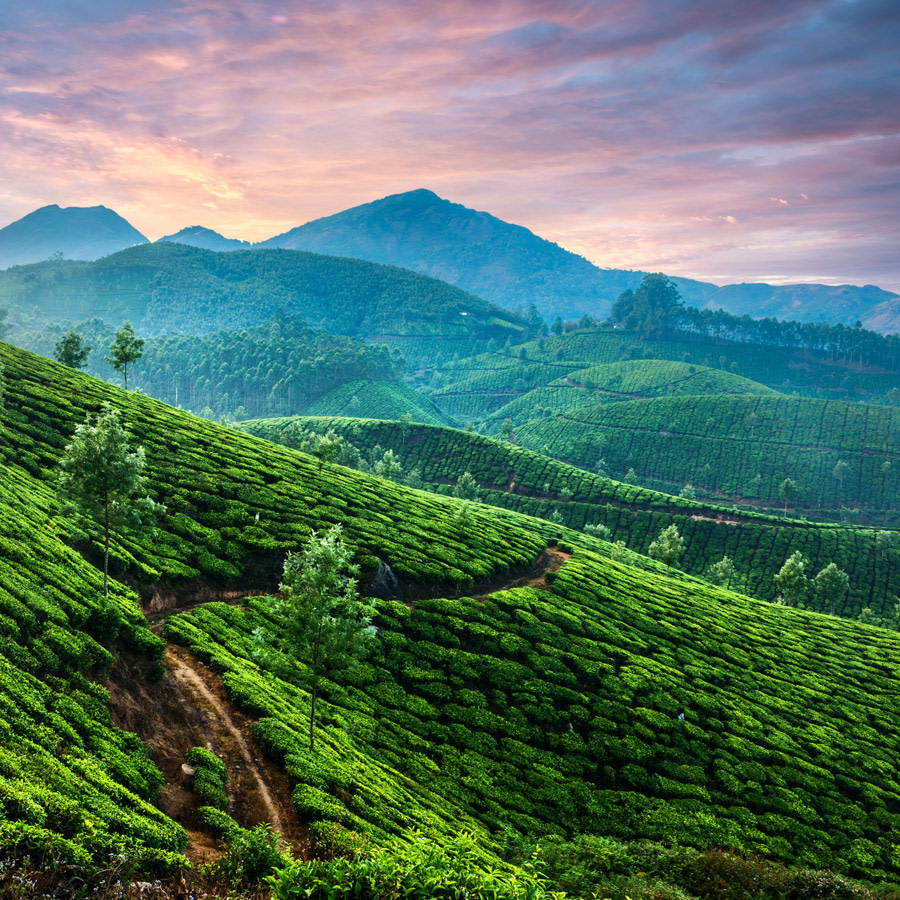 Perched 1,600 meters above sea level, in the Idukki district of Kerala, Munnar is one of the most beautiful hill stations in South India. A nature lovers' paradise, the area is famous for its lush, breathtaking landscapes, blanketed with vast tea and spice plantations, rare exotic flora, and evergreen forests.
Surrounding the town are fascinating trekking trails leading to majestic waterfalls, craggy peaks, and picturesque villages, making this pocket of green a sought-after destination for adventure and outdoor enthusiasts.
Chand Baori, Abhaneri, Rajasthan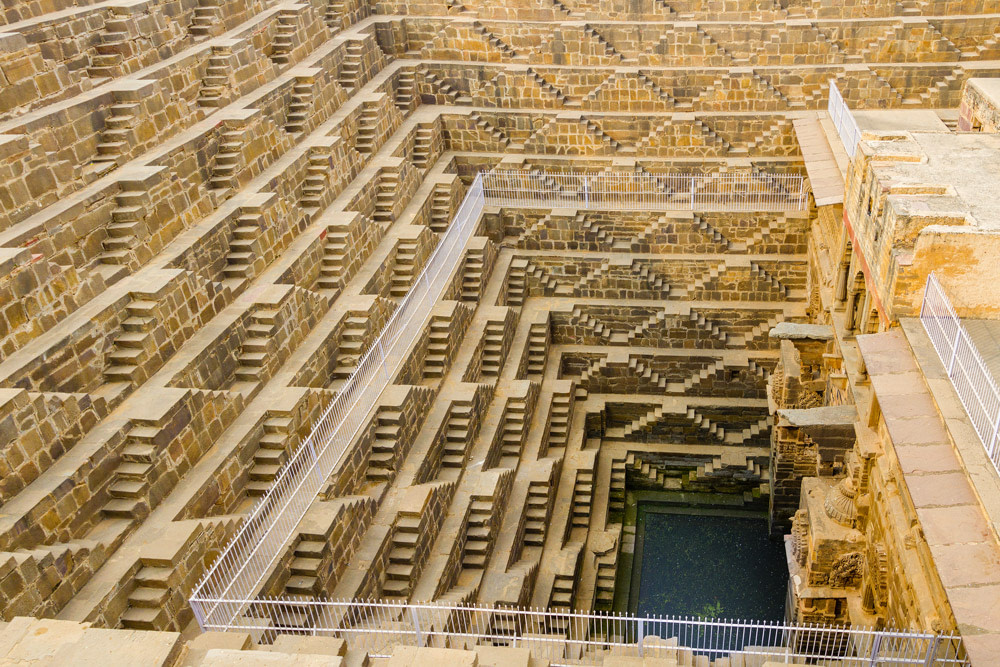 Tucked away in the small Rajasthani village of Abhaneri, Chand Baori is the deepest stepwell in India, and one of its most visually spectacular. Reminiscent of a reversed pyramid, the 1,200-year-old structure features no less than 3,500 narrow, terraced steps that descend 13 stories in perfect symmetry to a depth of 100 feet.
You'll find this ancient engineering marvel around 90 kilometers from Jaipur, on the way to Agra.
Harmandir Sahib, Amritsar, Punjab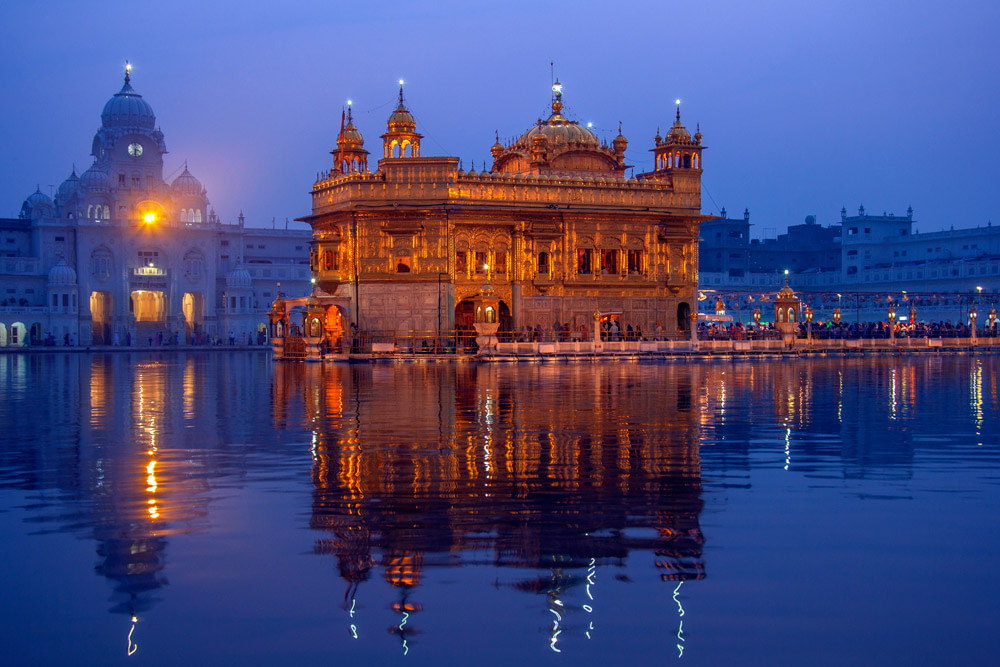 Floating on a marble island in the sacred Amrit Sarovar, this gold-plated gurdwara in Amritsar, Punjab is the holiest shrine of the Sikh religion, and one of the country's most spellbinding sights.
The Golden Temple is just one of the several buildings that make up the Harmandir Sahib complex and stands out for its dazzling architecture, which blends various Hindu and Islamic styles. The lower level is clad in white marble and adorned with pietra dura inlay, while the shimmering upper floor is decked out in intricately engraved gold panels.
Home to one of the world's largest community kitchens, the spiritual site serves around 75,000 people on a daily basis, and welcomes everyone, regardless of religion.
Udaipur, Rajasthan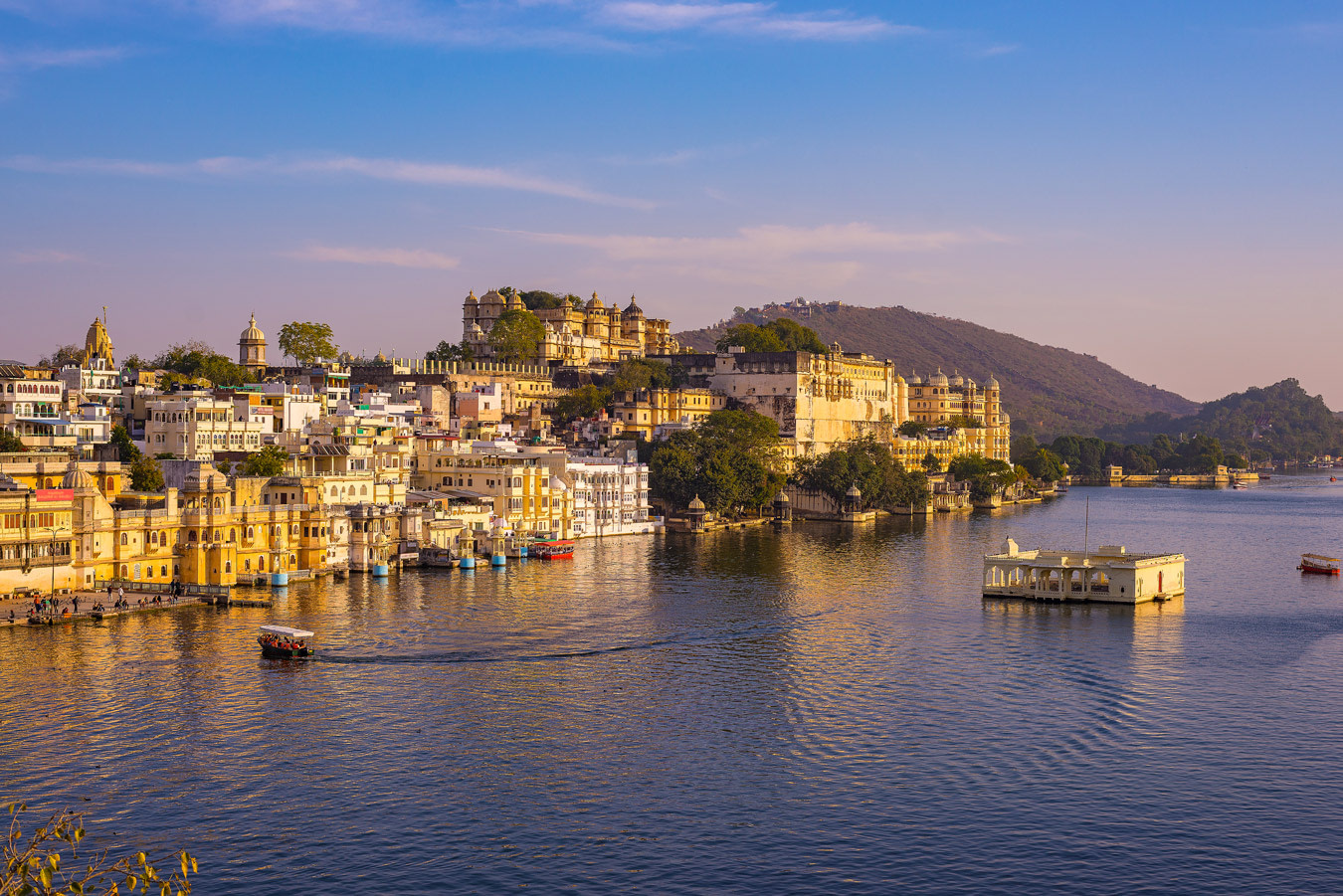 Glistening lakes, pink-hued marble palaces, and windings streets steeped in old-world charm make Udaipur one of the most beautiful and romantic places in India.
Though overflowing with ancient bazaars, intricately carved temples, and traditional whitewashed havelis, the city has an alluring European look and feel, thanks partly to its splendid regal architecture and vibrant art scene.
Full of workshops and Mediterranean-inspired cafés, the labyrinthine Old Town is a joy to explore, but so is the picturesque Lake Pichola – surrounded by huge forested hills, bathing ghats, and sumptuous Rajput-era forts. Nestled on the east bank, the City Palace is particularly awe-inspiring, with its unique fusion of architectural influences, art-filled interiors, and delightful hanging gardens.
Meenakshi Temple, Madurai, Tamil Nadu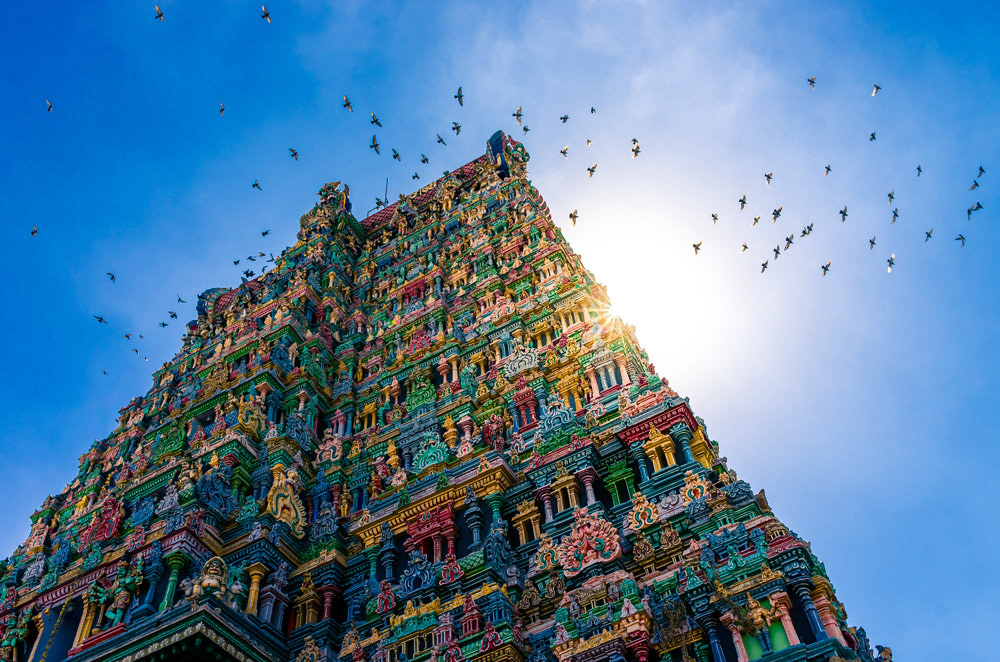 Covered in thousands of brightly colored statues depicting gods, demons, and animals, Meenakshi Temple is one of the most photogenic sights in South India. The 14-hectare complex is located in the historic heart of Madurai and comprises 14 soaring gopurams (getaway towers) encrusted with vividly painted mythological sculptures, a sacred pool, as well as a number of striking mandapas – pillared halls where pilgrims rest.
Remarkable architecture aside, the religious monument is one of the largest of its kind in India, attracting over 15,000 worshipers each day.