Celebrating the Millennial pink craze that has invaded the worlds of fashion and design lately, we've put together a collection of Instagram-worthy places, varying in shade from stylish rose gold to bright, bold magenta.
Pan y Pasteles, Alcalá de Henares
Located in the heart of Alcalá de Henares, a historic university city outside Madrid, Pan y Pasteles stands out for its unique design, with polished micro cement flooring, exposed brick walls, and an eye-catching artistic installation of over 12,000 "strawberry lollipops" hanging from the ceiling. The contemporary bakery has been designed by Ideo Arquitectura, and the dominant color is magenta.
Pietro Nolita, New York City
With its soft pastel rose interior reminiscent of a '50s American diner, it's no surprise Pietro Nolita is NYC's most Instagramable restaurant. The intimate, family-run eatery serves healthy Italian food in jewel-box surroundings, decorated with plaster walls, leather banquettes, and mid-century style light fixtures – all painted in delicious shades of pink.
Kamehameha Snack-Bar, Montreal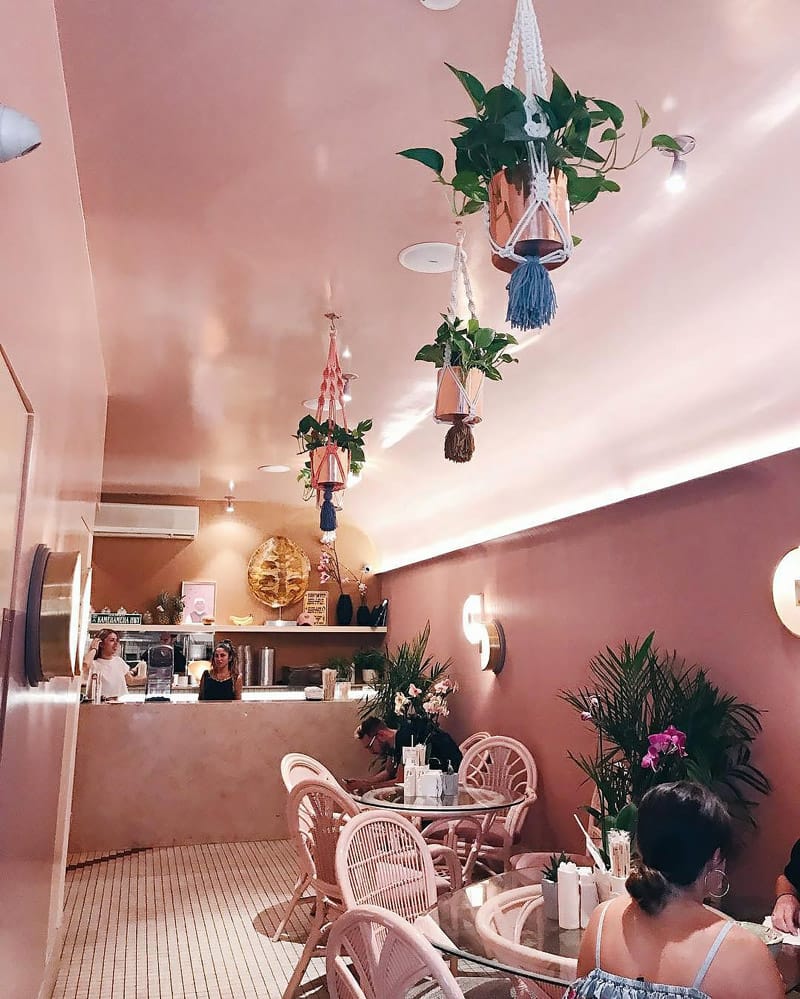 A sunny slice of Hawaii in downtown Montreal, Kamehameha Snack-Bar welcomes patrons in a playful, island-inspired setting, where everything – from the glossy walls to the reupholstered rattan furnishings – is painted pink. Copper pots of plants throughout add a vibrant tropical feel to the sweet, rosy decor.
Apeach Café, Busan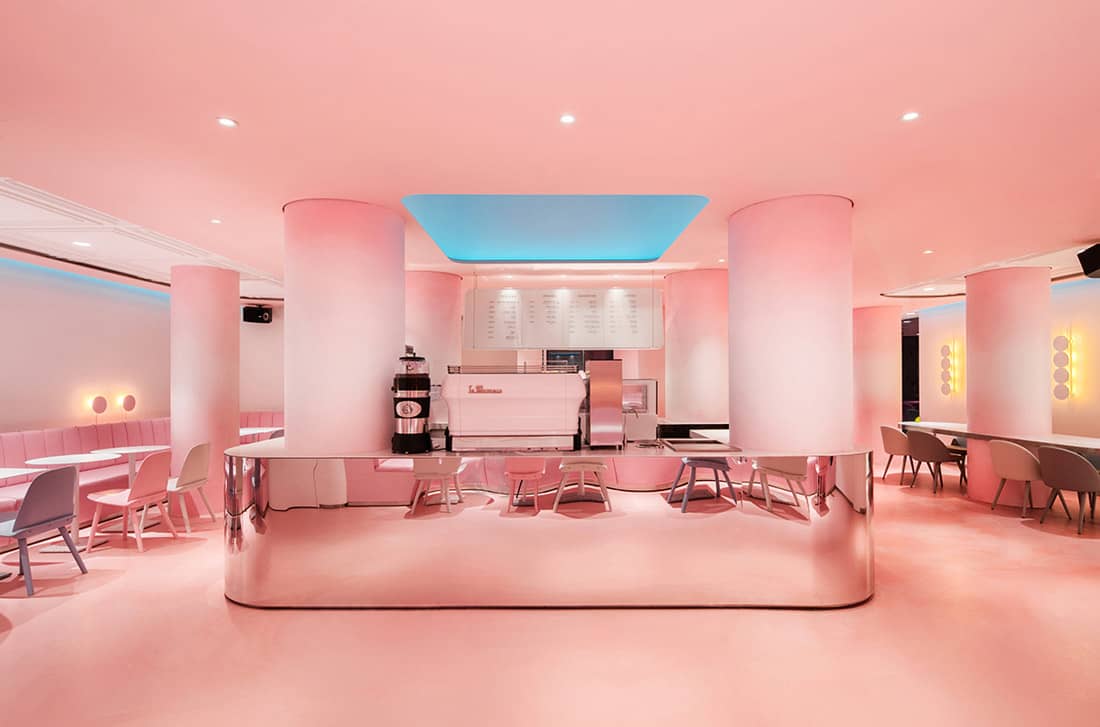 Tucked inside Busan's Kakao Friends flagship store – a modern shopping center themed around South Korea's most popular messenger app, Apeach Café is as cute as it is pink. Inspired by the Apeach character (a genetically modified peach), the cotton candy space revolves around a shiny rose metal-clad service station and features multiple seating arrangements.
Eloise at The Plaza, New York City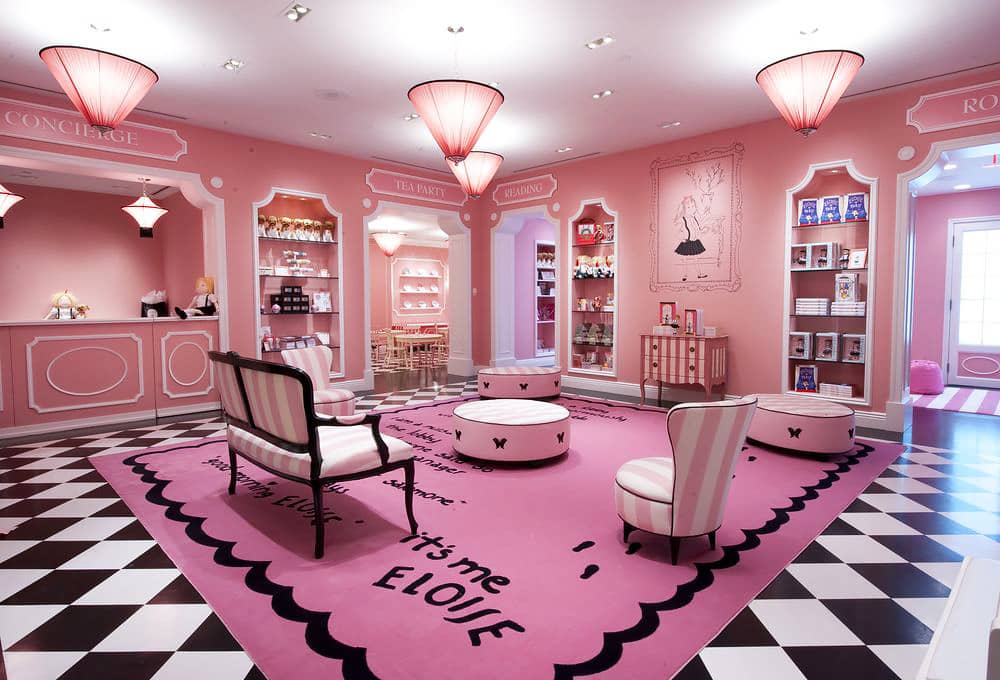 Based on a series of children's books about a six-year-old girl who fictionally resided in the posh NYC hotel, Eloise at the Plaza transports guests of all ages into a magical world full of color and joy.
From the cheerful and stylish Betsey Johnson-designed Eloise Suite to the treasure-filled Eloise Shop, all themed facilities are, of course, decked out in sweet shades of pink.
MaMa Kelly Restaurant, Amsterdam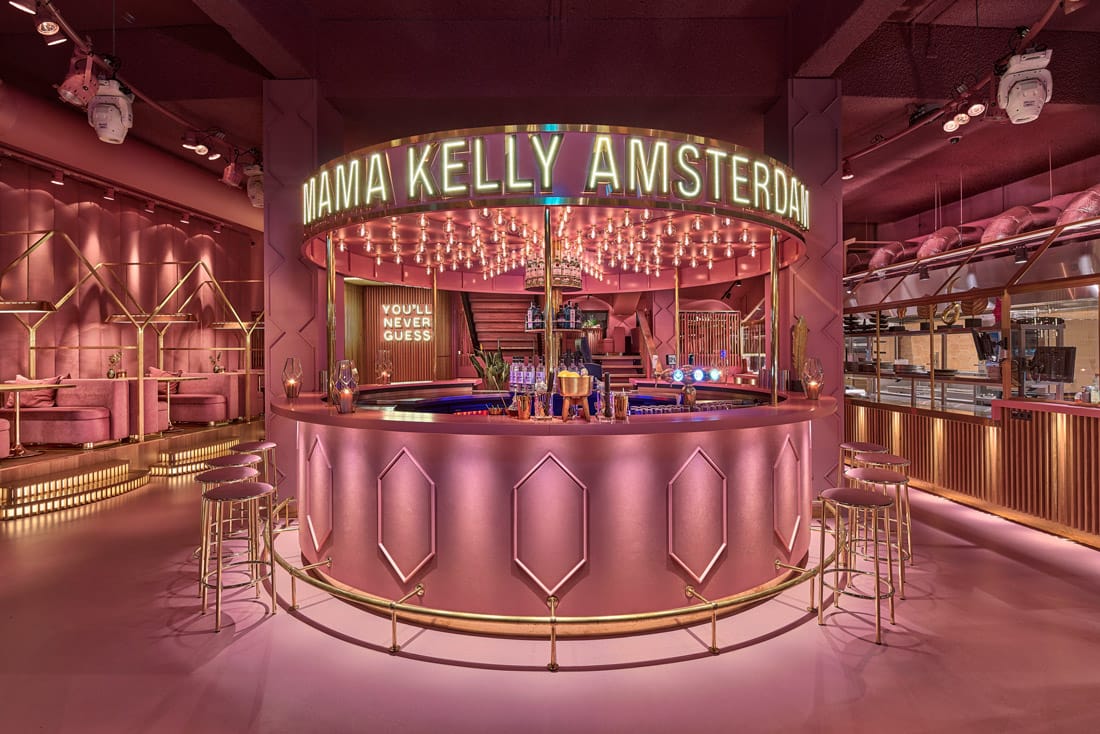 Following the success of its first industrial-themed establishment in The Hague, Mama Kelly comes to Amsterdam – this time, with a different look and feel. Expect elegant salmon pink interiors with high ceilings, oak wood floors, and sleek gold accents. Beyond its sweet, feminine aesthetics, the restaurant also serves the best chicken and lobster in town.
NANAN Patisserie, Wroclaw
Plush velvet walls, delicate shining brass details, and dreamy éclairs – Wroclaw's pink NANAN Patisserie is layer after layer of deliciousness. A project by Polish designers BUCK.STUDIO, the exquisite cake shop is dressed up in powdery vintage rose and features a central island counter, where the precious confections are carefully displayed like gemstones in a jeweler's shop.
The Gallery Restaurant at Sketch, London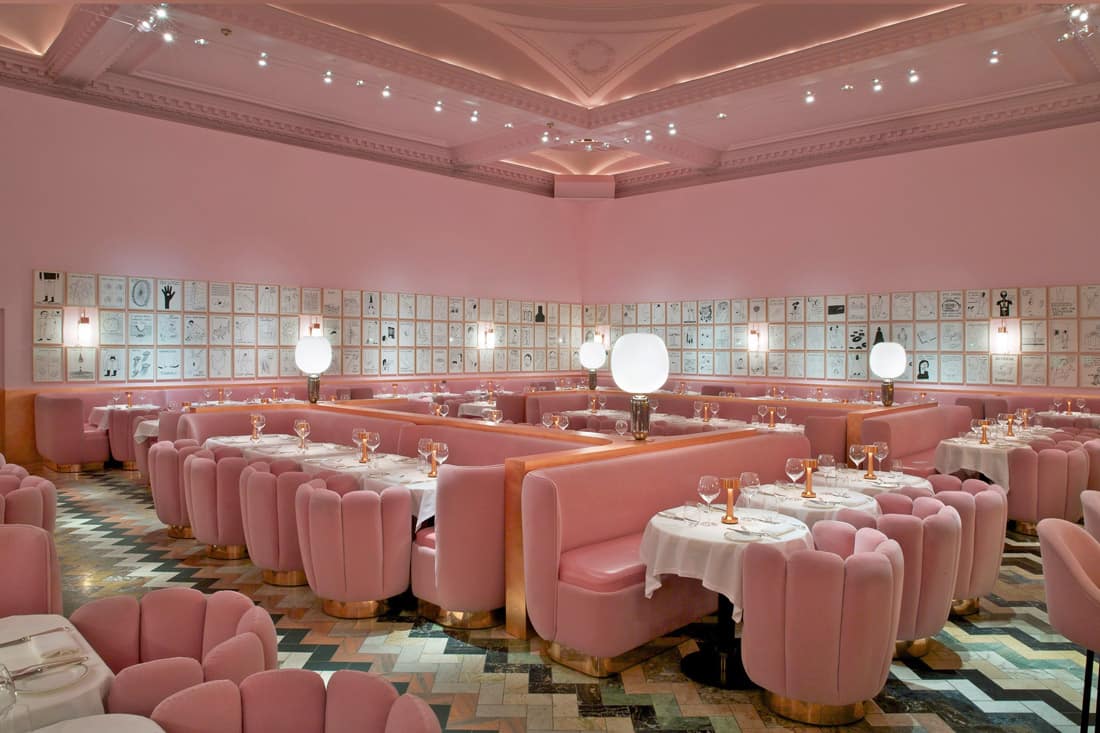 Eating at Sketch's Gallery restaurant in Mayfair is like dining in a modern art museum. Designed by India Mahdavi, the monochromatic space is a soothing feast for the eyes, with glamorous pink velvet banquette seating and lots of satirical drawings by David Shrigley lining the walls and adorning the white ceramic tableware. The only contrasting elements are the dazzling multicolored marble floor and the staff's bespoke gray uniforms envisioned by fashion designer Richard Nicoll.
La Muralla Roja, Calpe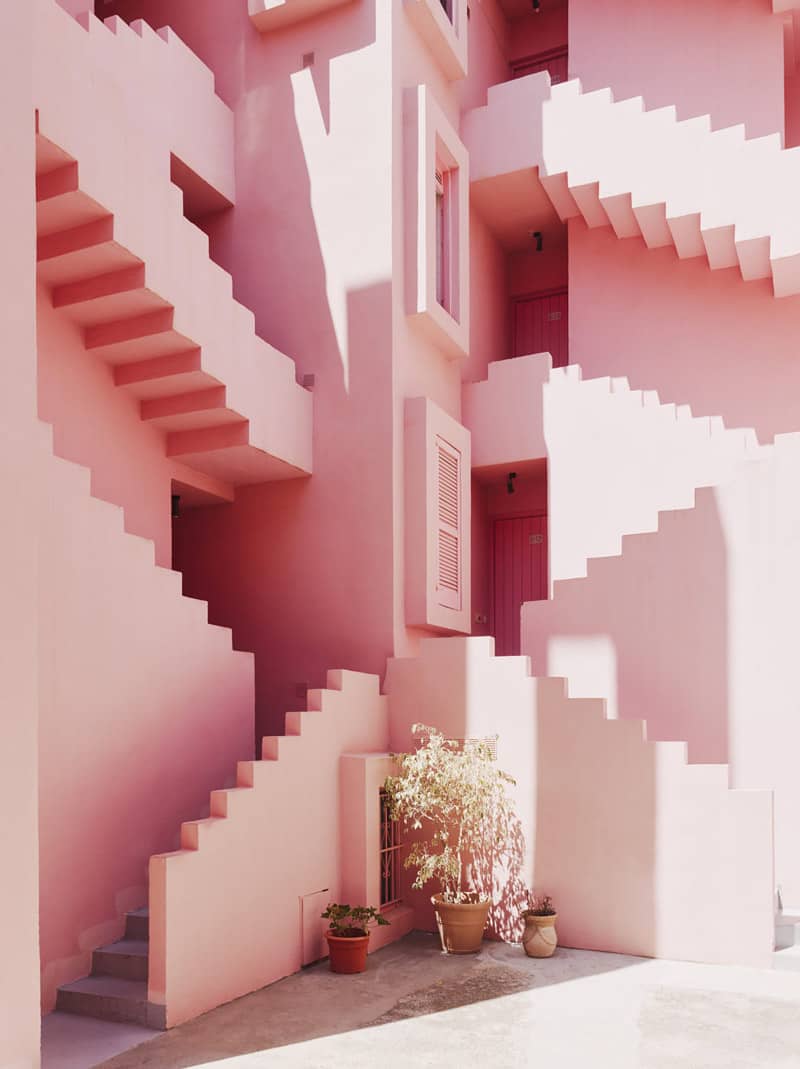 Designed by Ricardo Bofill in 1973, La Muralla Roja is one of the most striking examples of Arab-Mediterranean architecture – a fortress-like structure in various shades of red and pink, with fanciful interconnected patios, interior staircases, and occasional glimpses of the cerulean sea.
The highly photogenic apartment building rests in the hills of Calpe, a coastal town in the province of Alicante, Spain.