These days, more and more hotels and resorts around the world are finding creative ways to keep guests entertained from sunrise to sunset. While some of them woo their customers with the latest cutting-edge technology, gourmet cooking classes, in-house libraries, and spas where you can get away from it all, others add a touch of Hollywood to your experience with spectacular outdoor cinemas set up in fantastic locations.
The following hotel cinemas bring back the spirit of outdoor movie watching with their spectacular beach and over-the-water settings.
On-The-Sands Cinema in the Maldives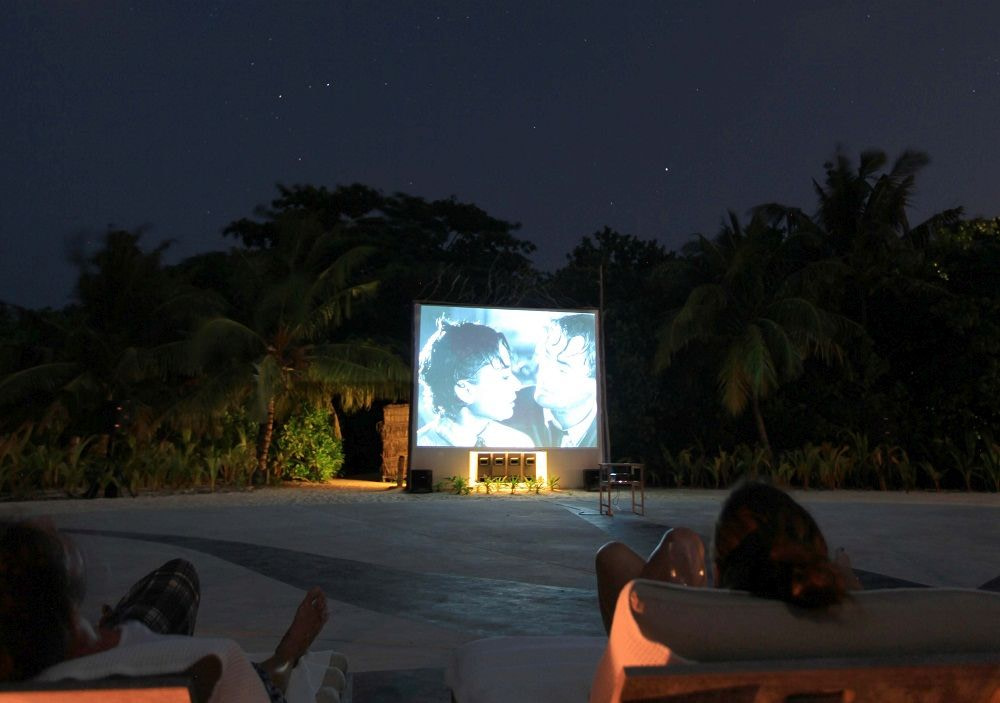 With the beauty of nature as its backdrop, Cinema Paradiso at Soneva Fushi Resort invites guests to a memorable under-the-stars movie experience. Just sit back in your comfy beach lounger and watch a good old classic while sipping ice-cold cocktails. Screenings come with extra treats, including complimentary popcorn and a vast selection of ice cream flavors to choose from.
Outdoor Beach Cinema in Oman
In the warm summer evenings, nothing beats an outdoor beach cinema experience, and the expert staff at Six Senses Zighy Bay, Oman are ready to deliver. Among the many activities available, guests can enjoy free moonlight movies on the beach from the comfort of their plush lounge chairs while being treated with gourmet popcorn, ice cream, and refreshing drinks.
Alfresco Beach Cinema in the Maldives
Complemented by a spectacular beach setting, the outdoor cinema at Velassaru Island is the perfect way to spend the balmy Maldivian evenings after long days of water and sand fun. Just slouch in your ultra-comfy bean bag and immerse yourself completely in the experience. Cocktails, popcorn, and gentle ocean breezes are also included.
Floating Open-Air Theater in Thailand
Surrounded by lush jungle, Soneva Kiri's Cinema Paradiso screens old favorites in a quaint open-air auditorium set amongst the waters of a lagoon reservoir. The venue is provided with a nice cascading seating arrangement and movies are projected on a huge over-the-water screen.
Romantic Open-Air Cinema on a Maldivian Beach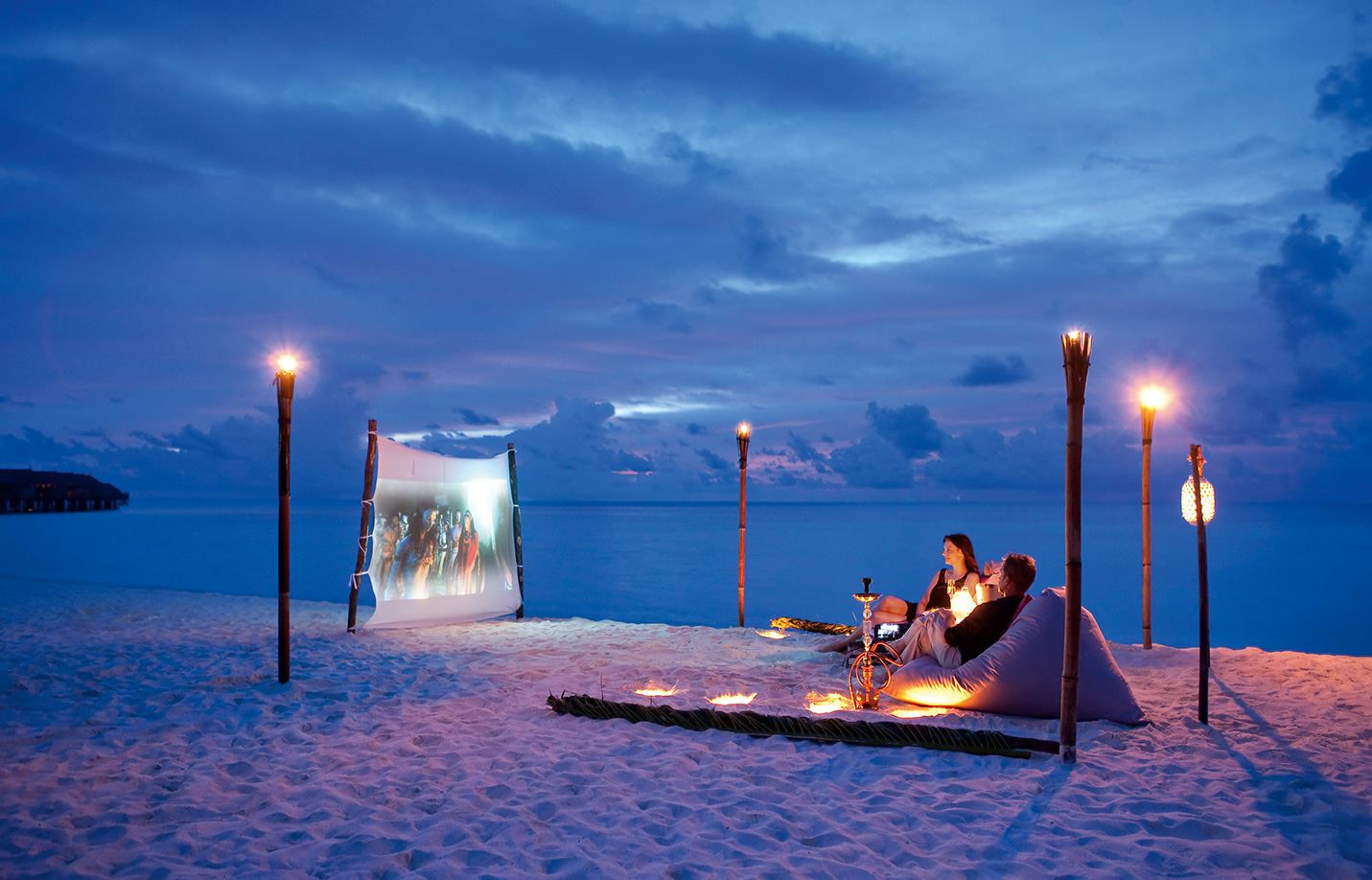 With the sound of the waves in the background and more than 100 films to choose from, Cinefushi at Constance Moofushi definitely makes for that romantic cinematic experience that you've always craved. Once the sun sets, their private beach cinema offers intimate movie screenings under the open sky along with variety of food and drink specials, including ice cream, canapés, and sparkling wine.
Chic and Intimate Outdoor Cinema in Miami Beach
Part of the fascinating outdoor area of The Miami Beach EDITION, the Sandbox is a modish tropical hideout complete with hammocks, inviting low-lying beds, and a huge outdoor movie screen, where you can watch movies under the stars.
Cabanas with Private Beach Cinema in Los Cabos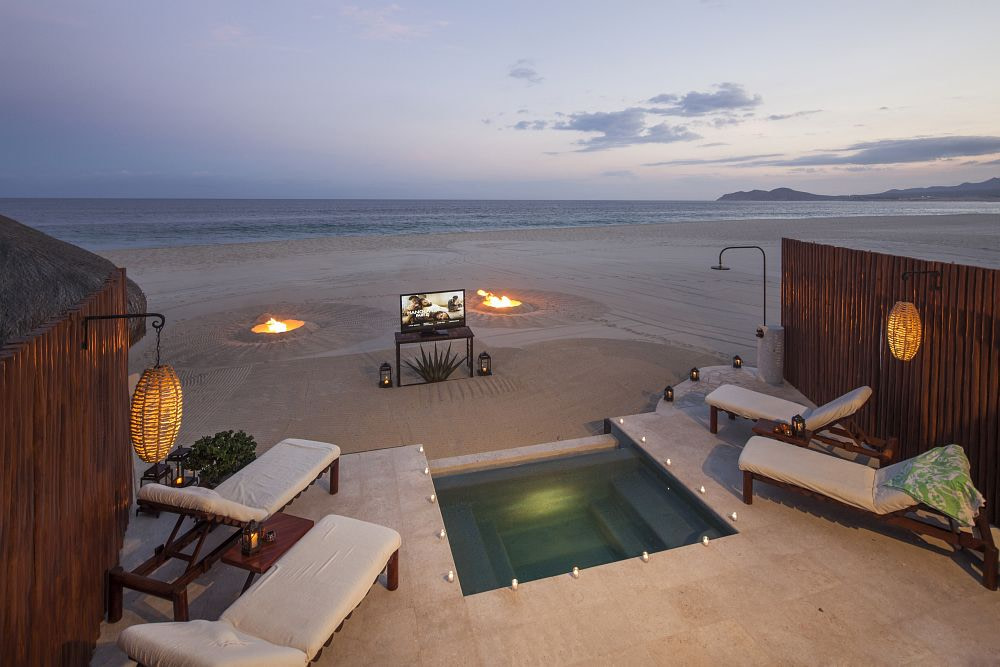 Guests staying at the exquisite Beach Cabanas of Las Ventanas al Paraíso in Mexico have the opportunity to enjoy the resort's signature Beach Cinema experience – a stunning dine-and-dive-in private theater with swimming pool, plush seating, and the ocean behind.
Cinema Nights in Morocco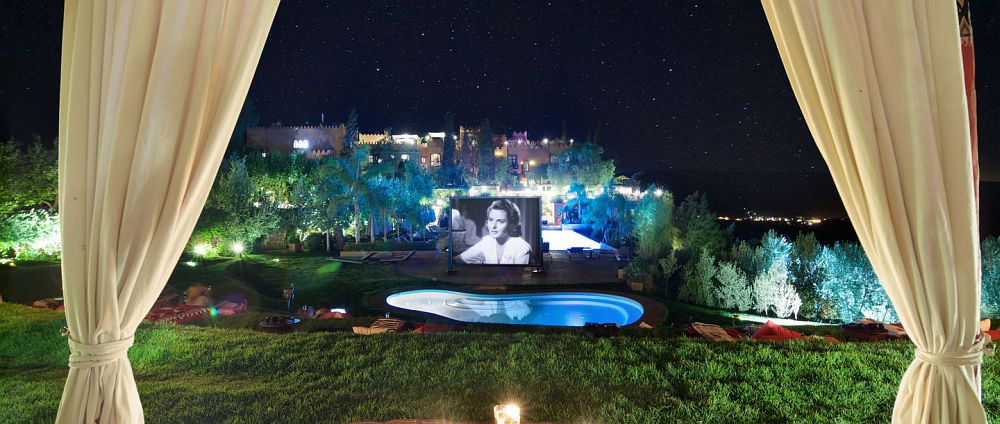 Twice a week, the exquisite Kasbah Tamadot in the Atlas Mountains organizes Moroccan movie nights in a small natural amphitheater by the pool. For added comfort, guests are provided with snug cushioned seating and wireless headphones.
Magical Open Air Theater in the Bahamas

Complementing the outstanding facilities at Musha Cay – David Copperfield's magical island resort in the Bahamas, Dave's Drive-in invites guests to watch movies by the sea, under the open sky. Located on Coconut Beach, the state-of-the-art outdoor theater comes complete with indulgent loungers and a massive 2-story silver screen.