Design-savvy coffee lovers are in for a treat in Melbourne, where creative venues serve up fabled in-house blends and exotic single origins in stylish award-winning surroundings.
In a city with such an extraordinary coffee culture, a café is rarely just a café anymore. Beans come from the best plantations around the world and are often roasted onsite, and the decor is as much of a draw as the Instagramable health-conscious brunch fare on offer.
From bright Scandi-cool establishments to artfully reimagined industrial spaces, these are Melbourne's best cafés for design lovers.
Lucky Penny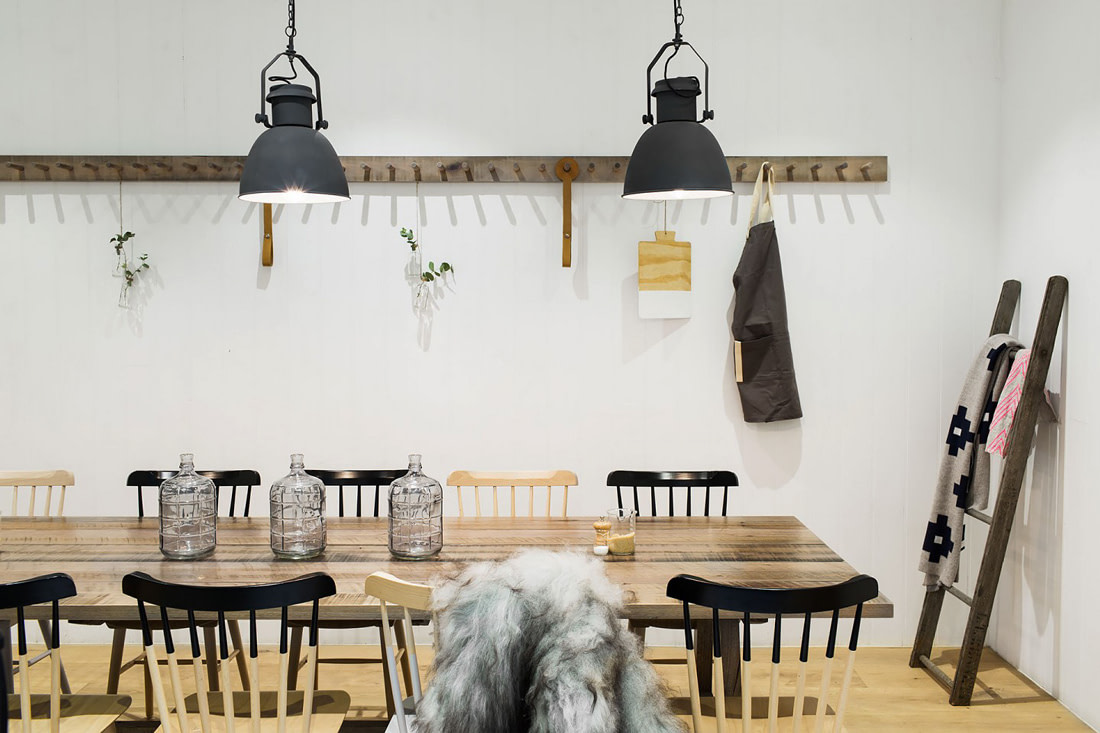 A handsome, Scandinavian inspired Melbourne café, Lucky Penny serves up colorful smoothie bowls and excellent coffee prepared by dedicated baristas trained at the Australian Barista Academy. Established in May 2014, this cute little spot enjoys an enviable location at the South Yarra end of Chapel Street, one of Melbourne's premier fashion hubs.
Its menu, a celebration of seasonal, locally-sourced produce, is bursting with delicious homemade dishes such as smoky meatballs, quinoa salad, or black pudding with spiced plum jam. Breakfast is served all day and can be as healthy or as hearty as you want it to be, with options that range from superfood bowls and yogurt with granola to poached egg and scrumptious pastries.
Thoughtfully imagined by Melbourne-based Biasol Design Studio, Lucky Penny's interiors are a tasteful mix of white brick walls, reclaimed timbers, and custom-crafted blonde wood furniture.
Featuring the right balance of vintage and modern elements along with a subdued color palette of muted whites, soft greys, and natural wood tones, the venue conveys a warm, rustic Scandinavian feel. Vintage metal pendants and greenery from Pop Plant brighten up the bar area, while overhanging desk lamps create a private cozy atmosphere throughout the main dining zone. For a sense of comfort and homeliness, small decorative objects and cool pieces of kitchenware are discretely scattered all over the space.
No. 19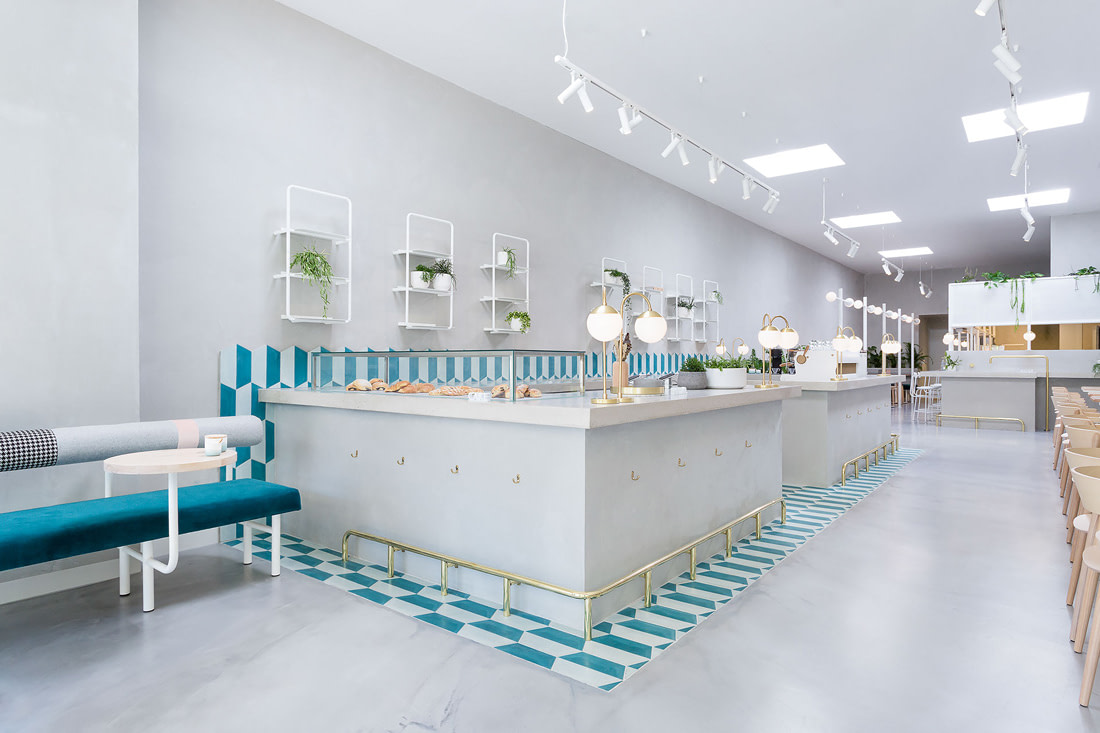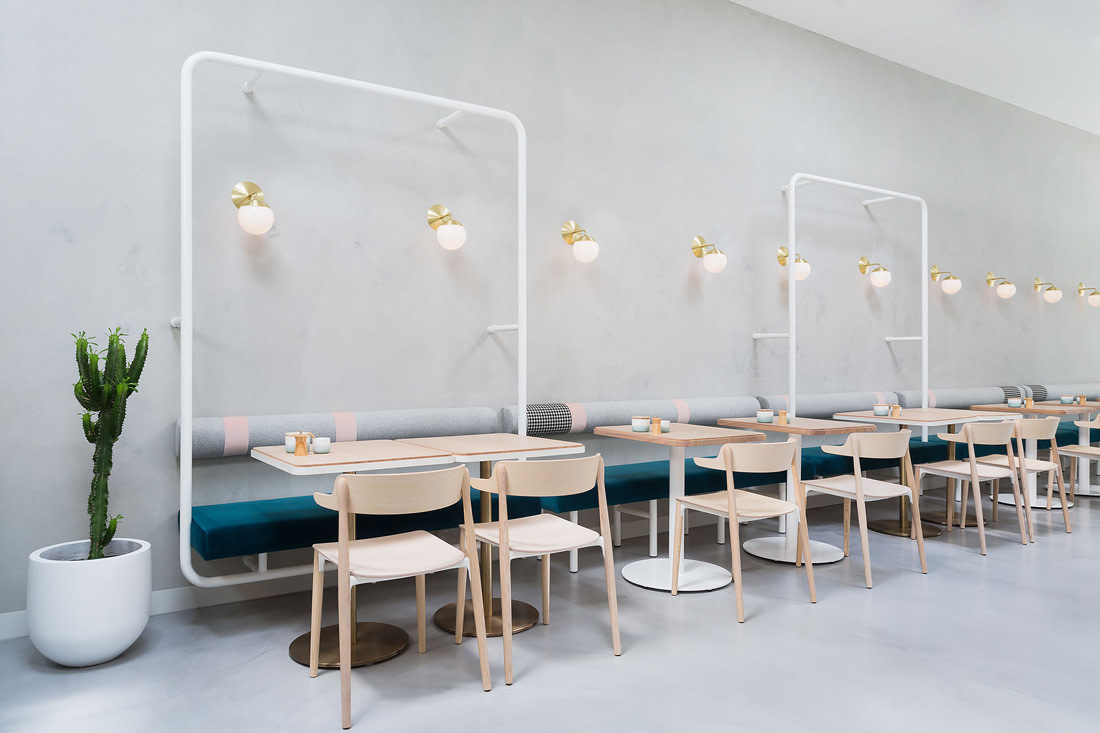 Minimalist concrete surfaces, thoughtful Greek touches, and a relaxed, sophisticated atmosphere characterize the interiors of No. 19 café in the heart of Union Road, Ascot Vale.
Designed by local architecture studio Biasol, this new venture from the couple behind St Rose Cafe (Essendon) takes inspiration from the Greek delis that flourished in Melbourne during the 1950s.
Natural light pours in through skylights and floor-to-ceiling storefront windows, whereas little pockets of greenery and vivid pops of turquoise cheer up the cool, crisp space without sacrificing its clean, contemporary feel.
The decor is a study in minimalist chic, with blonde timber furnishings, plush teal banquettes, designer bulbous brass lamps, and white tubular steel shelving set against polished concrete floors and gray textured walls.
Warm brass elements and striking cement tiles handmade in Morocco decorate the concrete service counter in the heart of the café, and an air of modern, understated sophistication permeates the slick Greek-inspired place. Outside, two custom-designed benches with timber tabletops offer alfresco streetside dining and people watching on sunny days.
But No. 19 is not just a pretty face. The hip restaurant and coffee shop is equally revered for its Five Senses coffee and delicious wholesome food, served every day for breakfast and lunch. The venue's fresh and inviting vibe is also reflected in the menu, which includes anything from healthy, creative toasts, detox bowls, and superfood salads to specialty coffees, organic teas, and all-natural smoothies.
Sensory Lab Collins Street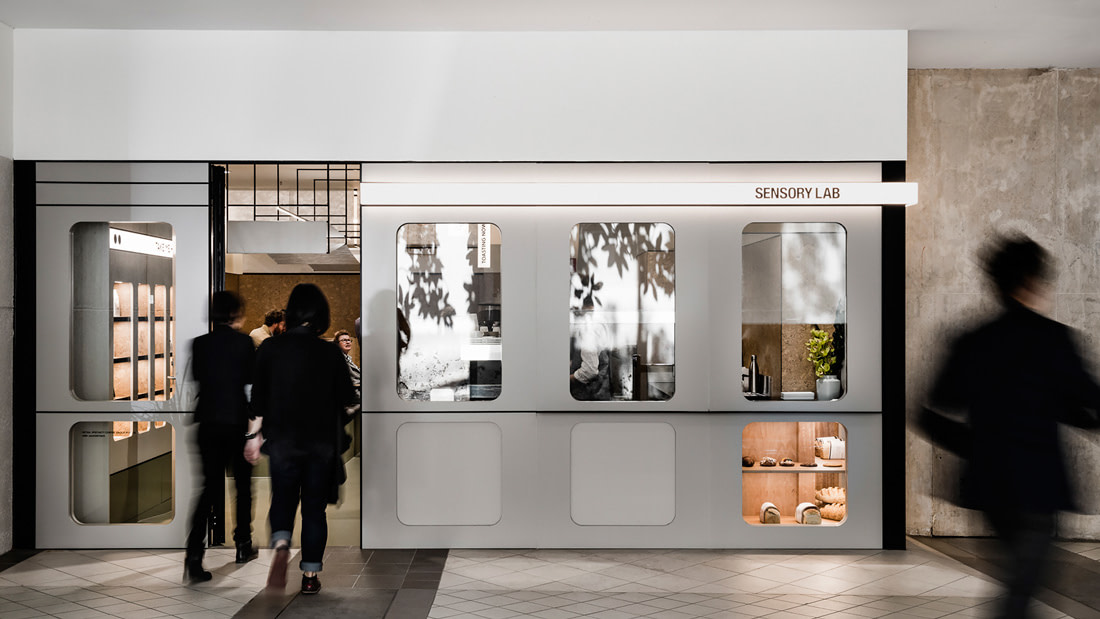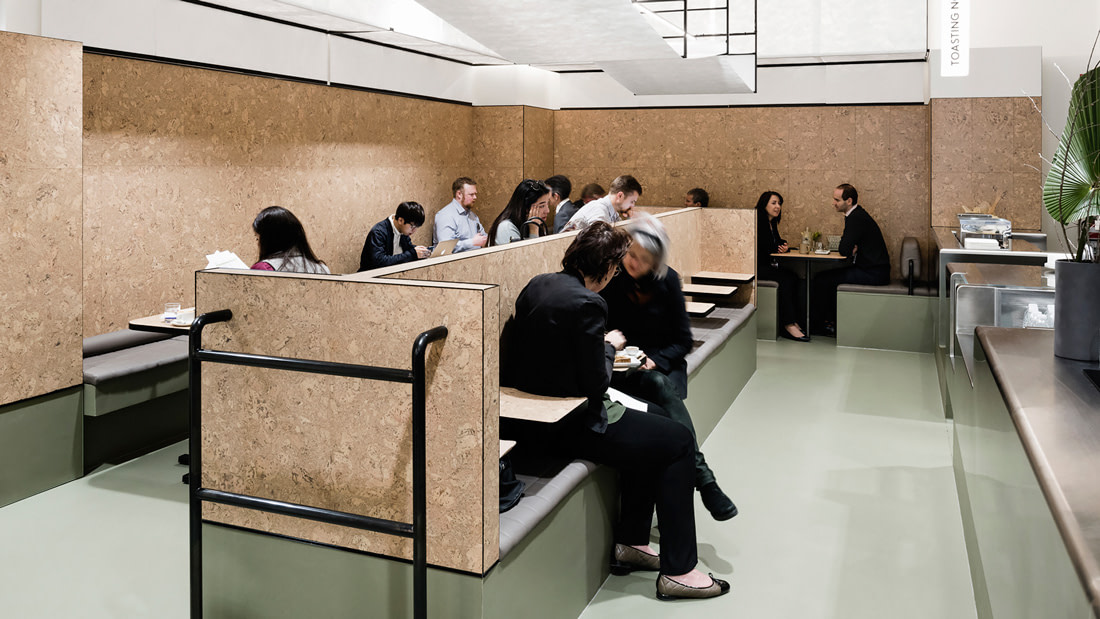 Entering Sensory Lab's first stand-alone Melbourne café is like stepping into a futuristic Japanese diner. Located on Collins Street, the locale marries Japanese Modernist efficiency with the aesthetics of a retro electronics lab, providing a calm refuge from the hustle and bustle of the CBD.
Characterized by clean lines and neutral colors, the minimal, utilitarian design by Foolscap Studio allows the brand's single origins and specialty blends to take center stage, while also alluding to the ritual of morning coffee with a tempting toast bar running the length of the space and communal bar-style benches featuring in-built iPads to read the news on. Elsewhere, the creative use of contrasting materials such as natural cork and gleaming stainless-steel gives the café a unique look that's both warm and contemporary.
In addition to excellent coffee, Sensory Lab Collins is praised for its seasonal single estate teas and gourmet toasts made with some of the best bread in Melbourne and decadent spreads from Rooftop Honey, Jam Lady, or 99th Monkey.
Kitty Burns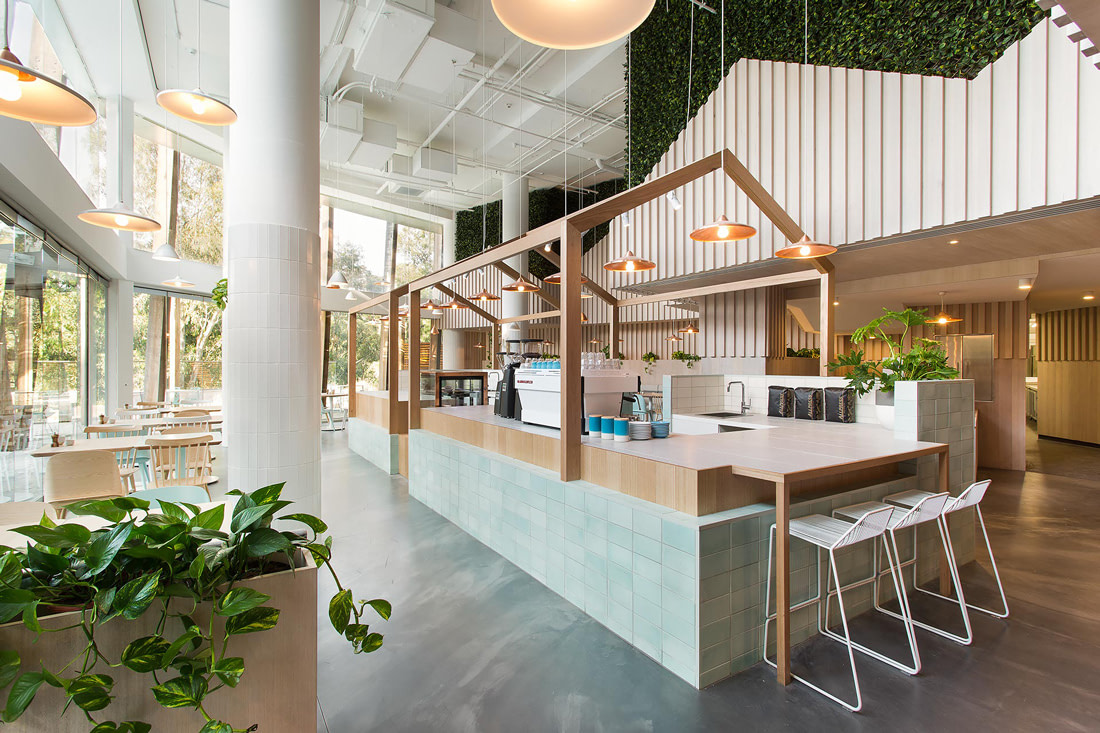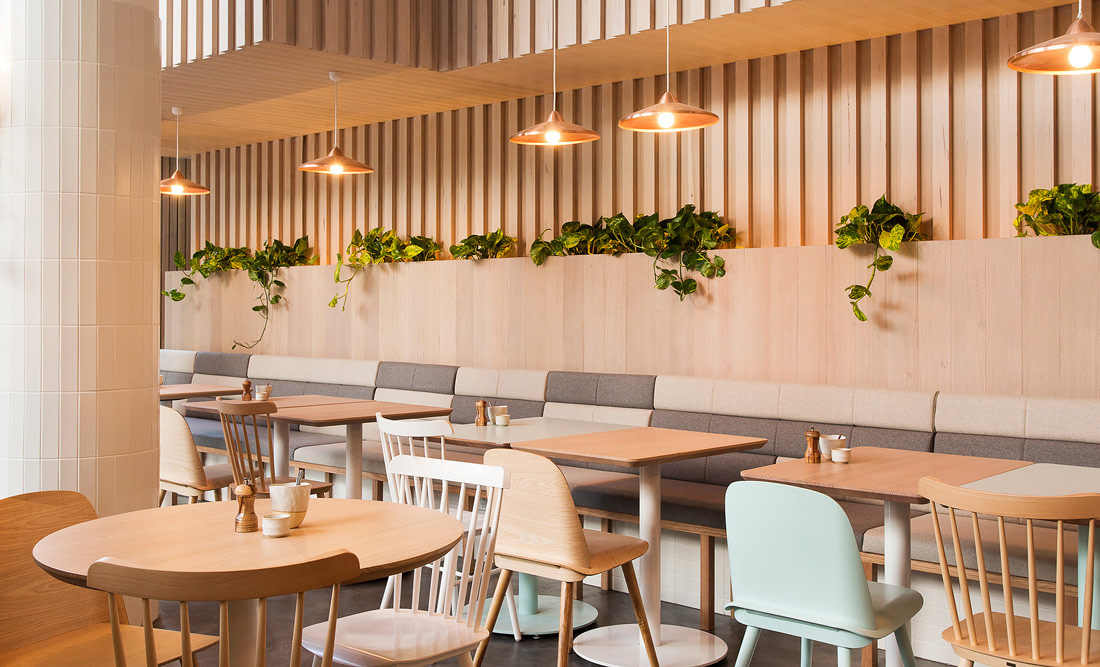 Another awe-inspiring project from award-winning design studio Biasol, Kitty Burns serves up deliciously Instagramable brunch food in a classy setting with an outdoorsy feel.
Nestled in the creative Abbotsford suburb, the venue's light-filled interiors pay tribute to the iconic Skipping Girl neon sign nearby. The entire design concept plays around a fictional character, whose dual personality takes inspiration from two locally famous girls: Kitty Minogue and her sister Alma Burns.
Decorating the café-restaurant are pitched roofs of various heights, lime washed Australian timber panels, copper pendant lights, and lots of artificial greenery, all of which lend a reassuring air of calm and serenity to the stylish open-plan space. There are three distinct dining areas, including intimate booths for larger parties and an eye-catching central bar lined with pale aqua tiles.
The menu is awash in Pacific Rim flavors, with hipster sourdough toasts, creative Japanese-inspired concoctions, and all kinds of flower-sprinkled bowls of deliciousness. Drinks range from raw vegan smoothies and matcha lattes to cold brew & bulletproof coffees.
Bentwood Fitzroy Cafe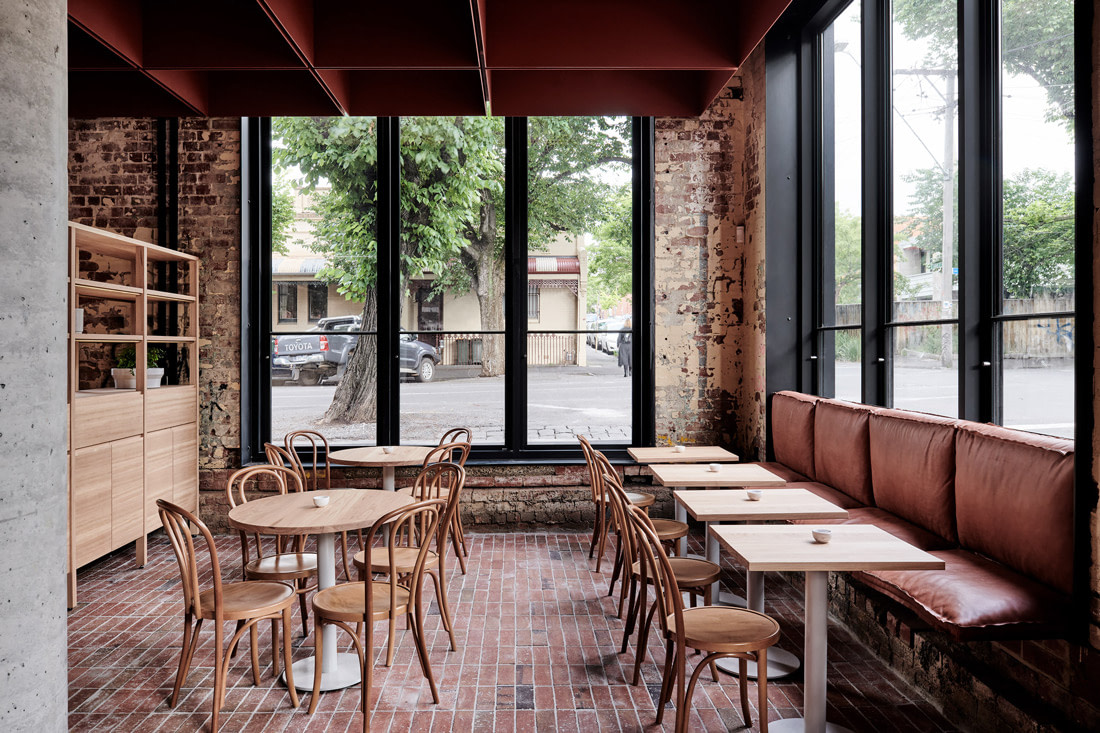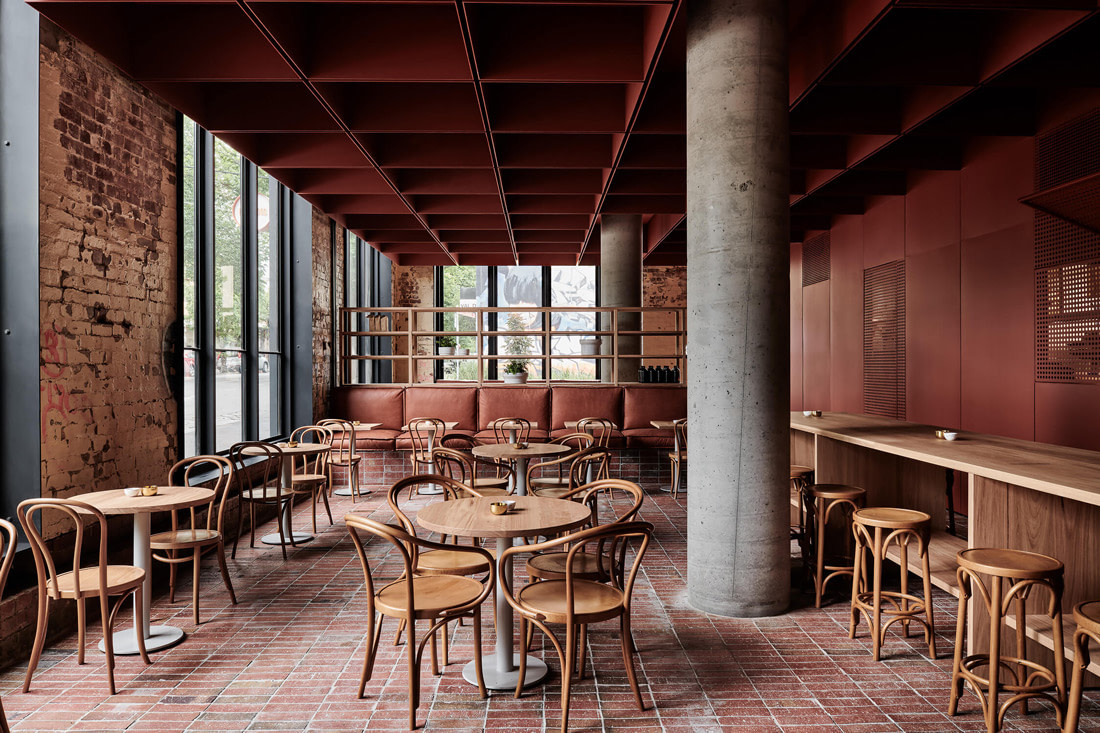 Occupying the old Thonet furniture showroom, in Melbourne's hip Fitzroy, Bentwood nods to the building's storied past while also honoring the area's brutalist industrial heritage with worn-out brick walls, concrete columns, and a soaring, deep gridded ceiling primed in red oxide.
A brainchild of Melbourne's famous barista-turned-entrepreneur Julien Moussi, the café has been designed by Australian practice Ritz&Ghougassian and features characterful red-hued interiors furnished with Thonet's iconic pieces – expect light timber Bentwood chairs, soft leather bench seats, and skeletal shelving units.
The sophisticated color palette in rich tones of burgundy, brown, and amber makes the perfect backdrop for the beautiful, delicious food on offer, which includes such contemporary creations like Golden Gaytime Panna Cotta, Butterfly Blue Tea Chia Pudding, and the superfood-packed Bikini Salad. Caffeine comes courtesy of Moussi's own Inglewood Coffee Roasters and is sure to impress any connoisseur in coffee-obsessed Melbourne.
Moby 3143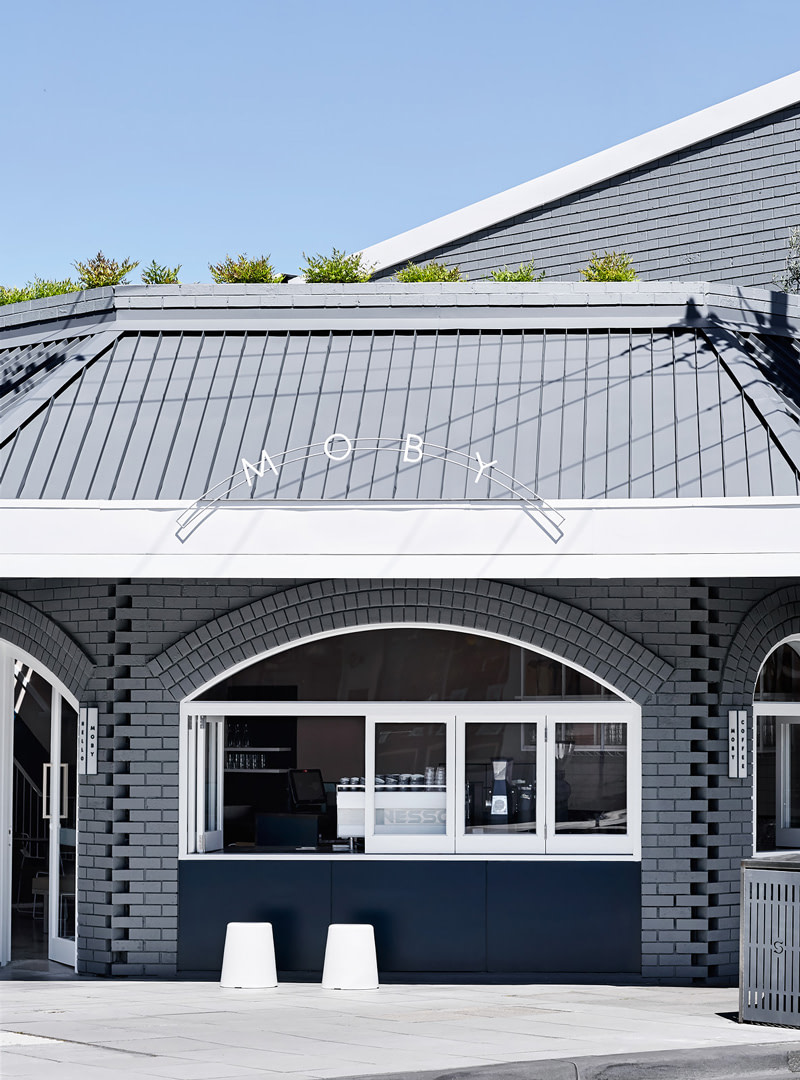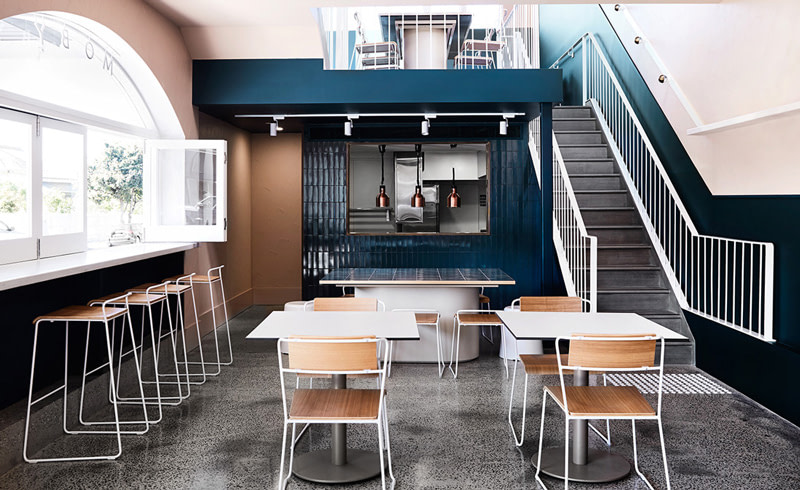 If you fancy a change of scene from the usual industrial-chic coffee hangout, head to Moby 3143 – a decidedly elegant Melbourne locale with a 70's Tuscan vibe.
Situated on High Street in the stylish suburb of Armadale, the café is set over three floors and boasts inspiring color-blocked interiors by local design studio We Are Huntly (now GOLDEN). Bright white details contrast against a bold, limited palette of dusty pink and deep sea blue, while beautiful timber chairs bring added texture and calm things down a bit. No wonder it won the award for "Best Cafe" design at the World Interior News Awards in London earlier this year.
Food-wise, expect vibrant seasonal salads and old breakfast favorites with a modern twist. The eatery also serves delicious infused teas, innovative cocktails, and topnotch coffee using fresh, roasted beans from Five Senses. For the ultimate brunch in the sun, head to the alfresco rooftop terrace.
Au79 Café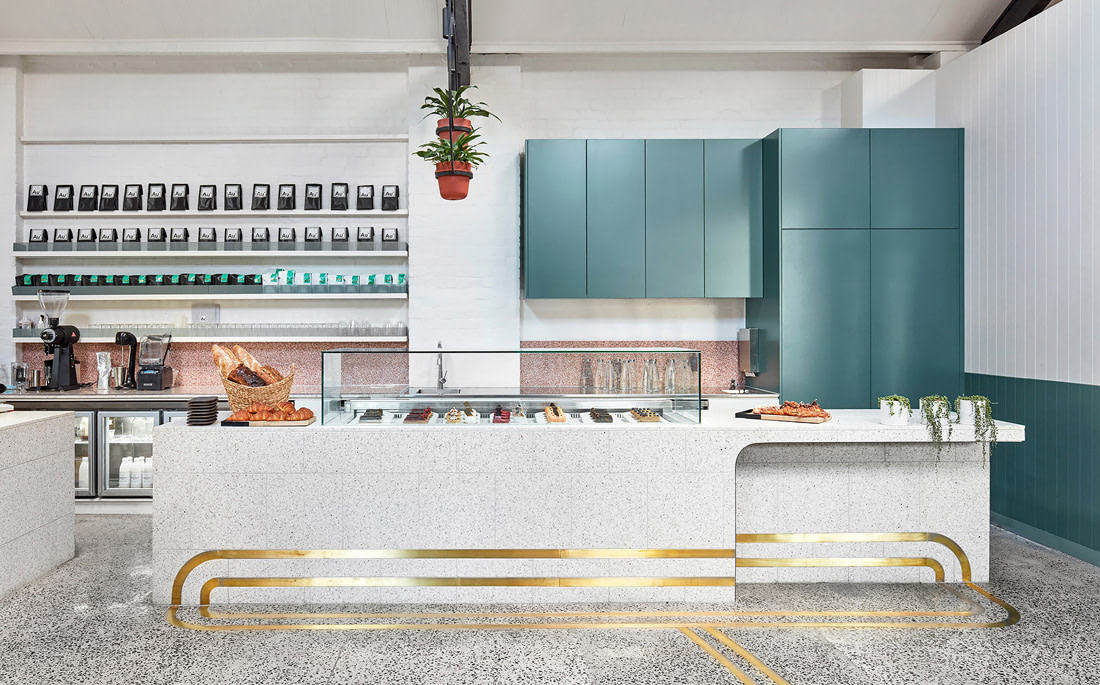 Set within a former motor garage in Abbotsford, Au79 is Melbourne's largest café to date, and also one of its most sophisticated. It comprises an in-house coffee roaster, bakery, and patisserie, as well as a variety of event spaces, and has already become a favorite among the city's design-savvy foodies.
Conceived by locally based design firm Mim Designs, the sprawling, contemporary venue is filled with natural light, lush greenery, and custom Scandinavian furniture in soft blush hues, bringing to mind an indoor botanical garden. On the other hand, the original garage door along with the stained cement floors, high ceilings, and brass highlights give this glass-enclosed space a sleek industrial feel.
The kitchen's oven-to-table philosophy translates to an on-trend daytime menu teeming with fresh and inventive creations such as Coconut & Lime Chia Pudding, Smoked Salmon Toast, or Soba Noodle Salad. Freshly baked bread accompanies most of the dishes and specialty pastries complement the exquisite coffee on offer. They serve their own house blend made of beans from Brazil, Colombia, and Guatemala, as well as single origins from around the world.