This post contains affiliate links, which means we may receive a small commission, at no additional cost to you, if you make a purchase through these links. See our full disclosure here.
A vast region straddling the southern ends of Chile and Argentina, Patagonia has long been a siren call to adventurers with its granite peaks, creeping glaciers, and windswept pampas. In a world of shrinking boundaries, it famously became the last frontier, the place to start fresh. That same spirit of escapism holds true today, and popular spots like Torres del Paine National Park and Los Glaciares are rife with backpackers roughing it. But for those who can afford it, the bottom of the world can also be the lap of luxury.
For those high-end travelers seeking the rare and refined, Patagonian hoteliers have responded by creating some of the most architecturally innovative and extravagant hotels and lodges anywhere in the world, with cushy accommodations, gourmet dining, spas, bespoke outings, and more.
From the mountains to the plains, these are the most decadent luxury hotels at the end of the world in Patagonia.
Tierra Patagonia Hotel & Spa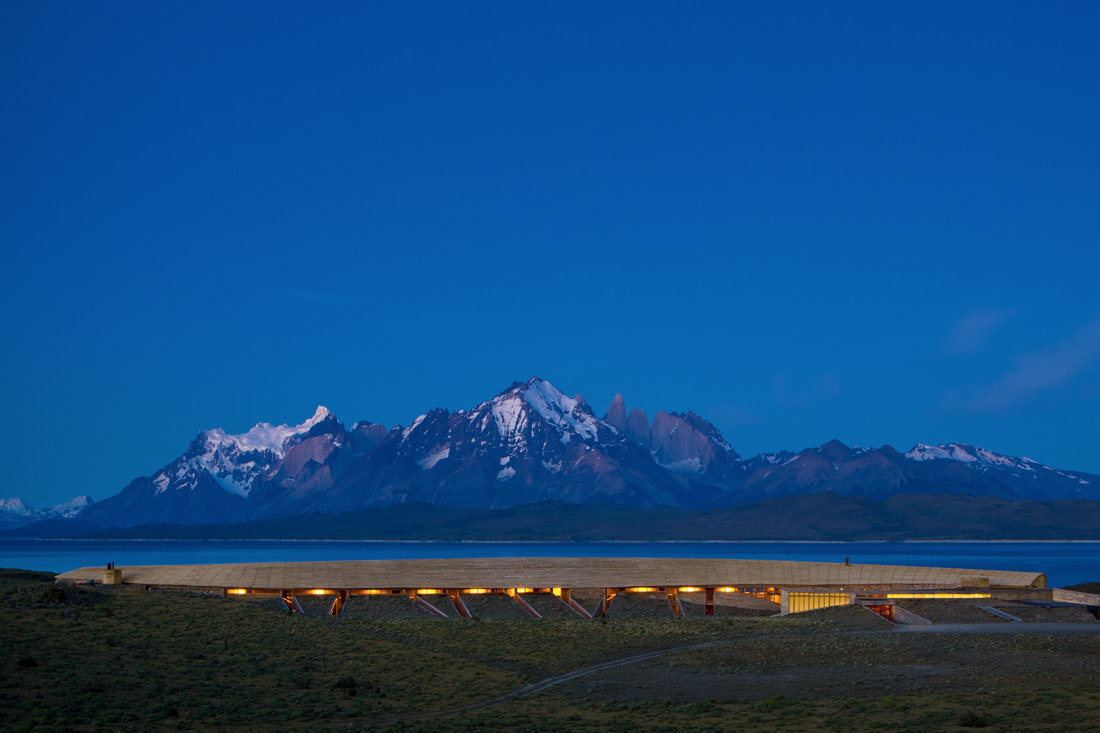 Part of the upscale Tierra hotel chain, merging adventure with wellness in Chile's most beautiful wild places, Tierra Patagonia is arguably the Grande Dame of the lot. Designed to blend harmoniously into its surroundings, the hotel's two-story structure of blonde wood and gentle curves rises out of the landscape like a natural extension of the pampas.
The selection of austerely decorated Standard, Superior, and Suite rooms offer views of Lago Sarmiento and the Torres in Torres del Paine, which can also be admired from cozy lounges and sunny verandas with hanging wicker chairs. During the day, guests embark on excursions before returning to be pampered at the Uma spa or to soak in the heated indoor infinity pool. Contemporary Patagonian cuisine is served in the world-class restaurant, and a stay here isn't complete without enjoying a Calafate Sour, a pisco sour flavored with local Calafate berries.
Awasi Patagonia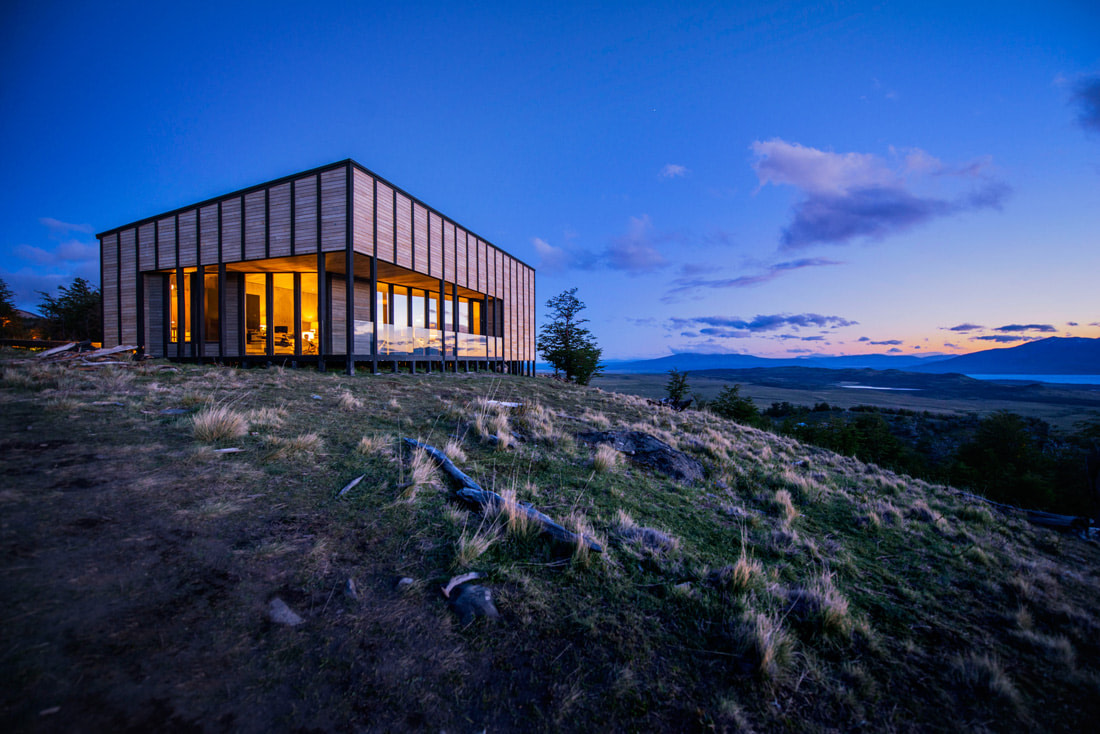 People come to Patagonia seeking isolation, and Awasi Patagonia takes that one step further: each room is its own individual villa. Located on a private reserve, each villa's simple but striking exterior of black-framed ashy brown wood peeks out from a forest of native lenga trees on a slope overlooking Torres del Paine (which you can admire from your own private wood-burning hot tub).
Inside can be found an intimate living room with a fireplace, cozy bedroom, private bathroom, and large windows with sweeping views. At the Main Lodge, guests dine on a local, seasonal menu prepared with European technique (ever tried guanaco tartar?). But perhaps the biggest wow factor is that each villa comes with its own designated guide and 4-wheel drive vehicle so guests can explore at their leisure.
The Singular Patagonia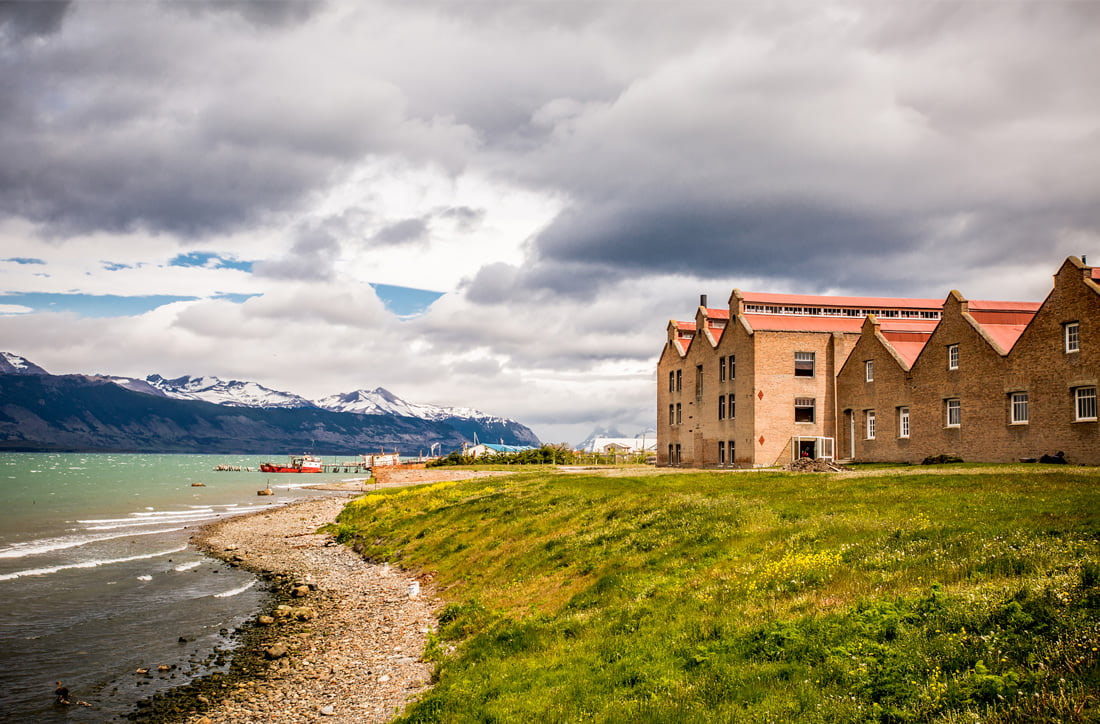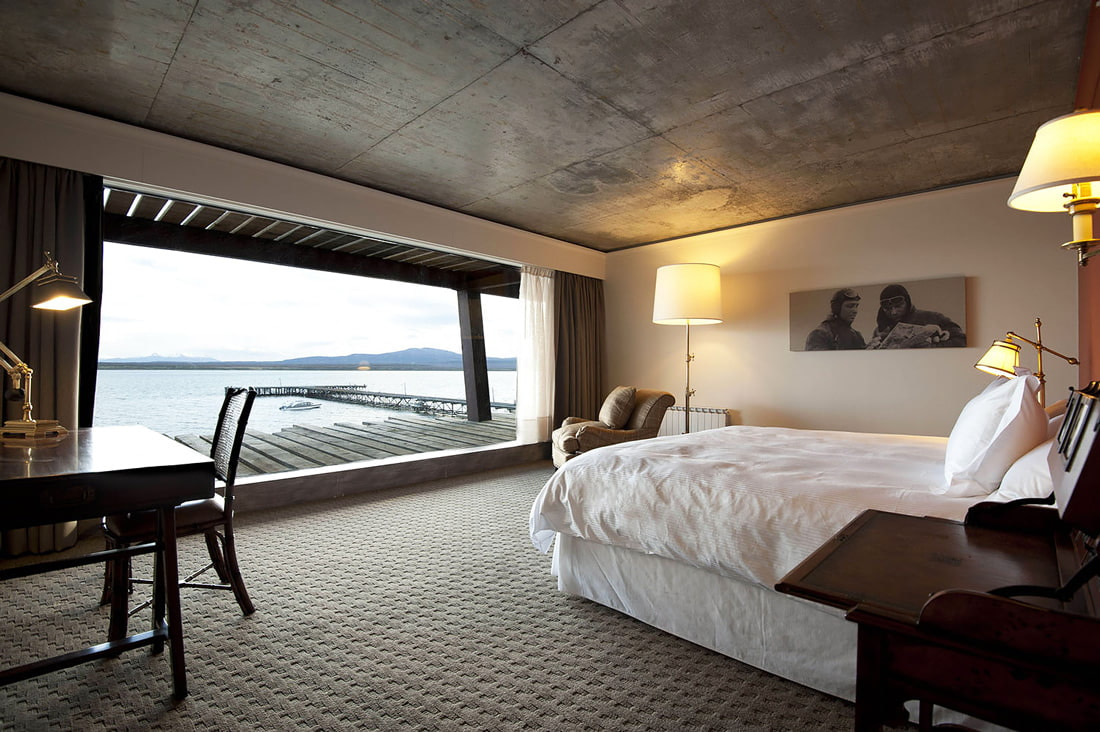 On the shores of Last Hope Sound in Chilean Patagonia sits a sprawling complex of red-brick buildings that began life as a meat-packing factory but now exists as the deluxe Singular Patagonia hotel.
While preserving the original brickwork, renovations like glass walkways over the historic foundations have carried the hotel into the modern era. After daily excursions like horseback riding and fly fishing, guests can relax in snug rooms with private views of the sound, as well as take advantage of the hotel's two excellent restaurants, bar, spa, and opulently decorated communal areas with roaring fires, plush leather chairs, hanging copper lamps, and soaring ceilings.
Llao Llao Hotel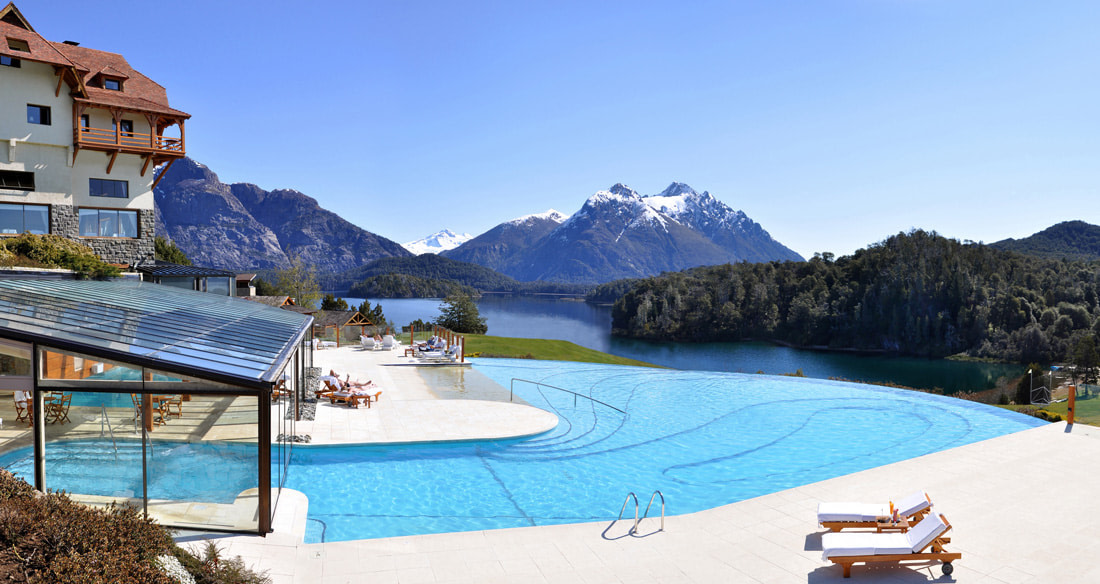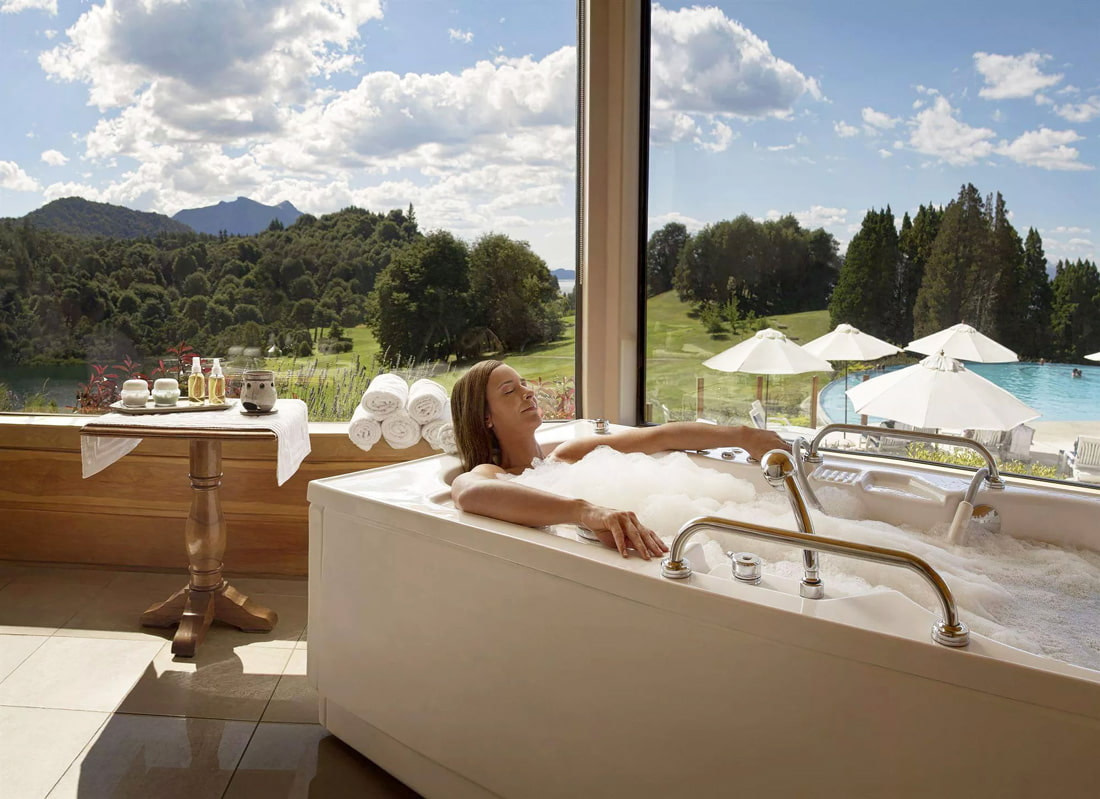 Surrounded by mountains, forests, and lakes, Bariloche's stately Llao Llao Hotel recalls the traditional Alpine lodges of Europe. Two wings of posh rooms with stunning views and the eye-catching exterior of whitewashed stone walls with a red-tiled roof are just some of the standout features of Argentine Patagonia's most exclusive resort.
With pristine wilderness on all sides, guests spend their days enjoying a roster of activities like kayaking, cycling, or playing golf on the hotel's scenic 18-hole green. A high-end spa with specialty treatments like hydrotherapy is located onsite, as well as several restaurants, including the Winter Garden with its famous Llao Llao high tea.
Luma Casa De Montaña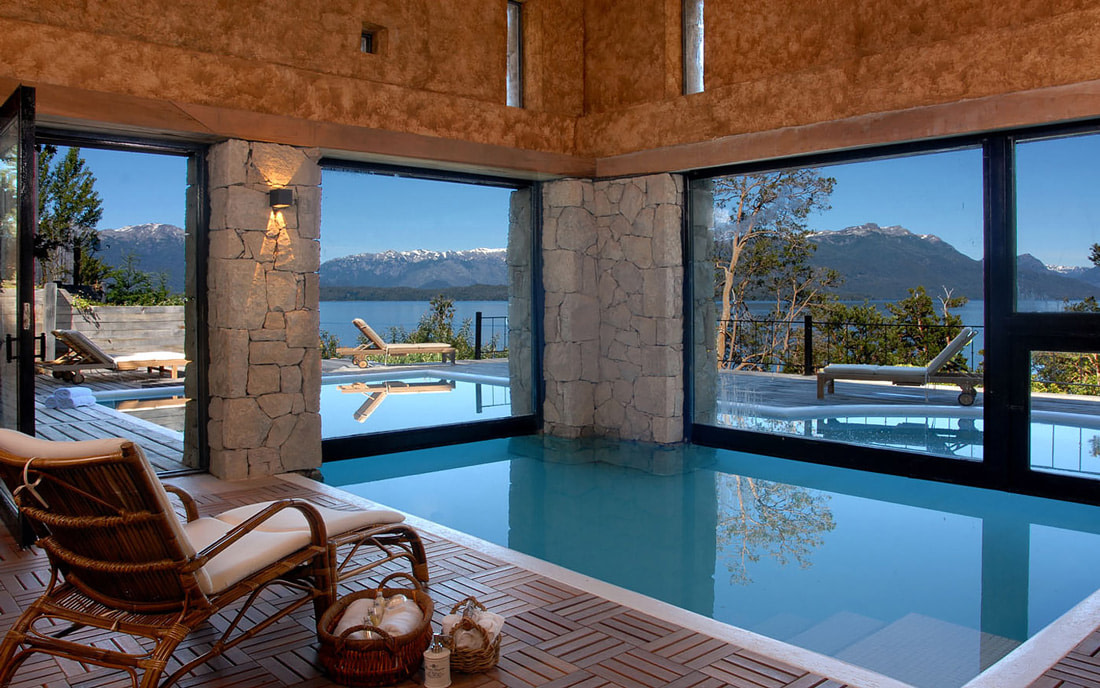 Nestled on the shores of Nahuel Huapi Lake in Villa La Angostura, Argentina, Luma Casa de Montaña is like a slice of Tuscany in the middle of northern Patagonia. External walls of rock and stucco soak up the sun, and inside, suites appointed with antique furniture and pastel sponge-painted walls complete the warm, airy feel of an Italian villa.
With 8 suites total, each comes with a snug bedroom, living area, private bathroom, and either a private terrace, balcony, or deck with swimming pool and sunning area. International cuisine and high tea can be enjoyed at the onsite restaurant or delivered to your suite, and guests while away their days sailing, hiking, or pampering themselves at the spa.
EOLO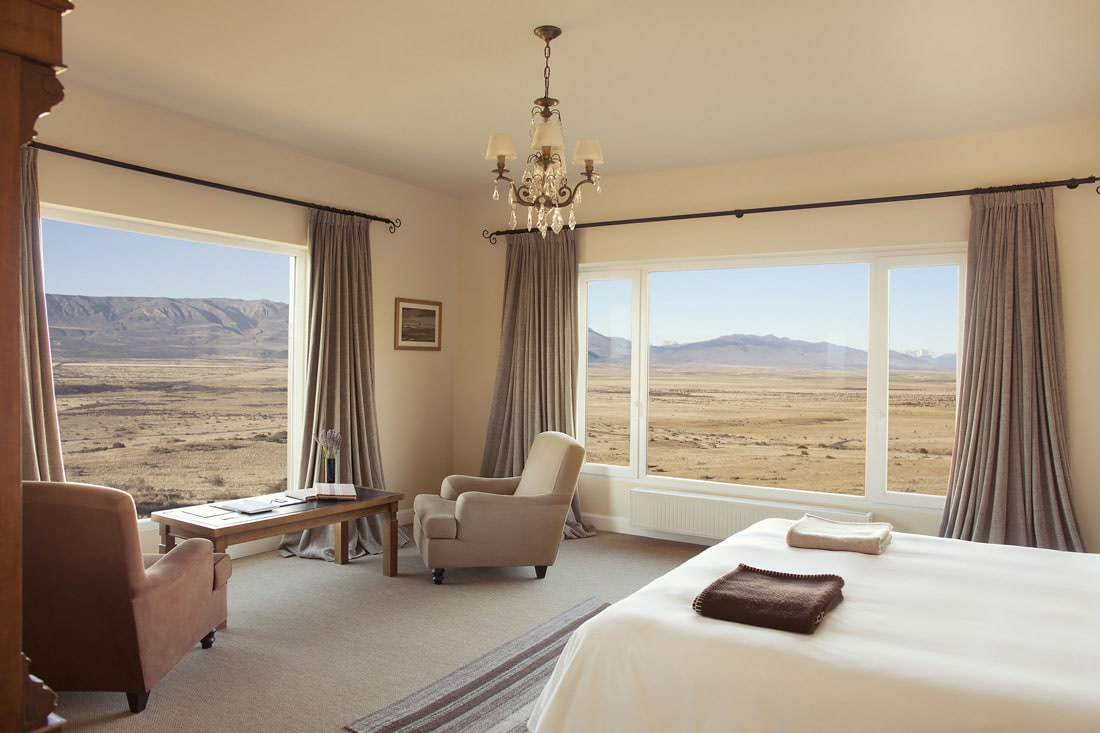 Surrounded by the immense pampas of Argentine Patagonia, the eye almost glides over the brown-and-white, half-timbered exterior of the EOLO Hotel. Almost. Designed by the same architect responsible for Llao Llao, EOLO's Tudor-inspired bold lines and colors complement and contrast with the landscape, a theme that's continued inside with a soothing neutral palette and tasteful furnishings.
Located on a 10,000-acre ranch near Los Glaciares National Park (home of Mount Fitz Roy and the Perito Moreno Glacier), EOLO provides a secluded sanctuary where guests can admire the views and enjoy fine dining at the renowned restaurant, while also having easy access to excursions like ice trekking on Perito Moreno and going horseback riding with real gauchos.
Remota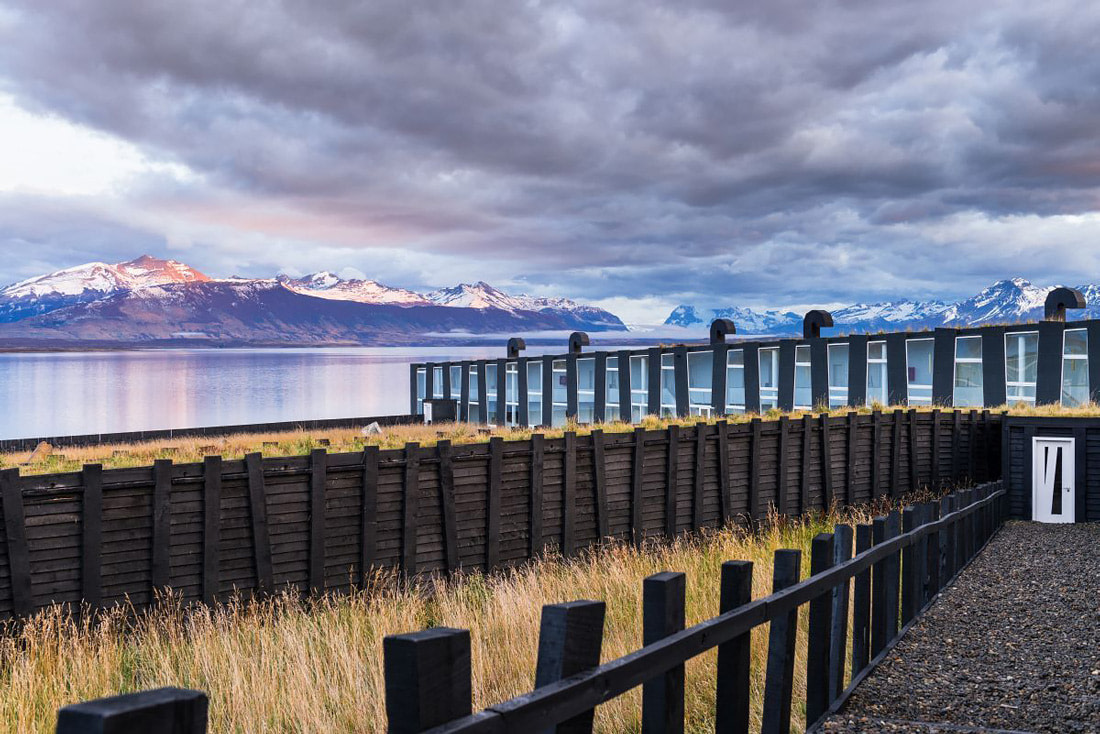 Some Patagonian hotels are designed to blend in; the ultra-modern Remota was designed to stand out. Perched on a grassy hill overlooking Last Hope Sound in Chilean Patagonia, Remota's angular wings of black columns split by pristine windows instantly draw the eye, with a grass-covered roof to lend a rustic Icelandic vibe. Inside, lofty rooms and corridors of stark white offset by wood accents and colorful throws are infused by natural light from expansive walls of windows.
With 72 rooms, the hotel also includes two lounge areas, bar, restaurant, indoor infinity pool with bay views, outdoor hot tub, and Finnish sauna. The gourmet restaurant showcases the flavors of the region, and daily excursions to Torres del Paine and nearby spots like Laguna Sofia keep guests entertained during the day.