This post contains affiliate links, which means we may receive a small commission, at no additional cost to you, if you make a purchase through these links. See our full disclosure here.
As airline baggage policies become increasingly restrictive, single-bag and minimalist travel has grown more popular. In addition to the crushing size limits on both carry-ons and personal items, travelers are now butting up against weight restrictions as well. Bulky, heavy travel packs will only reduce the amount of stuff you can fill them with, so many opt for lightweight backpacks instead.
If you're looking to switch up your gear to fit the new travel landscape, below you'll find some of the best lightweight backpacks on the market today.
Bellroy Lite Daypack
Weight: 0.8 lb (350 g)
Capacity: 20 L
Dimensions: 19 x 11 x 7 in (48 x 27 x 18 cm)
Despite the trend of packable backpacks being bare-bones regarding features, Bellroy's Lite Daypack aims to please users who are used to something more formidable. You can roll or stuff it away super compactly when you're not using it, yet it still has pockets, dividers, and sleeves to keep your belongings organized. It has integrated, specialized compartments for your sunglasses, water bottle, and laptop and is finished with external features that will please even hikers and trekkers. The sternum strap, in particular, helps to relieve the stress of a heavy load on long hikes, be it up a mountain or to the train station.
Db Essential Backpack 16L
Weight: 1.5 lb (700 g)
Capacity: 16 L
Dimensions: 17 x 12 x 5 in (43 x 30 x 12 cm)
Db makes their travel packs to withstand the rigor of the Norwegian Lapland, and even their most lightweight model, the Essential Backpack 16L, is crafted with these same signature features. Its outer shell is made from weatherproof vegan leather, so it will protect even your most fragile tech in the event of rain, sleet, or snow, making it the perfect lightweight laptop backpack. Bonus: if you already have – or plan to invest in – one of Db's roller bags, you can attach it to the outside with their integrated Hook-Up System to give your back a break while you wheel through the airport.
Topo Designs Light Pack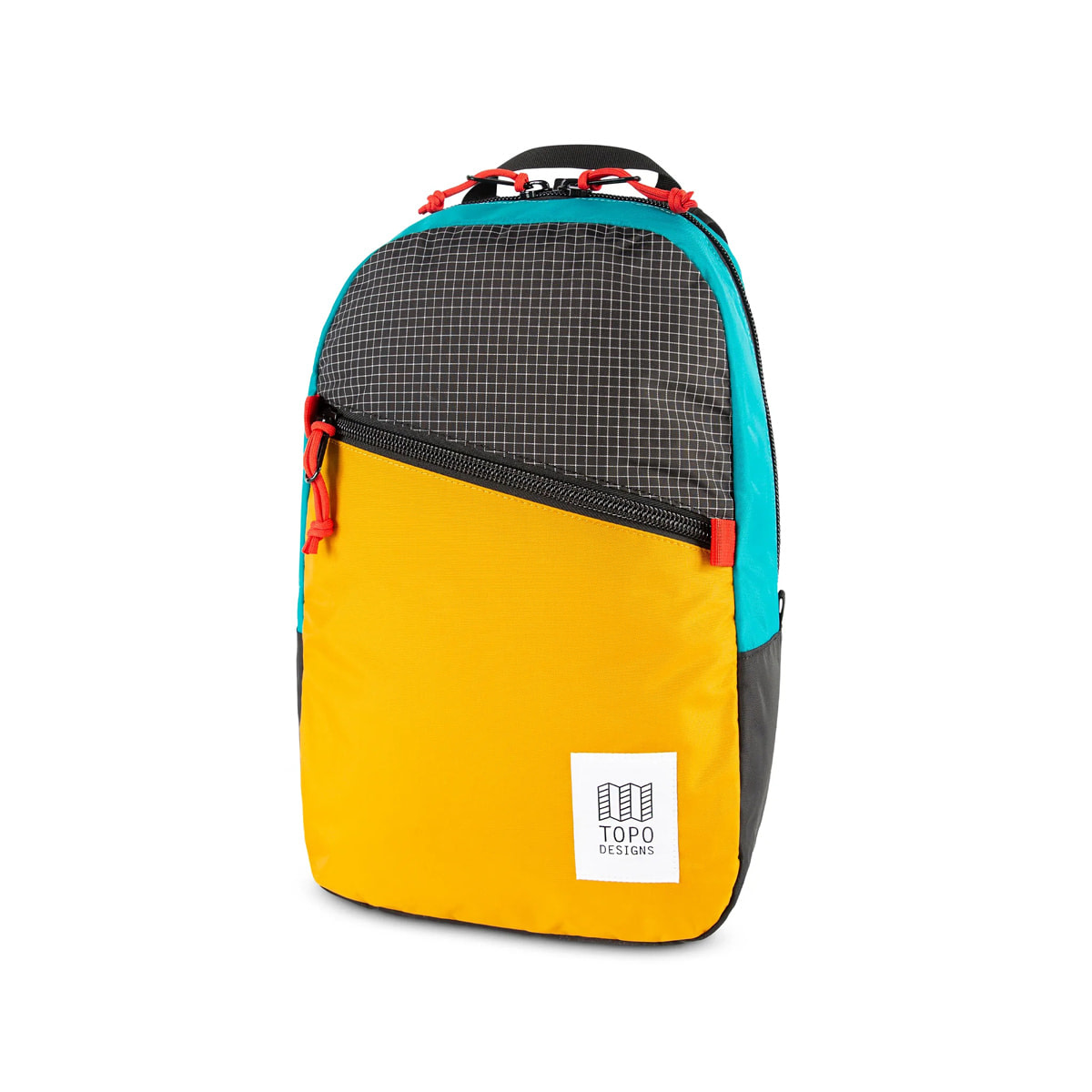 Capacity: 18.5 L
Dimensions: 17.5 x 10 x 5.5 in (44 x 25 x 14 cm)
In line with their other throwback-inspired backpacks, Topo Designs Light Pack has the same retro styling and fun colorways you'd expect of the brand. Though it's a stripped-down version of their more robust packs – both size and feature-wise – the essentials are still included (think: padded straps, a key fob, and a laptop sleeve). Like their other products, Topo designed this pack to last with wear-resistant plastic hardware, a 400D rip-stop shell, and YKK zippers. It's also a great fit for those with a shorter torso, which makes it one of their most popular lightweight backpacks for women.
Timbuk2 Especial Shadow Commuter Backpack
Weight: 0.92 lb (417 g)
Capacity: 19 L
Dimensions: 18.1 x 10.6 x 4.13 in (46 x 27 x 10.5 cm)
While roll-top bags have become the industry standard for waterproof performance, they can feel impractical if you frequently need to retrieve items from inside on the go. To deliver the same resistance to the weather with a far simpler closure, Timbuk2 introduced the Especial Shadow Commuter Backpack with a polyurethane-covered zippered opening that's easy to operate on the fly.
Inside is a generously sized padded laptop sleeve behind the main compartment, while the shell is adorned with a quick-access front pocket for items like your phone or your transit card. And in a nod to the brand's original cross-body bags designed for San Franciscan bike couriers, the water bottle pockets on the side can be used to tote your U Lock instead.
Horizn Studios Shibuya Daypack
Weight: 0.7 lb (315 g)
Capacity: 18 L
Dimensions: 17 x 12 x 5 in (44 x 31 x 13 cm)
Like the rest of their bags and luggage, Horizn Studios' Shibuya Daypack has a minimalist design that looks effortlessly cool. They've constructed it with the brand's own proprietary rip-stop fabric to create a small, lightweight backpack that's durable enough to last years yet thin and pliable enough to pack up when you don't need it. You can pick from a handful of color combinations intended to complement both office and street attire, so you can carry it on your commute just as readily as to the gym. Completely vegan and made from mainly recycled materials, you can feel good about this purchase while you look luxe in the streets.
Rains Backpack Mini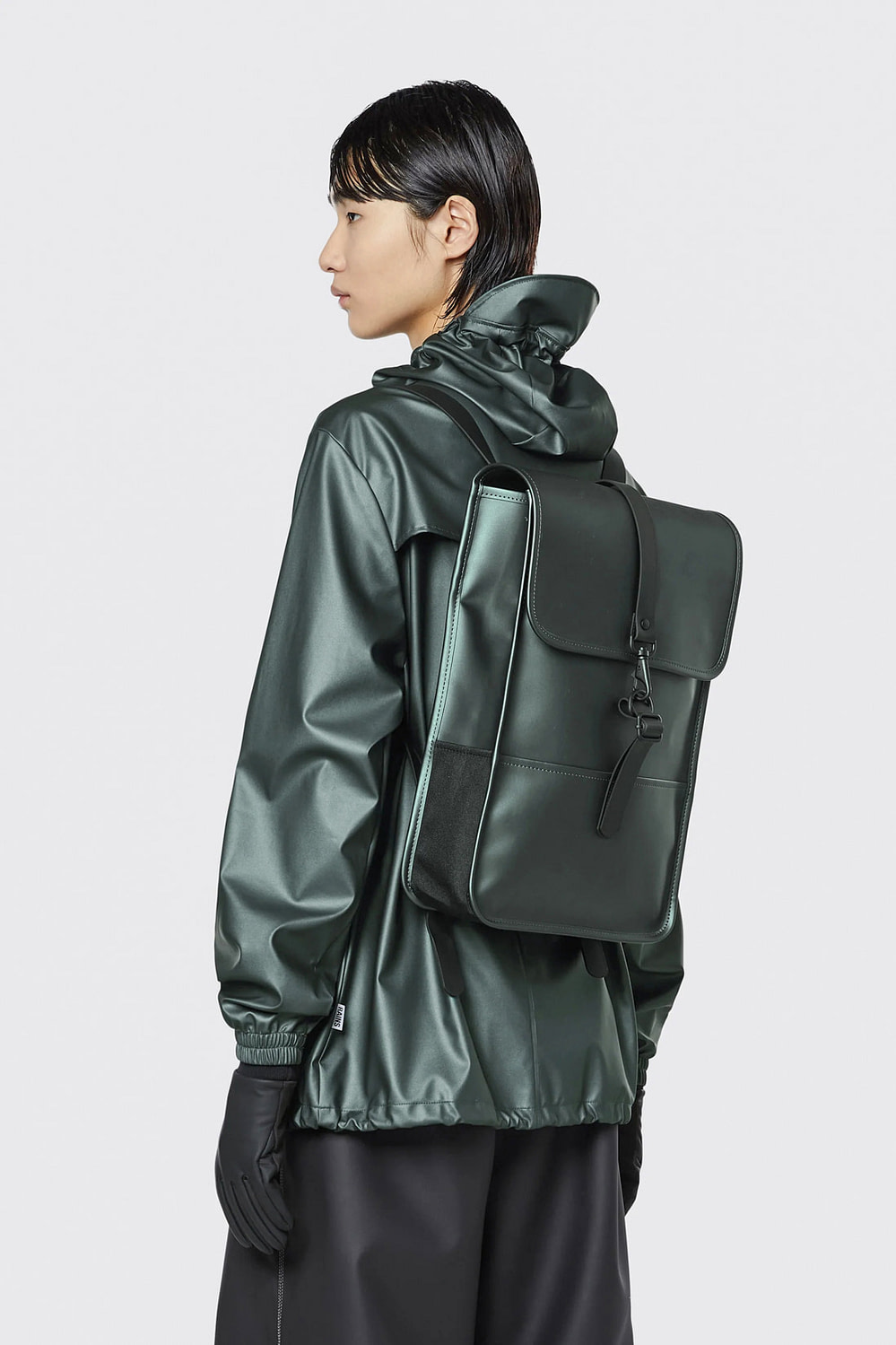 Weight: 1.9 lb (888 g)
Capacity: 9 L
Dimensions: 15.7 x 11.4 x 3.9 in (40 x 29 x 10 cm)
As the brand's name belies, Rains gear is all designed with one key feature in mind: to deflect rainwater. Its Backpack Mini is no different, offering intense waterproofing disguised with a slim, minimal profile. Fans of classic styling will love the flap closure, though you'll find it updated with a quick-access carabiner for swift ins and outs. Inside is a laptop sleeve and an otherwise undivided main compartment. However, they've sneakily added a surprise on the back panel: a dedicated, zippered pocket for your phone, passport, debit card, or other small, slim item that needs extra protection.
Patagonia Atom Tote Pack 20L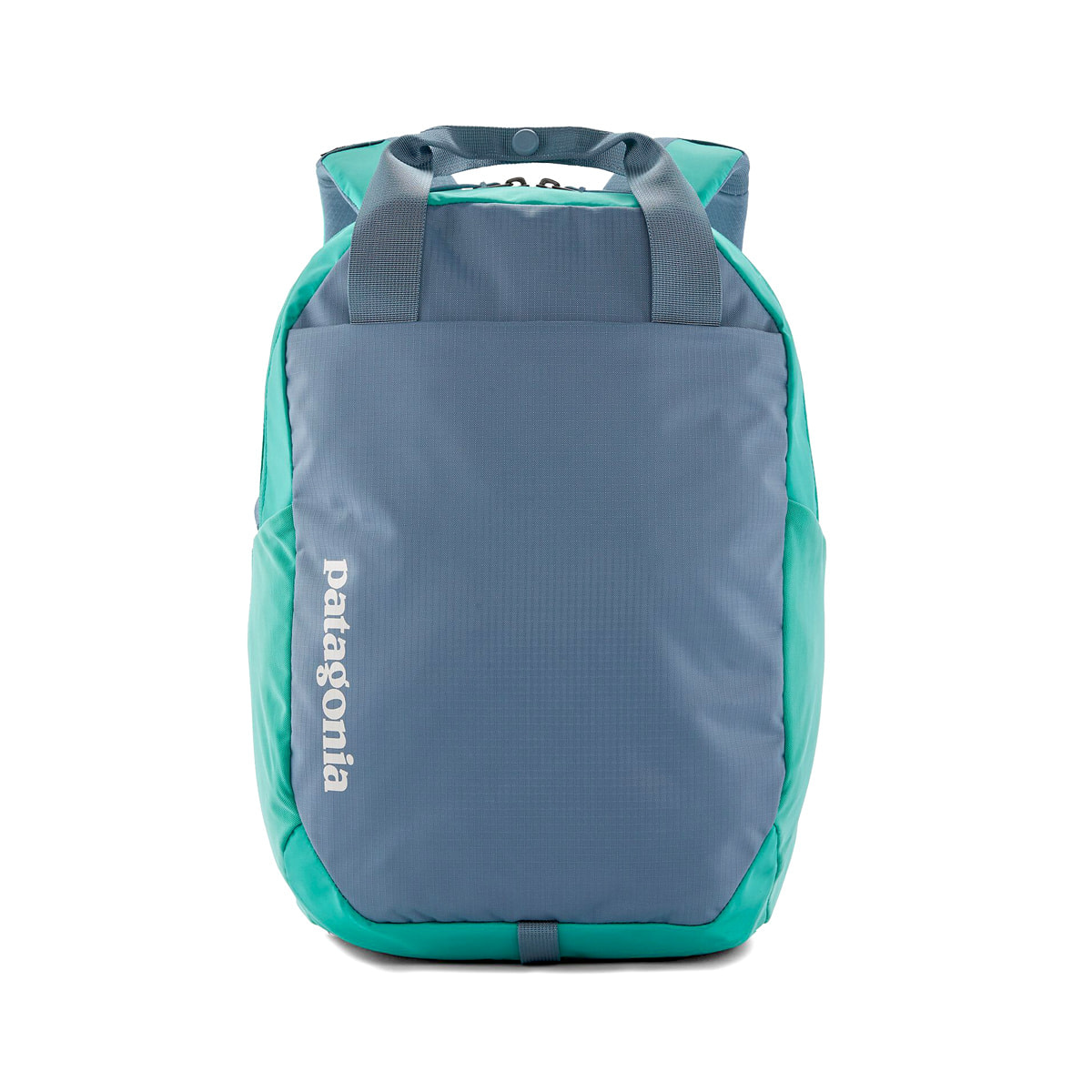 Weight: 1.4 lb (645 g)
Capacity: 20 L
Dimensions: 16 x 12 x 5 in (41 x 30 x 13 cm)
A miniature version of Patagonia's iconic Tamangito Pack, the Atom Tote Pack is one of their most lightweight backpacks that you can utilize for everything from technical hikes to your personal item on the plane. It comes with a few pockets and pouches for tech accessories and small necessities, including a laptop sleeve that you can remove altogether whenever you're not toting your computer.
Like all of Patagonia's products, this model is built with durability in mind, so you can expect to have it for years to come. And bonus: almost every material used in its production is recycled or sourced sustainably, and the profits from your purchase will aid in the fight against climate change.
Tropicfeel Cruiser Backpack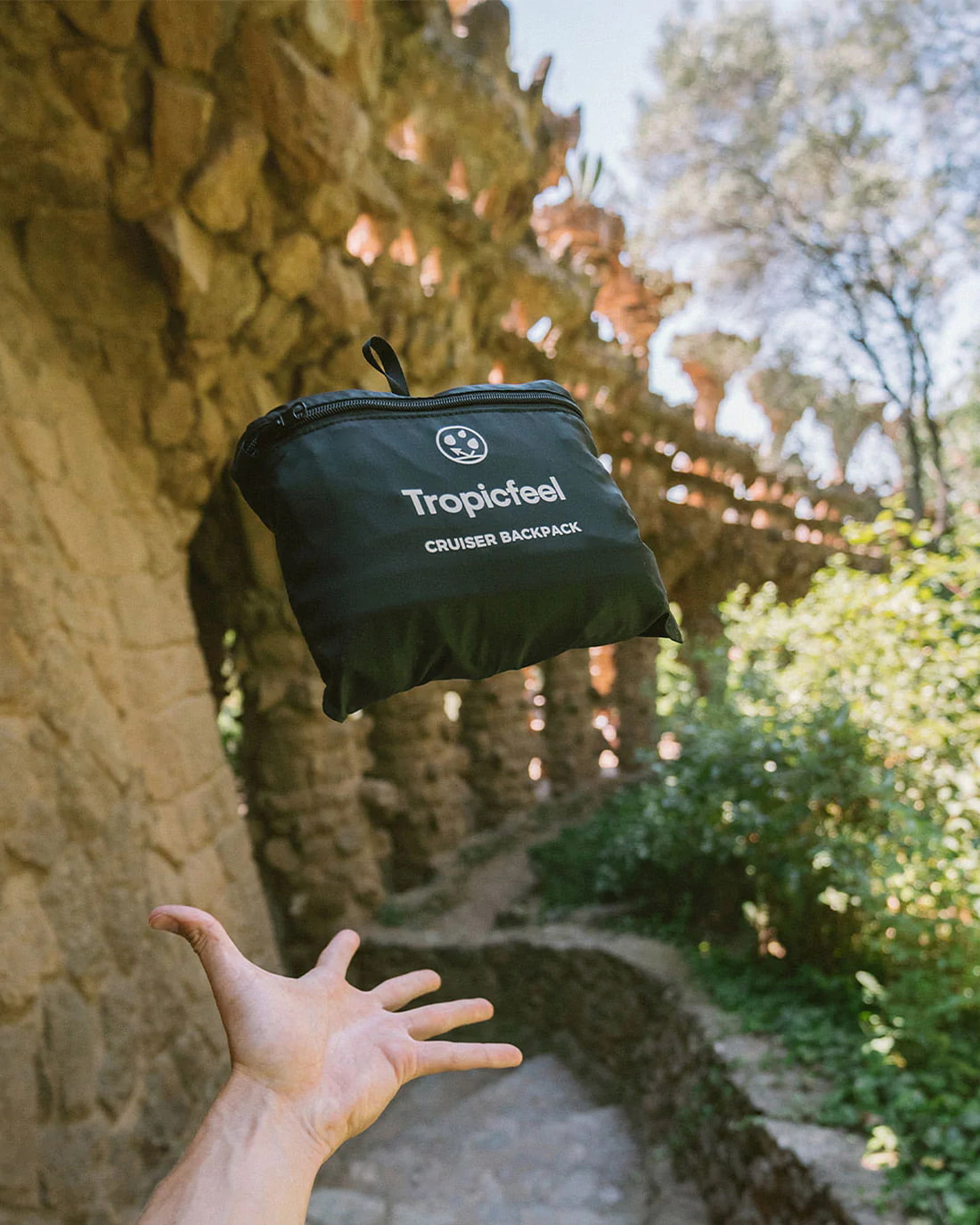 Tropicfeel created its ultra-light, packable Cruiser Backpack to combine functionality with comfort. Though it's loaded with features designed to make it super versatile, it packs up into a tiny, included pouch. Its water-resistant shell is treated with additional weatherproofing to prevent inclement weather from ruining your gear, all capped with a roll-top closure for added protection. The shoulder straps and back panel are fitted with a breathable mesh fabric to help keep you cool, and though simple, the sternum strap ensures superior weight distribution.
Paravel Fold-Up Backpack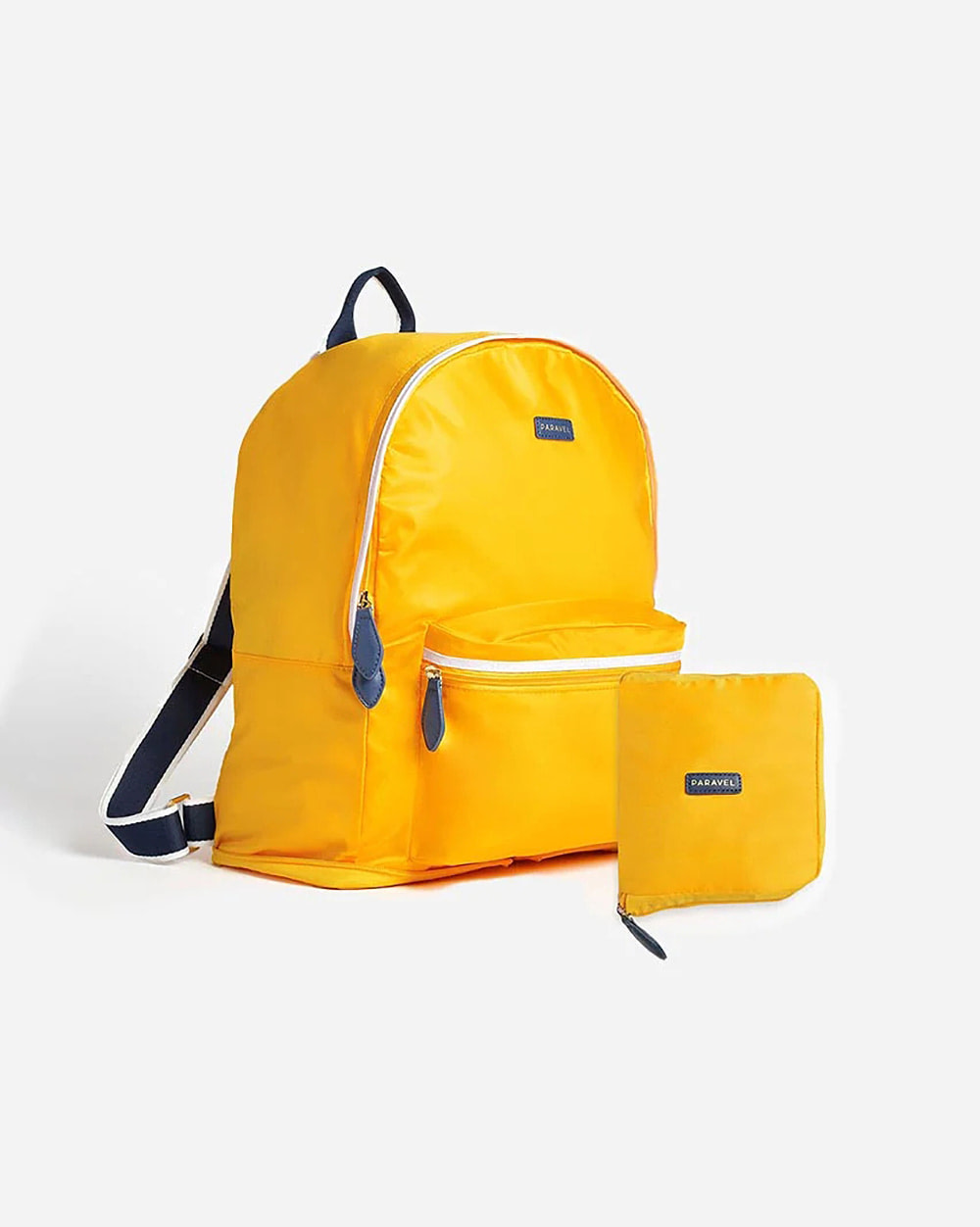 Weight: 0.63 lb (286 g)
Unpacked Dimensions: 13 x 16 x 9 in (33 x 40.6 x 22.9 cm)
Packed Dimensions: 6 x 6.5 x 2.5 in (15.2 x 16.5 x 6.4 cm)
Paravel makes all of the items in the Negative Nylon Collection from upcycled plastic bottles, including their deceivingly simple Fold-Up Backpack. Though you might mistake it for competitors' far more flimsy models, several details make theirs stand out: the silky yet durable shell is double-layered for extra durability, and the smart, contrast piping gives it an air of refinement. When you're done with your outing for the day, this super lightweight backpack zips into a tiny integrated pouch that slips right back into your carry-on. You can even add a custom monogram to render it uniquely yours.
Dagne Dover Nova Sling Bag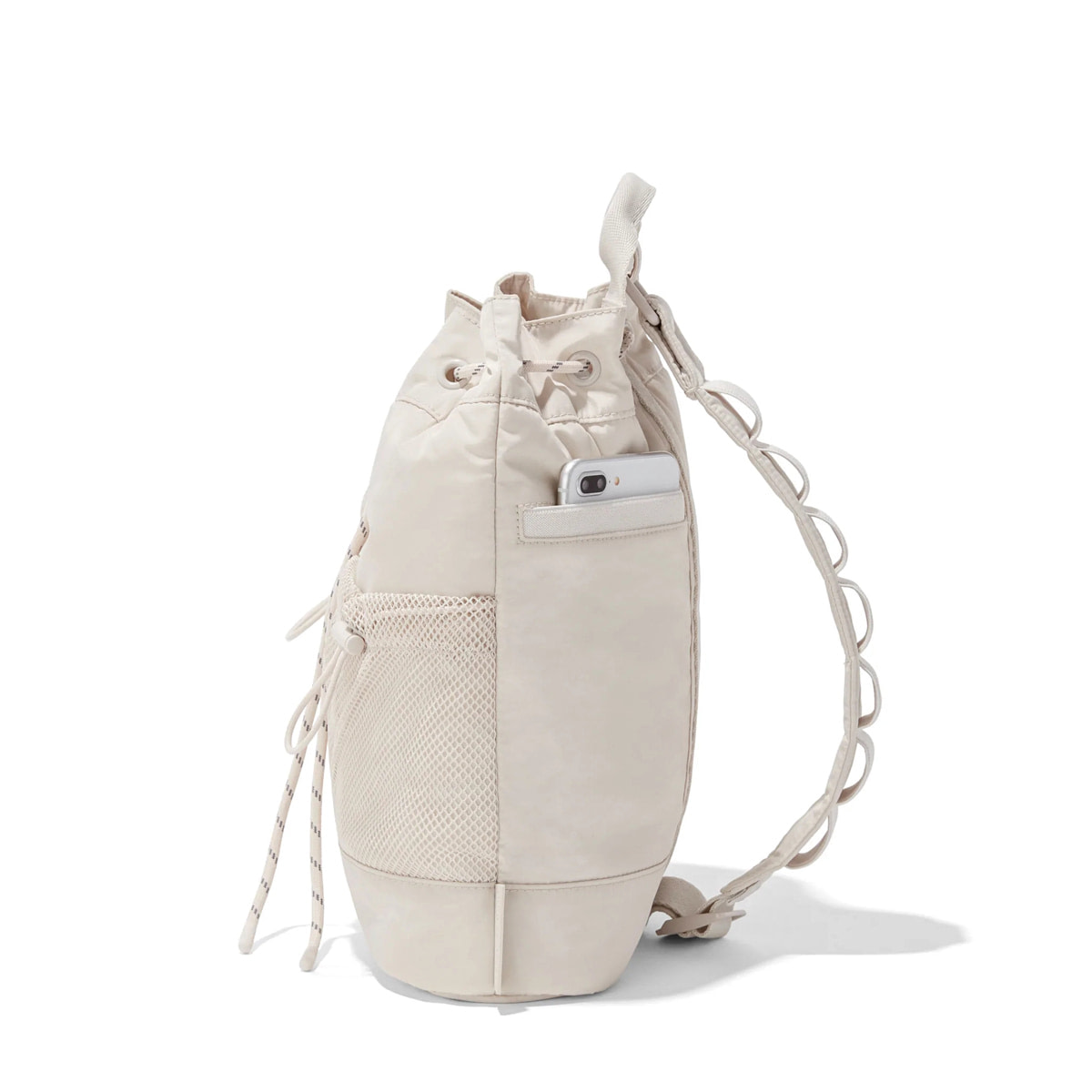 Weight: 1 lb (483 g)
Capacity: 7.5 L
Dimensions: 12 x 9.5 x 4 in (30 x 24 x 10 cm)
Falling somewhere between a bum bag and a backpack, the Dagne Dover Nova Sling Bag gives you the ease of a cross-body with a little more room for storage. It's meticulously divided to keep everything in its place: inside are specialized pockets and dividers for your phone, wallet, keys, and other miscellanies to keep everything at hand, while two drawstring mesh exterior pockets can tote a little extra. You can even attach something extra to the elastic loops affixed to the side and the strap in a pinch.
Wandrd PRVKE Lite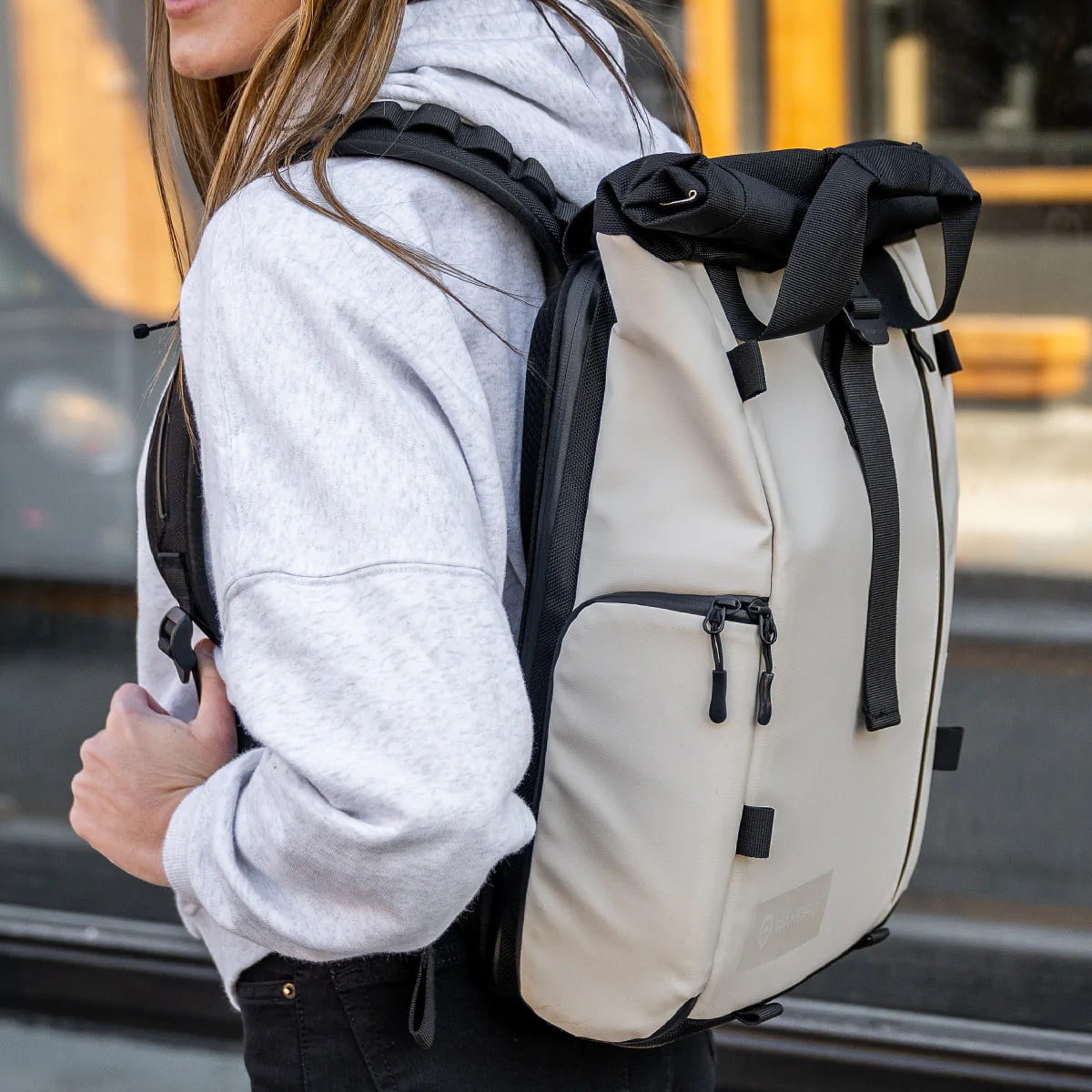 Weight: 2.5 lb (1.1 kg)
Capacity: 11 L to 16 L (roll top fully extended)
Dimensions: 16 x 11 x 5.5 in (40 x 28 x 14 cm)
Wandrd's camera bags have a near cult-like following, particularly among digital nomads. They introduced the PRVKE Lite to mimic their ingenious flagship backpack in a slightly more diminutive size. Though compact, you'll find all of the most critical features of the full-sized PRVKE in the lite version: a waterproof shell and roll-top closure, tons of internal organization, TSA-friendly laptop sleeve, and of course, the brand's iconic, built-in quick-draw side access camera protector. Bonus: it's more affordable than the 21L version, so you can spend your extra ducats exploring.
Away F.A.R Backpack 26L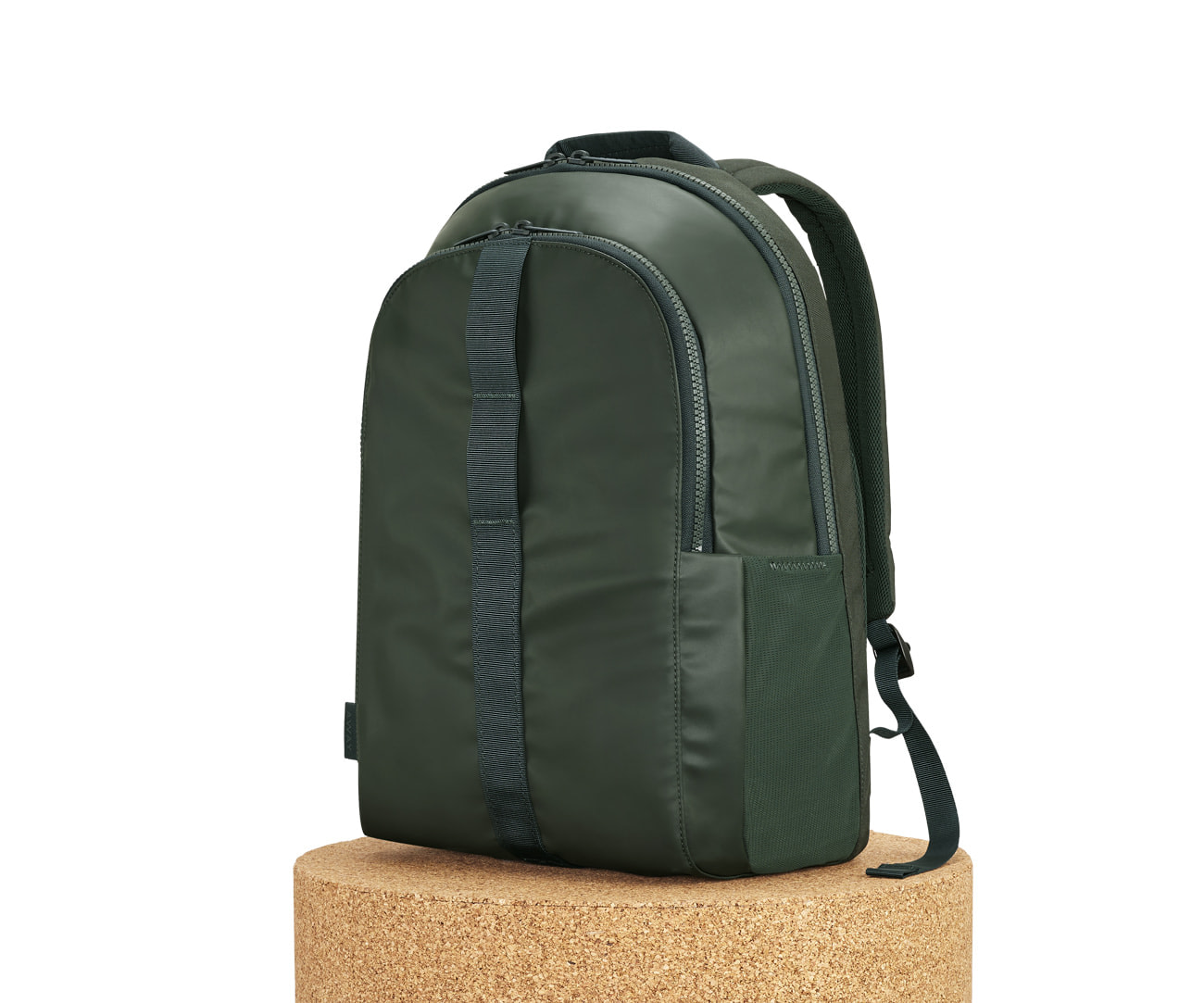 Weight: 0.78 lb (353 g)
Capacity: 26 L
Dimensions: 19 x 12.6 x 7.7 in (49 x 32 x 19.5 cm)
Away's F.A.R Backpack straddles the line between air travel personal item and outdoor day pack with the same attention to detail as its revolutionary rolling luggage pieces. Its shell, constructed from water and abrasion-resistant recycled polyester, is fitted with wide, sturdy zippers and accessory loops to please even mountaineers. And though it will easily withstand the demands of a trek, its tech organization meets the demands of a digital nomad. Interestingly, it has an interior and an exterior laptop compartment; the former is perfect for toting your computer through busy city streets, the latter for when you're headed through the TSA queue.