An ice cream renaissance is taking place around the world. Not only did the industry embrace the growing trend towards fresh, natural, and locally sourced ingredients, but more and more gelaterias decided to take dessert to a whole new level with their innovative techniques, creatively healthy options, and magazine-worthy interiors.
From Italy to Japan, have a look at some of the most beautifully designed ice cream shops across the world. Step into any one of these sweet, stylish places, and you will be swept away into a magical realm of design deliciousness!
Piccolina Gelateria, Melbourne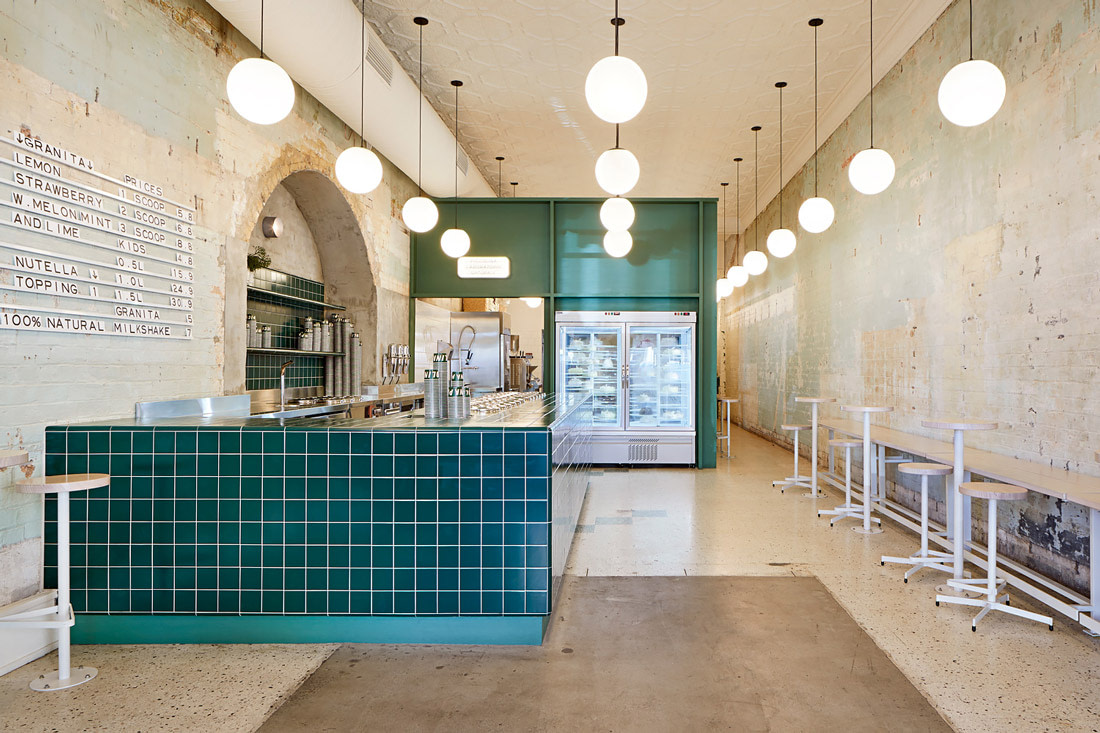 A little piece of Italy in the heart of Melbourne, Piccolina Gelateria serves up natural, authentic gelato, along with delightful ice cream cakes and granitas in inspiring designer surroundings loaded with historic charm. The decor is reminiscent of a classic Southern Italian establishment from the '50s, with a series of pendant lights looming over a thoughtfully restored terrazzo floor and a bar decked out in rustic emerald green tiles standing out against exposed brickwork and stripped-back walls.
As you would have thought, the shop is located on hipster-centric Smith Street, in the suburb of Collingwood.
Mister, Vancouver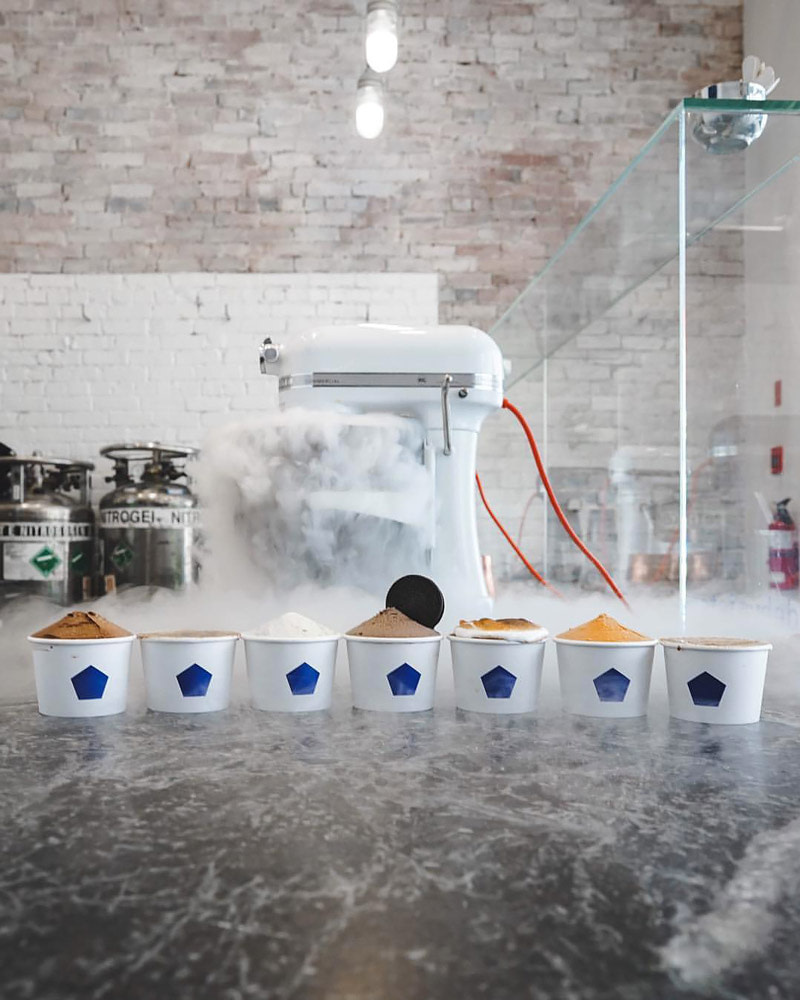 From the modern, industrial design to their nitrogen-churned artisanal scoops, everything about this Vancouver ice cream parlor screams cool and innovative. Their bespoke icy treats are all made in house using pure, locally sourced ingredients, and come in flavors like black coconut ash, crème brûlée, or double Oreo. Designed by local architecture firm Scott & Scott, Mister more than lives up to the fare, combining whitewashed brick walls with galvanized steel to create a cold, frozen effect.
Parlor Café, Prague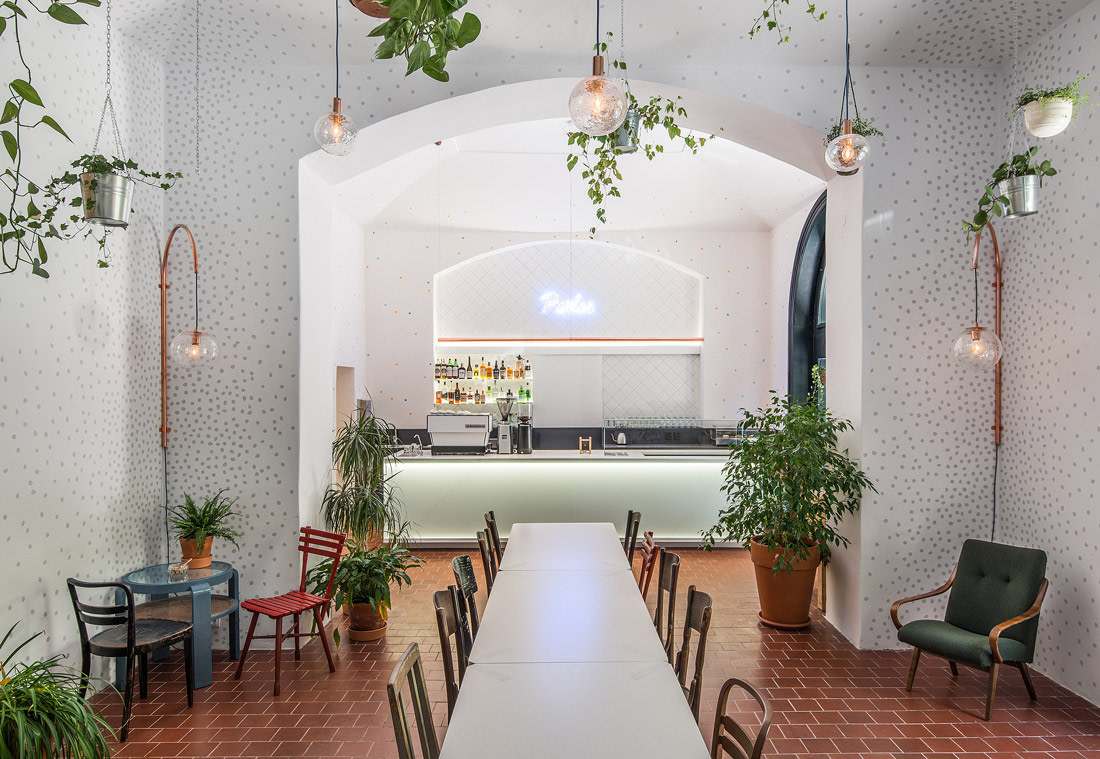 Located in the hip Karlin district, Parlor is unique in Prague. Inspired by the ice cream culture of San Francisco, it specializes in colorful, gourmet ice cream sandwiches, boasting more than 6,000 different flavor combinations. A café by day, the friendly establishment converts into a bar at night, serving wine and cocktails in the same chic ambience – complete with fresh greenery and cool vintage finds.
Gelatoscopio, Mexico City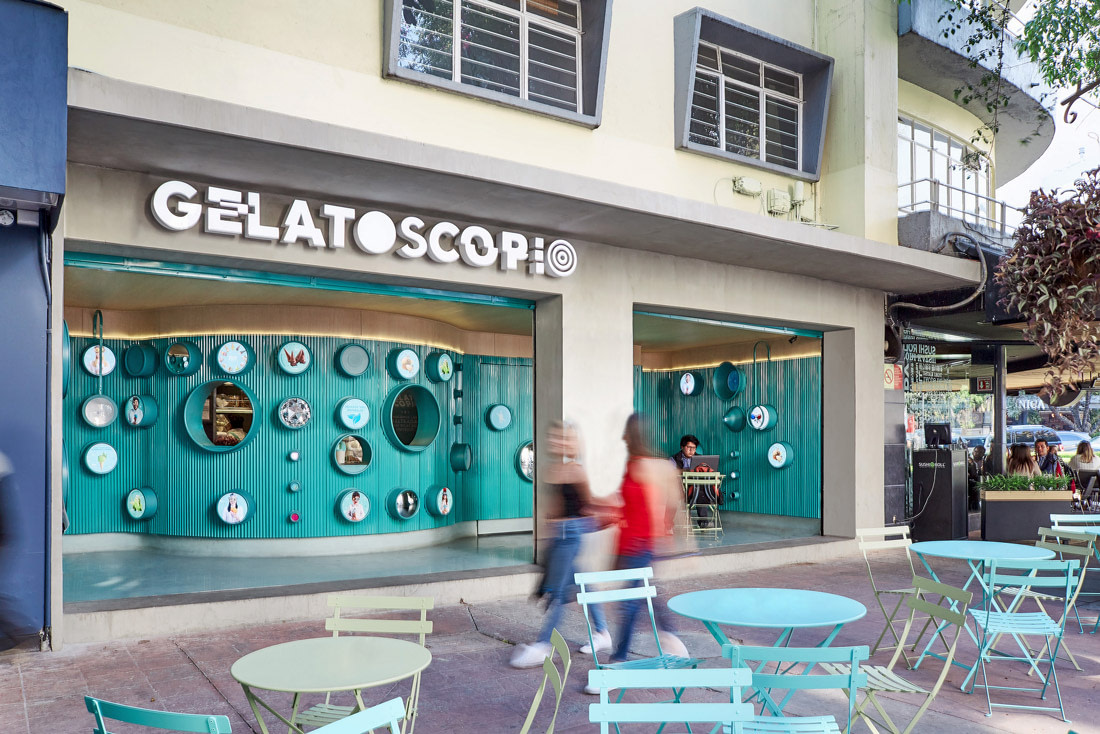 With all sorts of quirky circular lenses dotted along its wavy, seafoam green walls, just approaching Gelatoscopio will make you feel like you've stepped into a utopian childhood dream. The magic continues behind the eye-catching pavilion, where imaginative concoctions like matcha with caramel popcorn and toffee or lavender with peaches and cotton candy await to delight your senses.
Pannelatte, Palma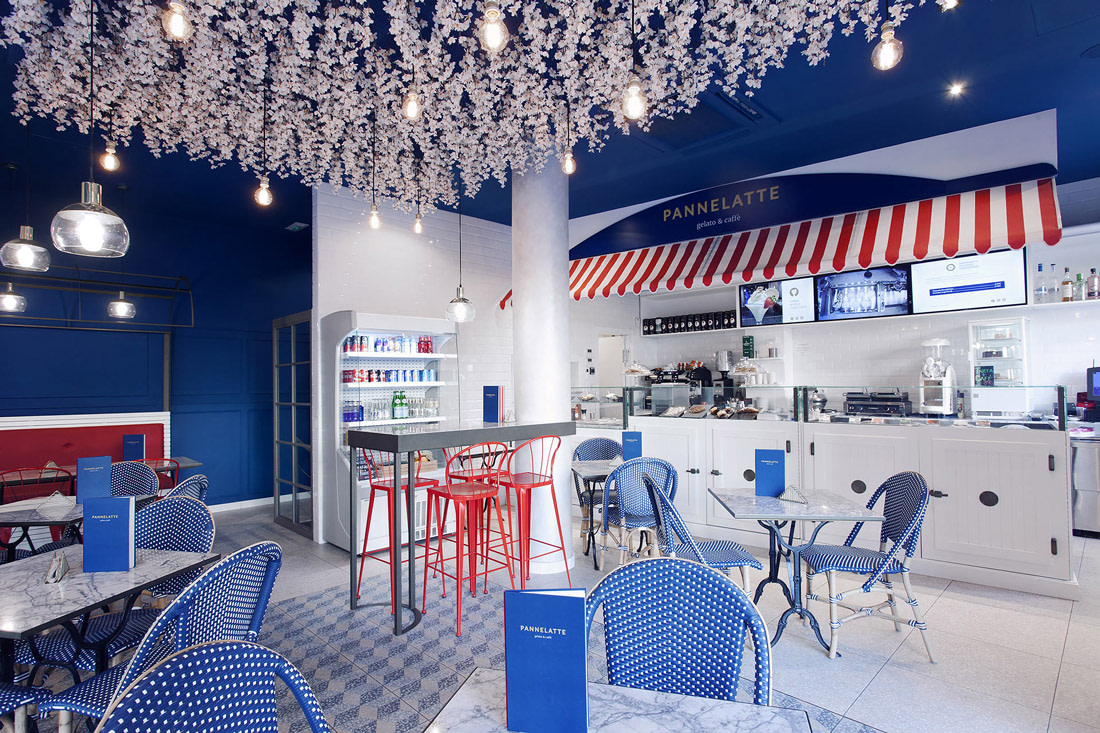 Retro charm meets a bold nautical color palette in this cozy Palma coffee shop, reminiscent of the city's ice cream parlors of yesteryear. Passersby pop in for the adorable decor and stay for the creamy, delicious gelato that's made instantly in front of them and served under a canopy of almond flowers. Pannelatte also offers some original creations like Mojito or Cava-infused sorbets, as well as a variety of cakes, milkshakes, and tasty breakfast items.
Soft Touch, Medellin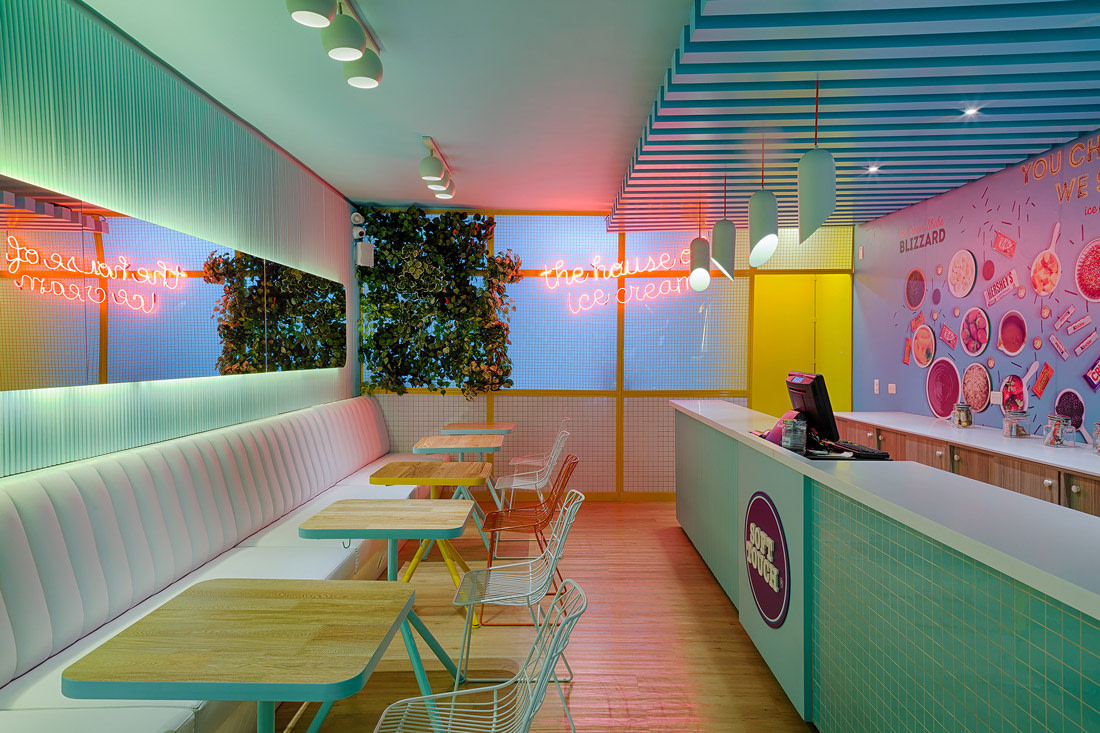 A project by design studio Plasma Nodo, this Soft Touch outlet in Medellin is deliciously decorated in hues and graphics that evoke their beloved ice cream flavors. The colorful place has a sort of retro American diner feel, with white banquette seating facing a long counter, and pink neon signs adorning the walls.
La Glace, Vancouver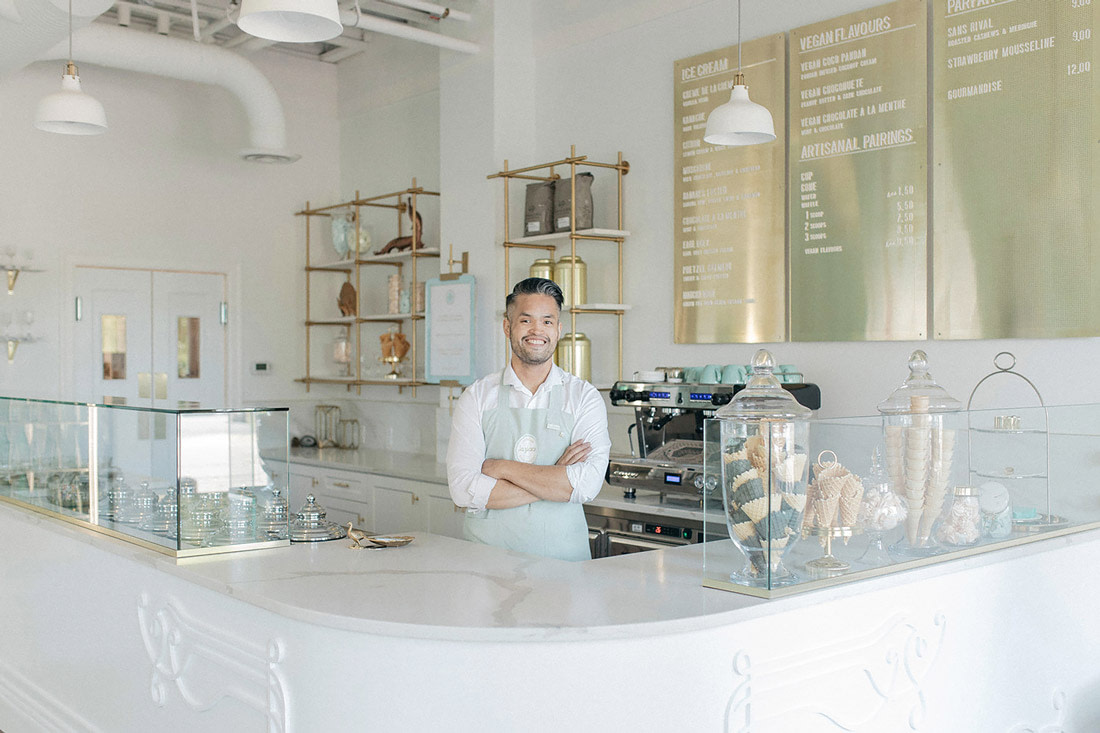 Run by pastry chef Mark Tagulao, La Glace welcomes visitors in the Kitsilano area of Vancouver with luscious creations like Matcha Affogato, Gourmandisse Parfait, or vegan Chocolat à la Menthe. The elegant shop specializes in artisanal French-style ice cream, often paired with delightful cookies and macarons. Its interior comes courtesy of local creative agency Arithmetic, which used elements from the Art Nouveau and Art Deco styles to create an original, utterly romantic space that will be a joy to spend time in.
Sweet Salvation, Dubai
Escape the desert heat at Sweet Salvation, an Instagram-worthy ice cream shop in the City Walk district of Dubai. The Toronto-based brand's first store outside Canada has been envisioned by architecture firm Navigate Design, and the result is a funky mix of marble, black and white graphics, and bright accents in their signature pastel blue shade. Expect pimped-out soft serve concoctions topped with lotus or red velvet cookie crumbs, as well as a selection of indulgent shakes, frappés, and cold-brew coffee.
Rocambolesc, Girona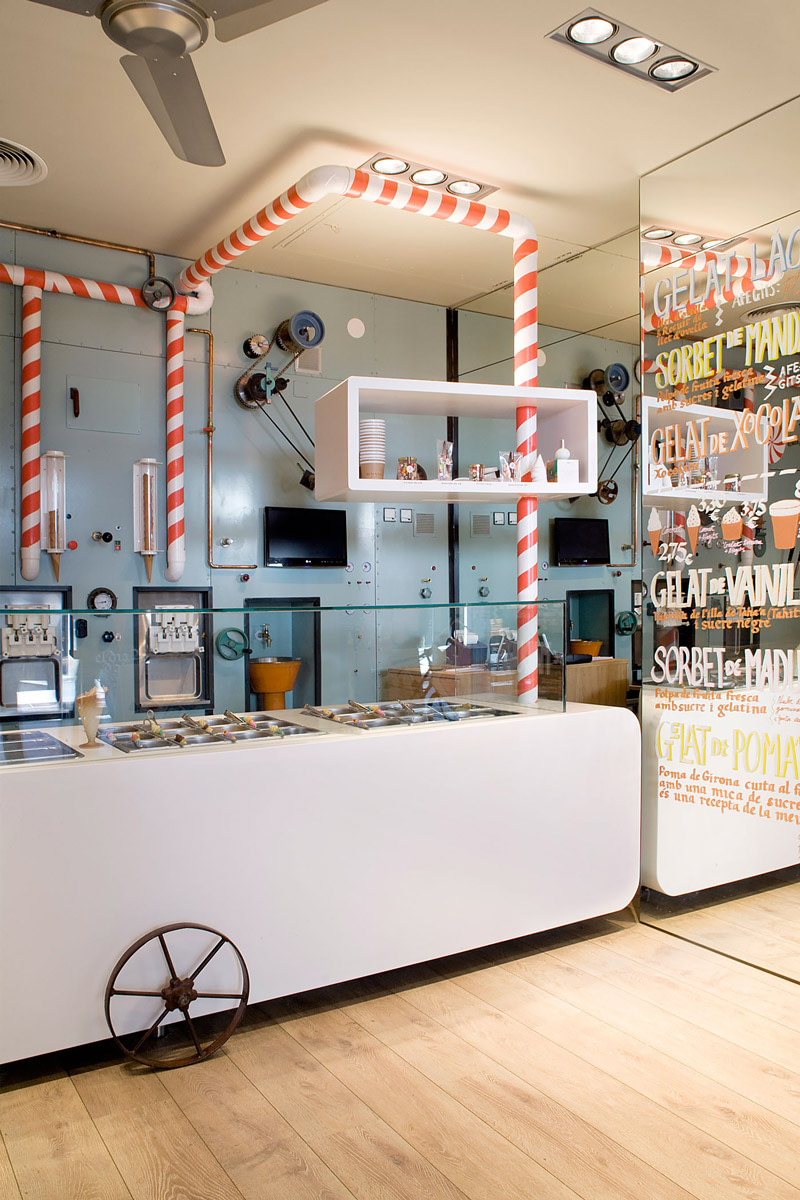 Fancy a scoop of Michelin-worthy ice cream? Look no further than Rocambolesc, the Spanish creamery where the youngest of the Roca brothers (from the world's best restaurant, El Celler de Can Roca) delights visitors' palates with frozen, silky smooth works of art.
Located in the center of Girona, the Tarruella Trenchs Studio-designed locale seems straight out of Charlie and the Chocolate Factory – decked out in natural oak wood and adorned with whimsical industrial machines. Ingredients are of the highest quality and flavors change with a season, ranging from roses and baked apples to mojito, parmesan, or toast and olive oil.
Ampersand, Bangkok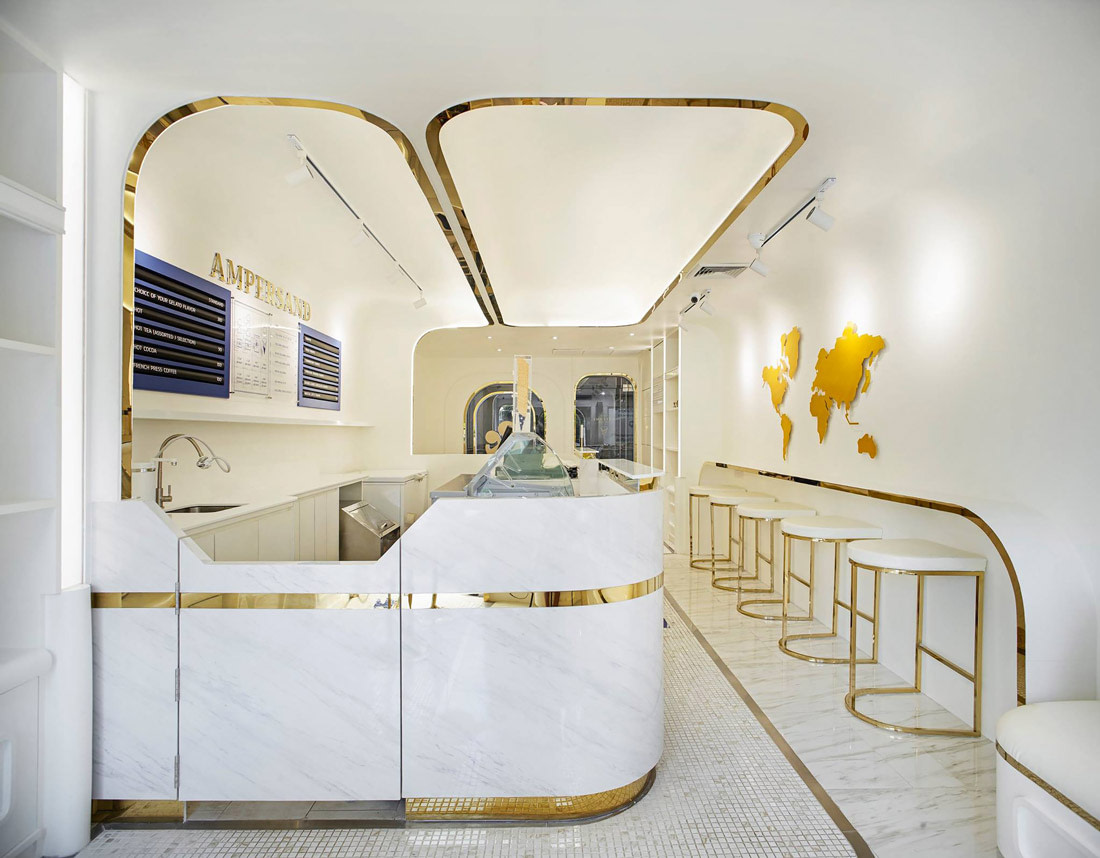 Ampersand's sleek, travel-themed design is a perfect reflection of the menu, which brims with high-quality ingredients and adventurous flavors from around the globe. The space brings to mind a futuristic airport, and its clean palette of white and navy blue with gold accents is delicately enlivened by voyage-related items like world maps and souvenir magnets.
The Bangkok gelato boutique specializes in Italian-style ice cream, but the frozen desserts on offer are singing with globally inspired aromas. Try Lavender for a touch of Provence, Earl Gray for a sophisticated British flavor, Yuzu for a taste of Japan; or the melt-in-your-mouth Tiramisu – which is literally Italy in a cone.
Veganista, Vienna
Not only is this Austria's first vegan ice cream shop, but Veganista is also seriously good looking. With warm pastel walls, minimalist furnishings, and intricate tilework, the architect-designed (Ulrich Huhs & Gabriele Lenz) interior provides a sweet, soothing backdrop for the rainbow of dairy-free treats on offer. Their ice creams are freshly made every morning using only high-quality natural ingredients, and range from classics like chocolate and strawberry to more adventurous options like basil and black coconut.
Ah-chu Ice Cream & Churros, Gimp
Toy-like furniture and accent walls in candy-striped pink decorate this ice cream café in Gimp, South Korea. Designed by Wanderlust, the playful locale – called Ah-chu – attracts children and adults alike with its adorable decor, colorful icy treats, and delectable churros, which seem to theatrically emerge from a dough machine before making their way to the oven.
Milk & Pink, Ivano-Frankivsk
Built around the ruins of an ancient castle in Ivano-Frankivsk, Ukraine, Milk & Pink is a stylish ice cream lounge, where the past and present coexist in timeless serenity. A brainchild of local designer Michael Samoriz from Umbra Design, the space is a fresh, contemporary mix of natural materials, with pieces of furniture in warm oak and bright, bold colors neatly juxtaposed against the sandstone walls.
El Malagueño, Zahara de los Atunes
A dazzling ice cream parlor in the province of Cadiz, El Malagueño serves artisanal ice creams in milky white surroundings with chocolatey wood accents. Created by Spanish design studio Velvet Projects, the establishment has a strikingly minimalist aesthetic, accented with huge immersive portraits depicting the joy of eating ice cream.
à tes souhaits, Tokyo
Soft lighting, natural materials, and gently curved surfaces create a sense of comfort and movement in this chocolate and ice cream shop in Tokyo's sought-after suburb of Kichijoji. à tes souhaits, designed by Japanese studio Nendo, features beautiful geometric tiles and curved striped soil walls in subdued chocolate tones, echoing the layers of an ice cream cake in all its melted glory.
ZERO-E, Isola del Liri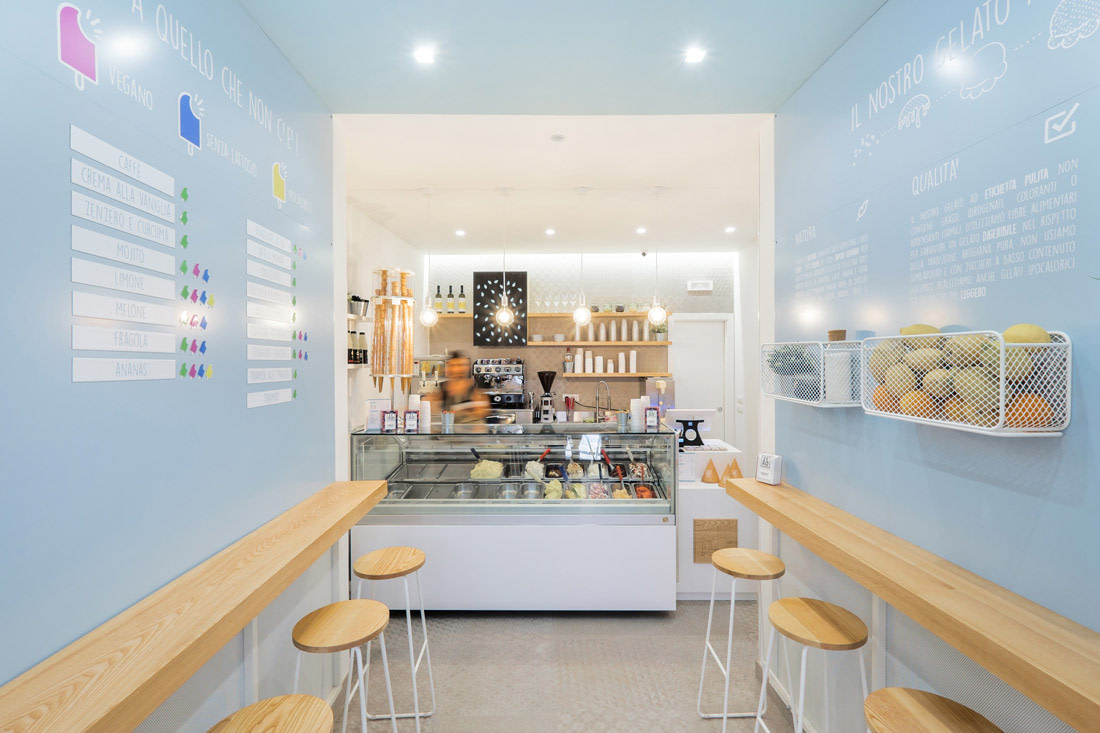 Established in 1989 by the Masci family, it's no surprise ZERO-E has perfected the art of making traditional Italian gelato. The look and feel of their lovely dessert store in Isola del Liri, however, is gloriously neat and modern, thanks to Italian architecture practice NINE. The intention was to communicate the brand's "clean label" philosophy through design, and the result is as flawless as the products on offer.
Eyescream and Friends, Barcelona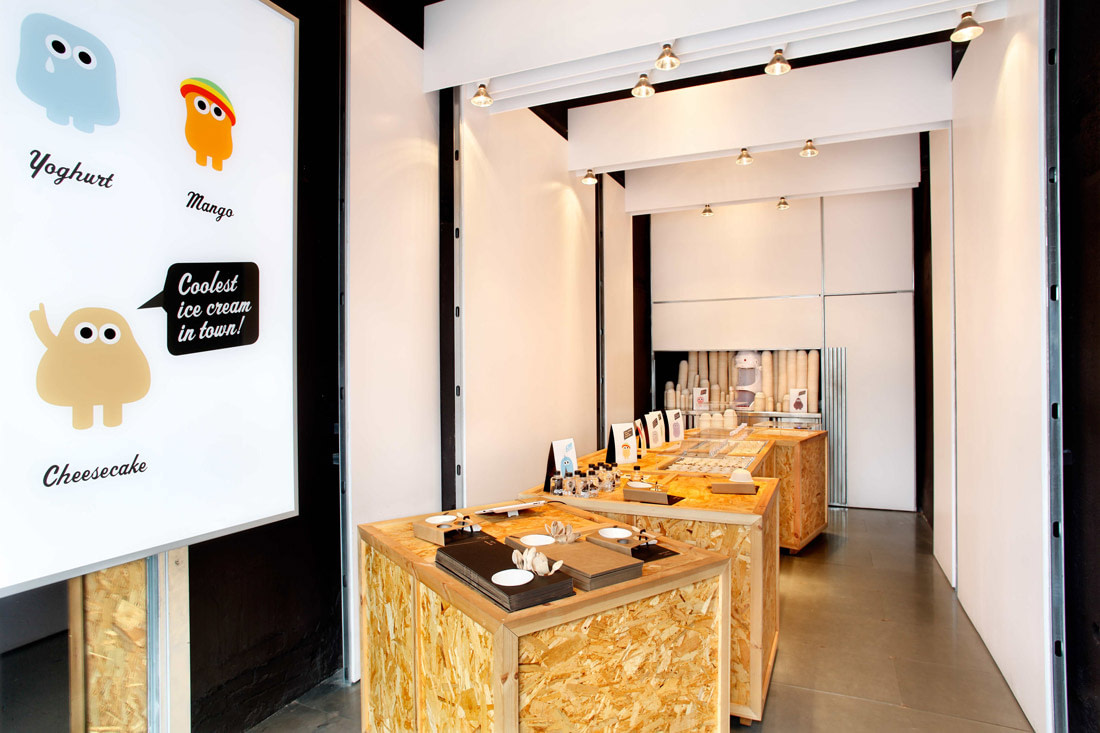 One of Barcelona's coolest ice cream spots, Eyescream and Friends whips up original shaved gelato with a playful twist steps away from Barceloneta beach. Their cute monster-like treats are a combination between Italian gelato and Taiwanese shaved ice, covered with colorful toppings and googly candy eyes. In keeping with the innovative concept, developed by Estudio m Barcelona, the interior is smart, simple, and fresh, allowing the quirky produce to be the center of attraction.