The restaurants and destination dining experiences available in the Maldives are beyond compare, taking you from the serenity of a beach at sunset to the lush greenery of the jungle to the glittering turquoise waters of the Indian Ocean.
Feast your way around the world's most romantic archipelago with these 23 spectacular dining locations where delicious gourmet meals come served in stylish, surreal surroundings.
Sandbank Dining at Baros Maldives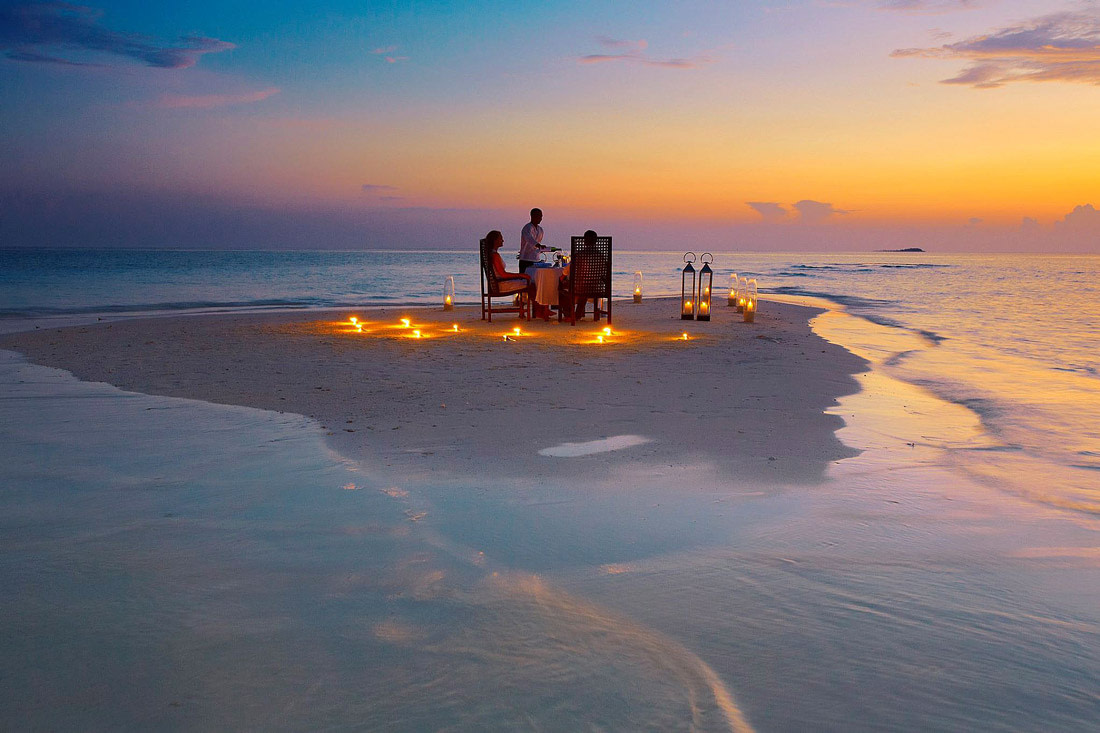 Sandbank Dining at Baros Maldives offers the ultimate in romantic escapism with exquisite meals served on a small, secluded thila (sandbank) in the middle of the Indian Ocean.
Borderless Dining at Dusit Thani Maldives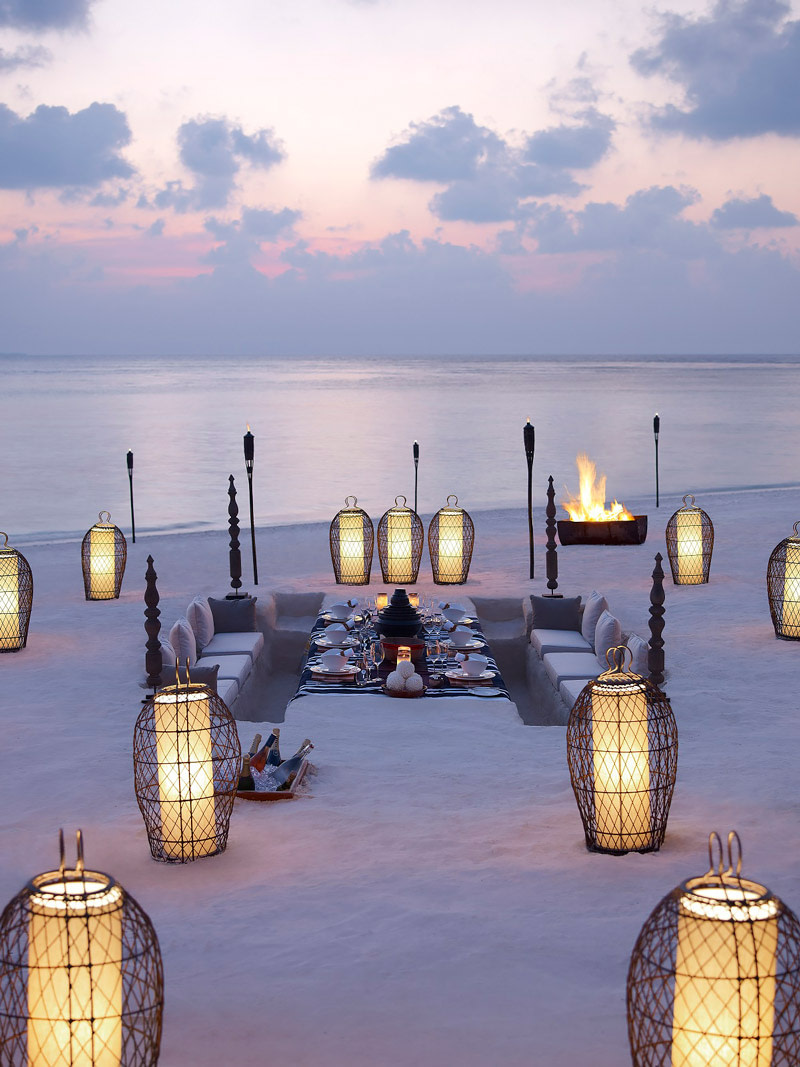 Dining in spectacular locations is not a novelty in the Maldives, but the Borderless Dining concept at Dusit Thani provides a true feast for the senses, where gastronomy, atmosphere, and the splendor of nature go hand in hand. Expect sumptuous menus, upmarket beverages, and sensational settings across the island.
Destination Dining at The Sun Siyam Iru Fushi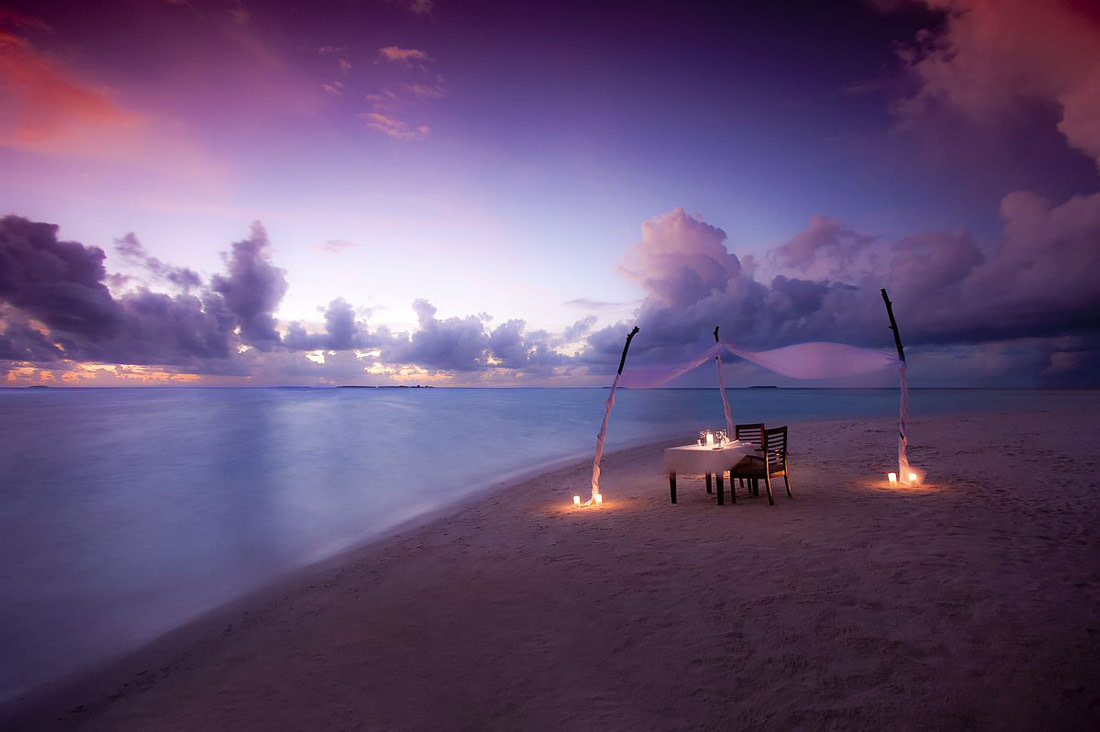 Sometimes a romantic dinner by the ocean is all you need to escape reality for a while and just be in the moment. And when this happens to be a multi-course gourmet feast accompanied by the sea breeze and chilled champagne at The Sun Siyam Iru Fushi, then the moment is as perfect as it can be.
Sea. Fire. Salt. at Anantara Veli Maldives Resort
One of the most captivating dining locations at Anantara Veli Resort & Spa is certainly the over-water Sea.Fire.Salt. restaurant. Here, guests can dine alfresco on the glorious wooden deck floating above the lagoon, enjoying top-class grilled steaks and Maldivian seafood specialties.
Muraka at Mirihi Island Resort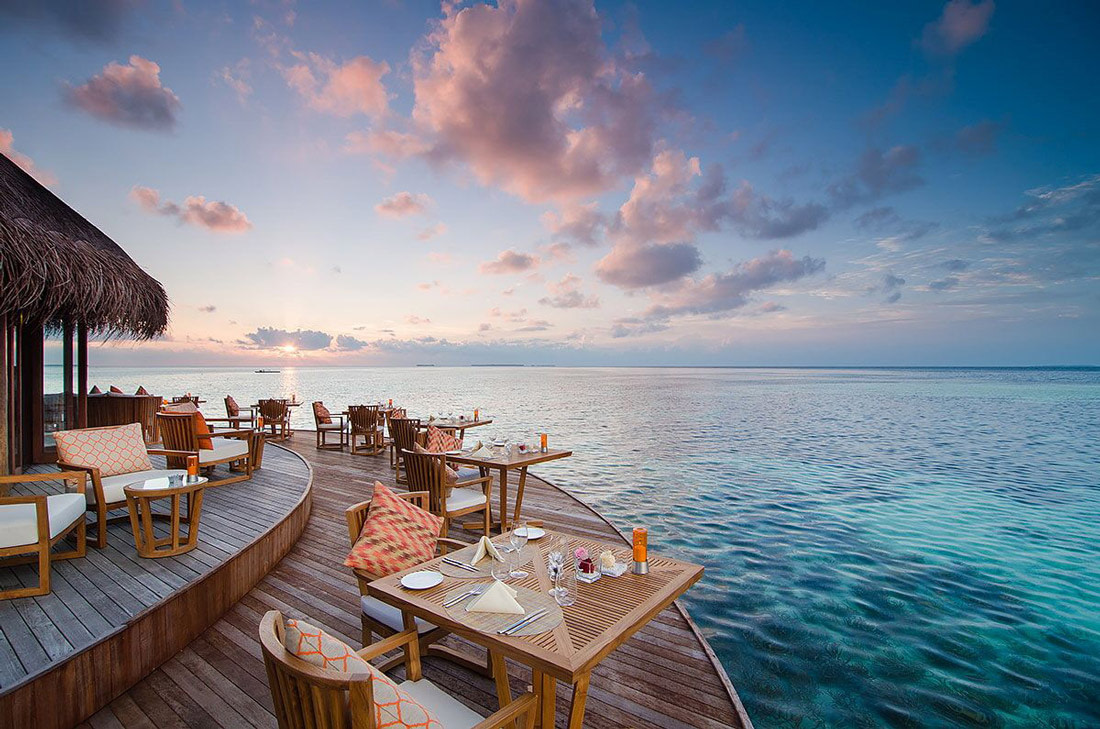 Dinners on Muraka's over-water decked terrace come with sublime sunsets and a soundtrack of lapping waves. There are only eight tables, but the delicious food is worth fighting for a seat. Specialties include Maldivian lobster and Angus beef, all paired with carefully selected international wines.
Gourmet Beach Dining at One&Only Reethi Rah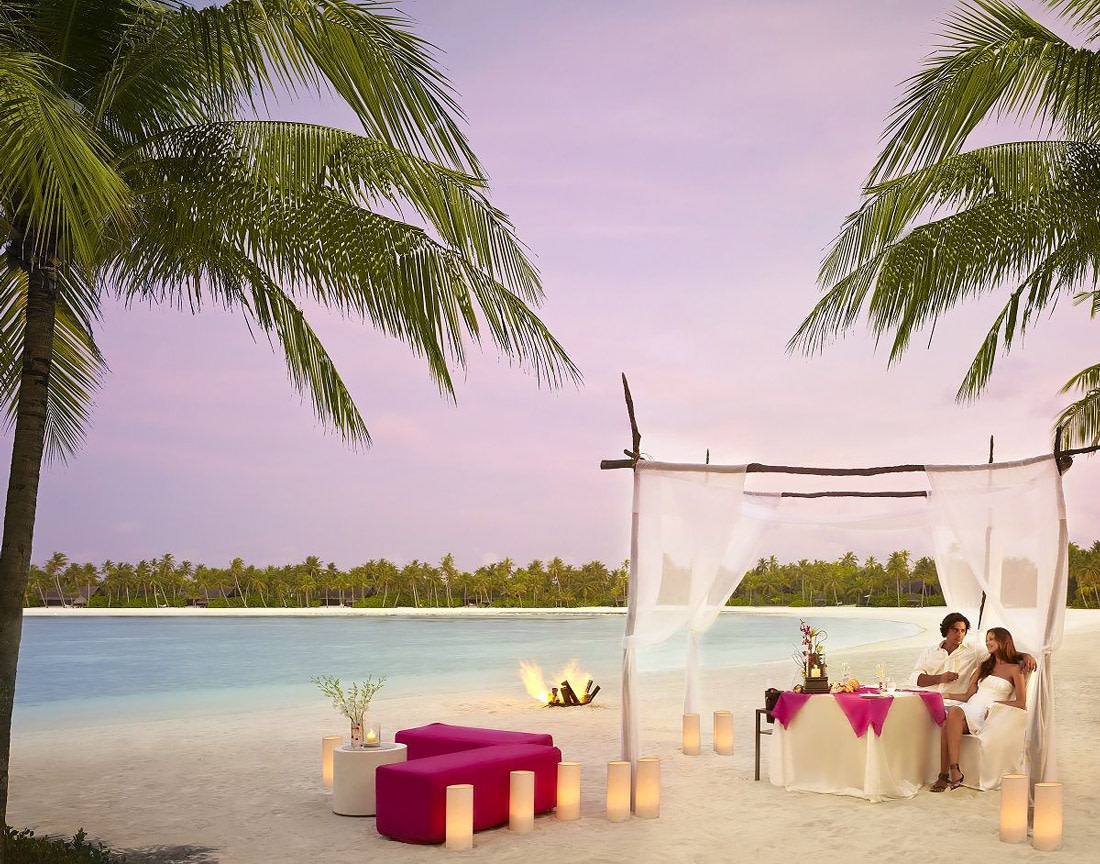 At One&Only Reethi Rah you can dine on a pristine, pearly-white beach under the stars, by the glow of a fire pit. Indulge in a festive, beautifully crafted four-course menu prepared by your own private chef and accompanied by fine wines and Champagnes.
Ithaa Undersea Restaurant at Conrad Maldives Rangali Island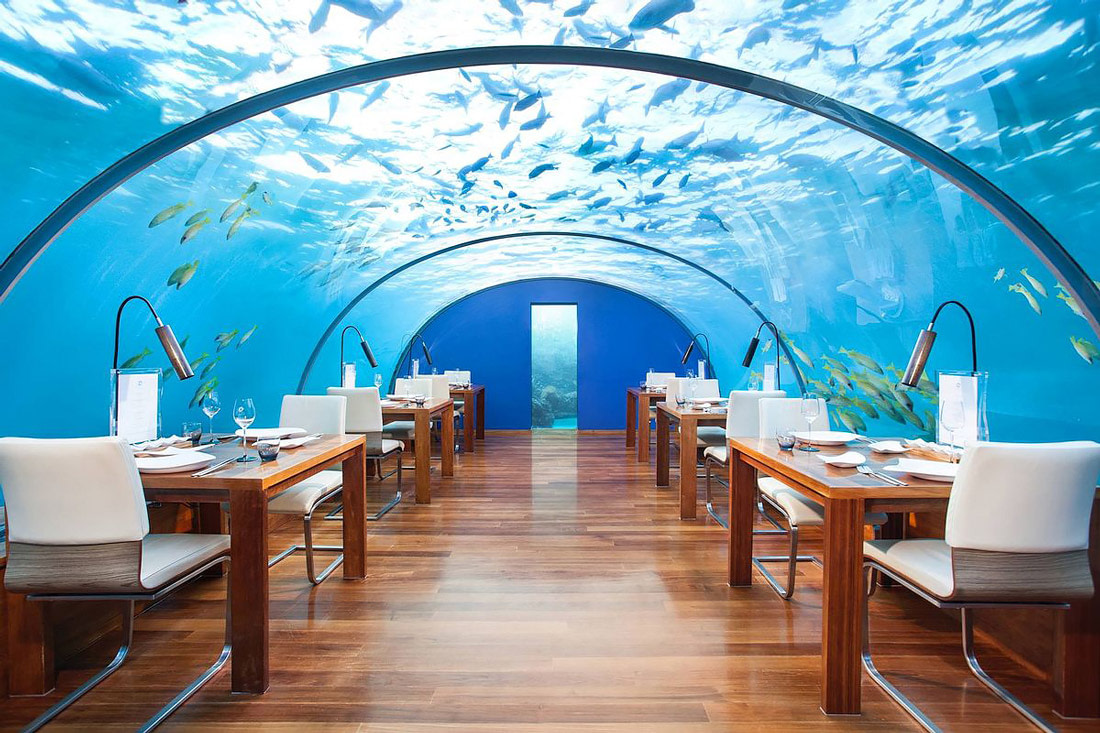 Probably the most spectacular restaurant in the Maldives, Ithaa serves contemporary European cuisine in a stunning all-glass undersea dining room 16 feet below sea level. The exquisite six-course dinner menu more than lives up to the fabulous 180-degree underwater views.
Olive at Kandolhu
Olive, the laid-back open-air restaurant at Kandolhu, serves tantalizing Mediterranean cuisine on a breezy circular deck with panoramic views of the dazzling blue ocean.
Private Destination Dining at Huvafen Fushi Maldives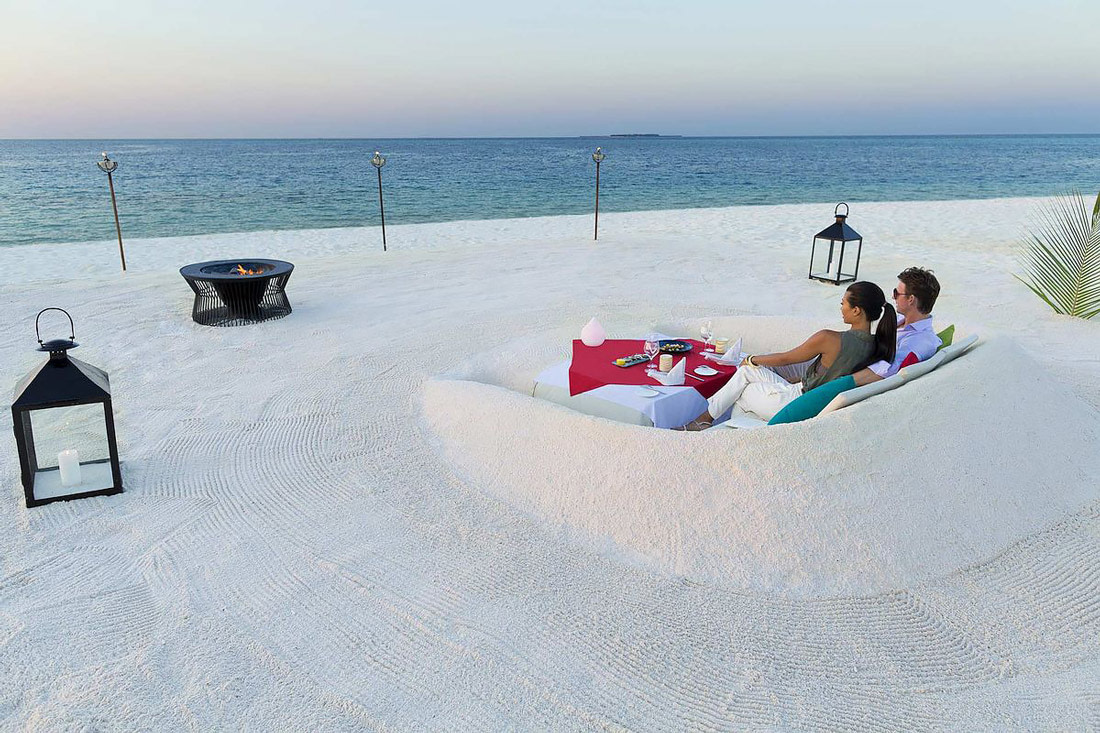 Apart from hosting some of the most exclusive restaurants in the Indian Ocean, Huvafen Fushi Maldives excels in the art of destination dining, as well. Among the resort's most outstanding culinary escapades is this picnic on the edge of the reef, complete with glowing lanterns, sandy seats, and majestic ocean vistas.
In-Villa Dining at Centara Grand Island Resort & Spa Maldives
Centara Grand Island Resort & Spa has a variety of stunning restaurants, but, with a view like that, dining in the privacy of your own over-water villa seems the perfect choice. The service is available on a 24-hour basis and lets you sample a variety of international cuisines while taking in magnificent water views.
Wedding Coral Terrace Dinner at W Maldives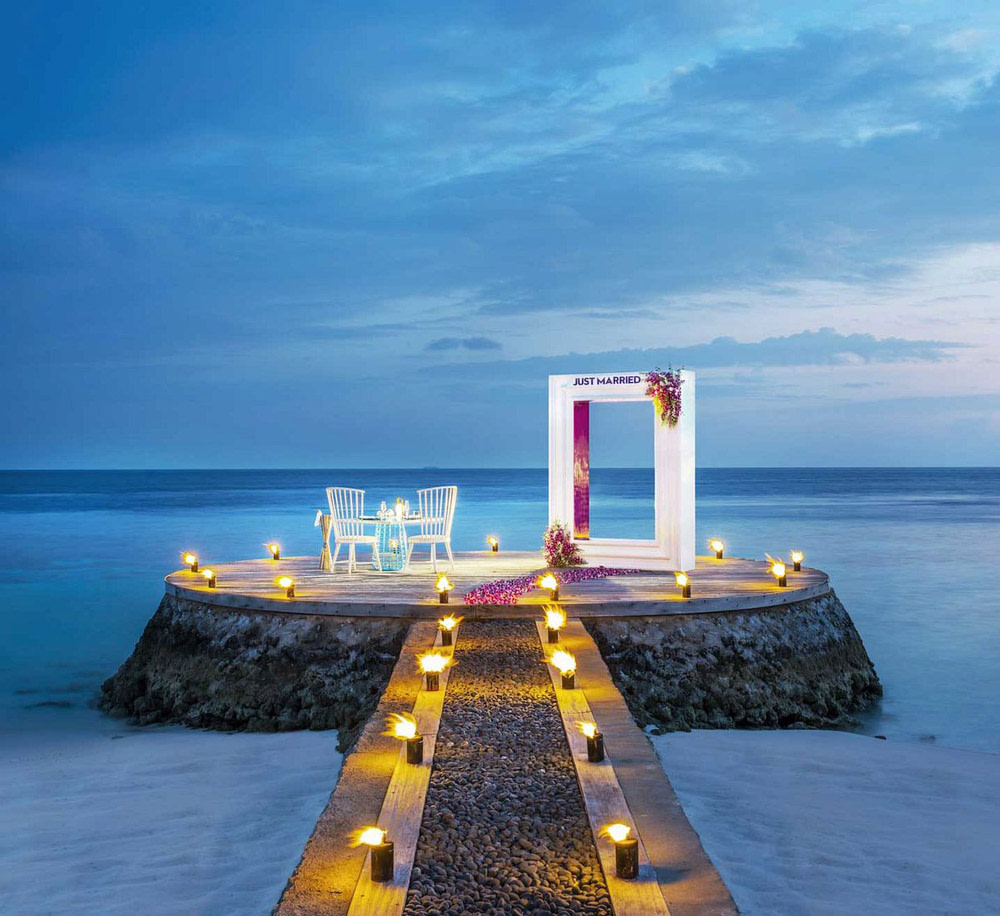 As a newlywed or honeymooner at W Maldives, you have the chance to enjoy a romantic dinner for two on a private coral terrace over the water. Imagine just the two of you here at sunset, with nothing but romance in mind and the endless blue of the ocean as a backdrop.
Gourmet Picnic at Niyama
Enhance your Maldivian vacation with a private gourmet picnic at Niyama. The experience comes complete with dreamy lantern lights, dazzling ocean views, and a private chef who will take care of everything.
Tavaru Restaurant at Velaa Private Island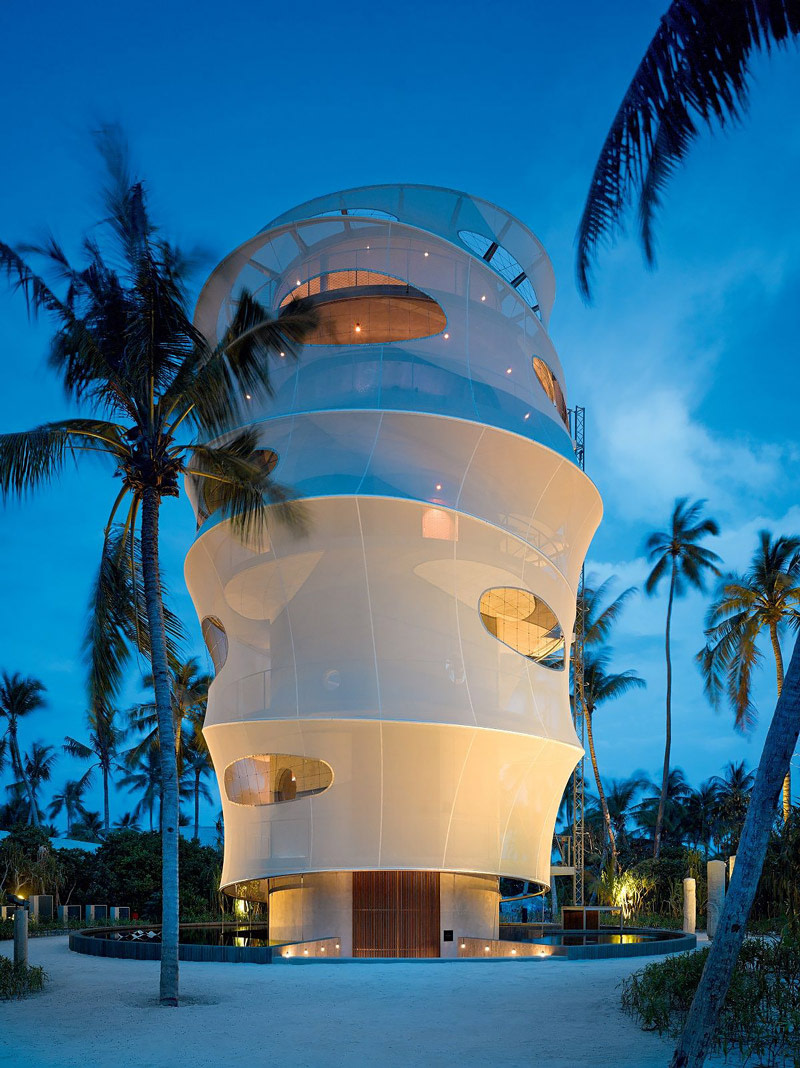 Housed in a cutting-edge 37-foot tower at Velaa Private Island, Tavaru is a Teppanyaki restaurant featuring live cooking in a stylish light-filled setting. Also here, you'll find the biggest and most impressive wine cellar in the Maldives.
Fresh in the Garden at Soneva Fushi
If beach dining is not your scene, then Fresh in the Garden at Soneva Fushi will brighten up your evening. This breezy, open-air restaurant raised up on wooden stilts above the resort's vegetable garden has lush jungle views and a healthy seasonal menu of inventive Mediterranean dishes.
Meeru Restaurant at Constance Halaveli Maldives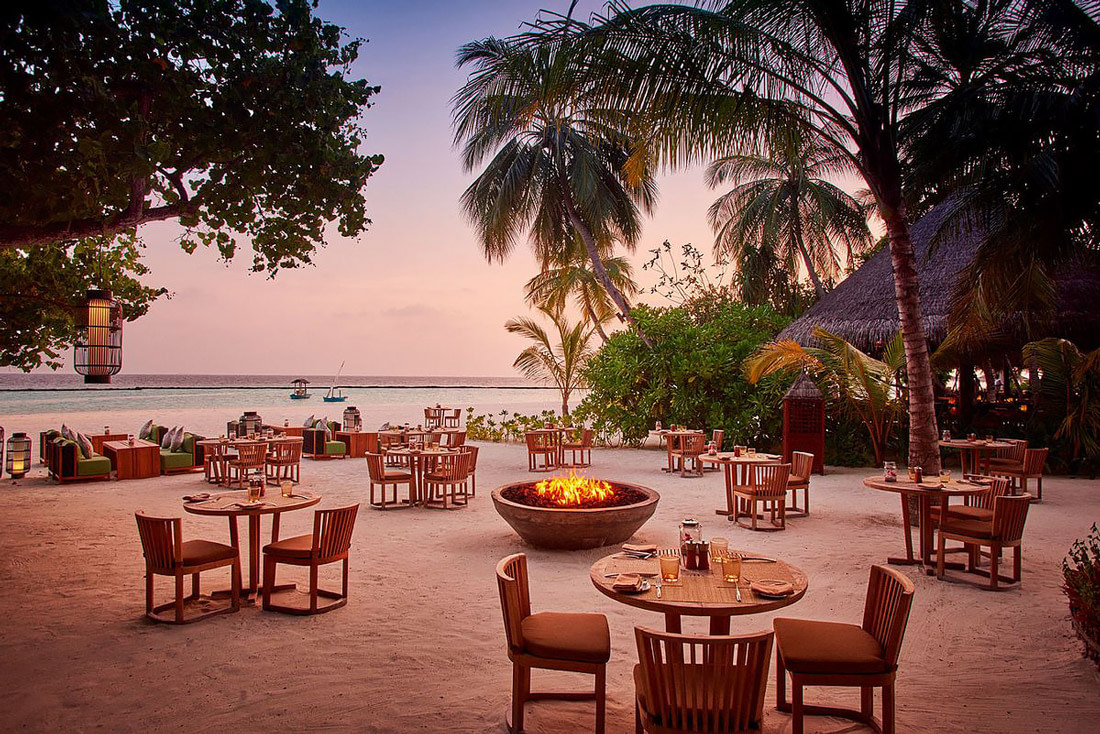 At Meeru, Constance Halaveli's chic beachside restaurant, you can enjoy delicious seafood and steaks with your toes in the sand as the sun sinks into the ocean.
Sunset Pool Café at Hideaway Beach Resort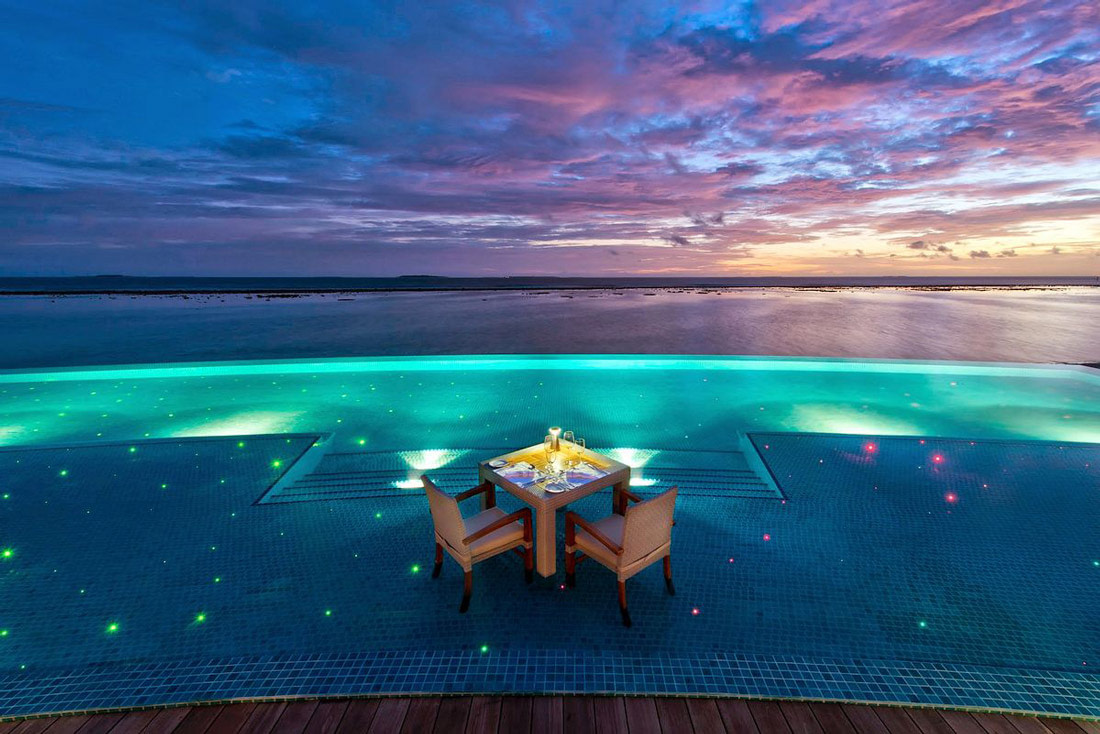 True to its name, the Sunset Pool Café at Hideaway invites patrons to sample a fusion of Asian and European cuisines in a stunning alfresco poolside setting. Come sunset, the view over the glistening infinity pool blending seamlessly into the mesmerizing ocean gets even better.
Jungle Dinner at Shangri-La's Villingili Resort & Spa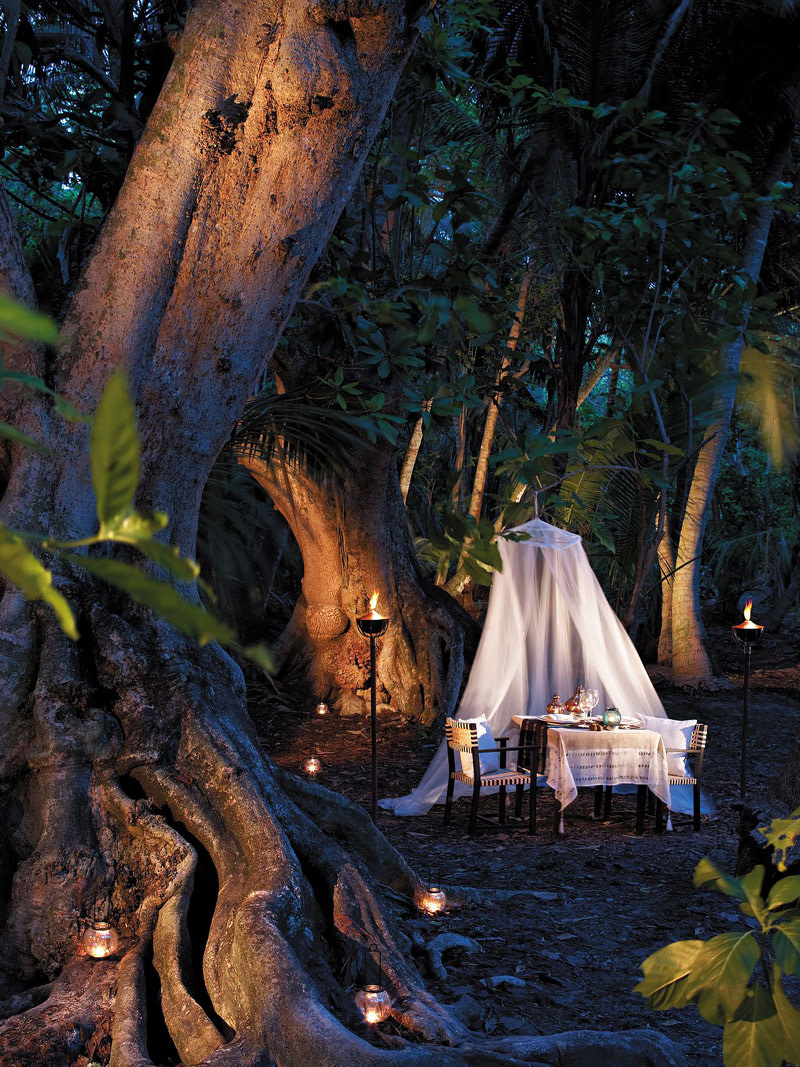 Shangri-La's fabulous Villingili Resort & Spa amazes guests with a plethora of culinary experiences, but none of them quite compares with this torch-lit dinner in the middle of the jungle. Sizzling BBQ specialties star on the menu, and the lush vegetation around make this an ideal dining location for adventurers.
Sounds of the Sea at Kurumba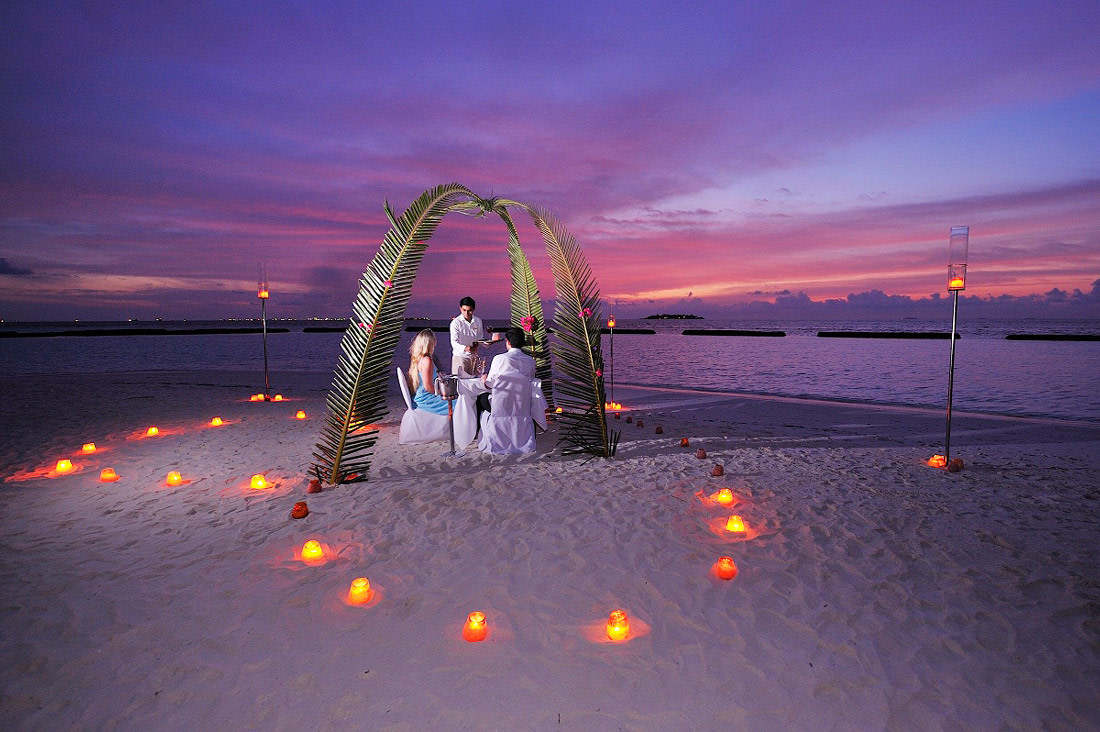 Romantic dinners on the beach in the Maldives don't get more magical than the Sounds Of The Sea experience at Kurumba. Expect an elegant table set-up on the beach and a sumptuous 5-course menu with wines to match, served by your private Thakuru (butler).
The Reef at Kuramathi Island Resort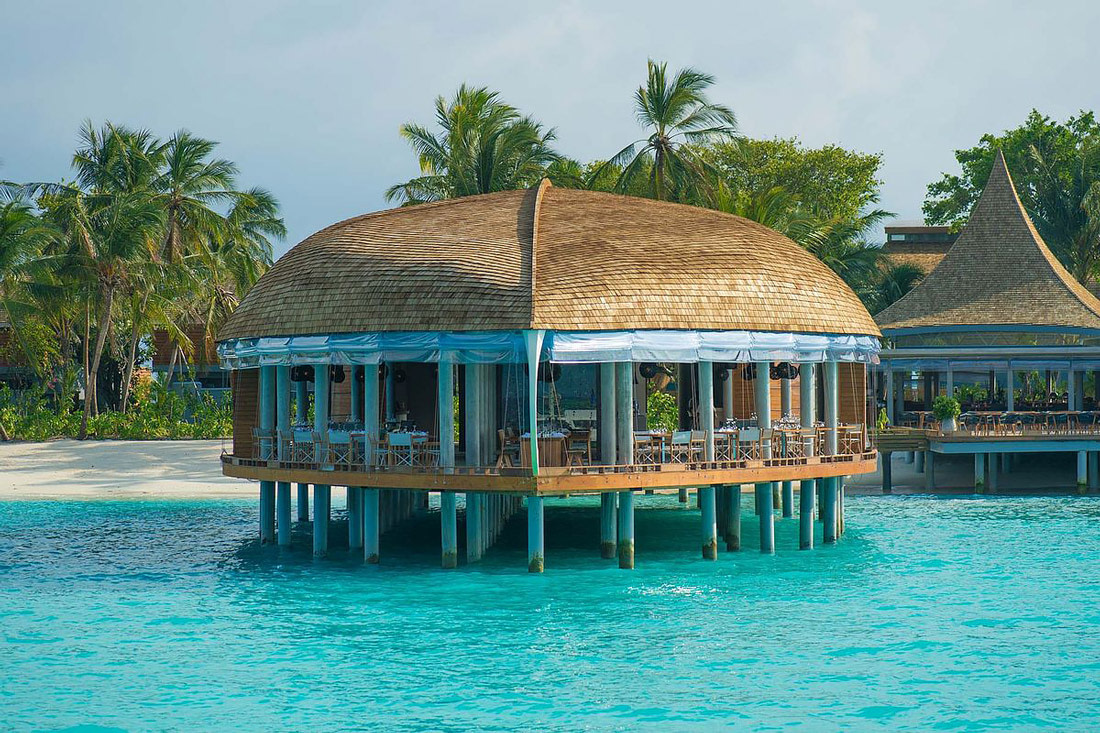 Built on stilts over a sparkling turquoise lagoon, The Reef – Kuramathi Island Resort's signature seafood restaurant – is the ideal place to enjoy the catch of the day whilst surrounded by amazing views of the ocean.
Tented Dinner at Cocoa Island by COMO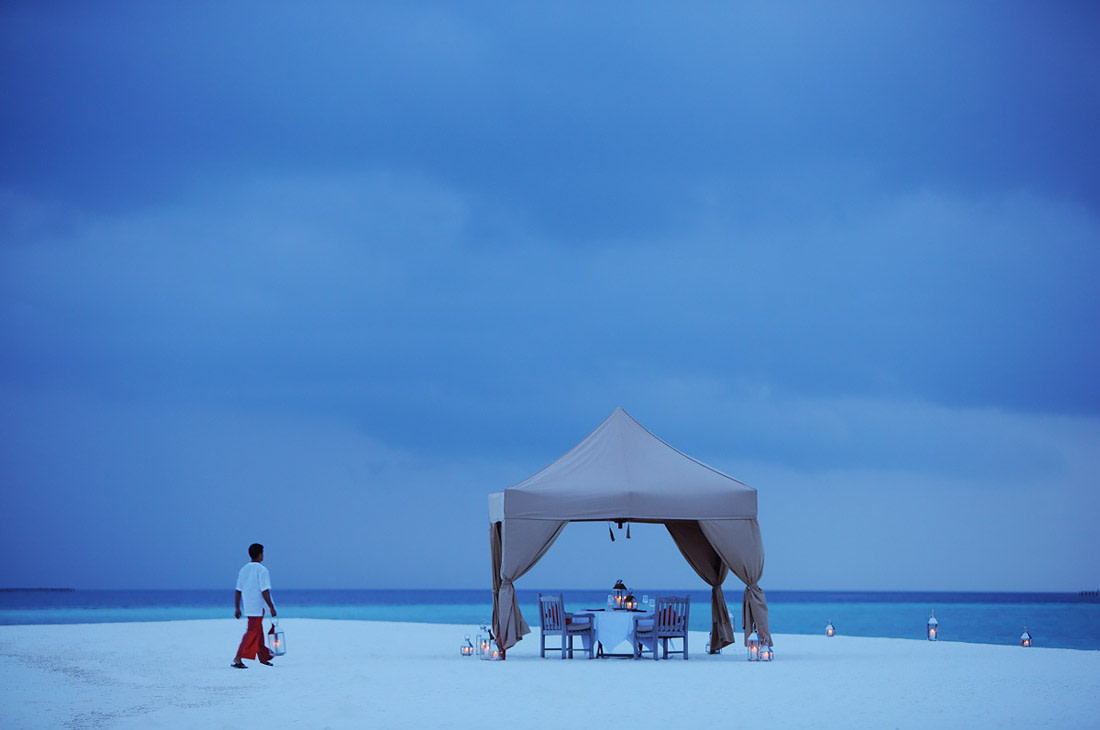 A stylish tent set-up on the silky white sands of Cocoa Island, the Tented Dinner experience comes with delicious food, a bottle of Champagne, and flickering lanterns for an utterly romantic atmosphere.
Ocean Pavilion at Taj Exotica Resort & Spa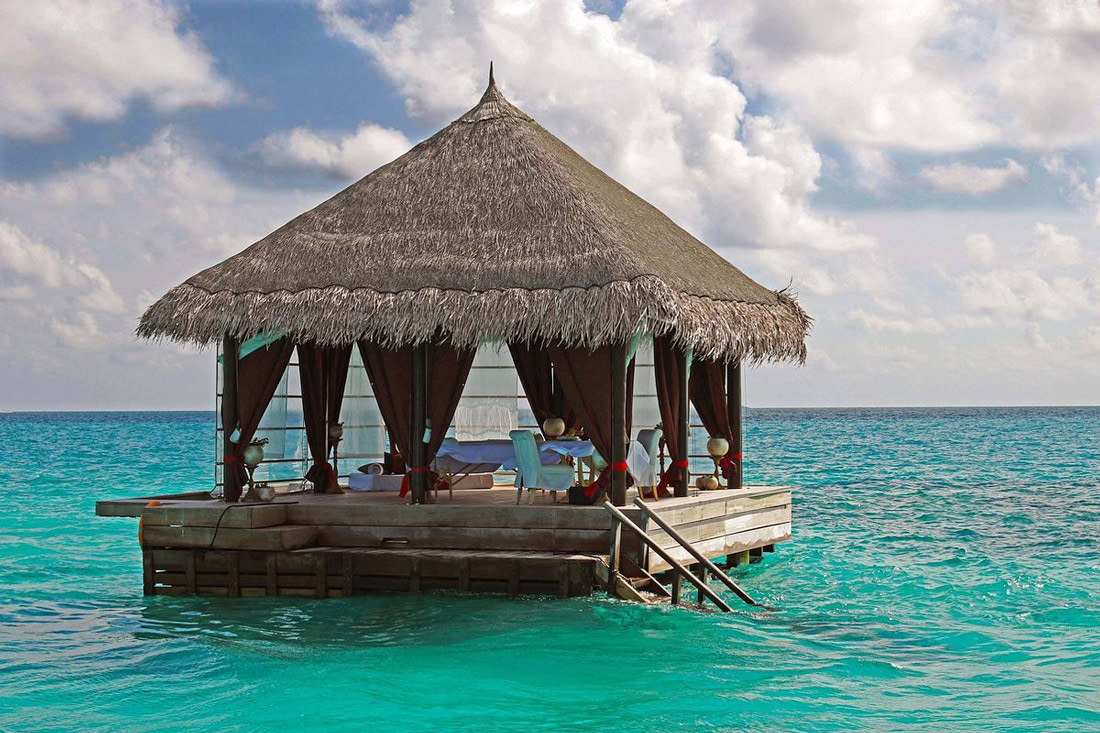 Nestled in the heart of a shimmering lagoon, the Ocean Pavilion at Taj Exotica Resort & Spa makes for a fabulous Maldives dining location. Built out of antique wood, this thatch-roofed over-water structure is the place to be for sunset cocktails and intimate, atmospheric dinners with a view.
Private Satay Barbecue at Velassaru Maldives
Indulge in mouthwatering Indonesian satays as the sun fades to twilight, painting the ocean and sky in fiery shades of orange. The Private Satay Barbecue at Velassaru Maldives is a memorable four-course dining experience and takes place on a perfect stretch of white-sand beach, where the table and seats are made entirely out of soft sand.
Nooma Dinner at Baros Maldives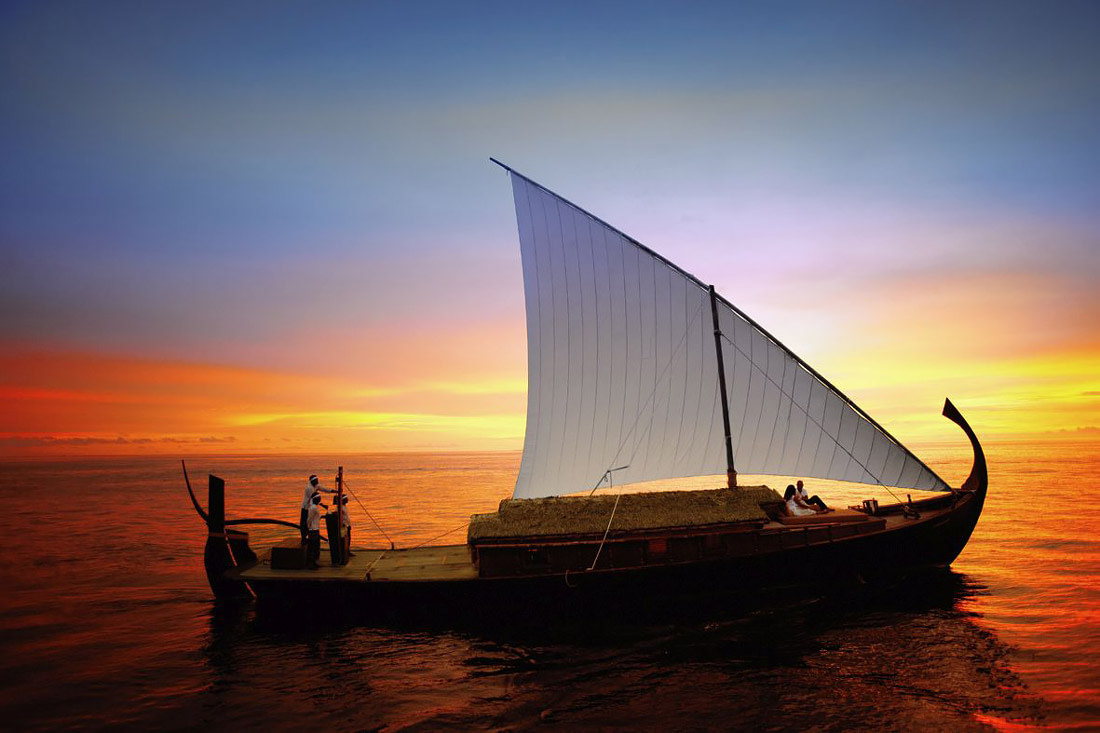 Make your tropical holiday in the Maldives one to remember with a romantic dinner cruise for two in a traditional, wooden sailing dhoni. Nooma Dinner, one of Baros Maldives's most unique epicurean experiences, offers you the opportunity to feast on gourmet specialties and delicious cocktails while sailing into the sunset.