As someone who's spent years exploring the global nightlife scene, I can confidently say that I've seen it all – or so I thought. But the world, dear reader, is full of surprises. Just when you think you've experienced the ultimate boozy adventure, you stumble upon a place that completely shatters your expectations. I'm talking about bars so unique, so mind-bogglingly cool, they are worth a trip to the other side of the world.
Dive bars, rooftop terraces, and classy lounges might be your usual go-to's, but our picks for the coolest bars around the world redefine what it means to go out for a drink.
From a moody, upside-down music venue in Berlin to a wooden platform drifting away in the Pacific to speakeasies hidden behind unassuming doors, these places challenge our notions of what socializing and celebration look like, turning every sip into an experience.
So sit back, grab your favorite cocktail, and get ready to rewrite your bucket list. Cheers!
Cloud 9, Fiji
If Fiji is paradise, then Cloud 9 is your ticket to it. Or, at least, the ultimate tropical party spot. Part daytime club, part Italian wood-fired pizzeria, the two-story platform floats in the middle of the South Pacific Ocean, just off the coast of Viti Levu, Fiji's main island.
Glistening turquoise vistas stretch as far as the eyes can see, a rotating roster of international DJs adds energetic vibes to the scene, and various open-air lounge areas furnished with daybeds and hammocks invite revelers to soak up the tropical sun and sip on delicious rum cocktails while taking in 360-degree views of the aquamarine ocean. If this doesn't put you in a tropical frame of mind, nothing else will.
Madame Claude, Berlin
An offbeat upside-down bar housed in a former brothel in the creative Kreuzberg neighborhood, Madame Claude is a renowned fixture on Berlin's alternative scene.
The atypical locale is the brainchild of four Frenchmen passionate about experimental music and creative expression. The main room's design is particularly extraordinary, resembling an inverted apartment with tables and other pieces of furniture fixed on the ceiling.
But the bottom-up arrangement is not the only quirk of Madame Claude, though. Additionally, the cool, moody bar has a tiny concert venue in the basement, where experimental musicians from all over Europe come to perform their original compositions.
Mazel Tov, Budapest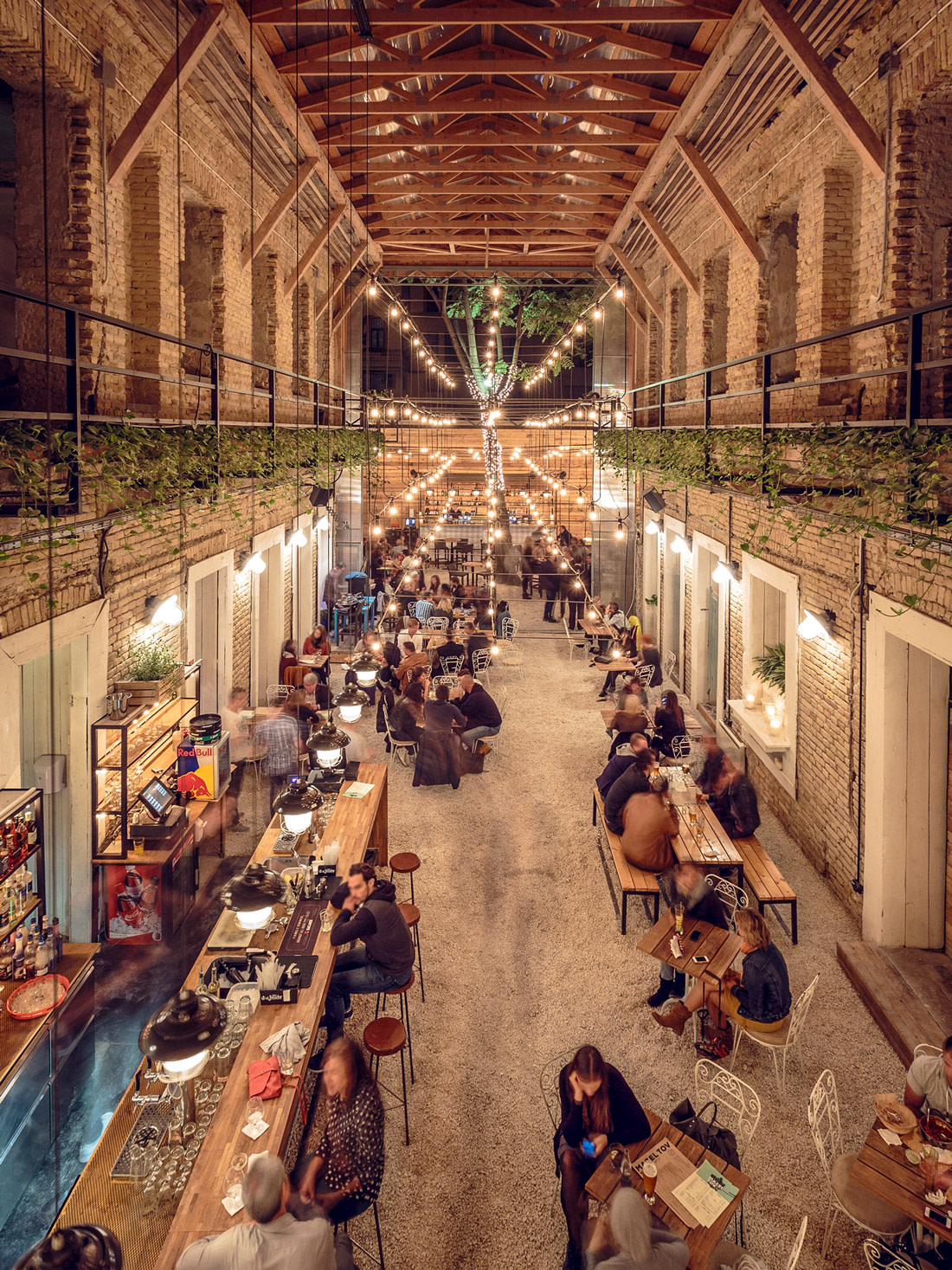 The Hungarian capital may be known for its remarkable architecture and fantastic thermal baths, but a trip there wouldn't be complete without a ruin bar crawl. Originating in the late 1990s, these quirky, unique venues have taken over the abandoned buildings of the historic Jewish quarter, becoming a staple of Budapest's nightlife scene.
On the surface, Mazel Tov looks like any other typical Hungarian romkocsma, but look behind the crumbled facade and grimy passage, and you will find one of the hippest and most stylish ruin pubs in town.
Designed by Studio Arkitekter and 81Font, this gastro-cultural hangout serves delicious Middle Eastern cuisine in a space that emulates an alfresco garden, with its white pebble floor and wooden picnic tables. The aesthetic is urban chic with an industrial feel, featuring distressed brick walls draped in greenery and a gigantic glass roof supported by massive, natural wooden beams. Colorful Moroccan-inspired tiles cover the long counter bar in front of the open kitchen, and garlands of twinkle lights hang from above, creating a warm, magical atmosphere in the evening.
Rock Bar, Bali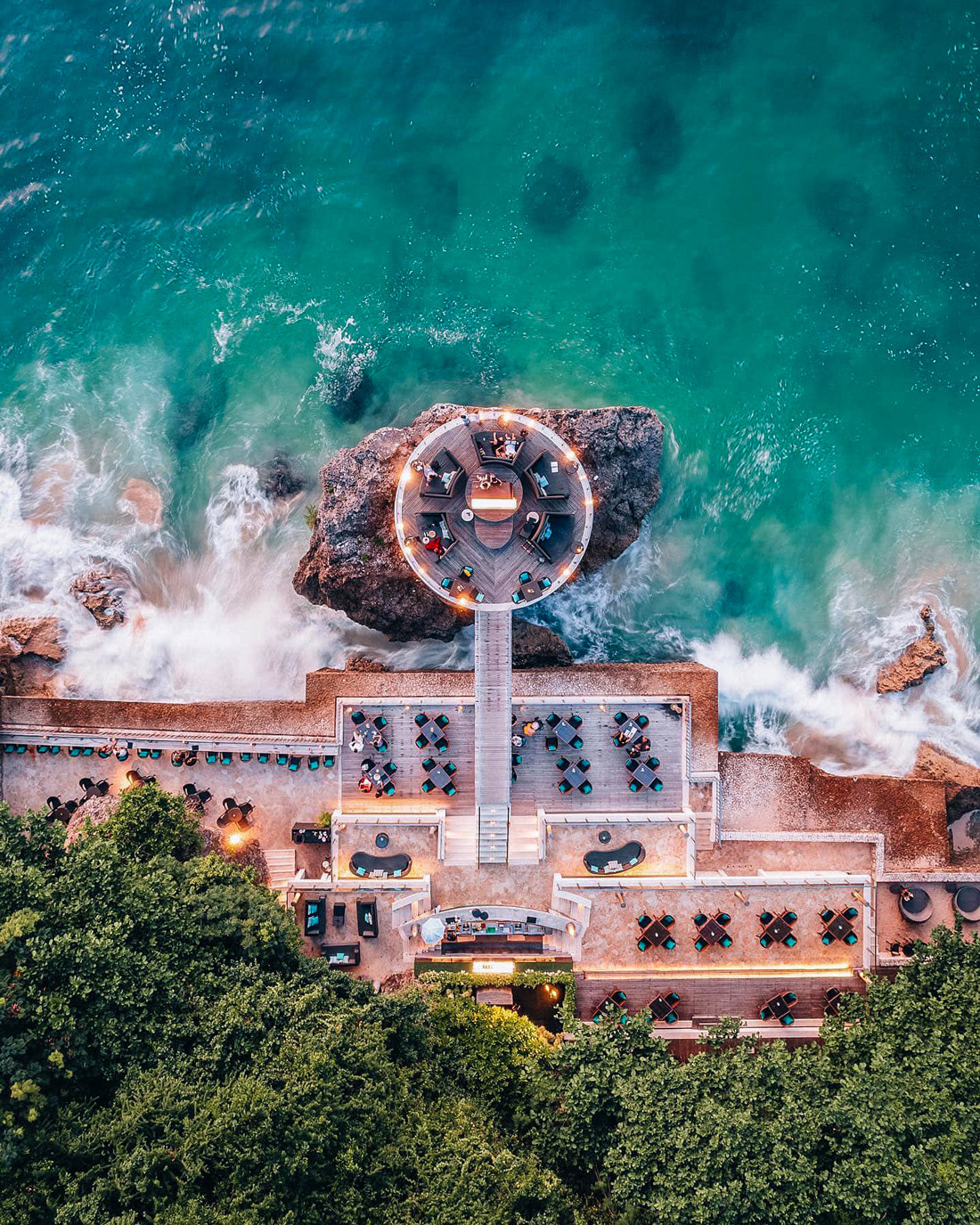 Perched 14 meters above the renowned Jimbaran Bay on Bali's west coast, the Rock Bar at Ayana Resort overlooks spectacular sunsets and crashing waves while offering a delicious selection of cocktails and tapas.
Undertaken by Yasuhiro Koichi, the creative head of Tokyo's leading Design Studio SPIN, the outstanding design makes the most of the amazing setting, using the cliffside as walls and the bewildering coastal scenery as décor.
The open-plan venue is one of Bali's coolest sunset spots, and its menu is as impressive as its location, offering everything from gourmet tapas and world-class wines to over 40 cocktails to choose from.
Bar Botanique, Amsterdam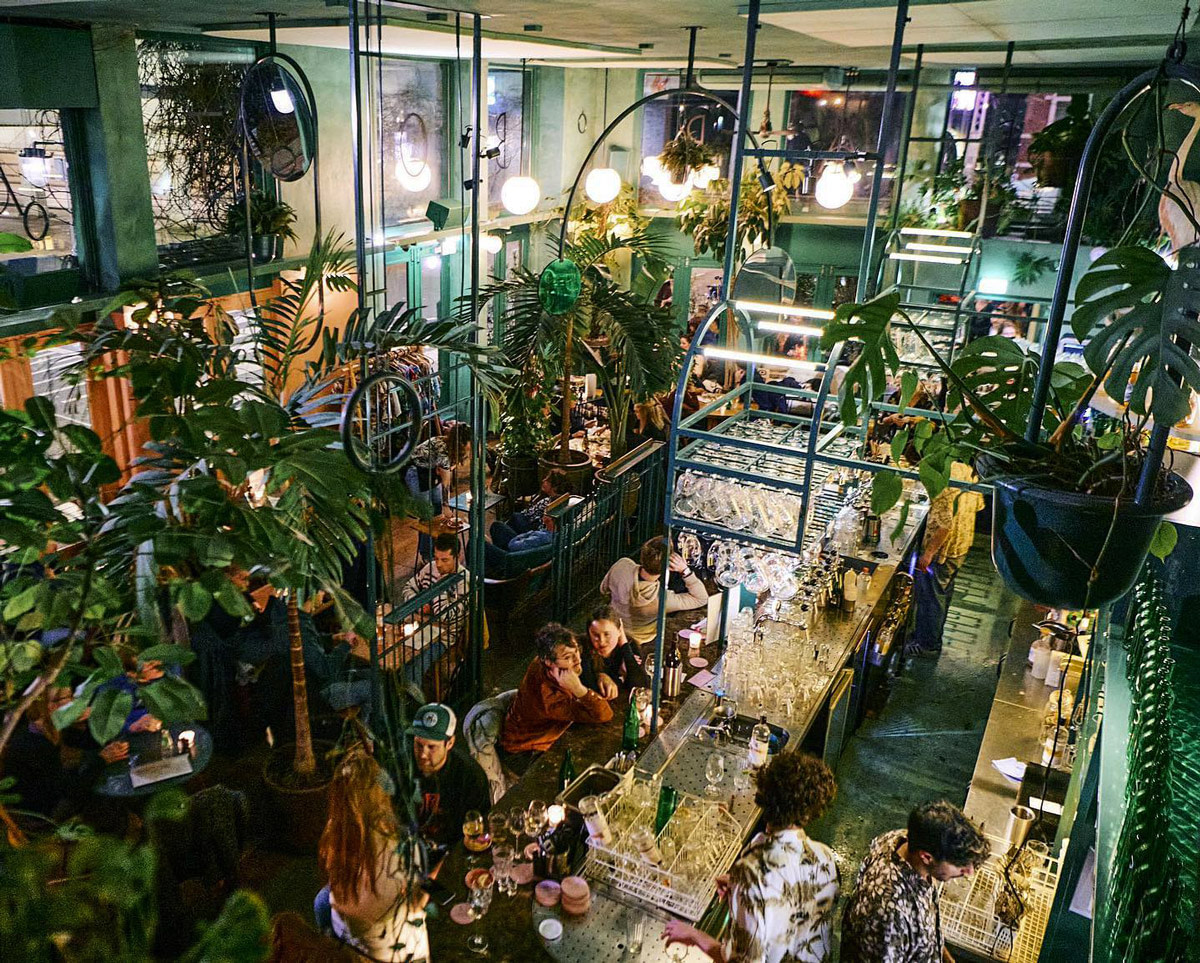 Decked out in colorful retro furnishings and vibrant greenery, this stylish Amsterdam bar & café wouldn't look out of place in the tropics.
Taking full advantage of the building's original soaring ceilings and double high windows, the architects have created a beautiful garden-like interior bursting with plant life and natural light. They used railings and balustrades to divide the double-height establishment into various areas and then brought a sense of the outdoors into the decor with organic shapes and a botanical-inspired color palette.
A green concrete path runs throughout, connecting the bar's different areas, and mirrors hang from above, reflecting the vibrant surroundings. The botanical theme continues to the bar itself, which is a long, marble-topped affair covered in patterned hexagonal tiles that mimic palm leaves.
Bar Botanique is the perfect leafy hangout for drinks with friends and people-watching, but it also serves tasty breakfasts and lunches, as well as delicious French-Mediterranean cuisine for dinner.
Baba Nest, Phuket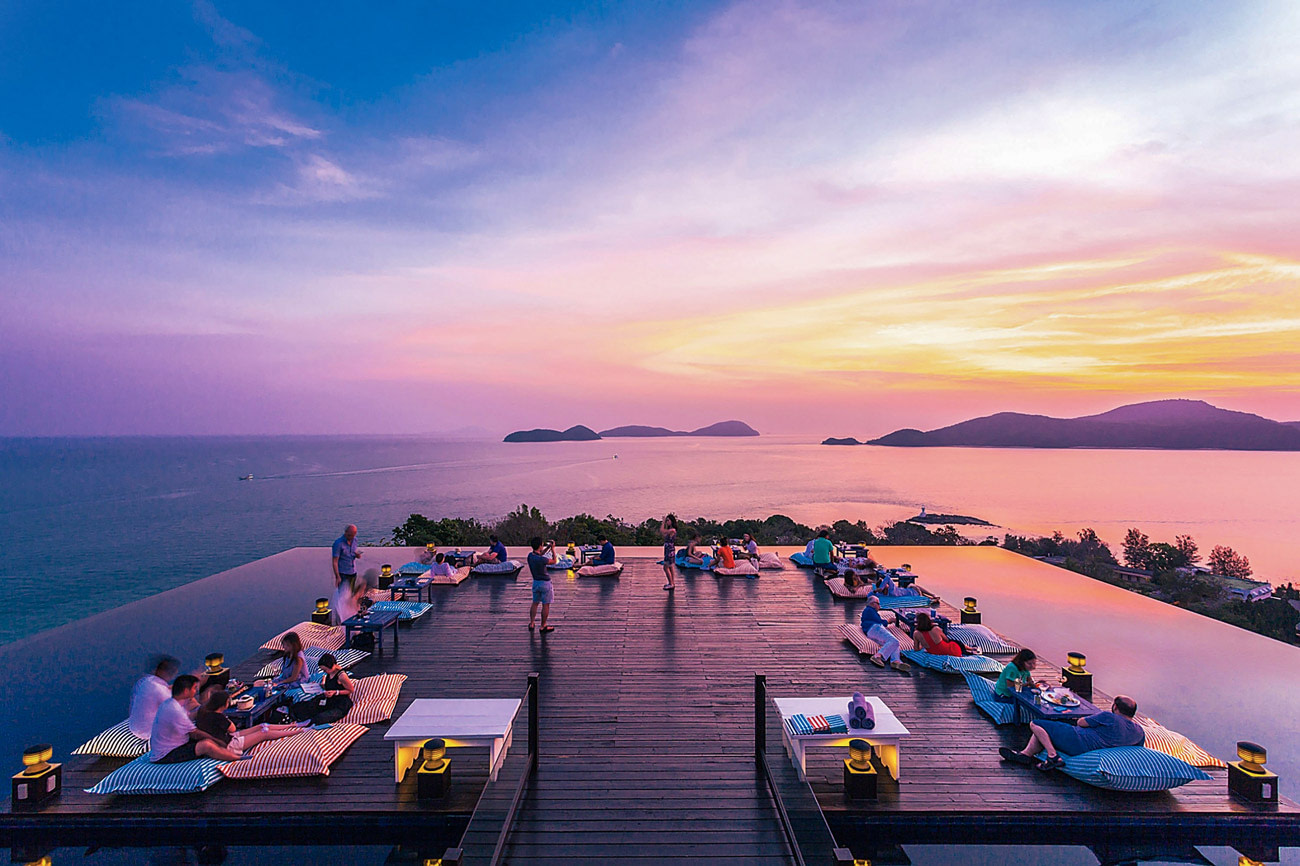 Panoramic views of 12 surrounding islands sprinkled in the azure waters of the Andaman Sea make Baba Nest one of the most spectacular rooftop bars in the world.
Part of Phuket's luxurious Sri Panwa resort, this open-air rooftop deck floating over its own dazzling infinity swimming pool is the ultimate hangout for sundown chilling and entertainment. On offer, there are exquisite wines, fabulous cocktails, and complimentary tapas. Nevertheless, it's the laid-back beach vibe, the epic sunsets, and the sensational views that really make this place a standout.
Franco's Bar, Positano
The brightly colored hillside houses dangling over the sparkling azure sea create a poetic backdrop for drinks with friends or romantic sundowners at Franco's Bar, a chic alfresco terrace overlooking the sea and pastel-brushed hillside of Positano. Fresh, timeless, and decidedly Italian, the decor more than lives up to the striking view, setting the stage for a memorable Positano experience.
Part of Le Sirenuse, the most storied of the Amalfi Coast's hotels, the scenic venue honors the owner's late father, Franco Sersale, and his impeccable taste in design. Hand-fired pearl-white tiles cover the floor, ethereal Marie Antoinette lamps by Orsina Sforza decorate the bar, and Mediterranean plants curated by landscape architect Isabella Casali di Monticelli perfume the air.
Chic garden tables and chairs in royal blue stand out against a Canary yellow Baroque ceramic fountain sculpted by celebrated Roman artist Giuseppe Ducrot, while a Karl Holmqvist mural featuring Dadaist poetry inspired by songlines from Jay-Z and Jenny Holzer adds an intriguing touch.
As you would expect from a bar that pays tribute to the golden age of fine spirits, the menu is a connoisseurs' heaven, with elegant old-fashioned cocktails and exquisite champagnes, curated by Le Sirenuse's head barman Robert Wimmer and served in Murano glassware by Laguna B.
Bunker, Murska Sobota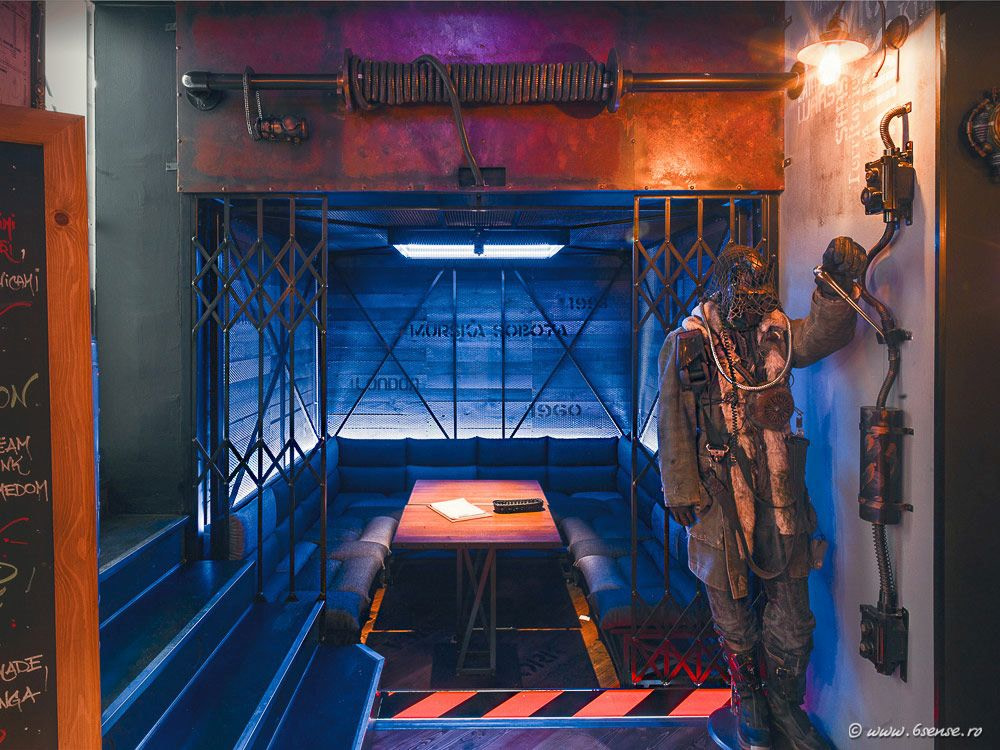 A brainchild of Romanian design firm The 6th Sense Interiors, Bunker resembles a place of refuge for the survivors of the Apocalypse.
The Mad Max-themed bar is situated in the Slovenian town of Murska Sobota and stuns with its brilliant steampunk interiors and excellent food and drinks. Its aim is to transport patrons into a fictitious post-apocalyptic future where clans control territories and everything around has been destroyed or polluted. Accordingly, Bunker provides a safe, neutral environment where survivors gather to escape from the dangers of daily life and stock up on supplies.
Spread over two floors, the post-apocalyptic steampunk bar is decorated in massive-industrial style, with lots of steampunk and dieselpunk details. Warriors guard the entrance, and two pedaling slaves provide lighting throughout the space. Diesel fuel barrels serve as seats; imaginative illustrations depicting an alternative future line the walls; beverage shelves are made of spiro pipes, and couches – though stylish and comfortable – mimic sandbags used as military fortification in trenches.
Supperclub, Amsterdam
With live artistic performances, mood-changing visual projections, and a 5-course dinner served in bed, Supperclub is the place to be for an out-of-the-ordinary night out in Amsterdam.
The space is divided into three different areas, each with its own function and atmosphere – the kitchen, Salle Neige, and L'Entresol. Imposing white columns and high, ornate ceilings hint at its former incarnation as a concert hall, but the design and feel are entirely contemporary.
An oval-shaped zone adorned with decorative sculptural elements and a white Carrara marble bar, Salle Neige serves as the main club/restaurant area. This is where guests can dine on plush oversized beds while enjoying all kinds of creative live performances. Over the course of dinner, the hall is bathed in colorful lights and striking visual projections, creating a provocative, dreamlike ambiance. As the night unfolds, the restaurant morphs into a sexy nightclub, with DJs spinning well into the wee hours and the beds converting into stylish black sofas in order to make more room for dancing.
Supperclub serves internationally inspired cuisine along with a generous selection of wines, cocktails, and spirits, and its calendar is jam-packed with exciting music, art, and culinary events.
Attendant Fitzrovia, London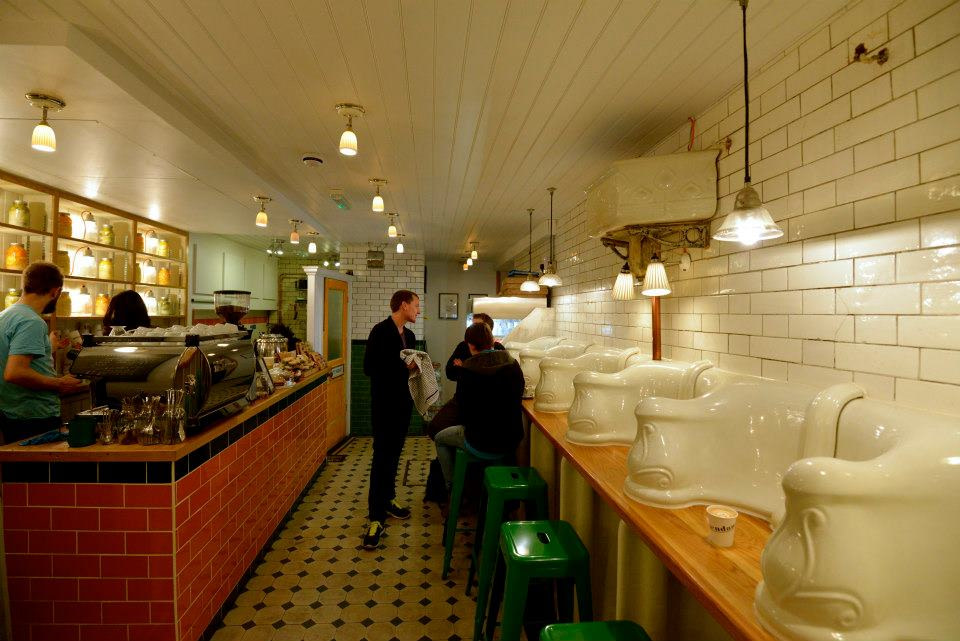 After 50 years of inactivity, a former men's public toilet on Foley Street, West London, has been transformed into one of the most unique cafes in Europe.
Attendant Fitzrovia serves lip-smacking dishes prepared using only the freshest produce found at New Covent Garden Market. For your daily espresso, fresh, high-quality green coffee beans are roasted to perfection, while the milk comes from happy Jersey cows that graze on the green pastures of Somerset.
Although completely reimagined, the Victorian toilet turned coffee bar still retains a little magic from the past with period features like the original cast iron exterior, antique floor tiles, or the 19th-century porcelain urinals, which now serve as booths wherein guests can serve their gourmet sandwiches in private.
Mr. Simon, Udine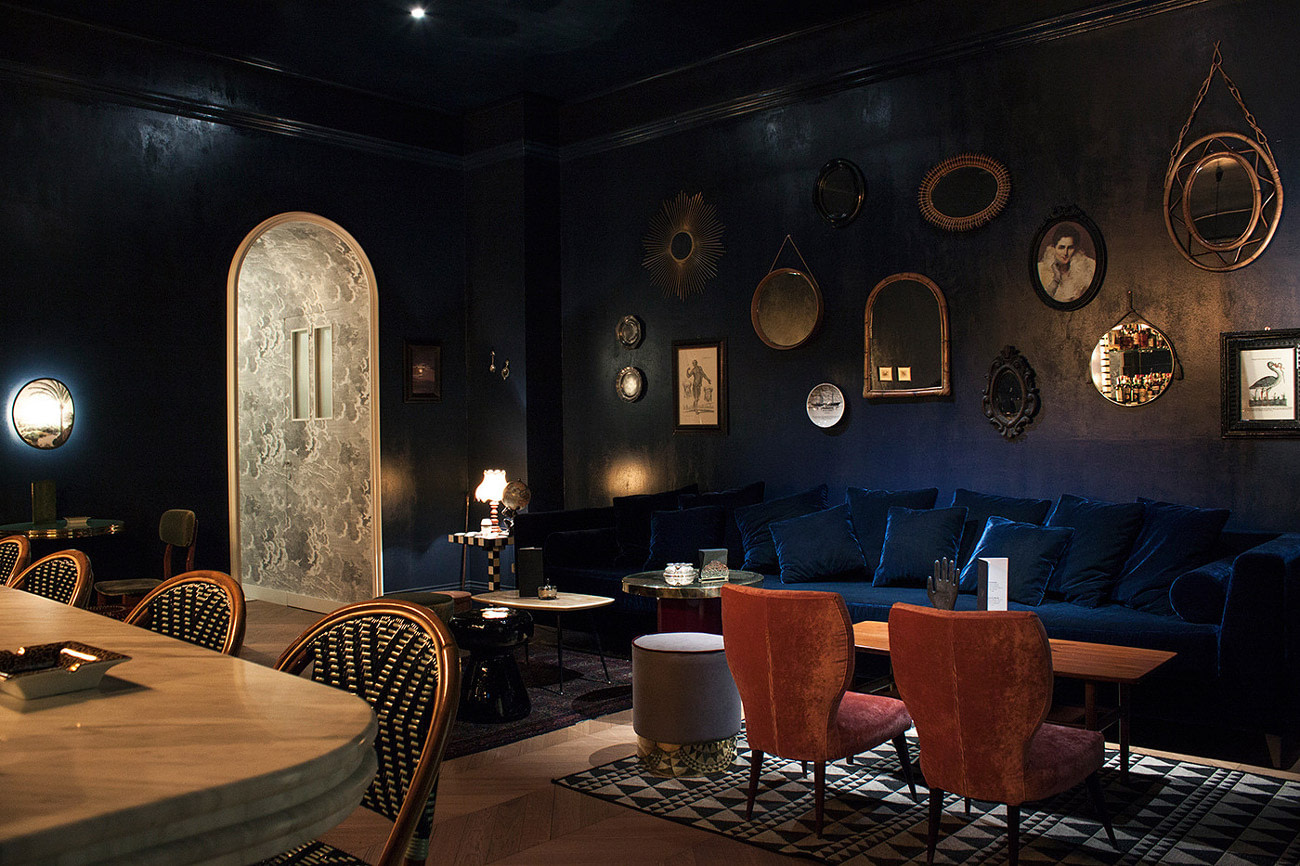 A visit to this dark, sexy speakeasy in northern Italy is like stepping into the living room of an eccentric fin-de-siècle alchemist with a penchant for the finer things in life.
Hidden behind a restaurant's broom closet in Udine, Italy, Mr. Simon is a secret cocktail bar serving exquisite concoctions in a stylish, intimate 25-seat venue filled with eclectic collectibles. Designed by Italian brand and interior design agency Visual Display, the space simulates the apartment of a mysterious Mr. Simon, who is at the same time a botanical alchemist, an avid explorer and memorabilia collector, and a passionate mixologist.
The eye-catching decor blends different styles and periods, with soft velvet chairs, mix-matched rugs, and a wondrous selection of antiques and souvenirs that speak of their owner's life and travels. Low lights and deep blue walls adorned with vintage mirrors and period prints create a dramatic visual effect while also adding to the venue's moody, sophisticated vibe.
Those who want to pay Mr. Simon a visit should make a phone reservation and get the secret access code, which changes daily.
VW Bars, Adelaide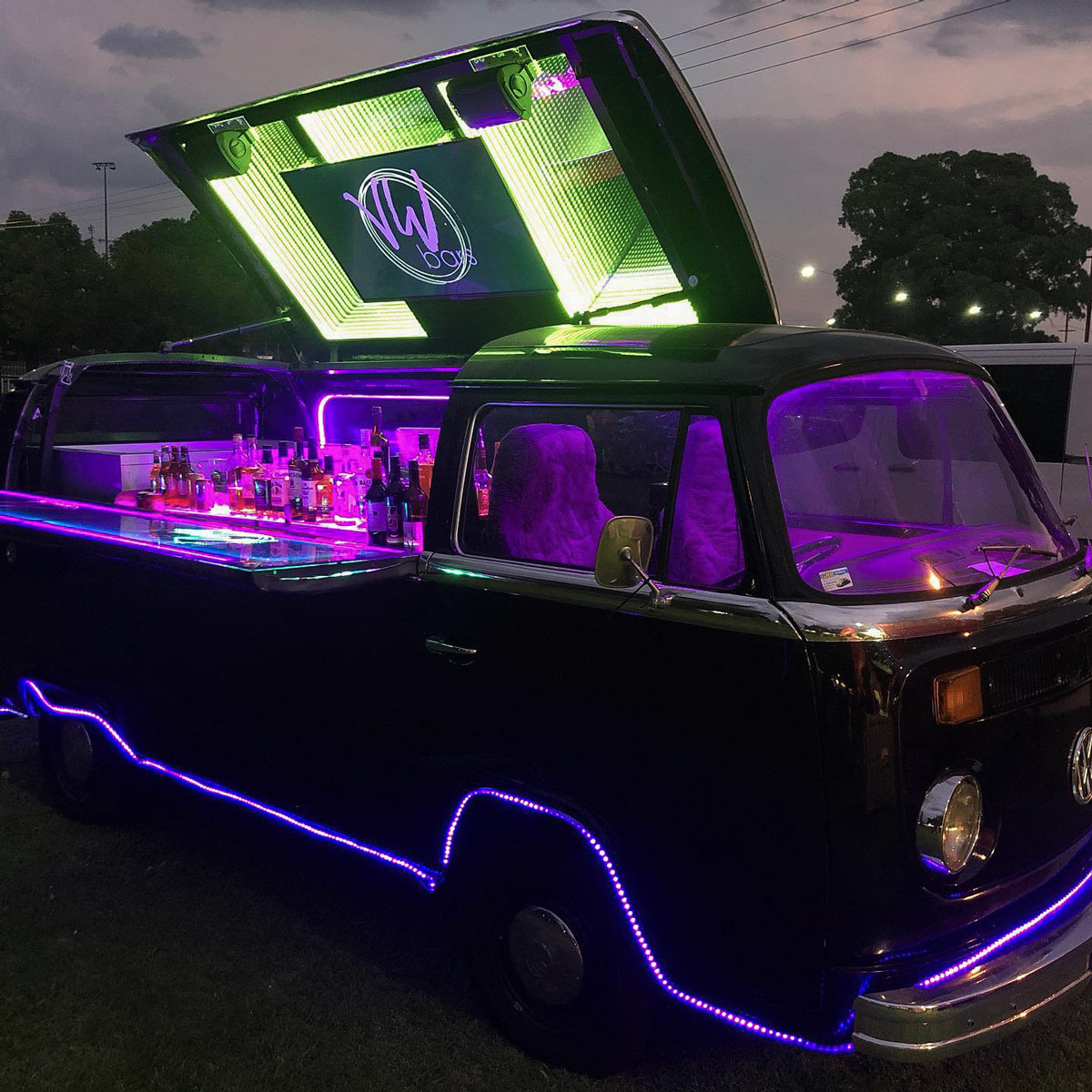 Long gone are the times when all the cool things were happening only in Sydney and Melbourne. Adelaide, the South Australian capital, is not anymore just the City of Churches, but a vibrant, sophisticated hub of art, entertainment, and global cuisine.
To keep the party atmosphere alive all year round, VW Bars – the city's first mobile cocktail bar, provides beverage catering services for any event in the area, be it a big festival, a corporate event, or a private party.
The beautifully converted VW Kombi Bars come equipped with high-quality sound, flat-screen LCD TV, cash register facilities, as well as fun lighting and smoke effects, making for a cool addition to any kind of event.
Underwater Oxygen Bar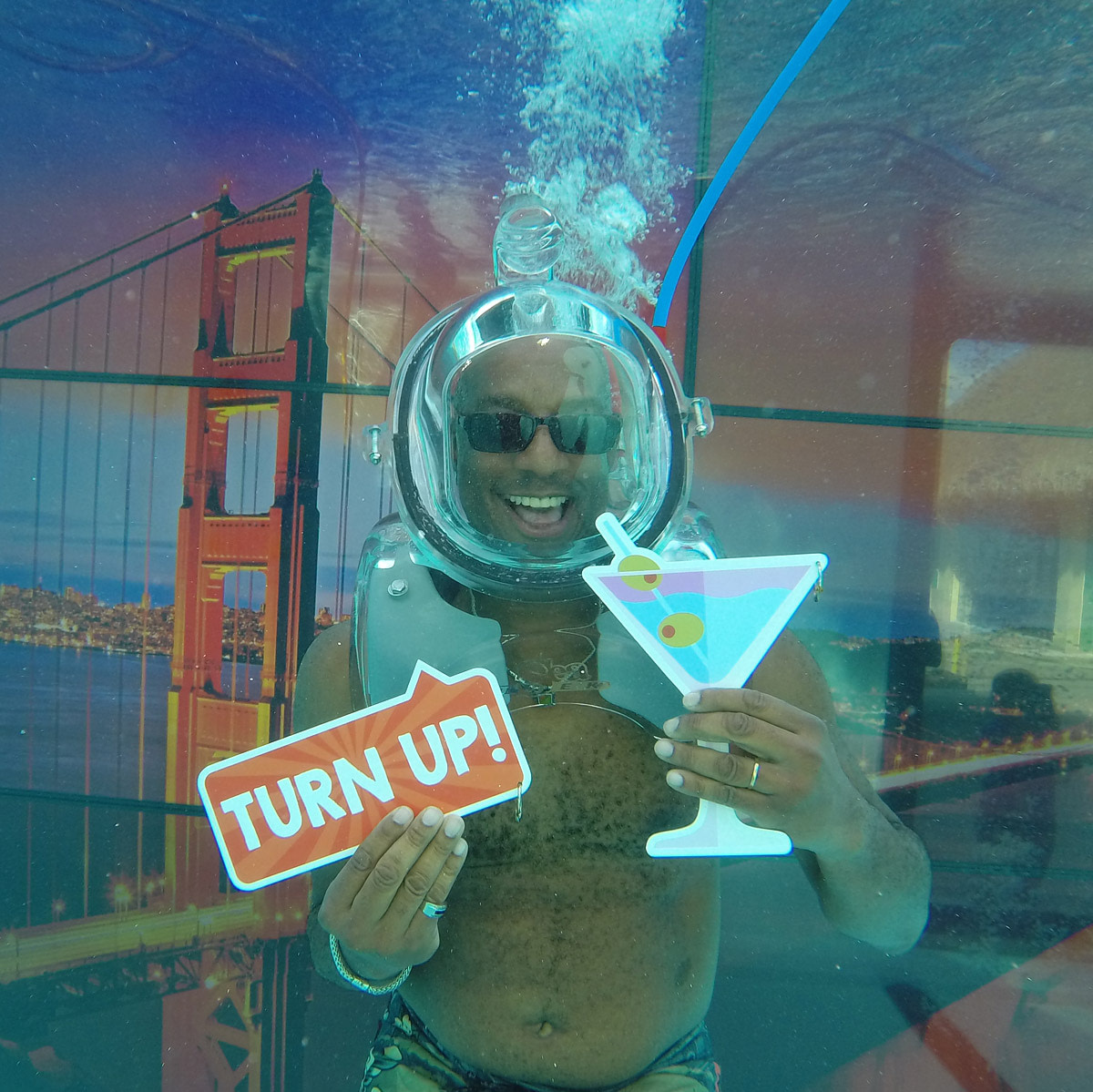 At Clear Lounge in Cozumel, Mexico, guests are offered enriched oxygen and oxygen-infused fruit smoothies in a 13,000-gallon freestanding aquarium.
Created by Sub Sea Systems, a leader in aquatic innovation, Clear Lounge is the world's first underwater oxygen bar and one of its most unusual. Complete with games, write-on message boards, and an underwater photo booth, it offers an immersive, multi-sensory experience where visitors are submerged in water with special diving helmets that let them breathe enriched, scented oxygen while playing Jenga and having fun with bubble guns.
We're curious – what's your favorite bar? Let us know in the comment section below.