All built from an unyielding desire to prove the extent of their devotion, Europe's seminal Cathedrals, though they vary in style, age, and size, were all designed to achieve the same goal. Though over the years they have served many functions – the seats of Bishops, houses of worship, centers of learning – these days they serve as a tie to our collective past, whether we share the same faith or not.
One of the major functions of religious centers like these has been to preserve art and architecture for future generations. Within many of these institutions, you can find some of the most magnificent pieces of art from Europe's most famous artists. And when you consider that they are housed in some of the most revolutionary buildings humans have yet created, it seems increasingly necessary to make time to visit as many as possible.
From England to the Balkans, here's a look inside some of Europe's most spectacular cathedrals.
Berlin Cathedral, Germany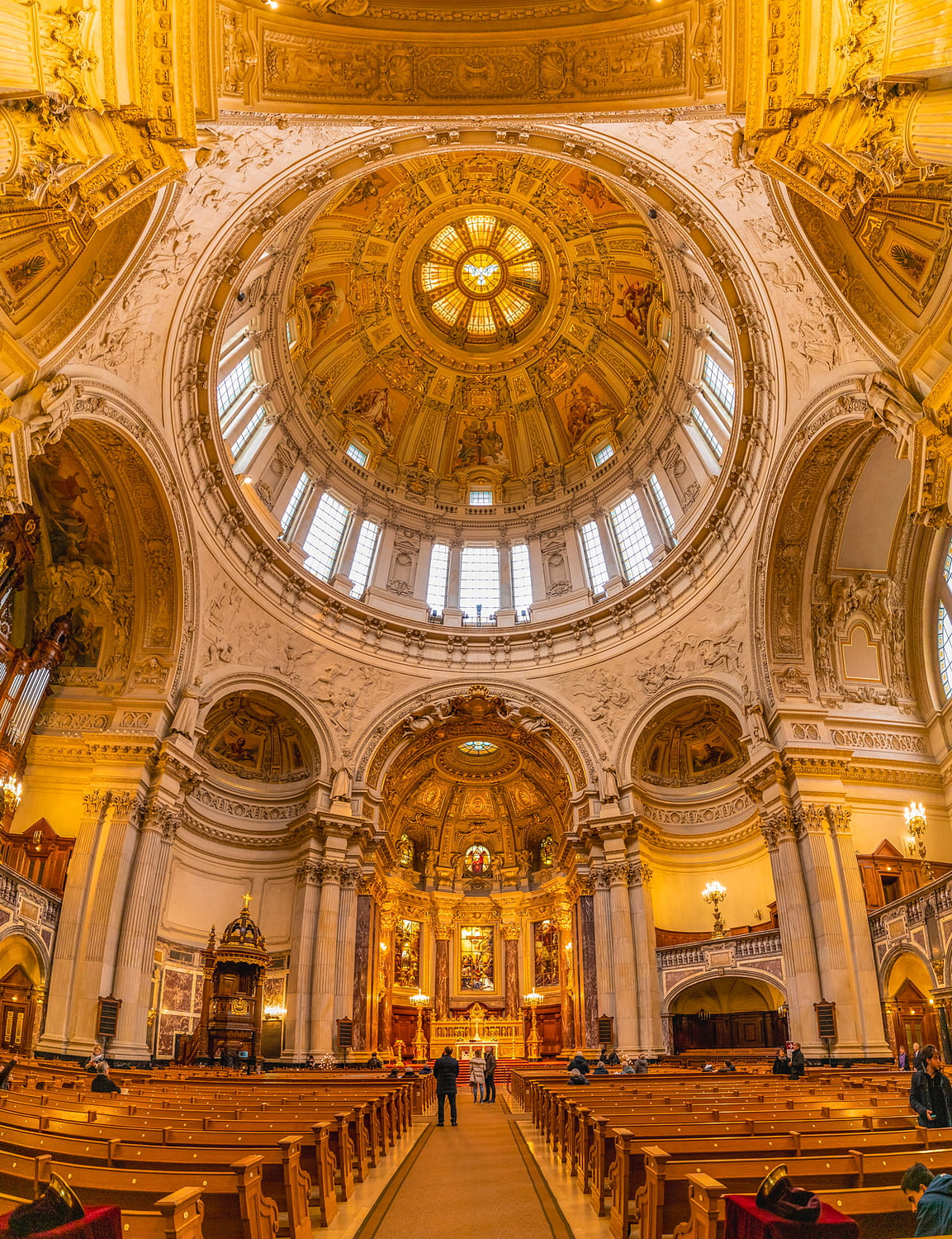 The largest protestant church in Germany, the Berlin Cathedral (Berliner Dom) has barely survived its storied past.
It was bombed and burned during World War Two, and while the exterior is still suffering from this damage (funds are currently being raised for repairs) the inside was fully restored between 1975 and 2002. This has left the central nave, the awe-inspiring expanse that lays beneath the central dome, even more regal than it was before. Polished marble pillars guide your eye up to the dome's interior, where strategically placed windows illuminate the intricate gilt and frescoed details.
Alexander Nevsky Cathedral, Sofia, Bulgaria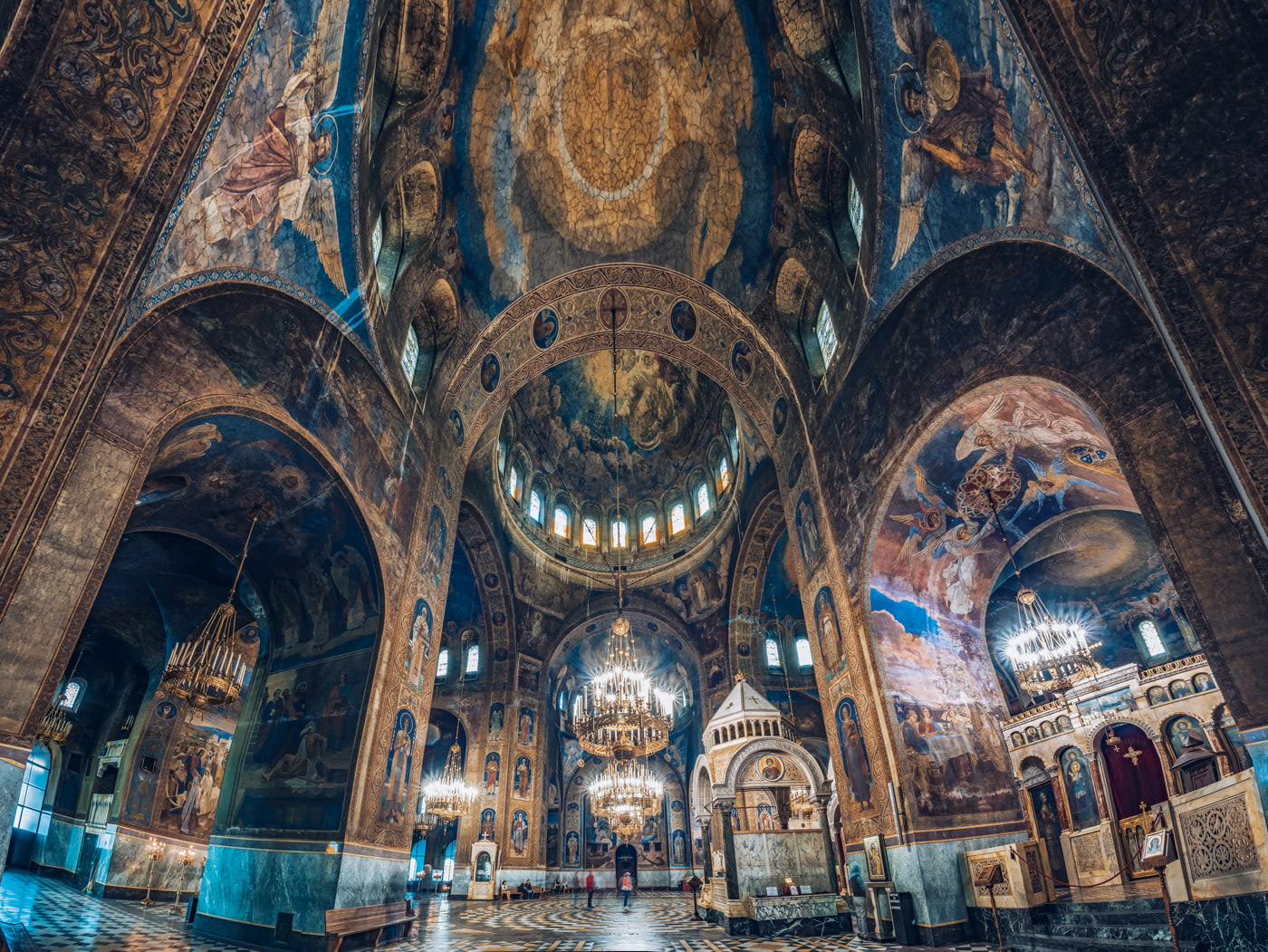 A symbol of Bulgaria, the Alexander Nevsky Cathedral (Sveti Aleksandar Nevski) is a Neo-Byzantine masterpiece in the nation's capital, Sophia. Built to commemorate Bulgarian victory over the Ottoman empire in the late 19th century, it was named for a 13th-century Russian prince-turned-saint as a gesture of appreciation for Russia's help during the war.
When you walk inside, you'll find it dripping with architectural elements from around the world, including Italian marble, Brazillian onyx, and Indian alabaster. There's a small museum in the basement with one of Europe's largest collections of Byzantine art, relics, and icons, but the jewel of the cathedral might just be its collection of incredibly intricate Venetian mosaics.
Patriarchal Cathedral Basilica of Saint Mark, Venice, Italy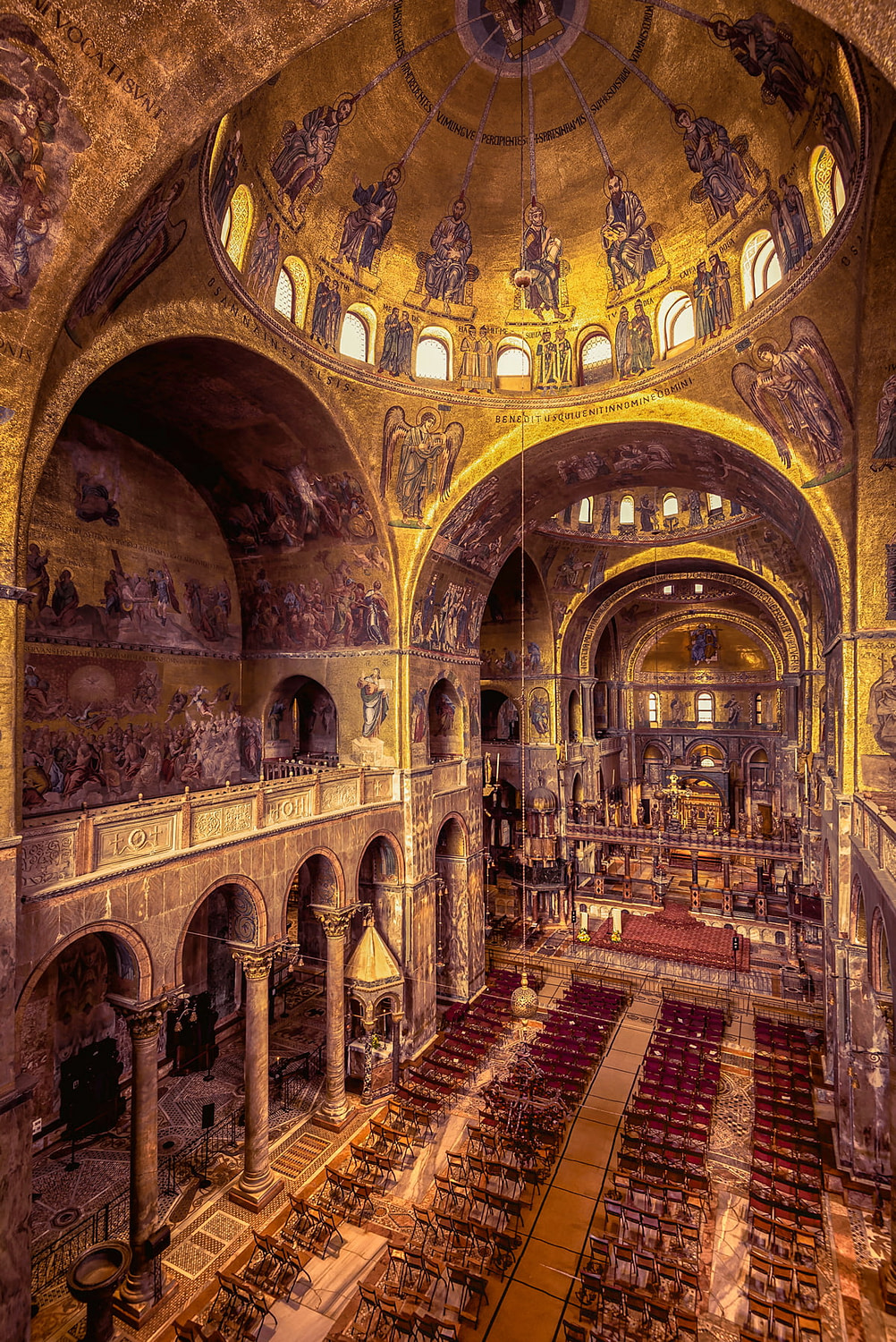 Flanking the famed Piazza San Marco, St Mark's Basilica (Basilica Cattedrale Patriarcale di San Marco) stands as a symbol of Venice. It has been through many iterations, the earliest of which date back to the 1st century, though the building we know today began to take shape over a millennia later.
It's simply dripping with gold-ground mosaics. Unlike many other Italian churches, St. Mark's never made the transition from decorating with mosaics to frescoes largely because the tiles used to craft them are a Venetian specialty.
Combined with its massive central dome, the result is an arresting testament to Venice's continued place within the Catholic Church. Infamously, it is also home to a number of works pillaged from other religious sites around Europe, including items from the Hagia Sophia in modern-day Istanbul and Turkey.
Cathedral of Santa Maria of Palma, Mallorca, Spain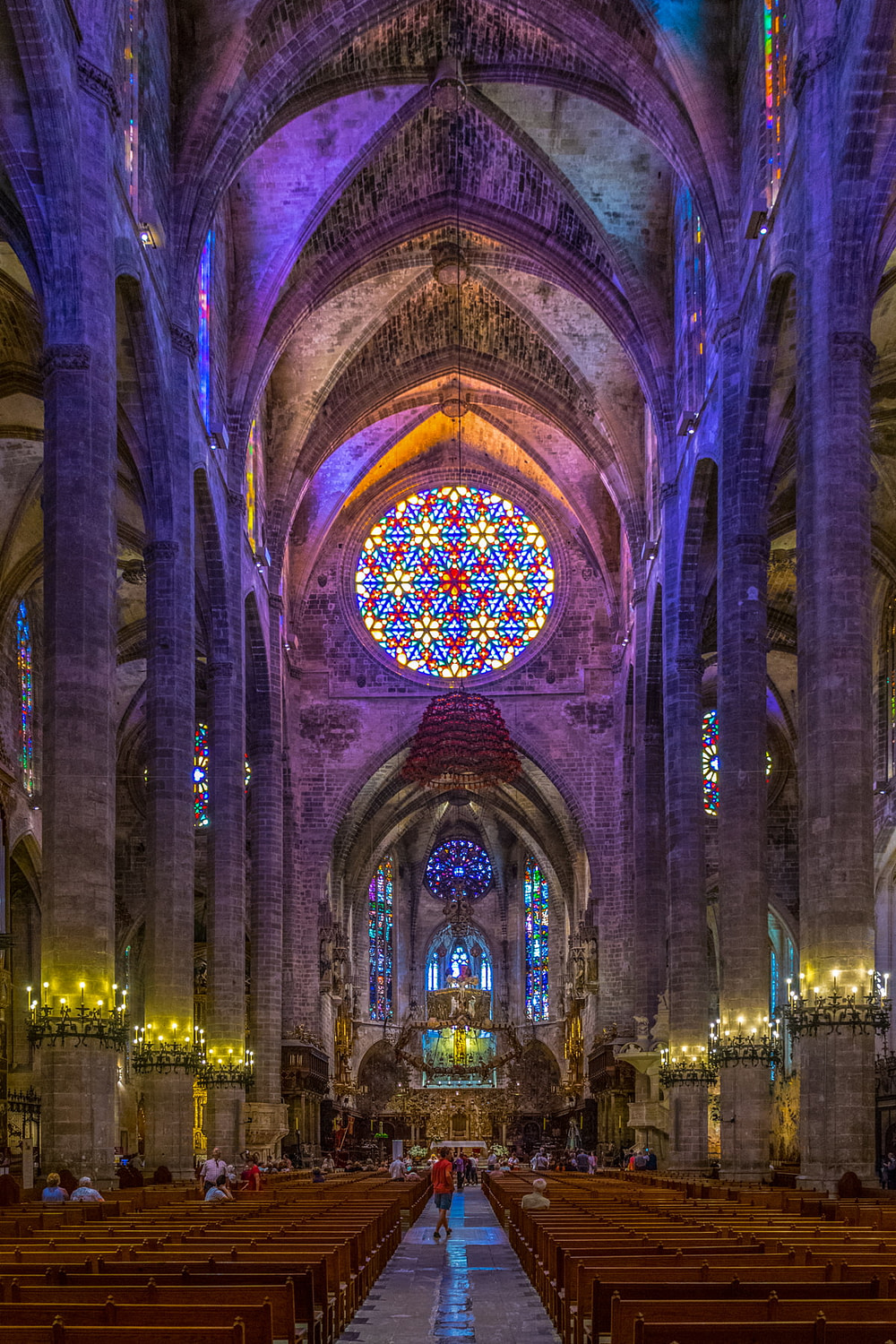 A prime example of Catalan Gothic style, the Cathedral of Palma, or simply La Seu as it is locally called, was built on the site of a mosque that once existed during the Moorish occupation of Mallorca.
Home to over 60 separate stained glass windows, the Catedral-Basílica de Santa María de Mallorca gained the nickname "Cathedral of Light" thanks to the central rose window above the nave that casts beams of multi-colored light throughout the main hall in the morning. Because it is buttressed from the outside, the interior weight-bearing pillars are slim enough to not interrupt the space inside.
Salzburg Cathedral, Austria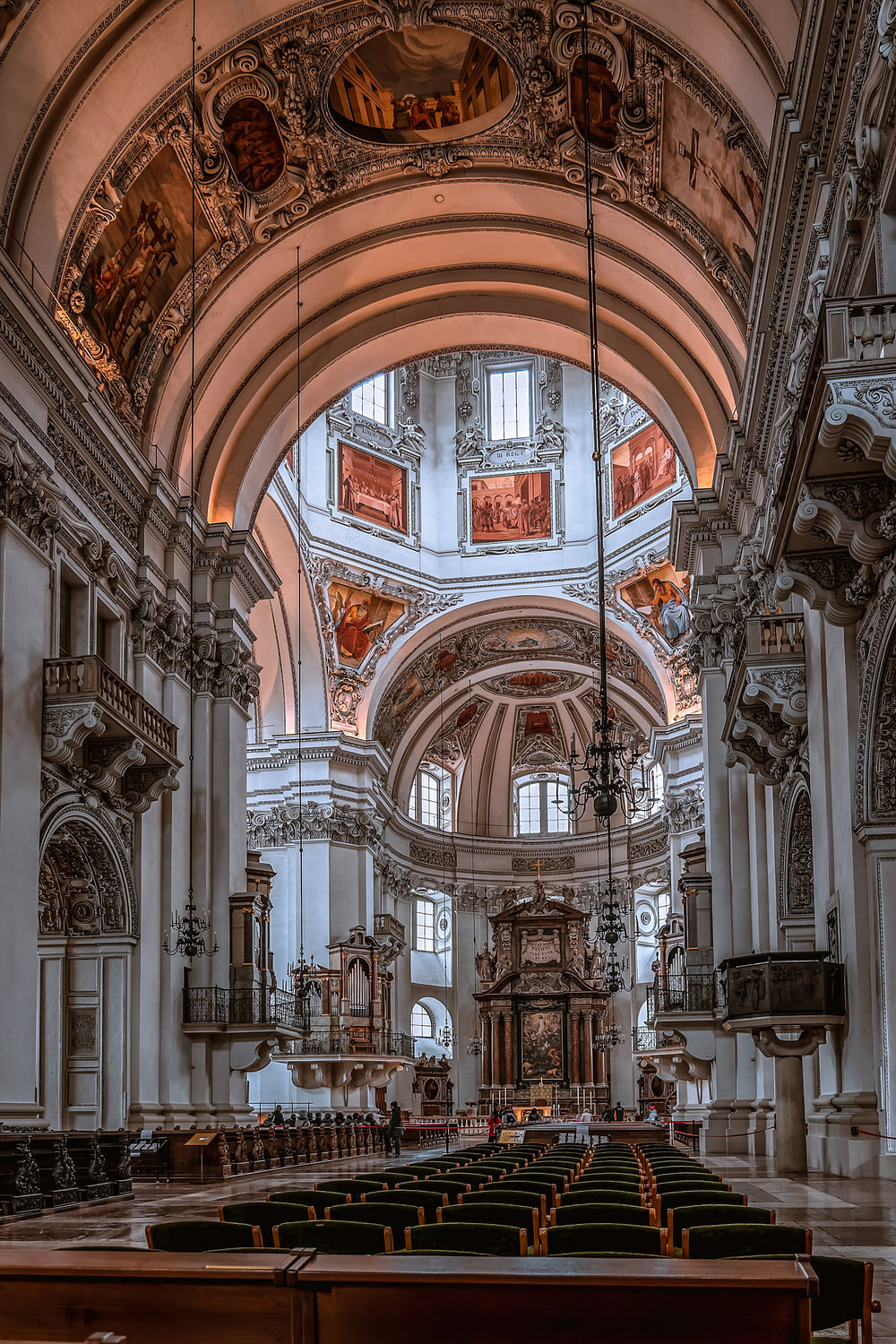 Having been built, destroyed, demolished, remodeled, and rebuilt many times over nearly two millennia, the current iteration of Salzburg Cathedral (Salzburger Dom) dates to a construction project from the late 12th century.
Its bright-white marble interior provides the perfect background for several frescoes by Italian artists Donato Mascagni and Ignazio Solari; of particular note are those inside the dome, which depict several scenes from the Old Testament. You'll also find the 14th-century font in which Mozart himself was baptized in 1758.
St. Basil's Cathedral, Moscow, Russia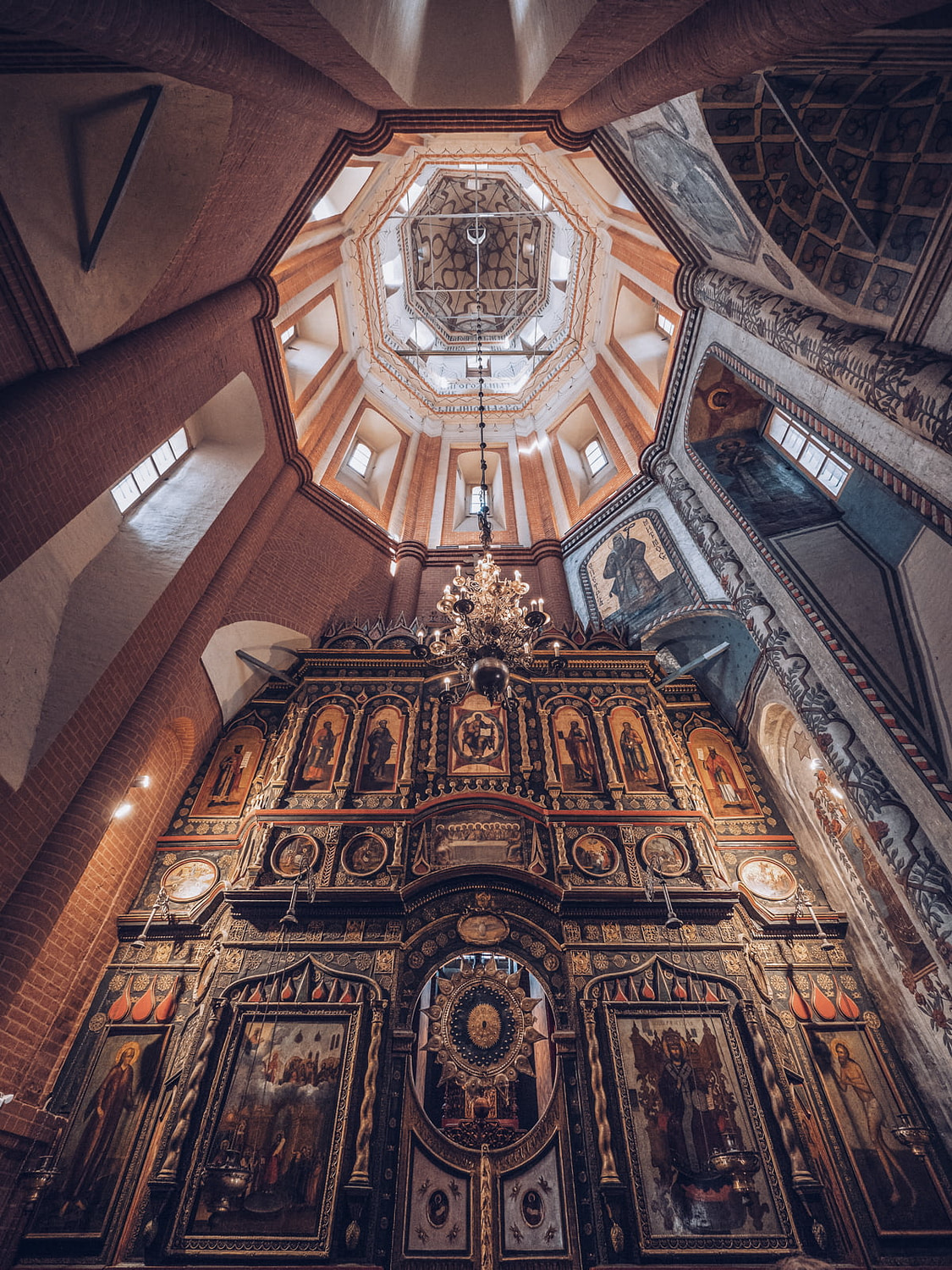 Though its current status within Russian Orthodoxy is somewhat nebulous having been confiscated under the USSR's atheism statutes in 1928, St. Basil's Cathedral (Sobor Vasilija Blazenog) does again host a weekly religious service that was restored in 1997.
While its postcard-perfect visage is symbolic of Russia as a nation, visitors will note that its interior design mirrors the kaleidoscopic, vibrant colors of its iconic exterior. It stands as a testament to Moscovite brickwork; at the time of its construction, the technique was so lauded that they left the brick exposed wherever they could, and even went as far as to paint solid stone to resemble real brick in the places where a solid slab was required to bear the weight of its 9 domes.
Cathedral of the Holy Cross and Saint Eulalia, Barcelona, Spain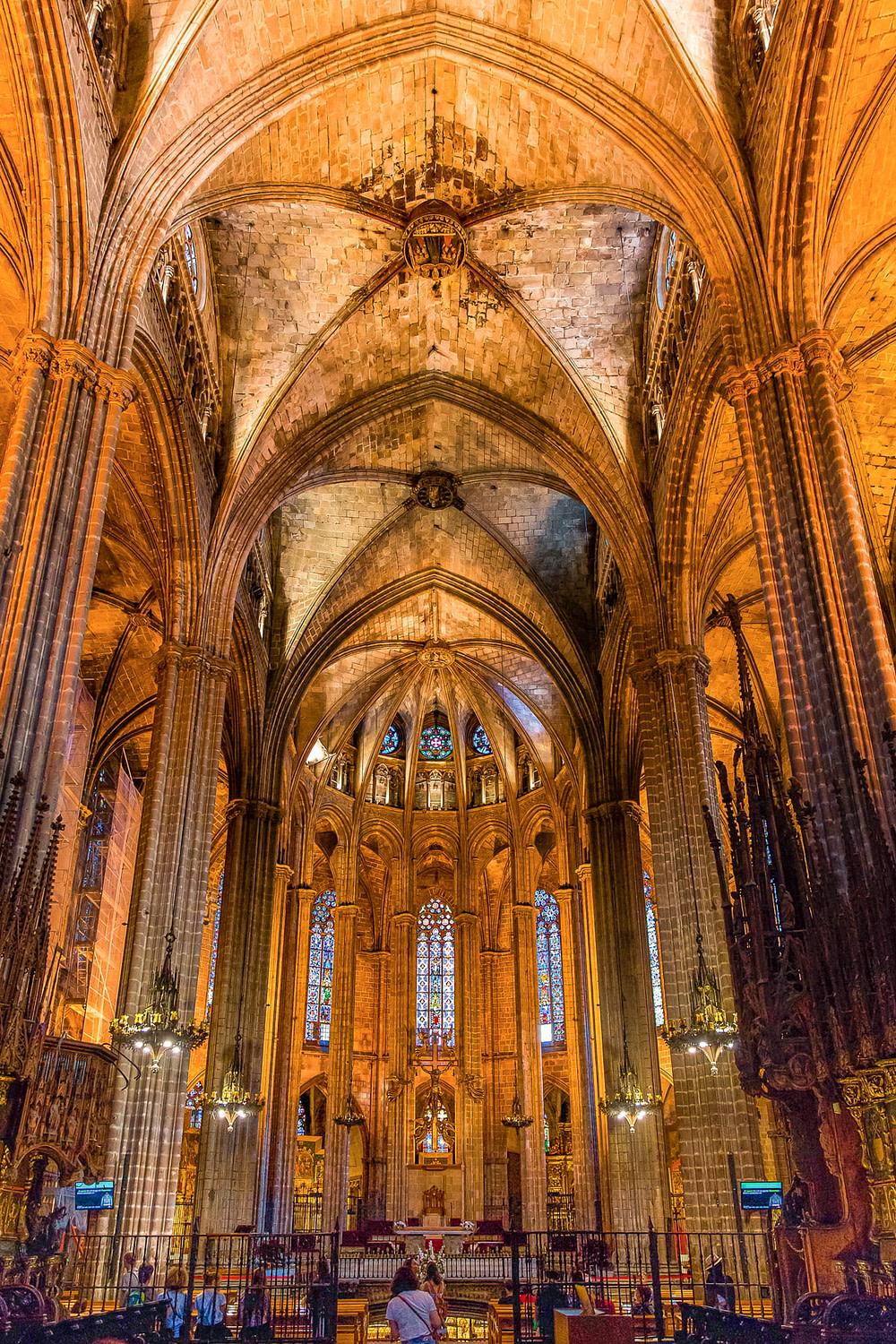 Though sometimes overlooked by tourists who prefer instead to visit Gaudi's La Sagrada Familia, the Barcelona Cathedral (Catedral de la Santa Creu i Santa Eulàlia) is an incredibly important and representative piece of hybrid Gothic-Baroque architecture.
While you'll find over a hundred monuments and chapels dedicated to saints, many visitors head straight for the rooftop, which affords 360º views of Barcelona. Another highlight is the beautiful Gothic courtyard where 13 white geese are kept and cared for. This signifies the age that the cathedral's namesake, Eulalia, was when she was martyred, her body still entombed in front of the cathedral's main altar.
Cologne Cathedral, Germany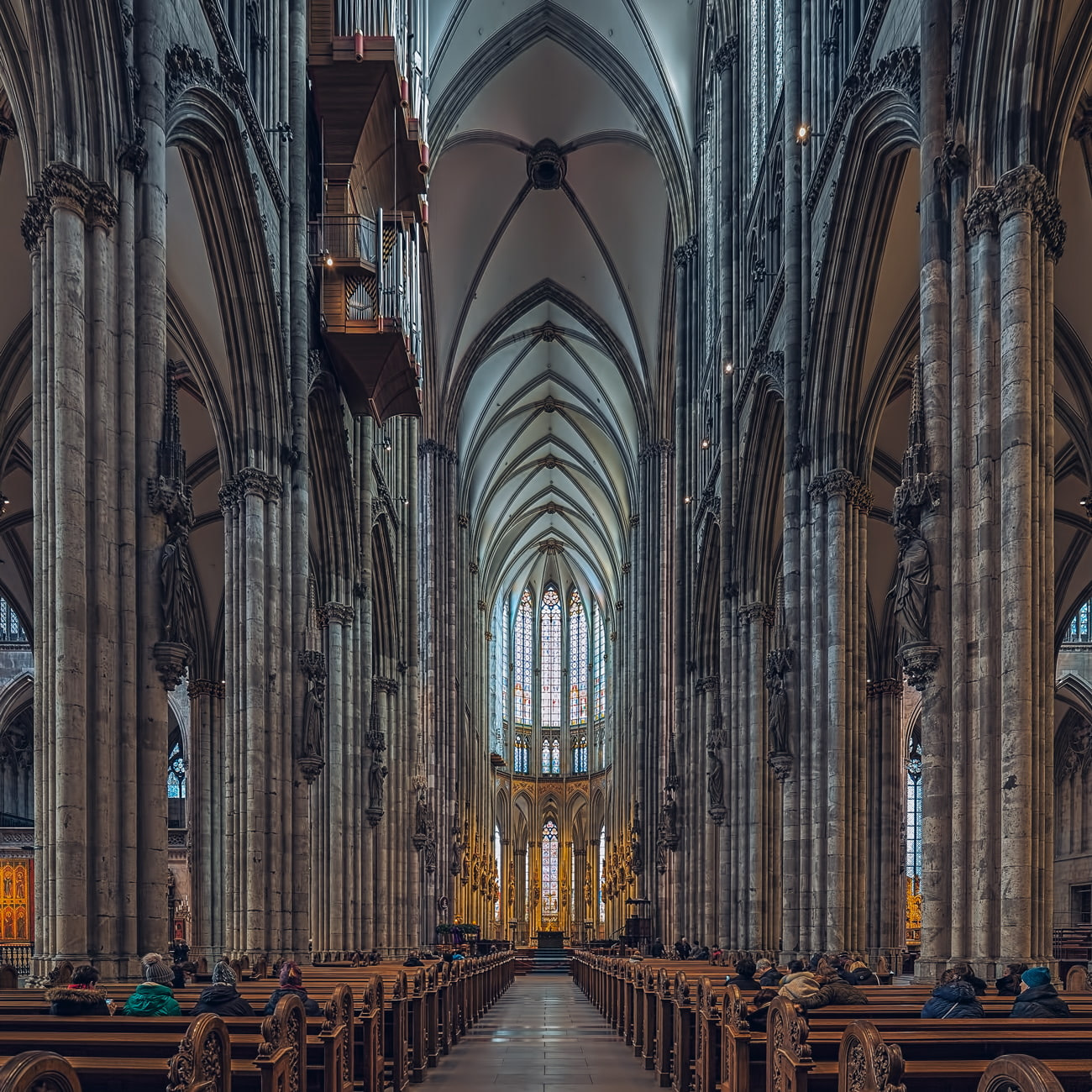 The most visited landmark in the whole of Germany, the Cologne Cathedral (Kölner Dom) hosts over six million visitors a year. Within its cavernous interior lie many treasures, including an incredibly ornate, gilded sarcophagus called the Shrine of the Three Kings said to contain the remains of the biblical Magi, or colloquially, the three wise men. Also housed here are the Gero-Kreuz, an enormous wooden crucifix adorned in gold, and the Mailänder Madonna, depicting the Virgin Mary and an infant Jesus.
St. Vitus Cathedral, Prague, Czechia
Sharing the grounds of Prague Castle, St. Vitus Cathedral (Metropolitní Katedrála Svatého Víta) took nearly 600 years to complete, with the finishing touches still being added in the early years of just last century.
It is famous for its several pieces of impressive stained glass, all representing different artists from different time periods over the course of its construction. Of them, probably the most remarkable is in the Archbishop's chapel, created by Czech Art-Deco master, Alphons Mücha. Though there are several other small scenes around them, the central portrait is of the patron St. Wenceslas with his grandmother, St. Ludmila.
Milan Cathedral, Italy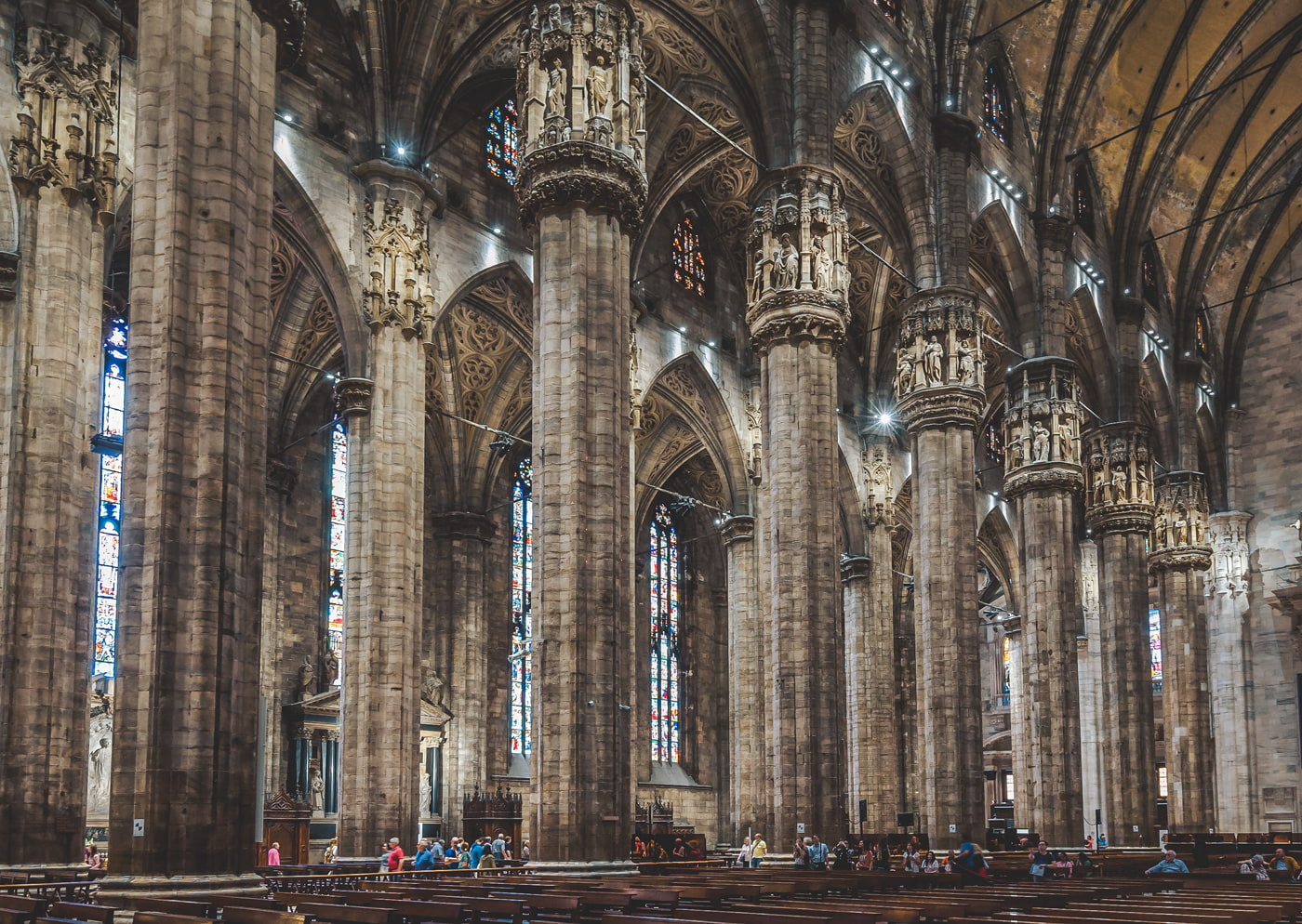 Milan's central cathedral is so large, so intricate, and ornate that it took nearly six centuries to complete, the final stages of construction finally wrapping up in 1965.
Duomo di Milano is the largest church in Italy – as St. Peter's Basilica resides in the sovereign nation of Vatican City – and has been described both affectionately and viciously as gaudy, confused, and flamboyant. Inside, it boasts what is possibly the finest example of a Gothic vaulted ceiling that exists in the world, all contrasted by a multifoil-inlaid marble floor.
Though home to many important works of Italian art, the most arresting is a marble sculpture of St. Bartholomew, carved by a student of Leonardo himself. Famously skinned alive by the Romans, thus securing his place in Christian martyrdom, this image of the late saint finds all of his tendons and musculature exposed, draped in a rendering of his own skin.
Hagia Sophia, Istanbul, Turkey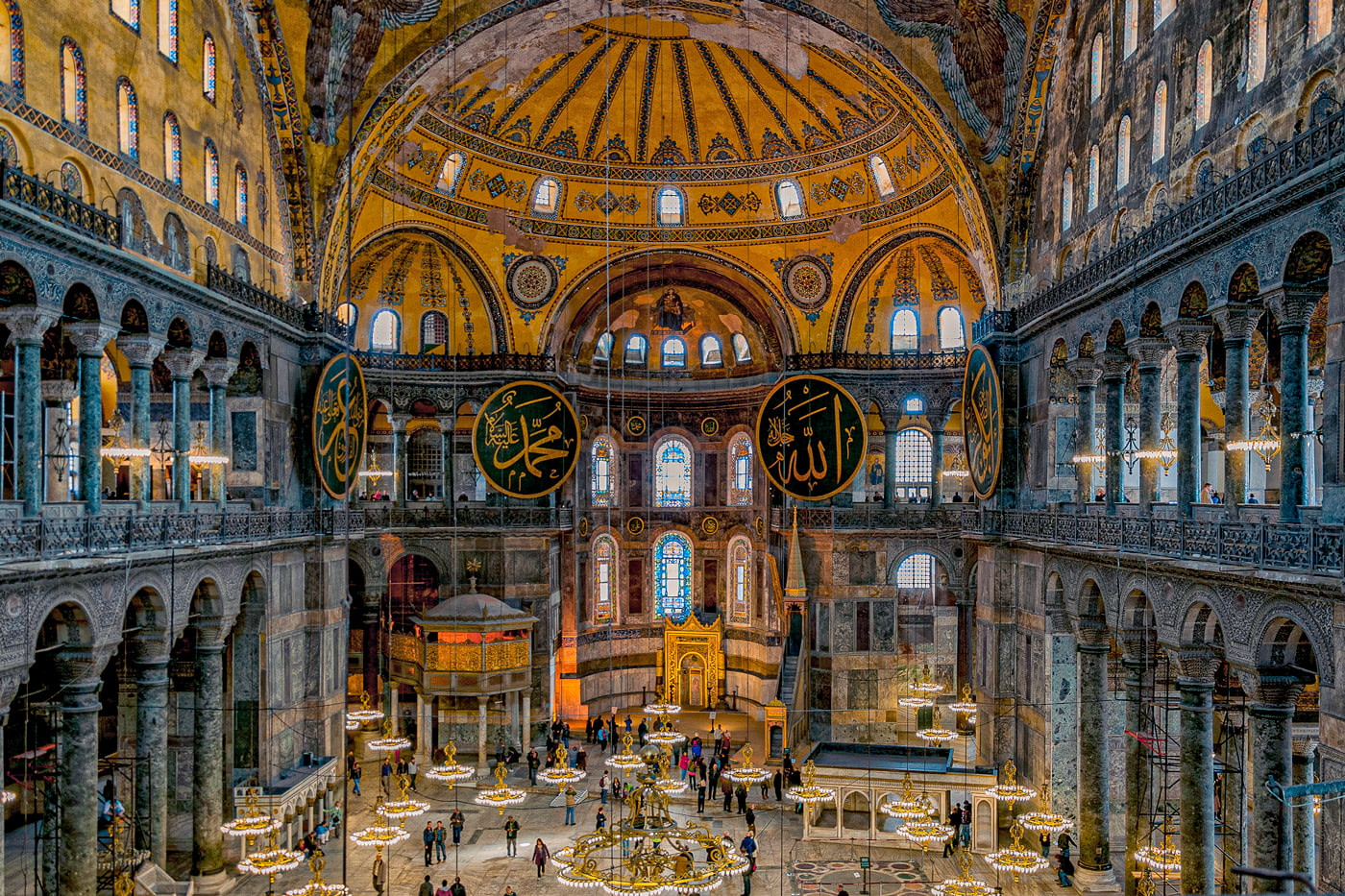 Originally built during the reign of Constantine under the auspices of the Holy Roman Empire, Hagia Sophia (Ayasofya) has been reconsecrated several times over the years as a house of Islam, Christianity, and even as a secular museum owned by the government of Turkey.
It remained that way until very recently, when in 2020 it was re-established as a mosque, its many Christian frescoes and paintings removed or boarded up under the new regime, awaiting a decision on their eventual fate.
Despite the change of scenery, you shouldn't discount a visit, as standing inside beneath its pendentive dome (the first of its kind in the world) still leaves visitors in awe to this day, despite it having been constructed over 1400 years ago.
Florence Cathedral, Italy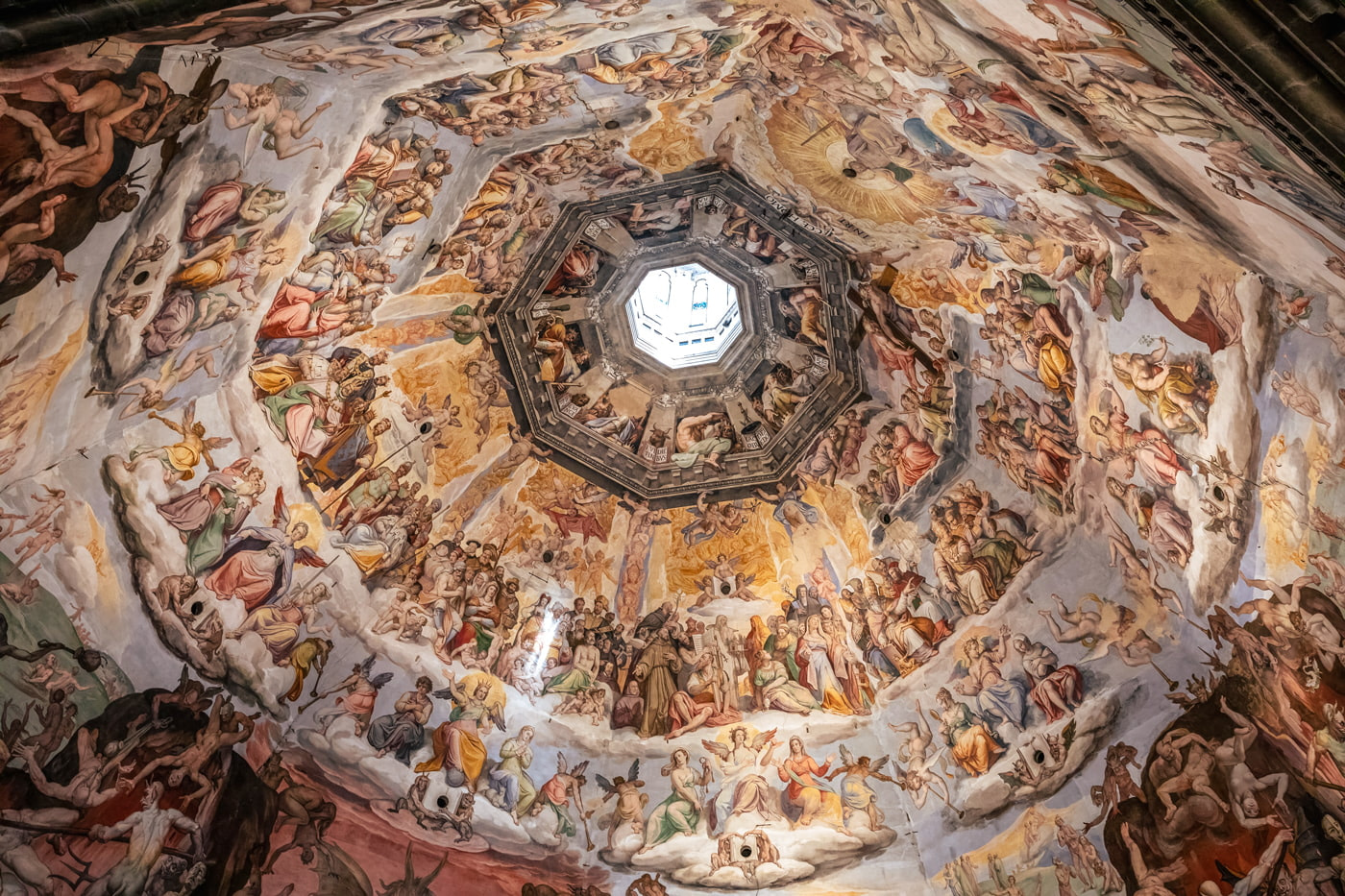 Built during the height of Medici's Florence, the Duomo di Firenze, as it's commonly called in Italy, is a marvel of Gothic architecture. It is capped with Brunelleschi's dome, iconic to the Florentine skyline and still the largest masonry dome in the world.
Designed specifically to impart the feeling of emptiness upon visitors, the view of the inside of the dome from the cupola is particularly striking. The interior is covered in frescoes created by Giorgio Vasari and Federico Zuccari, famously vibrant because of a nearly 20-year restoration project that was finally completed in the 90s.
York Minster, England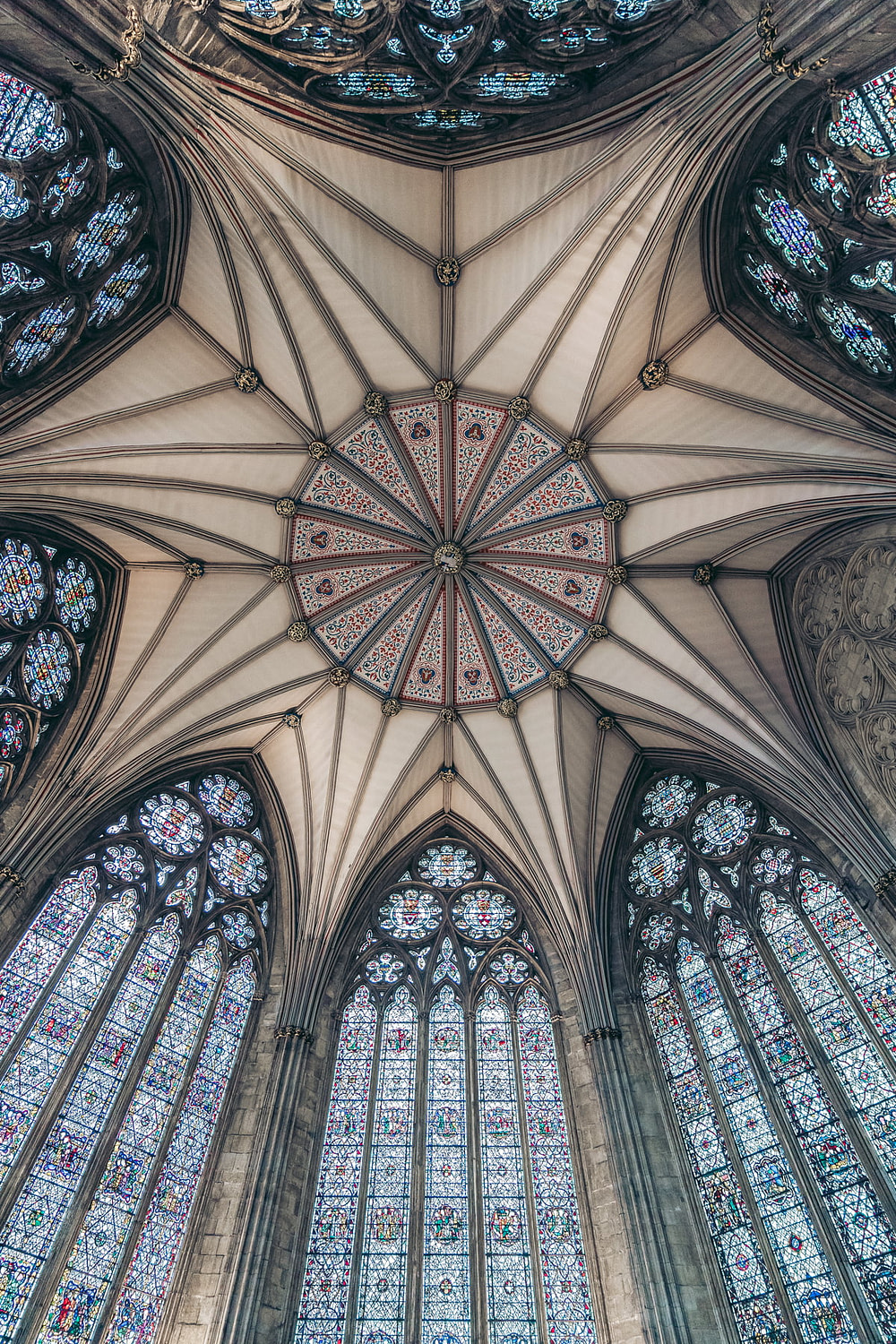 Designed to be the greatest cathedral in the region, York Minster (Cathedral and Metropolitical Church of Saint Peter in York) took nearly 250 years to build. It has survived four major fires and several wars, including World War II, when 80 stained glass windows were temporarily removed and stored to protect them from damage from air raids.
Though home to several vaults, probably the most striking space is the Chapter House, whose domed ceiling has been carefully painted and surrounded by some of the cathedral's finest stained glass windows. Ringing the space are 44 grand seats meant for the members of the cathedral's monastical chapter.
St. Stephen's Cathedral, Vienna, Austria
Lending its name to the Stephansplatz where it sits in central Vienna, St. Stephen's Cathedral (Stephansdom) is an essential landmark to Austria as a whole. Its somewhat maze-like design includes seven separate chapels, as well as a basement with catacombs adjoining the ducal crypt.
Probably the biggest draw is the ornately hewn stone pulpit, which bears multiple pieces of imagery held precious to Christendom. Among the other incredible works of art housed here is the recent unearthing of a painting beneath layers of dirt in a room that is now the gift shop. Only just found in 2020 as part of a restoration project, it is believed to have been crafted by Albrecht Dürer.
Cathedral of Our Lady, Antwerp, Belgium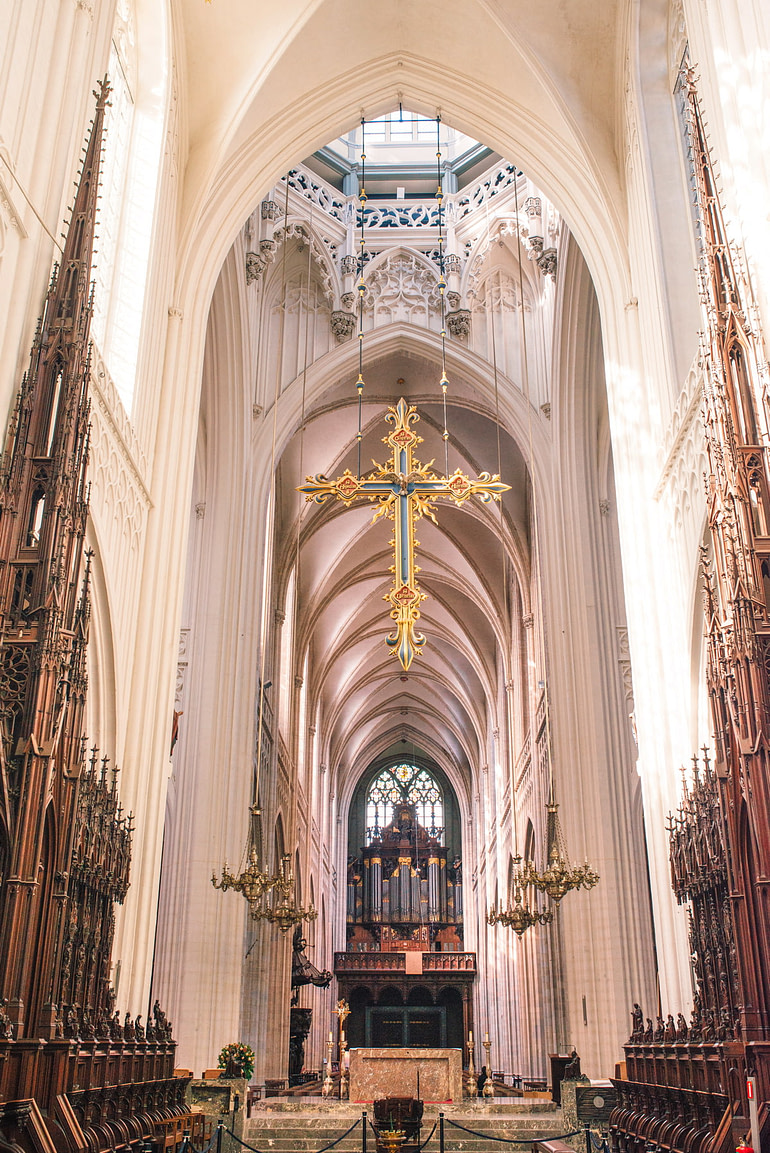 It has the tallest belfry in Belgium and is the largest Gothic building in the Dutch-speaking world, but interestingly, many of the Gothic components you see decorating the Cathedral of our Lady (Onze-Lieve-Vrouwekathedraal) are actually additions from the 1800s.
It has survived many regime changes, wars, fires, and numerous thefts, but despite its storied past, its bright and voluminous nave has been attracting Catholic pilgrims and other admirers from around the world for hundreds of years. Also housed here are several important works by Peter Paul Rubens, two of which were stolen by Napoleon but later returned to the cathedral.
St. John's Co-Cathedral, Valletta, Malta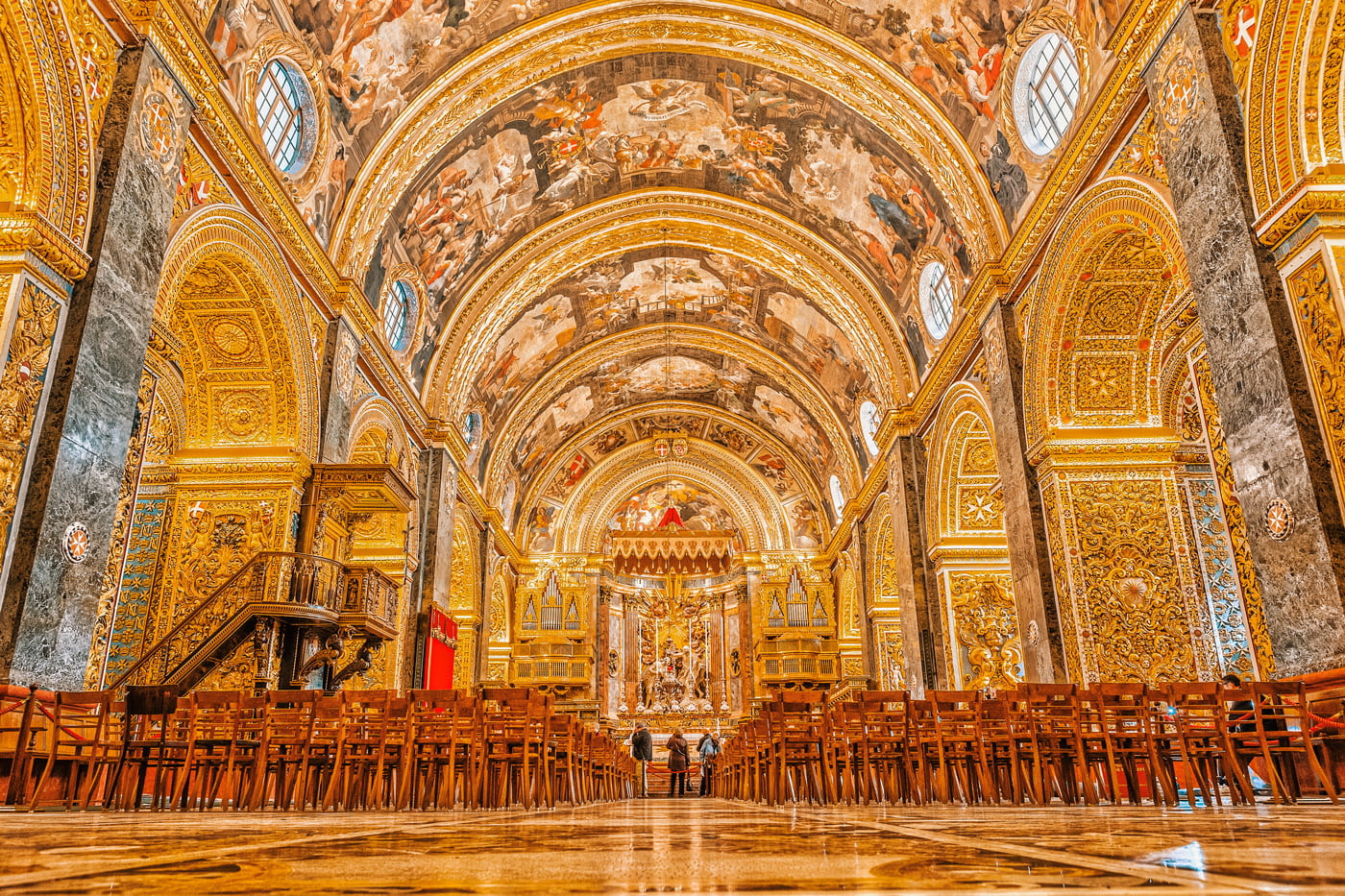 From the outside, it appears not much different from any other minor basilica, but visitors to St. John's Co-Cathedral (Kon-Katidral ta' San Ġwann) are in for a treat.
Once you step inside, you will immediately notice how hard its architects fought to make it in every way equal to one of the great cathedrals of mainland Europe, and you can also see the clear influences of several mainland styles of design.
Looking up from the main nave can be dizzyingly overwhelming, but underfoot lies a surprise, too. Nearly 400 tombstones are inlaid into the intricate marble floor, denoting the final resting places of many prominent European knights.
Pisa Cathedral, Italy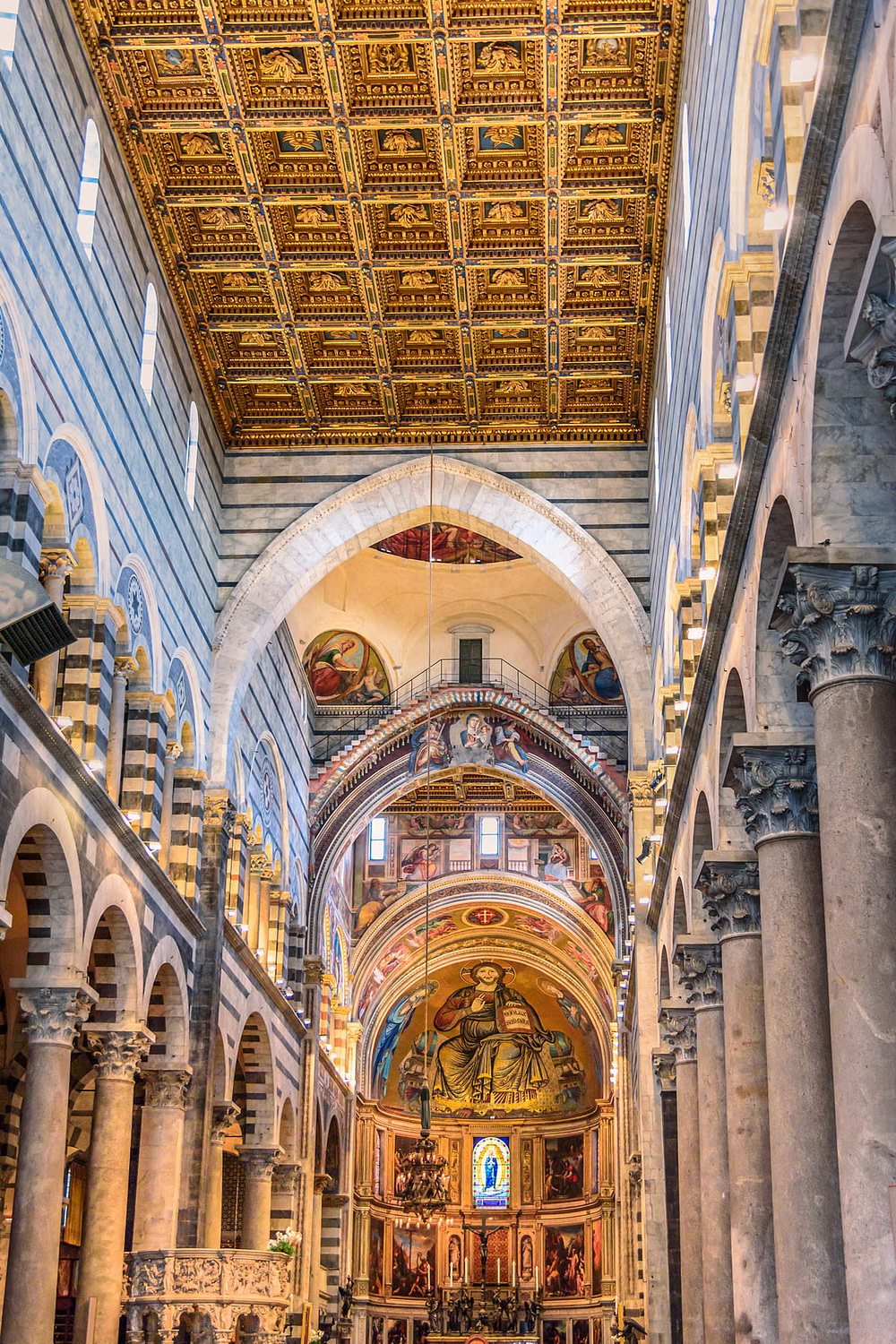 Just adjacent to the iconic leaning tower, the Pisa Cathedral (Duomo di Pisa) is actually far more impressive than its lack in relative fame would suggest.
Constructed from the same gleaming-white marble as its neighbor, it represents the quintessential example of Pisan Romanesque, a hyper-local style of Italian architecture. Maybe the most impressive is the gilded coffered ceiling, which shines brightly over the central expanse, contrasted nicely against the alternating black and white marble interior accents.
Đakovo Cathedral, Croatia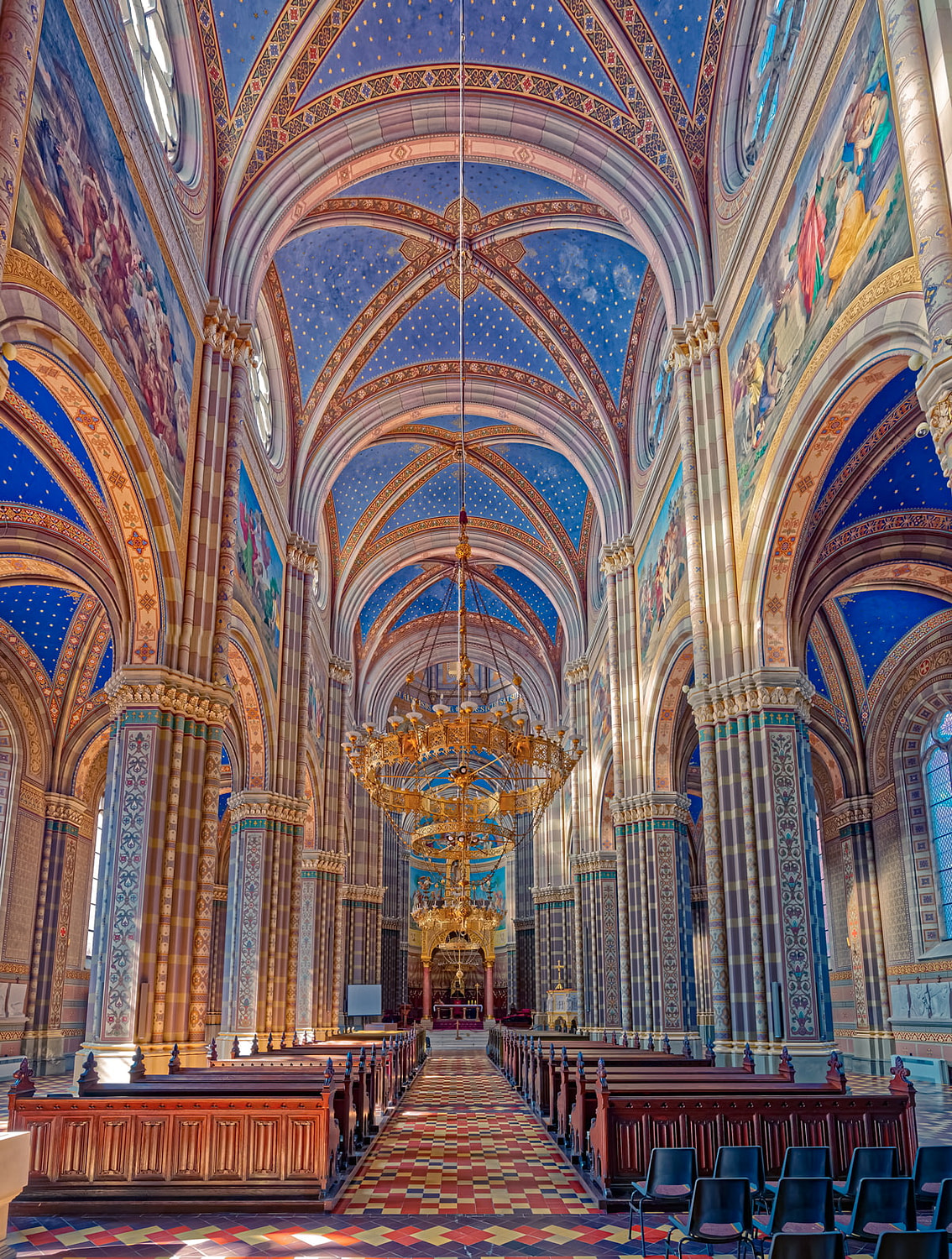 The largest example of Croatian revival architectural style, Đakovo Cathedral (Katedrala Bazilika Svetog Petra) was built over 4 years in the late 19th century, but it took an additional 12 to decorate the interior.
Should you visit, you'll likely note that it was well worth the additional effort; the interior palate is overwhelmingly cobalt blue and gold, though you'll find hints of variegated imported marble and ornate windows that seem to catch the light in every direction. Supposedly, upon stepping inside for the first time, Pope John XXIII called it "the most beautiful cathedral between Venice and Istanbul".