It's constantly named one of the most livable places on earth, and this isn't just because of the killer food scene and quirky laneways. It also has a thriving community of creatives who give the city its cool persona.
Perhaps they're the result of the government's generosity when it comes to arts grants. Perhaps it's that old saying that birds of a feather flock together… Either way, on every street corner you'll find a hip café filled with designers, writers, DJs, and entrepreneurs sipping slow-drip coffee and tapping away on Mac computers.
I've been chucked out of busy cafés, battled terrible Wi-Fi, and paid over the odds for co-working spaces so you don't have to. Allow me to introduce you to the best places to work in Melbourne… because working hard leaves you with more time to play hard.
Kathleen Syme Library and Community Centre, Carlton
A library and community center in a residential part of leafy Carlton, this is your one-stop shop for a productive day's work without spending a penny.
Not only does it have free Wi-Fi and a selection of meeting rooms with desks, but it also boasts a computer lab, printers, and, saving the best until last, a kitchenette with free tea and coffee. Bring your own food from home, keep it in the fridge, and use their crockery. As any freelancer knows, making your own lunch can be a key way of saving money, especially when you're starting out.
There's a recording studio upstairs which interesting types wander in and out of, as well as a snug café downstairs that sells excellent bagels and has a handful of tables on a sunny deck. And if you are in need of a little motivation, Melbourne's most fashionable ice cream parlor, Piadapipo, is just a three-minute stroll away. Tick, tick, tick.
Free
Creative Cubes, Hawthorne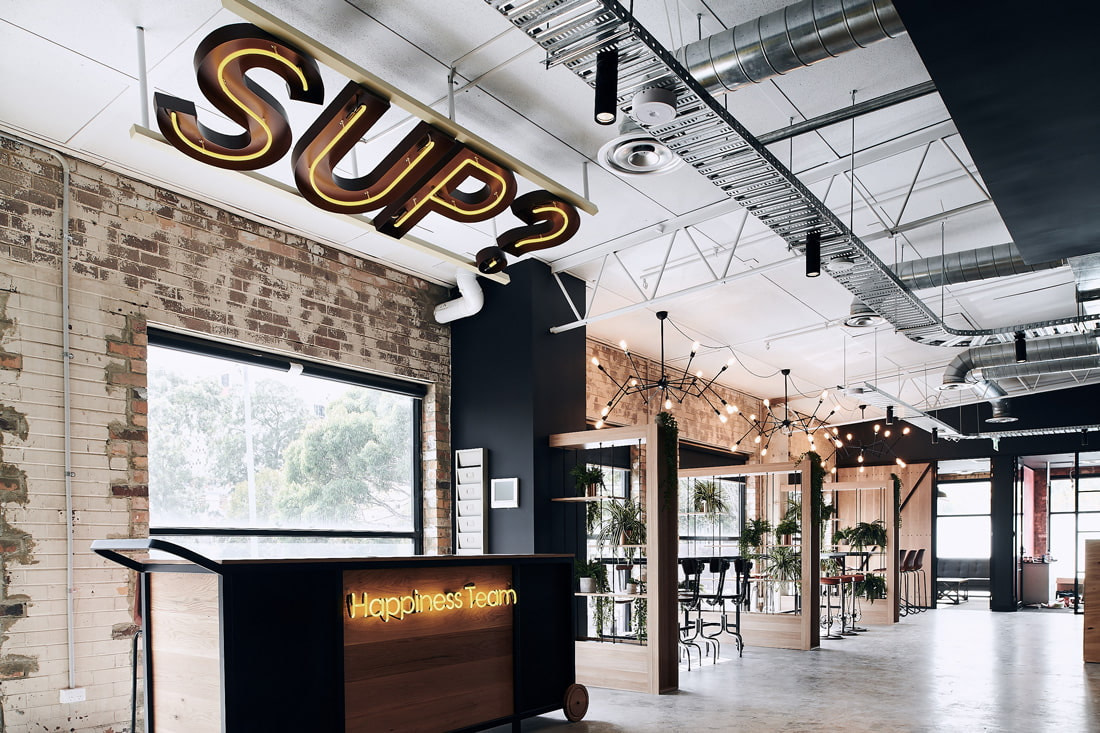 If you can't even think about getting down to business until you've practiced yoga and sipped a quality coffee beneath a canopy of hanging plants, Creative Cubes is going to come as very good news.
Melbourne's hottest new co-working space has just opened in Hawthorne, and it's a bougie spot in which to spend the day. The interiors are fabulously textural; bricks, decking, living walls of greenery, and exposed pipes combine to create a restful, professional space that's a pleasure to spend time in.
With a gym, café, yoga studio, and 'happiness team' (that's a concierge to you and me) on site, it's easy to get that work-life balance spot on. There are also endless opportunities for networking with other freelancers while putting your feet up in one of the chill-out zones. Membership ranges from one day to monthly and annual plans, so there is a strong community of creative people to meet if you so desire.
$39 per day
Stovetop, Carlton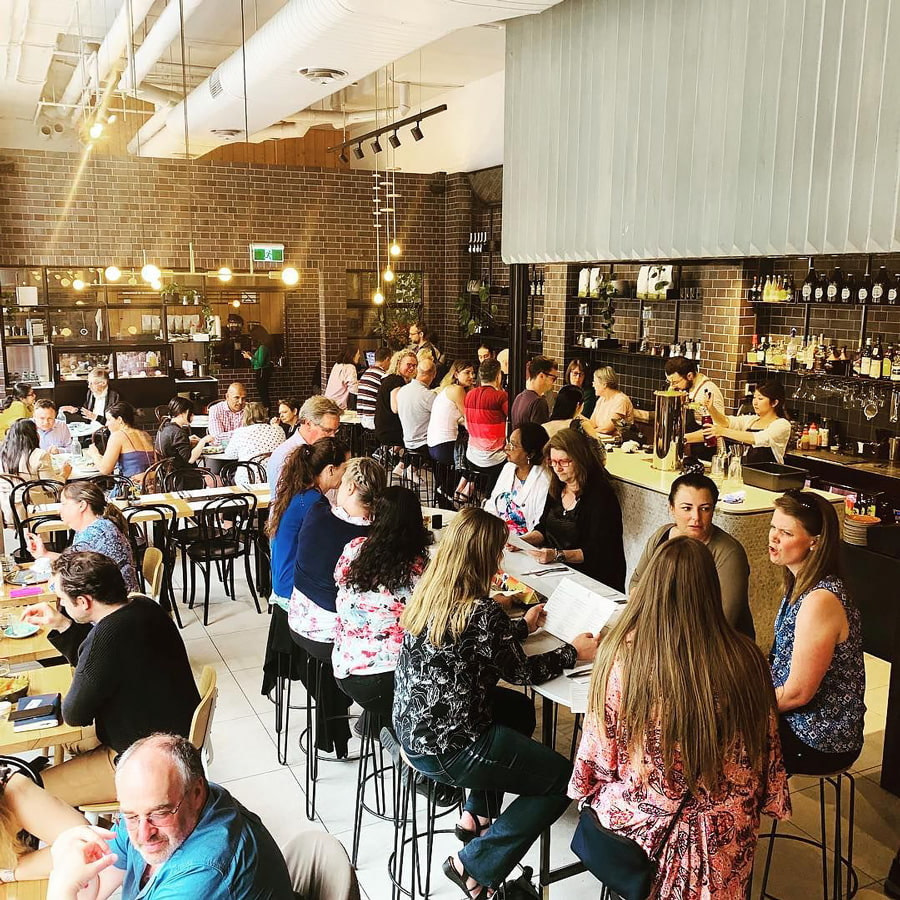 The one problem with a city of caffeine addicts is, come the weekend, most cafés have queues of stylish locals baying for brunch. Even among Melbourne's famously chilled waiting staff, hogging a table with your laptop is not a good look.
If you do have a Monday deadline, head to this sleek, family-run spot in Carlton, the center of the city's Italian community. Named after the Bialetti coffee makers, which brew both the house blend, which is roasted on site, as well as a guest blend that changes every two months, it is run by brothers George and Sam Seoud.
Long communal tables and an innovative menu make it a freelancer's dream, but because it is a favorite with students from nearby Melbourne University, it is refreshingly quiet come weekends. If you do happen to finish your work, toast your success with the Amigo 15, a sophisticated cocktail of cold drip coffee, tequila, and pink grapefruit.
From $3.70 for an espresso
Bargoonga Nganjin North Fitzroy Library, Fitzroy
Perhaps the most attractive contemporary library in Melbourne, Bargoonga Nganjin means 'Gather Everybody' in Woiwurrung, the language of the Wurundjeri people who are the traditional owners of the land.
Indeed, this airy, light-filled space is somewhere that people gather, particularly students, and you'll need to get there fairly early or during the after-lunch lull to be sure of getting one of the window desks with the power sockets. However, the gorgeous interiors and the work of Collingwood-based architects Group GSA make the risk well worth it.
It looks fabulous thanks to blonde wood detailing and a playful, geometric facade; it is also an environmentally friendly design, with solar panels and a rainwater recycling system. Its crowning glory is the rooftop garden, which buzzes with the sound of hungry bees feeding on aromatic plants. Where better for a study break?
Free
Birrarung Marr and Alexandra Avenue, CBD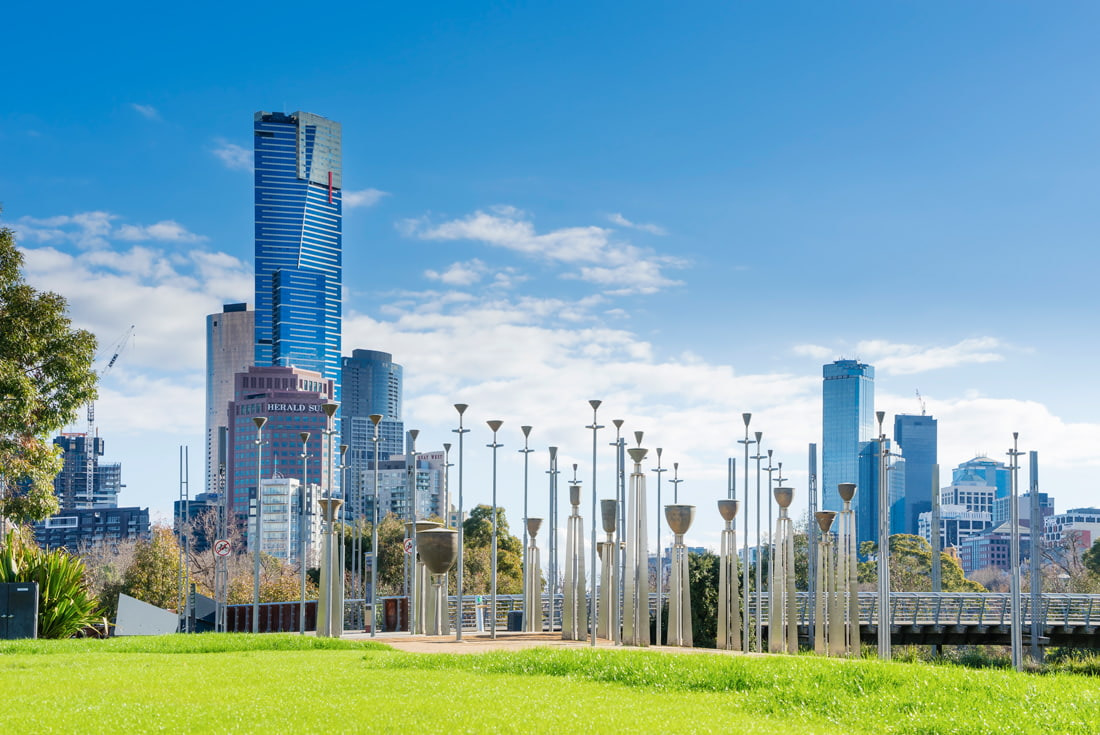 Aussies like to say how bad Melbourne's weather is, but if you're a visitor, chances are you will find the summer temperatures very acceptable! If you are able to hotspot off your phone, working outside is a great way to feel like you're still making the most of your trip without falling behind on work.
Birrarung Marr is a pretty park with the Yarra River running through it. You'll find barbeque spots with plenty of picnic tables for working at on the north side and excellent views of the city's gleaming skyscrapers from the south.
Free