Russia is a mysterious expanse of majestic snow-capped mountains, deep lakes, golden sands, icy tundra, and thousands of rivers that pass through quaint villages and scenic national parks. Nevertheless, the world's largest country is also home to some incredible works of art, overwhelming palaces, and grandiose cities whose charm and drama have inspired writers and poets for centuries.
Now, with the 2018 FIFA World Cup knocking at the door, the timing seems perfect for a rundown of Russia's top tourist destinations, some of which also double as host cities for the year's biggest sporting event. Football fan or not, check them out and plan your trip accordingly.
Moscow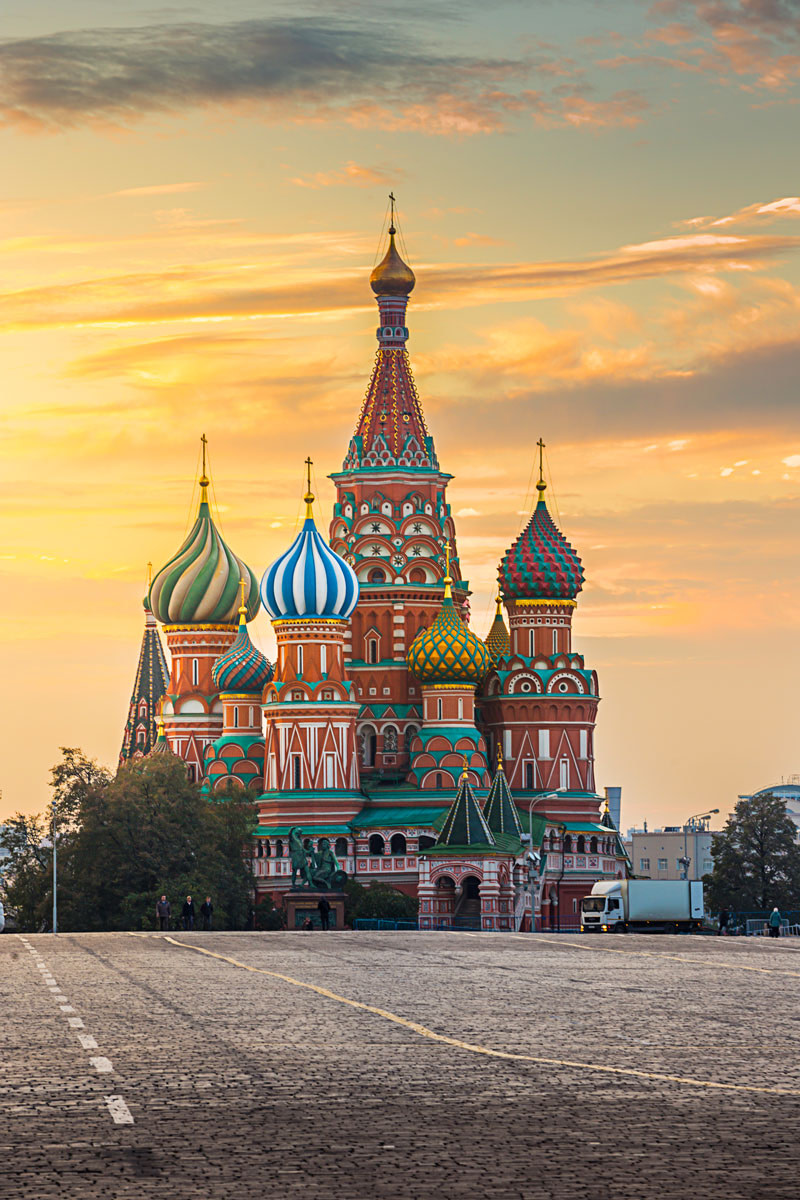 With a long and tumultuous history, some fabulous art and culture, and the world's largest community of billionaires, it's no wonder Moscow has always been regarded as a city of superlatives and dramatic contrasts, a hub of creative and intellectual energy.
Nowadays, the intriguing and sophisticated capital of Russia is an expensive, almost intimidating mega metropolis bursting with world-class art galleries, topnotch restaurants and shopping, old and invigorated culture, and thrilling nightlife.
Among the most iconic landmarks of Russia's political, financial, and cultural center are without doubt the grandiose Red Square and the mighty Kremlin, with its red-brick towers, beautiful churches, impressive museums, and remarkable historic sights.
Moscow is also home to some the best museums, galleries, and cultural institutions in the world, so make sure not to miss Bolshoi Theater's world-class performances, the Tretyakov Gallery – a true celebration of Russian fine art, or the Pushkin Fine Arts Museum – one of the planet's greatest and most prestigious galleries of European art.
Also of great interest are the city's house museums, where you can learn about Russia's fantastic literary heritage, such as the Pushkin Memorial Museum, the Tolstoy House Museum, the Dostoevsky House Museum, the Mayakovsky Museum, or the small – albeit utterly enchanting – Gogol Memorial Rooms.
Nightlife, shopping, and dining are all first-class in Moscow, the city boasting an impressive variety of bars, clubs, restaurants, and fashion stores.
St. Petersburg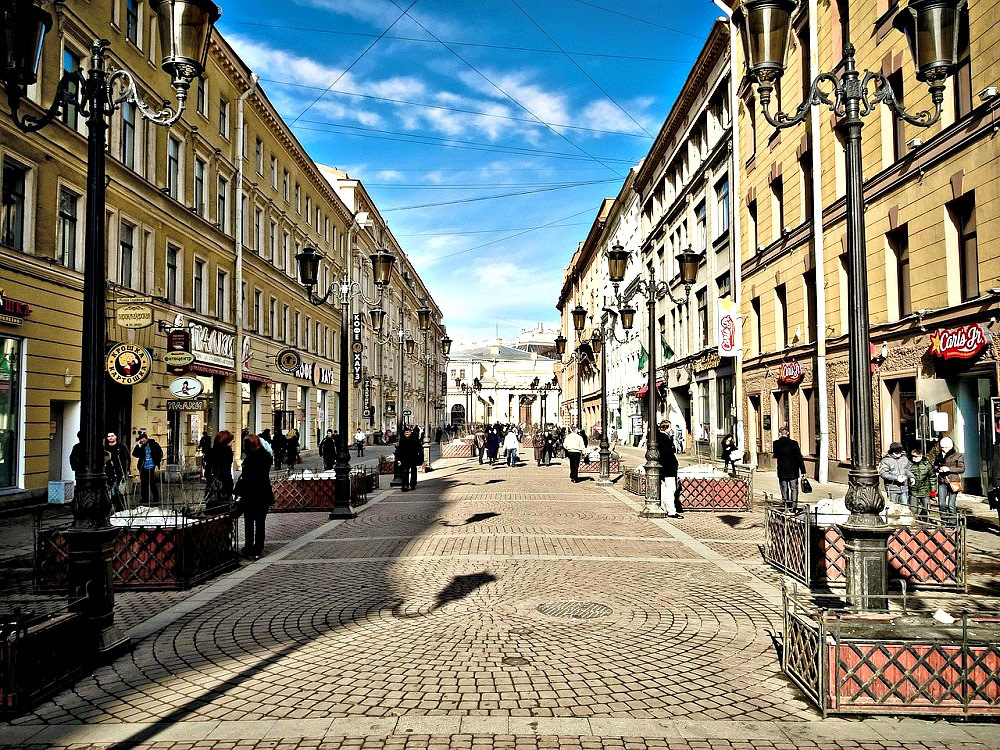 Often regarded as Russia's most European and forward-looking city, St. Petersburg makes for a wonderful travel destination, especially for history and culture lovers. More than 2,000 libraries, 220 museums, and 80 theaters make up the city's well-established cultural landscape, while edgy art galleries, bohemian cafés, boisterous underground clubs, and cool hostels with minimalist Scandinavian interiors show off St. Petersburg's innovative side.
Saint Petersburg's UNESCO-listed historic center, with its fascinating network of canals lined with eye-catching Baroque and Neoclassical architecture, is certainly a must for everyone visiting the former capital of Russia. And so are its greatest museums (the fabulous Hermitage and the Russian Museum) or the bustling Nevsky Prospekt – the city's main avenue and its premier destination for shopping, dining, and nightlife.
The elaborately decorated churches, the world-famous Mariinsky Theatre, the Peter and Paul Fortress, or the Vasilyevsky Island are well worth a visit as well.
The best time to visit St. Petersburg is during summer, when the city is experiencing its famous White Nights – a time of glorious midnight sun, beautiful traditions, and numerous night-time festivals.
Kizhi Island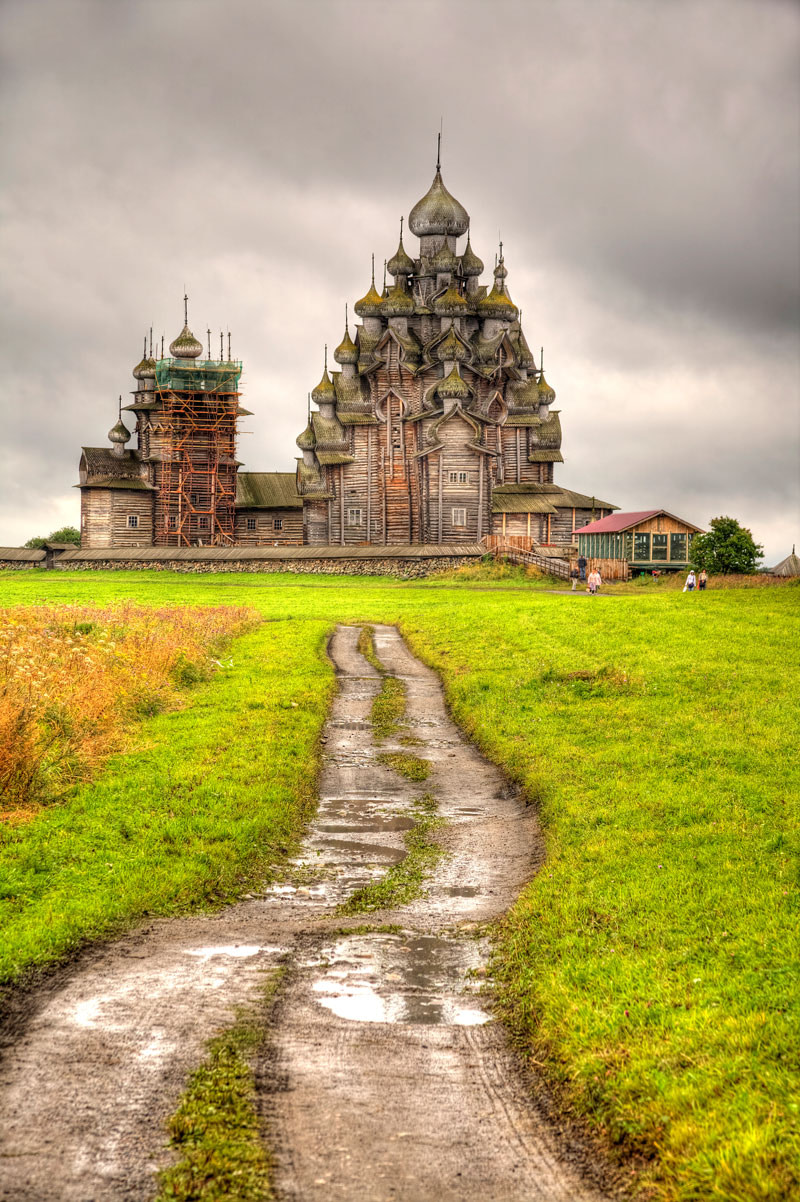 Not as famous as Moscow and St Petersburg, but an equally noteworthy Russian destination is the Kizhi Island in the heart of Lake Onega. Known especially for its fabulous open-air museum, this one-of-a-kind complex of great historical, cultural, and natural interest hosts an amazing collection of wooden structures, some of them part of the UNESCO World Heritage list, others dating back as far as the 14th century.
The most famous attractions on this tiny island include the Church of the Resurrection of Lazarus (the oldest wooden church in Russia) and the Kizhi Pogost site, with its impressive 22-dome Transfiguration Church. In addition to some of the country's finest examples of wooden architecture, visitors will have the chance to explore a series of ancient rural settlements characteristic to the Karelia region and scattered among this beautiful, almost pristine nature paradise.
Vladivostok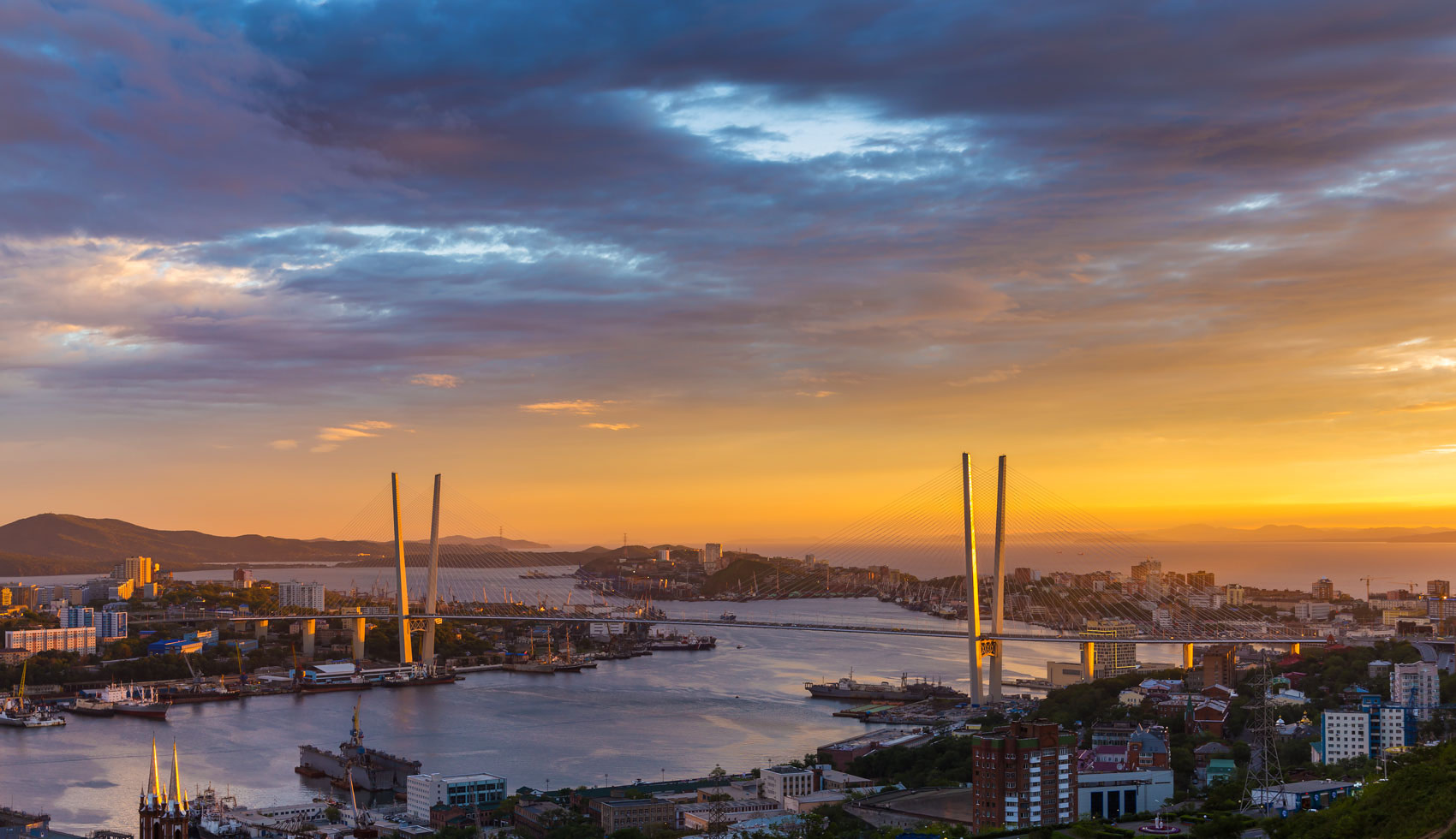 Coincidence or not, one of Russia's most attractive cities is a picturesque port on the Pacific Ocean that's closer to China, Japan, and the Korean territory than it is to the national Lake Baikal in Siberia. So, a fabulous 4,000 miles from Moscow lies Vladivostok, a town that impresses with its scenic location, uninterrupted sea views, and hilly streets that remind travelers of storied San Francisco.
Only 15 years ago, this easternmost point of the famous Trans-Siberian Highway was a closed city, but these days, Vladivostok is blossoming with modern architecture, lovely cuisine, and endless entertainment opportunities.
During summer, the Sportivnaya Harbor is the liveliest place in town, greeting visitors with an amusement park and dozens of street vendors selling drinks, food, and all kinds of colorful souvenirs.
Other places of interest in Vladivostok include Ploschad Bortsov Revolutsy – the city's main square; the state-of-the-art Russky Island Bridge that connects the city with the small island; the Arseniev Regional History Museum; and the Primorsky State Art Gallery.
Vladivostok's cuisine is particularly enticing, blending European and Asian culinary traditions into an utterly delicious menu based on seafood delicacies and oriental flavors.
Irkutsk and Lake Baikal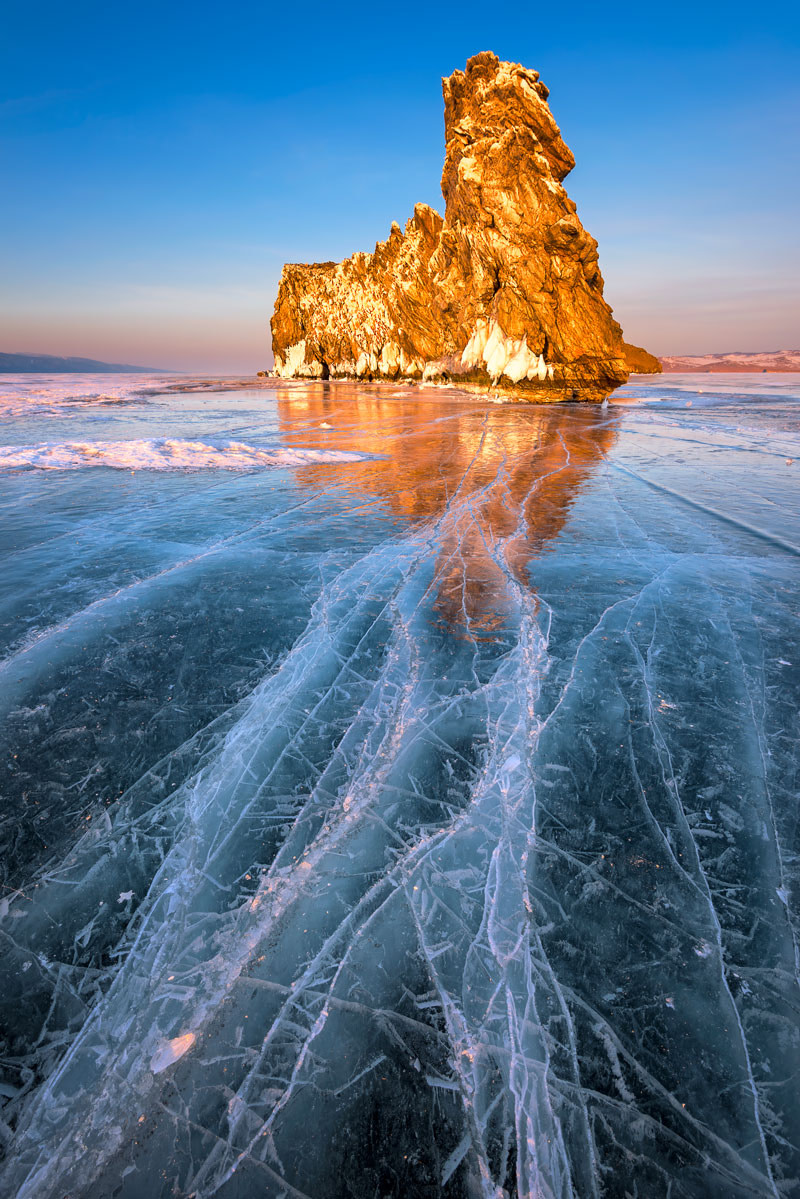 Locally known as the Paris of Siberia, Irkutsk is a fairly compact city with an impressive collection of historic churches, museums, theaters, and beautiful wooden houses adorned with intricate hand-carved decorations. Moreover, this is the closest major city to the fabulous Lake Baikal, hence an excellent base to explore the world's biggest, oldest, and deepest freshwater lake.
Irkutsk's main attractions comprise the City History Museum, the Geology Museum – with its memorable display of gems and minerals collected from Siberia and the Russian Far East, as well as the Old Town, where lively pavement cafés, eye-catching 19th century architecture, and joyful street artists make for a pleasant and relaxed atmosphere in which to hang out, dine, and watch the world go by.
A scenic one hour drive from Irkutsk will take you to the world-famous Lake Baikal, Russia's most amazing nature reserve, and a UNESCO World Heritage Site. Home to an outstanding variety of flora and fauna, this is indeed a place of unquestionable natural beauty and geological importance.
Kazan
It's a wonderful time to visit Kazan these days, as the city just got a considerable makeover in anticipation of the numerous world-class events that have been set to take place here. These include the 2014 World Fencing Championships, the 2015 World Aquatics Championships, and the highly foreseen 2018 FIFA World Cup.
The capital of Russia's Republic of Tatarstan is a vibrant melting pot of cultures, a multi-ethnic blend of Muslims and Christians who coexist peacefully on the Volga River. Its major historical sight is the UNESCO-listed Kazan Kremlin, filled with gorgeous churches, watchtowers, and museums. Furthermore, Kazan has an excellent range of bars, cafés, restaurants, and boutiques, most of them located on the lively pedestrian Bauman Street.
The Golden Ring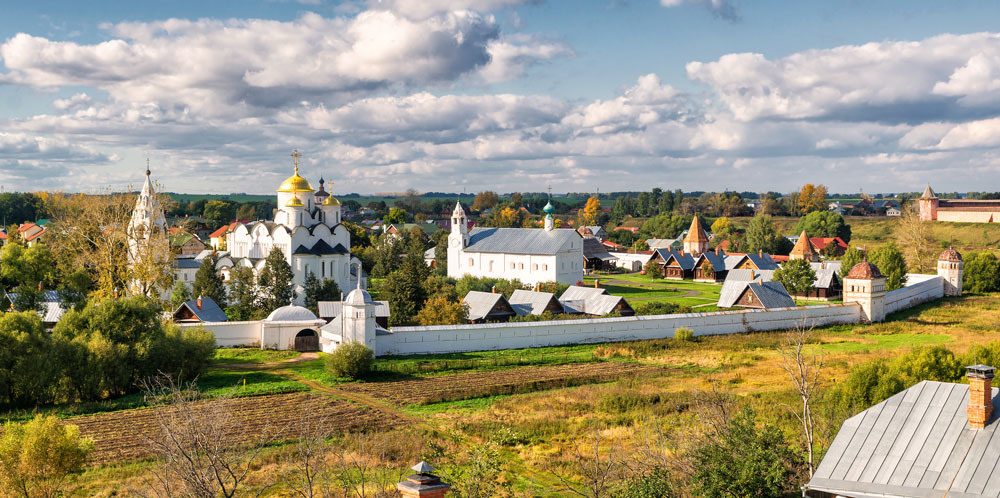 Widely famous for its picturesque old-world towns, medieval fortresses, and ancient onion-domed churches, the Golden Ring is one of the most enchanting travel destinations that Russia has to offer. Although conveniently located north east of Moscow, this clutch of ancient villages seems a million miles away from Russia's sleek and sophisticated capital city, offering visitors a taste of bygone times and the chance to explore the area's unique architecture, history, and century-old crafting traditions.
Among the most interesting stops along the route are Vladimir and the charming village of Suzdal nearby, but also Sergiev Posad – also known as the spiritual home of the Russian Orthodox Church, the hilly town of Pereslavl-Zalesskiy, Rostov Veliky, and the serene city of Pylos, often referred to as the Pearl of the Volga.
Sochi
Sochi, the setting of the 2014 Olympic and Paralympic games, is Russia's largest resort and a major tourist destination for both summer and winter holidays. Picturesquely located on the Black Sea coast, this summer seaside retreat attracts foreign and domestic tourists alike with its alluring mix of sunny beaches, luxury hotels, world-class restaurants, vibrant nightlife, and countless cultural and natural attractions.
Extravagant Soviet-era architecture is still very much present in Sochi, but due to the city's latest developments and its international popularity, the atmosphere is starting to change.
What's your favorite place in Russia?