One of the ski darlings of the French Alps, the chic resort town of Meribel has long attracted powderhounds with its alpine culture, charming chalet architecture, and easy access to the Three Valleys Ski Area – the largest in the world with hundreds of miles of pistes and epic vertical drops.
Catering to the monied elite who flock here every winter, choosing which luxury chalet to stay in is almost as fun as the skiing itself, as each has its own unique alpine aesthetics and high-end amenities. If you're looking for the crème de la crème, these are the 10 best luxury chalets to rent in Meribel.
Chalet Alpaca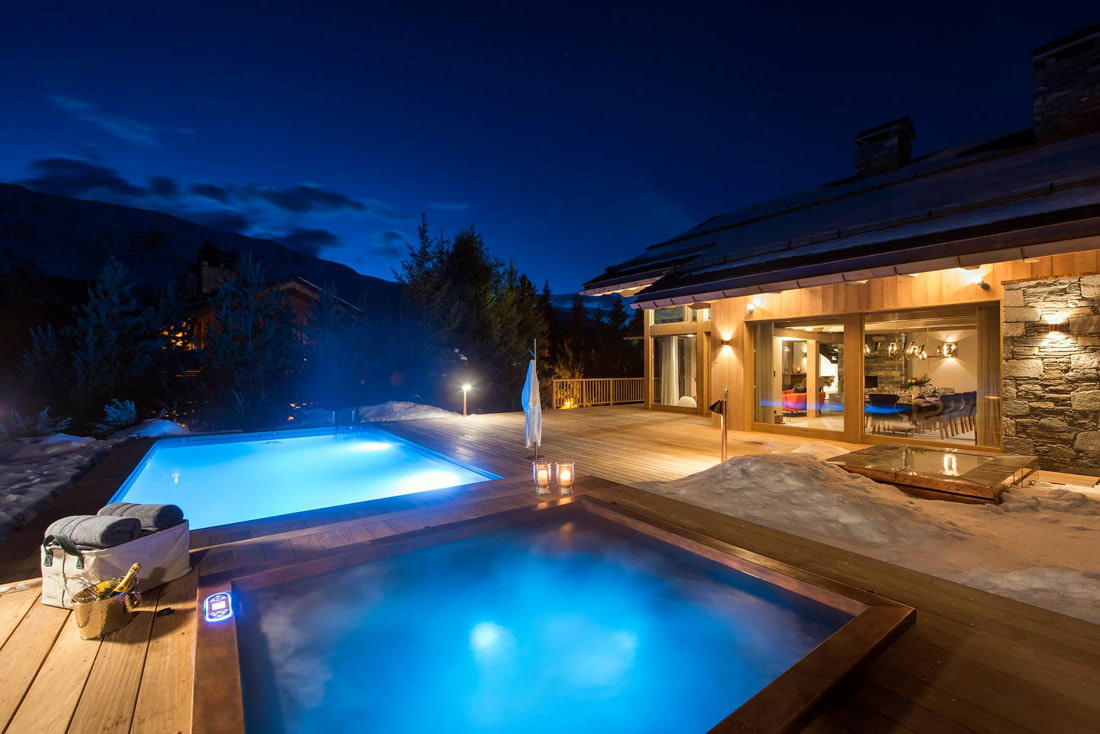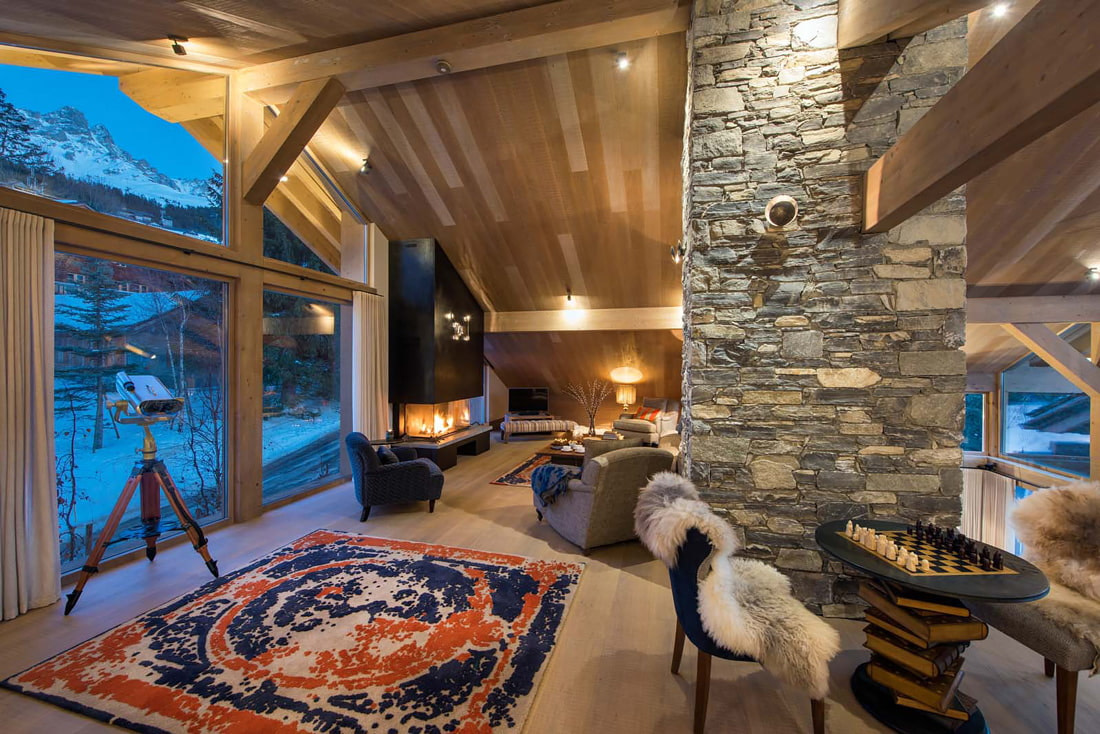 A recent addition to Meribel's luxury chalet scene, Chalet Alpaca definitely brought its A-game when it opened in 2017: it won "World's Best New Chalet" at the World Ski Awards later that year.
Constructed in traditional, multi-level chalet style with a vaulted ceiling, warm-hued wood, and stone accents, Chalet Alpaca incorporates modern elements like quirky light fixtures and avant-garde art. Enclosed within its spacious 930-square-meters, you'll find six bedrooms with en-suite bathrooms, a sauna, outdoor patio with swimming pool and hot tub, an indoor climbing room, a dining room, kitchen, ski equipment room, and more.
Chalet Mont Tremblant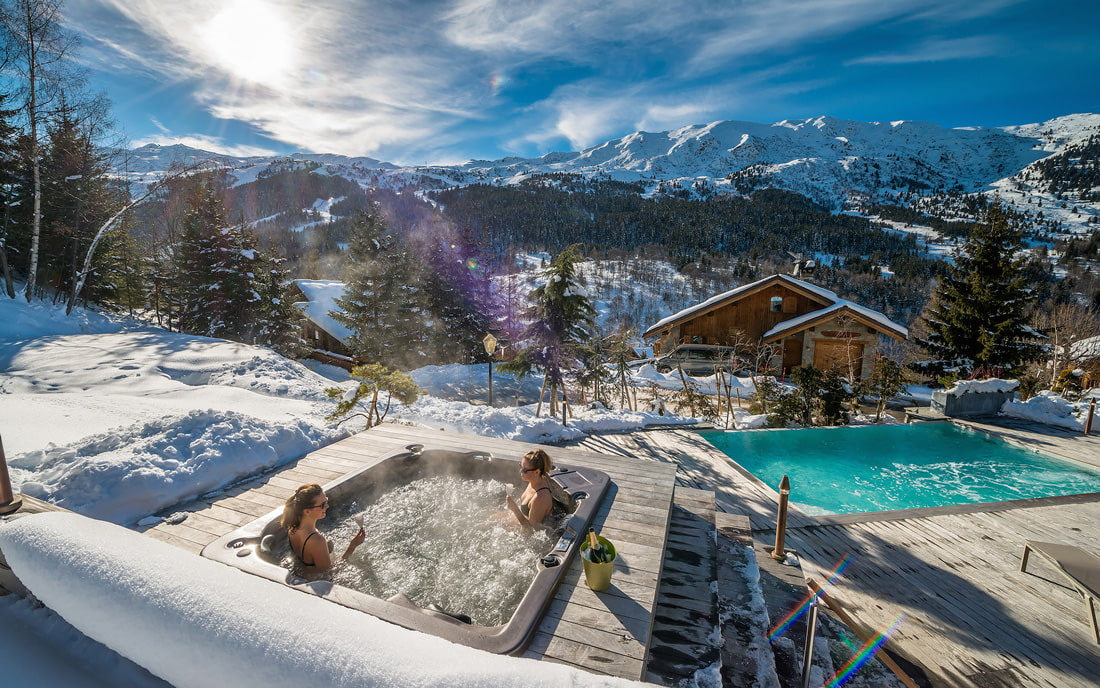 The six-bedroom Chalet Mont Tremblant is one of Meribel's most opulent properties, with ample space for up to twelve people. Located in the heart of town, the slopes are just a quick drive away (thanks to your own private chauffeur).
Built of grey-tone wood and rough-hewn stone, the cozy rooms (all en-suite) and common areas (such as the lofty, light-filled living room with enviable mountain views) are all adorned with classy mid-century modern furniture.
Soak up the sun and views from the heated infinity pool and hot tub on the outdoor patio. A playroom, dining area, kitchen, spa, and cinema room are also included, as well as a concierge, private chef, and maid service.
Chalet D'Hadrien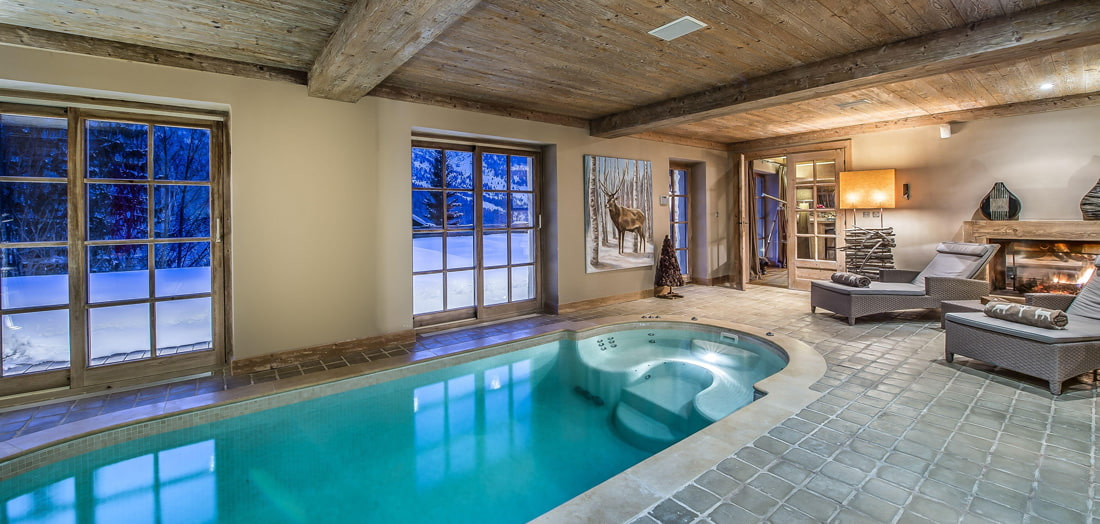 Awash in tawny beams against white walls, velvety furniture, and alpine chic decor like antler chandeliers, the Chalet D'Hadrien is the ultimate contemporary chalet escape. With room for up to 14 people, there is plenty of space to either come together in the hygge-y living room or retreat to one of the six snug bedrooms.
From the living room windows and outdoor patio, you can gaze at the mountains. With an indoor heated pool, sauna, and hammam, there are plenty of ways to recharge after long days on the slopes. On top of all this, there's also a kitchen, dining room, bar area, wine cellar, and on-hand staff.
Chalet Valentine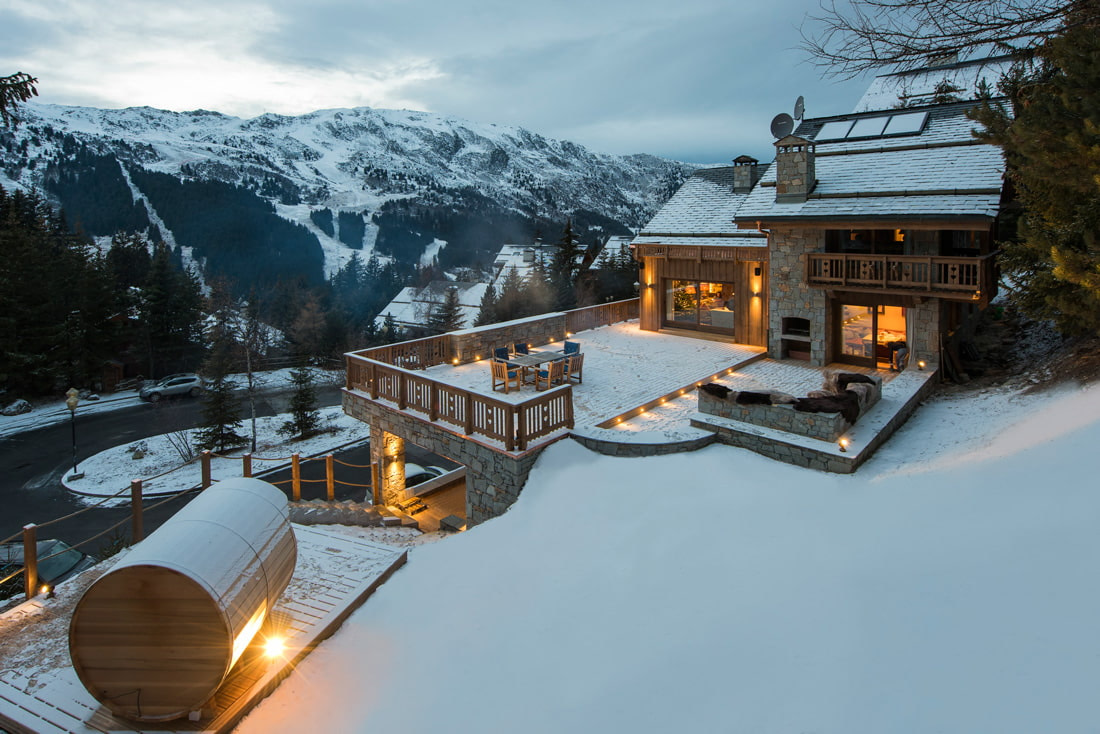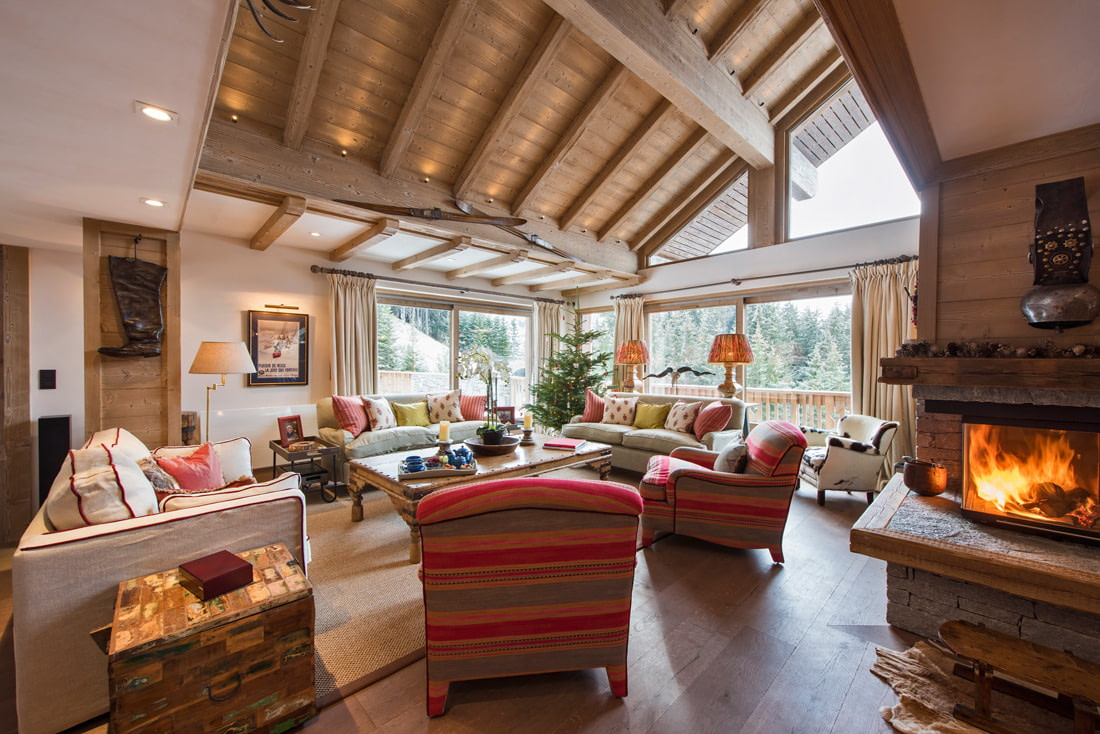 Picture yourself sitting around an outdoor fire pit, wrapped in warm blankets, looking out to the wintry French Alps. That's just one of the world-class features of Chalet Valentine.
The three-level property is outfitted in dreamy stone and wood, with a grand living room, seven bedrooms, entertainment rooms, kitchen, dining room, and outdoor patios. Its truly lavish spa facilities include a massage room, barrel sauna, cold plunge, and a hot tub.
Chalet Le Grenier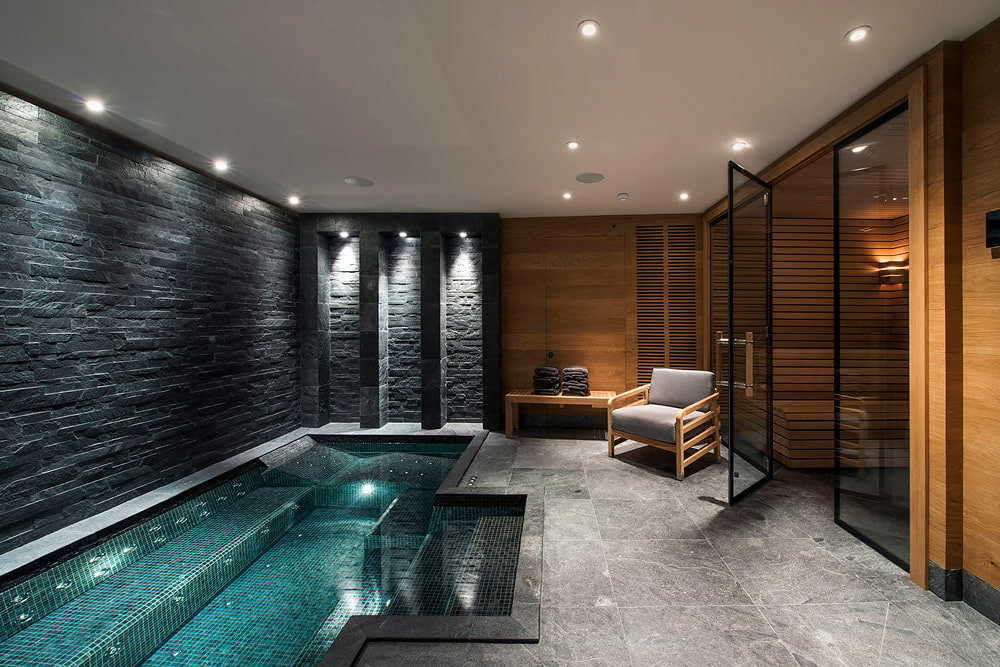 When you blend classic chalet design with contemporary taste, you get the Chalet Le Grenier. Designed by Nicky Dobree, alpine interior designer extraordinaire, the five-floor, six-bedroom Le Grenier is a visual feast of high-mountain refinement.
For skiers, the Le Grenier is a must-stay: there's ski-in, ski-out access, a ski room with boot warmers, and the Morel chairlift and Hulotte piste are right next door. At the end of the day, the sunken hot tub and sauna are available to ease tired muscles. And no need to go to the bar for apres drinks: the dedicated chalet staff, which includes personal chef and maid service, arranges champagne and canapes.
There's also plenty to keep non-powderhounds occupied, like a gym, TV room, library, game room, and lavish living room with epic mountain views.
SHL Lodge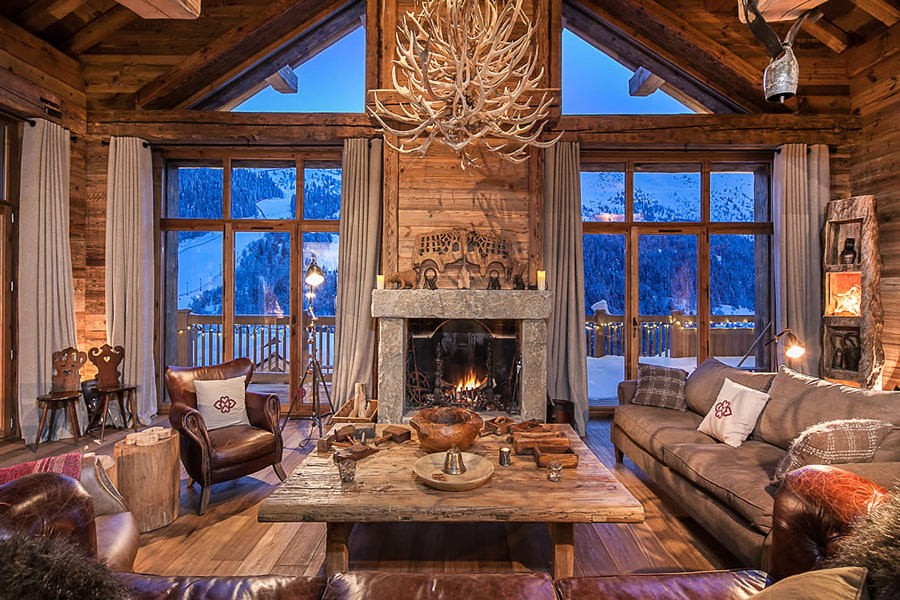 Located so close to the pistes that it's practically slopeside, the SHL Lodge is a wonder of wood craftsmanship and alpine charm. Built facing the sunny valley, the lodge's three levels of uniform wood are constantly flooded with warm sunshine.
The living room is the heart of the house, with a rough-hewn stone fireplace, supple leather couches, and a giant antler chandelier. The kitchen and dining area is also lovely, with a lengthy communal table, traditional Swiss mountain chairs, and an old-fashioned stove and oven.
The chalet has six bedrooms, seven bathrooms, a stylish spa area with hammam and lap pool for some well-deserved relaxation after a day out and about on the slopes. There's also a food and wine cellar (which was carved directly into the mountainside), outdoor patios, and staff including a personal chef, maids, and a Tailor to arrange bespoke services.
Chalet Les Brames
Contemporary design lovers will fall for the Chalet Les Brames with its minimalist, Scandinavian-inspired aesthetics. Located on an exclusive hillside lot, guests can enjoy their own private winter wonderland in style and comfort, with epic pistes right next door.
Topped with the typical chalet pitched roof, nearly an entire facade of the house are windows, bringing in light and warmth. The living room is the crown jewel, with its stone accent walls, wood beams, and outdoorsy decor (like the original branch chandelier). There are also seven bedrooms with ensuite bathrooms, an outdoor hot tub, spa, bar, kitchen and dining area, ski room, and a well-stocked wine cellar.
Chalet Dzintila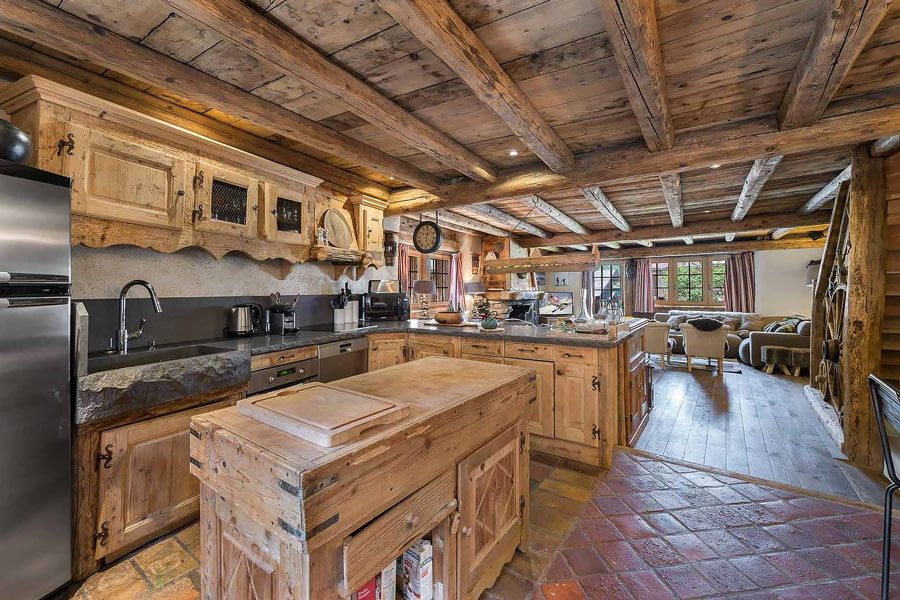 A luxury chalet? In a renovated barn? Only at Chalet Dzintila. With a rustic wood and stone exterior, cozy rooms and common spaces, and a plethora of antique furnishings, it's like stepping back in time, but with all manner of modern amenities.
Guests enter from the ground floor, which includes a spa area, ski room, and one of the six bedrooms. The spacious living room, kitchen, and dining room are located on the first floor, with the rest of the bedrooms and bathrooms on the upper floors. Lodgers are also treated to a welcome reception with champagne and goodies.
Chalet Queen Mijane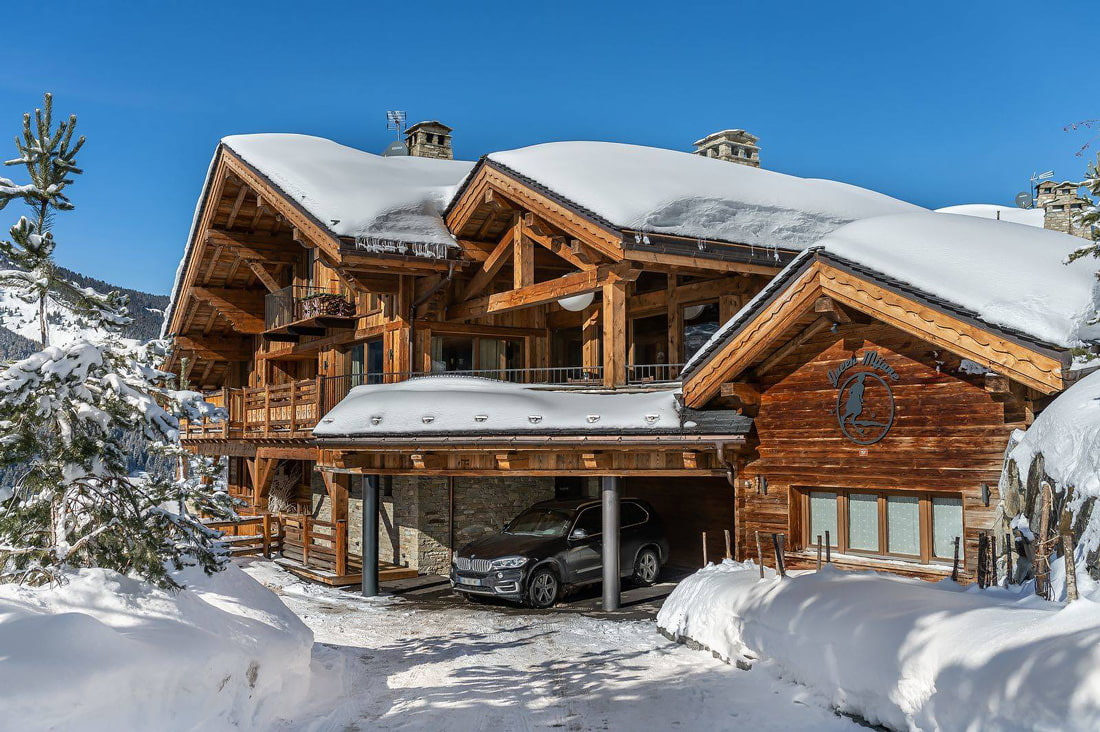 With elegant wood paneling, modern columns, fancy light fixtures, and space for up to 14 guests, the Chalet Queen Mijane is fit for royalty.
Covering 600 square meters across two upper floors, a ground level, and two lower levels, the Queen Mijane has everything you'll need for a stay in Meribel, from tasteful bedrooms, ski room, and a state-of-the-art kitchen to its own private spa area complete with swimming pool and steam room. Daily cleaning and cooking service is also included.
Chalet Bartavelles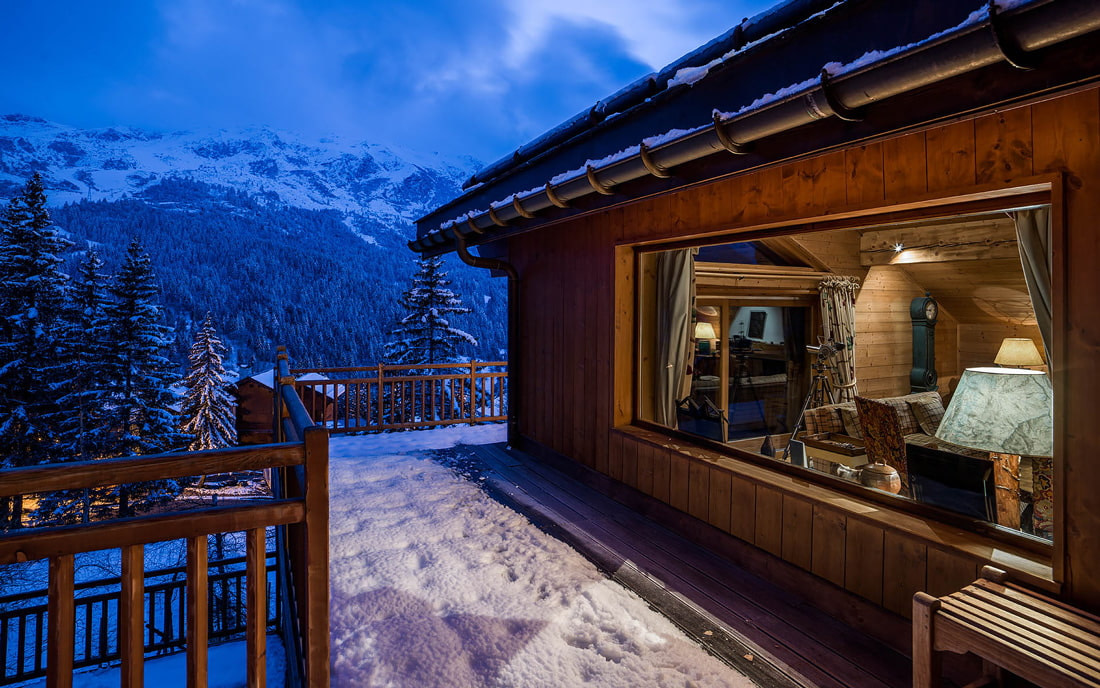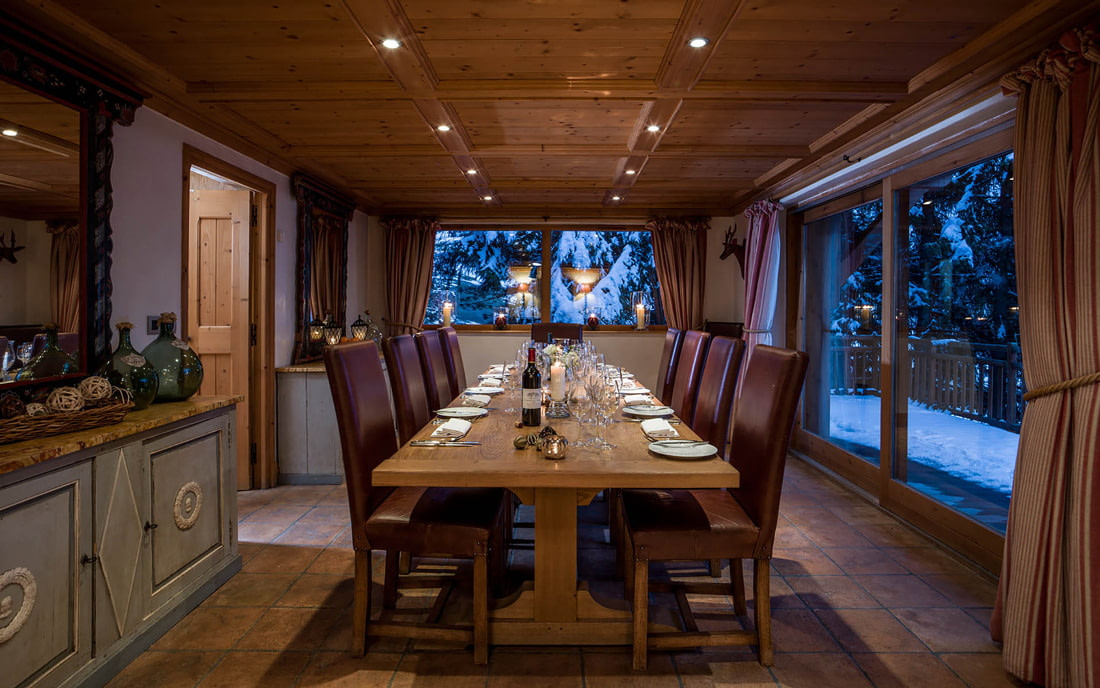 If you're looking for a chalet rental that will truly make you the envy of the neighborhood, book the five-bedroom Chalet Bartavelles, one of Meribel's finest ski-in/ski-out chalets, with a perfect location right next to the Doron piste.
Live it up with rejuvenating soaks in the supersize outdoor hot tub, allow chalet staff to pamper you with gourmet meals and bespoke services, and luxuriate in the tastefully curated rooms, all with unlimited champagne flowing at any time!