No tangible thought process occurred when planning my first backpacking trip. I merely had a hankering to hike outside and sleep under the stars and decided it was high time to do so. With that settled, I chose a trail and began haphazardly shoving things into a 50-liter backpack; a smooshed bagel here, a large jacket there. It overflowed to the point that it wouldn't have been far-fetched to think I was embarking on a month-long rendezvous across the world, not spending a single night in the wilderness.
As I climbed the trail, the bag stuck so tightly to my body that it became an extension of my being. It was also heavy enough that if gravity was unkind, I'd fall over and look like a deranged turtle unable to right itself. Although I relished in sleeping beneath the stars, I knew I had a thing or two to learn about backpacking.
Today, as I prepare for an upcoming 32 km (20 mi.), 4-day backpacking trip into the mountains, I beam with pride at the rotund yet surprisingly compact bag at my feet. Having been beautifully organized and packed with razor precision, my pack jobs now fall somewhere between an art and a science. Since that first backpacking trip, I've also gained invaluable survival skills and pushed myself both physically and mentally.
Based on years of experience, here are 10 helpful tips to conquer your first backpacking trip like a pro.
Do your research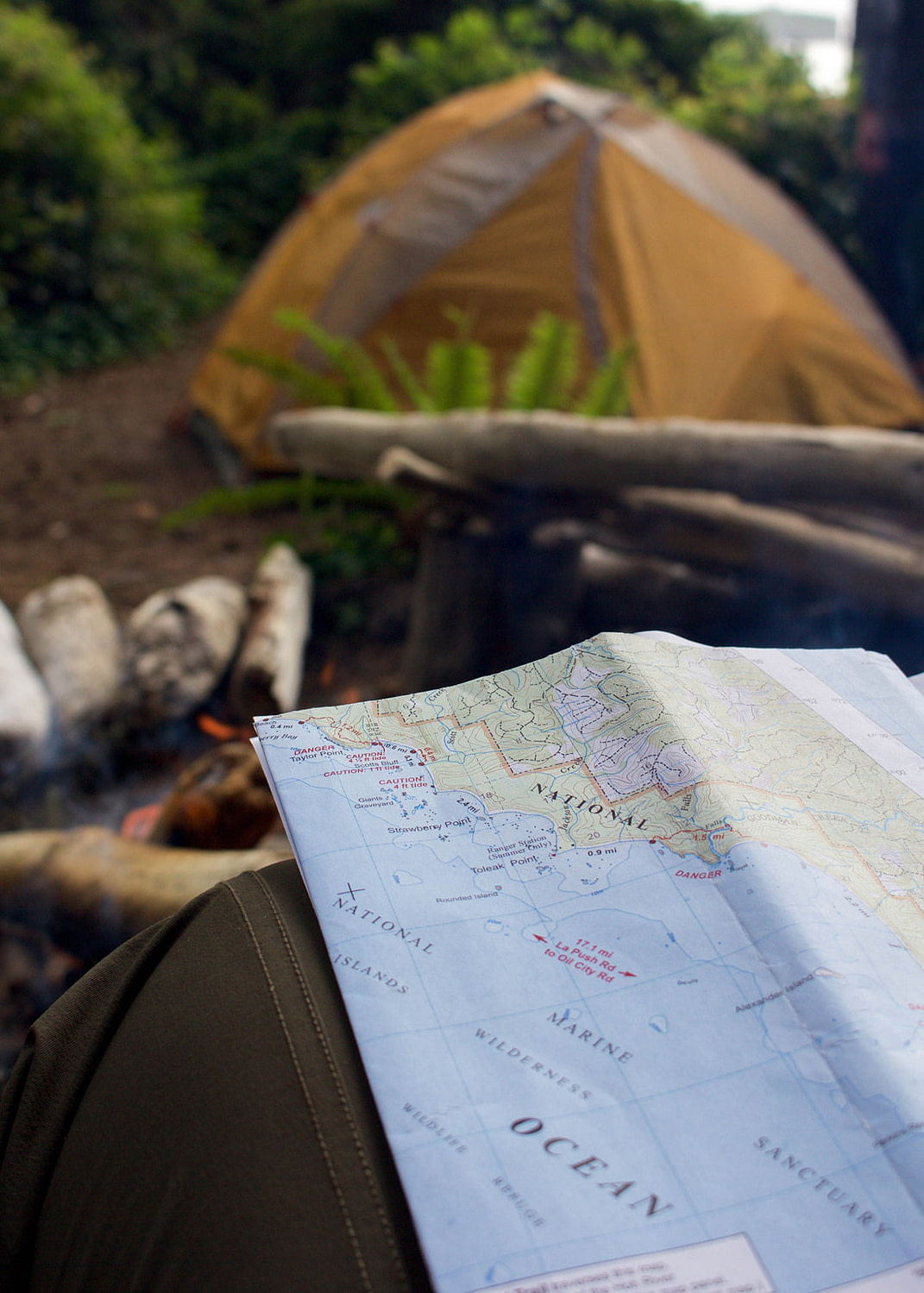 Local websites and hiking resources, such as AllTrails, are invaluable resources, especially for choosing your route. And remember: there's no need to go crazy on length and elevation yet. Instead, your first foray into backpacking should be on a simple route that matches your physical abilities. For first-timers, consider trails that are around 10 km (7 mi.) roundtrip and keep the elevation moderate, around 150-500 meters (500-1,600 feet).
Once you've selected a trail, prepare for your trip by referencing maps and checking the weather. Next, consider small, often overlooked details that can impact your experience. For example, what is the parking situation? Are there obstacles on the trail? Do you need permits to stay overnight? Conducting research beforehand goes a long way to make your trip more enjoyable.
Mentally prepare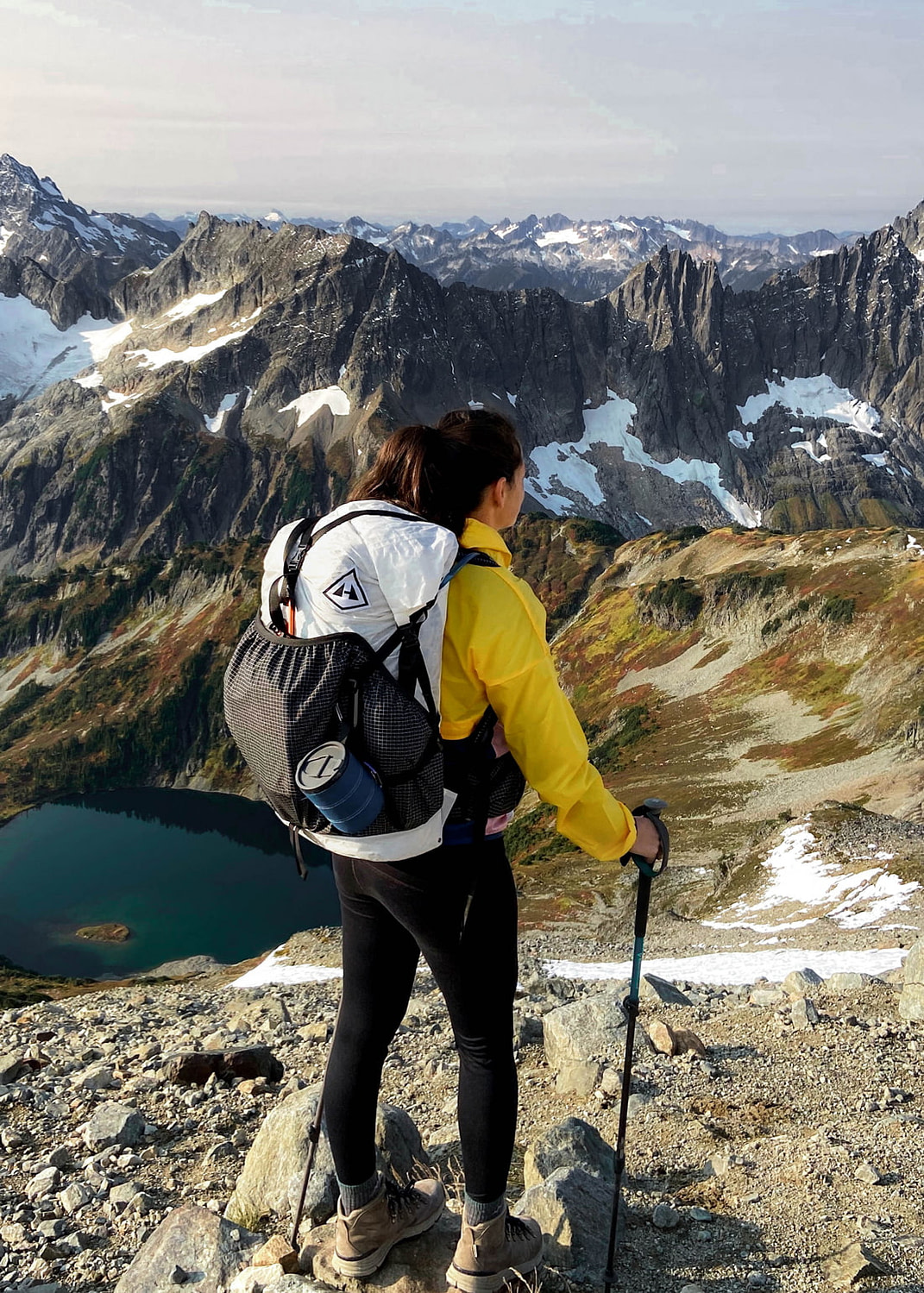 Shouldering a heavy backpack while walking uphill is a physical challenge; there's no beating around that bush. Often forgotten, however, are the inevitable mental challenges you will face while on the trail. The attitude you choose to pack when facing these tough moments can make all the difference.
First, recognize that your backpacking endeavor will be strenuous and that it will test your physical limits. Then, consider how our bodies are capable of far more than we give them credit for and that we are stronger than we think. Listen to your body and take breaks or slow down when needed – just be sure to keep going!
A mental trick I use on arduous climbs is to focus on my steps. Rather than looking at how far I have to go, I look directly ahead of me and count each step. I then give myself "rewards" for milestones reached, such as taking a short break every 100 steps, or enjoying a piece of chocolate after I've reached a shady tree in the distance. It's an excellent (and sneaky!) way to keep moving and stay motivated.
Have a food and water plan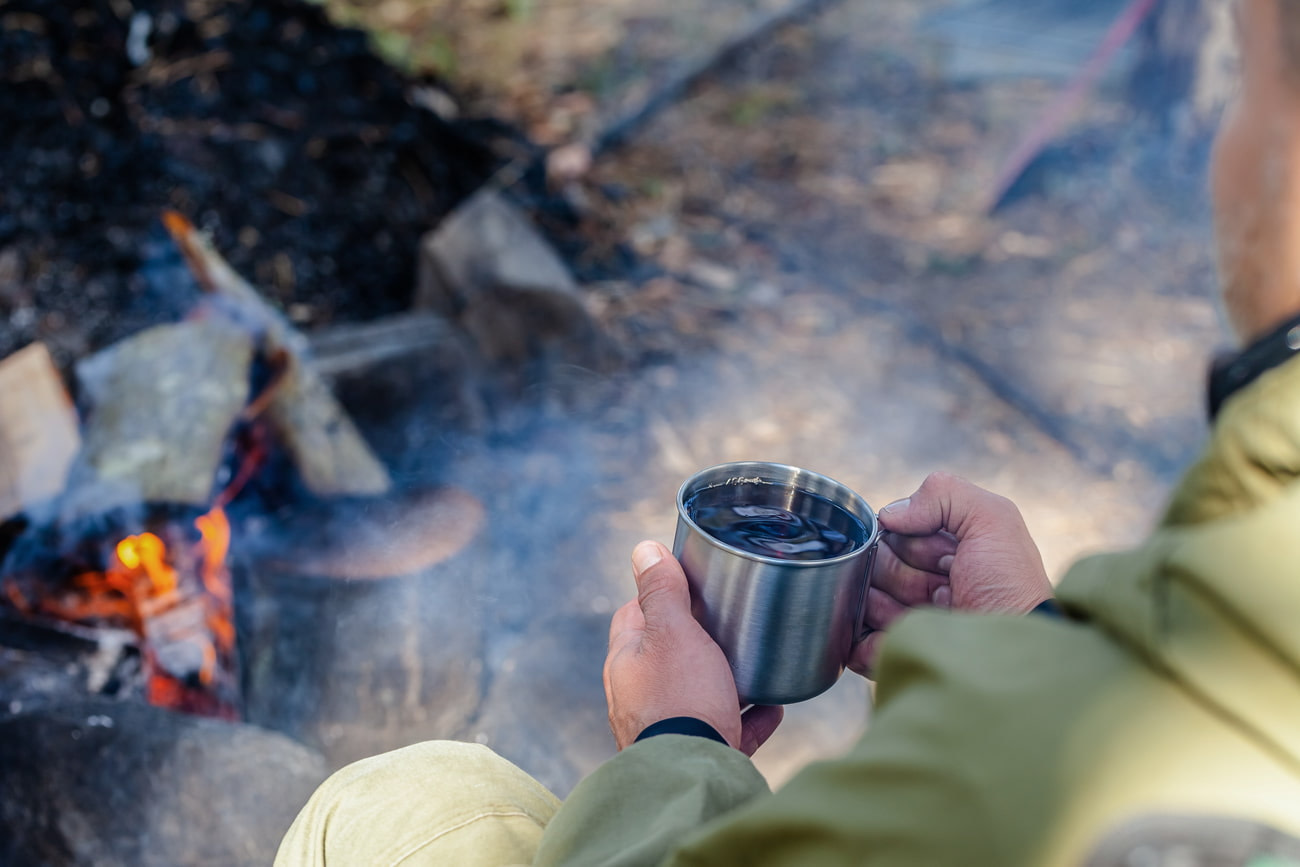 After a long day of hiking, eating protein-rich food and drinking plenty of water are non-negotiable. Dehydrated meals are a great choice since they are specifically designed for backcountry consumption, however, they require hot water and a stove. If, as a first-timer, you don't have those items quite yet, consider packing peanut butter sandwiches, smoked salmon, nuts, or protein bars.
For water, you either need to carry it all in or have a filtration system in place. New hikers may not have a fancy filter yet, and that's okay! Try borrowing one for your first trip or purchase something cheap (but reliable). If packing your water in, bring purification tablets as an emergency backup in case you run out of water and need to use streams.
The best gear to bring is the gear that works for you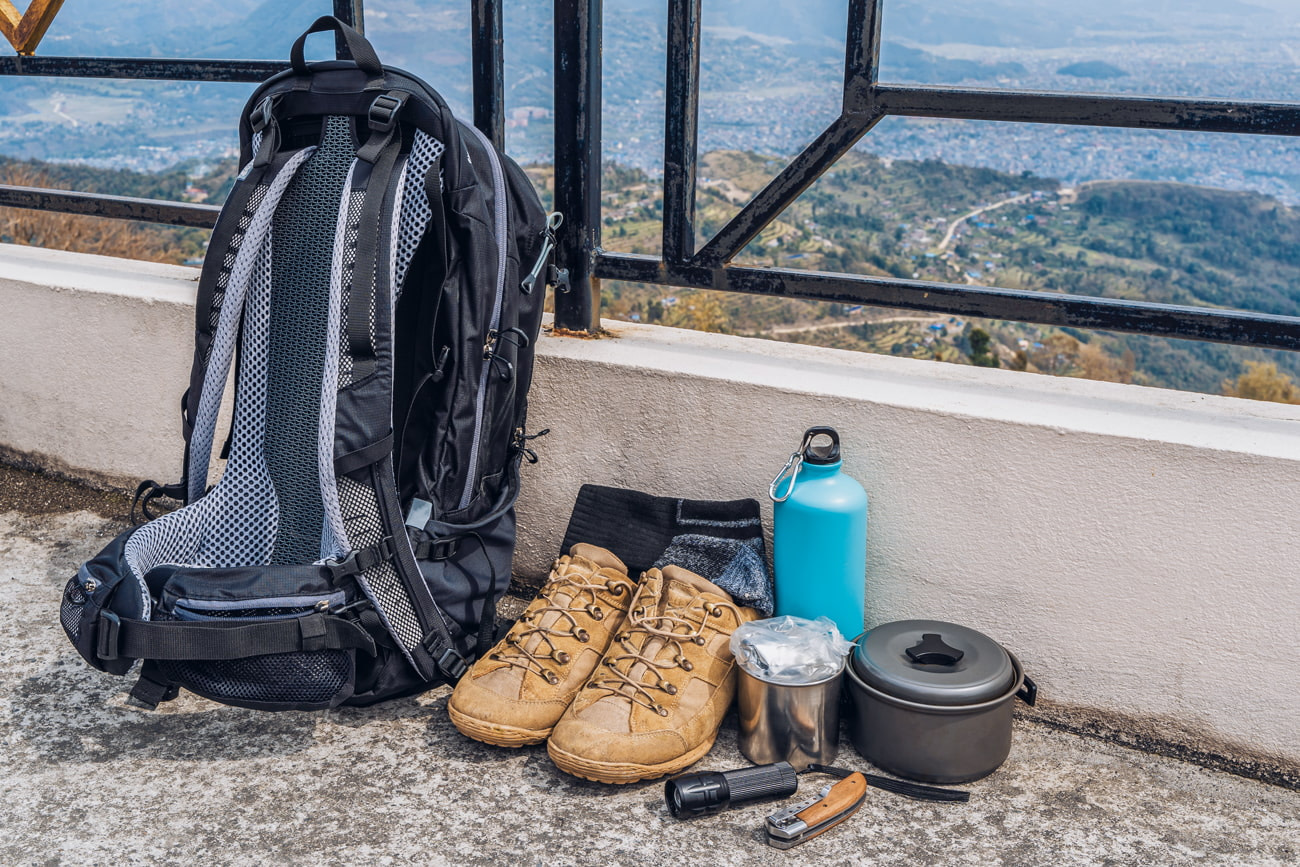 It's true that major outdoor brands have meticulously researched and vigorously tested products, but when you're just starting out – or even if you're an old pro – the best gear is not necessarily the fanciest out there. Instead, opt for gear that works for you.
Rather than buying a brand new pair of expensive boots because you've seen other hikers wear them, consider bringing a solid pair of trekking shoes that you know are comfortable and fit well. If you do buy new, wear them outside on a few walks before your trip.
As for camp gear, such as tents and sleeping bags, try renting or borrowing from a friend. If purchasing, keep the cost low and choose basic items. You can upgrade later once you've fallen in love with backpacking and learned what works for you.
Pack like a pro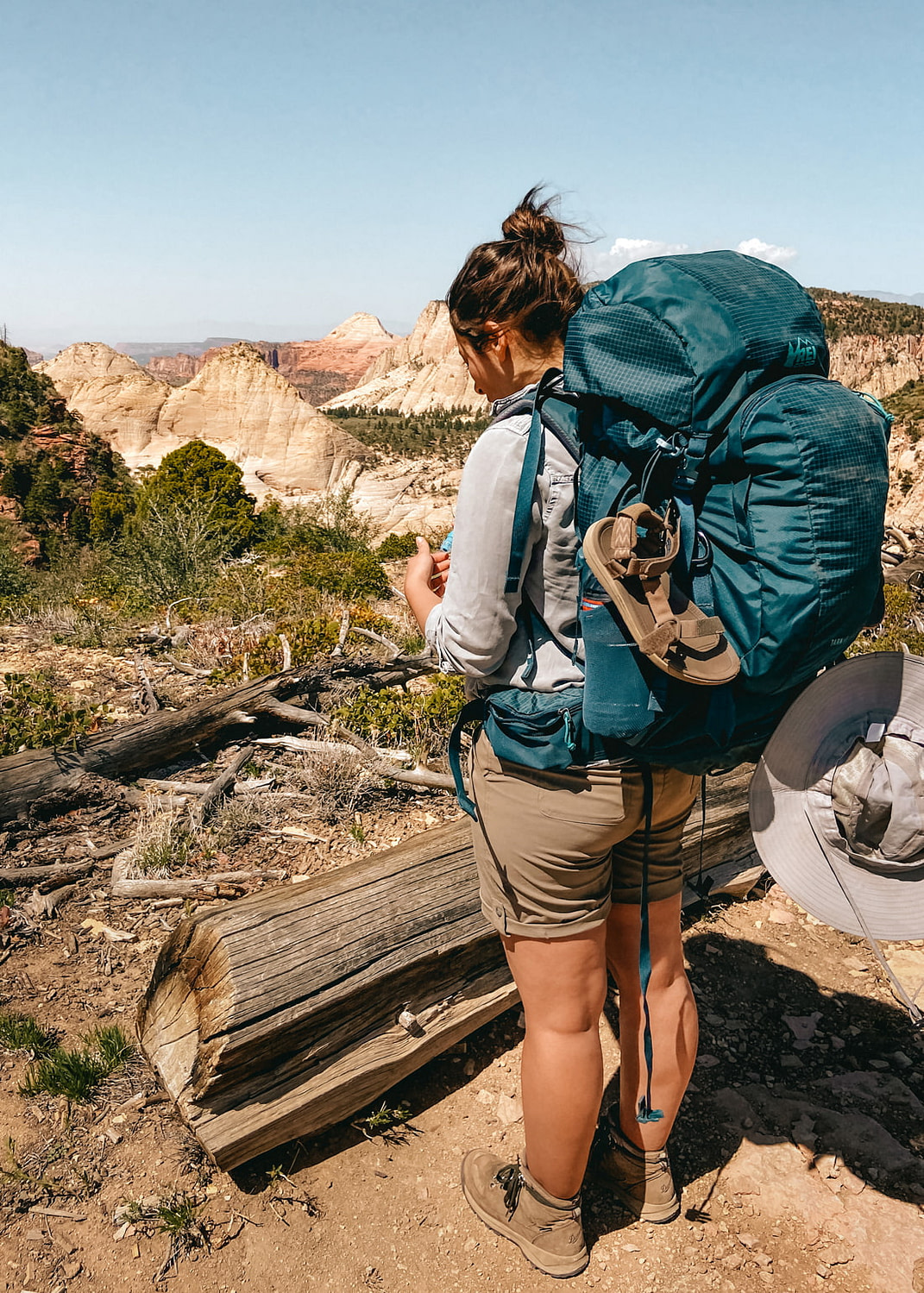 First and foremost, bring only what you need – which is far less than you think. To make your bag as light as possible, skip heavy items like food in glass jars and bulky clothes. It may not seem like a big deal when hoisting your backpack in the living room, but you may regret bringing that hardcover book when you're deep into the trail. That said, don't be opposed to bringing a luxury item or two if it will enhance your experience. My vices are a travel-size cribbage board and a can (or two) of beer.
When packing, start by putting bulky items and things you won't need until camp at the bottom of the bag. Then, place your heaviest items in the middle to help maintain your center of gravity. Lastly, top it off with clothes and other light items. Make sure your first aid kit and a few snacks are within easy reach – you don't want to stop and scramble for them mid-hike when you need them most.
Stretch!
Once you reach camp, it will be extra tempting to plop down and relax after a long day of hiking – and you should, you deserve a break! – just be sure to stretch a little before doing so. Spend a few minutes doing simple, low-impact stretches, such as toes touches, arm circles, calf extensions, and butterflies, both before you start your hike and after you reach camp. Your body will thank you later, I promise.
Learn trail etiquette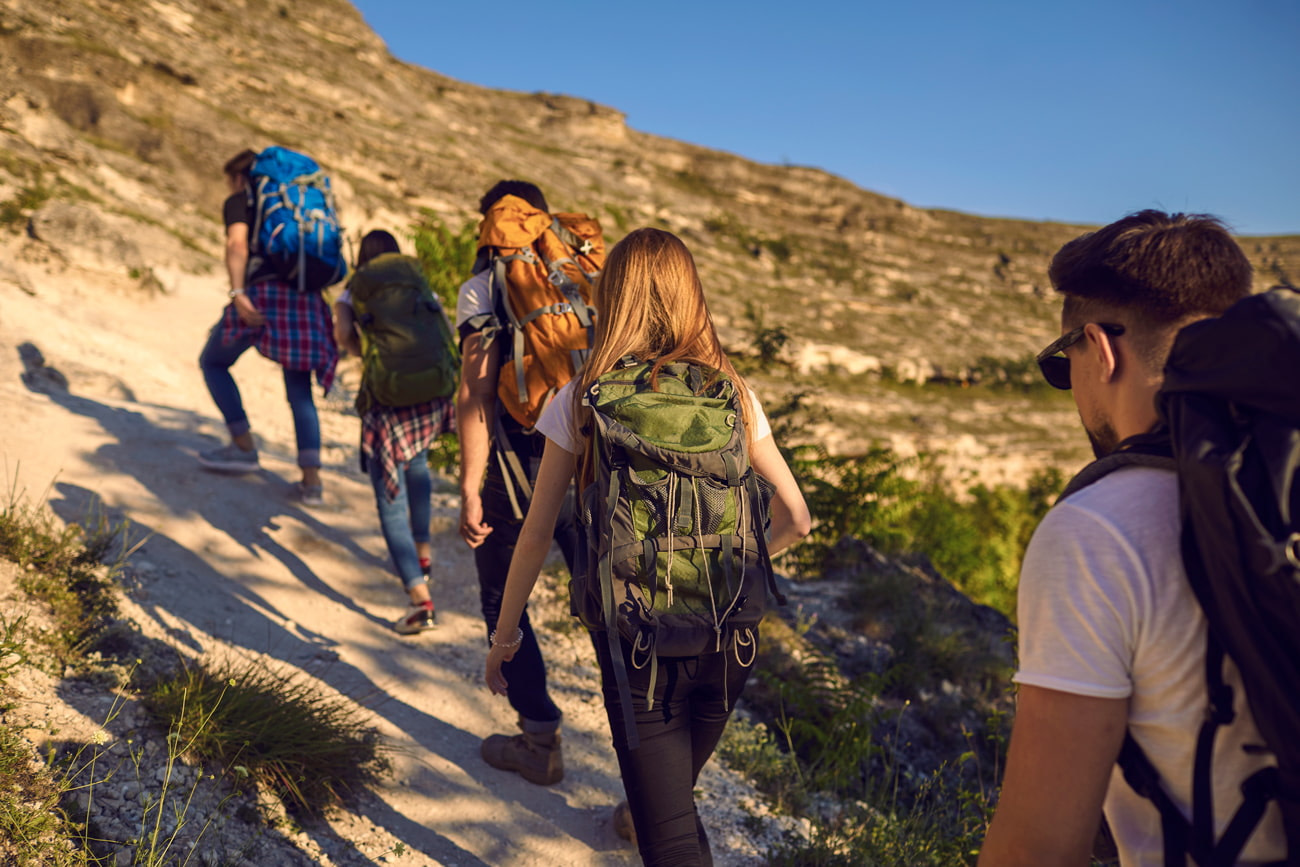 As with any new hobby or sport, it is important to learn its basic rules and etiquette. This helps you blend in and also ensures that you recreate respectfully.
With hiking and backpacking, an important rule of thumb is that people hiking up have the right of way. This is so they don't lose their momentum. If you're descending and see hikers ahead, offer to step aside and let them pass.
Other ways to be a mindful backpacker include refraining from playing loud music on portable speakers and picking up after yourself. For example, when packing up your campsite, double-check that no litter is left behind – including small food scraps. Trash is not only unsightly to others, but more importantly, it degrades the environment and can adversely impact wildlife. If you're ever unsure, take cues from other hikers, or better yet, ask experienced backpackers and learn from them.
Bring the right clothes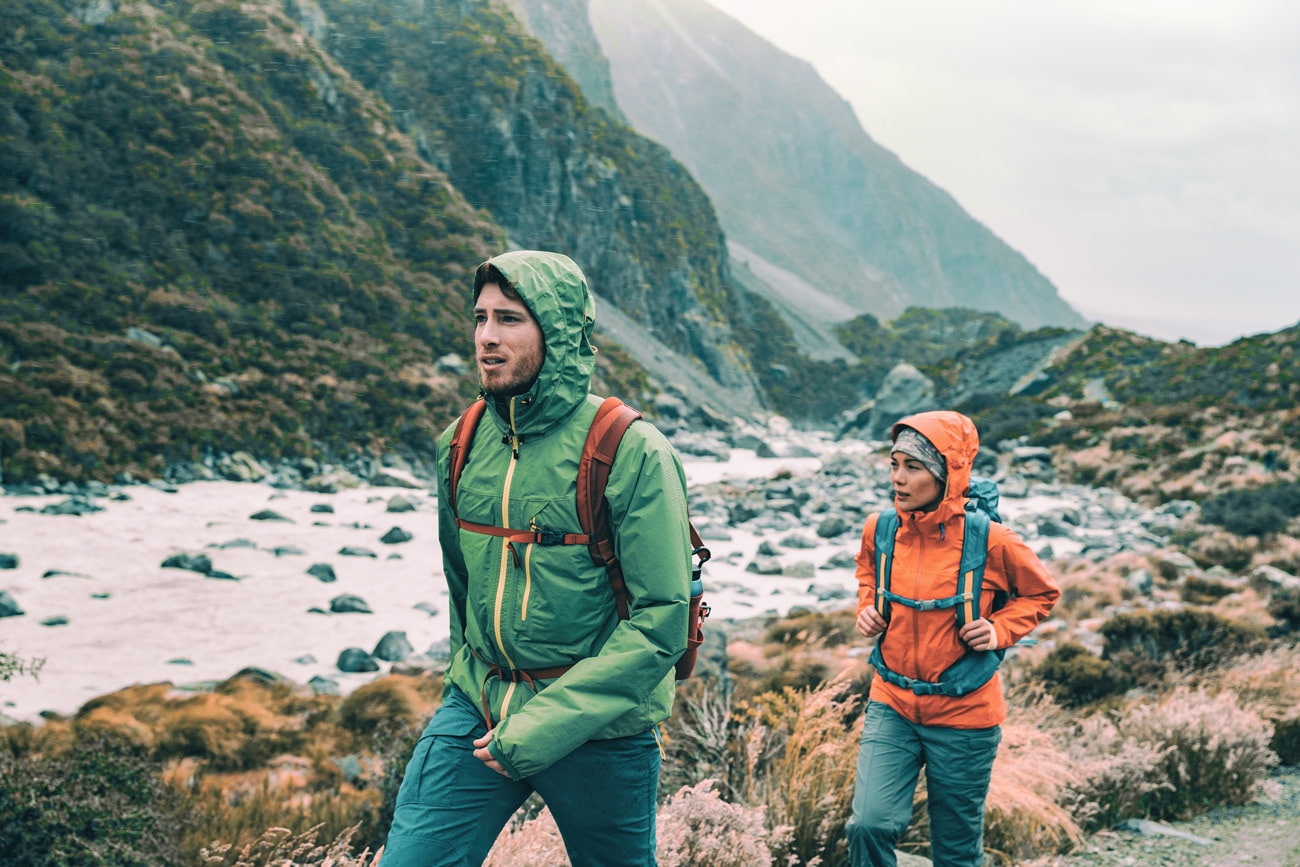 Layers are the name of the backpacking game! During your adventure, you will trapeze through various environments and it's important to pack clothes for whatever weather you may encounter. While you may start your trip at 600 meters (2,000 ft.) where it's warm and sunny, your campsite may be up at 1,500 meters (5,000 ft.) where the wind is blowing something fierce. Plus, trails can have snow well into summer.
When packing, choose workout clothes that have breathable, moisture-wicking fabric (think nylon, polyester, and wool) and bring a warm, lightweight jacket and pullover for inclement weather and night temperatures. To avoid overpacking, consider what items you can rewear or layer with.
Don't forget the post-hike bag
Being well-prepared isn't limited to planning your backpacking adventure and actually doing it. Nay, it extends to those final moments when you are about to head home as well. I've learned from experience that there is no sweeter gift to yourself (and those you're with) than a set of clean, fresh-smelling clothes and a beverage eagerly waiting for you in the car after an epic journey in the wilderness.
Enjoy your hike – even when it doesn't feel enjoyable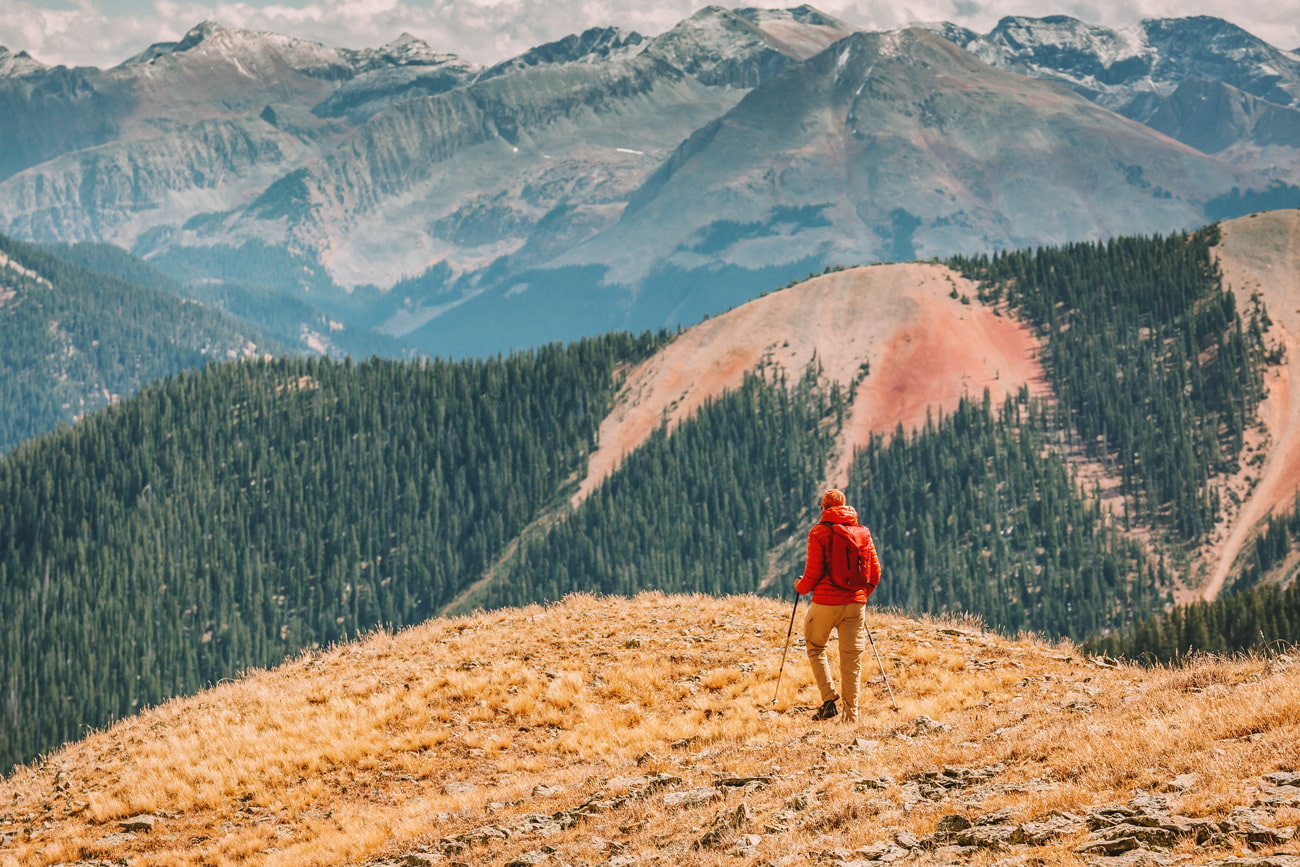 During your backpacking trip, you will get sweaty and tired and hungry. You may get bored a few hours in or feel ready to go home after one night. You won't be eating 5-star cuisine and your sleeping quarters are not glamorous. But that's all part of the fun! In the moments when the going gets tough, take a look around and remember that you are breathing fresh air and surrounded by spectacular scenery.
Backpacking is all about classic Type 2 fun; it may be grueling in the moment but in hindsight, it is worth every incredible step. Enjoy the phenomenal views along the trail and be sure to give yourself a solid high-five at the end – you deserve it.