This post contains affiliate links, which means we may receive a small commission, at no additional cost to you, if you make a purchase through these links. See our full disclosure here.
For most visitors to Chile, the port city of Valparaiso, located an hour and a half from the capital of Santiago, is often relegated to being a footnote, explored in a rush within a few hours or a short day. But the best way to truly experience this crazy bohemian city is to know it at its own pace: slowly, leisurely, preferably with time for a long lunch and a few glasses of wine.
A full weekend (or longer) is necessary to fully explore and know this Jewel of the Pacific, famous for its colorful houses, vibrant street art, and multiculturalism, a product of the city's past as one of the continent's top ports.
These are the best ways to spend 48 hours in Valparaiso, as recommended by a local porteña herself!
Find a Hotel with the Best Views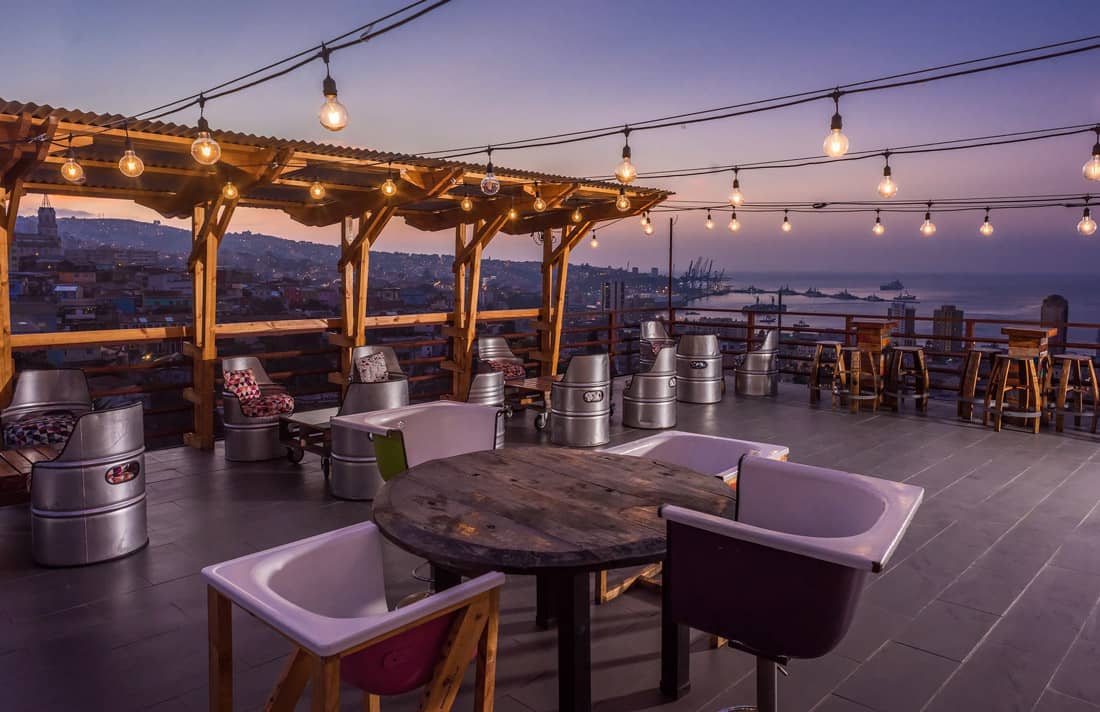 Tourism is one of the biggest industries in Valparaiso, which attracts visitors with its history, art, hippie vibes, and proximity to wine country. Therefore there are a wide range of accommodations, from cheap, artsy hostels to elegant old-world hotels.
To get the best of Valpo, book a hotel up on the hills: it's closer to the top attractions and you'll wake up to expansive ocean views.
The Palacio Astoreca is one of the crown jewels, a 23 room outfit housed in a decadent, restored mansion from the 1920s. Looking out onto Cerro Alegre, Fauna Hotel offers a more trendy, modern stay, as well as hosting one of Valpo's top restaurants. But newcomer Winebox Valparaiso is fast becoming the place to stay. Run by winemaker Grant Phelps, this wine-themed hotel – where you do tastings and even help make wine in the basement – is constructed from upcycled shipping containers and covered in street art, making it an exciting new addition to the architectural scene in Valpo.
Visit Pablo Neruda's House
Nobel Prize-winning Chilean poet Pablo Neruda adored Valparaiso, praising its crazy personality, bold colors, and connection to the sea. All of these things he incorporated into his home, La Sebastiana, one of three houses that he maintained in central Chile (the others are in Santiago and El Quisco).
A wobbly pile of floors filled with the flotsam and jetsam from Neruda's many adventures (a wooden horse from a carousel in Paris; a punch bowl in the shape of a cow; many nautical theme items, etc.), the whimsical La Sebastiana looks out over the bay from Cerro Bellavista, and visitors can take an audio tour to learn about the various items around the house and Neruda's life.
Discover the City's Street Art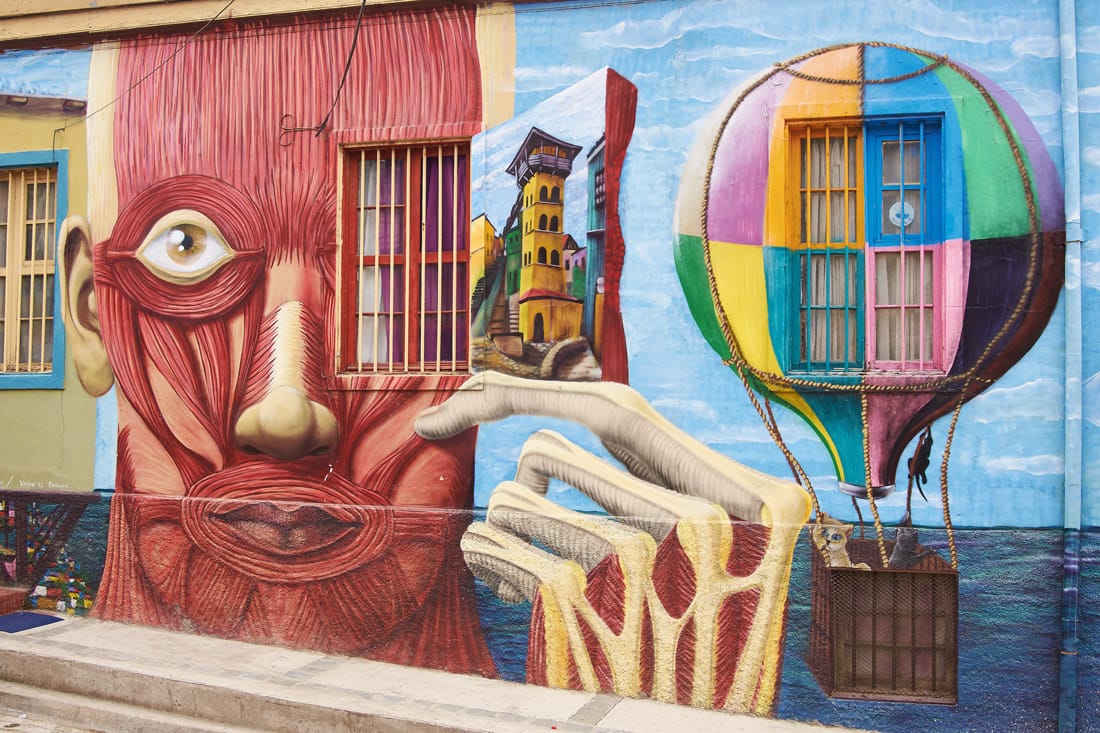 Valparaiso is regarded as one of the best cities for street art in South America, full of splashy, colorful murals in a wide range of styles.
The best place to start is on Cerro Alegre and Concepcion, where you'll find famous murals like the piano key staircase, a swirling ode to Vincent Van Gogh, a bored-looking grandmother glowering from a facade, and the classic "we are not hippies we are happies" sign. Most are painted by Chilean artists, but painters come from all over the world to make their mark on the walls (keep your eyes peeled: legend has it that Banksy has a hidden piece somewhere).
Then walk up to Avenida Alemania to take the "O" bus (a popular ride because of its sweeping views of the harbor and city) to Cerro Bellavista to visit the Museo de Cielo Abierto (the Open Air Museum). Painted throughout the 1990s, this series of twenty murals is lesser-known (and sadly, not as well maintained) as the artwork elsewhere in the city but it's still a great visit, full of abstract and reflective work.
You can see all of the city's best street art on your own, but if you're looking for some background about the artwork or the artists, Valpo Street Art offers highly informative and fun tours, one of which even has the option for you to help create your own piece of graffiti or take part in drawing a mural.
Ride in an Old-Fashioned Street Trolley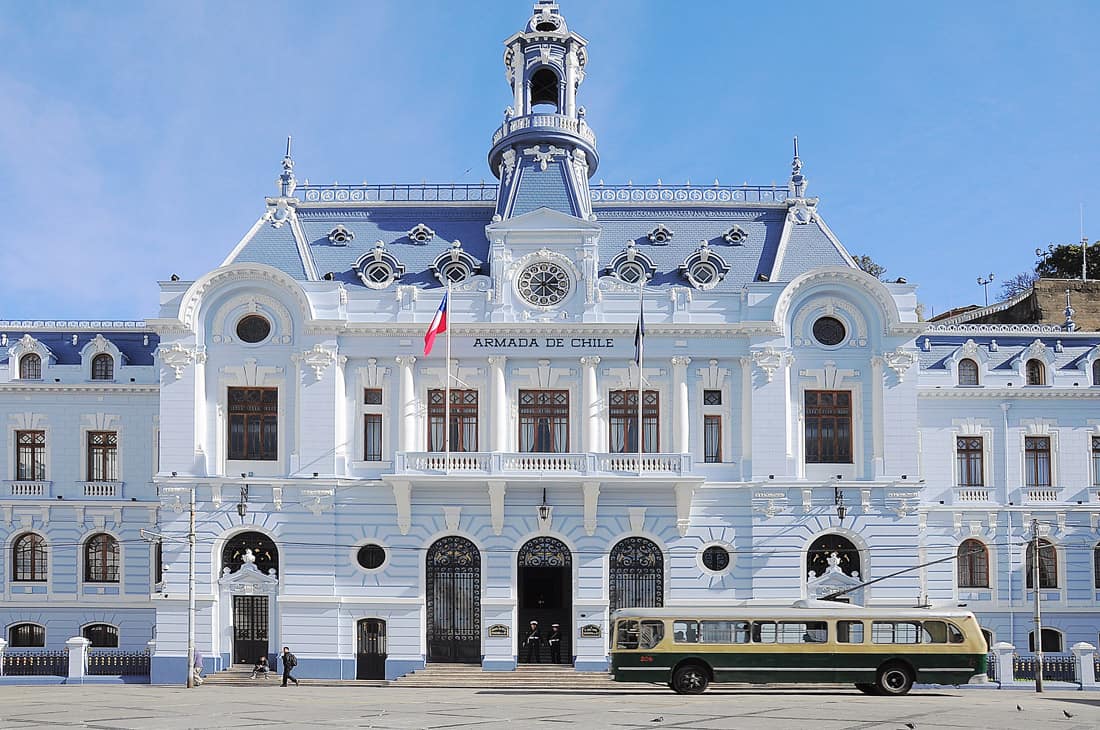 Descend from the cobblestoned hills to the plan, the stretch of urban grid that's squeezed between the base of the hills and the shore, and here you will find one of the best preserved and most beloved examples of Valpo's history: the street cars.
Made by Pullman-Standard and operational since the 1950s, these cream-and-green trole buses, decked out with cracked leather seats and buzzing golden lights, rumble through the streets along electric cables and are part of the reason UNESCO designated Valparaiso a World Heritage Site.
A ride costs roughly 250 CLP (approx. 0.36 USD) and you can take the bus from the port neighborhood at one end of the city to the depot on the other side of town on Avenida Argentina, by the Congress building.
Explore Cerros Alegre and Concepcion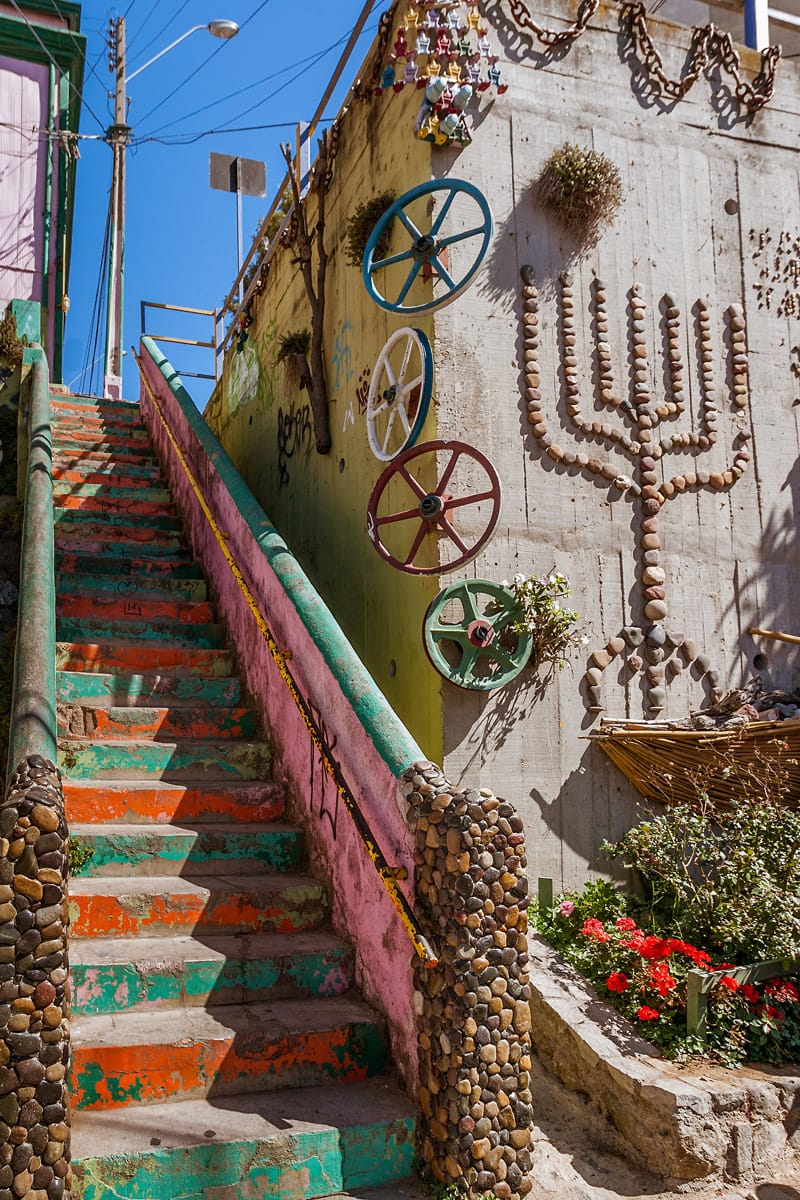 In addition to the street art, these two hills, which look out over the port, are two shining examples of Valparaiso's history, architecture, and culture.
Bisected by cobblestoned streets and hidden alleyways, here you can wander for hours stopping in cafés (El Desayunador is a classic), visiting artisan shops, exploring the Fine Arts and Lukas museums, admiring the German-esque houses covered in brightly painted corrugated iron, people-watching over plates of fried fish and glasses of pisco sour, perusing art galleries, and taking in the view of the surrounding rainbow hills and the ocean from the Atkinson and Gervasoni lookouts.
Stuff Yourself with Fresh, Delicious Seafood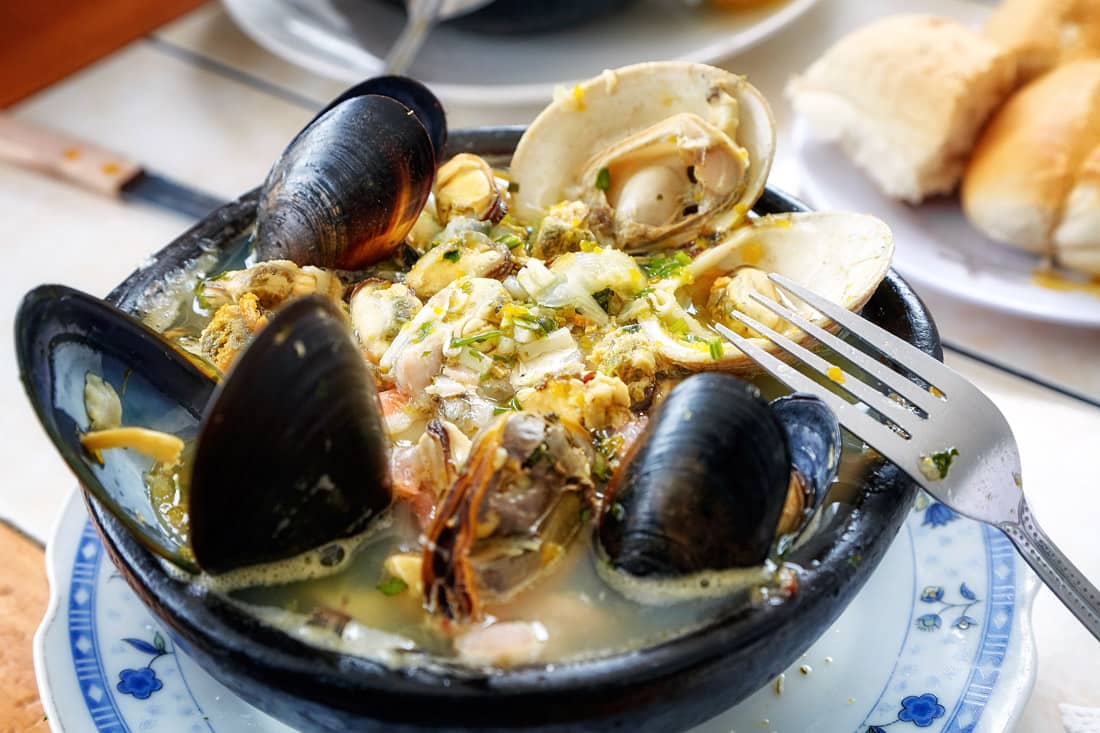 With the ocean just steps away, you're guaranteed one of the freshest seafood meals you've ever had.
The port neighborhood and Caleta Portales (where the local fish market is) are the best places for a freshly-caught meal, full of established restaurants that have been around for years that know what they're doing: catch of the day served fried; chupe de centolla (crab cake); paila marina (seafood stew); seafood empanadas; and mussels are all surefire hits.
But if you're looking for something a bit more elegant, upscale spots like Espiritu Santo, Caperucita y el Lobo, and Restaurant El Concepcion all elevate the simple fruits of the sea to sophisticated fine dining with wonderful results.
Ride the Funiculars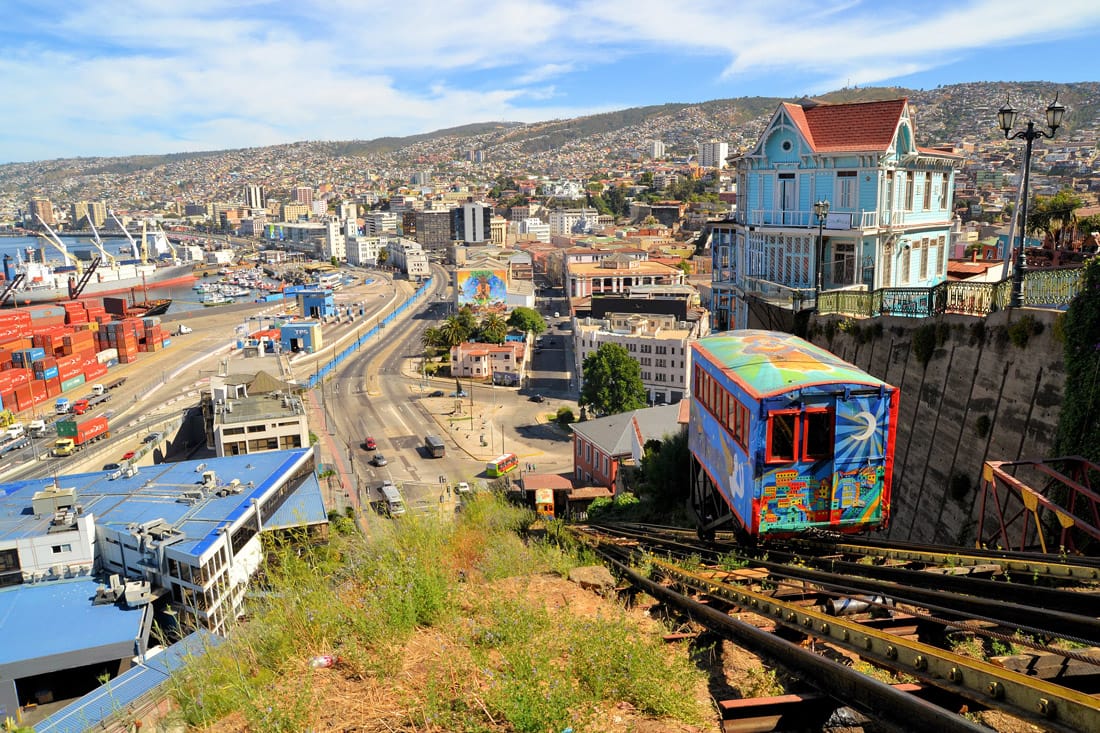 Valpo is known as the "San Francisco of South America", not just because of its colorful houses and hippie counterculture, but also because it's a hilly coastal city, full of steep staircases and winding streets: there's even a saying in Chile that women in Valpo have the best legs from all the climbing they have to do. So residents who don't want to take the stairs use funiculars: wooden elevator cars that roll up and down hills on tracks.
Over time, many of the funiculars have fallen into disrepair except for some of the more popular ones like Reina Victoria on Cerro Alegre, Concepcion on Concepción, Bellavista, and Polanco (a true vertical elevator that ascends into an overlook tower), but the city is now making efforts to renovate the out-of-order ones.
You can ride the funiculars (which are all safe) for about $100 pesos (roughly 0.15 USD).
Escape for an Afternoon to the Vineyards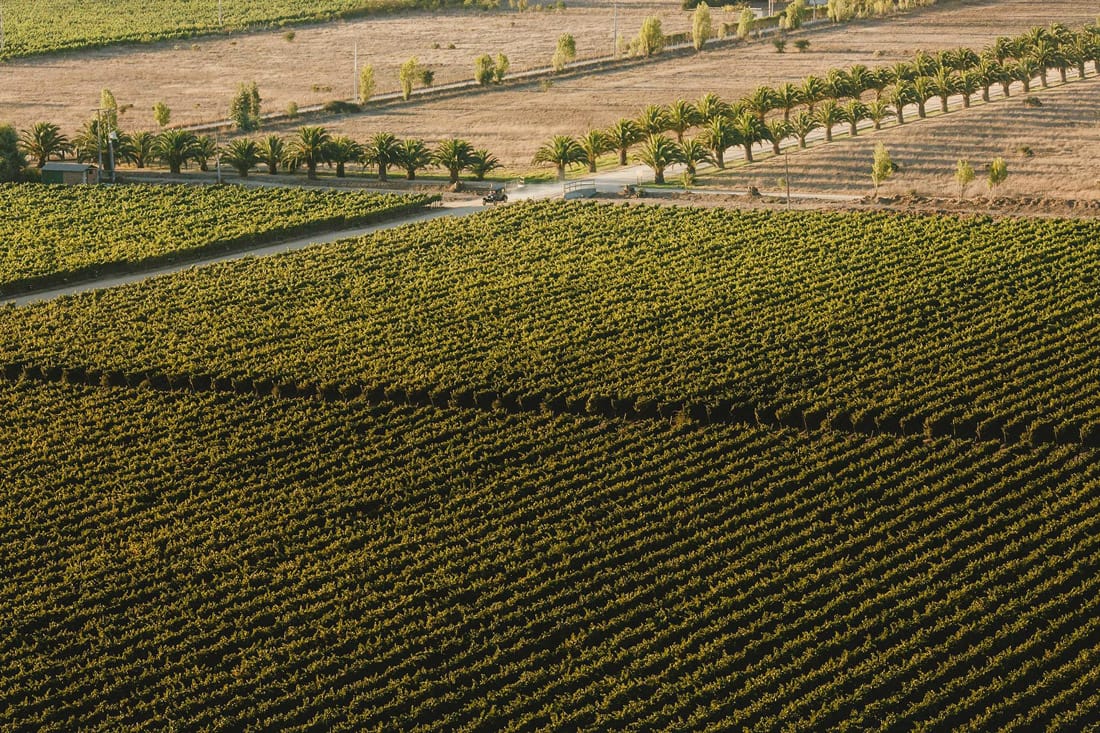 Valpo is just a short half-hour drive from one of Chile's best wine valleys, Casablanca, so finding the time to squeeze in a quick afternoon tour of some of the wineries is well worth your while.
There are many excellent, world-class wineries in Casablanca, and different tour companies offer different packages (you can also rent a car and visit the wineries yourself, although some require advance booking; taking a bus to the central town of Casablanca and biking between wineries is also an option).
Several of the most prestigious and best-known vineyards include Bodegas RE, Casas de Bosque, and Indomita, where you can tour the facilities, visit the vineyards themselves, and then have tastings of each winery's best offerings (Chile is famous for its reds like Carmenere and Cabernet Sauvignon, as well as crisp whites like Sauvignon Blanc).
One must-visit spot is Emiliana Vineyards. Surrounded by patchworked fields of lovingly maintained vines, Emiliana takes a more organic and biodynamic approach to its growing, harvesting, and pressing/aging methods, which have produced some of Chile's finest reds and whites.
Party Late into the Night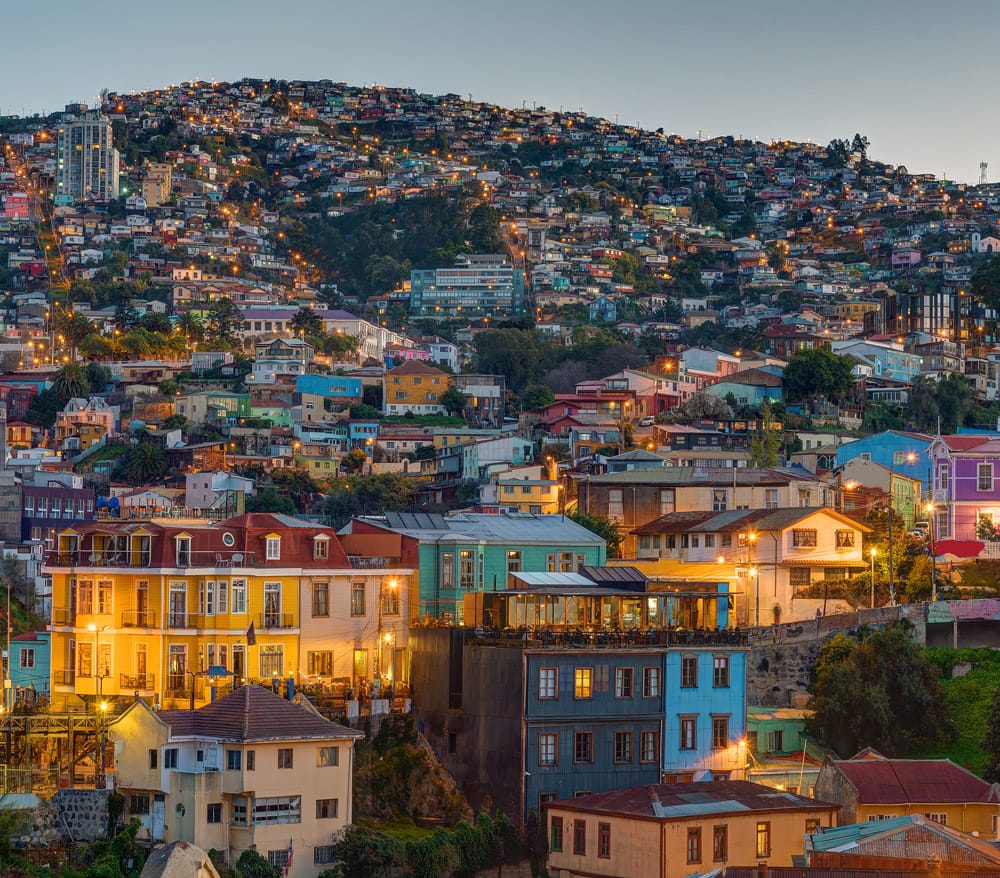 Valpo's legacy as a port city and center of bohemian culture has given it a riotous and never-ending nightlife that starts at dusk and ends when the sun peeks over the hills.
Begin the evening with drinks and a bit of history at Bar Cizano, which has been open since 1896, and where locals and foreigners can mingle and chat over glasses of piscola (pisco and Coke).
Beer lovers should check out the local hops scenes at Altamira and Hotzenplotz, two local breweries with German roots, and cocktail connoisseurs will delight at the inventive creations at Bar de Tio and Bar de Pisco. Another popular stop is El Viaje, a rowdy bar with live music whose interior has been remodeled to look like one of Valpo's classic street cars. Then head to one of the dance clubs in the port neighborhood: La Piedra Feliz is a porteño institution, with multiple dance floors, live music, and plenty of classic Chilean drinks.
Finish the night (and soak up the booze) with a plate of chorrillana, a pile of french fries, sausage, fried onions, and fried eggs that will banish any possibility of a hangover.