Slovenia, a small country tucked in the mountainous contours of Central Europe, boasts jaw-dropping natural scenery all year round. While it is a popular travel destination in spring and summer, it is during wintertime that Slovenia truly outdoes itself.
From December to March, the once-green hills and forests are dusted with powder as the snow-filled peaks of the Julian Alps create a dramatic backdrop behind them. Traveling during the off-season also has its perks; not only is it cheaper to visit, but you'll practically have it all to yourself! From epic adventures high in the mountains to sunny seaside escapes (and all the snow-covered castles in between!), there are endless opportunities to relish in Slovenia's dreamy winter paradise.
Here are ten winter experiences to add to your Slovenia itinerary:
Visit the Charming Town of Škofja Loka
The medieval town of Škofja Loka lies less than an hour's drive north of Ljubljana, making it an excellent day trip option. Here, visitors can marvel at the colorful Bavarian-influenced architecture with its quintessential red roofs and spend the afternoon wandering the charming streets of the Old Town. Essential sights include the Capuchin Monastery, Old Town Hall, and the Granary, all of which boast a rich history.
A trip here is not complete, however, without seeing the famous Capuchin Bridge, a stony semi-circle masterpiece that is even more magical under a blanket of snow. For a great overview of the town, take a 15-minute stroll to St. Cross Church. The panorama, featuring the 12th-century Loka Castle front and center, is unbeatable!
Take in Views from Ljubljana Castle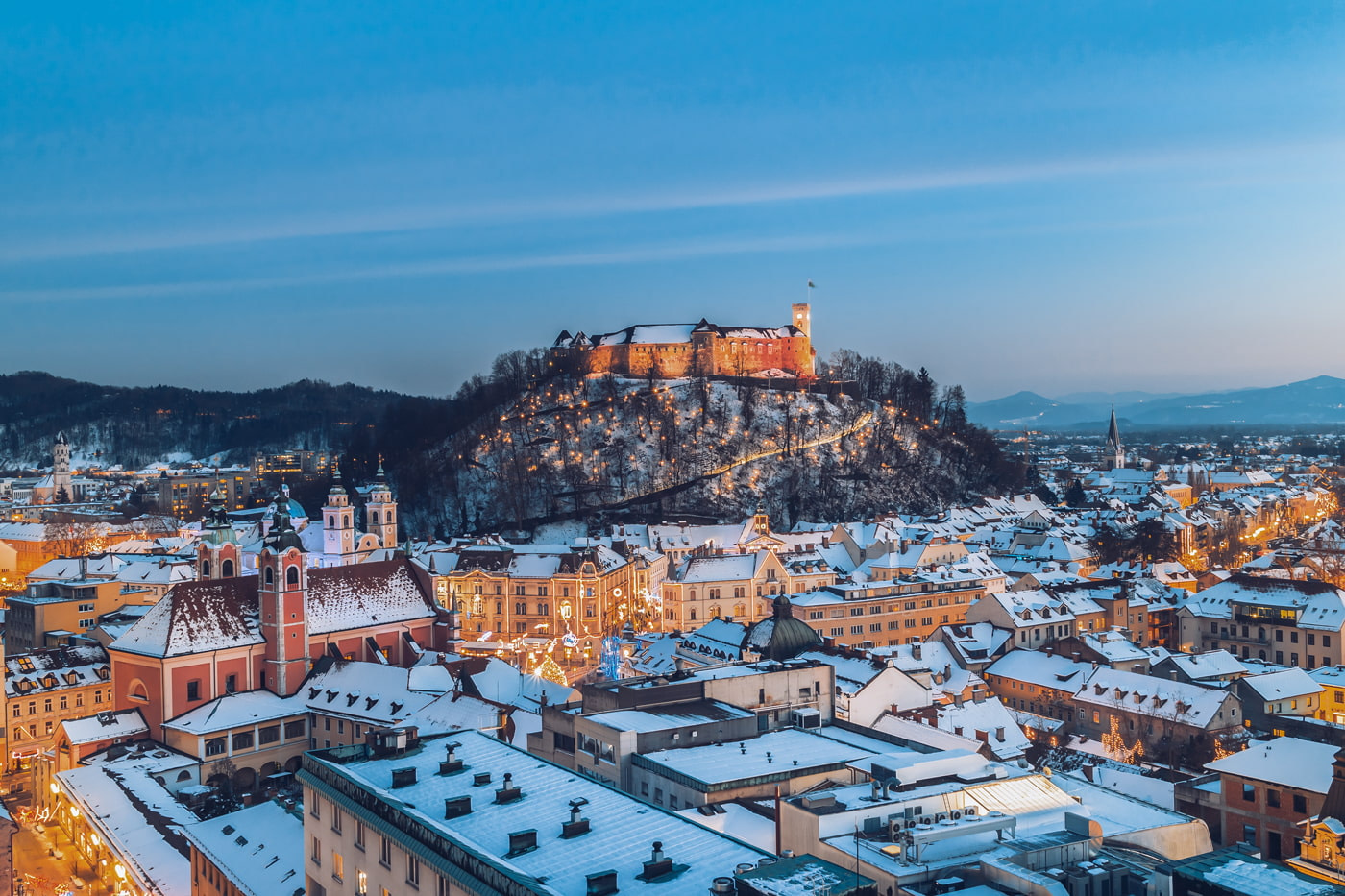 Built in the 11th century as a medieval fortress, Ljubljana Castle towers over the city. Over the years, it has served as a home for kings, a dwelling for armies, and even as a prison. To visit, bundle up and climb the snowy hillside, starting from the town market. Meander down alleys and through tree-lined trails until emerging at Castle Hill, which offers first-rate views of the city below. Not a walker? Take the funicular up!
If the weather proves temperamental, duck inside to explore the castle's history or slip into their cozy restaurant for a hearty meal with a side of scenery. On clear days, enjoy the crisp air and wander the grounds as they lay covered in snow.
Warm Up with Hot Chocolate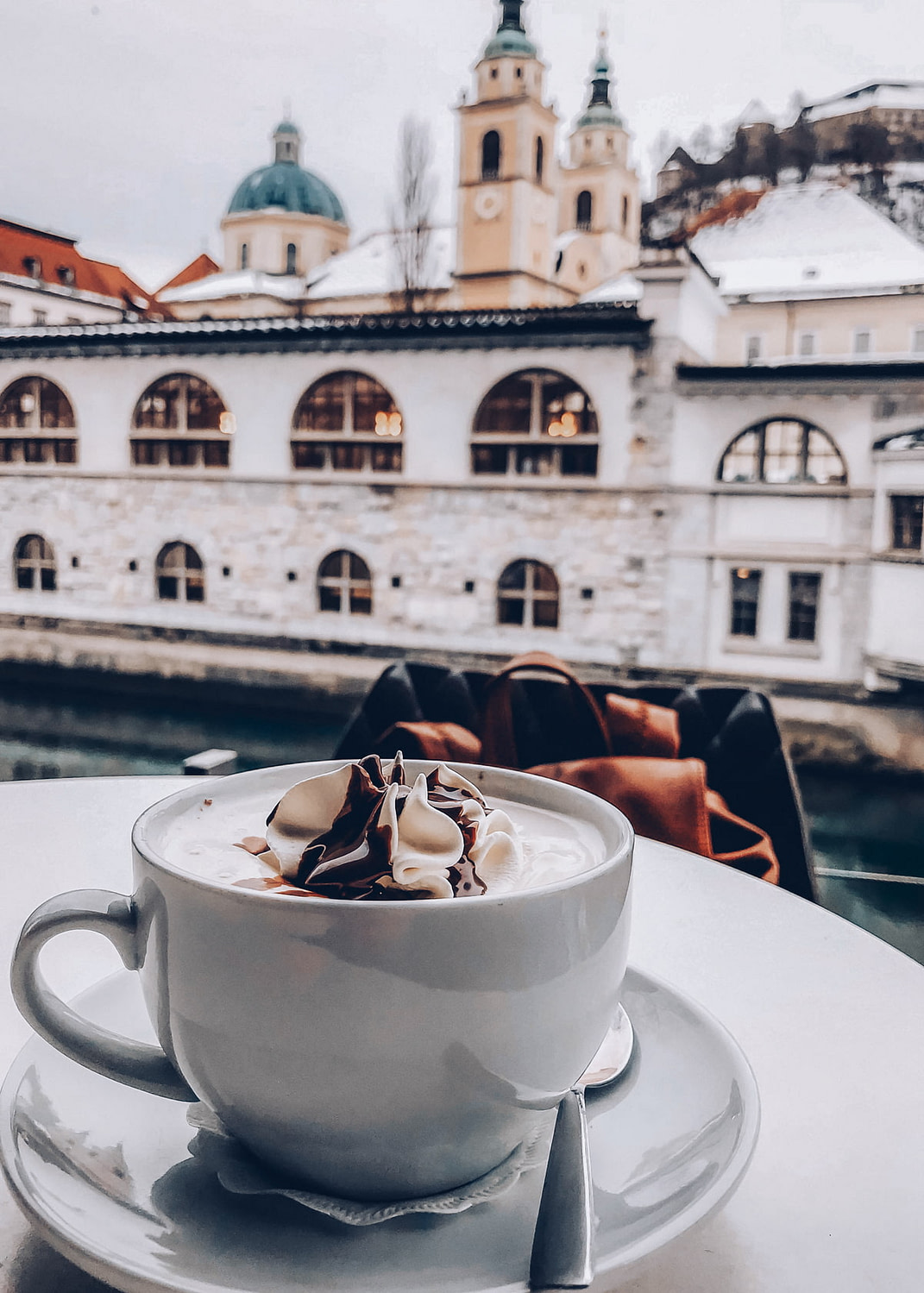 In Slovenia, the locals love to take meals and coffee breaks outside – no matter the weather. In winter, patios are filled with heaters and blankets, adding to the warm and cozy vibe. After a day of frolicking through the cobblestone streets of Ljubljana, stop at one of its many cafés for a delectable hot chocolate.
For the richest and creamiest cup of hot cocoa in the city, head to Cacao, conveniently located on the riverside with a view of the cathedral. Between the heaters and hot cup of deliciousness, you'll warm up in no time.
Spend a Weekend at Lake Bled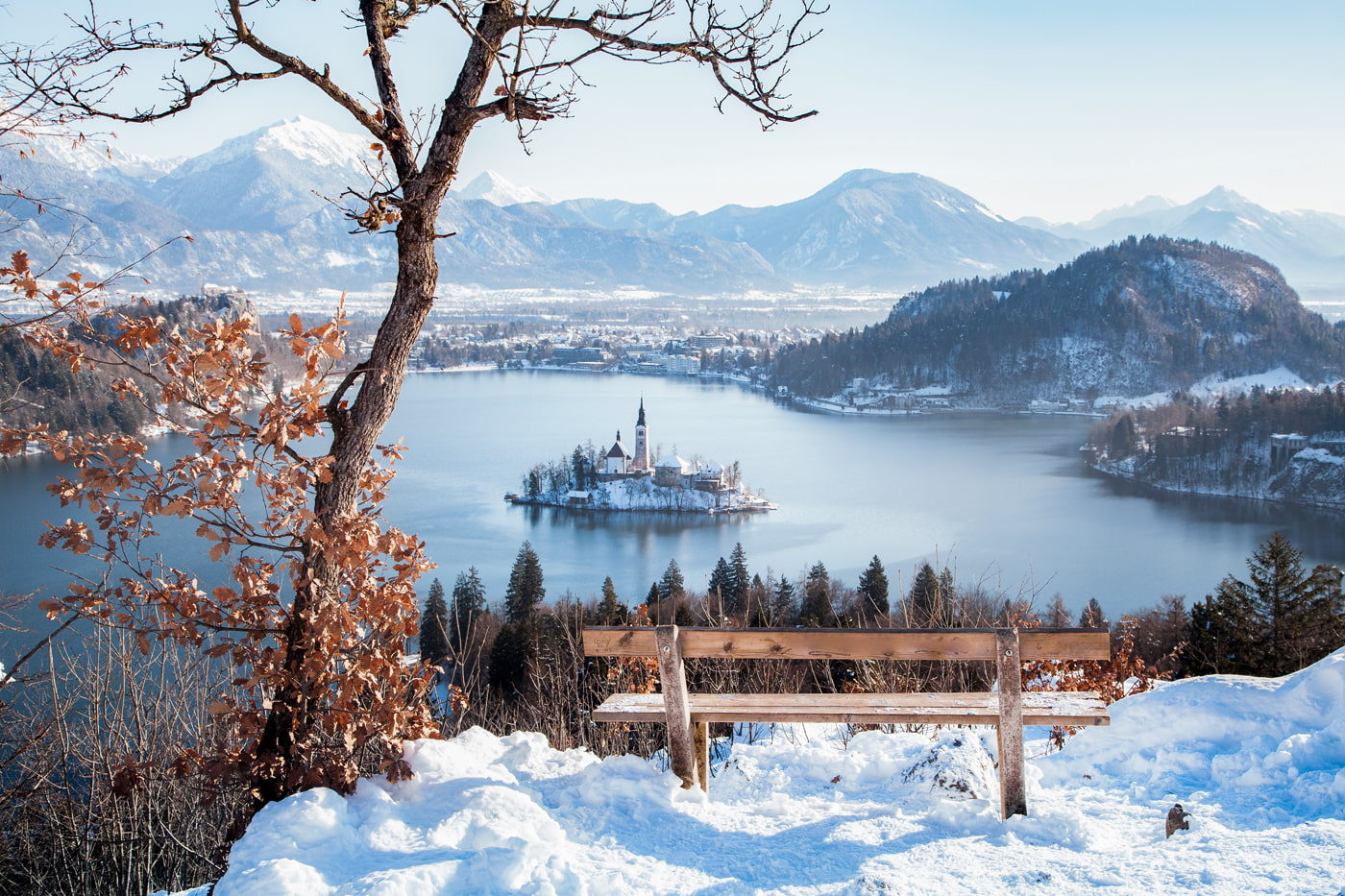 With its picturesque island and towering white-tipped mountains, Lake Bled is enchanting all year round. In winter, though, it is a scene straight out of a snow-dusted fairytale. Whether enjoying the Christmas festivities, adventuring in the outdoors, or simply sipping a hot cappuccino on the boardwalk, Lake Bled is the ultimate winter escape. By visiting in the off-season, travelers also have the opportunity to ogle at the amazing landscape alongside a fraction of the summer crowd.
For a perfect winter weekend, a stroll around the lake and a hike up to Ojstrica Viewpoint (especially at sunrise or sunset!) are unmissable. Another essential activity is to row to the small island itself, home to the enchanting Lake Bled Church, also known as the Church of Assumption. If the lake freezes over, visitors must ice skate over, which is an equally delightful way to get there!
Dive into the Delicious Food Scene
Slovenia's unique cuisine is heavily influenced by its neighbors: Austrian sausage, Italian pasta and risotto, Croatian truffles, and Hungarian goulash, to name a few. What Slovenia does all on its own, however, is cake: cream cake, layered cake, cake stuffed with poppy and apples, and all other imaginable goodies. There is even a cream cake exclusive to Lake Bled, known as kremna rezina, which is a must-try!
Explore the Underground World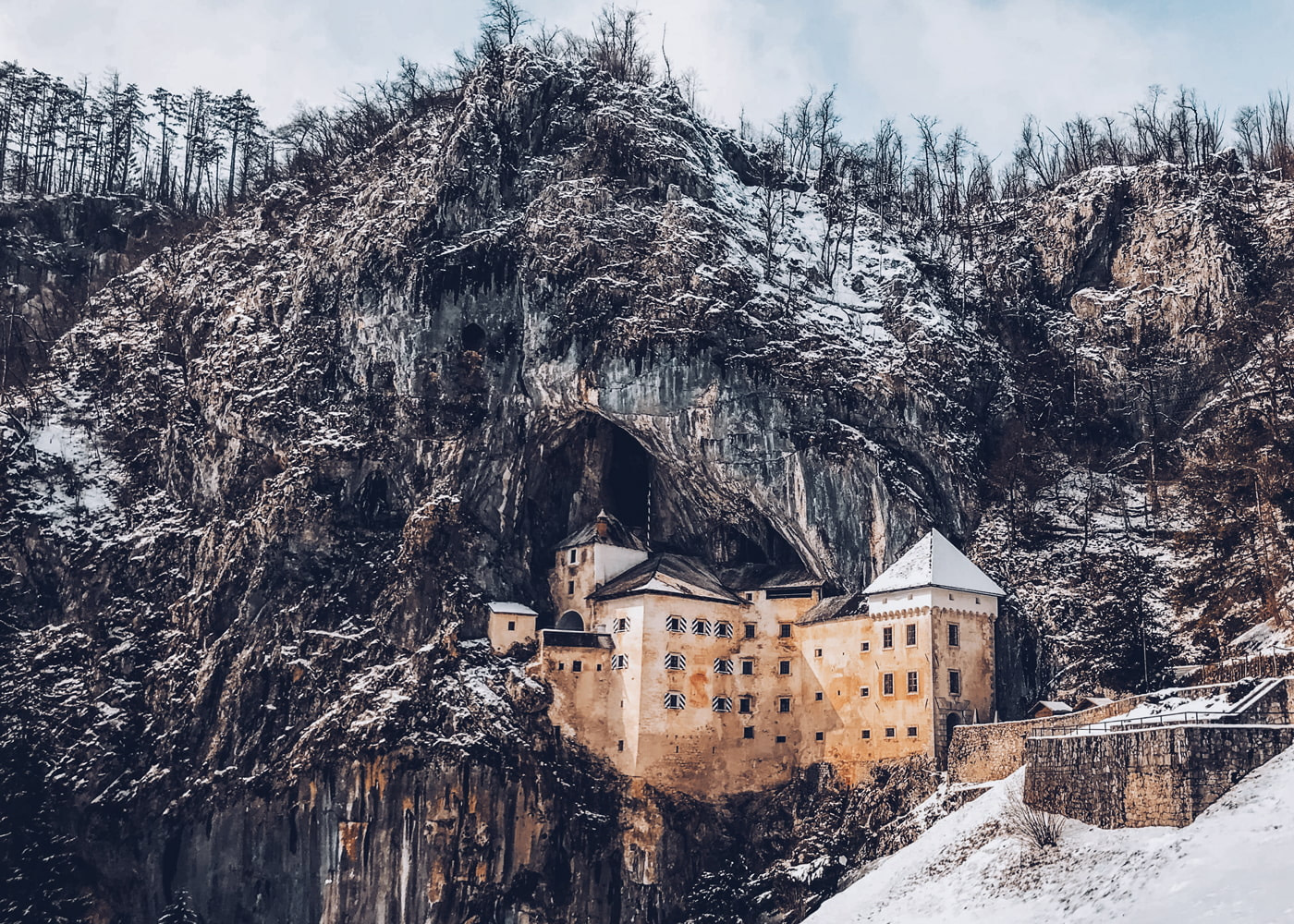 This little country has its fair share of tall peaks, yet some of its most captivating landscapes are found underground. At Postojna Cave, Slovenia's largest and most popular cave, visitors hop aboard a small train and are taken into the darkness. Once inside, a phenomenal show of stalactites and stalagmites emerges – the work of determined water droplets over millions of years. While here, you can also meet the human fish (also called the Olm), a rare, eyeless, and nearly translucent species that can live for years without food!
Once back on solid ground, check out the nearby sight of Predjama Castle, a unique 12th-century Renaissance castle that is impressively etched into the side of a cave.
Escape to the Slovene Riviera
Seeking a break from the snow? Head to Piran, a colorful town nestled along the bright blue waters of the Adriatic Coast. It's a bustling hot spot for tourists in summer, but come winter, travelers experience all of Piran's magic without any of the crowds.
This pleasant seaside escape is a hub of cultures and scenery; Venetian architectural influences, Croatian-esque seascapes, and delicious Slovene cuisine. It's made all the more magnificent during the holidays with a parade of twinkling lights!
Enjoy the Solitude of Lake Bohinj
Lake Bohinj, a divine glacier lake tucked at the bottom of the Julian Alps, is often overlooked in favor of its more famous neighbor, Lake Bled. But being a lesser-known gem has its perks; without the bustle of shops and cafés, it is a true place of solitude. Come winter, it transforms into a snowy oasis framed by frosted peaks and trees sprinkled with snow.
Venture further to the lake's water source, Slap Savica, a delicate waterfall to the west, or spend the afternoon skiing at Vogel Ski Resort just down the road. If merely admiring the scenery is more your speed, you can't go wrong with a wintery picnic on the dock amid a view of St. Joseph's Church. With the right amount of layers – and maybe a little extra wine – it makes an exceptional lunch spot.
Ski and Snowboard at Vogel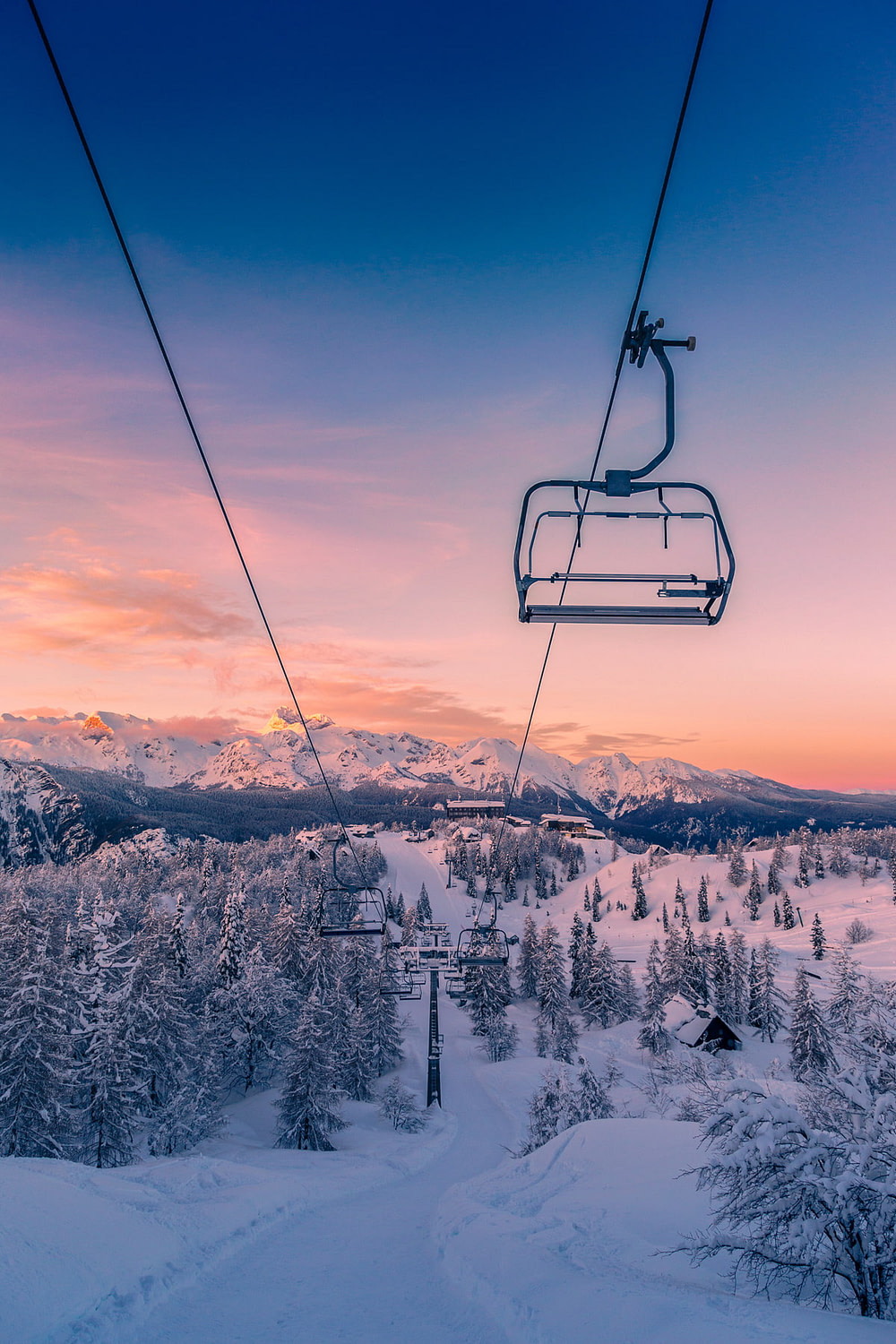 For a day on the slopes, look no further than Vogel Ski Resort, which sits on the outskirts of Triglav National Park. Accessed via cable car from Lake Bohinj, it is sure to offer a memorable experience from start to finish.
Boasting fourteen miles of slopes, five miles of cross-country routes, and a snowpark, Vogel is the perfect spot for beginners and experts alike. The consistently good snow conditions year after year don't hurt either! With three bars and two cafés, there are plenty of options to warm up and chow down in between runs, as well. If snow sports aren't your thing, sit back and enjoy the roundtrip cable car ride from the lake, which provides epic 360° views. No matter how you spend your day at Vogel, you are in for a treat.
Snowshoe to Tromeja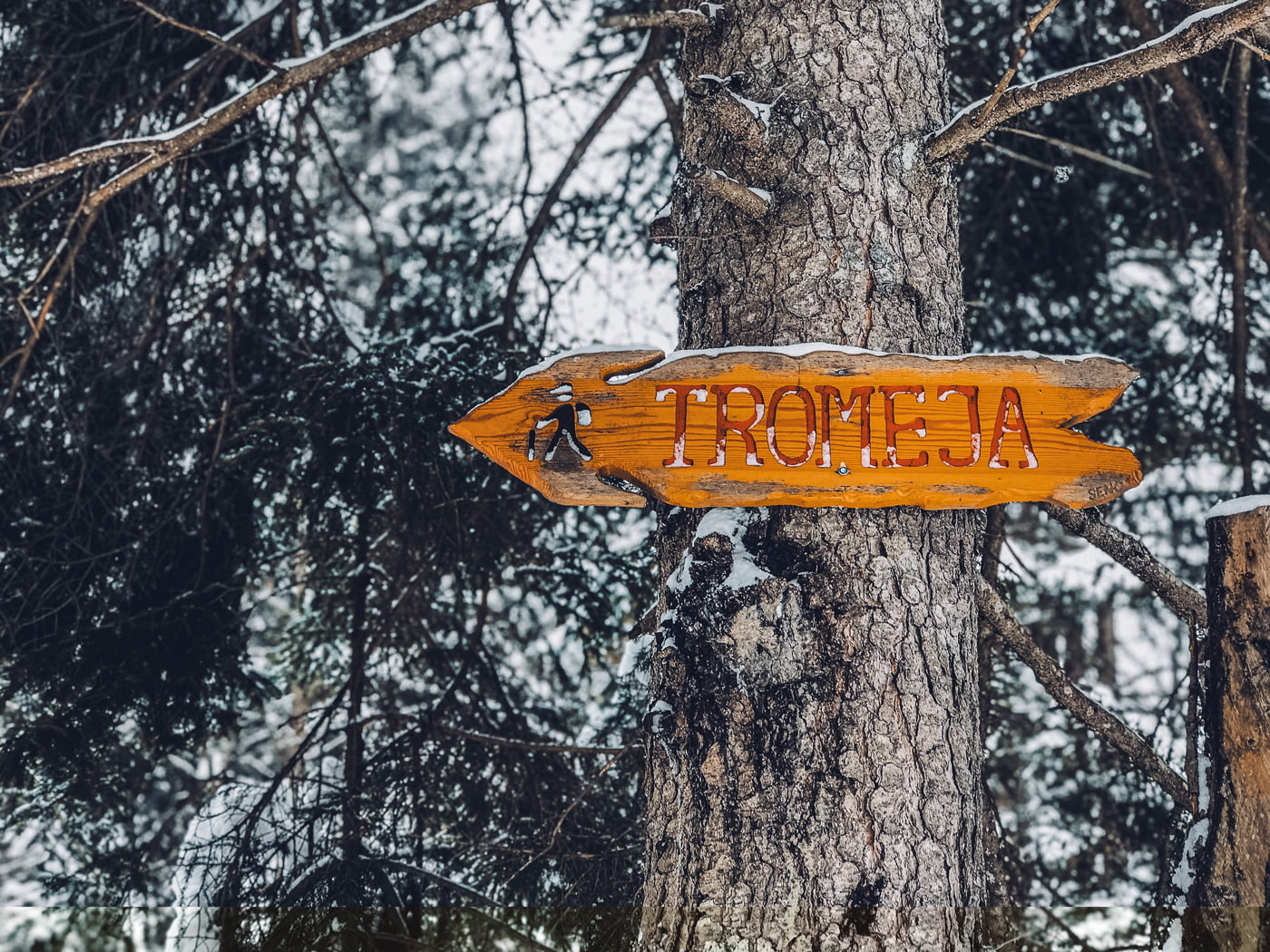 Just outside of Rateče, a pint-sized town in the northwestern corner of Slovenia, there is a spectacular trail that allows you to stand in Austria, Italy, and Slovenia all at once. This 7 km (4 mile) hike is known as Tromeja, and snowshoes are the best way to reach the top during wintertime. No snowshoes? No problem! Even if visitors can't make it all the way to the tri-border, it is well worth it to scamper through the snowy forest and admire the endless spectacle of mountains on display.
Once back in town, head to a local café to try Slovenia's traditional blueberry liqueur – it's an excellent way to warm up after a day in the snow!