Besides being filled with tongue-twister city names and delicious beer, Central Europe is also home to a mind-boggling array of spectacular hiking opportunities. With its rolling pastures, rugged snow-capped peaks, and stunning alpine lakes, this is a region that begs to be explored. Plus, its vast network of trails offers something for both beginner and advanced hikers alike!
If dramatic mountain scenery surrounded by bright green hills is your kind of paradise, make sure to check out these ten epic hikes in Central Europe:
Kamnik Saddle, Slovenia
Skip the popular tourist lineup of Lake Bled, Triglav National Park, and Ljubljana, and instead make a beeline to the quiet, untouched region of Logar Valley where hidden hiking gems abound. Located in the Kamnik Alps in north-central Slovenia, Logar Valley is as green as they come; forests of deep green trees, bright green pastures, and all those not currently hiking there are green with envy for those who are.
The trail that should be at the top of your hiking list is Kamnik Saddle (also known as Kamniško Sedlo). This outstanding – and challenging – 8.8 km (5.4 mi) out-and-back adventure starts at the Slap Rinka waterfall trailhead and travels through rocky mountains and lush alpine meadow. You'll gain a whopping 990 m (3250 ft) of elevation, but your effort will be well rewarded.
For those with advanced technical climbing experience, continue to Mount Planjava or Ojstrica. Up for something shorter? Take in the beauty of Slap Rinka!
Olpererhütte, Austria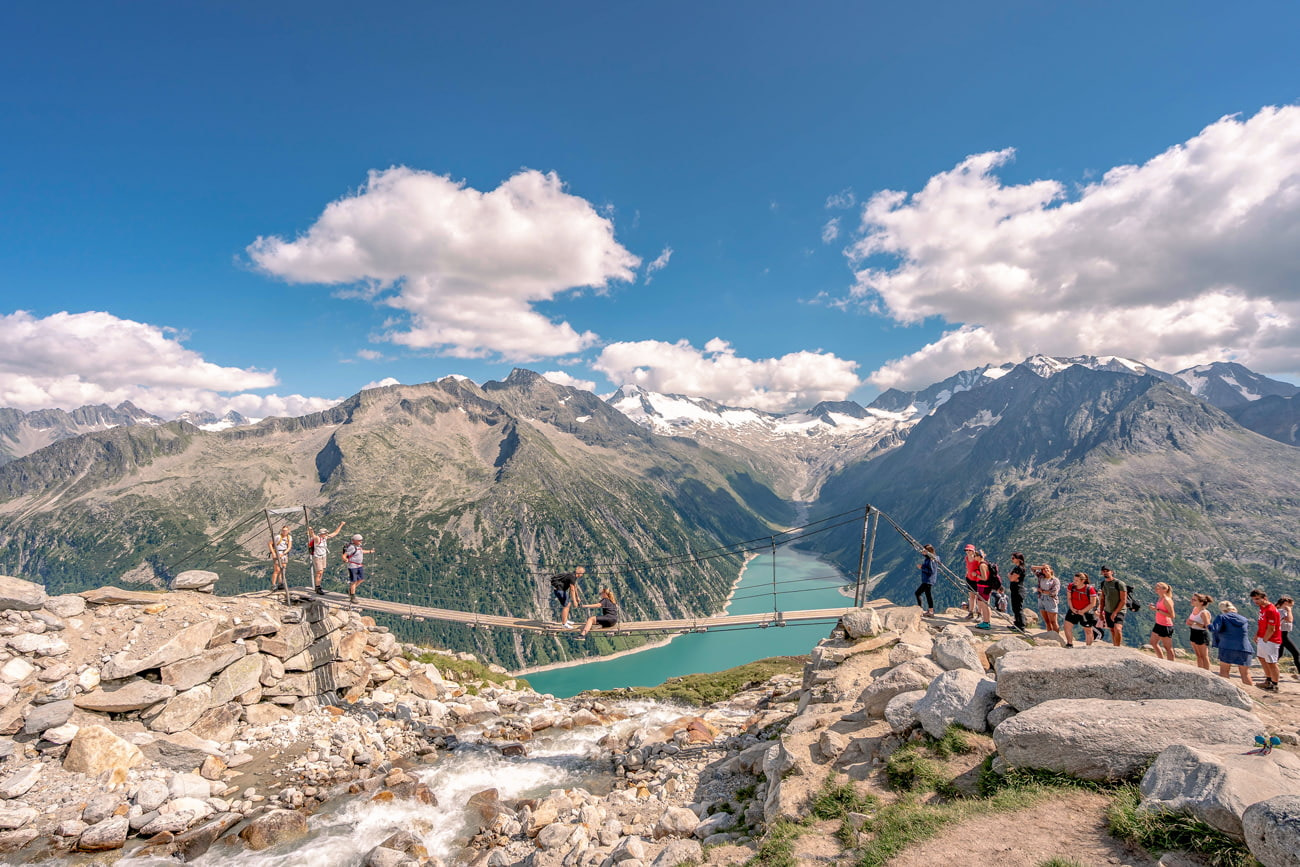 An impressive spectacle of pointy peaks, endless undulating hills, and cozy mountain huts, the Austrian Alps are a sight to behold. For an extraordinary day of hiking, venture to Olpererhütte in the Zillertal Alps of Tyrol.
While there are several ways to reach Olpererhütte, the most scenic is via the Schlegeisspeicher and Friesenberghaus trails. This route makes for a 13.8 km (8.5 mile) loop that is tough on the legs but easy on the eyes.
Along the way you'll encounter peaceful meadows, lush forest, a fun suspension bridge, and even the occasional cow. Though perhaps most incredible are the near-constant views of Schlegeis Stausee's remarkable turquoise water below. Make sure to factor in time for a lunch break at the hut – it will be very well-deserved!
Oeschinen Lake, Switzerland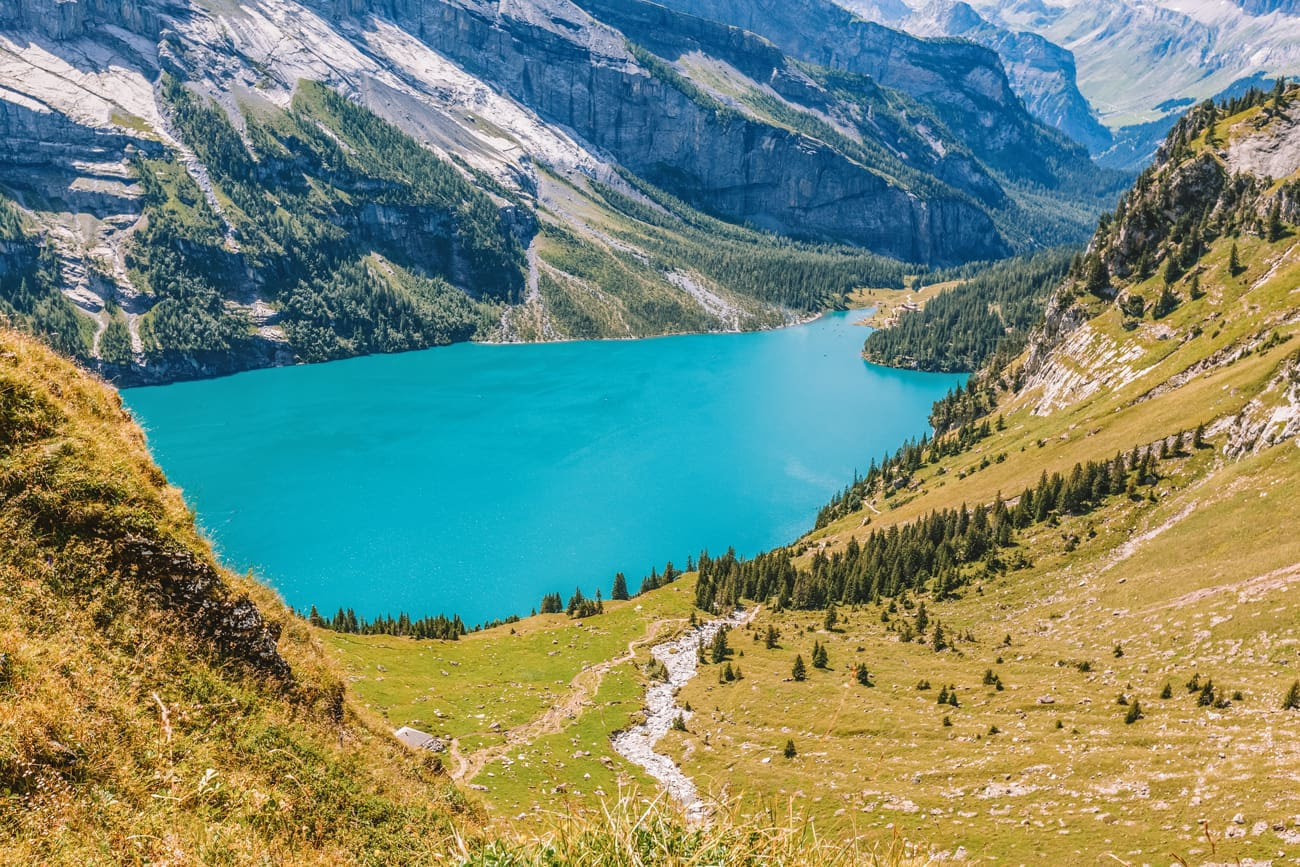 Switzerland is a hiker's dream: rugged mountains, bright blue glacier lakes, and crisp alpine air. With its sheer number of hiking trails, it can be difficult choosing which to take, but be sure to put Oeschinen Lake at the top of your list. Once you set eyes on it you will find yourself needing to pick up your jaw from off the ground; the brilliant blue water surrounded by towering Swiss Alps just has that sort of effect.
Located just an hour south of Bern, it is an easily accessible 3.1 km (5 mi) loop in the Bernese Highlands, an area often overshadowed by its more popular neighbors like Interlaken and Zermatt. To reach Oeschinen Lake, you can take the cable car or add to your hike by walking along the river.
Due to its accessibility, the lake is a busy spot, but don't worry, you won't stop for long. Continue past the lake shore and take the loop around the back side of the mountain to escape the crowds and soak up the sublime scenery from above.
Tarnica Peak, Poland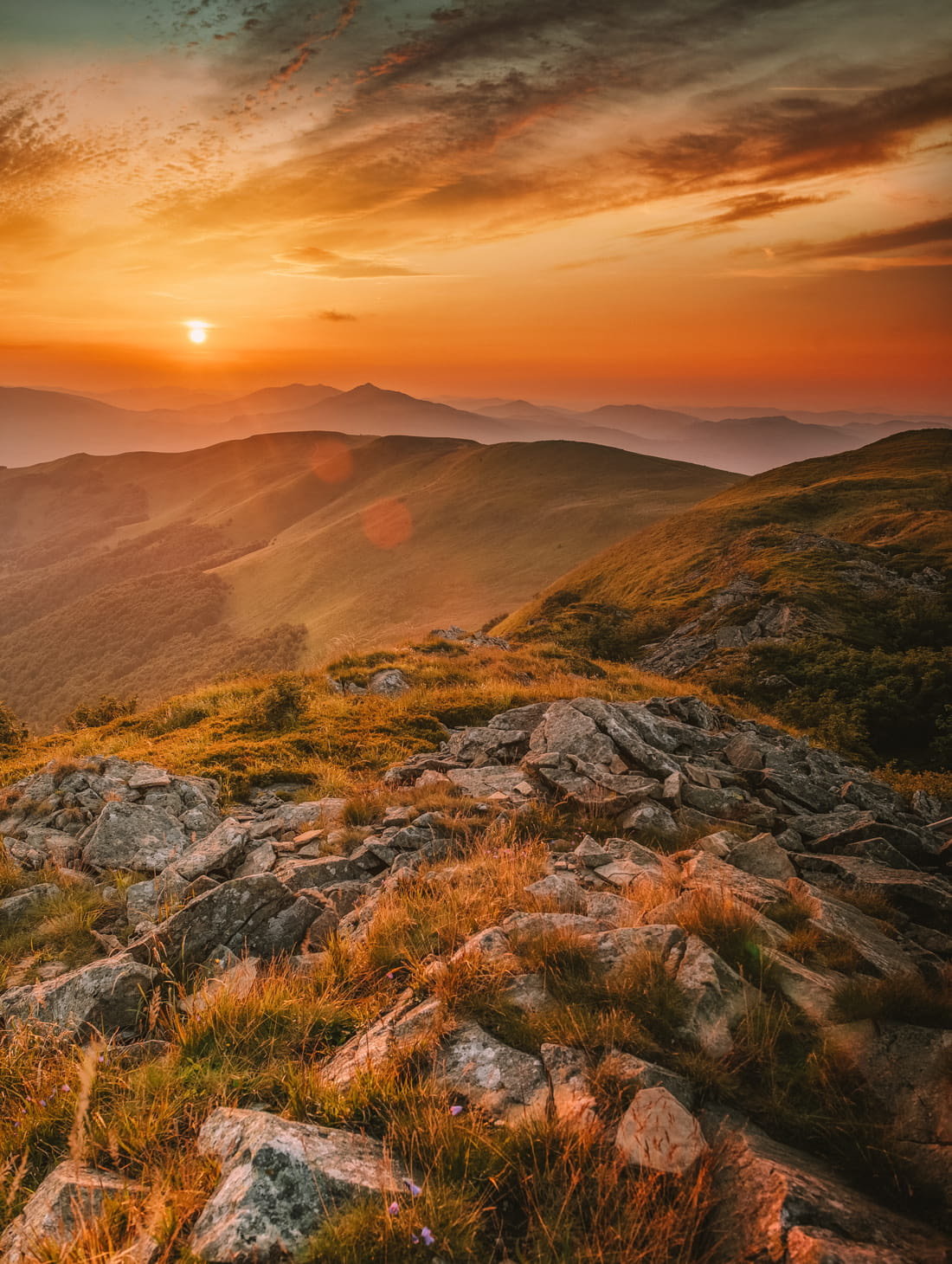 Tucked in the southeastern pocket of Poland, just a stone's throw from Ukraine on one side and Slovakia on the other, is the exquisite Bieszczady National Park, an area renowned for its rolling pastures, wildlife diversity, and large network of trails. For an unbeatable day of hiking, head to Tarnica, the tallest peak in the Bieszczady mountains.
There are several routes to reach Tarnica and its neighboring peaks, though the most popular is a 9.6 km (6 mi) out-and-back hike starting at Wolosate. Seeking a quieter and only slightly longer trail? Start at Ustrzyki Górne instead. For the whole Bieszczady experience, take on the unforgettable 21.7 km (13.5 mi) loop that hits Tarnica, Halicz, and Rozsypaniec!
Whichever route you choose, the trail is almost completely exposed, so come prepared for the elements. The tradeoff, however, is a consistent panorama of verdant pastures and layers of mountain peaks on the horizon.
Rysy, Slovakia

Of all the hikes on this list, Rysy is the most demanding, yet for those up to the challenge, it is worth every ounce of effort. Situated in the stunning High Tatra Mountains, Rysy straddles the border of Poland and Slovakia. As such, your adventure can begin on either side, but by starting in Slovakia, which is the more popular route, you can say you've hiked the tallest mountain in Poland without really ever stepping in Poland at all!
From Štrbské Pleso, a small resort town in Slovakia, hike a short way to Popradké Pleso, where the trail to Rysy officially begins. Over the next 10 km (6.2 mi), the trail steadily gains 1345 m (4412 ft) of elevation, at times even requiring chains and ladders secured to the mountainside to aid your ascent. Once at the summit, the unobstructed vista of jagged mountain tops unveils itself and effortlessly blends Poland and Slovakia into a single breathtaking scene.
Juliana Trail, Slovenia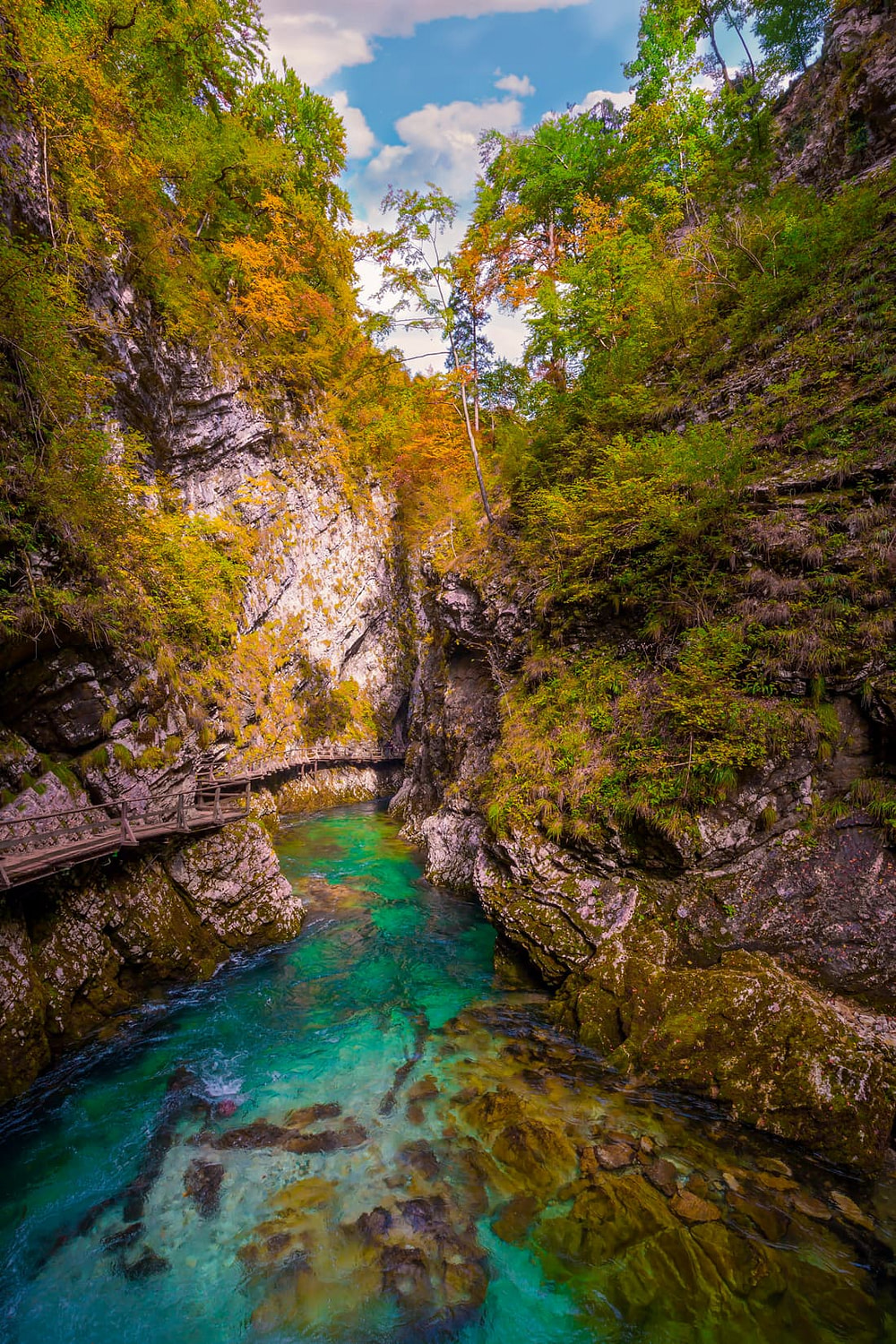 The Juliana Trail, a 270 km (167 mi) loop in the northwest corner of Slovenia, is an exceptional combination of nature, culture, and history. Not only does it traverse the snow-capped Julian Alps and twist along the rivers of Triglav National Park, but it also brings hikers alongside historic castles and through quaint remote villages.
Divided into sixteen diverse sections, the entire trail can be tackled in one go or enjoyed through short day hikes. Due to its flat and undemanding terrain, as well as each section ending in a small village where hikers can sleep, the Juliana Trail is an ideal adventure for those breaking into the long-distance hiking scene or for travelers who did not pack their tent.
Only have one day to explore? Try Section 6, from the fields of Pokljuka to the splendid Bohinj Valley, or Section 9, which boasts jaw-dropping alpine terrain in Podbrdo and Baška Grapa.
Höllentalklamm and Kreuzeck, Germany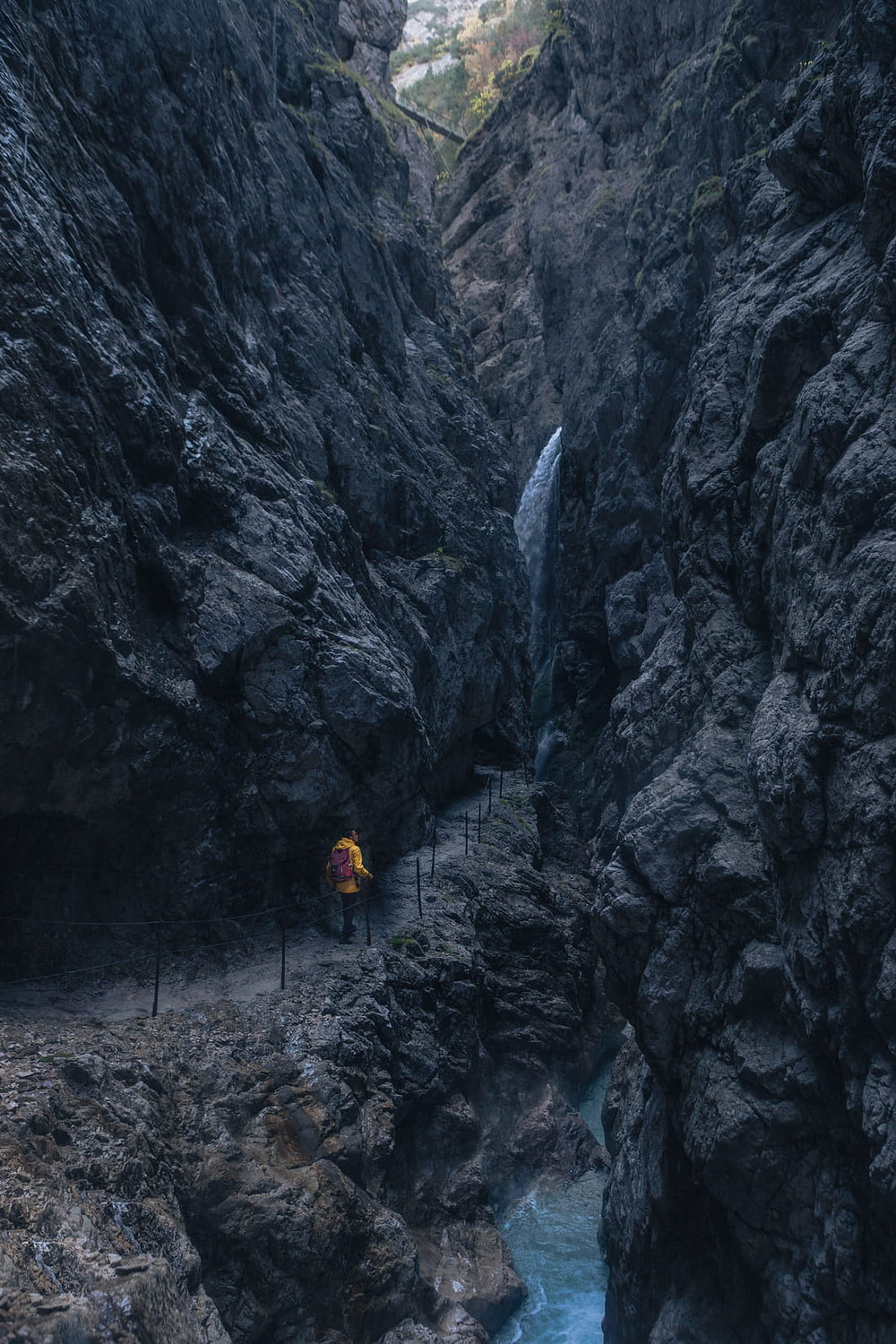 Bavaria may be known for its castles, sausage, and lederhosen, but adventure awaits those who travel deeper into its forests. For a day filled with a variety of natural scenery, look no further than Höllentalklamm, also intimidatingly known as Hell's Valley.
The trail follows the contours of the river, beginning with a leisurely stroll through the forest, but soon the towering walls of Höllentalklamm Gorge reveal themselves and the true adventure begins. Hikers then hop on a boardwalk that follows the narrow canyon walls as the river slices past below. (You will definitely get wet, so make sure to bring a waterproof jacket!)
Once through the gorge, continue on to reach Kreuzeck, an incredible peak boasting impressive views of Bavaria. The trail is strenuous, so make sure to properly celebrate at the top with a refreshing stein of beer! After taking in the magnificent views, head back via cable car.
Eagle Walk, Austria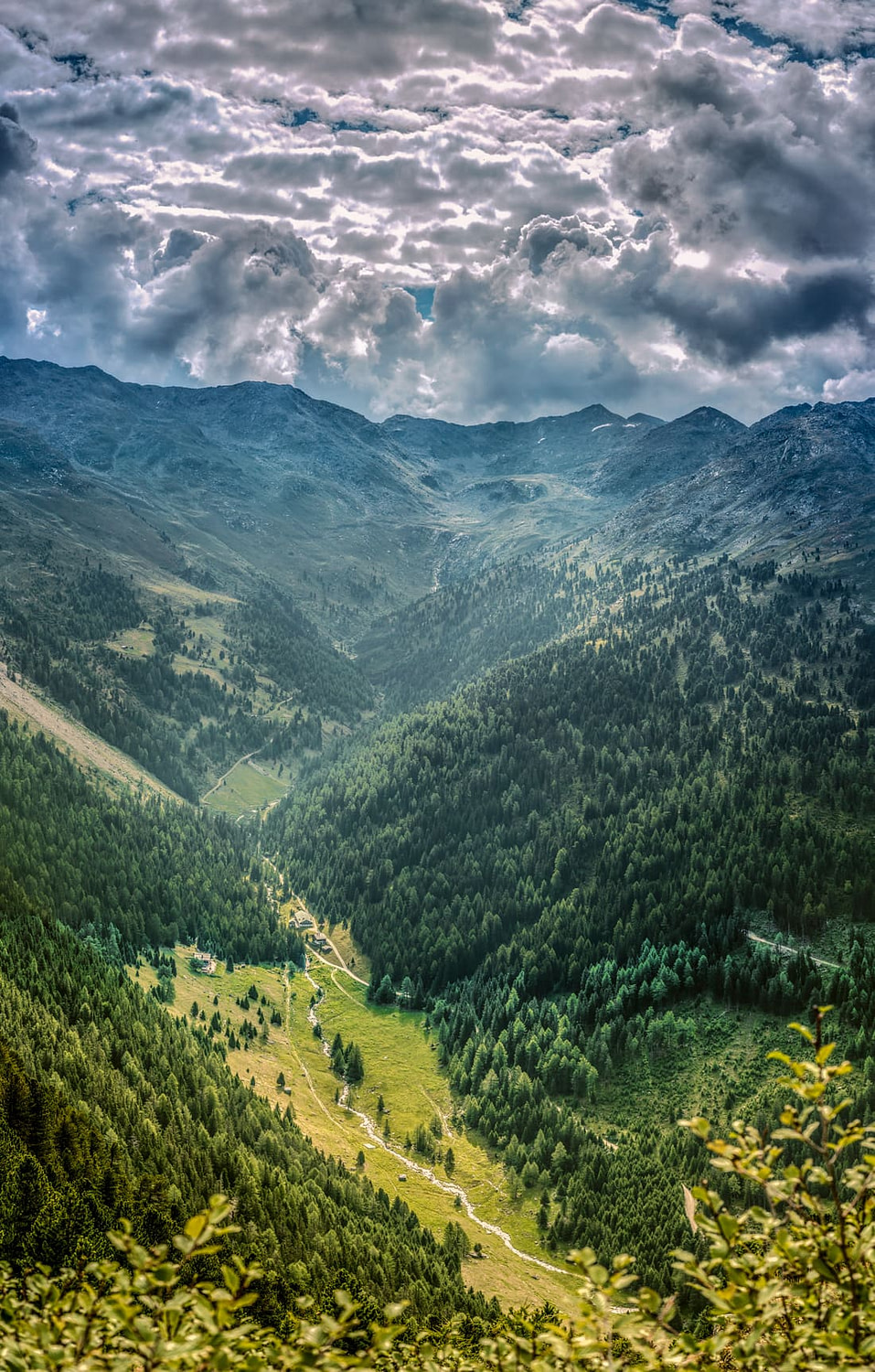 Travel hut-to-hut, as the eagle flies, across the Austrian state of Tyrol, from the Wilder Kaiser Mountains in the west to St. Johann in the east. Broken into 33 sections, the trail – which also happens to be vaguely shaped like an eagle – has something for all physical abilities and levels of experience.
You can tackle a single section on a day hike (though good luck choosing just one!), or string together a few sections for a long weekend adventure. If you have the time and gusto, you can even do the whole 413 km (257 mi) Eagle Walk.
Whether you have an afternoon to hike or a month, it delivers a spectacular array of Austrian scenery the whole way through. Highlights include the imposing Karwendel Mountains, the Lechtal Alps carpeted in green meadows, and the rugged rock faces of the Rofan Mountains.
Augustmatthorn via Hardergrat Ridge, Switzerland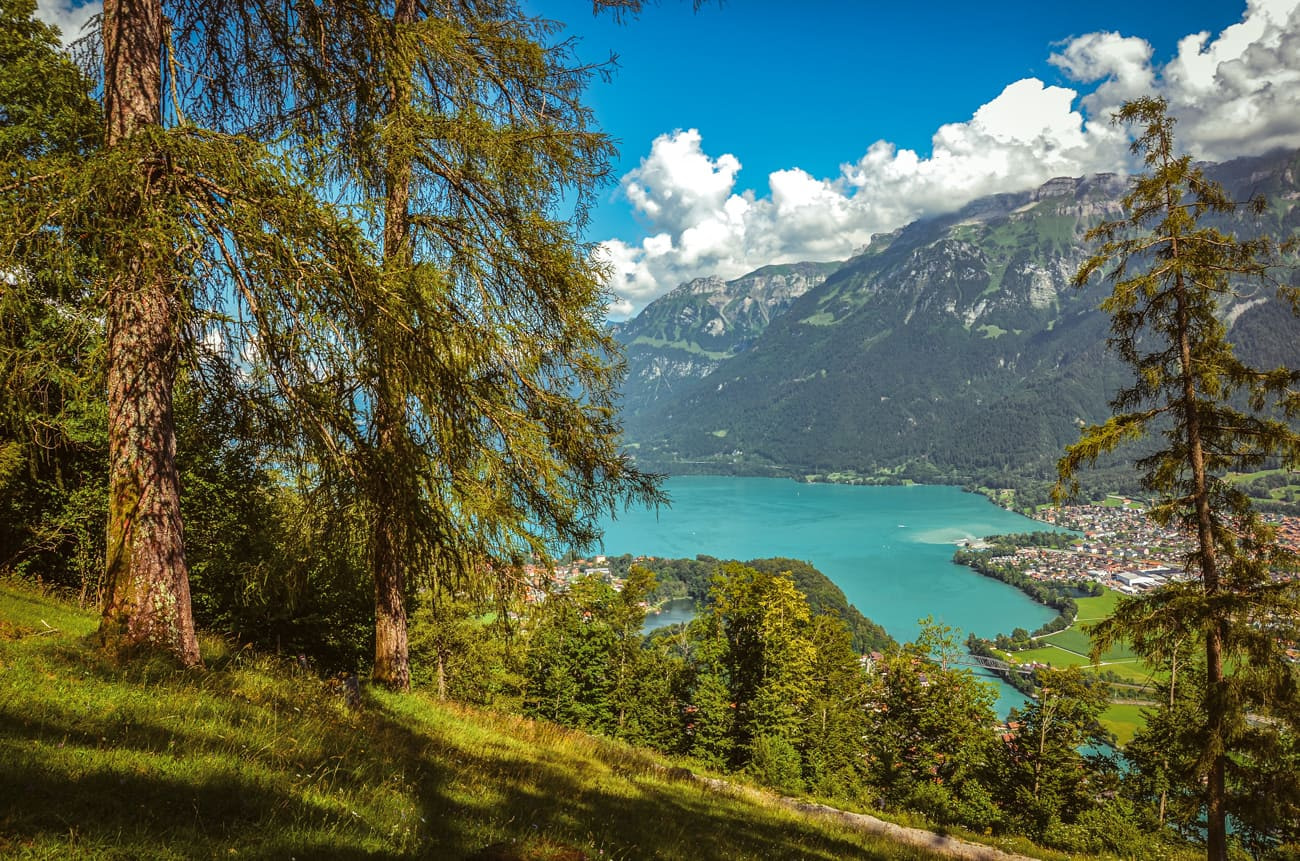 Head to Augustmatthorn in Interlaken for a day packed with quintessential Swiss vistas from start to finish. Begin your journey by taking the funicular from Harder Railway up to Harder Kulm – or walk there from Interlaken for an extra workout! From there, wander through the forest until emerging at Suggiture, the spot that marks the beginning of the exposed ridgeline and the never-ending views that ensue.
As you make your way to Augustmatthorn, glimpse quaint pastured villages on one side and Lake Brienz's breathtaking blue water on the other, all while being surrounded by the epic mountain peaks of Eiger, Jungfrau, and Mönch. After taking it all in, hike down to Oberried to catch the bus back to Interlaken. Grab a beer in town – you deserve it!
Veľký Rozsutec, Slovakia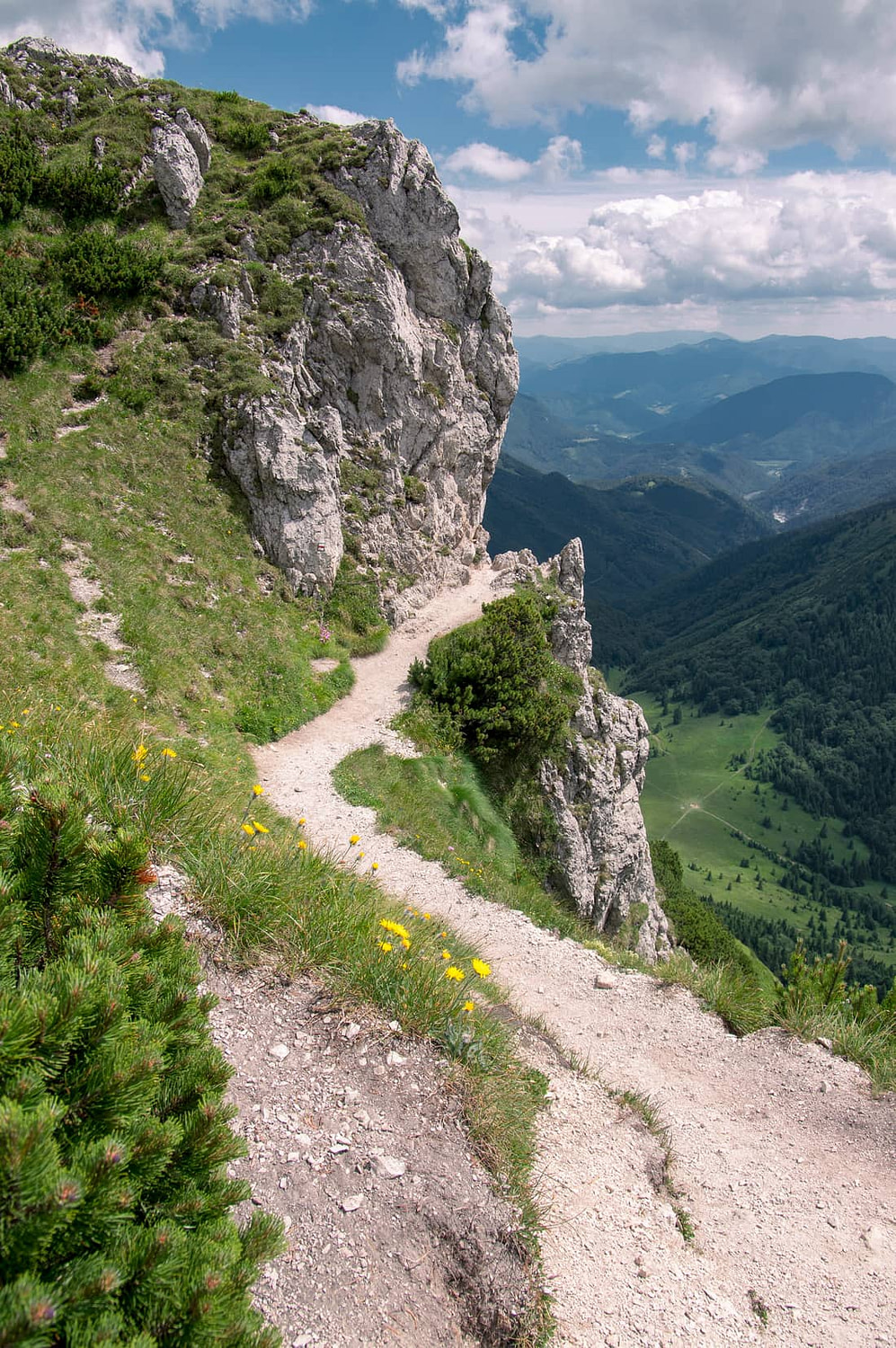 Make your way to the Mala Fatra mountains, just two hours northwest of Bratislava, the capital of Slovakia, and buckle up for a memorable hands-on adventure. Veľký Rozsutec is often touted as one of the most beautiful peaks in the country and tackling the 11 km (6.8 mi) loop to its summit will show you exactly why.
The trail is as exciting as it is challenging, though those afraid of heights beware – it isn't for the faint of heart. The reward, however, is a multitude of striking landscapes along the entire trail. Hikers meander through a lush canyon filled with bright green moss and traverse over delicate waterfalls via a series of ladders. Later, fields of wildflowers reveal themselves and soon you have a front-row seat to the Carpathian mountain range laid before you.
But the fun doesn't stop at the summit! Descending requires climbing over rocks and using chains fixed to the mountain for safety. While you can hike this trail year-round, only experienced hikers should attempt it during winter.