Many think travel has to be expensive, especially when you plan on vacationing in giant western metropolises. If you're headed to the United States' 'Second City', you've probably already heard of its world-class dining, incredible architecture, and myriad of attractions, but you may be worried your trip will break the bank.
If you're trying to see as much as possible on a budget, there are plenty of awesome things you can do in the Windy City absolutely free. Whether you're a fan of the arts, sports, culture, or just need the perfect FOMO-inducing selfie to post on your Instagram, there are tons of attractions and activities that won't cost you anything.
Does a secret design museum pique your interest? How about a music festival? Interested in perusing a historic or scenic bar? From the quirky to the cultural, Chicago has a ton to offer without spending a cent. To get you started on your free tour, here are the best 50 things you can do for free in Chicago, and one of them will even pay you $100!
1. Head to Promontory Point to see the sunrise. This man-made spit on Lake Michigan in South Chicago at 55th street is beloved by locals, and even has a swimming area!
2. The Museum of Contemporary Photography is the flagship museum of Columbia College Chicago. They began amassing the work for what is now their permanent collection in the 80s, and now own more than 15,000 individual photographic works.
3. The Garfield Park Conservatory is one of the largest in the entire United States. Here you'll find 2 acres of public greenhouse space and 10 acres of public gardens to stroll through, all beautifully situated in one of Chicago's preeminent Westside parks.
4. Go play South Chicago's favorite game: Stingo. Held at Bernice's Tavern every Wednesday night at 9 pm, this game is played identically to Bingo, but if you shout the b-word you'll be asked to hit the bricks. The beers will cost you, but the game board is free.
5. Tour the Smart Museum of Art, which is part of the University of Chicago. You'll definitely find more progressive, eclectic work here than at your average contemporary art museum.
6. Get your fill at the Taste of Chicago, the nation's premier food festival, with vendors representing hundreds of restaurants. It's held annually in mid-July in Millenium Park.
7. Definitely head to the Federal Reserve Bank Money Museum if you've ever wondered what a million dollars in cash looks like. They even offer a free guided tour every weekday at 13:00.
8. Attend the Chicago Jazz Festival. It's one of the premier jazz festivals in the entire country and is held every year around the first week of September in Millenium Park.
9. Learn about the history of Cambodia, the Khmer Rouge, and the stories of Cambodian Americans who emigrated to the United States at the National Cambodian Heritage Museum and Killing Fields Memorial.
10. If you have kids in tow, plan your trip around the beloved Chicago Kids and Kites Festival. Kites are even provided for children, and there are balloon artists and face painters as well. This is held at Cricket Hill every year at the beginning of May.
11. Before you leave, you must go take a selfie in front of the Chicago Theatre. Its vertical neon sign is iconic to the city.
12. The Lincoln Park Conservatory, though smaller than its contemporary at Garfield Park, it is filled with slightly more exotic offerings. Overall, it is a gorgeous example of a deco-inspired public greenhouse that's definitely worth a visit.
13. Soak in the sun at Navy Pier, a 3,300-foot-long pier on the shoreline of Lake Michigan that offers excellent views of the city and Chicago's famed Harbor Lighthouse.
14. Learn about the Puerto Rican community in the midwest at the National Museum of Puerto Rican Arts & Culture. Their galleries feature rotating exhibitions, and they frequently hold free events, as well.
15. Most Tuesdays in the summer you can watch a free movie on the Great Lawn at the Millennium Park Summer Film Series. You are encouraged to bring a blanket and a picnic!
16. If you love beer, the Lagunitas Brewing Free Tour is going to be the highlight of your trip. But travelers should be prepared: the drinking age in the United States is 21, and anyone younger than that cannot participate.
17. If you want to join the ultimate street party, visit during the Chicago Pride Parade! On one Sunday at the end of every June, the city erupts into a day-long, rainbow-coated celebration.
18. The City Gallery in the Historic Water Tower holds a historic collection of work by local photographers and artists that you can tour to learn more about the city of Chicago.
19. Attend the Chicago Gospel Music Festival, which features some of the biggest acts in Gospel music from the city and beyond. It's held every year on the last weekend in May.
20. As long as you're not a Chicago local, you can take a Chicago Greeter tour. This volunteer-run community organization is staffed by locals excited to teach you about their city.
21. Without a doubt, one of the best free things to do in Chicago is the Magnificent Mile Lights Festival. Marking the beginning of the holiday season, the two-day event is filled with gratis family-friendly fun and culminates with a grandiose tree-lighting parade along Michigan Avenue.
22. Check out the public tour on Sundays at the Stony Island Arts Bank, a hybrid arts and community space.
23. On a sunny day, don't miss the chance to take a walk along the Chicago Riverwalk.
24. The Hyde Park Art Center is a great place to learn about art traditions on Chicago's South Side.
25. The Millennium Park Free Summer Music Series is a great way to get that summer music festival experience without the usual price tag. These concerts are held just next door to where Lollapalooza takes place annually.
26. Go to the Lincoln Park Zoo in North Chicago. It's one of only 3 free zoos in the nation.
27. Chicago is one of the most storied American cities when it comes to the blues, so don't miss the annual Chicago Blues Festival. This is scheduled every year at the beginning of June in Millenium Park.
28. Fans of the outdoors will fall in love with the Chicago Botanic Garden. This 385-acre park also includes a Bonsai collection.
29. Get lost in Myopic Bookstore, Chicago's favorite independent book store. They frequently have free literary events, too.
30. Go take your picture in the reflection of Cloud Gate. This massive piece of public art installed in Millenium Park is the work of Indian-born British artist, Sir Anish Kapoor. If it doesn't sound familiar, maybe you know it by its colloquial name: The Bean.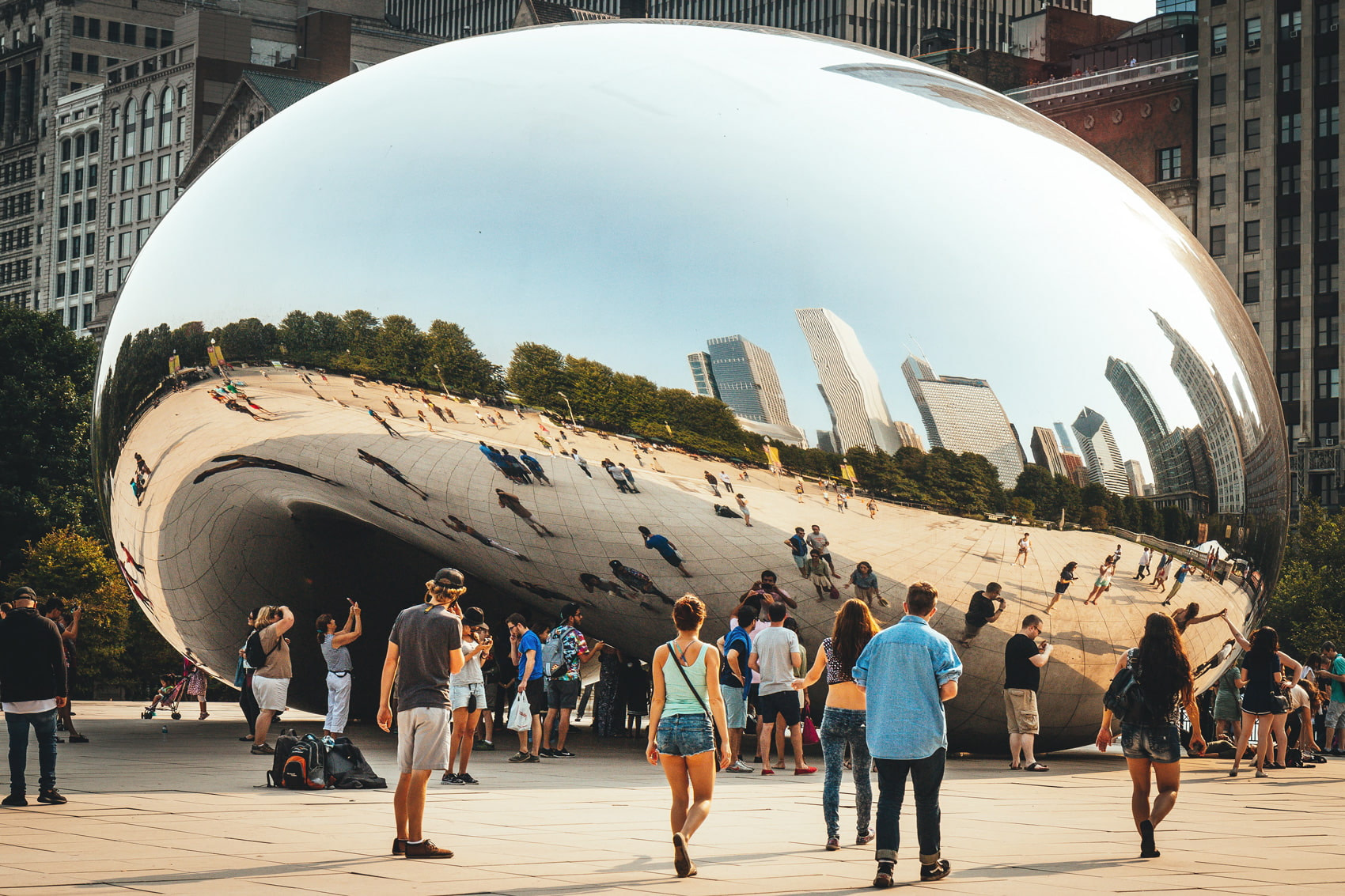 31. The Chicago Cultural Center is host to a number of live music, film, and cultural events throughout the year, all housed in a spectacular landmark building that's worth a look on its own.
32. The Chicago Air and Water Show has been held annually in mid-August since 1959. It's the largest of its kind in the country and features hydroplane races and the iconic pilots, the Blue Angels.
33. Chicago's Lakefront Trail is a truly beloved part of local life in the city. Used by residents for cycling, jogging, or strolling, the views of Lake Michigan from the trail are intoxicating in any season.
34. If the weather is nice, you can go check out the street art in Pilsen, a Mexican-American neighborhood in Chicago's South Side.
35. While you're in Pilsen, you can also visit the National Museum of Mexican Art, which has hosted exhibitions, events, and art education since 1987.
36. Spend the afternoon lounging in Humboldt Park. With trees, trails, and picnic areas, there's a little something for everyone in this Westside favorite.
37. Go browse music at Reckless Records, which has a positively gigantic selection. You can listen to employee recommendations, or try to sort through it all yourself: much of what they carry is local and independent, some of which isn't available anywhere else in the world.
38. The volunteer founded Design Museum of Chicago generally has a few shows a year, though they can be closed for several weeks in between to dismantle the former and install the new exhibit. If you're dead set on visiting this gem while you're in town, be sure to check their website to confirm their programming.
39. You'll find contemporary and historical art at the DePaul University Art Museum, which aims to host work from a diverse pool of artists.
40. Every year on March 14th, otherwise known as St. Patrick's Day, they dye the Chicago River bright green. Take a stroll across the DuSable bridge to witness the spectacle. There's also a parade that winds through downtown!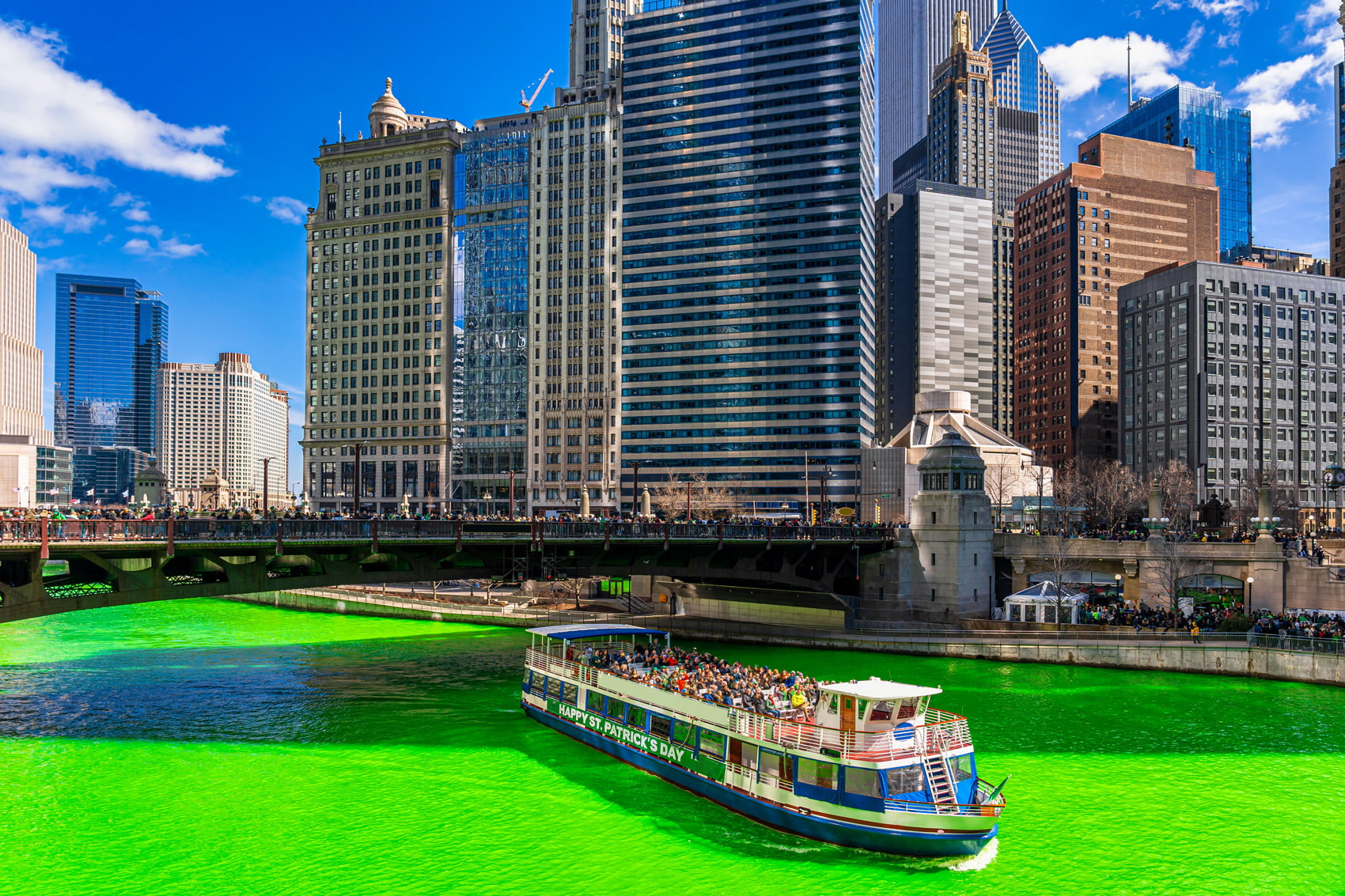 41. Little ones love the Chicago Children's Museum for their inventive exhibits and immersive events. If you have children, be sure to stop by!
42. Also for the kids, if you've come on a hot day, you may want to hit up a splash park. Dunbar Park is a favorite among Chicago kids as the water sprayers look like something straight out of a Dr. Seuss book.
43. Though the Signature Lounge on the 96th floor of the iconic Hancock Center is a bar and restaurant, the 360º views of the city are free of charge.
44. Save some time to explore the contributions of African-Americans in Chicago at the DuSable Museum of African American History. It's free every Tuesday.
45. Go check out the paintings at Anthony Bourdain's favorite Chicago bar, the Old Town Ale House. They are the exceptional work of the bar's storied owner, Bruce Elliot.
46. Explore the Chicago Pedway. This intricate network of tunnels, concourses, staircases, and bridges connects over 50 public and private buildings in downtown Chicago. A lot of it is underground where your phone's GPS won't work, so if it's your first time, be sure to bring a map.
47. Go see the incredible Harold Washington Library Center. Much more than just a library, this facility also has a maker lab and special collections, all housed in a historic building.
48. Go to open studios night at Zhou B Arts Center, held the 3rd Friday of every month. While the center's gallery is on the first floor, winding through the upstairs studios will put you in touch with some of Chicago's best local artists.
49. You can take a free tour of the Greek Revival Mansion at the Clark House Museum on Wednesdays, Fridays, and Saturdays at 13:00 and 14:30.
50. If you can eat the Challenger Burger at Rudy's Bar and Grill in 30 minutes or less, not only will you get your meal for free, but you'll also win a t-shirt and a $100 gift card!