Egypt is one of the most visited countries in the world, as it's home to huge tourism draws like the Pyramids of Giza and the Valley of the Kings in Luxor. But the nation's long coastlines also provide some incredible and often overlooked beach destinations that offer lush resorts, bohemian bungalow camps, and some of the world's best diving.
Egypt's position in North Africa means its north coast is on the Mediterranean, though the climate in the north is more susceptible to the changing of seasons. Visiting the beaches in Alexandria and Marsa Matruh, for instance, should generally be reserved only for the summer. But further south there are many opportunities for year-round sunbathing, swimming, and a plethora of water sports. If you're looking to plan an escape, here's an introduction to some of the best spots for an Egyptian beach getaway, even in the winter.
Red Sea Riviera
Most visitors arrive by plane, usually via the Hurghada International Airport, though there is another smaller airport in Marsa Alam. If you've already been traveling around Egypt, particularly if you're in Luxor, an overland trip is probably more convenient. You can take a modern, Pullman bus from the Nile to the coast, and there's a ferry that can take you to Hurghada from the Sinai peninsula.
Hurghada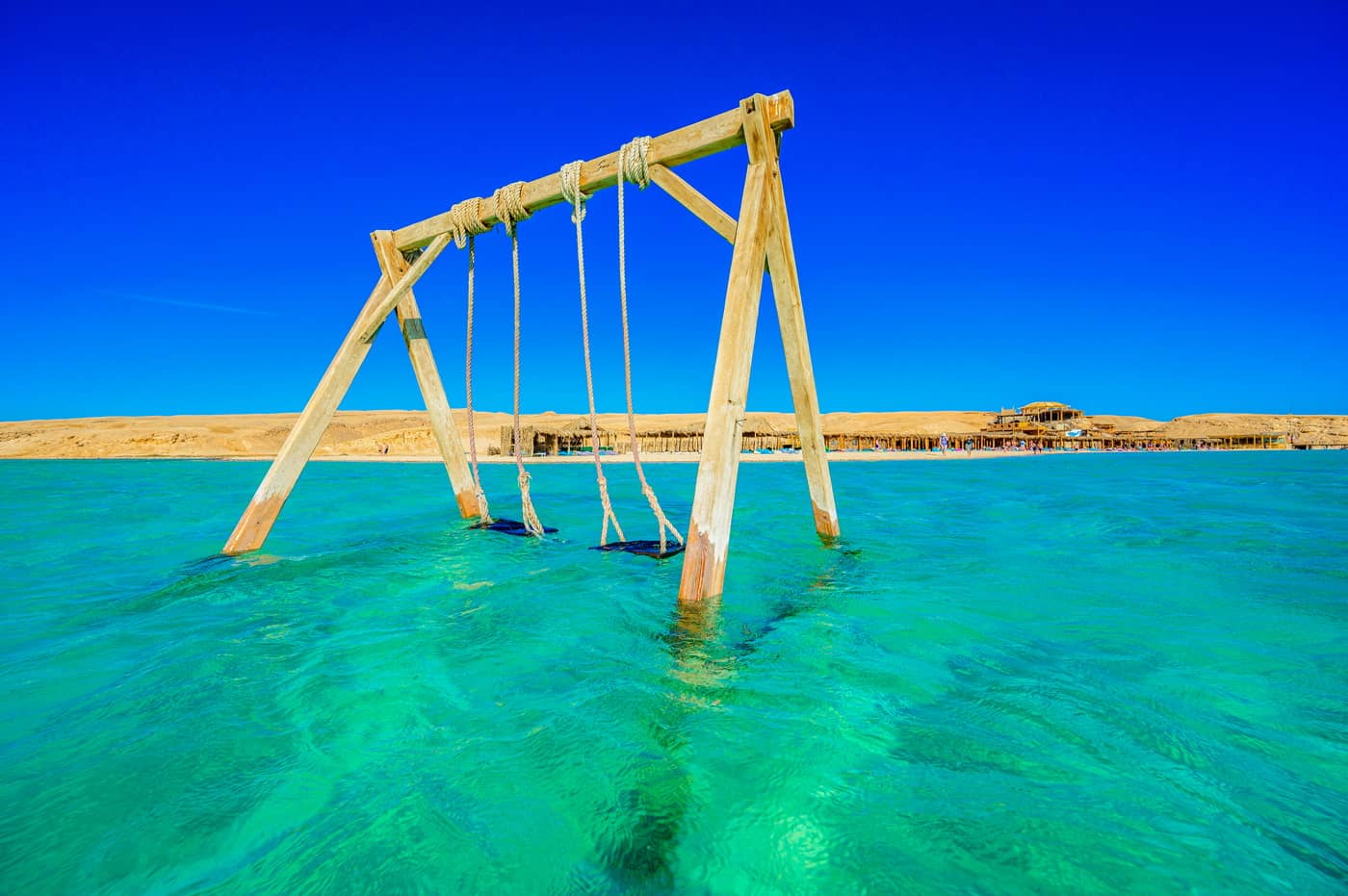 Long been the titan of Egyptian resort towns, Hurghada has over 100 hotels and resorts, most of them flanking the 40 km of sandy coastline. While there are a few public beaches dotted throughout the area, they all charge a fee to enter, so it may be easiest to simply book a hotel with its own private beach. That way your lounge chairs, towels, and maybe even drinks and snacks will all be provided, and you can be assured that it will be free of crowds and that the sand is well-groomed.
Day trips to nearby islands can be arranged through your hotel, and offer a super-exclusive experience on completely unmarred shores. Mahmya Island is only an hour's ride away, and if you're lucky, you might see a dolphin or two on the way there.
If you need a break from the surf and sand, you can check out El Dahar in Hurghada's old town. There you'll find a bazaar with numerous stalls selling an eclectic mix of handicrafts, jewelry, spices, and perfumes. When you're ready for a bite, just behind it you'll find street food stalls and Bedouin bars serving fresh sugar cane juice, coffee, and tea.
El Gouna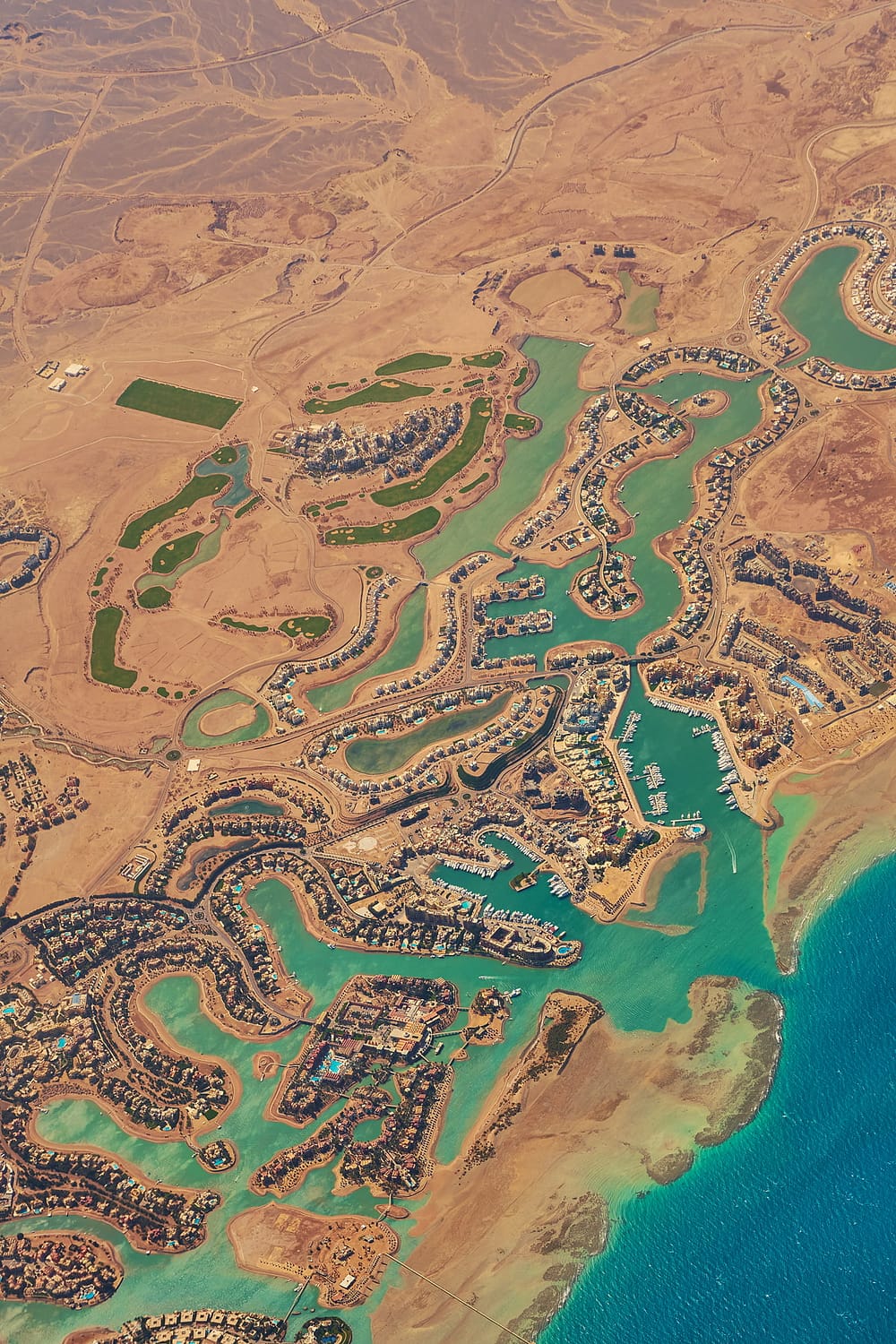 Just north of Hurghada, you'll find the gated community of El Gouna. Called "The Venice of Egypt", it is built on a series of islands connected by canals and bridges, and is home to ultra-luxe accommodations, a multitude of fine-dining restaurants, and the premier theater, Sea Cinema. The entire town caters to the well-heeled, so if you're looking for a sophisticated vacation, look no further than one of Gouna's resorts or hotels.
This is the perfect city to choose if you want to try a variety of adrenaline-pumping water sports like diving, kite surfing, parasailing, or snorkeling, but if you're feeling a bit more relaxed, you can always just lounge by your resort's pool or take advantage of one of El Gouna's many spas.
Marsa Alam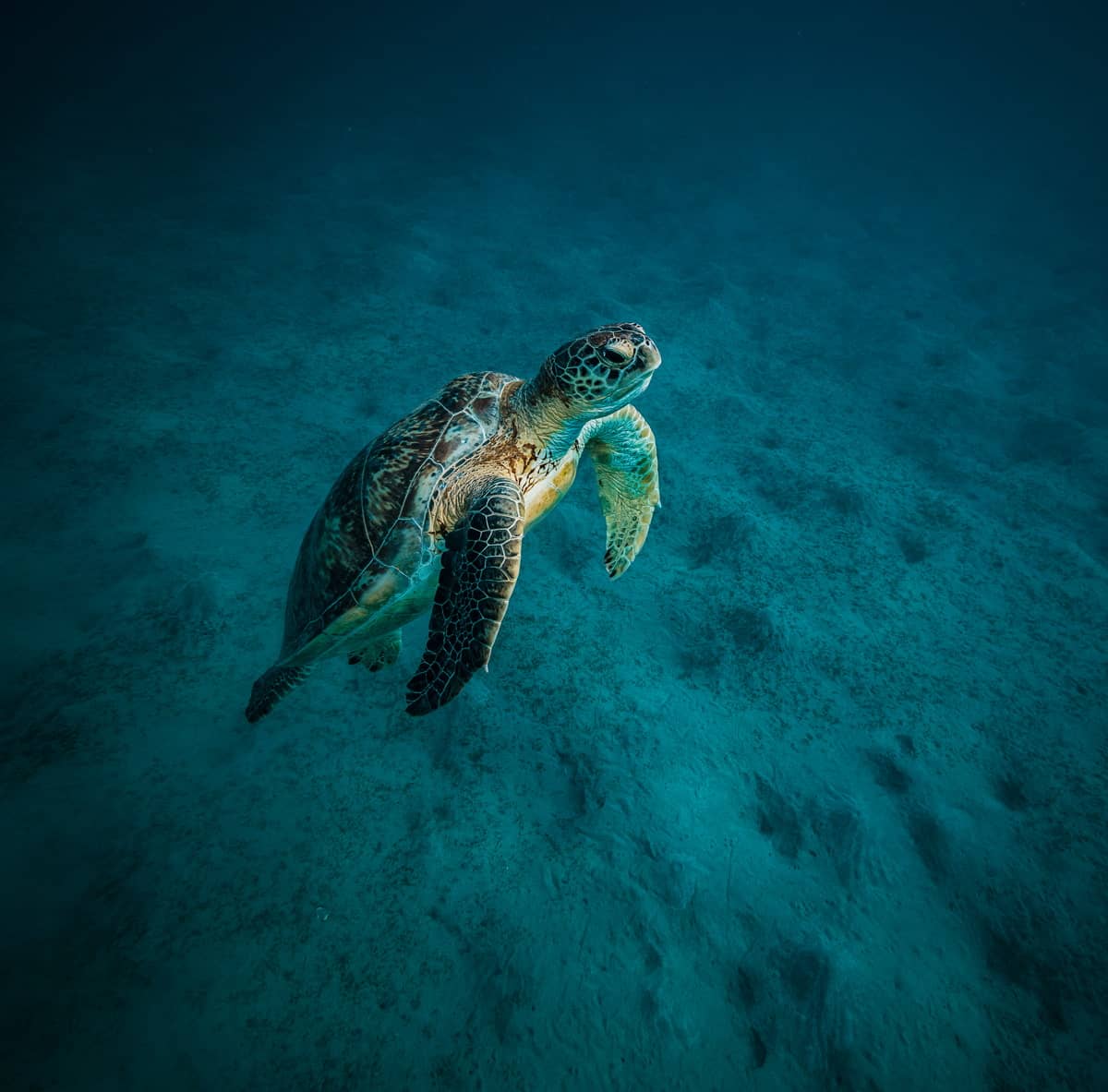 This small port town remained merely a fishing village for many years, but as interest grew in diving into their pristine coral reefs, infrastructure to accommodate tourism slowly grew.
Now Marsa Alam is a divers' paradise, replete with gorgeous white-sand beaches, the most popular of which is Abu Dabab. If you venture near the shore, you're likely to see at least a few of the hundreds of turtles that come to graze on the seagrass.
To the south is Wadi El Gamal National Park, home to 450 species of coral and 1,200 species of fish. Snorkelers and divers here may even get the opportunity to see one of the few remaining endangered dugongs, a relative of the manatee.
South Sinai
Anchored by the Sharm El Sheikh International Airport, South Sinai went from being a string of small villages coveted by divers to a full-on tourist destination. Most of the cities developed for tourism occupy the east coast of the peninsula along the Gulf of Aqaba, where the weather is sunny and warm year-round. Most visitors to South Sinai opt to fly there, as the overland bus trip from Cairo or Eilat can exceed eight hours.
Sharm El Sheikh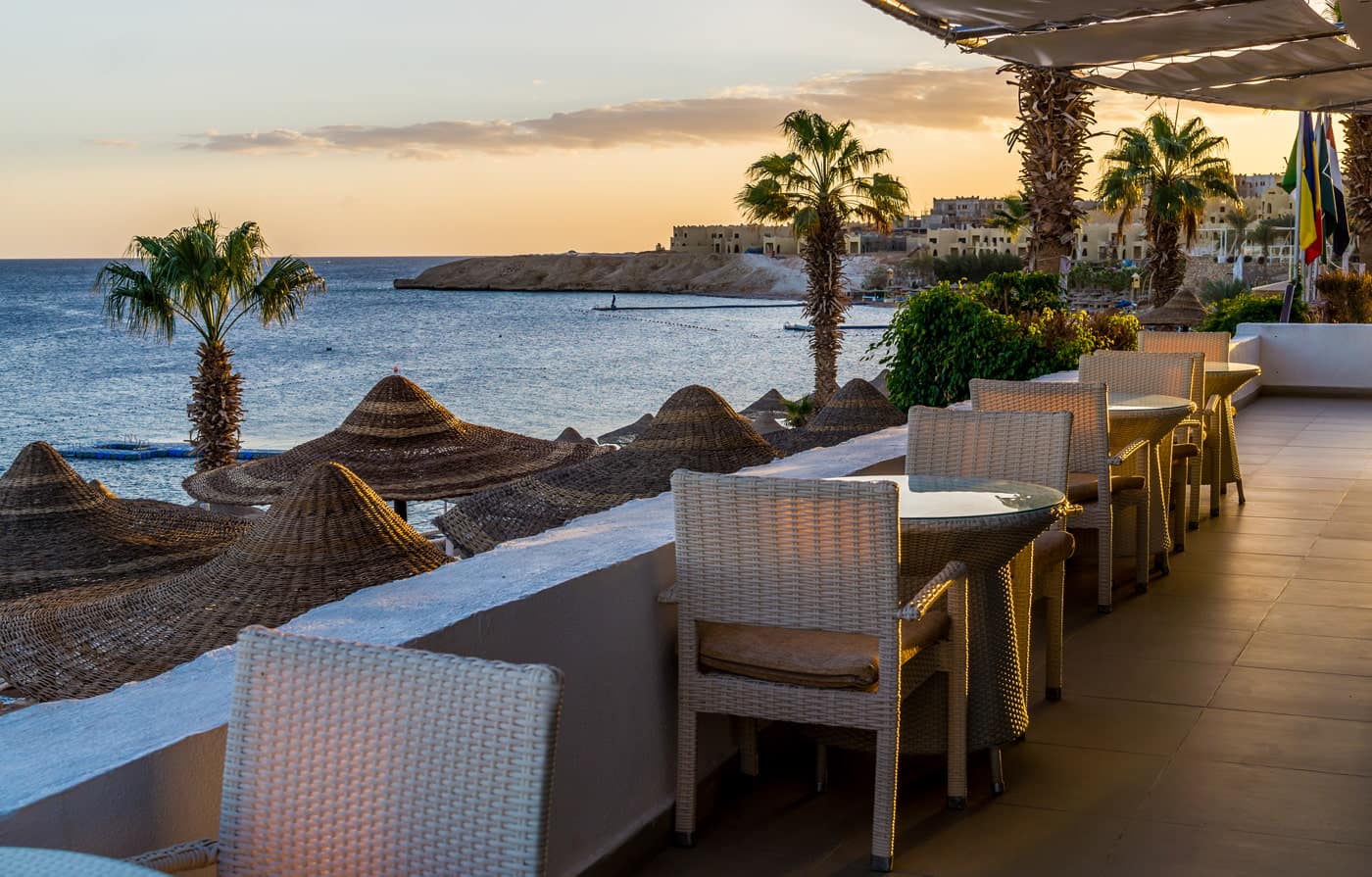 Egypt's fastest-growing holiday spot and the largest city in South Sinai, Sharm El Sheikh has long been beloved by European and Russian vacation goers, but it's poised to welcome the rest of the world as tourism there continues to explode.
The combination of a major airport, extraordinary weather, and the availability of luxe resorts at affordable prices combine to make it a popular destination, especially for those seeking to escape a dreary northern winter.
Once a busy port, environmental protections put into place in the 90s have ensured less freighter traffic to help protect the vast coral reef that lies just offshore, an underwater paradise for snorkelers and divers.
If a vibrant nightlife is a must for you, Sharm definitely provides. On Boulevard Principe del Bahrain, the main strip in the Naama Bay area, you'll find tons of restaurants serving many different cuisines interspersed between bars and clubs that stay open until dawn.
Dahab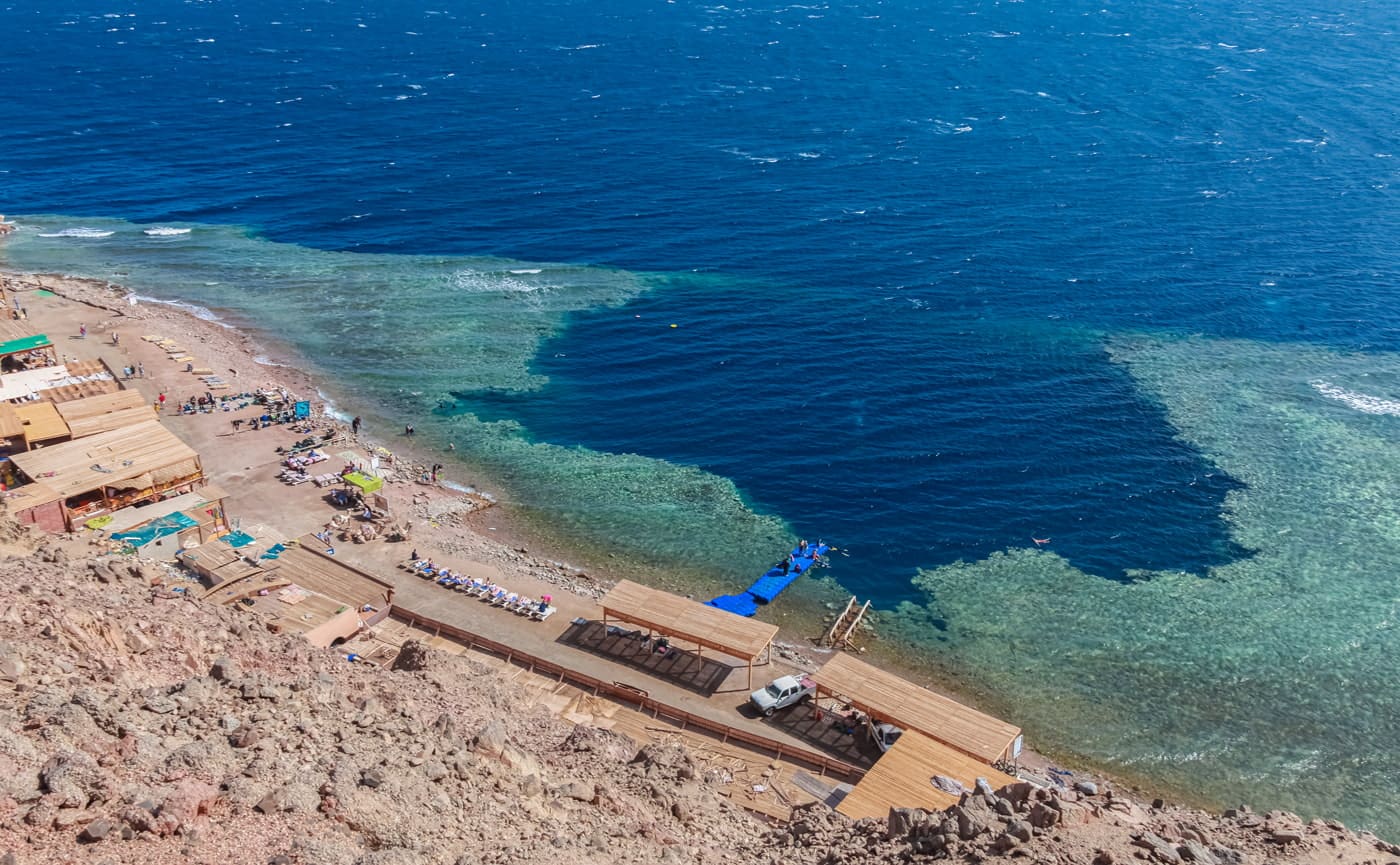 Famous for its low-key aesthetic and super relaxed vibe, Dahab is perfect for budget travelers. If you're traveling alone, its gloriously affordable coastal camps and hostels provide the ideal environment to make a few friends.
Though there's a lot to do and see in the area, the star attraction in Dahab is the Blue Hole, an unparalleled diving site that dips 100 meters into the seafloor, which is filled with unique, colorful fish darting through the crystal-clear water. Your hotel or guest house can easily arrange a dive trip for you, and if you've never earned your open water diving certification, there are several dive shops in Dahab that offer the course for some of the cheapest prices in the world.