Today marks 1,500 days since we left "home". 1,500 days since we turned our backs on the more socially accepted path of home ownership, careers, and working hard before retiring to begin to live the life we really wanted. Some see our decision as foolhardy. Some have been critical and accused us of running away. And yet, our tribe, our true tribe, have supported us every step of the way.
How did this happen? Why did we leave jobs and family and decide that a semi-nomadic life in a camper was what our souls yearned for?
Jim and I have always both been restless souls although we came from similar family structures. I grew up in small-town Midwest and lived in five states and seven houses before I was 13 years old when my family's move brought us to Oregon.
Jim is a 3rd-generation Oregonian and his parents remain over 50-years later in the house where he grew up. His wanderlust led him to the slopes of Mt. Hood and a fishing processor in Alaska when a return visit to Salem found us getting acquainted at a mutual friend's home and our paths have twisted and turned ever since.
We are the fortunate ones. During my years in the travel industry, we traveled widely exploring over 40 countries on five continents. We sailed the Nile, the Danube, and the Yangtze. We climbed the Great Wall of China, the Acropolis, and the Pyramid of the Sun. We traveled by land across Africa, India, Australia, New Zealand, and the United States.
And yet, these trips were all vacation. Even when allowed three or four weeks at a time we always felt as though we were merely scratching the surface. Each time we returned home we felt restless and uneasy, uncomfortable in our own home.
What if we didn't follow the American Dream? What if?
One day my restless Google searches found BootsnAll, a local Portland company that focused on round-the-world tickets and travel. This chance encounter turned into a lasting relationship with the founder Sean Keener and sparked an idea. A crazy, crazy idea.
What if we joined those intrepid souls who thought outside the box? What if we didn't follow the American Dream? What if?
To this day I still wonder if we would have made the leap if we hadn't experienced a series of devastating losses. In less than two years Jim's oldest sister passed away, my mom was diagnosed with cancer and subsequently died, we lost our dog, Sophie, and the company I worked for went bankrupt.
Plan in place to backpack around the world for a year or so we put the house on the market… the same day Jim was laid-off from work. That point in time marked one of our darkest periods, and yet also was the catalyst for the life we now lead.
That initial trip changed the trajectory of our lives. Fourteen months and twenty countries later we had hit a radical reset and our lives would never be the same.
Our escape to a full-time nomadic life was not immediate. The most important lesson we've learned along the way is simply that every single quote about "the best laid plans" is 100% accurate. Even now our life is not what we planned it to be when we returned. Recessions hit. People die. Relationships change. The year was 2009 and we were back in Oregon broke and searching for work in a down economy. The dream of taking on the world and traveling forever took a backseat to simply getting back on track.
And yet, the dream didn't die. Once awakened the hunger inside of us for a life less ordinary became unable to be ignored and so we worked the answer.
After six years of plotting, the dream once again became reality as we pulled away from Jim's parents' house on December 26, 2015. Has it been easy? Absolutely not! We left that day in our truck camper with our two dogs, Aspen & Porter, and a dream to drive the Pan American Highway to the tip of South America. After years of blogging and writing for my employer, I was hell bent on becoming a full-time freelance travel writer.
The reality? Life isn't like it is in the movies.
We lost Porter to cancer just three months into the trip to Baja. After spending nearly sixteen months in Mexico and Guatemala alone my writing career was intact but not bringing in enough income to sustain us and our savings from the sale of our house were dwindling. Jim's parents were entering their 80's and we felt drawn to be more accessible to them. Our compass turned back north.
What happened next was in no way planned. While staying with friends in Portland we were walking Aspen when I had a meltdown. We had decided to spend 6-9 months of focus with Jim re-entering his old field in sales and myself putting all my efforts into writing. After living in our friend's side yard for a month Jim was mid-interviews and we were both facing doubts regarding our decision.
Once again, we asked what if? What if this was not the right path for us?
Enter the world of workamping. One more seemingly random decision, in this case, to head to Idaho to work at a campground for the summer, reversed the path we were on forever. The world of workamping has allowed us both to utilize our best skillsets while living rent-free and earning income. The relaxed lifestyle allows me to continue writing and we can spend our days together and with Aspen, our loveable lab.
In the last couple of years, we've worked in stunning Coeur d'Alene, Idaho, the idyllic Sierra Nevada's of California, and are now based on Southern Oregon's Adventure coast all while enjoying a couple of months per winter traveling Mexico. These days our job choices are based around proximity to Jim's parents, but we know one day we can again travel further and explore more of this varied country.
Although now semi-nomadic, we still love a good road trip more than nearly anything and the path less traveled beckons us. If you're looking to discover your own wanderlust, here are five of our favorite routes:
New Zealand by Campervan – New Zealand is a dream! Offering gorgeous scenery, diverse landscapes, amazing food and wine, and friendly locals. It is easy to rent a van and explore both islands utilizing the country's vast network of campgrounds.
South Africa's Southern Exposure – South Africa offers up so much for the traveler with a spectacular setting, world-class wine, lush landscapes, and wildlife… oh, the amazing wildlife!
Cruising the Pacific Coastline – The trip we make every year heading to and from Mexico. Hwy 1 and 101 meander their way from California up the Pacific Coast to southern-Washington and take in all the history and varied scenery that highlight the West Coast. And the wine, so much wine.
Mexico's Colonial Hill Towns – Think Mexico is all sunny beaches and tequila shots? Not nearly. Our favorite spot in the country is a slow drive through the many colonial hill towns that positively ooze charm and history. The architecture and vibrant culture are undeniable.
Australia's East Coast – Experience the quirky side of Australia heading north from Brisbane to Cairns. If the variety of unusual wildlife isn't enough, enjoy an unusual focus on large plastic sculptures, beef farms, and funfairs and festivals. Oh, and some of the best beaches in the world.
Taking a path outside of what is considered societal norm is never easy but for anyone willing to take the plunge the rewards are endless.
Our journey continues. Einstein was quoted as saying "Curiosity has its own reason for existing" and who are we to argue with Einstein?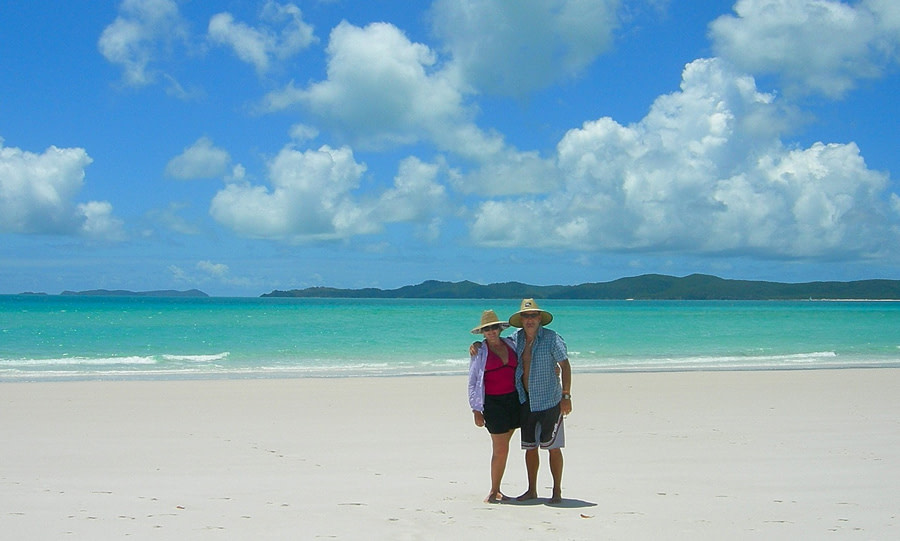 Our advice to everyone, those choosing our path or a more traditional one, is to follow your heart. For you will truly live a life worth having it is essential to take that risk, follow that winding path, and believe in what you have to offer the world.