Looking to soak up the culture in Europe's greatest cities, take strolls along narrow cobblestone lanes in time-warp villages, or sip rosé on sunny Mediterranean beaches? Don't worry, we all dream of embarking on that perfect Euro trip one day. Whether you're just testing the waters or have already decided to take the plunge, RoutePerfect will turn your idea into a plan in no time.
Created by travelers for travelers, this smart online planning tool helps you craft a personalized itinerary, based on your favorite destinations, budget, and style. All you have to do is choose where you want to start and end your trip, select the dates, preferred transport method, and vacation type (e.g. family vacation, romantic escape, solo trip), and the platform whips up a route tailored to your needs in a flash.
Congrats, you now have a suggested itinerary that makes the most of your holiday time. And the best part? From here, you can customize even more aspects of your trip. For example, you can stick to their recommended travel plan or use the sliders on the left hand sidebar to indicate your interest in topics like culture, food, nightlife, or beaches, and the circuit adapts to your preferences. Moreover, you can skip certain recommended destinations and include others that appeal to you, or adjust the time you would like to spend in each of them.
But, no more talking! Let's give RoutePerfect a try!
I've always dreamed of exploring and experiencing life on the French Riviera. I'm an incurable Europhile, and for me, this very region embodies all that I love about Europe – fabulous culture & cuisine, dazzling azure bays, and pretty cobblestone village lanes filled with chic cafés, swanky boutiques, and beautiful people. I'm already planning a trip here next year, so I thought I'd use that to show you how this cool, flexible platform works.
As you can see, I opted for a 10-day romantic trip (starting point – Nice, final stop – St Tropez) by private car. Consequently, RoutePerfect suggested 4 nights in Nice, 3 nights in Avignon, and 2 nights in St Tropez. While their recommended itinerary looks pretty interesting, I thought I'd continue to customize it to the point where I was completely satisfied.
I'm interested in exploring small towns, soaking up the culture, and staying as close to the shore as possible, so I used the sliders to make myself clear, and here's the final result: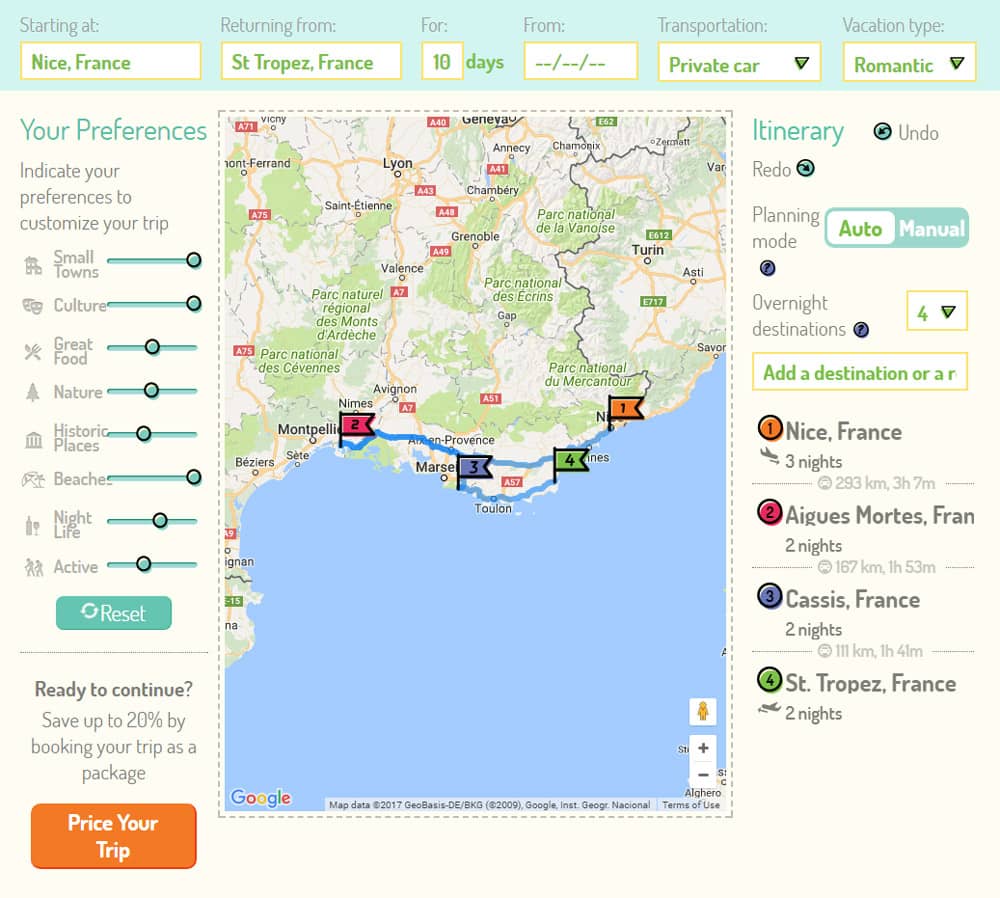 Well, this really tickles my fancy! Three nights in Nice seems enough to explore its cafés and art galleries, do some shopping, lounge at trendy beach clubs, and get a feel of the city. Though different in style and character, glitzy St Tropez and the lovely port town of Cassis are both perfect matches for my interests.
However, the itinerary also includes a 2-night stop in Aigues Mortes, a destination I have never heard of before. This is where RoutePerfect becomes extremely helpful – beneath the map, there's plenty of information on each stop, which means you'll know exactly what is there to see and do, without spending precious time on research.
Turns out, Aigues Mortes is a quaint medieval walled town, full of history, character, and picturesque architecture – a more than welcome addition to my romantic French Riviera getaway.
Time to point out RoutePerfect's main purpose and features
Generally speaking, this nifty travel planning tool helps you become your own travel agent. I could go on and on about the advantages of using it for your next trip to Europe, but I like to keep things practical, so here's what you can do with RoutePerfect:
– Create the best possible itinerary for your time, budget, and preferences
– Get insights into each destination, including daily planning, attractions, and activities
– Adjust most aspects of your trip manually
– Get excellent transport and accommodation rates
– Have all the info about your vacation in one place
– Book your trip as a package and save up to 20%
– Choose from a variety of suggested itineraries (especially useful for first-time travelers to Europe)
– Benefit from great customer support
– Save lots of time, money, and hassle
Next time you're planning a trip to Europe, give it a try and let me know your thoughts in the comments below!