This post contains affiliate links, which means we may receive a small commission, at no additional cost to you, if you make a purchase through these links. See our full disclosure here.
Can't make it to the mall this holiday season? No worries! With countless virtual stores full of treasures ready to be wrapped, moving your shopping spree online is easier, and safer, than ever.
Whether you're looking for a timeless piece of handcrafted jewelry for your best friend, a smart, stylish gadget for the tech-savvy guy on your list, or perfect ugly Christmas sweaters for the whole family, you can now buy them all from the comfort of your sofa thanks to the mighty powers of the Internet.
We've scoured the web and found the best online sites for Christmas shopping, so you can stock up on chic, unique presents while avoiding the festive crowds. They're easy to use and replete with fresh gift ideas to suit all budgets, ages, and personalities on your list. And it's not just the gifts themselves that set them apart, but also their excellent customer service (hello Nordstrom), amazing shipping & return policy, and the straightforward shopping experience they provide. Not to mention they almost always come up with enticing Black Friday, Cyber Monday, and Christmas deals.
Here's our list of where to shop online this Christmas:
Huckberry
Best for: Stylish Men's Gifts
For the coolest men's gifts, look no further than Huckberry. Meant to inspire an adventurous life, their picks range from exquisitely crafted apparel, superb leather goods, and cutting-edge tech to big boy's toys like a handcrafted marshmallow crossbow. For inspiration, there's a wondrous gear selection for those in love with Japanese-inspired designs, as well as a Vice Shop filled with stylish drinking accessories. If your brother, husband, father, or friend loves being on the road, you'll find plenty of smart, well-designed travel accessories to simplify their trip as well.
Although Huckberry is a one-stop shop for all things masculine, customers can also browse the beautiful women's gift collection, packed with luxurious silk pajamas, affordable designer jewelry, and the ultimate organic skincare products.
Nordstrom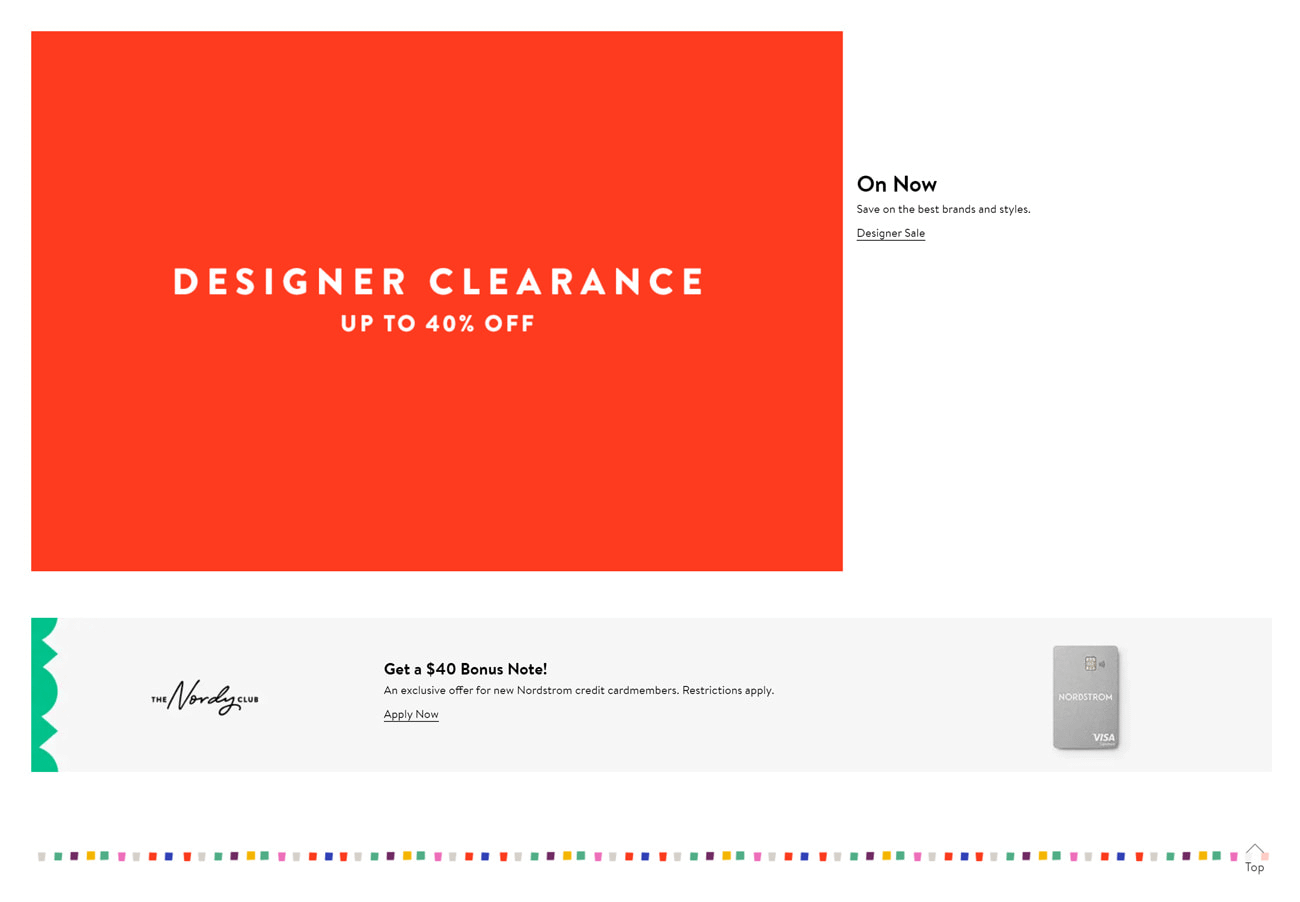 Best for: Everything from chic designer items to tasteful home decor
If your Christmas list includes everything from fashion, home decor, and fancy beauty products to toys and pet accessories, you'd be hard-pressed to find a better place to do your holiday shopping than Nordstrom. Aside from being a never-ending source for gifts, the upscale US retailer has always been revered for its exemplary customer service and return policy. It also makes it easy to shop for the best gifts by recipient, price, or category. Oh, and their silver gift wrapping is legendary!
Goop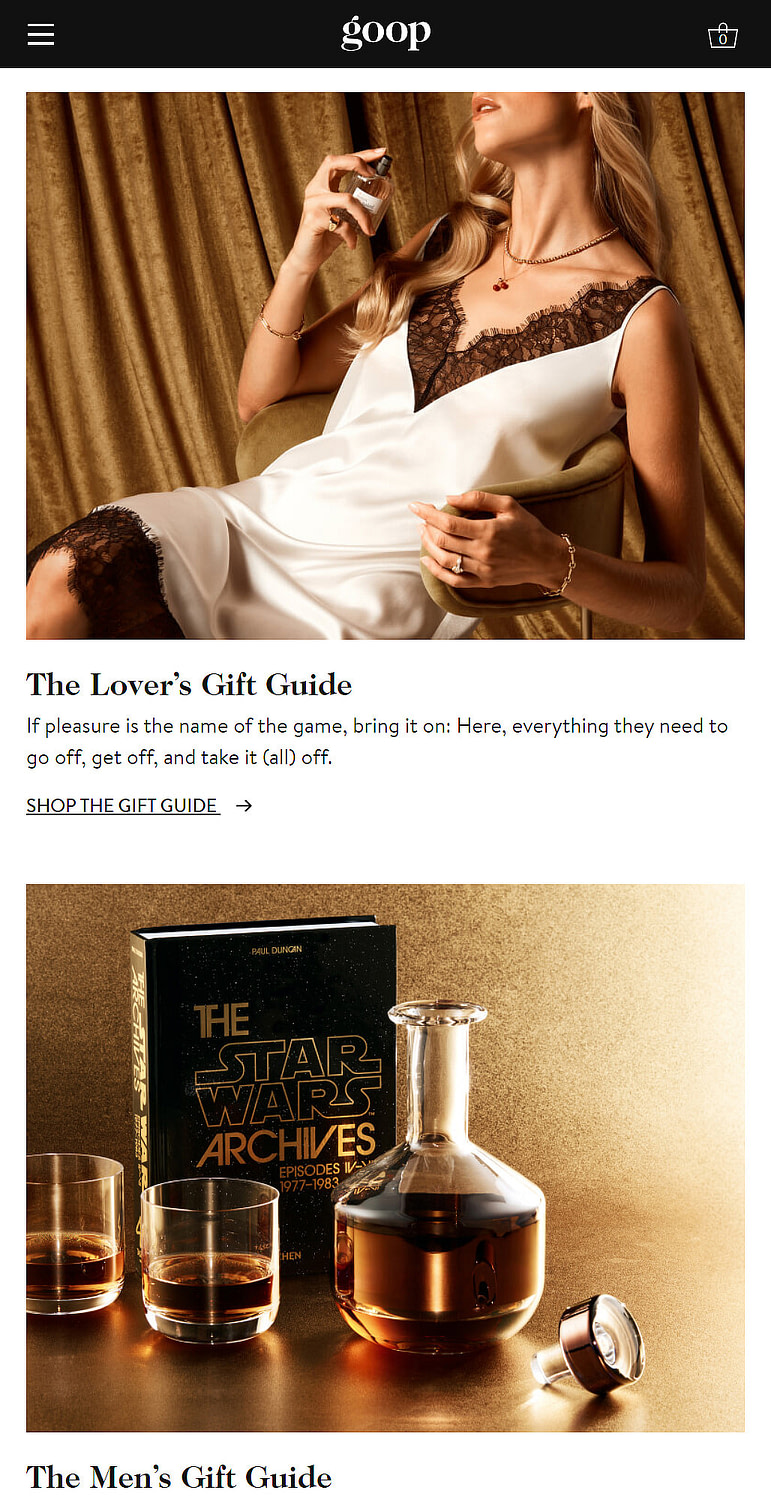 Best for: Unique, high-end, well-designed gifts
There's no online Christmas shopping without Goop's annual Holiday Gift Guide. The 2022's smartly curated list of presents is full of eccentric treats but also quality gift ideas for kids, hosts, lovers, and travelers. You won't find the cheapest stocking stuffers in there, but if you're looking for cruelty-free beauty must-haves, innovative wellness gadgets, and all sorts of classy home essentials, look no further than their Gifts under $100 edit. Otherwise, splurge on a creative, over-the-top item from Gwyneth's Ridiculous but Awesome Gift Guide, which includes everything from an $8,000 home sauna to an epic trip to New Zealand to a vintage Ford Bronco.
Shopbop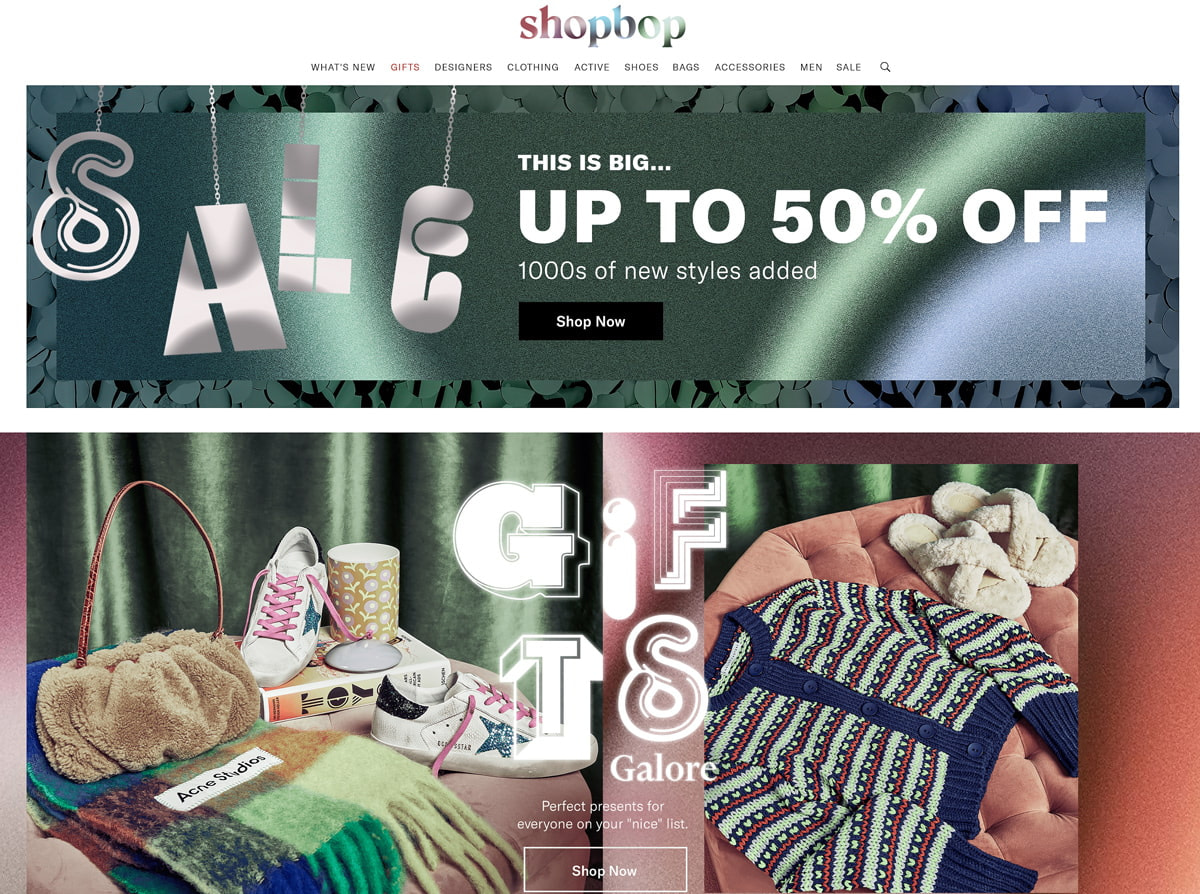 Best for: Trendy designer pieces
A mix of high-end brands and newer, emerging designer labels, along with free two-day shipping for Prime members, makes Shopbop one of the best shopping websites for the holiday season. You'll find stylish clothing, shoes, bags, and accessories that fit a range of budgets, as well as chic home goods, interesting books, perfumed candles, and fitness kits. They have gift ideas for the entire family, a huge sale section, and their user-friendly interface also allows you to shop by designer or trends.
Mr Porter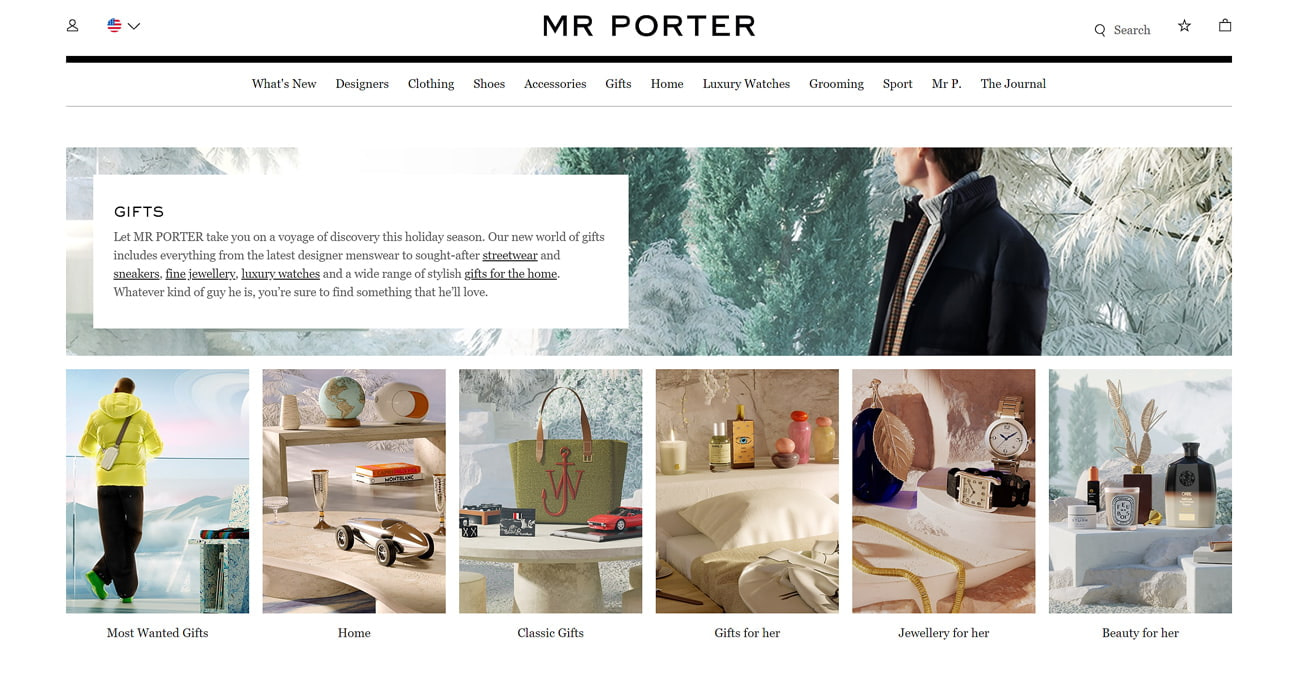 Best for: Luxury menswear & tech
As the ultimate online curator of luxury menswear, it's no wonder Mr. Porter is where you'll find some of the best gifts for men with refined tastes. This festive season, fine watches and jewelry stand alongside stylish contemporary homewares, cult collectibles, and closet essentials from some of the world's most sought-after brands. Their gift store is sorted into categories for ease and inspiration, and their customer service, with express worldwide shipping to more than 170 countries, including same-day delivery to London and New York, is said to be outstanding.
Anthropologie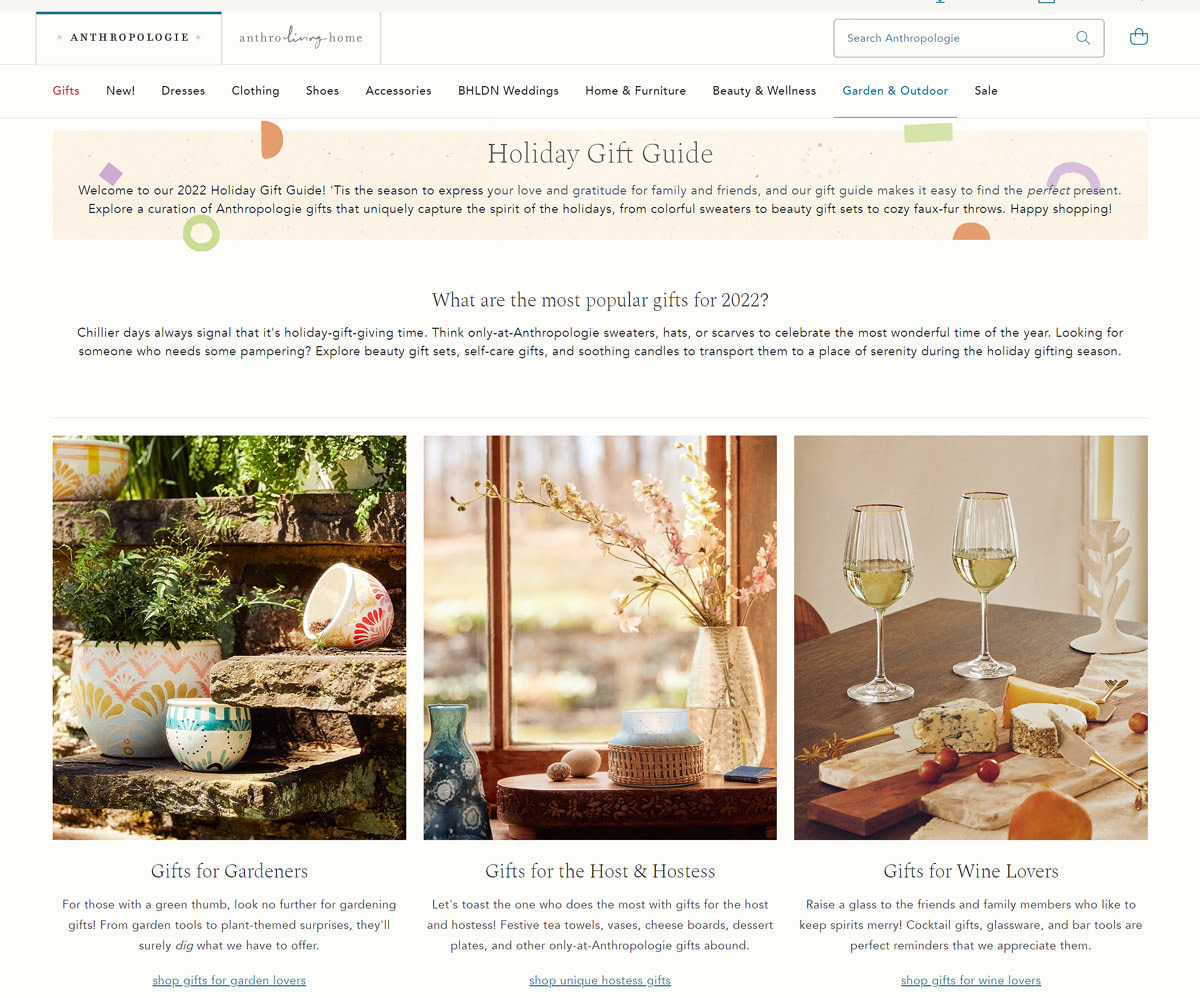 Best for: Eye-catching home decor, cozy winter must-haves, unique gifts
Known for its funky designs and stylish, bohemian aesthetics, it's no wonder Anthropologie is one of the best websites to stock up on one-of-a-kind gifts for your favorite girls. There are sweet-smelling soaps for your trendy grandma, monogrammed jewelry for your BFF, silk pillowcases for the beauty maven on your list, and a wonderland of exotic home decor pieces for everyone else.
Urban Outfitters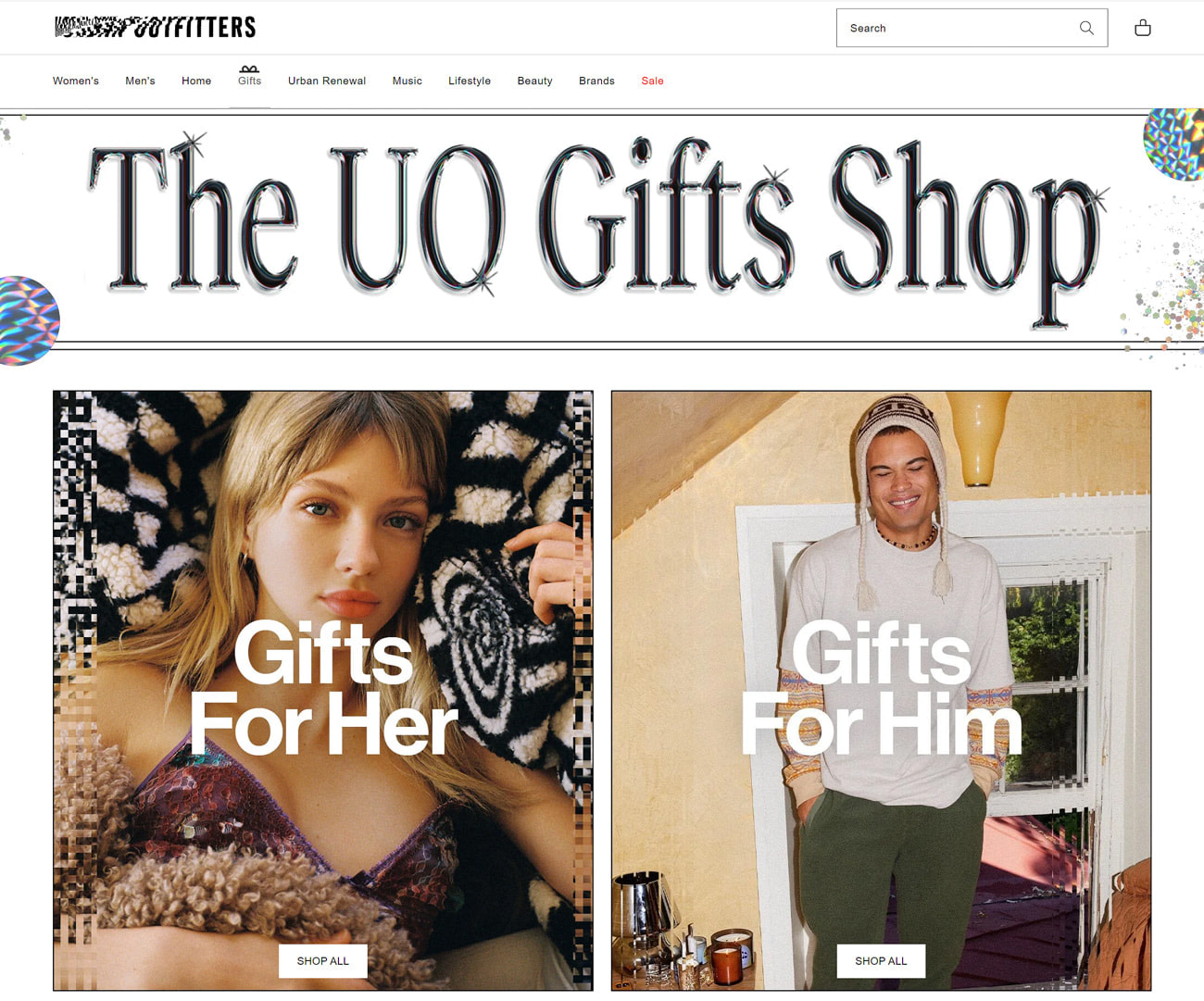 Best for: Cute decorations and stocking fillers
From unique vintage clothes to innovative gadgets and mid-century furniture, Urban Outfitters' eclectic product mix makes it possible to do all your online Christmas shopping in one place. Explore their well-curated gifts section for women's, men's, home, and lifestyle presents that will put a little extra cheer underneath the tree this festive season. For those on a budget, UO's under- $15 gift selection of cute beanies, colorful journals, cult beauty products, and gift-worthy books proves that chic presents don't have to be expensive.
Sephora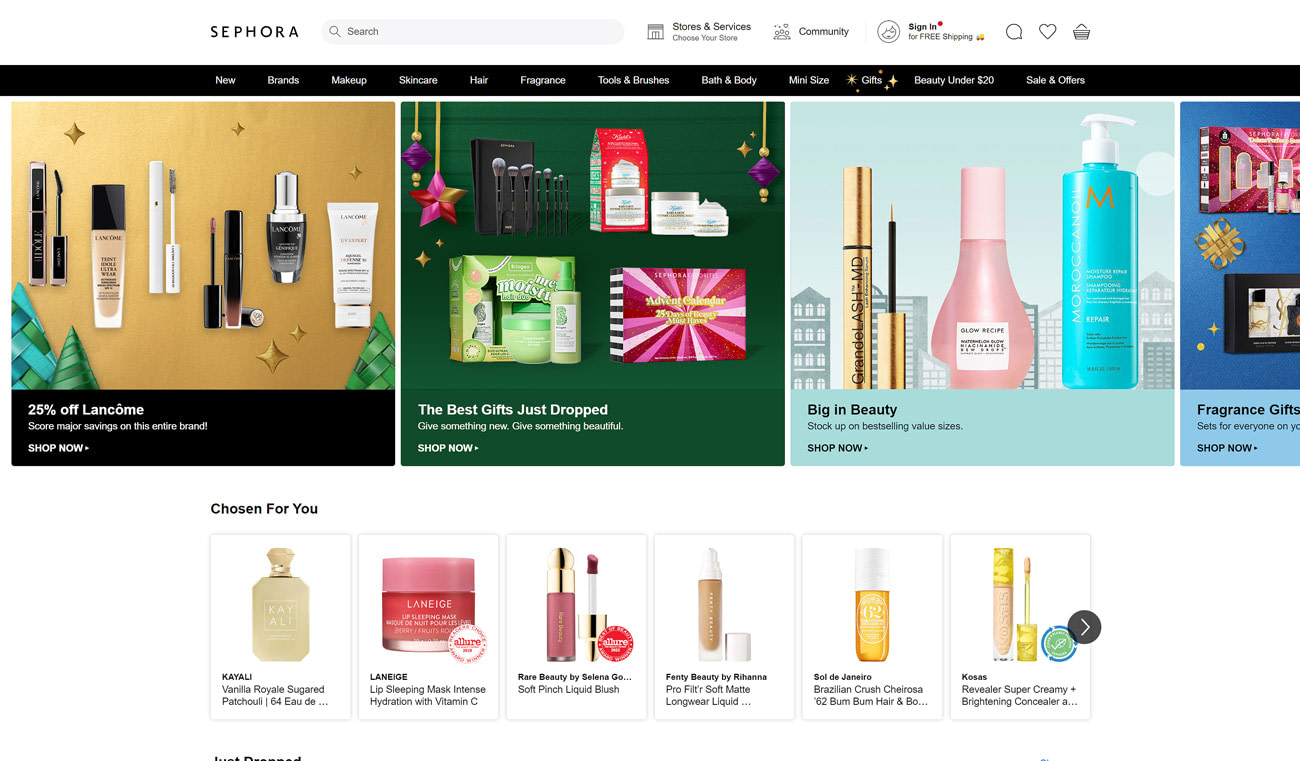 Best for: Beauty gifts
Shopping for beauty gifts doesn't get better than at Sephora. For the 2022 holiday season, the multinational French retailer has you covered with colorful skincare sets, delicious fragrances, high-end hair products, and makeup must-haves from some of the best-known brands. You can browse gifts by category, price, and recipient, or you can opt for a festive Holiday Gift Card available in denominations of $10 to $250. Additionally, sign up for their free loyalty program and get free standard 1-3 day shipping on all US merchandise orders.
Everlane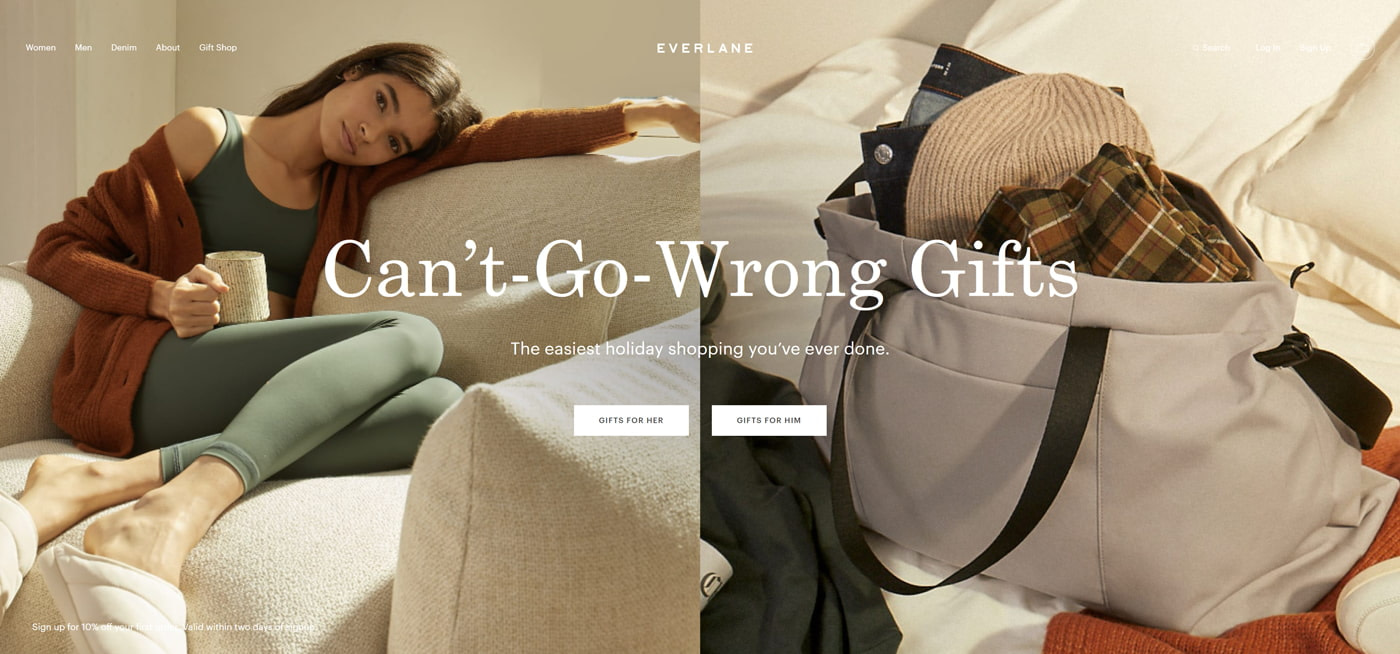 Best for: Elegant, ethical fashion items
Eco-conscious silk blouses, affordable cashmere sweaters, classic Italian shoes… You can't go wrong with a gift from Everlane, the San Francisco-born online store known for its ethically-sourced materials, timeless designs, and transparent, direct-to-consumer pricing. Their Gift Shop section is full of inspiring ideas for both him and her, at all price points.
Uncommon Goods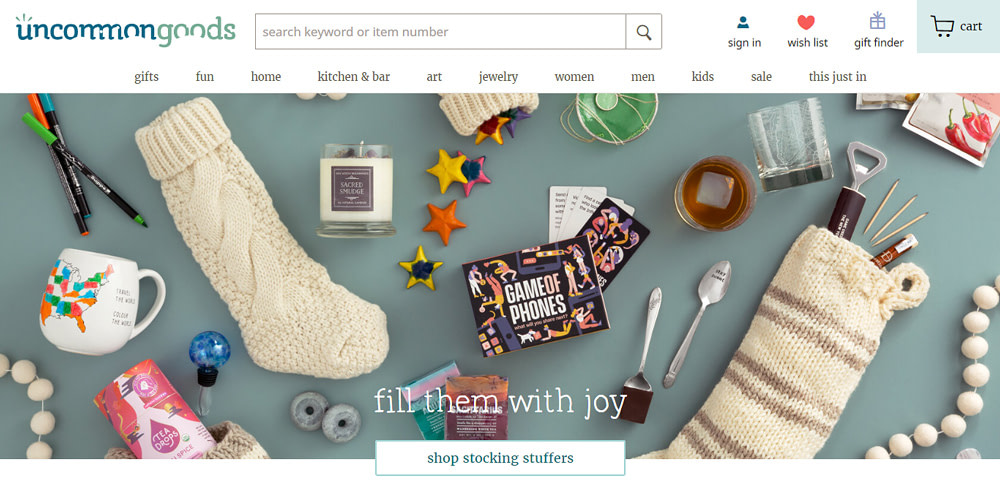 Best for: Cool, unique products made by independent designers
Want to surprise your friends and family with some unique, unusual gifts these holidays? True to its name, Uncommon Goods is a treasure trove of creative finds from independent designers around the world. Whether you're buying for foodies, sports enthusiasts, or your aunt, you're bound to find something extraordinary for everyone on your list. And the best part, the gifts area is conveniently divided into categories based on price, recipient, and interest, for an easier shopping experience.
Etsy
Best for: Vintage and handcrafted items, personalized gifts
Etsy's mesmerizing collection of vintage and handcrafted items makes it one of the best sites for Christmas shopping. From clothing and jewelry to art, toys, books, and home decor, this huge craft marketplace has anything and everything you may be looking for. We're fans of their personalized gift ideas, which include fingerprint-engraved jewelry, custom watercolor paintings, and all sorts of monogrammed leather goods.
Amazon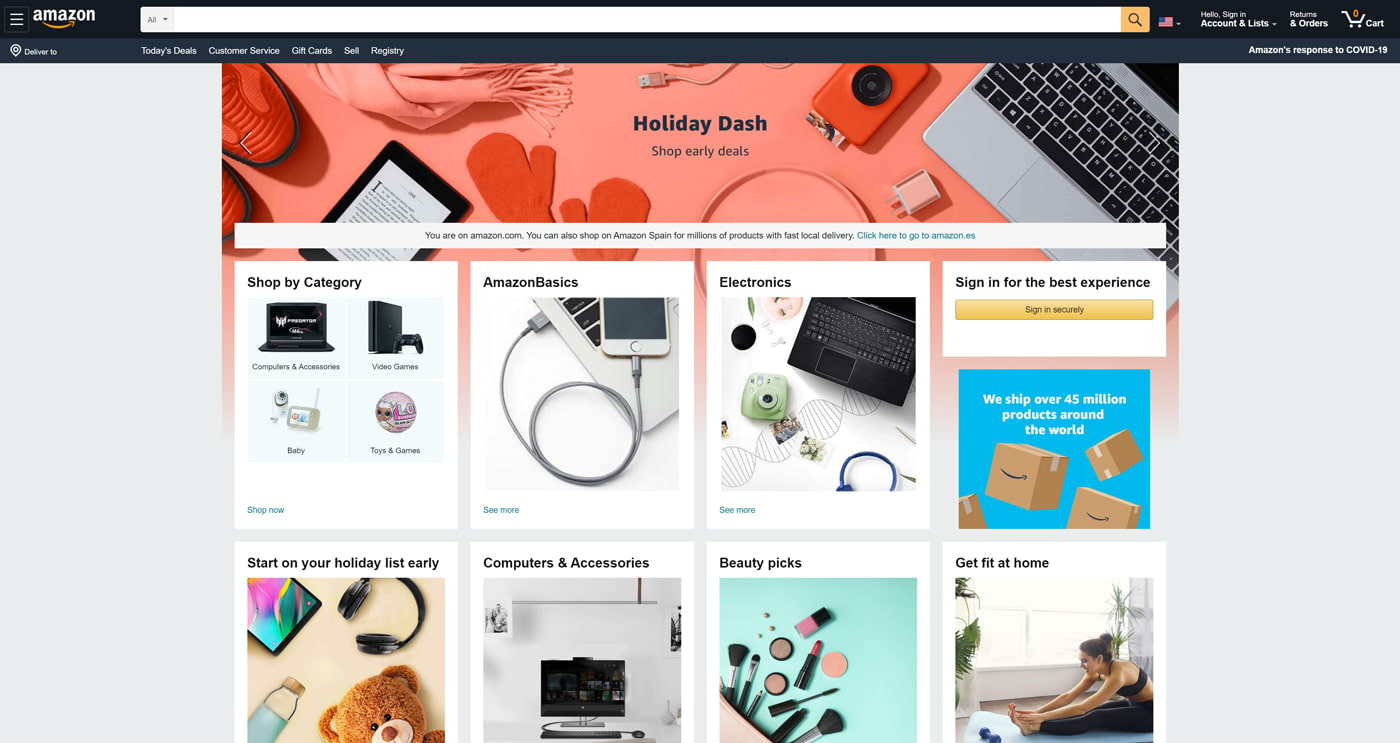 Best for: Everything
If you want to knock everything off your Christmas shopping list in one place, nothing beats Amazon. The world's largest online retailer offers pretty much anything for everyone, and their interactive gift-finder tool makes the process easier than you'd think.
You can search by recipient, category, interests, price, and so on. This is where you'll find some of the best Christmas deals in 2022, and they even have an Oprah's Favorite Things department which celebrates small businesses owned by women and people of color. On top of that, Amazon Interesting Finds is full of cool home gadgets, travel accessories, pet toys, and all kinds of fun, unique pieces – all shipped straight to your doorstep quicker than you can say "Santa".
In the meantime, savvy shoppers may want to take advantage of Amazon's Early Black Friday event, which offers tons of daily bargains on electronics, home goods, fashion, etc., and of course, its massive Black Friday and Cyber Monday deals.
ban.do
Best for: Fun, playful gifts, colorful stationery
If you're seeking presents that spark joy, ban.do has you covered. This LA-based lifestyle brand is your one-stop shop for all things cute, playful, and happiness-inducing. In addition to colorful stocking stuffers, you'll find interesting gift areas for the Eternal Optimist, Interior Hero, or Fashion Icon on your list.
DSW
Best for: Footwear
With its generous Rewards program, free shipping, and fast returns, DSW is the perfect place to shop for last-minute Christmas gifts. The famous online shoe store has footwear and apparel for the entire family, as well as expertly curated gifts spanning a range of prices and styles. Choose between cute Stocking stuffers & family game night faves, Gifts under $50, and Splurge-Worthy Gifts from famous brands like Off-White and Balenciaga.