As you already know, I spend most of my time writing about travel. Aiming to get the most out of my work, I never stop looking for new ways to increase my productivity. Over the time, I tried to write in various circumstances in order to determine my own style and to fully develop it. I've done all these being totally convinced that my attempts would eventually lead me to what is the key to a maximum efficiency.
Consequently, I've discovered that each venue I choose to write my articles gives me a unique perception, each time of the day makes me see things in a different light, and each weather variation influences my mood and my writing rhythm.
These being said, I'm ready to share with you my favorite writing venues, hoping that they might help you enhancing your travel writing, as well.
Local cafes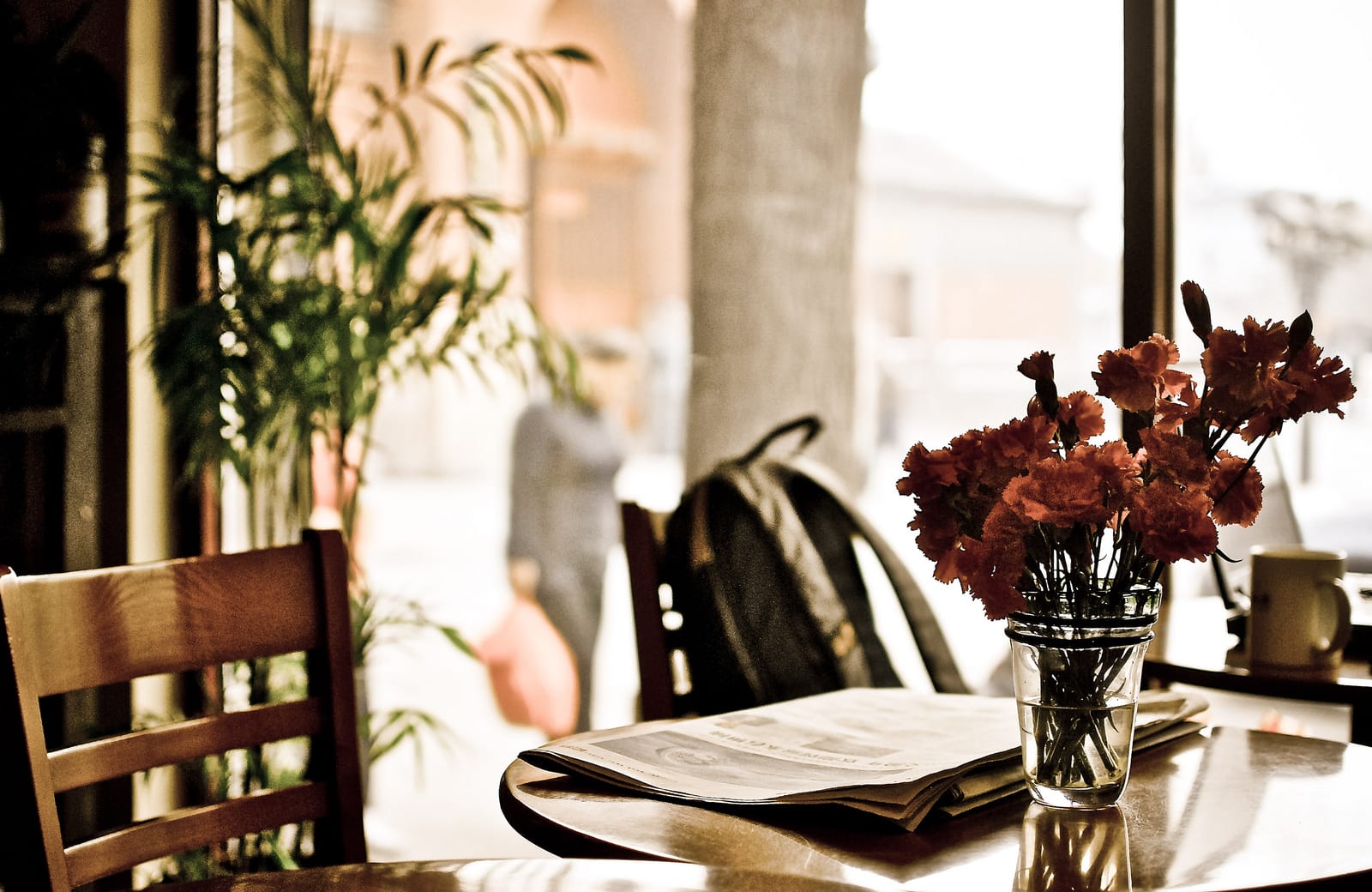 When I visit a city/village, I love writing about it whilst sipping a cappuccino in a local café and honestly, I can't imagine a better place to soak up the local vibe.
Usually, people come in cafes to socialize, relax and to meet friends. Some are happy, others are silent, but they act naturally, and I like observing all these moments of their everyday lives. They say a lot about their home city. Their voices, their language, their smiles and gestures mingle into my mind with the streets, the architecture, the neighborhoods, and in the end, they offer me the clearest image of that particular place. Those people are the vibe, the magic, the living part of the city, and my greatest inspiration.
My kitchen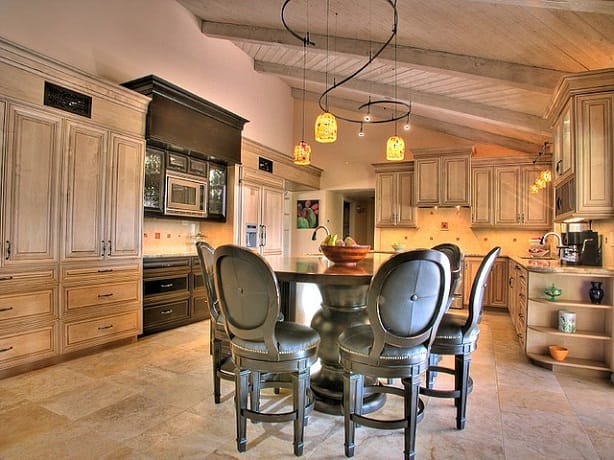 Kitchen is the most colorful room in my house, and the place where I spend most of my time. While the bedroom is sober and the lounge looks empty and lifeless, my kitchen always cheers me up and gives me energy. That's why, when I'm home, I like to sit there with my laptop and my coffee, and write. In fact, this has become a routine and now, after almost a year, I find it impossible to give up this habit. I guess this shows off that as a writer it's very important to find that perfect place which makes you feel good and comfortable, and to turn it into your own personal corner.
On the beach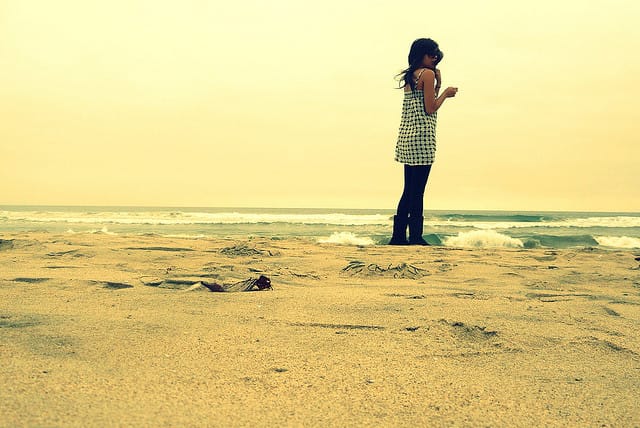 Ever since I was a kid, nothing made me happier that the beach. I didn't care if it was my hometown's wild riverside or the busy seaside on the Black Sea coast. For me, the only thing that mattered was that perfect combination of water, sand and sunshine. Things haven't changed too much since then and now here I am: the most enthusiastic beach person I know.
Therefore, when I travel and come across a beach, I never miss the opportunity to write. It doesn't really matter if the beach is crowded or secluded, if I'm going to write about it or about anything else, there's just something with the beach, with any beach, that makes me feel pleased, confident and safe, that inspires me and encourages me to exceed my limits.
Up in the mountains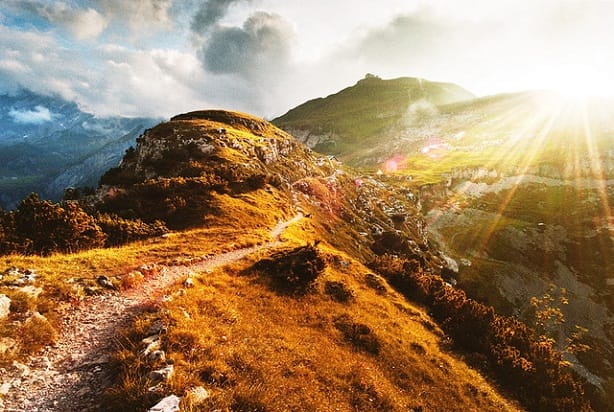 I'm not a mountain buff, but I can't deny the freedom, the good feeling and that incredibly fresh air that only an alpine landscape can offer you. I've only experienced this once (writing up in the mountains) and it was quite unusual, but so refreshing.
It was a warm end of summer and I was taking the cable car to reach the top of the mountain in order to take some pictures and to cool off a bit. As soon as I got there, I was overwhelmed by the greatness of nature, completely rapt by the breathtaking scenery that loomed before my eyes. While standing up there, in the middle of that splendor, the first thing that came into my mind was not to take the camera and capture all that beauty, but to get a pen and a piece of paper (I didn't have my laptop). I knew the lens would have done a great job, but I guess I was afraid not to miss something, so I started to depict that incredible place and moment through my own eyes. The only thing I remember now is that it was so silent that I could almost hear my thoughts begging me to write about that special place in that special moment.
In the car
I love road trips. For me traveling by car is the safest, the most relaxing and beautiful way of traveling the world. I prefer (even like) spending a week on the road before reaching a destination, seeing the world through my windshield, than to lose two precious hours in a plane without seeing anything, so I try to avoid flying as much as possible.
Writing in the car while traveling is like nothing I've done before. Maybe it's about the changing landscape which makes my ideas flowing out, or the continuously movement so similar with the course of life, or maybe I'm just too poetical, but every time I wrote in the car I ended up being published in some great travel magazines. What can I say, I don't believe in miracles, but I don't believe in coincidences either, so I can only assume that road trips inspire me the most. Too bad I don't have the chance to do that more often (I always drive)!
What's your favorite writing venue?