In the run-up to Christmas, the fairytale cities of Europe put on their festive gawns and welcome visitors into a magical winter wonderland with all kinds of peculiar customs and shining lights adorning their old, snowy streets.
But a taste of Christmas in Europe, as sweet as it may be, doesn't have to be limited to visiting obvious destinations like Prague, Vienna, or delightful Rovaniemi. This year, think outside the box, and head for lesser-known European cities and towns full of character and unspoiled charm.
Ljubljana, Slovenia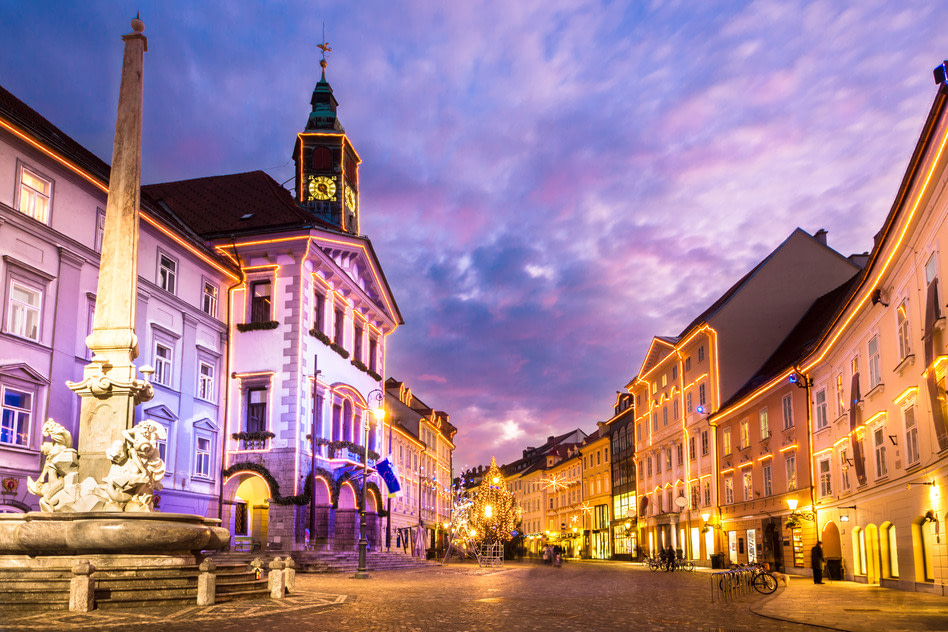 Ljubljana, one of Europe's least-discovered capitals, is a gorgeous place to spend Christmas. Every December, the city – with its colorful Christmas markets, nativity cribs, lively processions, and beautifully lit streets – is awash in holiday spirit and festive glow.
Make the most of your time here with a stroll through the wooden, craft-filled stalls of Ljubljana Christmas Market, or visit the annual Fairy Tale Town in Zvezda Park for some wonderful food, music, and fun for all ages.
If you want to get even deeper into the country's Christmas traditions, feel free to take part in the Grandpa Frost Procession (Dedek Mraz) or enjoy the free-entry Christmas Concert, which takes place each year in front of Ljubljana Town Hall. For the more adventurous, Krvavec, Slovenia's second-largest ski resort, is a mere 35-minute drive away.
Brasov, Romania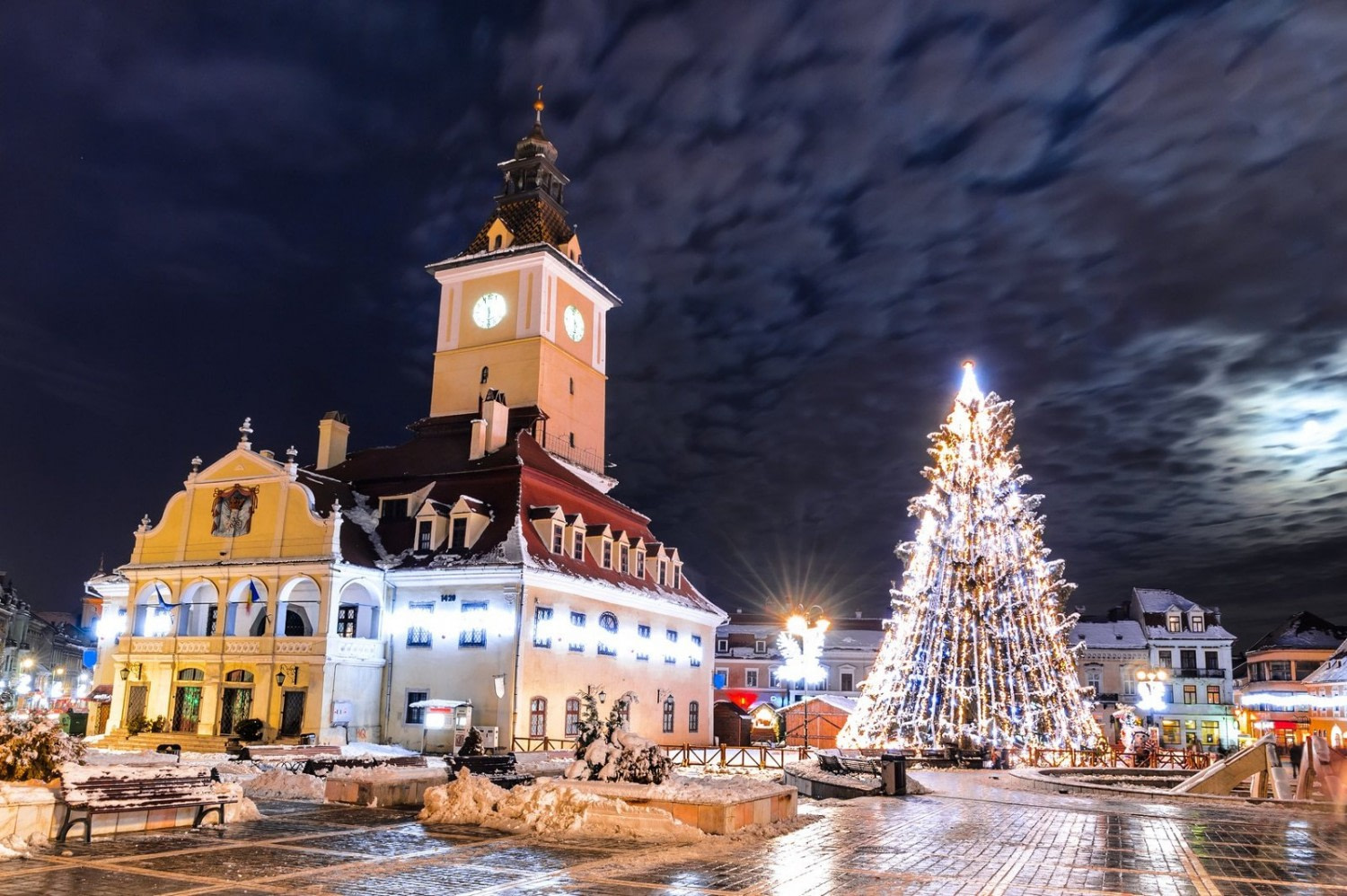 With its cobbled medieval streets, awe-inspiring Gothic architecture, and the dramatic Mt Tâmpa towering above, the handsome Transylvanian city of Brasov provides the perfect backdrop for your winter holidays.
During the Christmas season, Piata Sfatului (the city's main square) comes to life with joyful Christmas music, German-inspired stalls, and a giant, sparkling Christmas tree.
Shops transform their window displays into glistening winter scenes, churches hold special services, and most of the restaurants around serve up mouthwatering traditional menus with vin fiert (mulled wine), tuica fiarta (hot plum brandy with sugar, pepper, and spices), and dishes like sarmalute cu mamaliguta (rice and meat stuffed cabbage rolls with some sort of polenta), carnati (homemade sausages), cozonac (the local version of panetone), or papanasi (cheese doughnuts with sour cream and jam).
Brasov is one of the best places to experience Christmas in Romania, but also a fabulous base for exploring the magnificent castles and fortresses of Transylvania, or taking a day trip to one of the country's most exclusive ski resorts – Poiana Brasov, only 12 km up in the mountains.
Poznan, Poland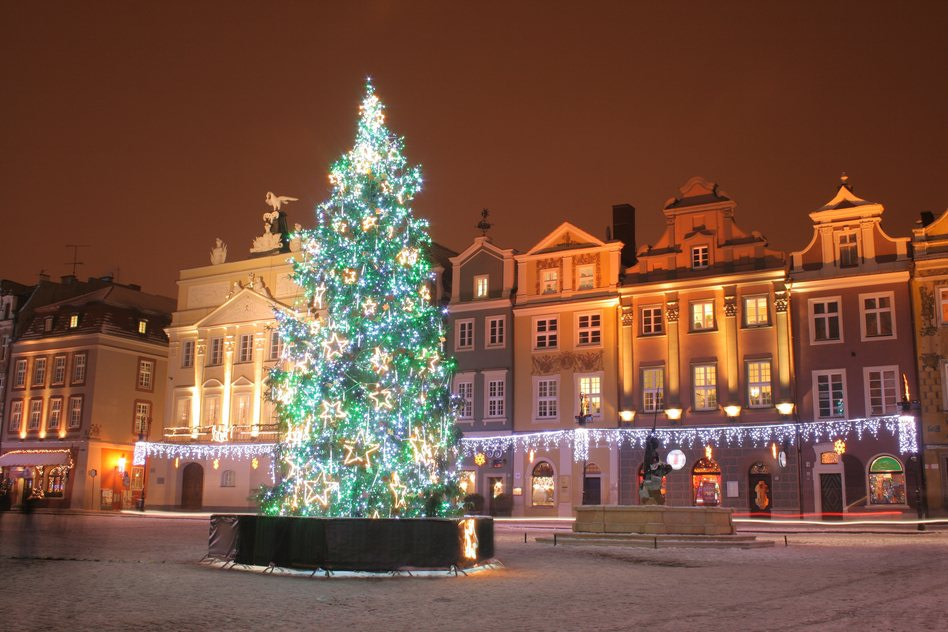 Eastern Europe is particularly attractive during this time of year, and the beautiful historic city of Poznan is a fantastic destination to combine culture, sightseeing, and Christmas shopping with some great Polish hospitality.
December comes with snow, sales, concerts, and ceremoniously illuminated streets, and the postcard-perfect Stary Rynek (Old Market Square) is taken over by the delightful stalls of Poznań Bethlehem (the local Christmas market), chock full of handmade treasures, heartwarming local food, and perfumed mulled wine.
To complete the picture, a marvelous Christmas tree and a nativity scene are set up in the Old Market, and Christmas carols are played everywhere. A highlight, however, is the International Ice Sculpture Festival, which takes place each year in Poznan and brings together some of the world's best ice carvers.
Madonna di Campiglio, Italy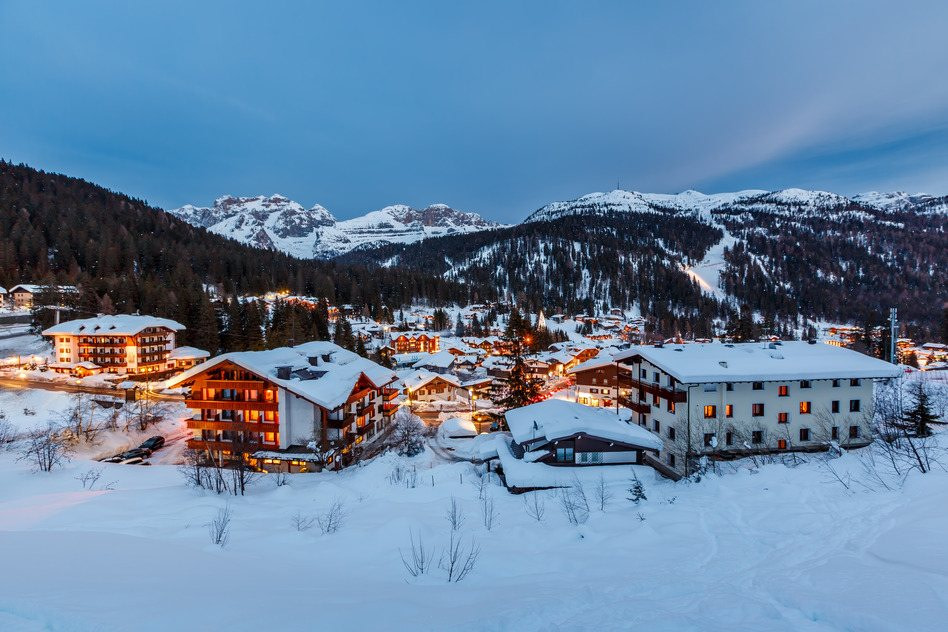 For a magical white Christmas filled with skiing and fabulous food, look no further than Italy's Madonna di Campiglio. With its gorgeous scenery, luxurious shops, and exclusive selection of bars and taverns, this elegant and intimate mountain town is sure to deliver the experience you're looking for.
Dominated by the snow-capped peaks of the Brenta Dolomites, the resort, which sits at an altitude of 1,522 meters above sea level, offers 9 miles of cross-country ski trails and 35 pistes served by modern facilities.
During the Christmas season, Madonna di Campiglio comes alive with lots of twinkling lights and holiday festivities, including the traditional Christmas slalom at the Canalone Miramonti run and the lovely Christmas market, which sells everything from beautiful decorations and handcrafted items to honey and vin brulé (mulled wine).
Complete your visit with a husky sledding adventure, or put your ice skates on and take a spin on the open-air ice rink.
Coburg, Germany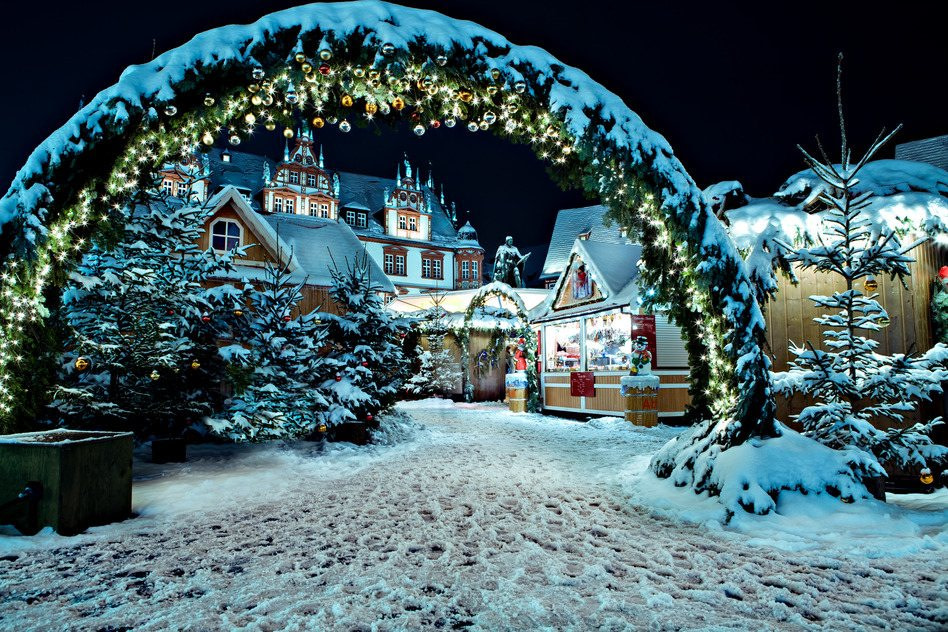 Let's face it, Christmas is nowhere near as beautifully celebrated and illustrated as in Germany, where time-honored traditions such as the Advent calendar, the Advent wreath, the gingerbread houses, the wooden nutcrackers, or the Christmas markets are as vivid today as they were centuries ago.
Away from the tourist track, the Bavarian town of Coburg is a treasure trove of half-timbered houses, medieval alleyways, and Christmas magic. Overlooked by the city's ancient castle (Veste Coburg), the sprawling Christmas market is brimming with wooden toys, ceramics, and a wonderful atmosphere. Like most of Germany's top Christmas markets, the atmospheric fair specializes in artisan products from the surrounding region. Moreover, ancient carriages invite visitors to enjoy a romantic ride around the Old Town, artisans can be seen working their crafts, and delicious aromas of roasted almonds, traditional bratwurst, and glühwein permeate the air.
For a one-of-a-kind experience, visit the Historical German Christmas Museum in the nearby town of Neustadt.
Cazma, Croatia
Croatia may at first seem an unlikely place to spend your Christmas holidays, but think again. This is off-season, the time when residents take back the country from tourist hordes, which means you will be able to get a true taste of the local culture and everyday life.
Situated only 30 km east of Zagreb, the small town of Cazma is home to what Croatians call the "Christmas Story". Each December, the Salaj family transforms their seven-hectare estate into a winter wonderland decorated with over one million multicolored lights.
Broadway, England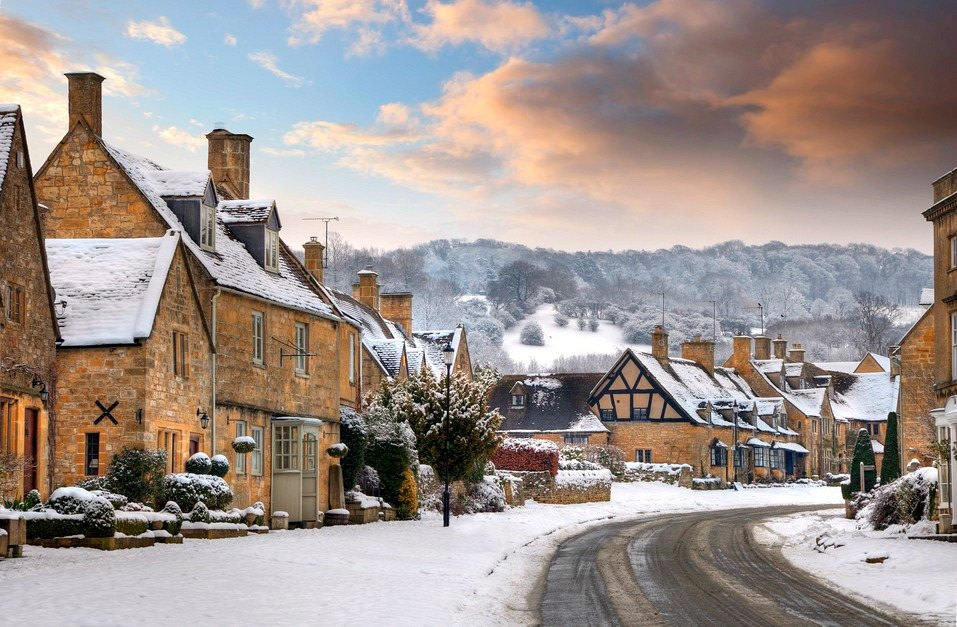 It might have something to do with Charles Dickens' A Christmas Carol, but there's something truly magical about Christmastime in England. And the Cotswolds village of Broadway, with its pretty honey-colored houses, atmospheric pubs, world-class art galleries, and chic designer boutiques, feels like a real-life fairytale during this special time of year.
The main event is Broadway Late Night Christmas Shopping, where, in addition to bargain hunting, you'll have the opportunity to get into the holiday mood with all kinds of live carol singing and festive tunes, street entertainment, carriage rides, and delicious roasted goods.
Other Christmas attractions in the region include Winchcombe Christmas Festival, Dumbleton Christmas Fayre, Moreton Christmas Market, Bath Christmas Market, as well as a series of wonderful concerts.
Pertisau, Austria
Set on the quiet shores of Lake Achensee, the small Tyrolean village of Pertisau makes for a truly outstanding Christmas getaway.
Here, in this idyllic little hamlet, life unfolds at a leisurely pace, and so does Christmas. A lovely bazaar with traditional crafts and freshly made waffles is organized in the town center, and Pertisau Parish Church – designed by famous Austrian architect Clemens Holzmeister – offers a beautiful Christmas concert.
Situated on the village's outskirts, the Karwendel Alpine Park is ideal for hiking and nature exploration, while the nearby ski areas of Planberg Weisenlifte and Karwendel Bergbahn offer a plethora of skiing opportunities.
Other than that, you can visit the country residence of Emperor Maximilian I, explore the local bars and shops, learn about the region's mineral oil, or enjoy sleigh rides through the snow-covered, postcard-perfect surroundings.