This post contains affiliate links, which means we may receive a small commission, at no additional cost to you, if you make a purchase through these links. See our full disclosure here.
While it might seem easy to buy a gift for the coffee lovers in your life, they can actually be a picky bunch. Real coffee enthusiasts can be very particular about their brewing methods, coffee beans, and even the mug they prefer to drink from. To find the perfect gift, you'll have to hone in on their tastes and choose something to complement their coffee preferences.
Whether you don't know the first thing about specialty coffee and accessories or you're an enthusiast yourself, you're bound to find at least a few great gift ideas for coffee lovers below, or maybe even a treat for yourself.
Breville Barista Pro Espresso Machine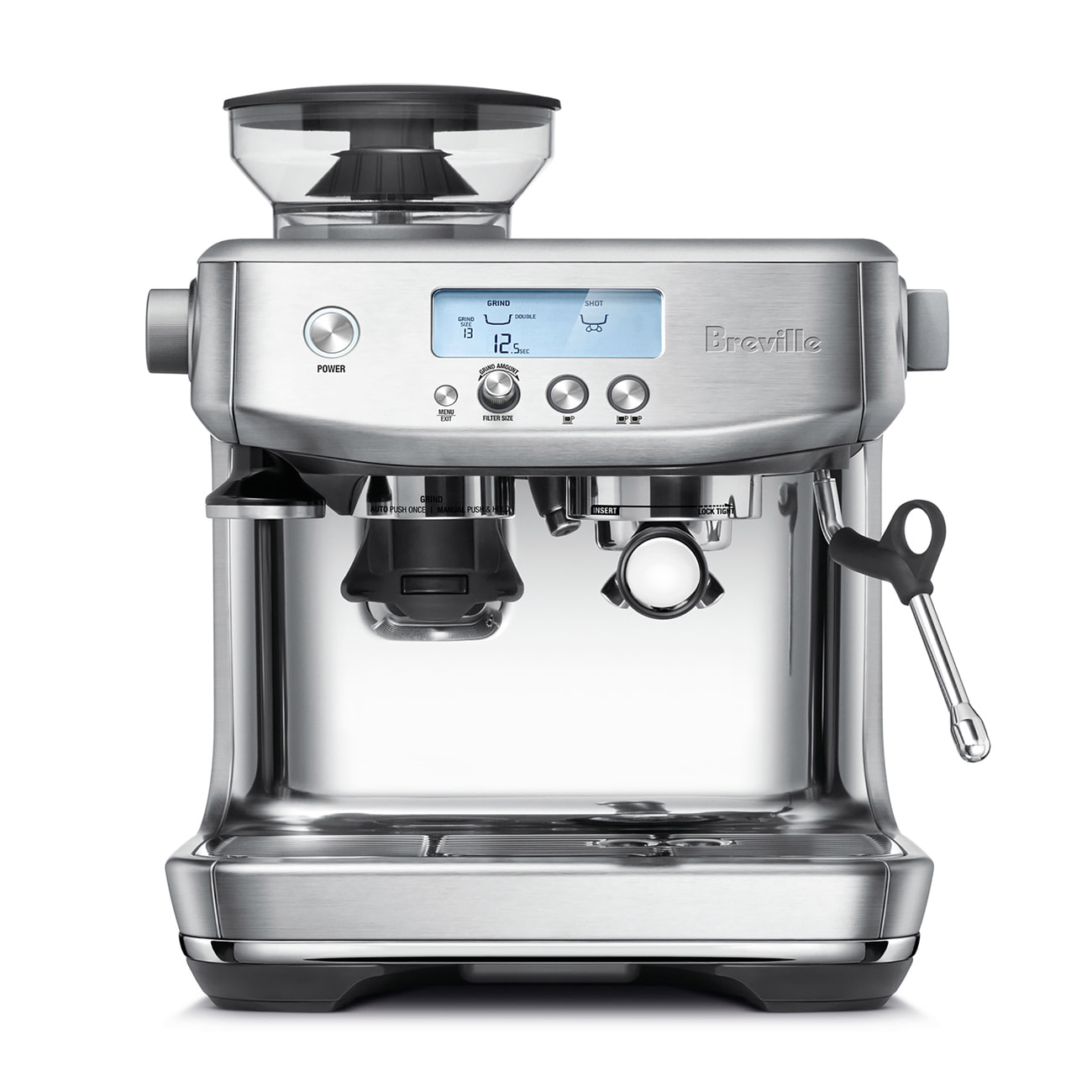 If you're looking to splurge on someone who prides themselves on their brewing skills, the Breville Barista Pro Espresso Machine can up their game even more. The mechanics have been meticulously engineered to offer supreme performance in the three areas that matter most: pressure, temperature, and grind.
Though it's designed to use at home, the Barista Pro pulls shots with 9 bars, the same pressure rating as most commercial espresso machines. Combined with a heating element that brings water to temp in as little as 3 seconds, your lucky friend will be making coffee shop quality drinks in no time.
Trade Gift Coffee Subscription
For the person in your life who loves trying a new bean, Trade's Gift Coffee Subscription will keep them in constant supply. To purchase the gift, simply choose between 2 and 24 bags, and when you check out, you'll get the option to print or email their redemption code. When they are ready to redeem, they can set up their taste profile and delivery schedule to ensure every bag that comes is their new favorite. Once you see how convenient it is, you can get a subscription for yourself, too.
VSSL Java Coffee Grinder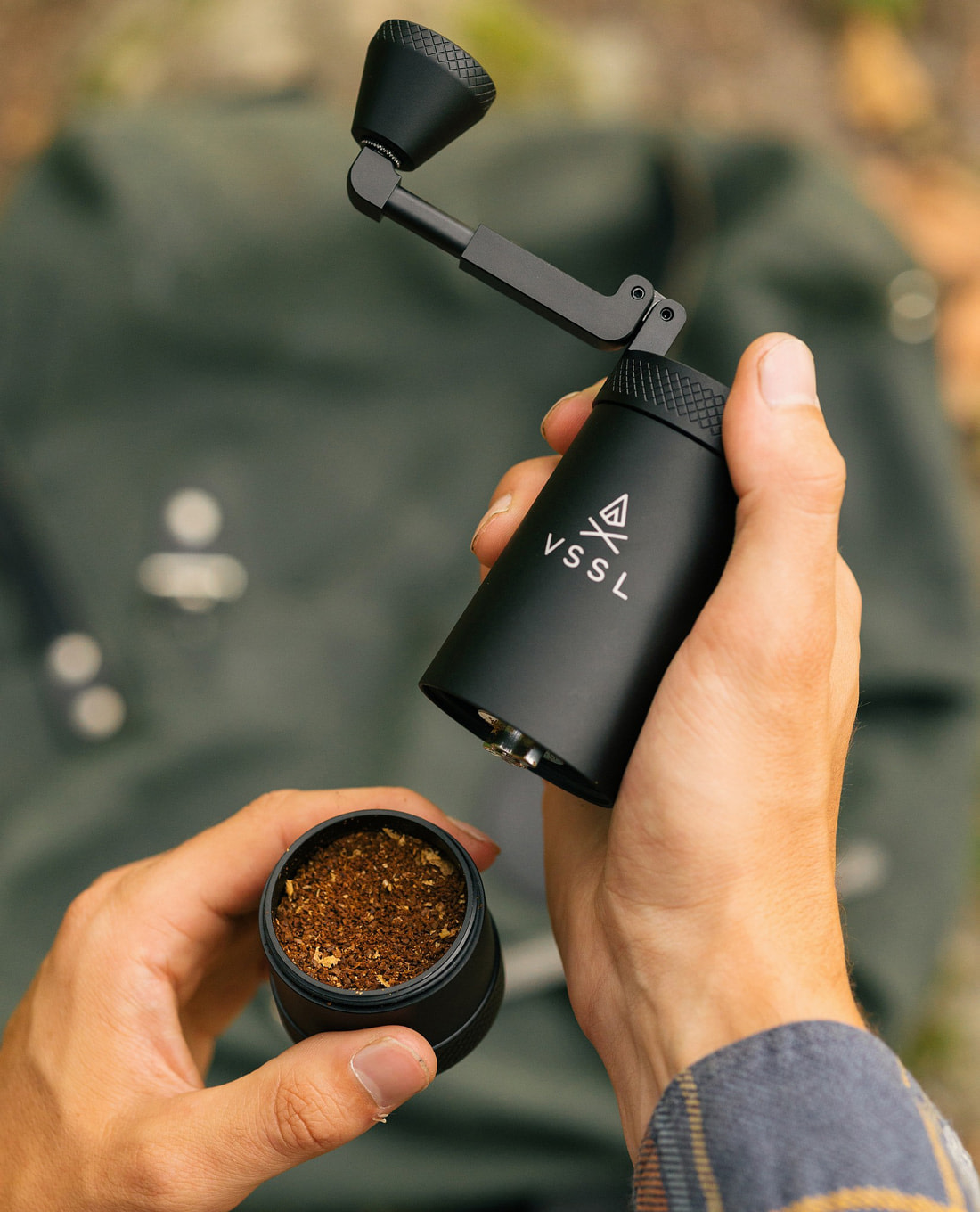 While you may assume that manual coffee grinding is a relic of the past, many coffee enthusiasts actually prefer it as they can often provide a more precise, consistent grind. When you need a Christmas gift for an old-school coffee aficionado, treat them to the VSSL Java Coffee Grinder.
This is one of the finest hand-crank grinders on the market, with strong, meticulously machined burrs that produce an even grind every time. Bonus: because this grinder is entirely manual, this is one of the best gifts for coffee lovers on the road, even if that road leads to the most remote backcountry.
Brew by Brian W. Jones
Someone who's just beginning their journey into specialty coffee will appreciate Brew by Brian W. Jones. This handy guide details the best methods for different coffee brewing techniques interlaced with tips about selecting the best beans and understanding barista jargon. Jones is the co-founder of a Californian coffee roasting company as well as a former barista and current writer, so there's no better spokesman for the world of home brewing.
Palmpress Collapsible Coffee Press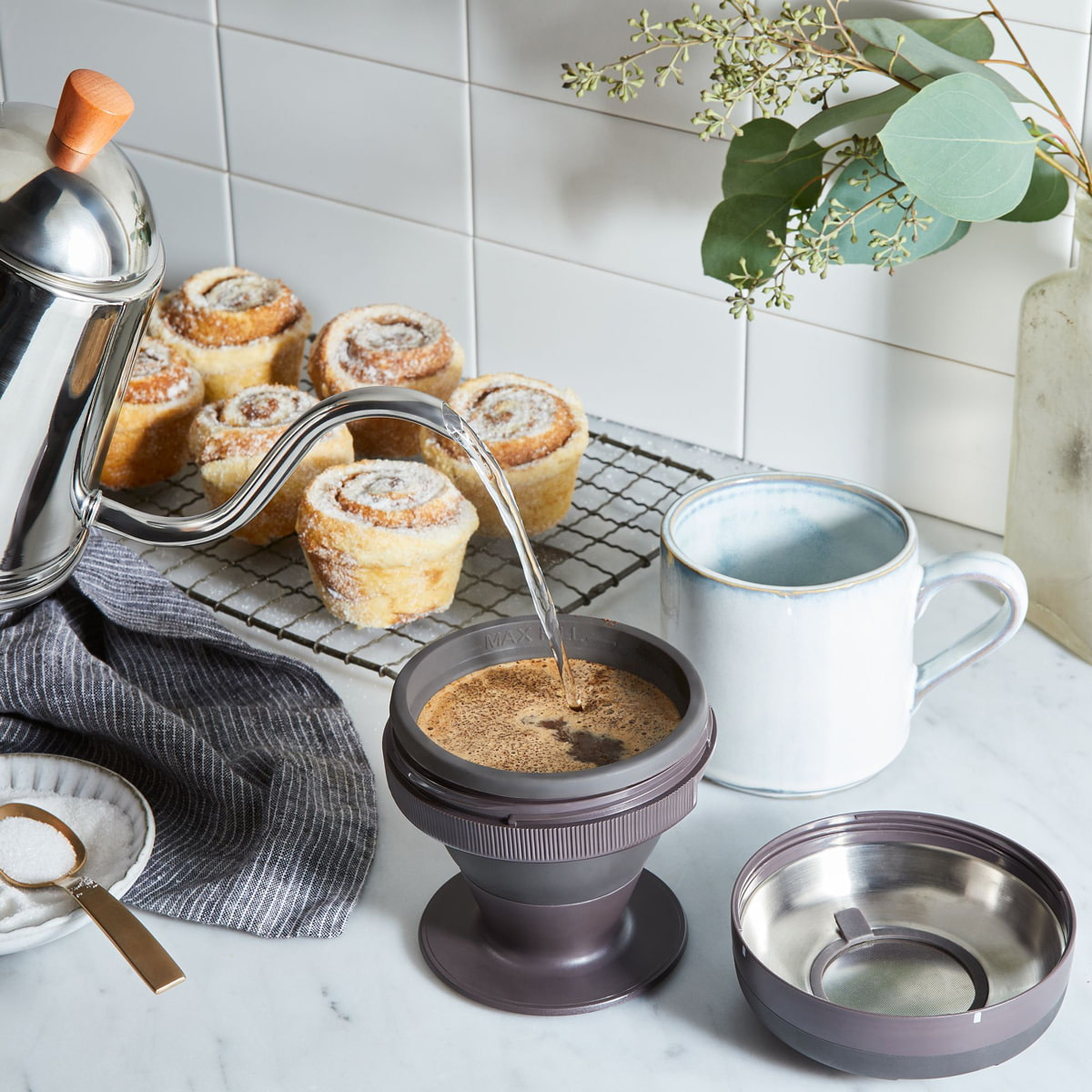 Super compact and fun to use, a Collapsible Coffee Press from Palmpress is an excellent coffee gift for anyone who's always on the go. When not in use, it's so small that it could fit in a purse, but it opens up to reveal a food-grade, reusable cone-shaped filter. To use it, just measure your grounds into the filter, fill it with hot water just off boil, and wait three minutes while it brews, then just flip it over a mug and press.
Miir 360 Traveler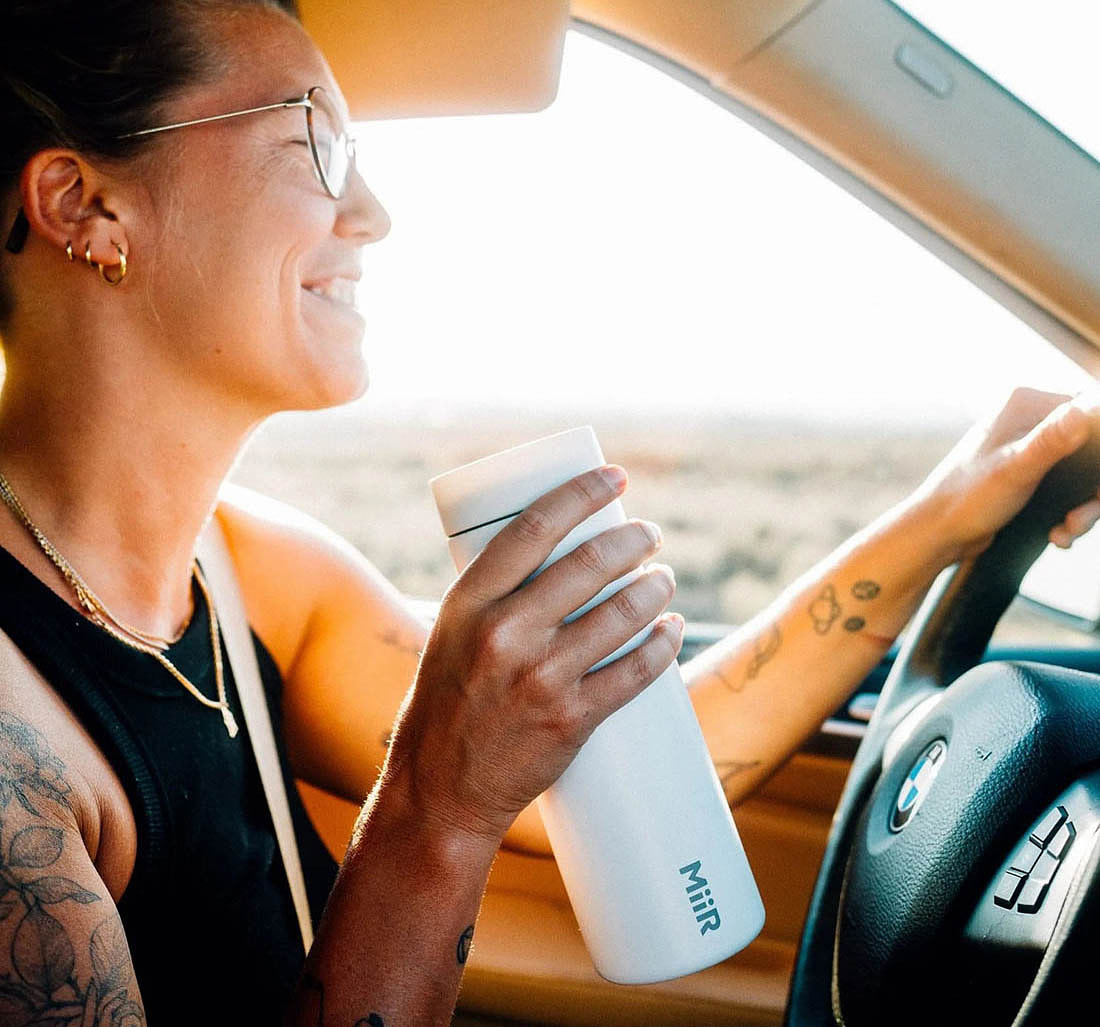 Beautifully designed and simple to use, the Miir 360 Traveler keeps a cup of coffee much more secure than the flimsy to-go cups at the shop. The lid is specially designed to prevent leaks and spills; to use it, you simply press the center button, drink from anywhere on the rim, then press it once more to re-seal it.
If you need a gift for someone who regularly caffeinates on the road, the 360 Traveler will help them reduce to amount of to-go cups they're using and ensure they never spill their morning cup again.
Pipamoka Nomadic Coffee Brewer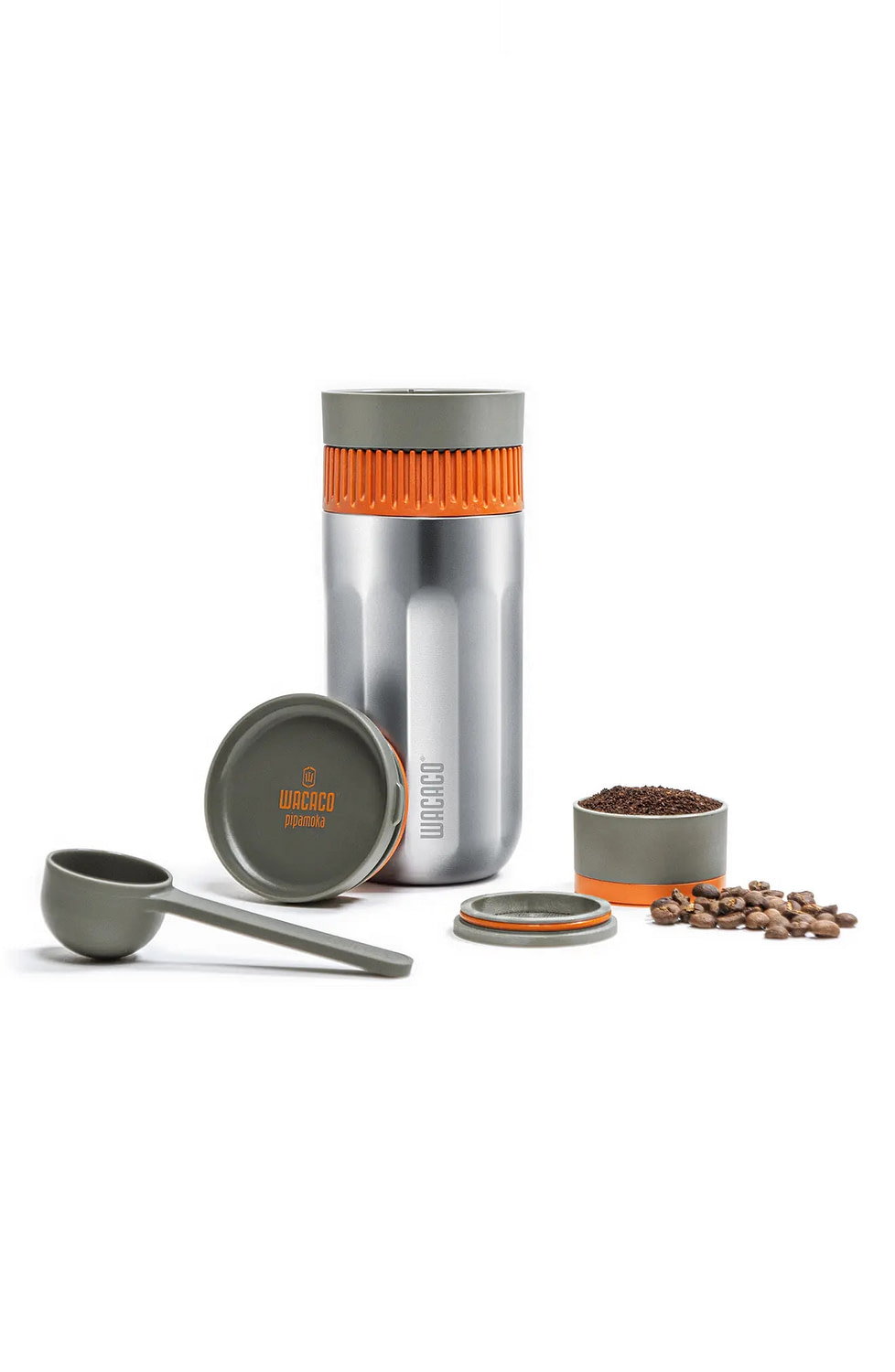 A coffee brewer and traveler in one, the Pipamoka Nomadic Coffee Brewer is a practical gift for frequent or full-time travelers. It's so small even backpackers and through-hikers can probably make room for it, and they'll be able to use it anywhere they can find hot water thanks to its hand-powered vacuum brewing system. It makes coffee in only two minutes, so who knows? It could quickly become their go-to brewing method at home, too.
Joy Resolve Barisieur Tea and Coffee Alarm Clock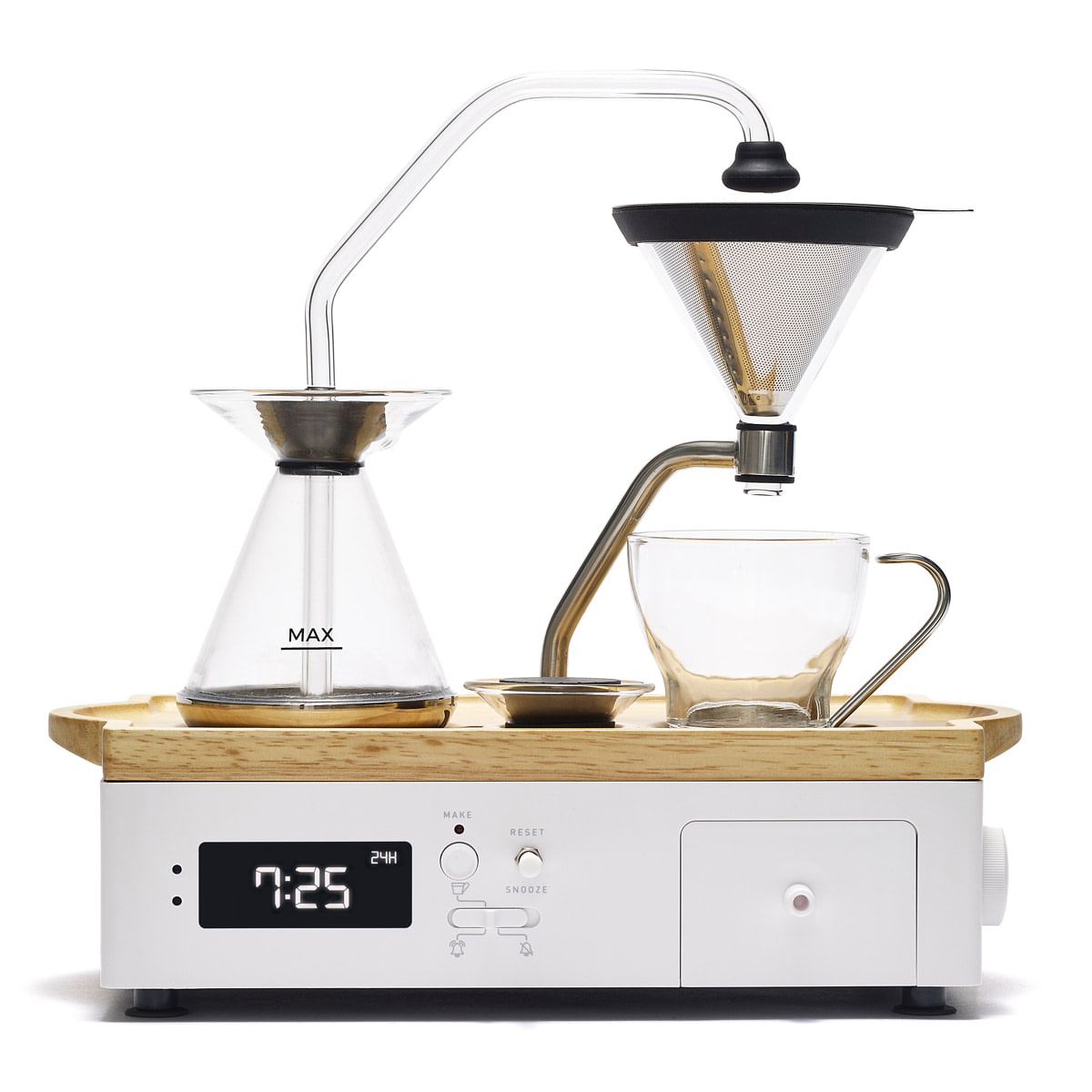 For someone who needs a little self-care, the Barisieur Tea and Coffee Alarm Clock from Joy Resolve will be a game changer. It will wake them gently with the sounds of bubbling water and the rich bouquet of freshly brewed coffee. All they'll have to do is add grounds and water, and set the alarm the night before to create consistently luxurious mornings that'll brighten their day, every day.
There are even drawers to store coffee grounds and milk to make it simpler. And the device itself is beautiful: made from hand-blown glass and set in a lovely wooden tray, it'll turn any nightstand into a stunner.
Fellow Stagg EKG Electric Kettle
A kettle with a gooseneck spout is a requirement for accurate pour-over, so if you need a gift for someone who refuses to make their coffee any other way, Fellow's Stagg EKG Electric Kettle is a gorgeous way to upgrade their kit.
A welcome addition to any countertop, this lovely kettle comes in a bunch of striking color combinations, some of which have genuine wooden handles that feel delightful underhand. And even the most accomplished coffee connoisseur will appreciate its features: it heats water quickly and can hold it at a precise temperature of their choosing for up to an hour.
Espro CB1 Cold Brew Coffee Kit
Known for its drinkability, low acid content, and high amounts of caffeine, cold-brew coffee has become a year-round fave for people worldwide. If you're shopping for someone who has similarly succumbed to the allure, the Espro CB1 Cold Brew Coffee Kit will have them skipping trips to the coffee shop and making it at home. Not only is homemade cold brew a far more sustainable option, but you'll also be saving them a pretty penny; this is a super cost-effective way to get their daily caffeine fix.
Brass Professor Pour Over Stand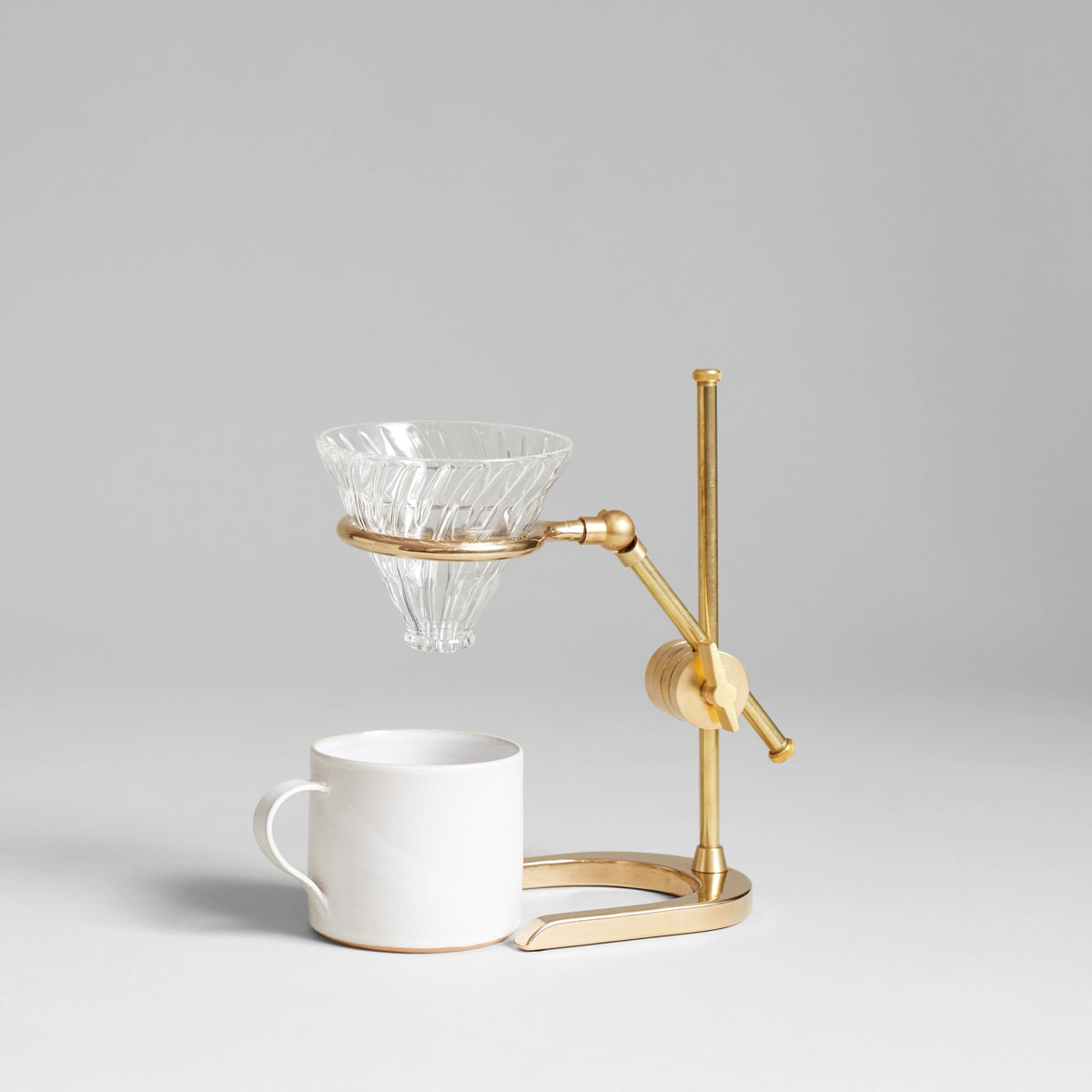 Probably the most beautiful dripper ever made, Brass Professor Pour Over Stand is the most over-the-top gift you can buy for a single-cup enthusiast. It uses a simple but finely tuned mechanism to adjust nearly any mug's height. It is the perfect size to sit atop all the most popular coffee scales so the grounds can be weighed directly into the included Hario V60 dripper that balances elegantly at the end of its arm.
AeroPress Go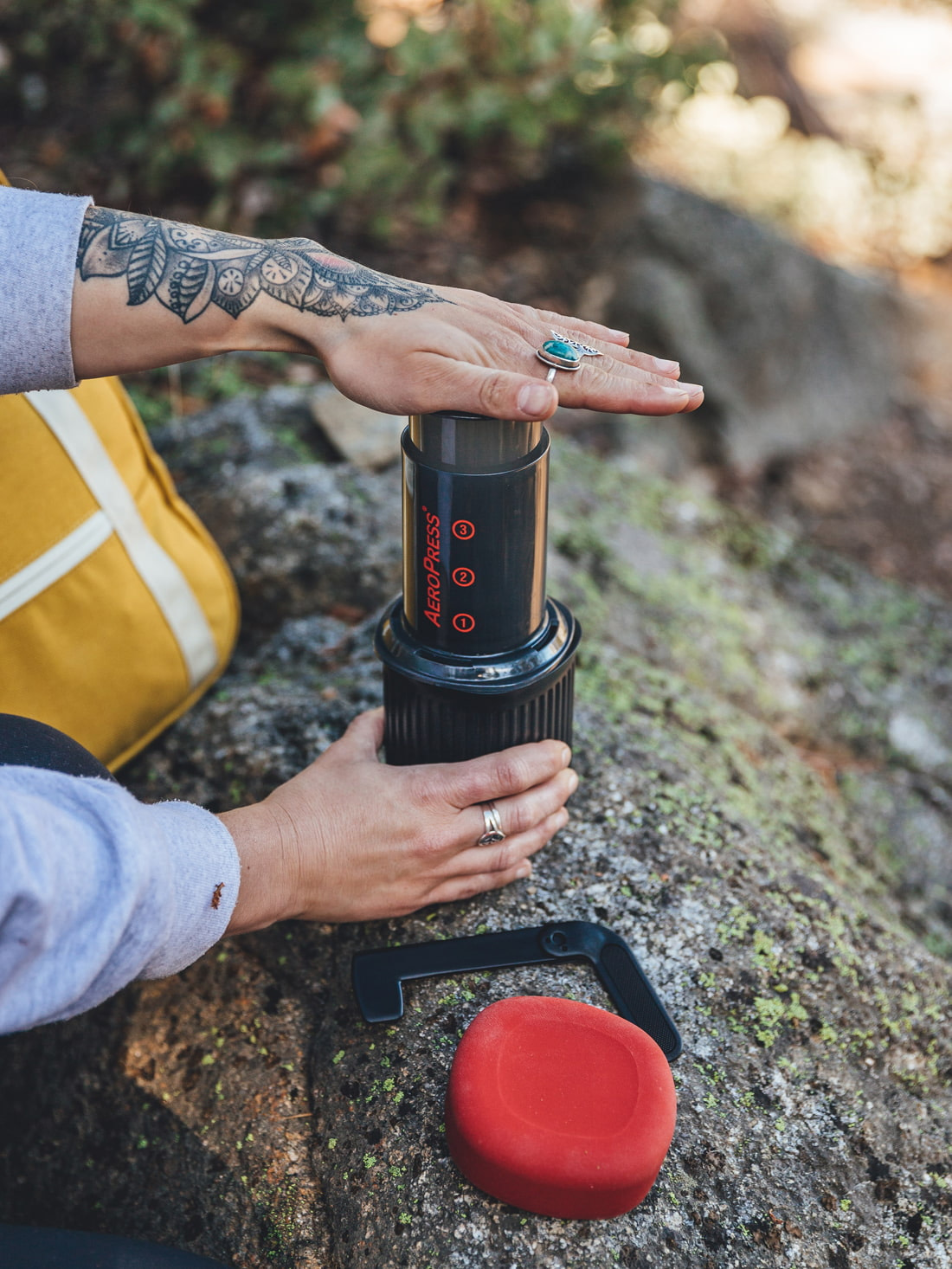 Though it's not quite as popular as other brewing methods, those who vacuum brew swear by it. If you want to help upgrade someone's coffee game, get them the AeroPress Go, one of the easiest ways to create a premium cup at home.
In fact, they could take this model anywhere: it comes with a travel mug integrated directly into the design that detaches to become a travel mug. While they could easily use this in a hotel room or at the office, once they get attached to the quality of coffee it produces, they'll probably use it at home, too.
Bistro Tile Bonjour Mug
The Bistro Tile Bonjour Mug can help anyone have a "good day", especially when they'll inevitably use it for drinking their first cup of coffee in the morning. It has a charming – and unisex – color palette that will go with almost anyone's kitchen; the subtle but striking white, black, and gold design is inspired by Parisian cafés. And like the best coffee mugs, it holds much more than your average diner mug. It has a capacity of almost 15oz, nearly as big as a grande.
Gldleaf Coffee Journal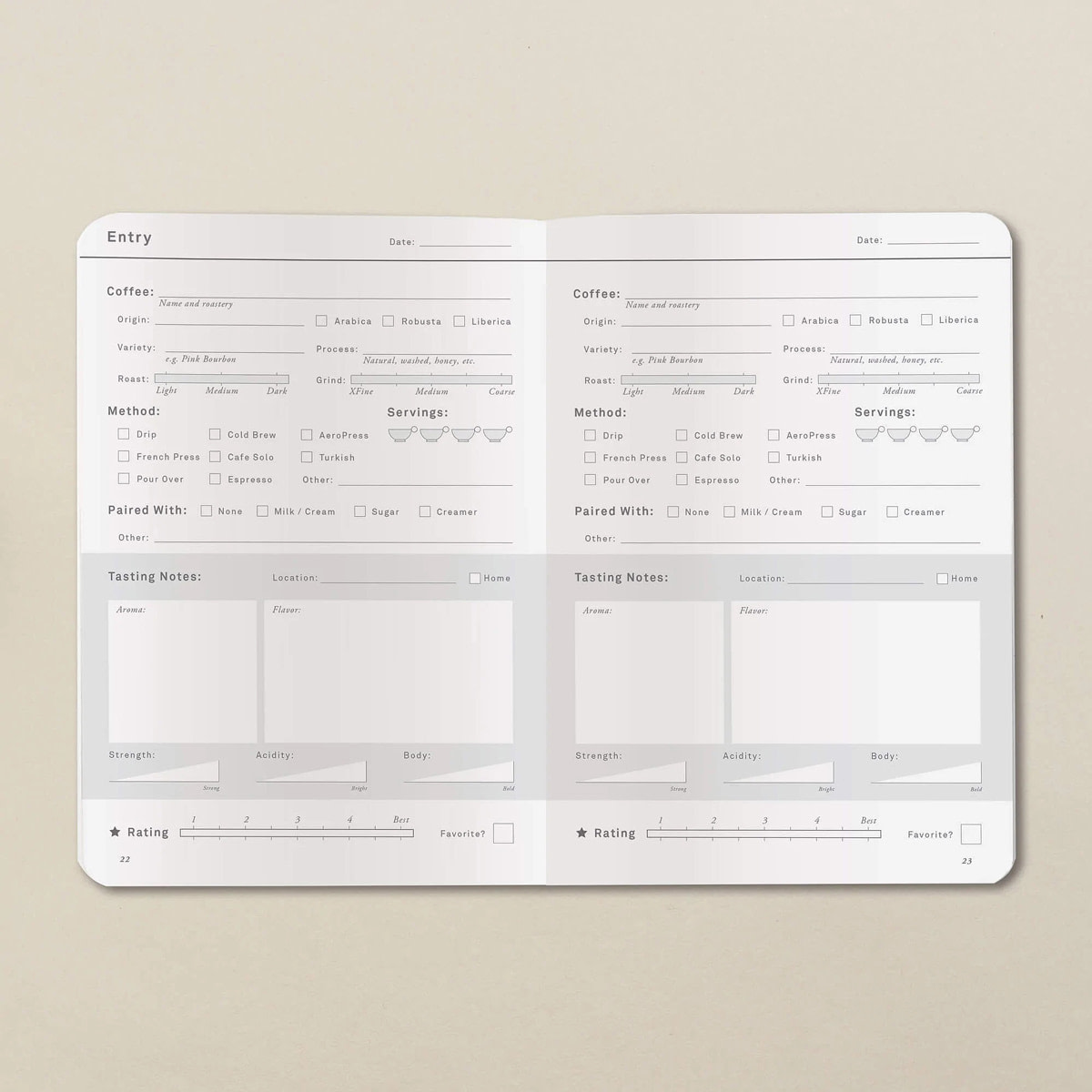 For some, trying new coffee varietals is a science, and comparing them based on provenance, roast, and preparation style requires a systematic way of recording all of that information.
If you need a gift for someone who treats coffee tasting as might a sommelier with wine, then the Coffee Journal from Gldleaf will ensure they can keep track of their discoveries. If you really want to wow them, you can pair it with Trade or Fellow's coffee subscription to indulge their obsession even more.
GrowlerWerks uKeg Nitro Cold Brew Coffee Maker
This late in the game, almost everyone loves cold brew. But when you're shopping for the hard-core cold-brew drinker in your life – I'm talking about the ones who drink it even when it's snowing – then surprise them with a Nitro Cold Brew Coffee Maker from GrowlerWerks uKeg.
This little countertop machine produces identical results to the enormous nitrous taps at the coffee shop so that anyone can enjoy a rich, creamy cold-brew coffee at home. This may be the best coffee gift on Amazon, and it's super convenient to buy: you can opt to have it gift-wrapped and sent directly to them if you wish.
The Brew Company Specialty Coffee Gift Box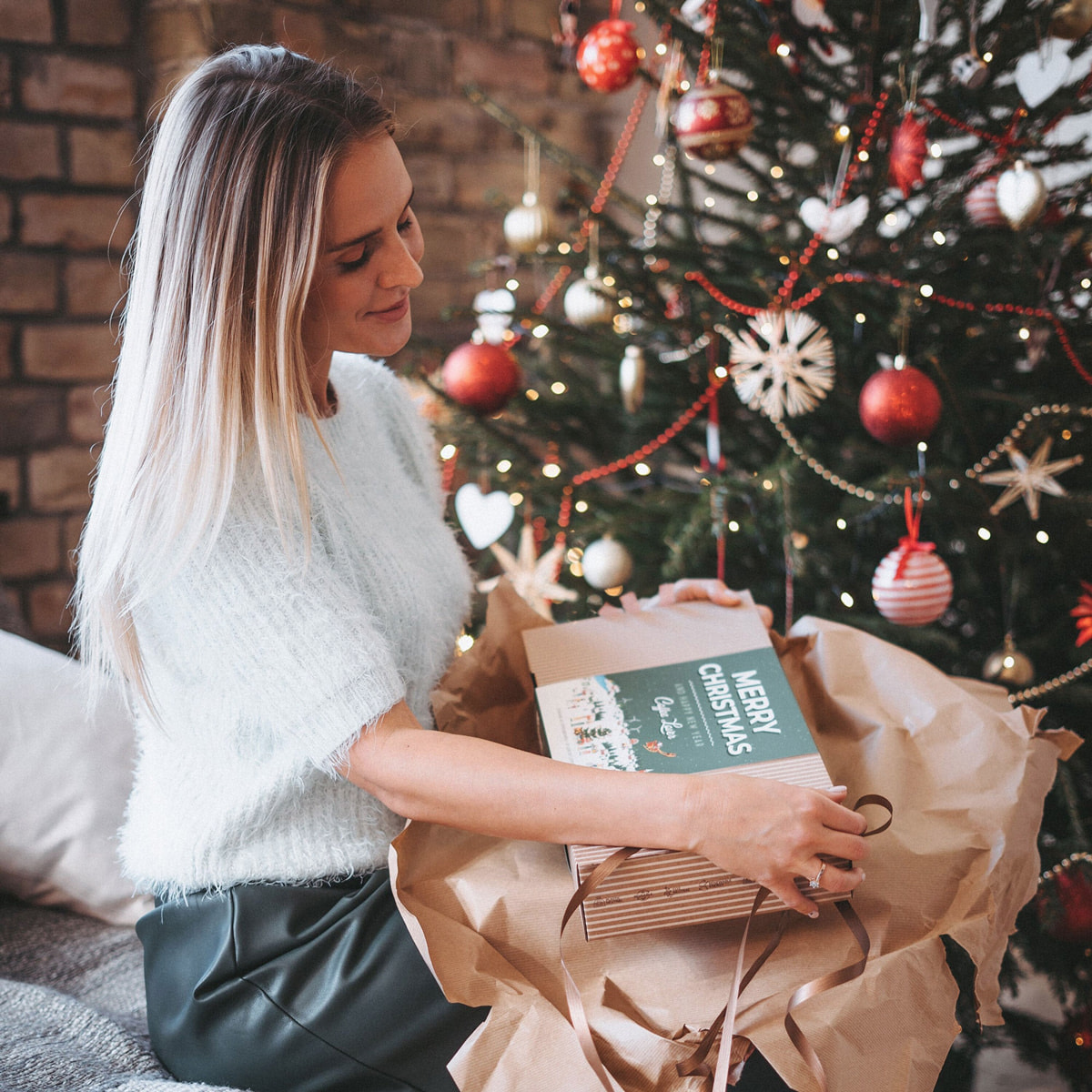 One of the most unique gifts for coffee lovers is The Brew Company's Specialty Coffee Gift Box, which provides a variety of new coffees to try and a travel brewing method in one. It comes with five types of coffee – one each from Brazil, Colombia, Ethiopia, Honduras, and Guatemala – in its own deceivingly simple but handy brew pouch.
The only thing missing to make the perfect cup is hot water, which can be poured directly into the specially designed bag. When it's ready to drink, the spout filters out the grinds automatically when poured. You can either give the entire box to one person or split it up to treat coworkers or clients, or put it in a stocking as a Christmas gift.
Ember Mug²
While it might look almost like an ordinary coffee mug, the Ember Mug² is actually electric. This ingenious device uses an internal heating element to keep hot coffee at temp without damaging its flavor. And the coolest part? It charges just by setting it on its coaster.
Fellow Atmos Vacuum Canister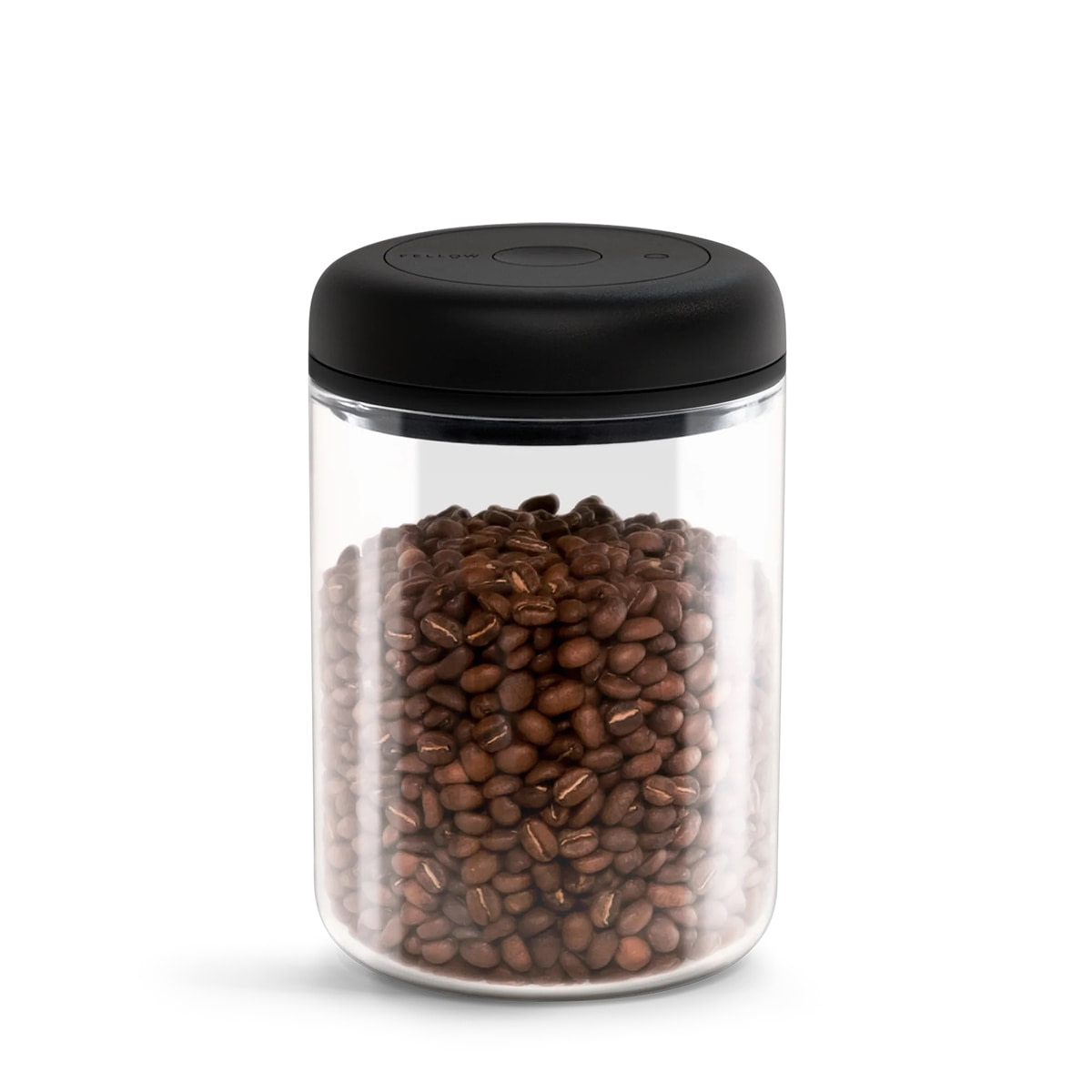 Fresh beans make a better cup, so help your loved one out with an Atmos Vacuum Canister from Fellow. It works on the same principle as a vacuum pump wine cork: first, the lid makes a tight seal around the jar, then you use the integrated pump in the cover to suck out all the air, preventing damage to the subtle aromas and flavors of coffee beans. Plus, they can also use it to store anything susceptible to oxygen damage, like baked goods, a halved avocado, or fresh…ahem, "herbs".
Indranila Essential Coffee Poster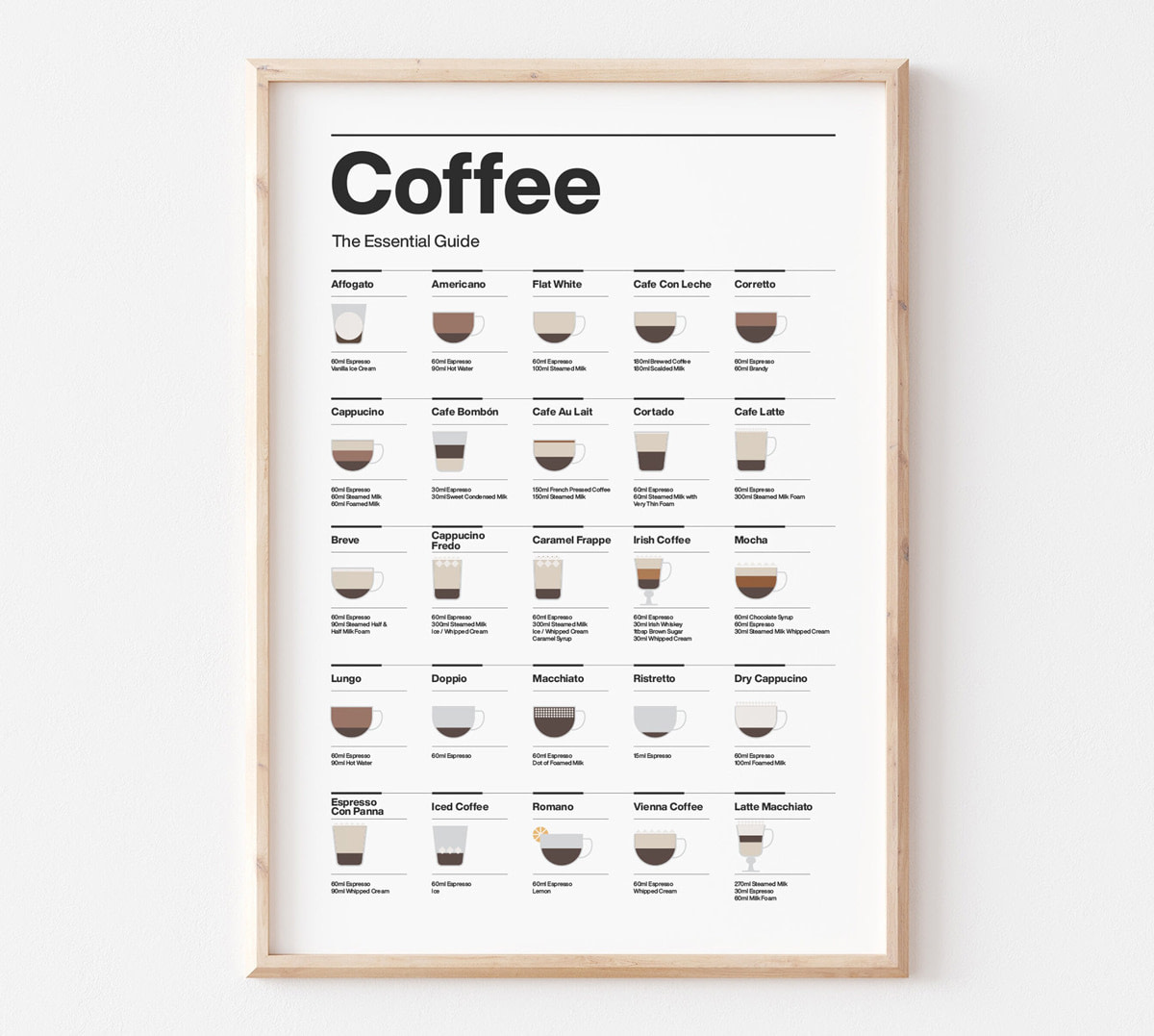 One of the best gifts for coffee lovers under $20, Idranila's Essential Coffee Poster will fit right in with almost anyone's decor. It features an elegantly designed depiction of 25 of the world's most popular coffee beverages and briefly outlines their ingredients. The best part is that this is delivered as a digital download, meaning it's ready to print right after purchase, making it a great last-minute gift.
Hario "Technica" Glass Syphon Coffee Maker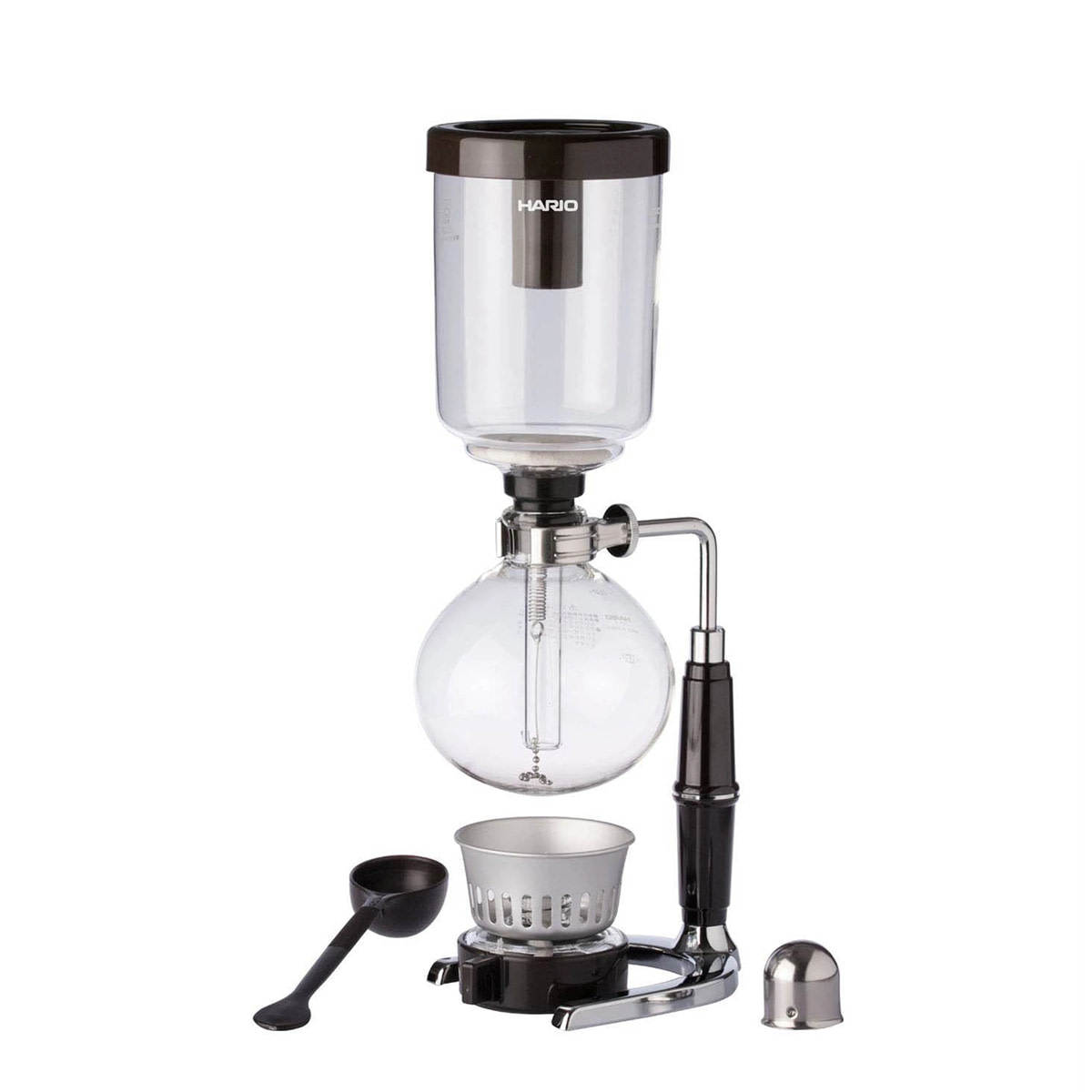 Though it's a far cry from the old mid-century percolators, Hario's "Technica" Glass Syphon Coffee Maker works on the same principle, however, this one is far more advanced. Because all the parts that come in contact with the water and the coffee grounds are made of glass, it won't impart any unwanted flavors into the final product. And the coffee itself never comes into contact with a heating element, so you can be sure that your gift will offer the best cup possible.
Able Brewing Able Kone Mini Reusable Hario V60 Filter
If you know a pour-over junkie, you probably also know someone who owns a Hario V60, as they have the market cornered on drippers. These usually require a disposable paper filter to operate that has to be replaced with every single cup, but you can give the gift of sustainability with Able Brewing's Mini Reusable Filter.
Not only will this simple device vastly reduce the amount of waste created, but it'll also make you seem incredibly thoughtful, as the recipient will never again know the feeling of running out of coffee filters first thing in the morning.
Subminimal NanoFoamer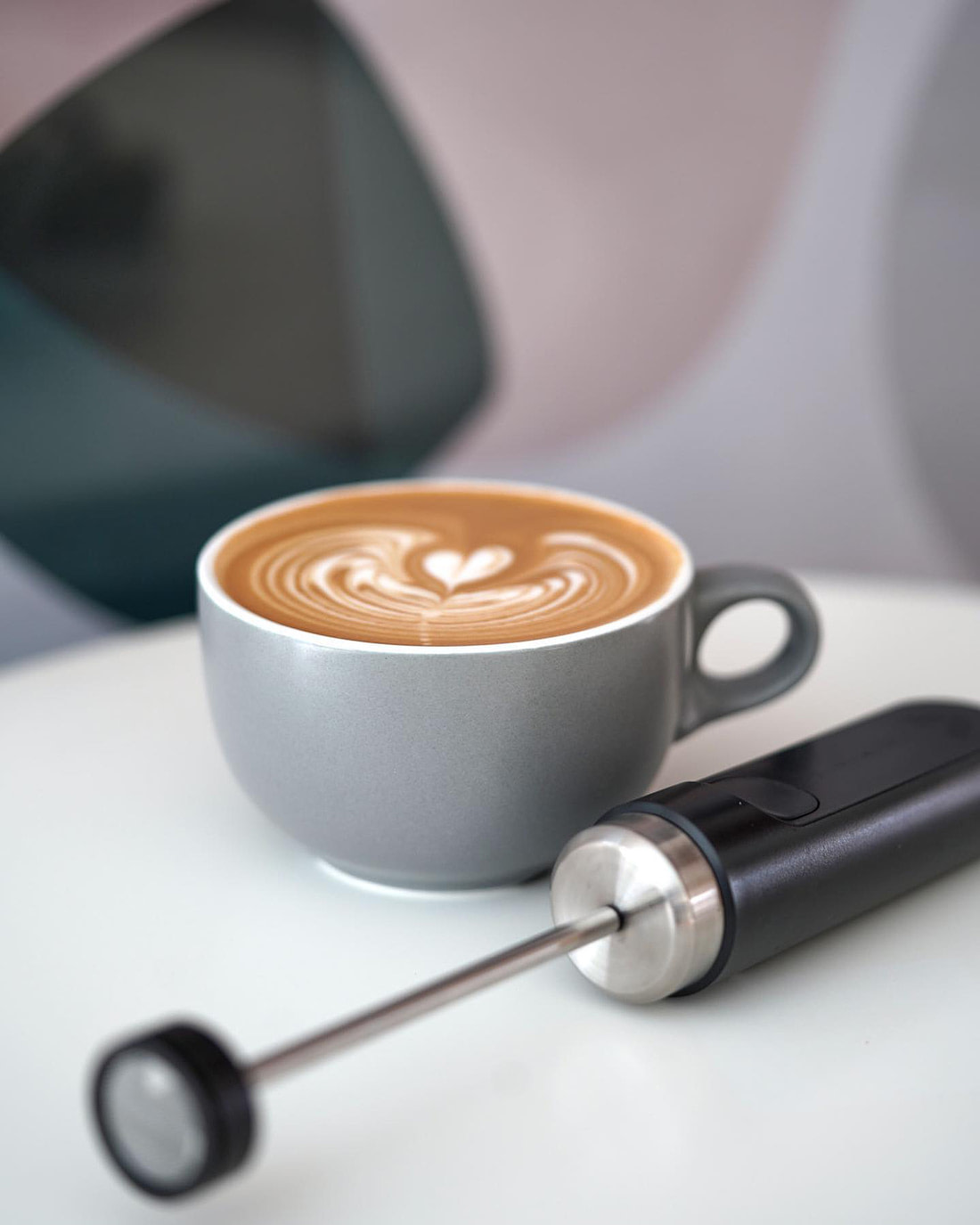 Rather than investing in an entire espresso machine, many folks prefer to use a small, easy-to-store stovetop device to create similar results. The upside is that they take up way less space to store, but this comes with sacrificing a steam wand. But you can delight your small kitchen-ed friend with Subliminal's NanoFoamer. This tiny little device can create shop-quality milk foam; so good, in fact, that the result is excellent for creating latte art, so it's the perfect gift for a barista you know personally.
Bodum Pour Over Coffee Maker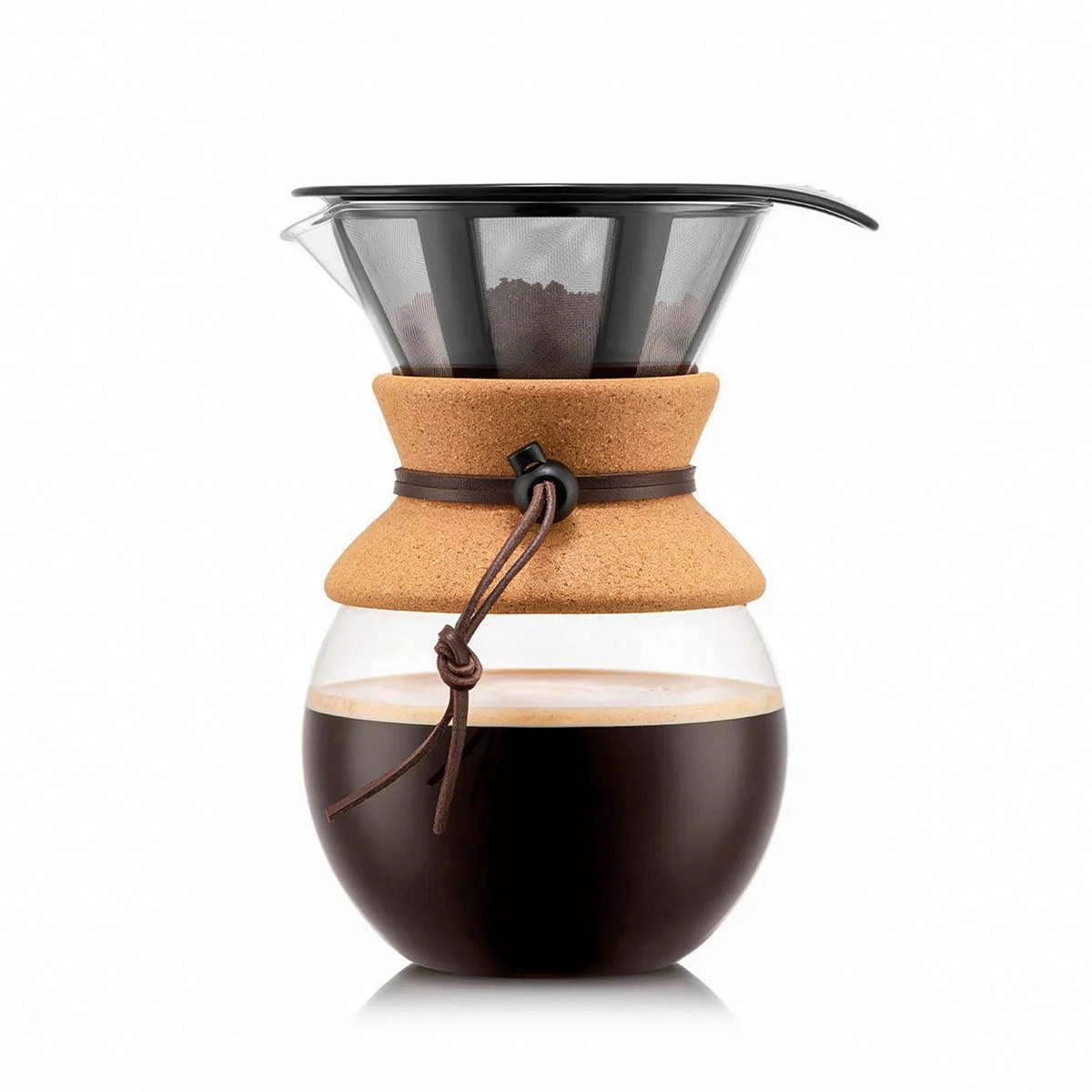 A strong contender to more popular carafes, Bodum's Pour Over Coffee Maker comes with its own reusable filter and super-durable borosilicate glass. If you know someone who's recently dropped their Chemex – this generally means certain death for this notoriously fragile apparatus – then replace it with something more likely to withstand the occasional incidence of clumsiness. They'll never have to fumble with one of those expensive, origami-like filters ever again.
Fellow Coffee Subscription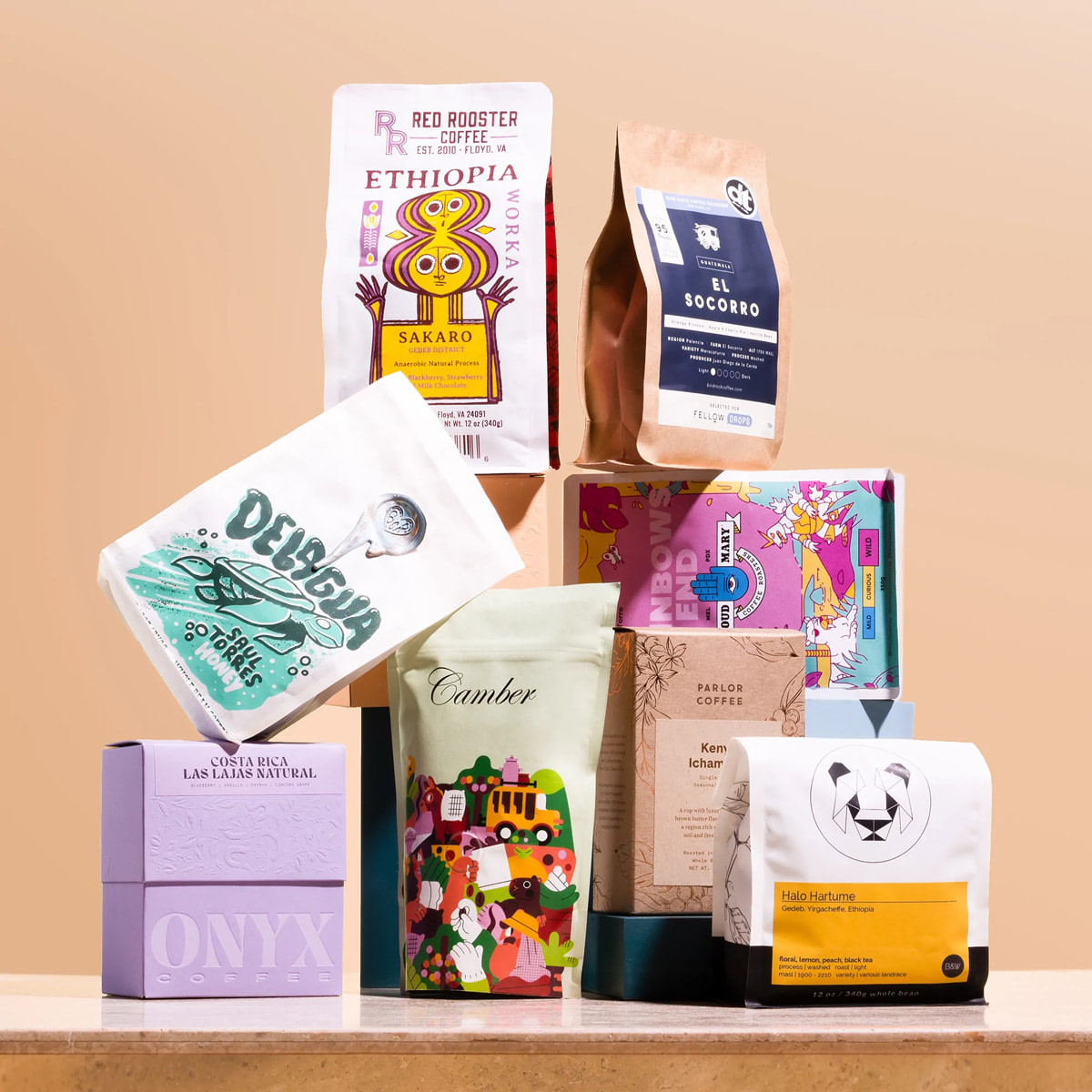 One of the best gifts for coffee lovers who love to travel, Fellow's Coffee Subscription will not only keep them caffeinated but also bring the world right to their door. Once you've picked the roast style, frequency, and amount of shipments, they'll regularly receive new, fresh coffees from around the globe automatically. This might be the easiest way to impress your coffee-obsessed loved one.
Palermo Coffee Body Scrub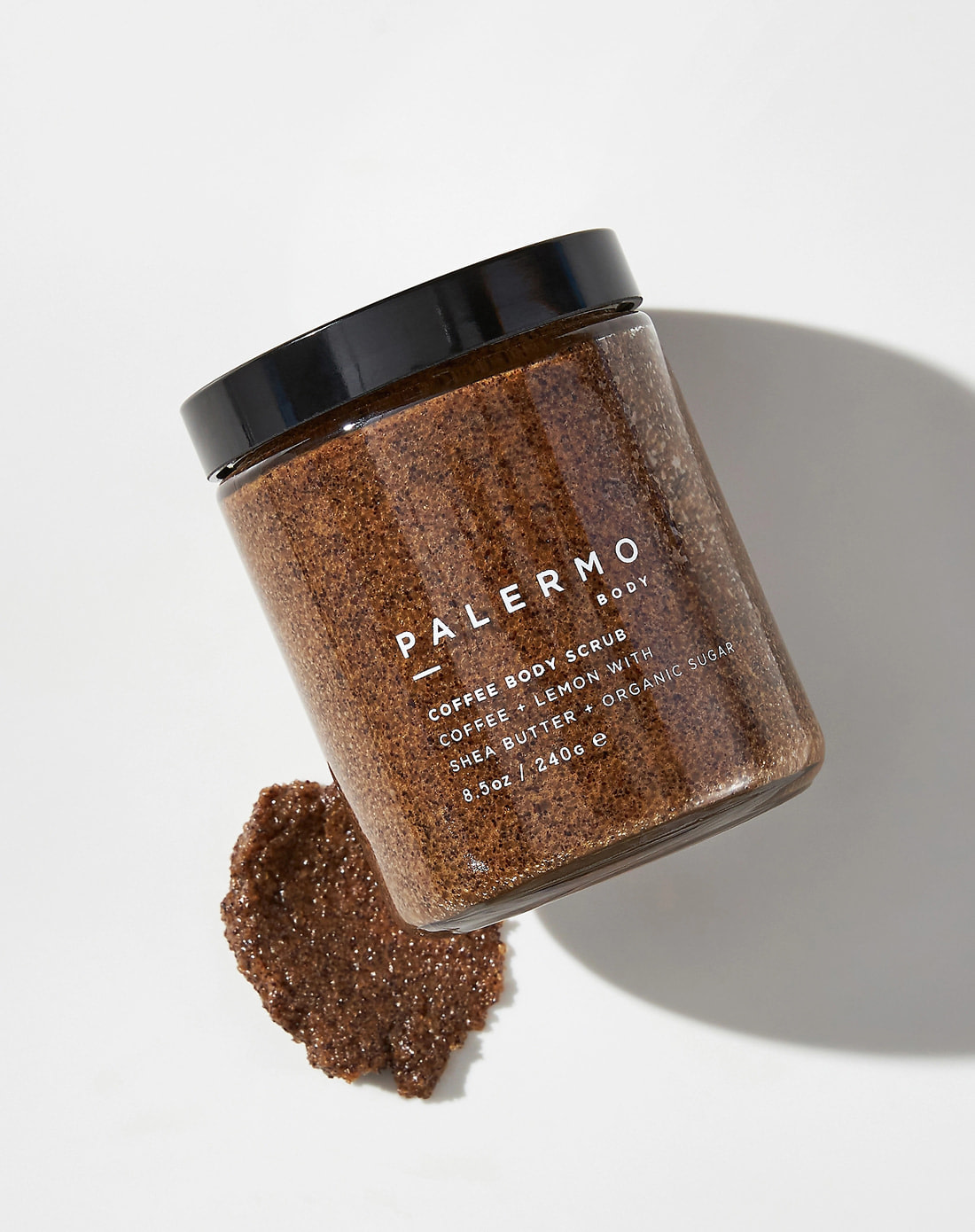 Coffee doesn't have to be just for drinking; caffeine as a skin and body care ingredient can support increased circulation to the skin, better collagen production, and quicker cell turnover. Palermo's Coffee Body Scrub takes it a step further with even more skin-soothing ingredients like TK. Anyone on your list would be happy to receive such a luxurious bath product with so many benefits making it one of the most versatile gifts for coffee lovers you'll find.
Mater Ceramic Coffee Cups Set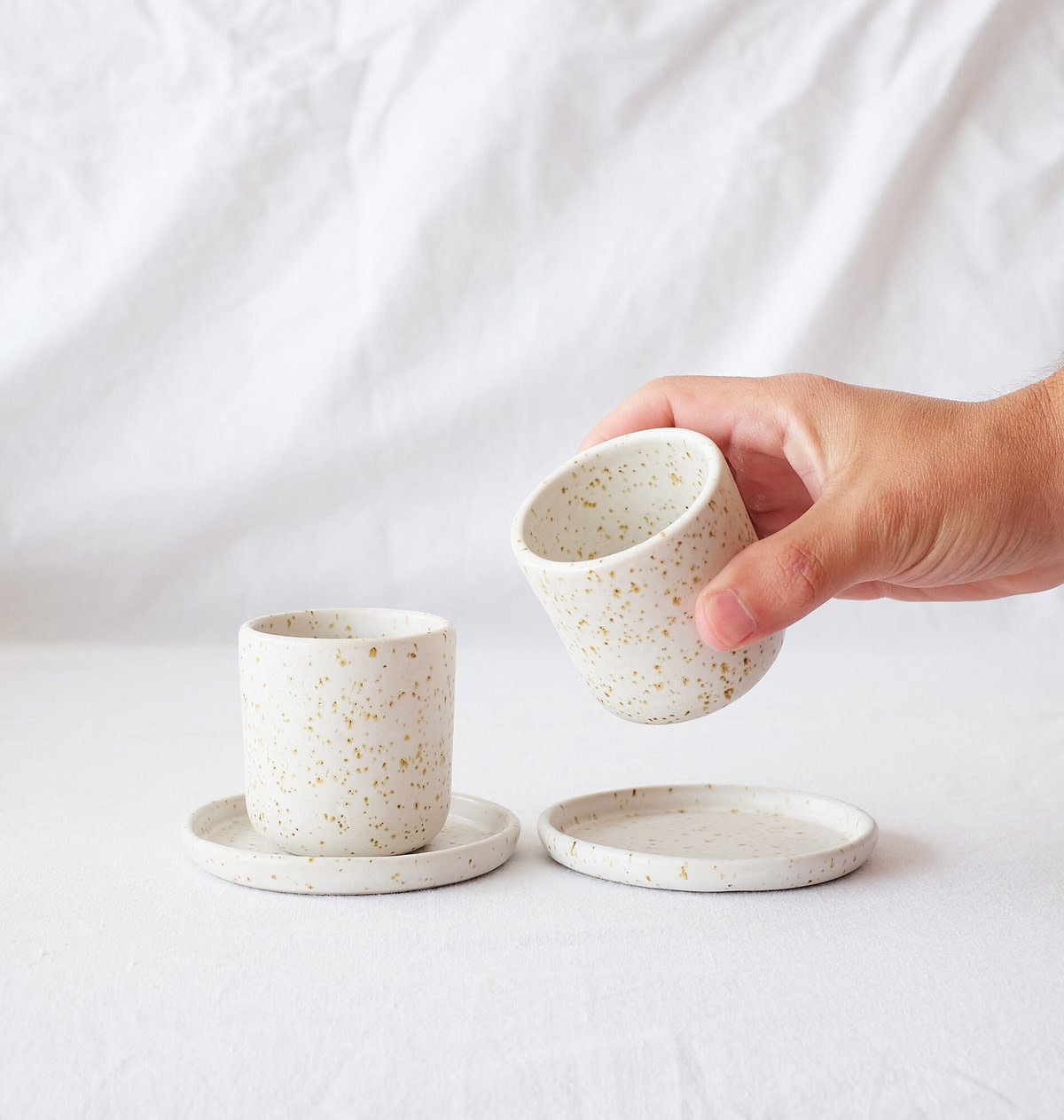 Anyone who appreciates minimalism will delight in unwrapping this handcrafted Ceramic Coffee Cups Set by Mater. Perfect for someone who already has an espresso machine, these dainty 4oz mugs can accommodate a macchiato, a cortado, or a flat white. The set includes two mugs and two saucers, so they'll be able to serve a friend with the requisite tiny spoon and a sugar cube on the side, and they're made with extra-resilient stoneware to ensure they last for many coffee breaks to come.
Lonely Planet's Global Coffee Tour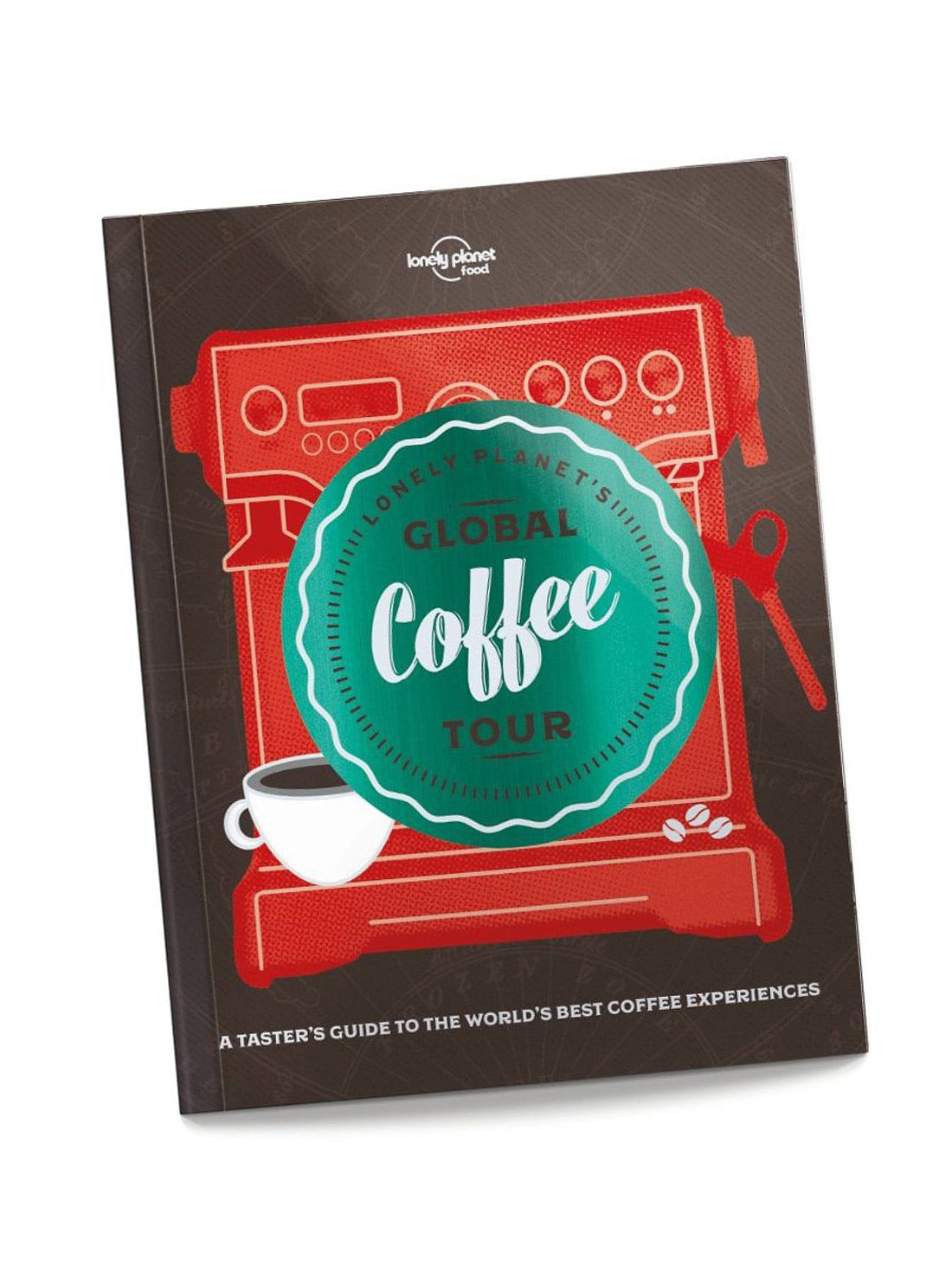 The ideal gift for the advanced homebrewer who is always down to learn a new perspective, Lonely Planet's Global Coffee Tour is packed with coffee info they can put into practice.
The book is divided into sections, each detailing a specific coffee "experience". There are over 150 entries from spots all over the world, including visits to iconic espresso bars, coffee plantations, and roasteries in 37 different countries. It also has info on each region's most popular drinks and lessons on ordering coffee in other languages.