This post contains affiliate links, which means we may receive a small commission, at no additional cost to you, if you make a purchase through these links. See our full disclosure here.
Carry-on luggage comes in different shapes, styles, and sizes to serve different traveling purposes, and each option has its advantages and drawbacks. Before you decide which one is best for you, consider these factors:
Carry-On Size Limits
When it comes to carry-on luggage, size matters. Making sure it complies with your airline's carry-on size requirements is the most important step in selecting a bag.
For domestic US flights, the most popular carry-on luggage size is 22″ x 14″ x 9″ (55cm x 35.5cm x 23cm), including the handle and wheels, but this can vary an inch or two depending on the airline or airplane type.
If you're flying internationally, restrictions are often tighter. To ensure your cabin bag is accepted on all carriers, opt for one that's 21″ (53cm) or less and extremely lightweight, as many foreign airlines also have weight limits.
Most of the products listed in our carry-on luggage post meet major US & international airline carry-on size requirements, but for your peace of mind, please double-check the size limits for the particular airline you'll be flying before buying cabin luggage, as these are subject to change without notice.
Carry-On Weight Limits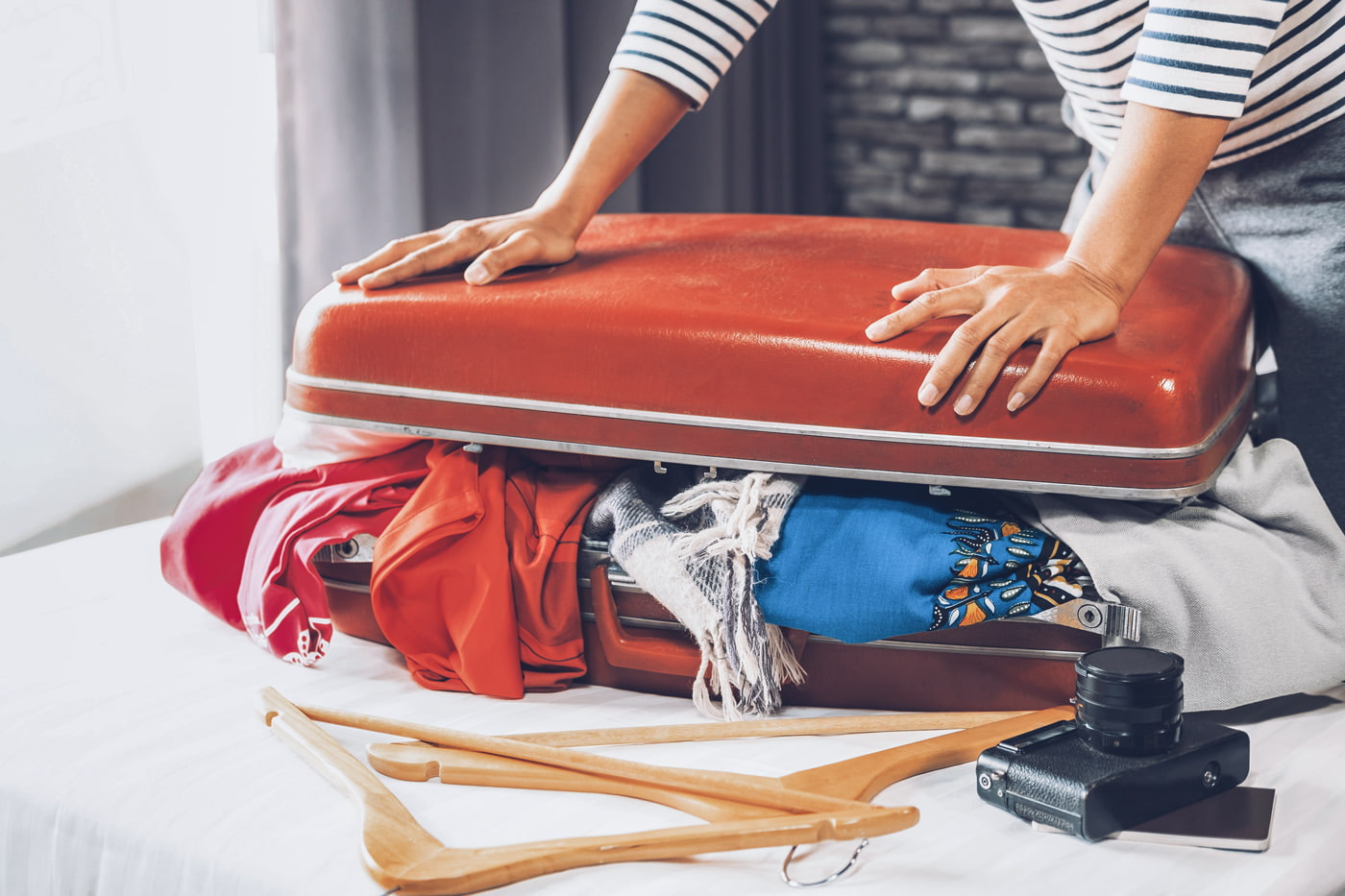 Though major US domestic airlines like Delta, United, Southwest, or JetBlue don't have weight restrictions for carry-on bags, things are different when you're traveling internationally, especially on economy-class flights.
That said, taking into consideration only your carry-on luggage dimensions may not be enough. You may also have to comply with your carrier's cabin baggage weight restrictions. Otherwise, you might be forced to check your carry-on or pay overweight fees to get your bag onboard.
The limits usually vary from 6 kg / 13 lbs (Thomas Cook Airlines) to 12 kg / 26 lbs (Air France), although sometimes this represents the combined weight of your two allowed cabin bags. Most of these companies allow passengers to bring a personal item with them in the cabin in addition to one piece of carry-on luggage. This can be a small handbag, briefcase, camera bag, or laptop bag.
Hard Luggage vs. Soft Luggage
Thanks to its expandable nature, soft luggage lets you make the most of the interior packing space. While this is usually an advantage, especially if you like to shop when traveling, it will likely not work in your favor this time when the last thing you want is for your cabin bag to expand beyond airline carry-on size requirements.
Hard-sided carry-on bags, on the other side, are more durable and provide extra protection. Made from lightweight, high-tech materials, they're easier to clean and have a sleeker, more modern look, but they usually lack exterior pockets and compartments for quick and easy access to travel essentials.
Ultimately, choosing between soft- and hard-shell luggage comes down to personal preference more than anything else.
Two-Wheel vs. Spinner Carry-On Luggage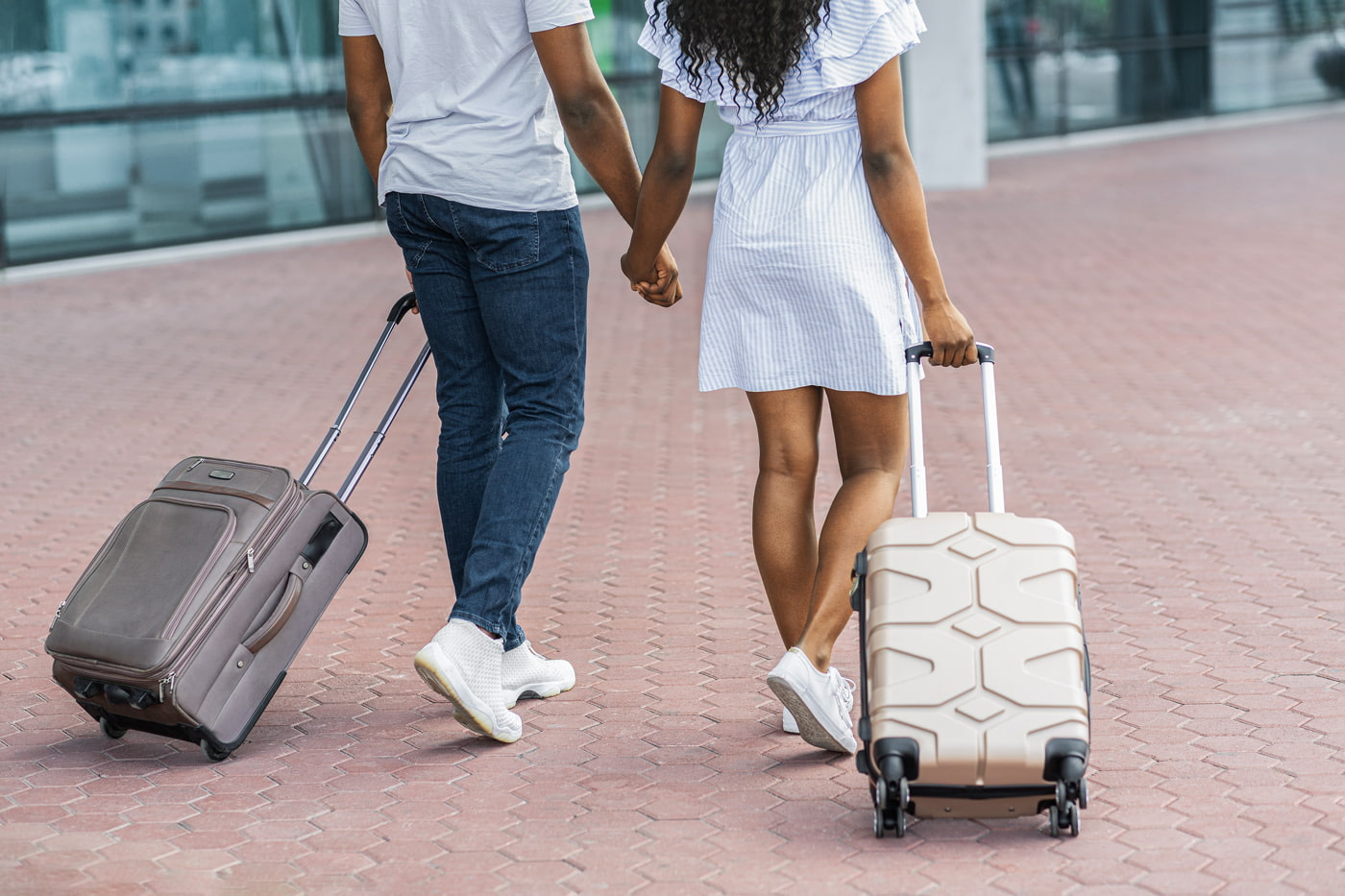 Four-wheel luggage is all the rage these days. Also called spinners, these upright suitcases are designed to gently roll alongside or in front of you and offer more maneuverability than two-wheeled bags thanks to their multi-directional wheels.
However, opting for a two-wheel carry-on has its advantages. While not as comfortable or mobile, this type of luggage offers you more internal space while also handling cobblestones and uneven surfaces much better than a spinner suitcase.
Duffel vs. Backpack vs. Rolling Suitcase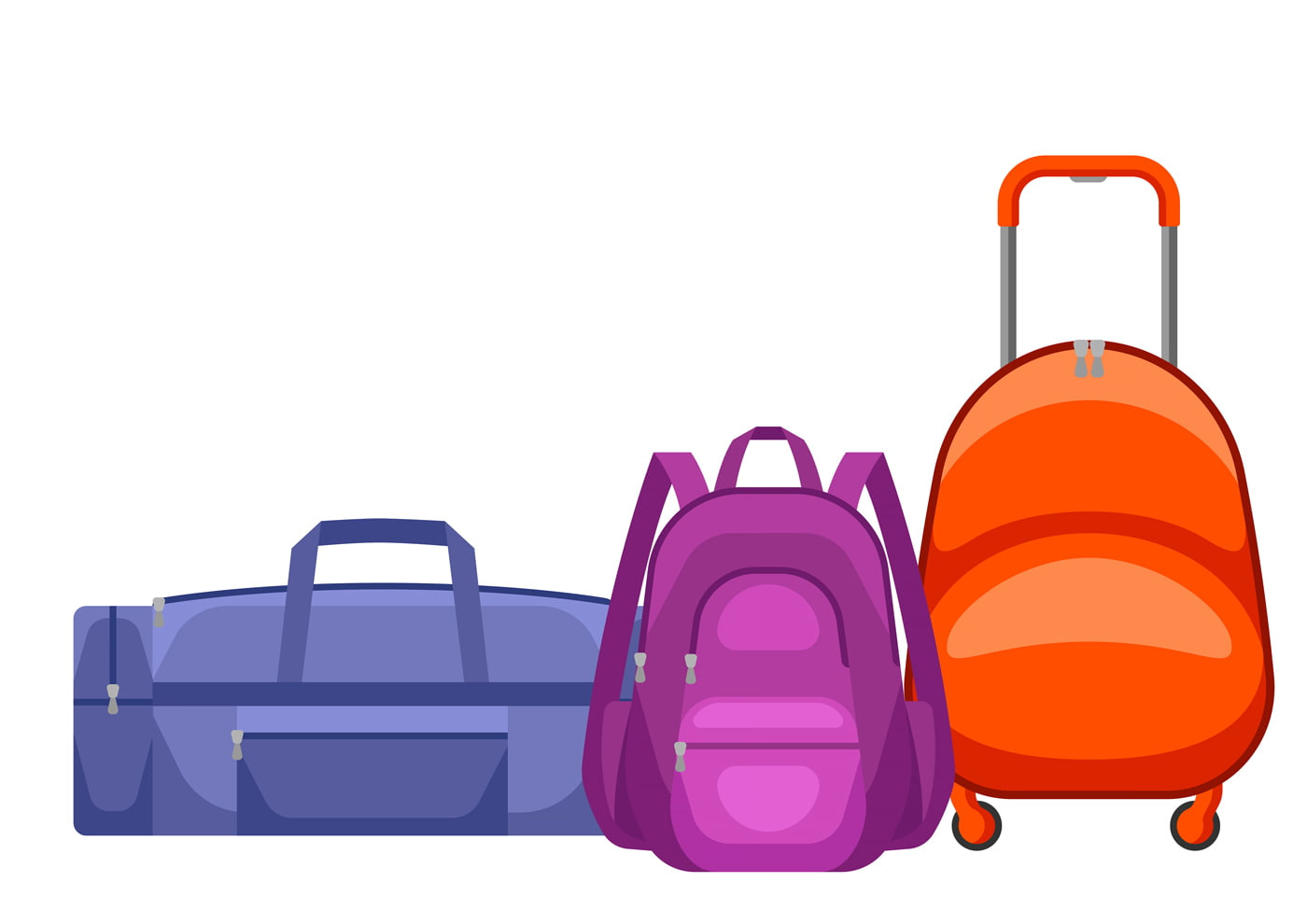 It's hard to beat the convenience of a rolling suitcase, but is it suitable for your trip? As with all types of luggage, when choosing a carry-on, make sure you buy one that fits your needs.
Portable, versatile, and extremely practical, duffel bags will suit a variety of occasions. Depending on their design and material, they can be used on city breaks, outdoor adventures, and just about anything in between. Take a stylish leather duffel with great organizational features on a short trip to Europe and opt for an elegant twill weekender with garment bag functionality when flying to a destination wedding. For hauling gear, on the other side, there's nothing more functional than a rugged weatherproof duffel with tons of carry options.
A wheeled carry-on luggage that glides smoothly across airports and hotel lobbies makes the perfect companion for savvy business travelers and frequent flyers, while a carry-on backpack might be a much better choice if you plan to move around a lot during your trip (think everything from adventure to urban exploration).
---
FAQ
Due to the significant amount of inquiries we often receive, we've decided to create this section that answers some of the most frequently asked questions about carry-on luggage.
Are there any new carry-on restrictions when traveling during the COVID-19?
To ensure you and your carry-on are not separated during the flight, check with your airline for the latest updates before you start packing, as the rules might have changed due to COVID-19. For example, to reduce contact on the plane, some European carriers like Vueling and Iberia will ask you to check in your hand luggage free of charge.
What is the standard carry-on luggage size?
Carry-on size limits vary from airline to airline, but the universally accepted dimensions in the US are 22″ x 14″ x 9″ (55cm x 35.5cm x 23cm), including the handles and the wheels. If you want to ensure your cabin bag makes it on board on international flights, opt for one that stands at 21″ (53cm) or less. Either way, we recommend you always check with your flight company first.
What to pack in a carry-on bag?
When flying, the carry-on is your most important luggage piece, so make sure you make the most of its space by packing smartly and in compliance with the rules and restrictions of each airline and country you are traveling to. Other than that, your cabin bag should be filled with the things you need most, such as medications, travel documents, electronics, jewelry, small toiletries, a change of clothes, and snacks for the flight. Or the things that you can only pack in a carry-on, like lithium batteries and electronic cigarettes.
What NOT to pack in your carry-on bag?
Some items that you are not allowed to pack in your carry-on suitcase include sharp objects, guns, firearms, flammable items, explosive materials, and most sporting equipment. Additionally, make sure you follow the 3-1-1 liquids rule, which states that all liquids must be in containers of no more than 3.4 ounces or 100ml, all containers must be placed inside a clear, zip-top, quart-sized plastic bag, and each passenger may only carry one such bag.
Are smart carry-on bags allowed on flights?
Yes, smart carry-on bags are still allowed in airplanes as long as they have removable batteries. The smart luggage ban refers to smart luggage that includes non-removable lithium-ion batteries and has been in effect for 5 years for North and South America, Europe, Asia, and Africa.
What are the best luggage brands?
While we can't tell you which one is best for you, we are definitely excited to share with you our picks for the best luggage brands in 2023.
Which are the best places to buy carry-on luggage online?
We recommend you try the following websites when looking to buy luggage online: Amazon, Nordstrom, Macy's, Zappos, Shopbop, Saks Fifth Avenue, REI. These have not only a wide range of styles and price points to choose from but also competitive prices and great discounts. And speaking of discounts, you may want to have a look at our constantly updated Luggage Deals page for the latest bargains and offers, some of which are exclusive to our readers.
If you have any other questions, feel free to leave them in the comments section below. We will do our best to answer them as soon as possible.