This post contains affiliate links, which means we may receive a small commission, at no additional cost to you, if you make a purchase through these links. See our full disclosure here.
If you're manifesting balmy beach resorts and elegant winter lodges peppered liberally with Michelin stars for 2022, then you're going to want to spend the year with a piece of luggage that more appropriately aligns with your tastes. Designer luggage is the crux around which any high-end kit revolves, and there's no time like the present to make that investment.
Whether it's an updated classic from Rimowa or a James Bond-approved carbon fiber carry-on engraved with the 007 logo and a unique serial number, our picks are a stylish fusion of form and function.
And if you think a high-end suitcase is out of your price range, you may be surprised to find out that there's a broad variety within this tier. Many entries are designed to last far longer than budget pieces that warrant constant replacement; they can actually end up costing less money over several years.
Here's a selection of some of the best designer luggage available that are sure to keep you on the road in style.
Dolce & Gabbana Small Trolley in Leopard-Print Crespo with Branded Plate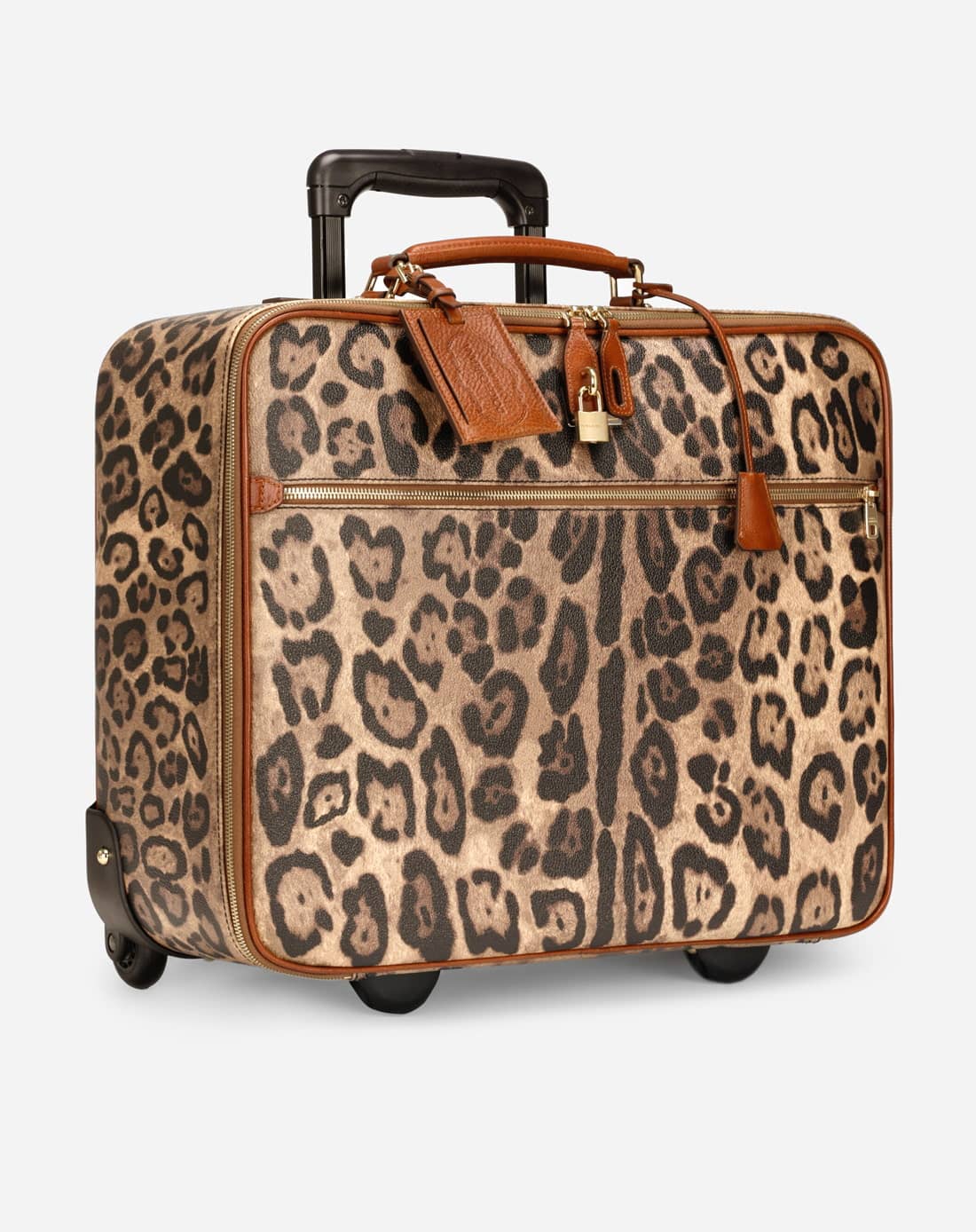 From a brand already known for its outrageous approach to haute couture comes the Dolce & Gabbana Leopard-Print Small Trolley, an ultra-luxurious bag despite its diminutive size. Inside are several clever solutions to organizing your belongings: a zippered, internal compartment with several smaller pockets and a leather laptop sleeve with a passport holder. There's even a flat, zippered pocket specifically for important documents.
What sets this one apart as a unique piece of designer carry-on luggage is that it falls within the size requirements for most airlines to act as an underseat bag. So even though it comes with a gold-plated padlock, you may not ever use it as this bag will never have to leave your sight.
RIMOWA Essential Cabin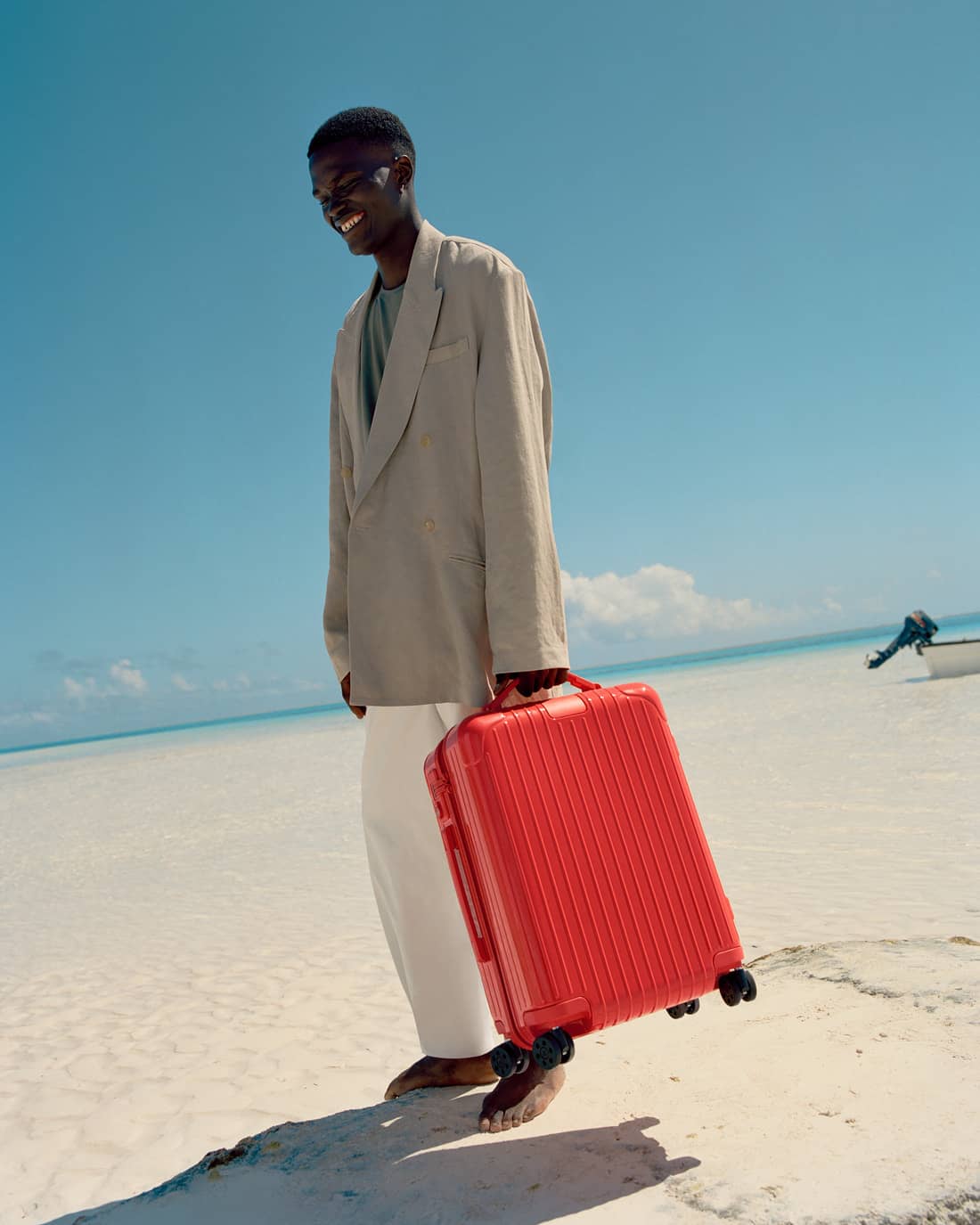 The original polycarbonate suitcase, the RIMOWA Essential Cabin set the world standard for lightweight, hardside suitcases, and continues to satisfy customers over twenty years later. Most luggage companies make some version of this suitcase today, though RIMOWA's exemplar remains one of the best in class, with a vintage-inspired design that will never go out of style.
Some of the original details from when the case was first devised have remained, like the corner reinforcements and the vertical ribbing. Some details have been updated and added over the years like the TSA-approved locks and the smooth-rolling multi-wheel system.
Mulberry Four Wheel Trolley
Made of the same nearly indestructible composite Scotchgrain canvas as their classic handbags, the Mulberry Four Wheel Trolley aims to be your favorite carry-on for years to come. Their proprietary method of vinylizing canvas ensures the piece's longevity, while all of the accents and fittings are chosen specifically to ensure it will last for decades.
Finishing it out are brass and aluminum findings, calf leather trim, and 360º smooth-glide wheels designed to honor the elegant simplicity of this legacy brand. This is an ideal piece for someone who requires the ease of a rolling suitcase but is still looking for an heirloom-quality piece.
Montblanc Carry-On Luggage with Front Pocket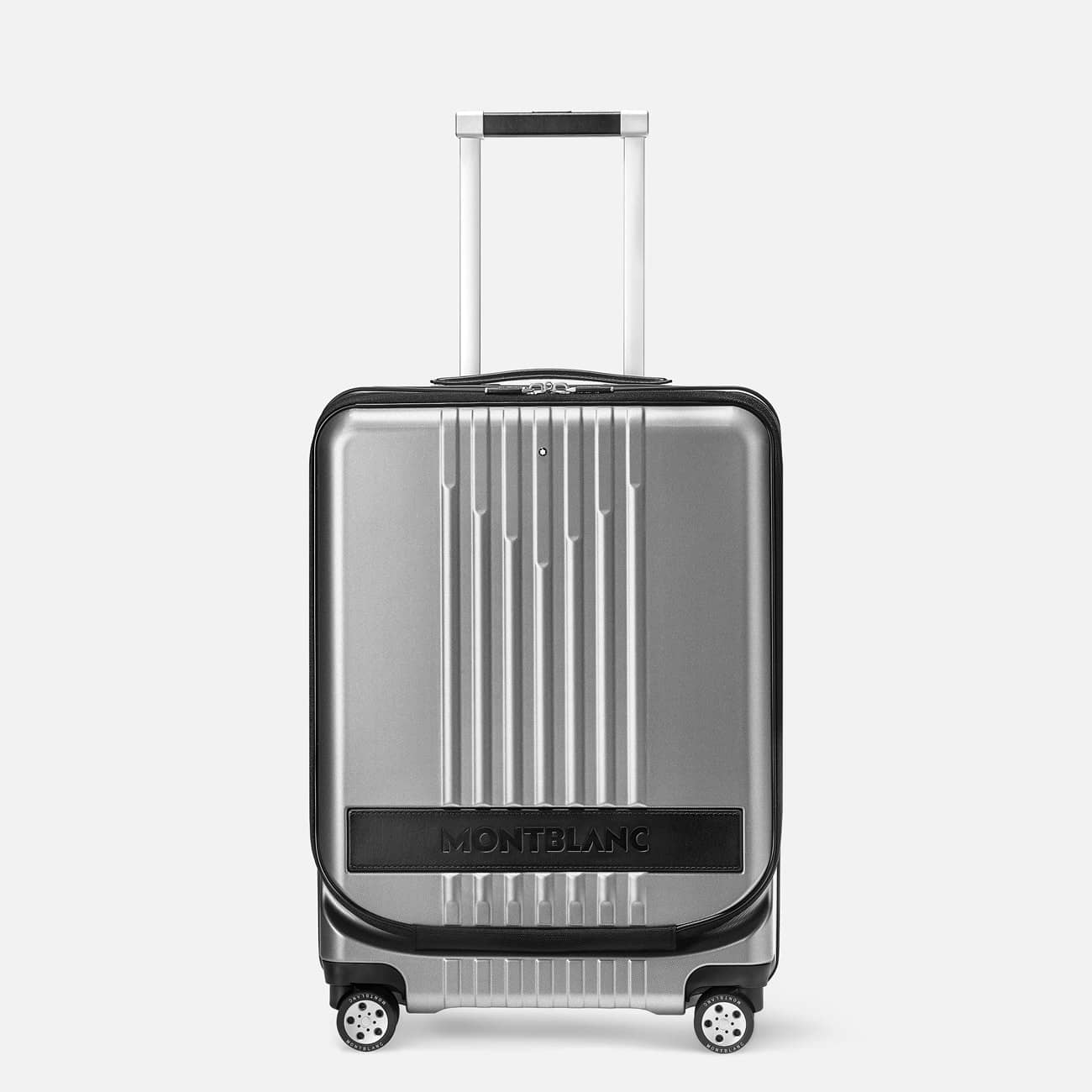 Far more than just another rolling carry-on, this Montblanc Carry-on Luggage with Front Pocket is as practical as it is elegant. It's made of heavy-duty, lightweight polycarbonate that's trimmed in leather and prominently emblazoned with their signature logo.
The front pocket makes it easy to access items like your laptop or passport, and it's fitted with easy-glide zippers and a telescopic handle to make it feel as luxurious to use as it looks. It's designed to be the perfect mix of practical, elegant, and straight-up cool, so it'll easily take you wherever you need to go.
Aviteur Carry-On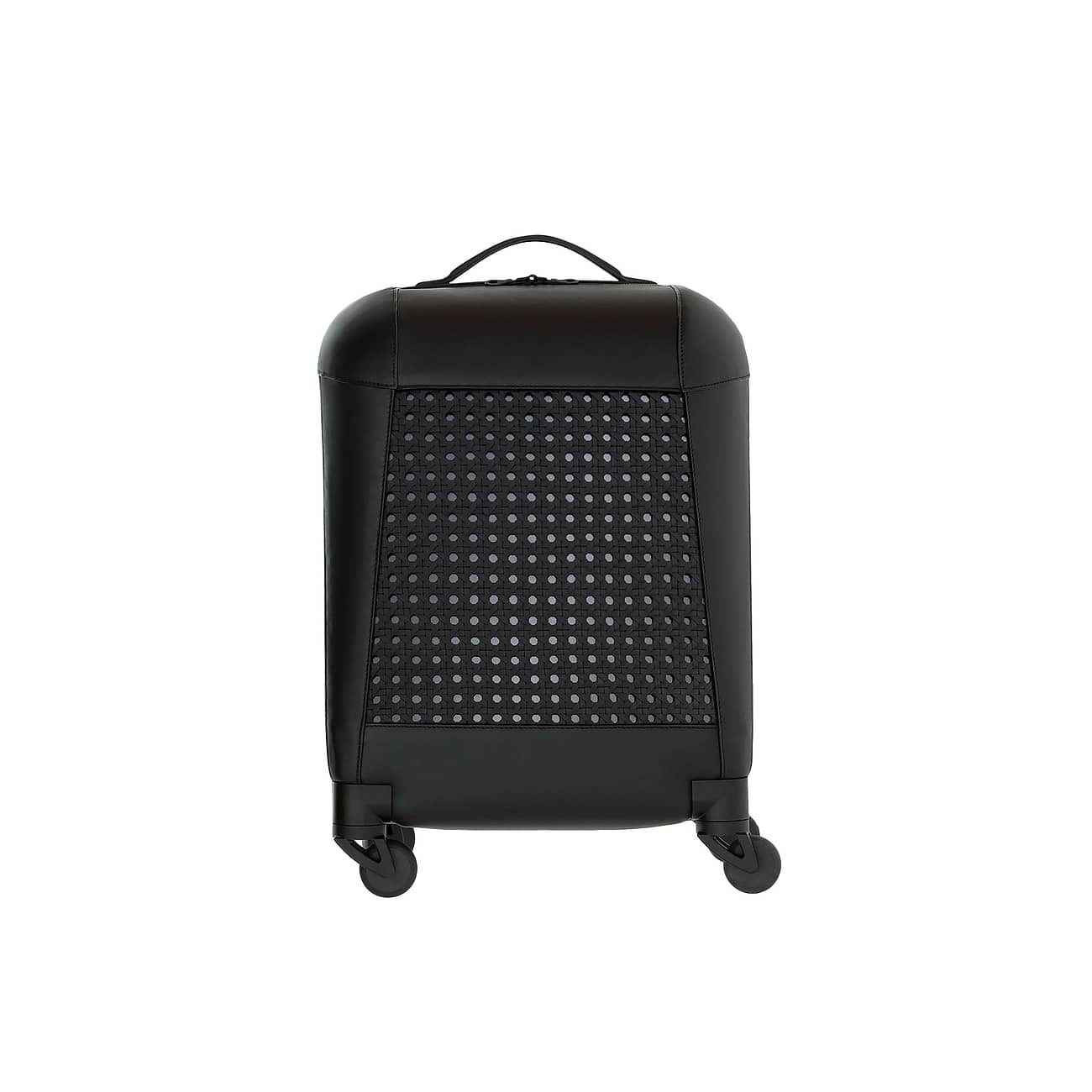 When you see the Aviteur Carry-On, the first thing you may notice in its design is a certain exacting sensibility, a balance that owes itself to the singular vision of Patricia Gucci, Grandaughter of Guccio Gucci and the founder of Aviteur.
This case certainly has an overall industrial quality, though this is gently offset by warmer touches: the supple calfskin trim and thoughtful caning panels provide an organic element.
But its signature feature, emerging from a brushed-finish aluminum sheath, is a buttonless lucite handle. It's carved from a solid block to give it extra durability and a shocking clarity, a feature that immediately sets this case apart from all the others at the airport.
Mark Cross Grace Small Leather Trunk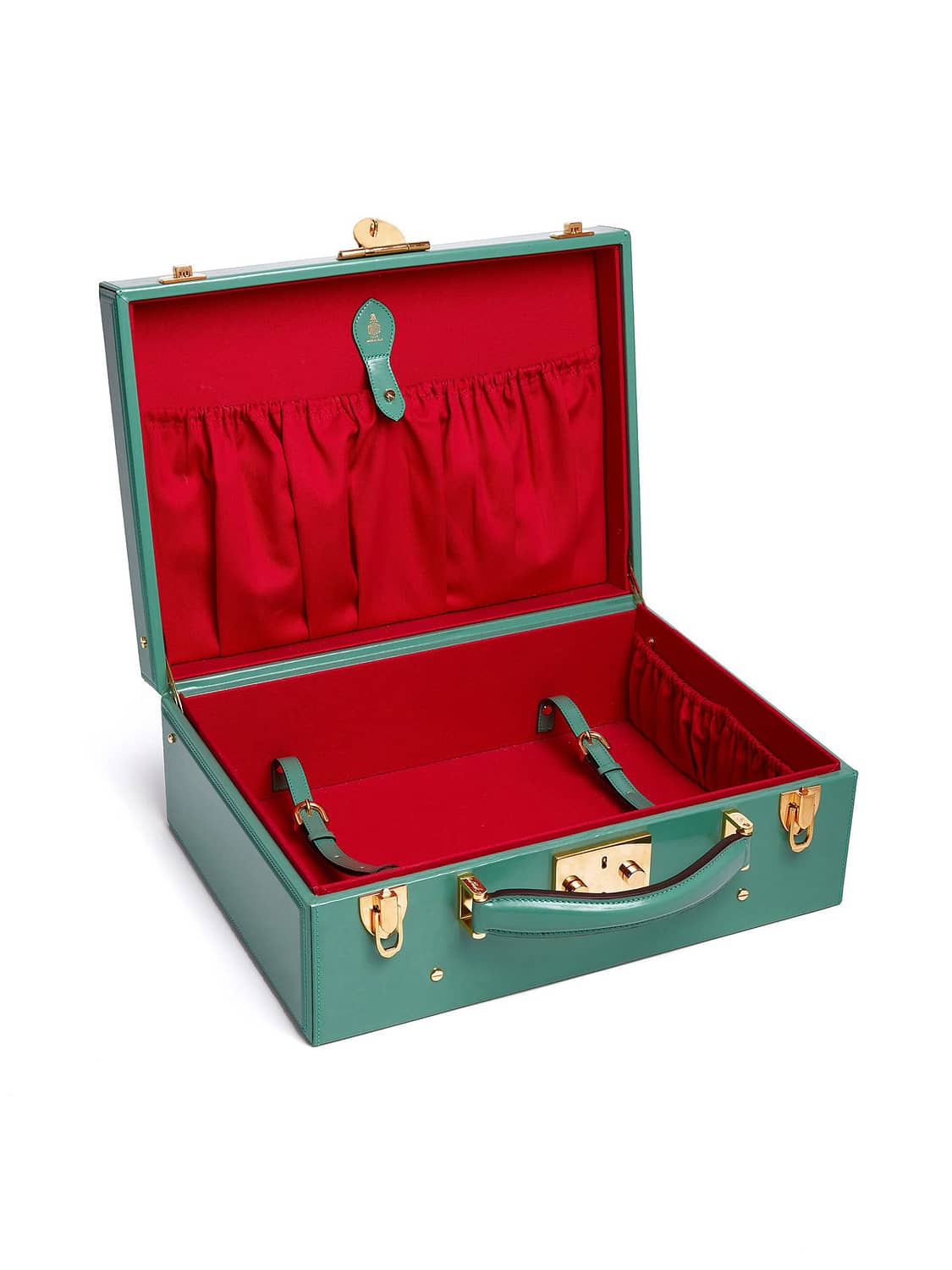 With a romantic styling that hearkens back to the glory days of Hollywood, the Mark Cross Grace Small Leather Trunk was inspired by the overnight case Grace Kelly toted in the classic Hitchcock film, Rear Window.
It's completely handcrafted: buttery Celadon calfskin is wrapped around a meticulously assembled poplar frame, and fittings are all made from gold-plated brass. The cherry-red cotton twill lining is also utilized to create several elasticized pockets to keep small items where you can find them. The styling of the interior is reminiscent of a jewelry box, giving your belongings the respect they deserve.
Ted Baker Amithia Wheeled Case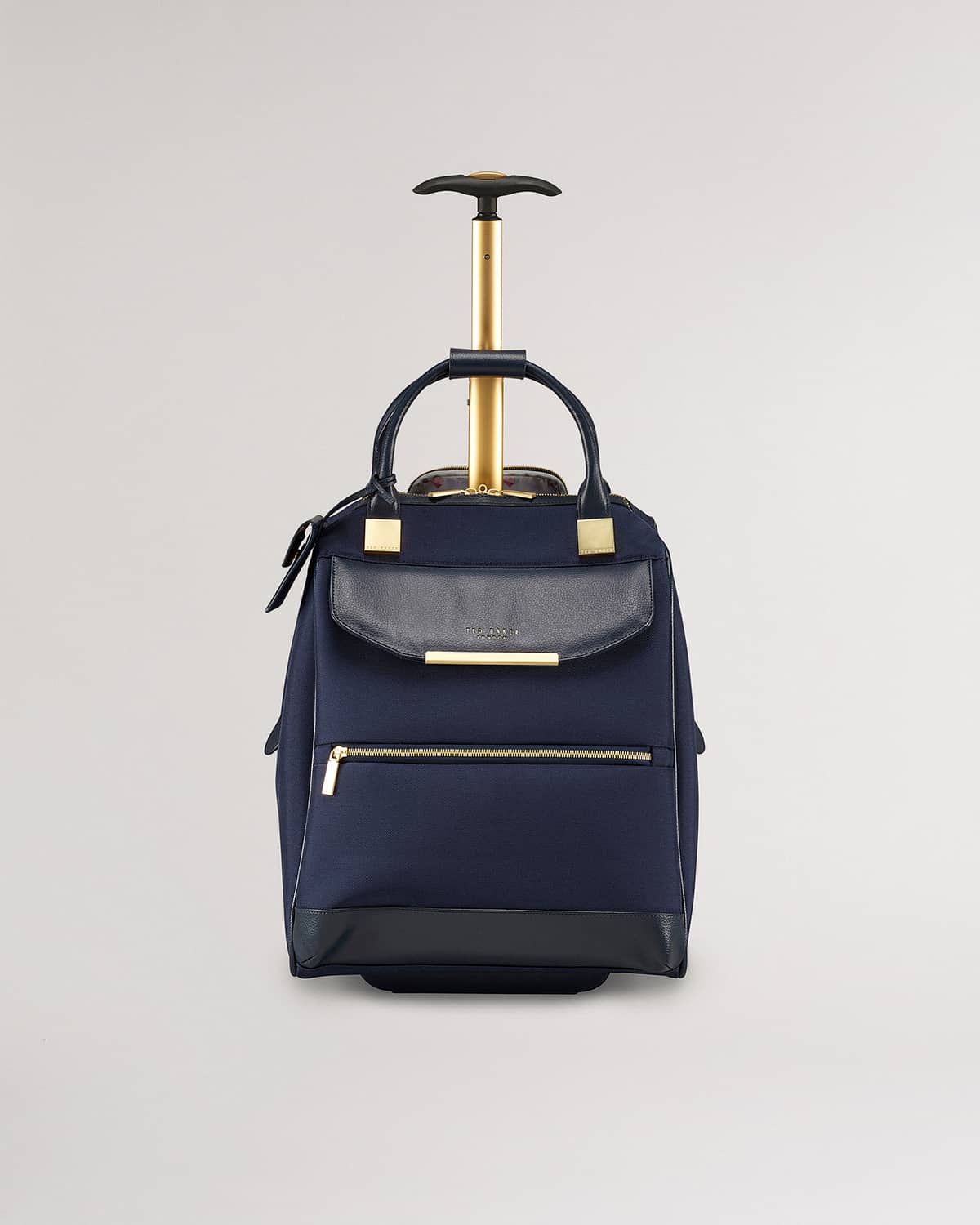 The Ted Baker Amithia Wheeled Case has all of the versatility you'd expect of a soft-sided carry-on. It has several compartments to keep your things organized, including easy-access pockets on the front and sides and an internal zippered divider that separates your clothing from your shoes. It's crafted from 600 denier polyester for increased durability and a level of water resistance you may not expect from a flexible material bag.
The integrated three-stage, telescopic handle is super lightweight – thanks to the aluminum construction – and is topped with a super maneuverable T-shaped handle that allows for a solid grip despite its minimalist design. And just like all of the zippers and tooling, it's finished in Ted Baker's signature warm, rose gold.
Globe-Trotter Limited Edition No Time to Die Suitcase
A limited-edition piece commemorating and embodying the Bond film No Time to Die, the Globetrotter Carbon Fiber Carry-On Suitcase is easily the most durable piece of luggage on this list. While polycarbonate has become the industry standard for hardsided luggage, carbon fiber is far more lightweight and scratch-resistant, and much less likely to dent or warp from impact.
Each piece is numbered out of 700, a detail which can be found on an embossed leather tag affixed to the quilted interior. And each one is fitted with chromed-steel, TSA-approved locking latches to keep your belongings extra secure.
Brunello Cucinelli Brown Leather Cabin Suitcase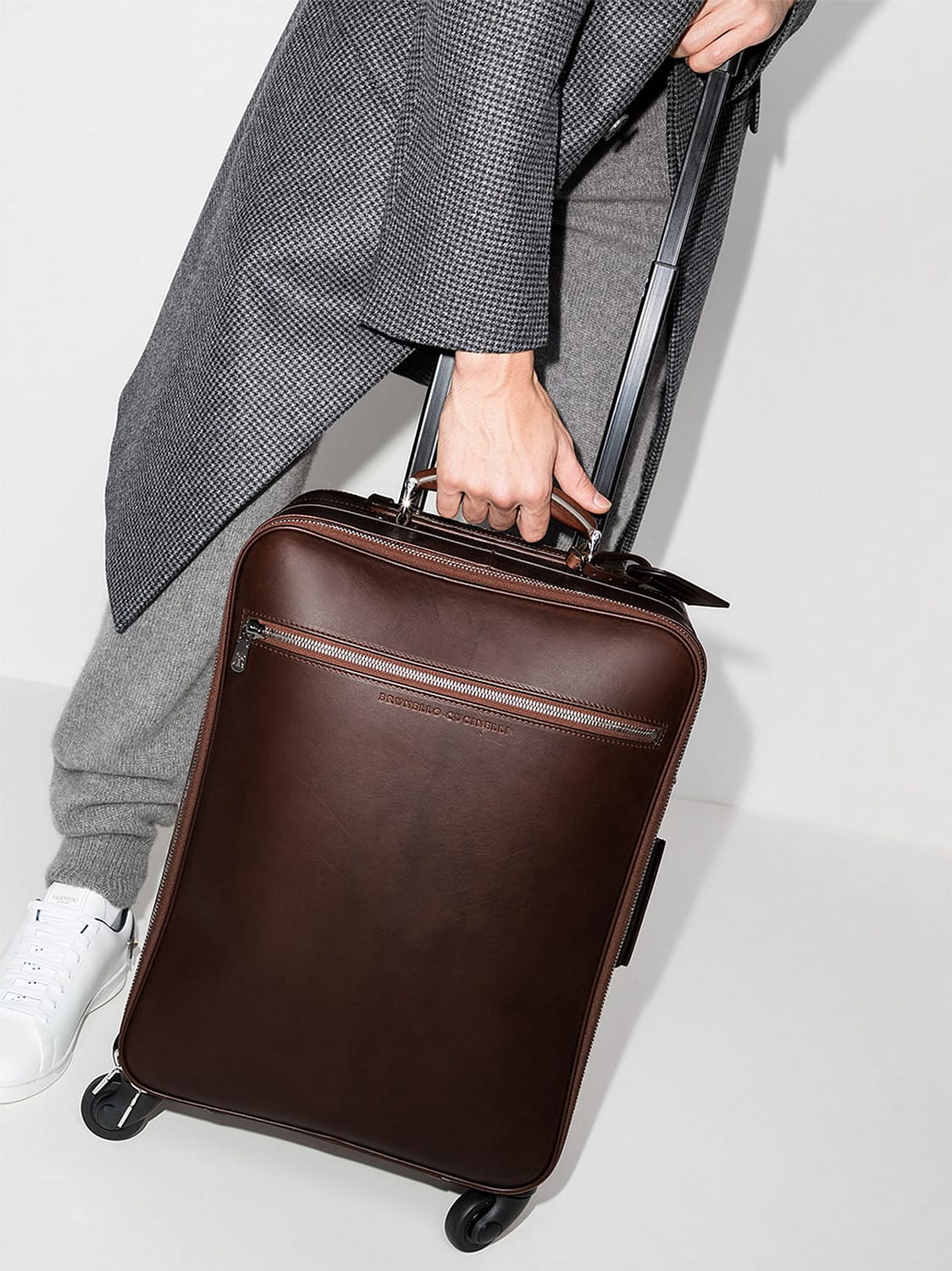 Crafted from 100% calfskin leather exterior, the Brunello Cucinelli Brown Leather Cabin Suitcase is otherwise a traditional rolling suitcase. All of the typical trappings are there: four, easy-glide wheels, a telescopic handle, and interior compression straps to make it as easy to travel with as other, more techy alternatives.
While it looks and behaves much like your average, soft-sided rolling suitcase, it's specifically designed with longevity in mind. From the specially engineered smooth-spinning wheels to the top-quality leather that will patinate beautifully as it ages, this is a piece made to withstand the tests of time.
BRIC'S MILANO Bellagio 2.0 Luggage Set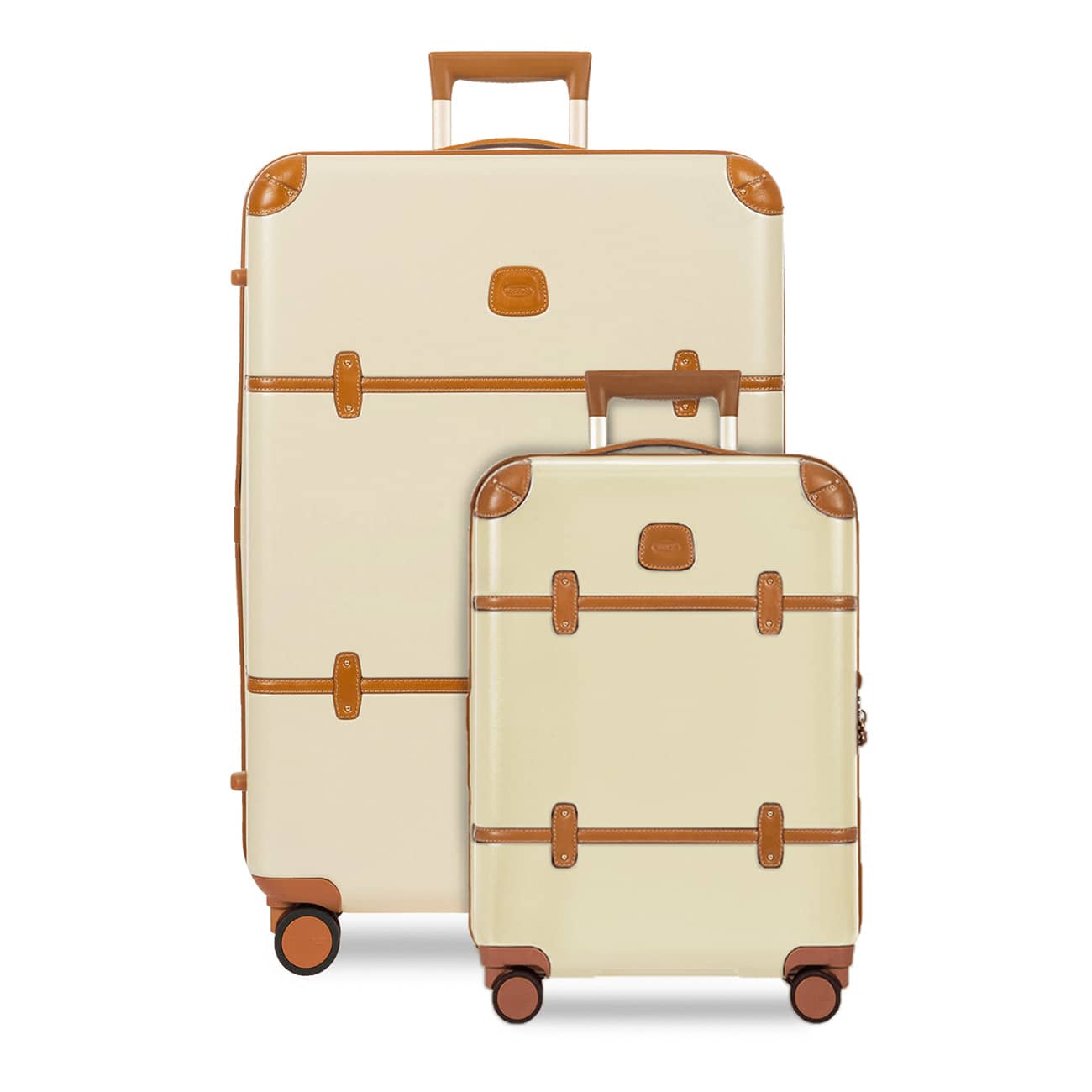 If you've never quite been able to contain yourself within the confines of single bag travel, then you might be the perfect candidate for a designer luggage duo like the BRIC'S MILANO Bellagio 2.0 Luggage Set.
All the practicality of contemporary travel cases are there: internal dividers to organize your belongings, silent Hinomoto wheels, and a TSA-approved zipper lock. But outside, the vintage-inspired styling hearkens back to the golden age of aviation when a matched set of luggage was de rigueur.
Gucci GG Supreme Carry-On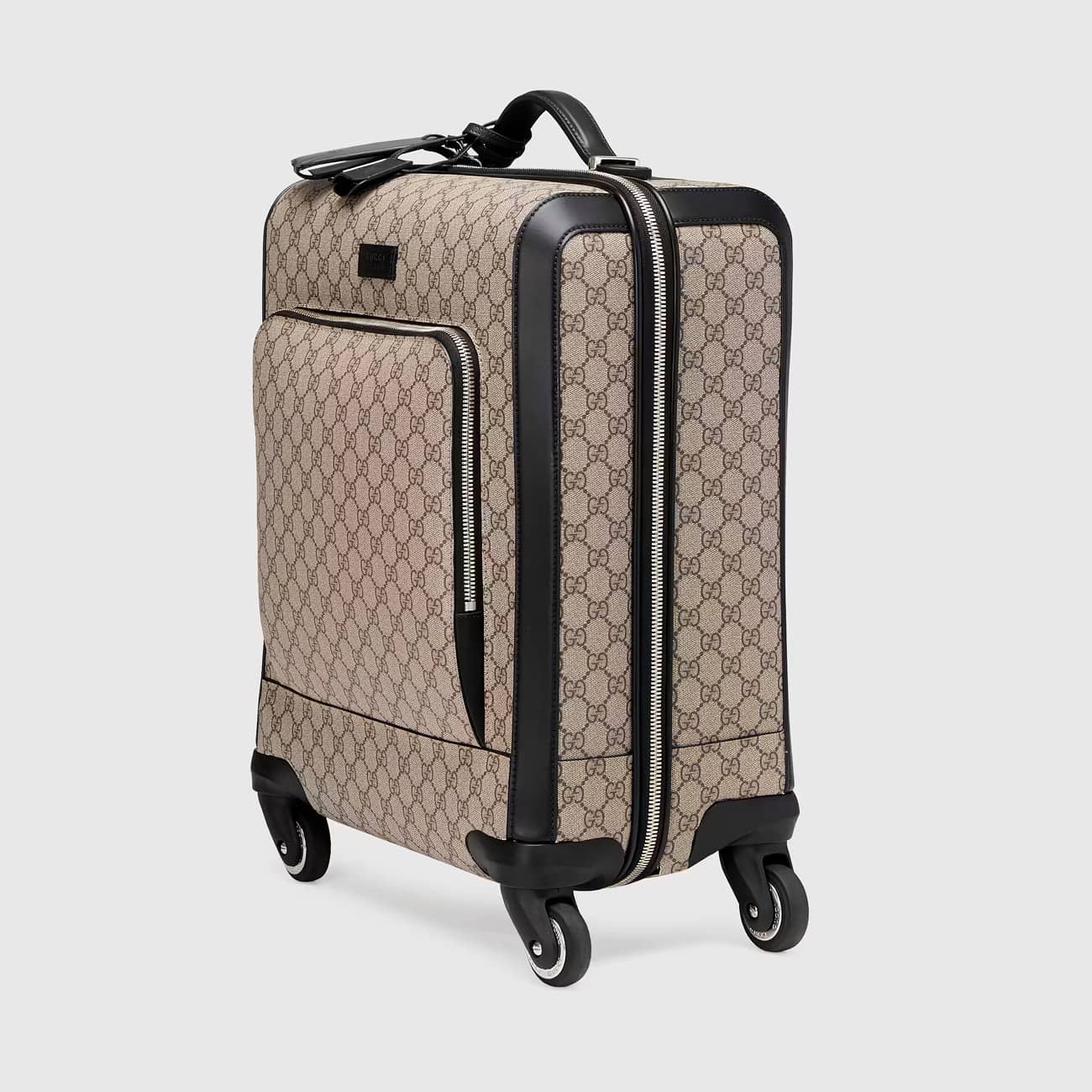 Though they've certainly expanded their product line in the over a hundred years since it was founded, the Gucci GG Supreme Carry-On recalls the brand's beginnings as a designer luggage and travel accessory house. As the name implies, this stately case is emblazoned with Gucci's iconic GG Supreme canvas, and trimmed with contrast leather trim.
Karl Lagerfeld K/Ikonik Trolley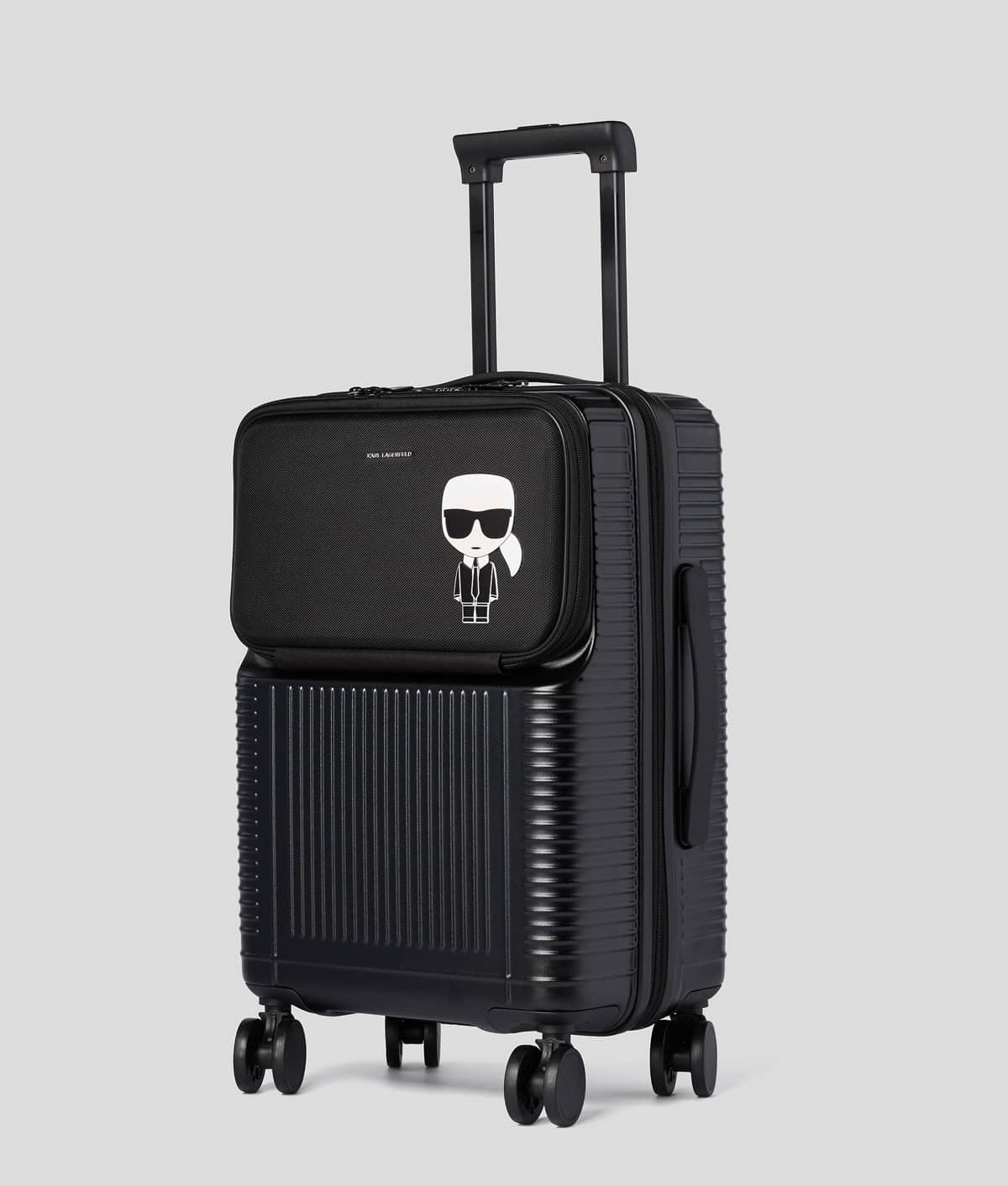 A mix of flexible and rigid materials, the Karl Lagerfeld K/Ikonik Trolley is perfect for those who, ideally, need features from both a hard and softsided suitcase. The bulk of the case is crafted from sturdy polyacrylic to keep its contents safe, but it has an added nylon front pocket to stash your most important items.
Large enough to carry a few toiletries, a 13″ laptop, a passport, and a few other choice items, the front pocket makes one-bag travel effortless as it keeps items you use frequently the easiest to access. It's finished with contrast Ikonik Karl artwork.
Off-White Arrows Trolley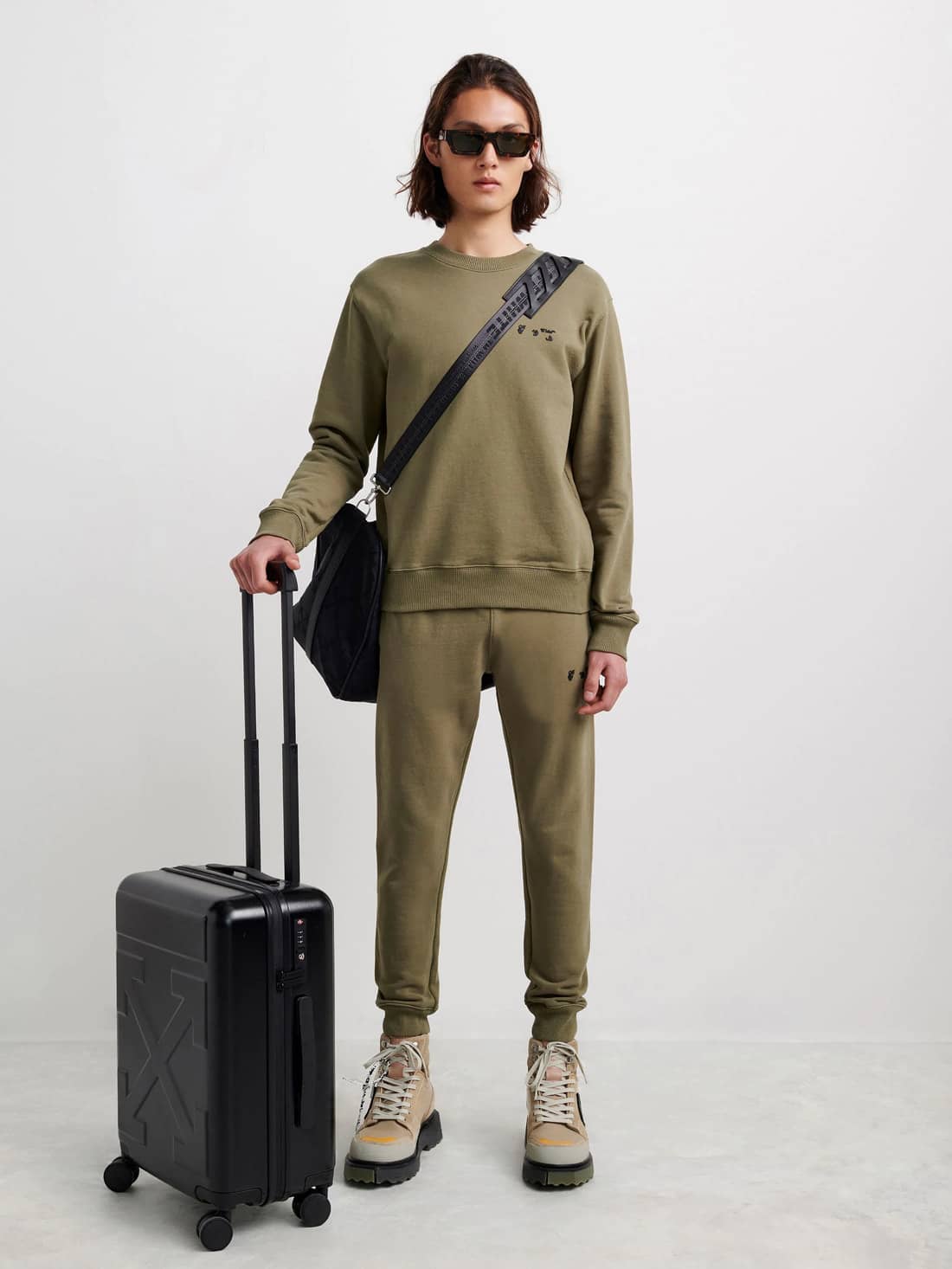 From the line helmed by the visionary, late Virgil Abloh comes the Off-White Arrows Trolly, a classic carry-on suitcase that showcases Abloh's signature minimalist design aesthetic. Inside, you'll find all the trappings of a traditional suitcase: dividers to separate different items, elastic compression straps to keep clothing at bay.
But on the outside, despite the monochromatic color scheme, you'll find the classic Off-White arrows logo, boldly embossed across its front. Its styling is simultaneously brazen and subtle, and its 360º spinning wheels help you stay effortlessly cool as you board your flight.
FPM Milano Leather-Trimmed Aluminium Suitcase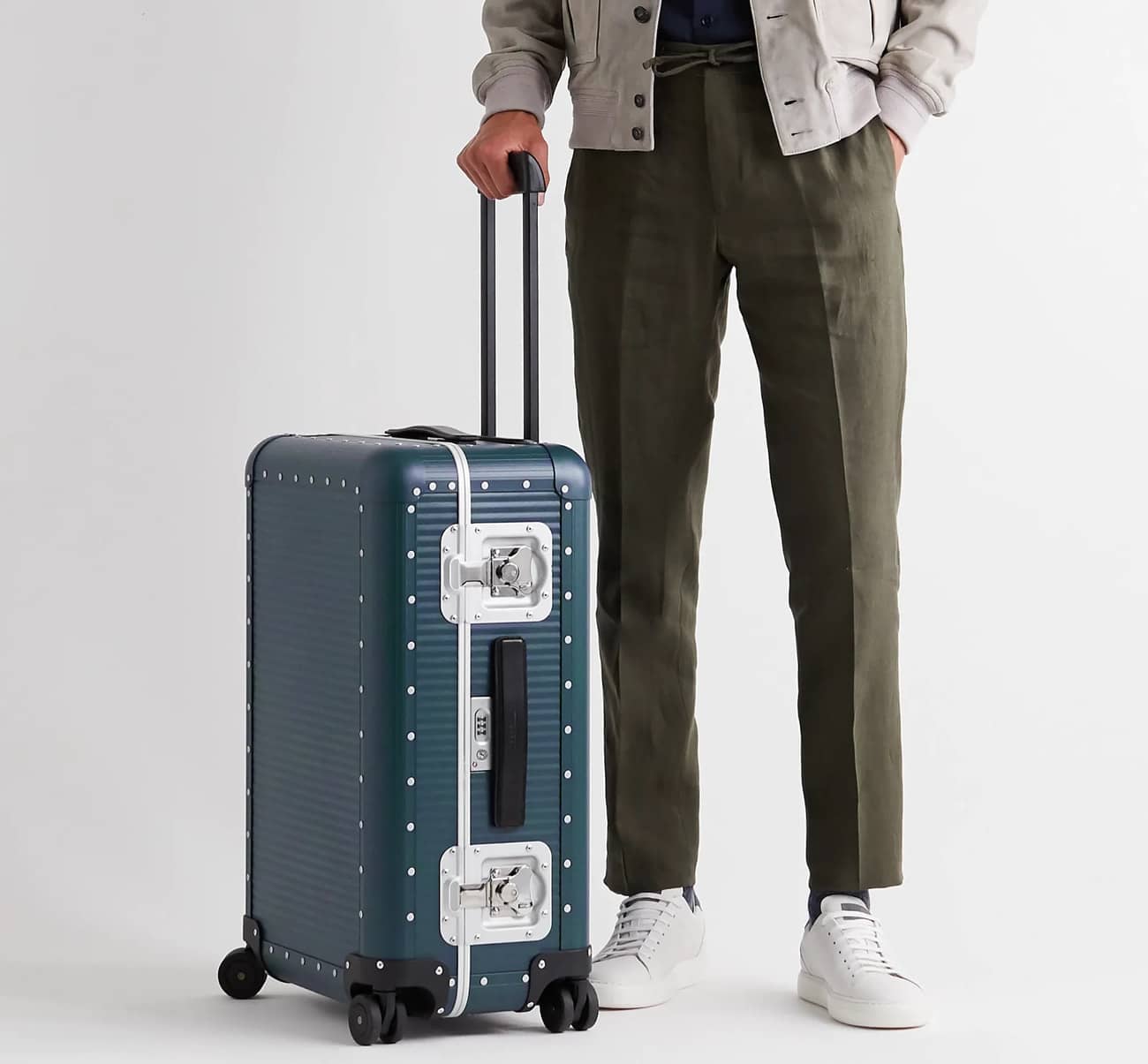 Designed to have exceptional impact resistance, the FPM Milano Leather-Trimmed Aluminium Suitcase has several features engineered specifically to keep your items secure. At 24 inches, this is a checked bag size, but its corrugated aluminum shell is made to prevent dents and scratches caused by even the most overzealous baggage handlers.
Rounding out the styling is a divided interior secured by adjustable leather straps and chromed rivets and latches that add to its industrial aesthetic. If you'd like to carry it as a traditional suitcase, it's fitted with a handle on one side and four sturdy feet on the reverse.
Ermenegildo Zegna Leggerissimo Smart Suitcase
The perfect carry-on for those seeking something ultra-functional stylish, the Zegna Leggerissimo Smart Suitcase hides within its crisp but organic lines a dedicated pocket for a power bank. You can plug in your phone to charge without even opening the case via the dedicated splitter that provides two exterior USB ports.
The details of this piece – like the USB ports – are what make it look and feel exceptionally luxurious: the gently corrugated polycarbonate exterior, the expertly styled, divided interior. Even the handles are crafted in a unique process where fine leather is woven together to create an entirely new textile, which adds both luxuriousness and durability to this legacy piece.
Louis Vuitton Horizon 55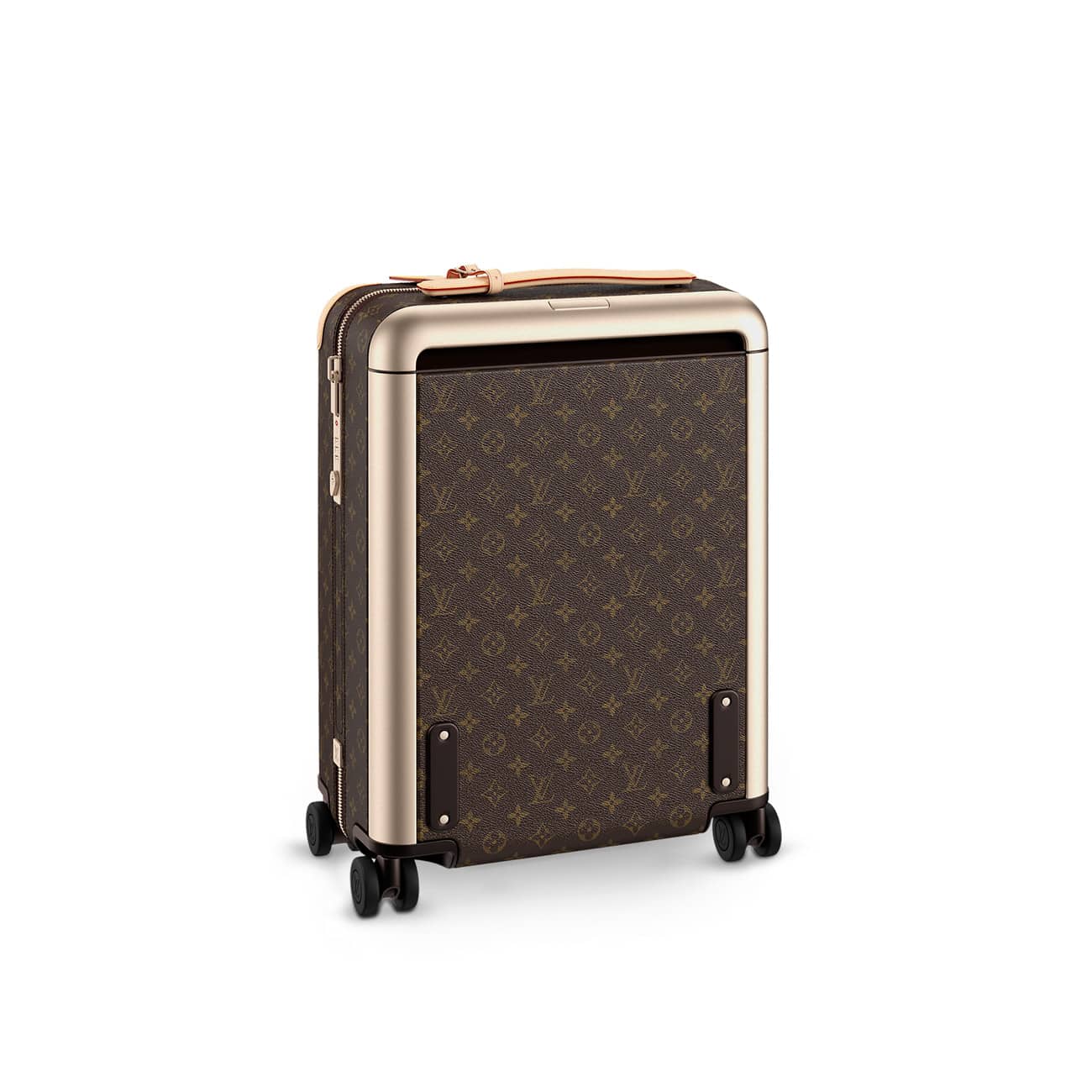 Made by the long-time titan of travel bags of all kinds, the Louis Vuitton Horizon 55 is a modern take on the brand's distinctive styling. While the case is emblazoned with Vuitton's signature Monogram Canvas print, it's as a contrast finish on brushed titanium rather than vinylized onto Vachetta leather.
Its titanium case and silver-toned brass fittings are warmed by the addition of smooth, fine leather trim, including a matching, removable luggage tag. To complete the ultra-refined look, the telescoping handle extends across its entire width, disappearing seamlessly into its rear corner tooling.