Blogging is not as easy as many would believe. It involves a lot of work, knowledge, continuous learning, and keeping up with a lot of technical stuff that I won't bother you with. The images you use on your posts are not an exception, either.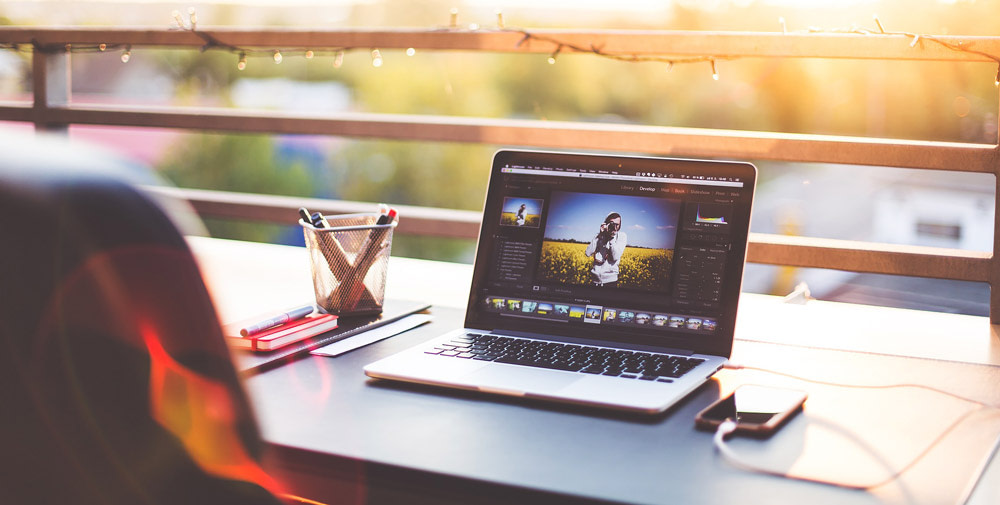 Which is the best stock photography website? What plan to choose? How to properly give attribution? Where are you allowed to use the images? – these are only a few questions from a myriad of others that all bloggers and small media companies are faced with.
If you are a blogger, I can only assume that you are like me: always looking for better photos to illustrate your articles. Of course, if you have your own images, this is great, but what about when you need to write about a new destination where you've never been and you need to add some representative images? That's a problem we all face eventually.
It doesn't matter if you are a small media organization, journalist, content creator, travel blogger, publisher, or web designer – we all need images to go along with our products or articles.
Personally, I have been faced with this problem many times, always looking for the best stock photo packages to buy, or browsing through hundreds of free stock images to find that one special photo I needed. This is why I decided to create this post – to ease some of your work. Hopefully, this will help you find faster the images you need for your next article.
There are lots of stock photo libraries out there; this is my selection for some of the best of them. Taking into considerations factors such as price, terms of use, and the number of images available in their databases, I compiled a list of recommendations. Have a look and let me know if you find something you like:
The Best PhotoDune Alternative – 99club by Stock Photo Secrets
I started with the best PhotoDune alternative because this is what got me into writing this article in the first place. I used to use PhotoDune (among other agencies) for the past few years. Their database wasn't so great, but the prices were quite affordable, or at least that's what I thought. PhotoDune used to let you buy different sizes of photos at different prices, instead of asking for one price no matter the photo resolution. So, if you needed an image of 900px wide, you would usually pay around 2 USD. That was satisfying for me. Until November, when they made the decision to offer only a single size option (maximum resolution), which is around 5 – 7 USD per image. From my understanding, this is only a preparation for an Author Driven Pricing system, where the contributors will have more control of their pricing options. So, I had to quit using this platform for now and start looking for a good replacement for PhotoDune.
Meet 99club Subscription Offer, Stock Photo Secrets' best deal at the moment, and the best alternative to PhotoDune. For $99/year you have access to 4 million premium stock images (images, vectors, and fonts). You can download 200 images per year in high resolution and you can use them forever, even after your account expires. With this plan, the price for one image is about $0.49! I highly recommend this subscription, but be careful, this offer is limited (at the time I am writing this, there are only a few seats left), so decide now or you will lose the opportunity.
The Pleasant Surprise – Depositphotos
More than 50 million high-quality royalty-free stock images await you at Depositphotos. My suggestion is their latest plan (Flexibile). For 29 USD per month, you have access to their entire library of photos and vectors and you can download up to 30 hi-res images every month. Plus, the unused downloads will automatically be transferred to the following month. If you exceed your 30 images limit, all additional images you purchase will only cost you 1 USD each.
Register via this link and get 10% off to buy Subscription and On Demand downloads.
The Biggest – Shutterstock
Now let's have a look at the greatest – Shutterstock. With more than 100 million images (and more than 50,000 new images added each day), Shutterstock is the agency with the largest royalty-free collection. This only means one thing: whatever you are looking for, you are sure to find it here.
In fact, here is a good example: I was browsing several photo stock libraries for some images with Mallorca I needed for an article. I had already found some on other websites, but when I did a search on Shutterstock I found more than 24,000 – WOW! Not to mention New York – more than half of million stock photos, illustrations, and vectors. That is indeed a big database!
Now all I need is to figure out a way to reduce my time browsing the images:), or decide quicker, instead of drooling over captures of dreamy beaches and stunning little villages for hours. When it comes to their subscription offers, I think you should check out yourself, it all depends on what you need.
The Affordable Solution – Stockfresh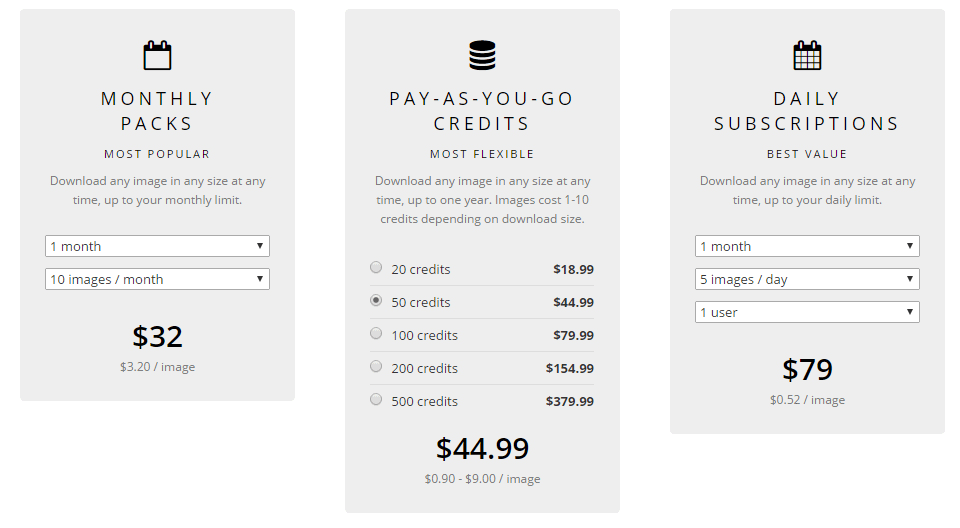 An affordable solution is Stockfresh. If you don't need lots of images, then your best bet is one of their daily subscriptions. Downloading any image in any size at any time (up to your daily limit), will cost you $0.52 per image. This is one of their best value plans and it will cost you 79 USD per month. In that month you are limited to 5 images per day. Not bad, if you ask me.
The WordPress Plugin – PixelRockstar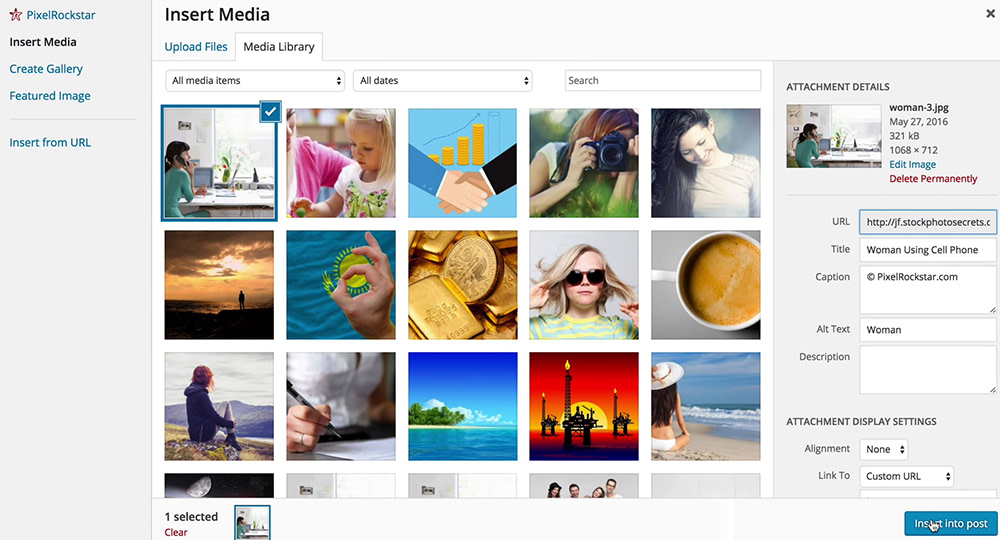 If you're using WordPress, then you're lucky. This nifty photo plugin will give you direct access from your own WordPress installation to 4 million legally-safe images, starting at $0.57 per download. You can't get easier than this! You can also use any image from their library on your website or social media accounts, and each image is legally covered with a USD $10,000 insurance.
Moreover, all the images you download can be used forever for any digital publishing purpose. PixelRockstar offers three plans, with prices from $0,57 to $0,90 per image. Have a look and choose the best plan for you.
The Reliable Option – 123RF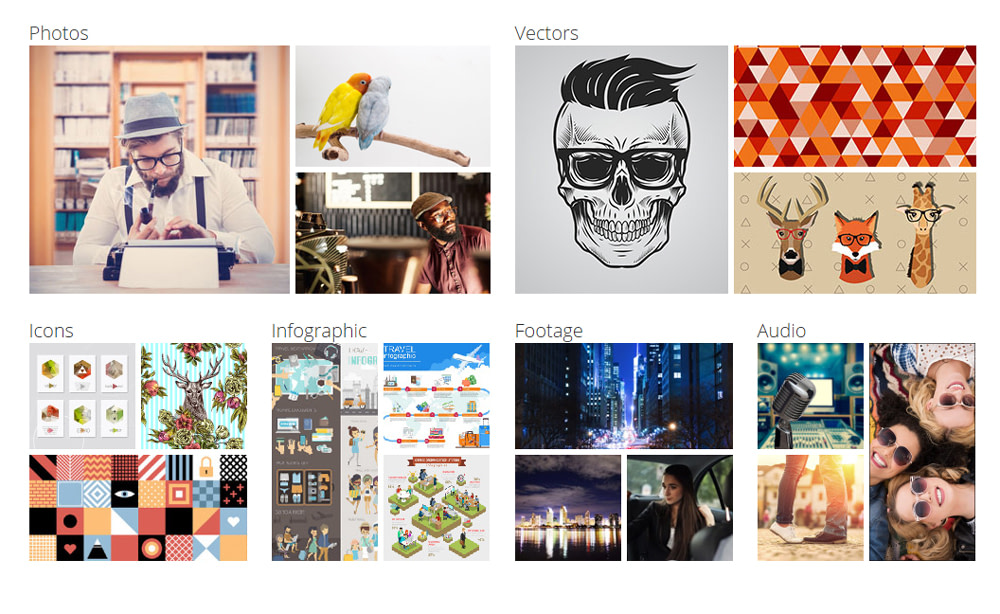 Over 69 Million Stock Images, Vectors, Footage, and Audio Clips are found in 123RF's database. Quite a big library! Their plans are divided in two: On Demand (from 0.70 per credit) and Subscription Plan (from 0.18 per image). As in all plans, the best value are the yearly ones. In this case, a 59 USD per month (for one year) plan will save you 253 USD and will allow you to download 5 JPEG/EPS files per day.
You also have access to other advanced features, like the 123RF Editor, which lets you easily edit the images using filters, add texts, and even create covers for your social media accounts. This is a highly reliable agency that is suited for everyone, from a startup blogger to a large media company.
The Daydream Inducer – Dreamstime
Dreamstime needs no introduction. It's one of the best suppliers of royalty-free stock images in the world, with more than 53 million files and 16 million registered members, plus thousands of new images added daily to their already impressive database.
Every time I do a search on this website, I always end up daydreaming about a new destination, traveling there virtually, picturing myself roaming the streets of an old town in Europe, or lounging on a beach in the Maldives….OK, I need to wake up and get back to work!
There you have it! These are my main recommendations.
Other mentions worth taking into consideration:
– CanStockPhoto
– Pond5
– PhotoSpin
– Colourbox
– Fotosearch
– Bigstock
– Megapixl
Bonus: 5 Websites to find free photos to use on your blog and social media
Until you decide upon which plan and which agency best suits your needs, here's a list with some websites that offer free high quality images, maybe it will help you. I know I always take a peek to see their latest images.
Some of the websites below offer free images in public domain. Make sure you check the license for each image you use, some may require attribution. The downside is that most of these images are not professional, and if you are looking to offer some quality, original images to your readers, then I suggest you have a look at the list above.
Anyway, here are some of the best websites from where you can download free stock images (clicking on each image will take you to its corresponding website):




Some of these websites offer photos released free of copyrights under Creative Commons CC0, others require attribution, yet others require attribution only under certain circumstances. Anyway, I suggest you read very carefully all the terms & conditions of the websites above and have a very close look at each image license when you use it. Each site/image may have its own different set of rules. Just make sure you use the images accordingly.
Happy blogging!