This post contains affiliate links, which means we may receive a small commission, at no additional cost to you, if you make a purchase through these links. See our full disclosure here.
Languishing in the long, balmy days of summer is even better at the beach, especially with friends. Once you've picked the perfect weekend and assembled your crew, you've gotta put together the perfect beach kit. While you could buy any tote to carry your towels and sunscreen, picking the best beach cooler can be a little more tricky.
Durability, price, and capacity are probably at the top of your list when you're thinking about features you require, but factors like style and portability will matter as well. If you're not sure where to start looking, read on for a curated selection of some of the most useful, longest-lasting, and coolest beach coolers you can buy.
YETI Hopper M20 Backpack Soft Cooler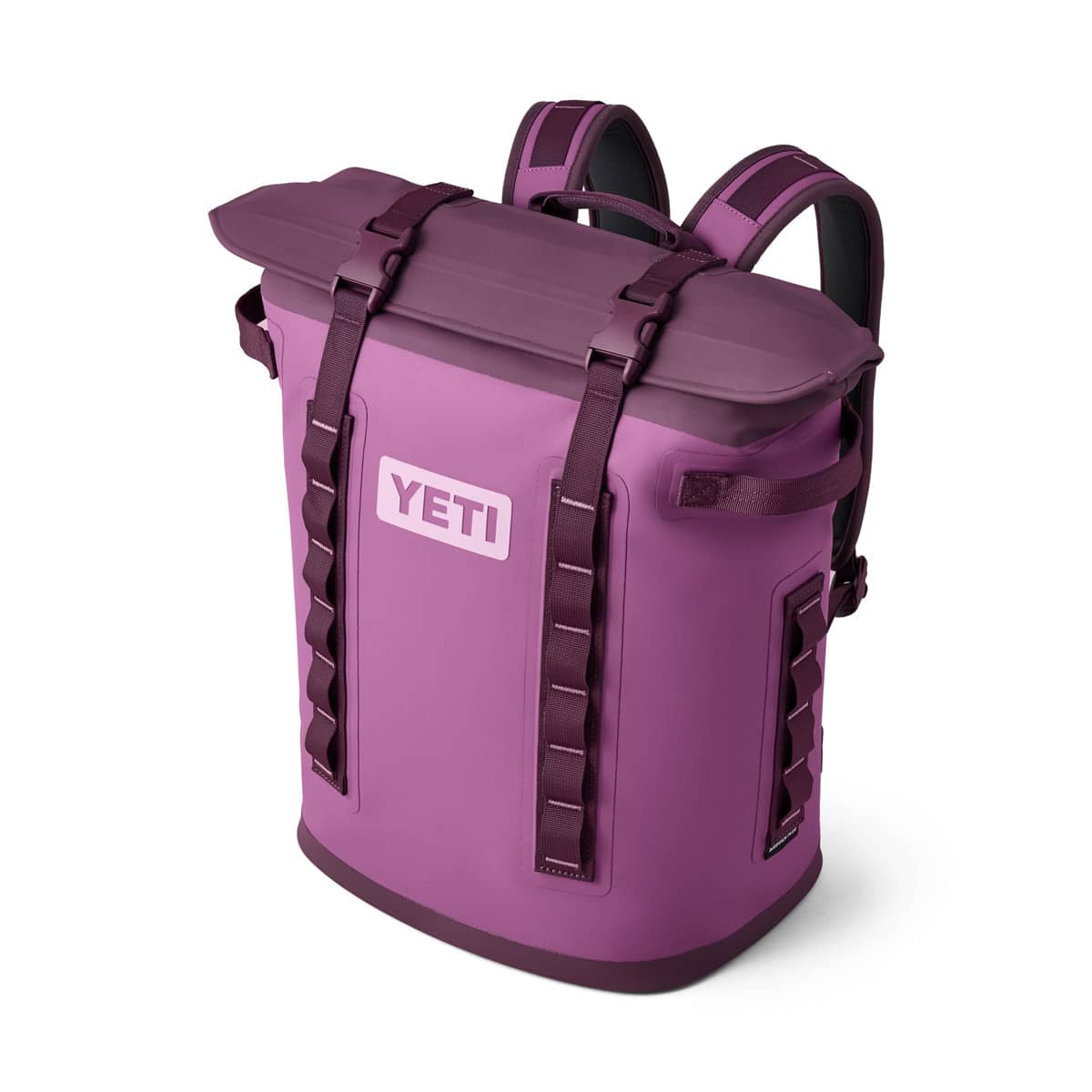 The hands-free cooler you didn't know you needed, the Hopper M20 Backpack Soft Cooler from YETI is such a pleasure to use that you'll be planning extra beach trips.
Like a lot of waterproof backpacks, the YETI beach cooler has a roll-top closure, though this one seals magnetically so it's much easier to secure. Between the puncture-proof shell, the closed-cell foam insulation, and the anti-bacterial lining, there are a myriad of concrete reasons it makes a solid addition to your arsenal.
Bellroy Cooler Tote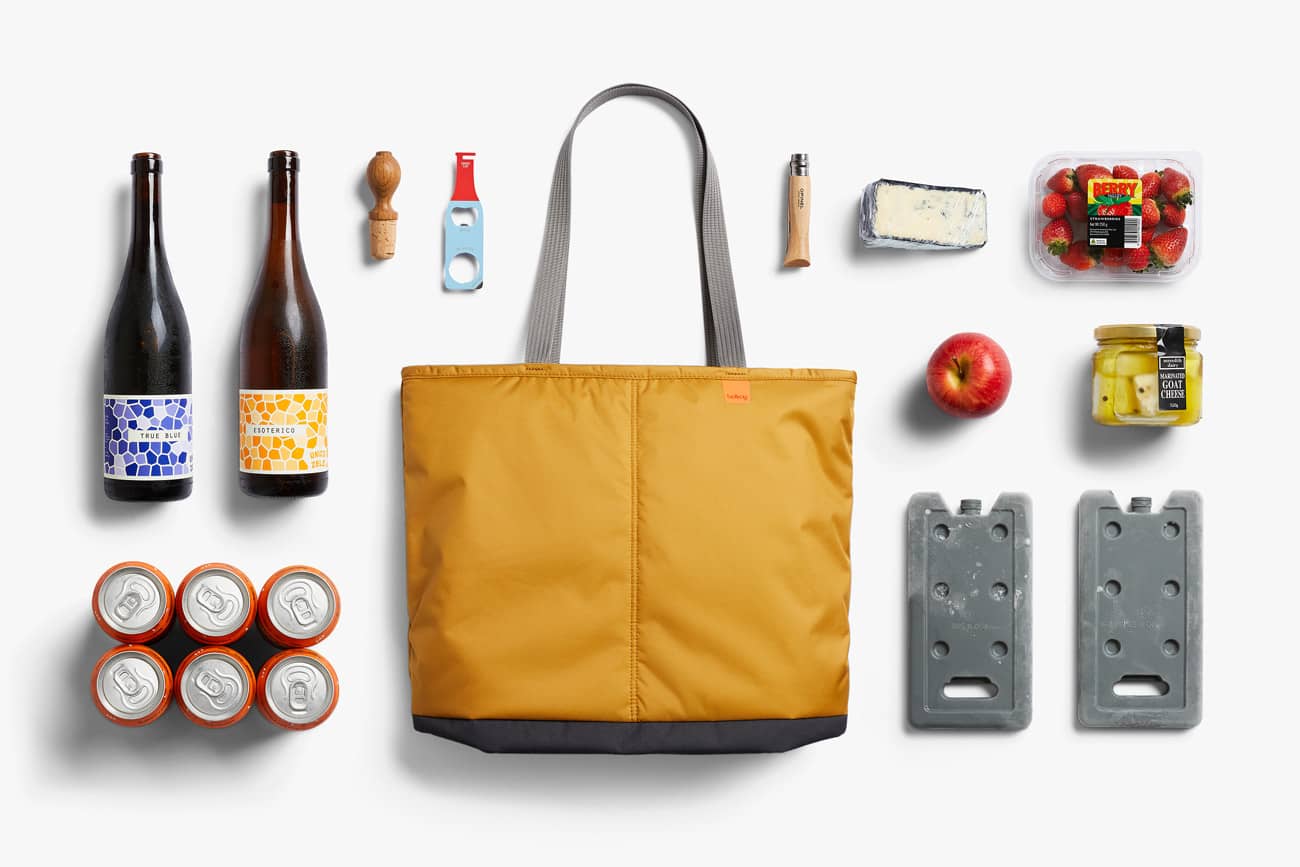 From the makers of some of the most finely crafted bags in the world, Bellroy's Cooler Tote beautifully showcases the brand's impeccable attention to detail in a handy beach cooler bag. You'll find the same fine construction here as you do in their other products, with details like a seam-sealed waterproof lining and padded bumpers that keep contents safe. Though it's large enough to comfortably carry a couple of bottles of wine, a six-pack, and some snacks, it compresses and folds completely flat when you're not using it to make it easy to store.
Sunnylife Beach Cooler Box Sounds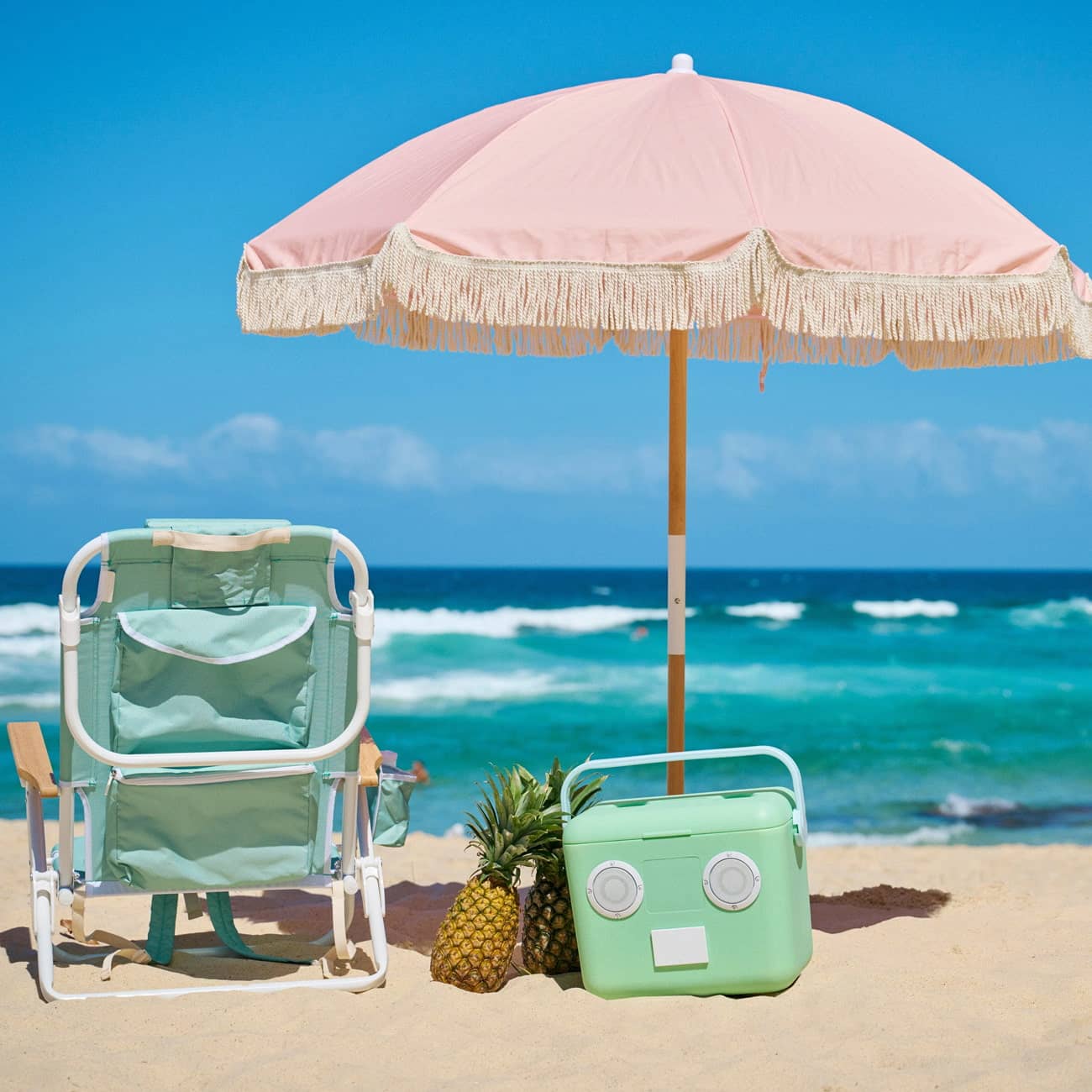 Inspired by the vibrant culture of Australian beaches, the Sunnylife Beach Cooler Box Sounds invites you to play all day by the shore. In addition to functioning as a 15L cooler, it's outfitted with speakers that you can connect to your device via Bluetooth, AUX cable, and USB, or it can play FM radio. Technically, you can use it anywhere a cooler with speakers might be a welcome addition, but it can turn what would have been a normal trip to the shore into a full-on beach party.
RTIC Soft Pack Cooler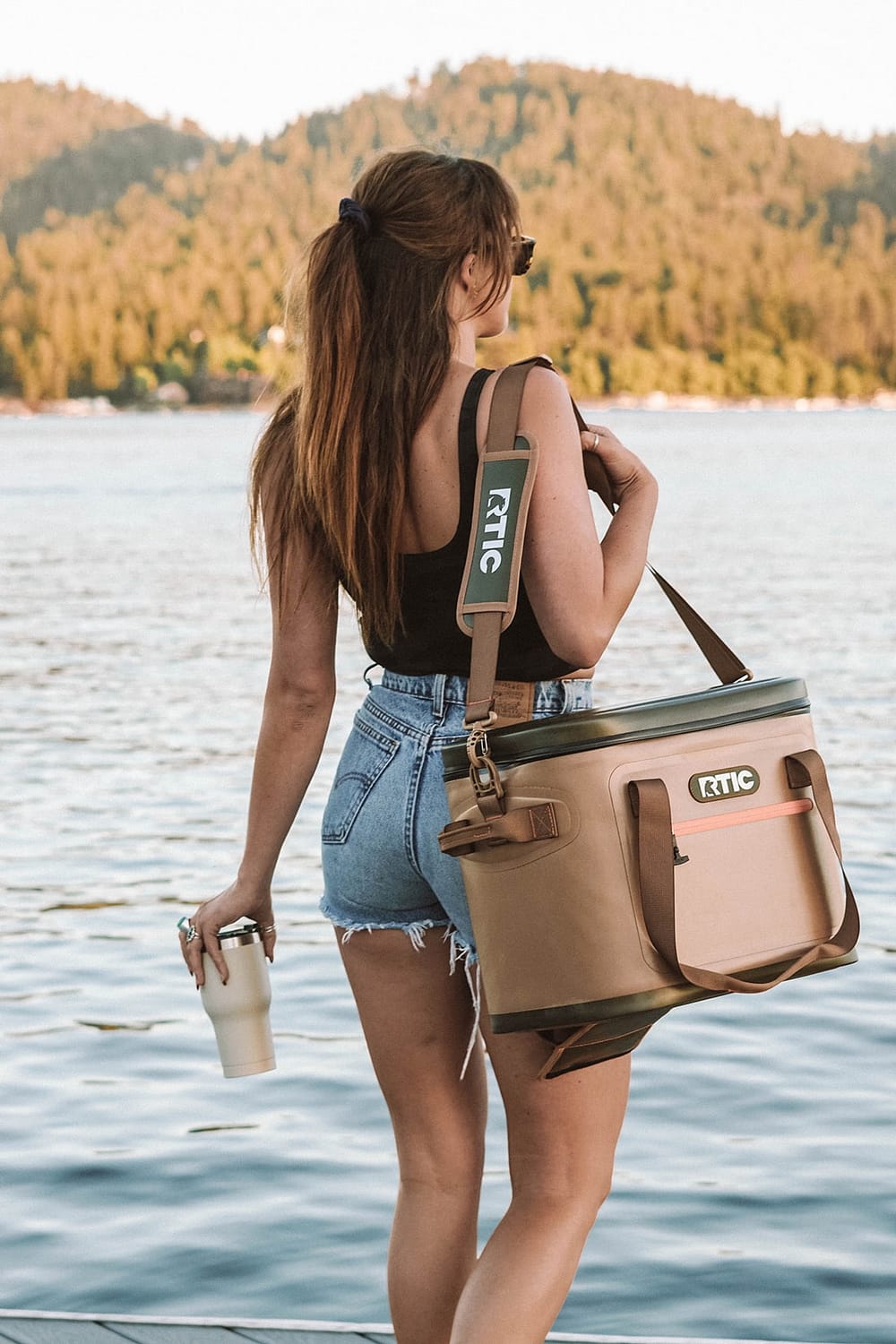 Simple and reliable, the RTIC Soft Pack Cooler packs a few key, useful features. Unlike other similar tote-style coolers, this one has a rectangular lid that zips open on three sides to give you the easiest possible access to its contents. Because it's crafted with effective but super-low density insulation, it floats in water no matter how full you pack it. This unique feature makes it perfect to take boating or rafting, as well as one of the best beach coolers available – especially if the tide happens to come in too fast.
Igloo Tag Along Too Cooler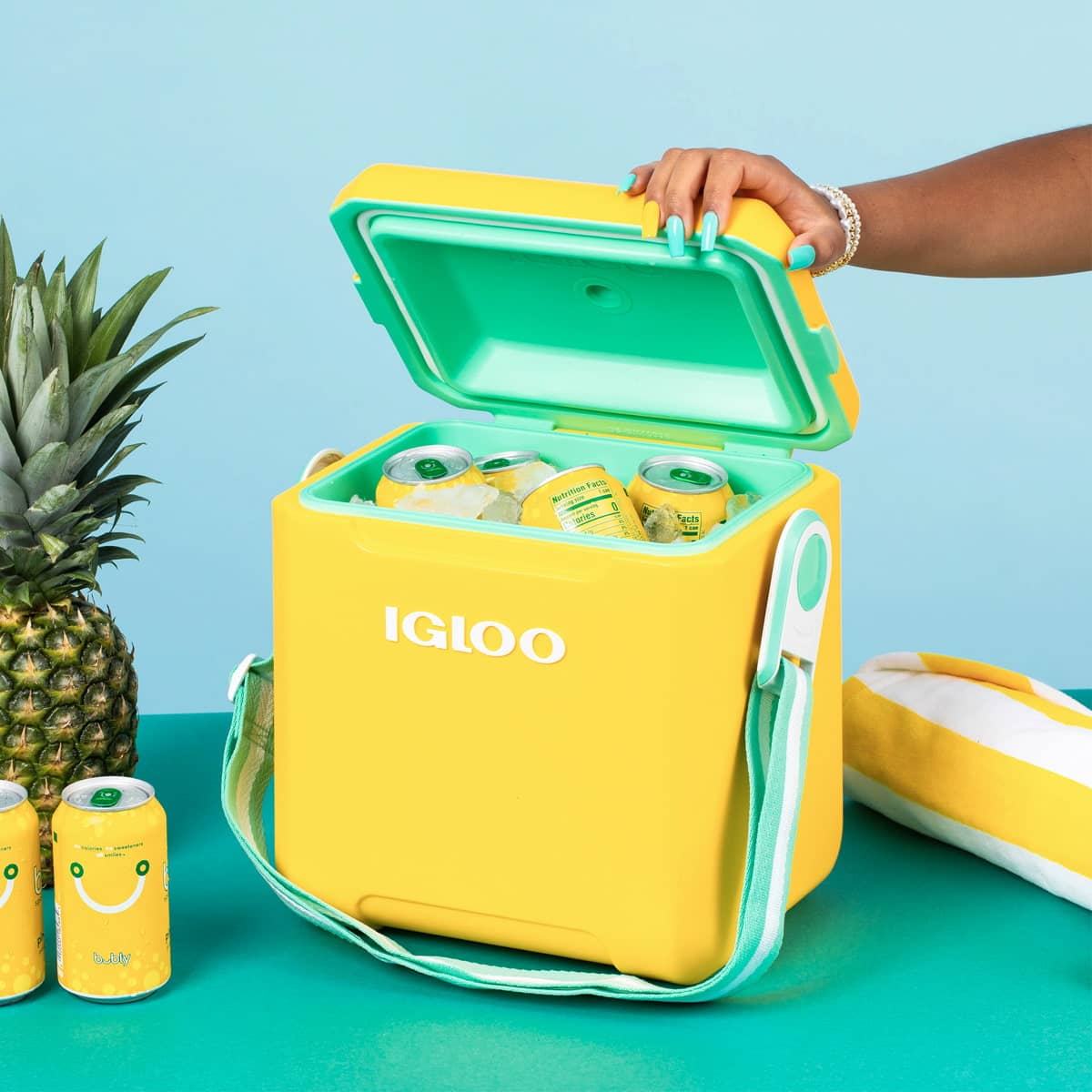 Combining the protection of a hard-sided cooler with the ease of a tote, the Igloo Tag Along Too Cooler is truly the best of both worlds. It's beautifully designed with a rounded, retro-style exterior in a bunch of bright, fun colors, and its shoulder strap is integrated into a pivoting lock that keeps the lid completely secure. Despite its somewhat diminutive size, it can hold up to 14 12oz cans. And depending on the ambient temperature, it can keep ice frozen for up to two days!
United by Blue Cooler Tote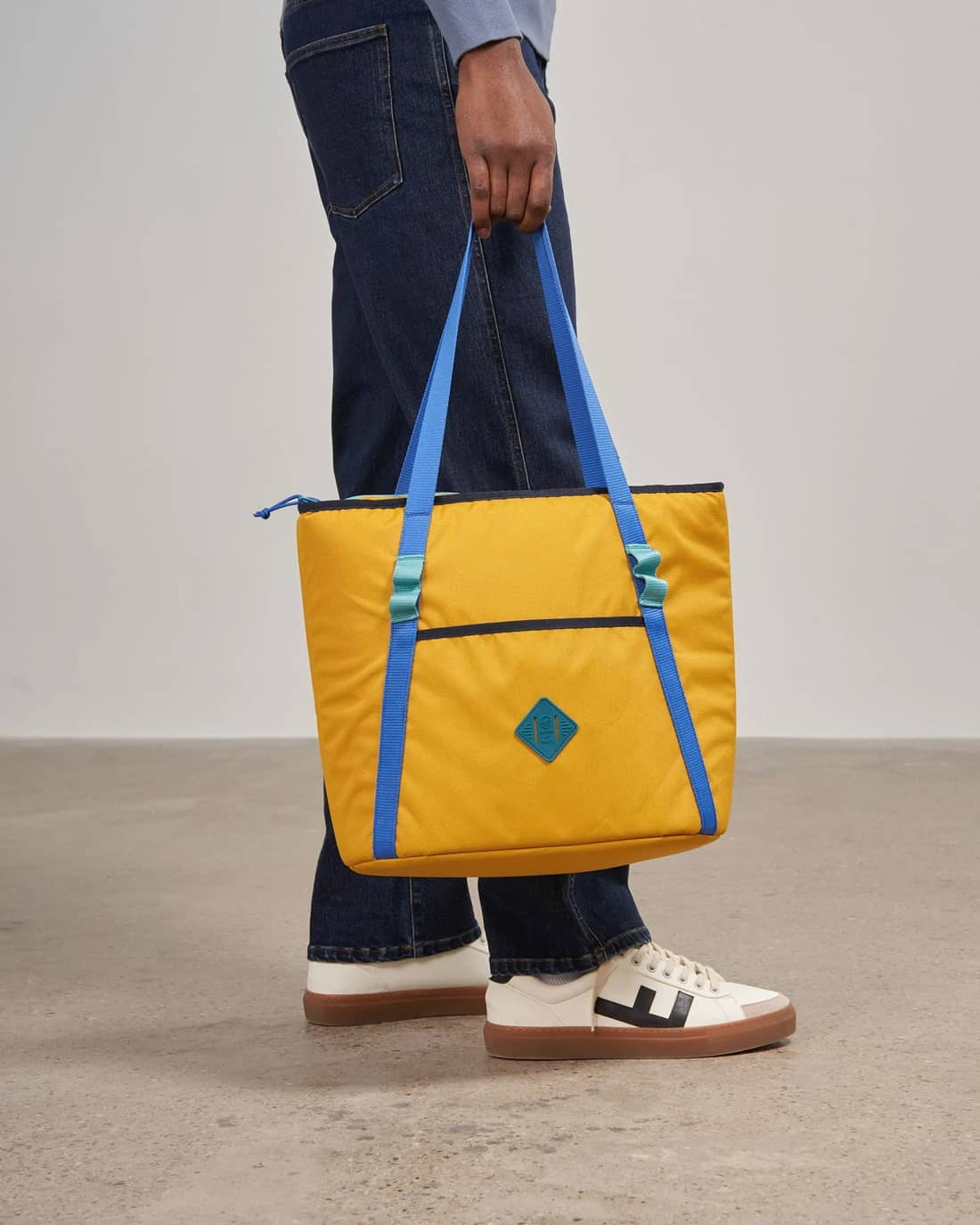 Bright, beachy, and endlessly portable, the Cooler Tote by United by Blue will easily become your new favorite summer companion. It's small enough to stow inside your backpack just in case, and useful enough that you'll relish the opportunity to pull it out. It's just the right size for a couple of bottles of wine or a six-pack, so it's perfect for an impromptu beach picnic with your bestie.
IceMule Pro Cooler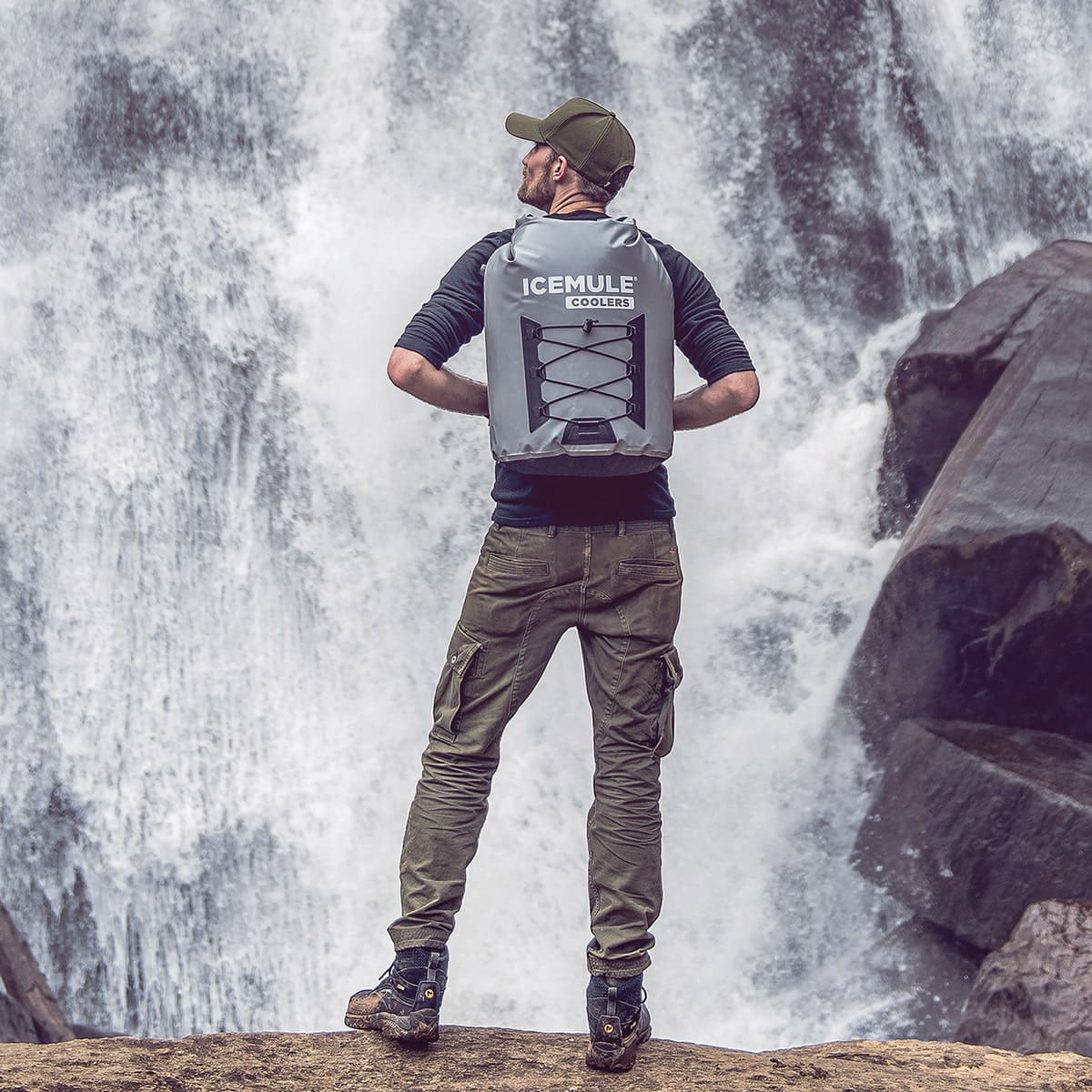 If it's a bit of a hike to your favorite beach, you may want to consider the versatile and highly portable IceMule Pro Cooler. Modeled after a dry backpack made for surfing or kayaking, it combines some of the most useful features of a technical backpack with a high-performance cooler to create an ultra-comfortable, dynamic, and 100% waterproof cooler pack that keeps your beverages cold for up to a day.
The straps are ergonomically shaped and padded, the front boasts a bungee net to attach additional items, and the rear is padded to ensure it remains comfortable on your back, making it one of the best beach coolers for when you're hiking – or merely walking – long distances.
Hydro Flask Day Escape Soft Cooler Tote
Completely water-tight in both directions with room for up to 42 cans, the Hydro Flask Day Escape Soft Cooler Tote has a simple design that's packed with features. It has extra insulation at the bottom where it's most likely to import warmth; this is just one of the features that help keep its contents at temp for up to a day and a half.
Though it looks as casual as any other beach tote, this one has waterproof, self-healing zippers, welded seams, and a 600D rip-stop polyester shell engineered to last far longer than a single summer.
YETI Roadie 48 Wheeled Cooler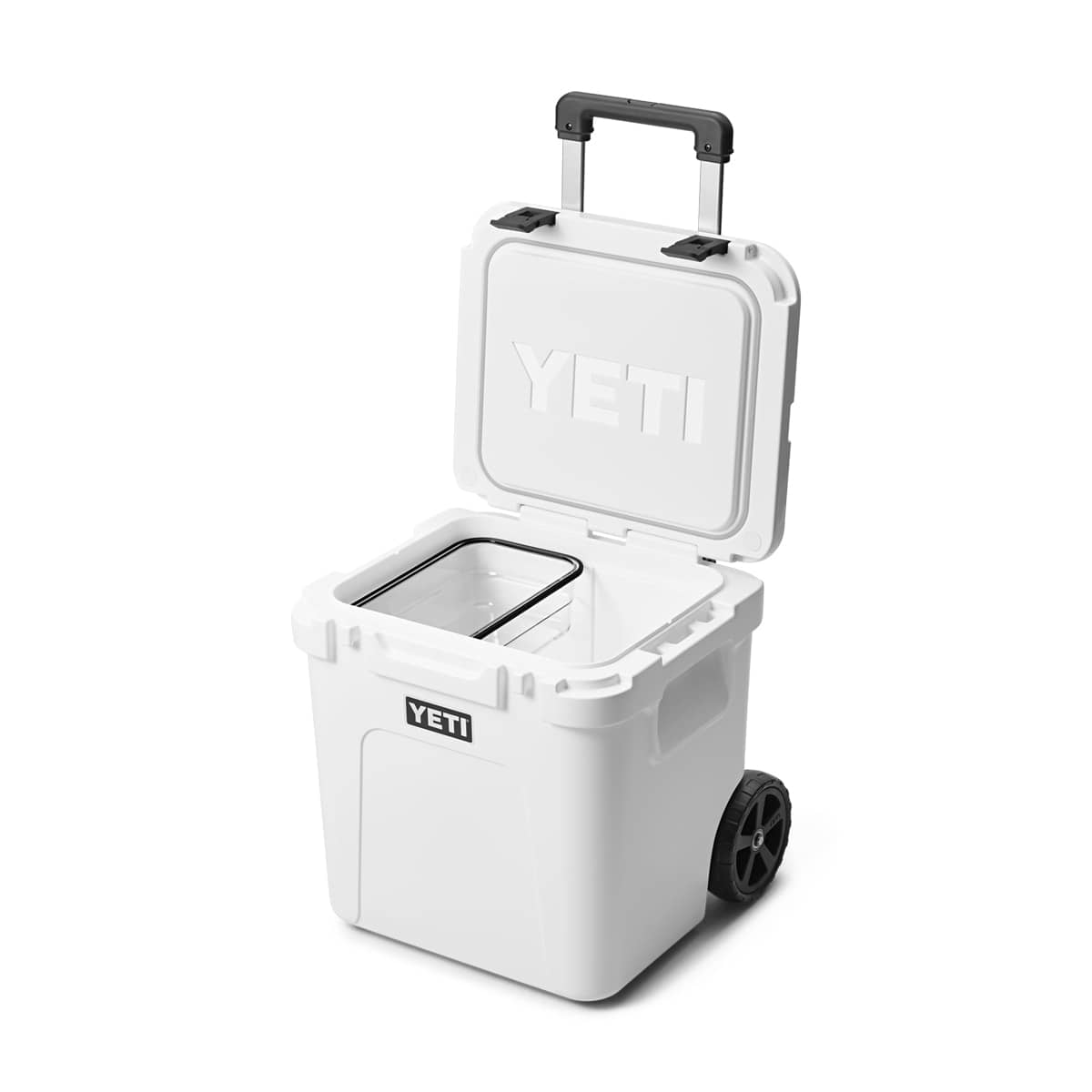 If you're looking to make a day of it with the gang, you're going to need an ample beach cooler with wheels like the YETI Roadie 48 Wheeled Cooler. Not only is it large enough to hold enough food and drink for yourself and a small gaggle of friends, but it's also easy to roll right onto the shore, no matter how full.
You can use ice packs or loose ice to keep your drinks cool, and the included Dry Goods Basket to help you separate your snacks. Like YETI's other hard-sided coolers, this one is armored to render it nearly unbreakable, but it comes with a five-year warranty, just in case.
Pelican 20QT Elite Cooler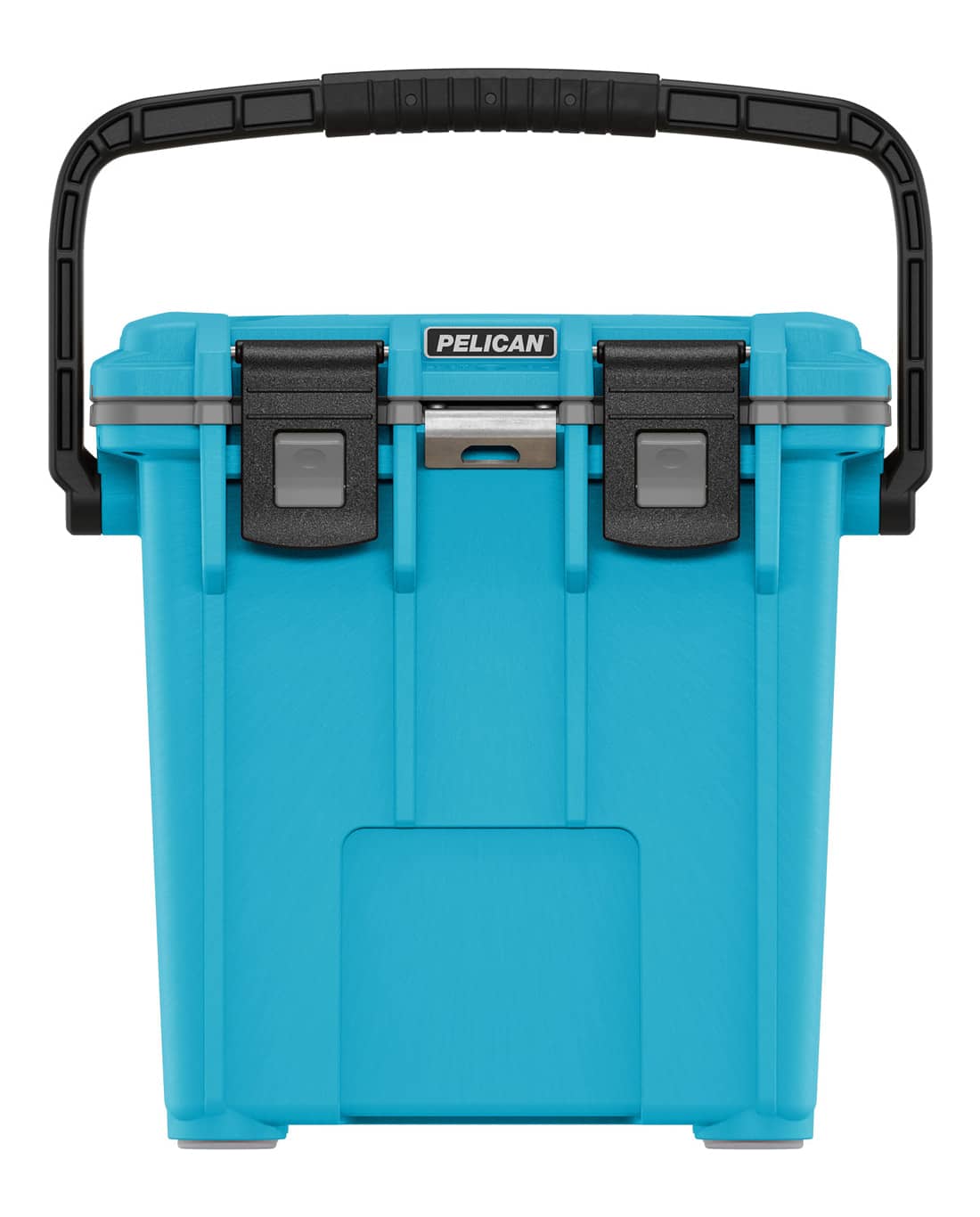 If your idea of a beach trip means heading off-road, way out, or all over, you may want to invest in the Pelican 20QT Elite Cooler. One of the toughest, finely designed coolers on the market, it can handle virtually any temperature, terrain, or conditions you can throw at it.
Not just merely crafted, these coolers are precision engineered to be ultra-durable and maintain a consistent temperature throughout even the most epic adventures. Make no mistake: this cooler is certainly an investment. But the lifetime guarantee ensures you should never, ever have to replace it.
Coleman MoRph 24-Can Convertible Soft-Sided Cooler Totepack
From one of the original innovators of insulated storage, Coleman's MoRph 24-Can Convertible Soft-Sided Cooler Totepack is made to the same exacting standards as the rest of their line. Though it has a seemingly simple design, it's packed with features: padded tote and backpack straps, completely leakproof sealed seams, and a waterproof front pocket for small toteables.
Despite being so simple, it holds a whopping 24 cans – that's an entire rack – yet is still comfortable enough to carry even when full. Its lining is made from Templock insulation, which ensures that whatever you decide to tote along, it's guaranteed to stay cold for at least 12 hours.
Corkcicle Eola Bucket Cooler Bag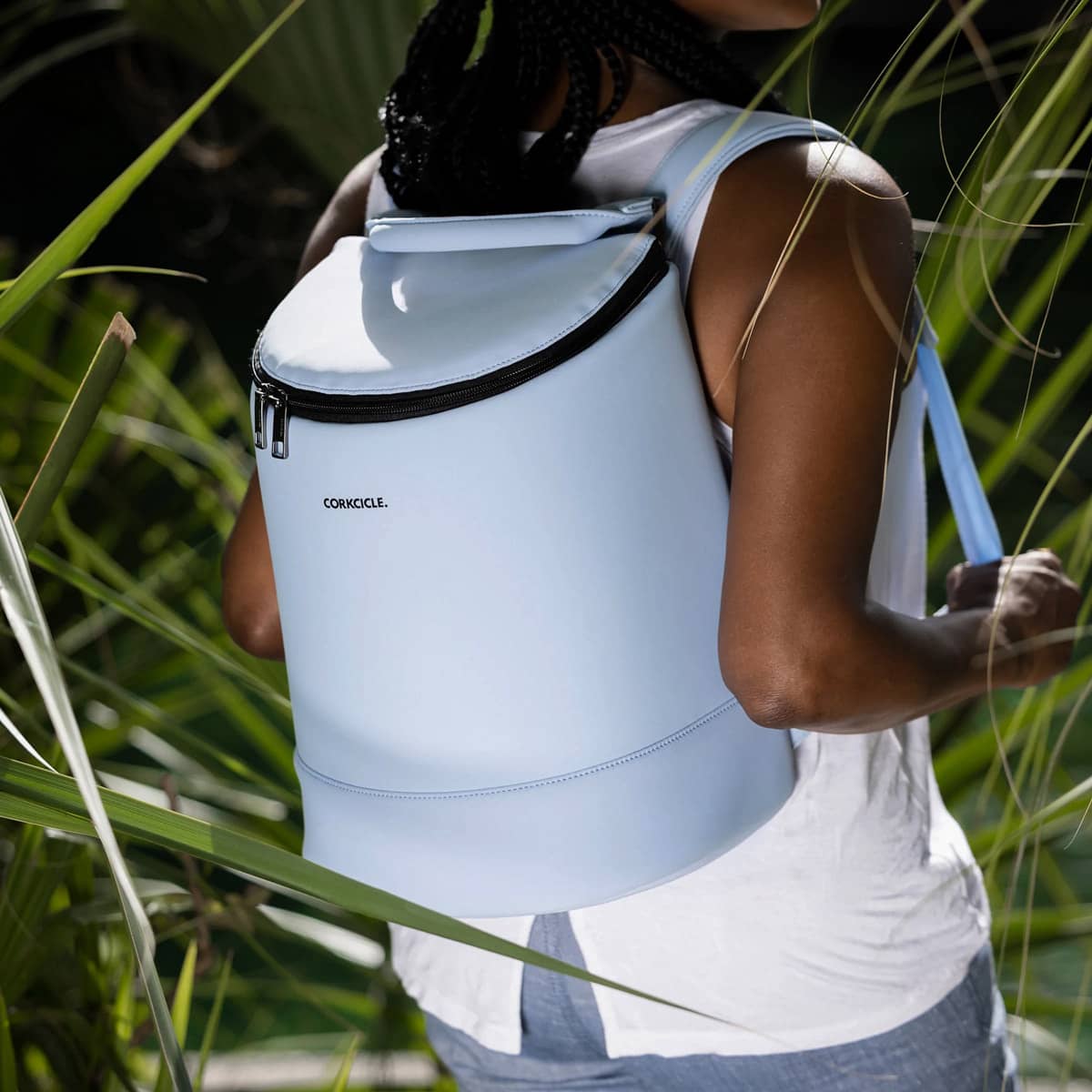 Small enough to not weigh you down but large enough to pack supplies for you and a friend, the Corkcicle Eola Bucket Cooler Bag is gonna be your favorite summer companion. Inside this sleek, neoprene backpack is enough room for a six-pack or a couple of bottles of wine and a few snacks. In the back is a slim hidden pocket made to hold your phone, house keys, or wallet to keep them stowed during your beach day.
Rovr Keepr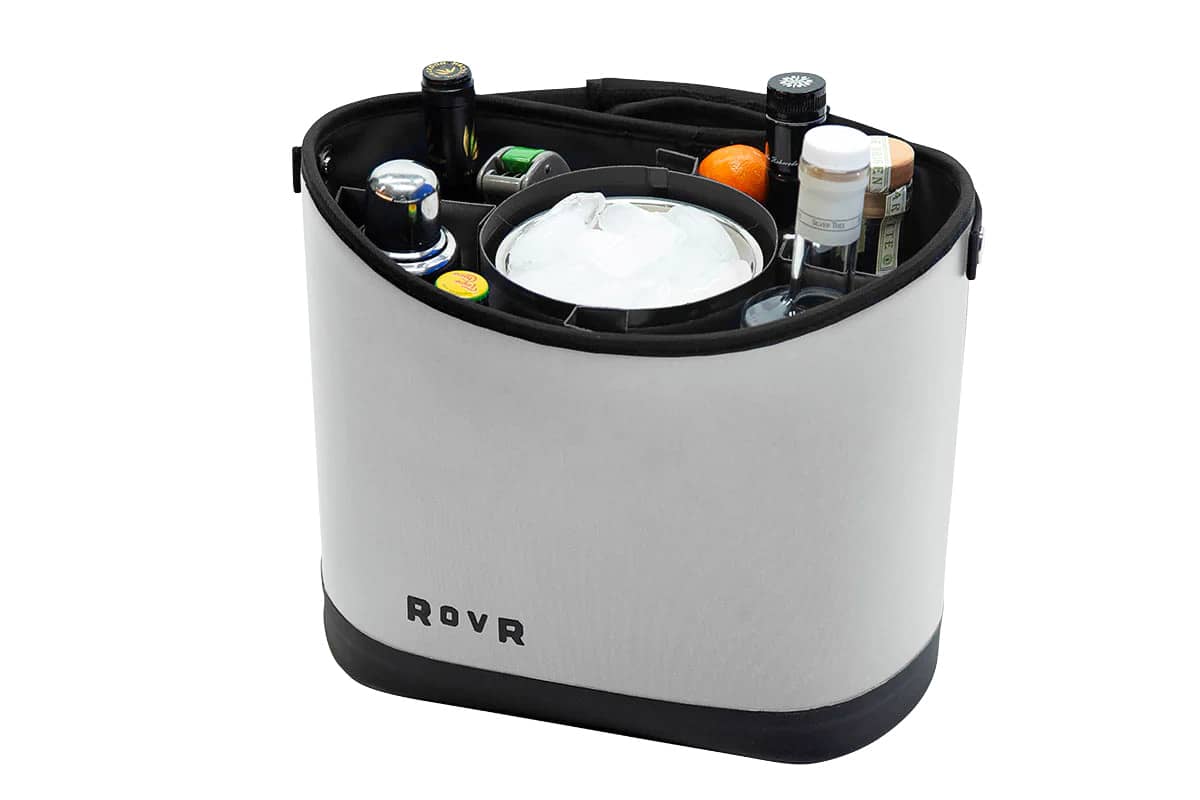 Far more specialized than your average beach cooler, the Rovr Keepr is more like a portable bar. In the center of a divided, rigid tote made to emulate a picnic basket lies the IceR: an insulated bucket that can keep ice frozen for up to an entire day. Around it, you can store whatever else you require to make your favorite drink: spirits, bitters, glassware, a few fresh pieces of citrus, and your favorite infused syrups. This is the perfect kit for those who love to mix the perfect cocktail al fresco.