Today's summer trend in terms of cocktails comes on sensual rumba rhythms from faraway Cuba, in order to invigorate our long sunny days and hot nights with its fresh combination of rum, mint, lime, sugar, sparkling soda, and lots of ice. Deep-rooted in a several-hundred-years history, Mojito was born in Cuba, becoming one of the country's cultural icons.
Although there are several theories behind its origins, the truth is that it doesn't really matter if today's Mojito was invented by the US Marine Corps, the African slaves while working in Cuba's sugar cane fields in the late 1800s, or perhaps it is simply a descendant of "El Draque".
What we know, however, is that Mojito became popular in 1930, in the beautiful Cuban capital of Havana, before being transformed into a worldwide trend by celebrities such as Brigitte Bardot, the Australian actor Errol Flynn, or Ernest Hemingway.
Hemingway's Mojito
From an ardent passion for the charming, mellow Cuba, where he spent some time as a journalist, Hemingway discovered Mojito and fell in love with its fascinating taste, raising it where it is today – on top of the world's most famous cocktails.
Still holding the American writer's steps, the traditional bar La Bodeguita del Medio (the place where he first discovered Mojito) is nowadays one of the most popular attractions in Havana, and definitely a stopover while in town. Besides its pleasant authentic Cuban atmosphere, the beautiful music, and the intriguing Mojito culture, visitors here will have the chance to see Errol Flynn's and Nat King Cole's signatures on the walls alongside the famous quote "My mojito in La Bodeguita, My daiquiri in El Floridita", engraved by Hemingway himself.
The Authentic Mojito Recipe
Ingredients:
Rum (most popular are the Puertorican Bacardi and the Cuban Havana)
Cane sugar
Fresh mint leaves
Lime
Sparkling water
Ice cubes
One of Europe's favorite summer cocktails, Mojito is as simple and tasty as it looks. First of all, the authentic drink requires fresh quality ingredients, inspiration, and, of course, a party mood. When everything is set, blend the mint leaves with sugar, add a bit of freshly squeezed lime juice, and mash gently with a muddler. Be careful, the mixture doesn't have to be completely shredded, only a little shaken for the flavors to develop.
Now that the hard part is already done, pour the white rum over the mixture and stir a little in order to melt the sugar. Fill the glass with ice cubes and sparkling water. For a nice presentation, decorate with fresh mint leaves and 1-2 slices of lime.
Although Mojito is very easy to prepare, it's also a cocktail with lots of personality, and unlike other long drinks, the basic recipe can be adjusted in order to satisfy everyone's taste. You can replace the rum with gin or vodka; the lime with lemon, apple, strawberries, or other fresh fruits; the cane sugar with icing sugar or simple (sugar) syrup; or the mint with yerba buena (a Cuban mint variety), but that's another story.
Variations of Mojito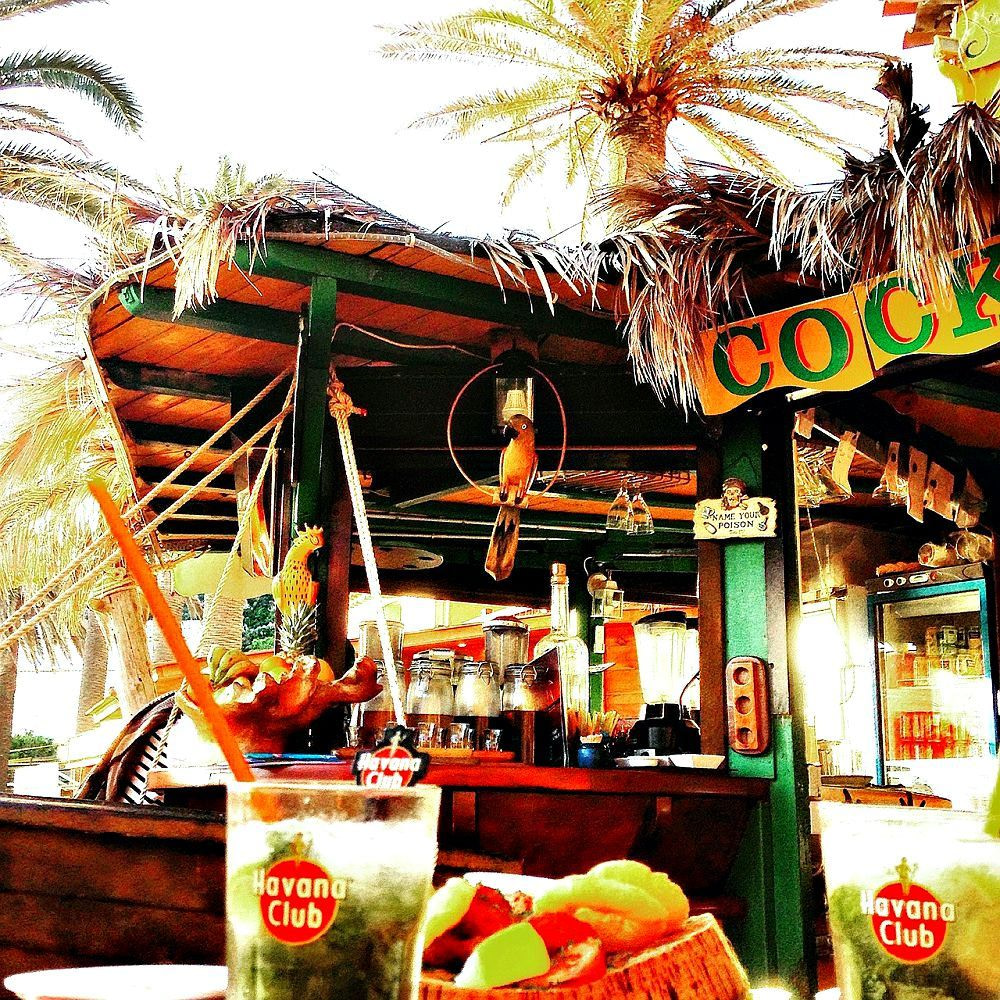 Mexican Mojito, with tequila instead of rum
Virgin Mojito, without alcohol
Dirty Mojito, with dark spiced rum, brown sugar and key limes
English Mojito, with gin and sprite instead of rum and soda (sometimes they also add cucumber)
Mojito Royal, with Champagne as a substitute for soda (not for rum!)
Greek Mojito, with Metaxa, of course
Malibu Mojito, flavored with coconut
Lychee Mojito, with canned lychees from China or Thailand
Pomegranate Mojito, with pomegranate juice
And of course, the list can go on, especially when the party comes spontaneously. Just let your imagination play and dare to create a composition of your own. Who knows, it might become famous one day!
My Mojito
The story was born in Spain, like most of them. Sometimes I even wonder what the hell was I doing before visiting Spain, as all of my best memories spring from that period. Anyway, the story is simple:
I discovered Mojito in Spain 8 years ago, and haven't gave up on it ever since. I've seen it prepared in so many ways that I can't even remember which one of them was the best, all I know is that the very first sip blew my mind. Then, I tried many variations (authentic, dirty, golden, with different types of rum brands, on the rocks, with crushed ice, and even straight up) and finally picked up my favorite: Golden rum, honey, plenty of mint, lime wedges, (extremely) sparkling water, and a Spanish beach, at sunset.
What's your favorite Mojito recipe?